Henderson Waves:
The starting point of Telok Blangah Hill Park, Henderson Waves is one of the highlights of the Southern Ridges. With its height of around 36 metres above the ground, it is also the highest pedestrian bridge of Singapore. It has a unique wave-like structure made of several undulating, metal ribs. There are spots for tired visitors to take rest in its waves. At night, the Henderson Waves light up with colour changing LED lights, which make it an exquisite sight.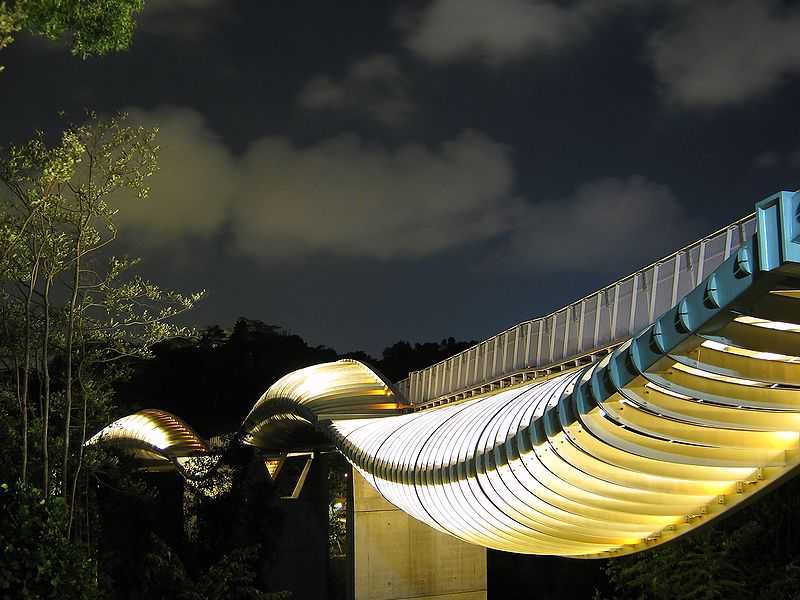 Terrace Garden:
Located at the highest spot of the park, the terrace garden constitutes a series of stairs, and curved terraces joined to each other with spaces for gardens between them. They are adorned with flowers of several colours and types. From here, one can get stunning views of Singapore CBD in the distance and waters of the Keppel Harbour.

Forest Walk:
The Forest Walk is a 1.3 km elevated zig-zag walkway. It is an excellent place to spot birds and other creatures such as squirrels. With its height ranging from 3 metres to 18 metres, the Forest Walk lets visitors enjoy a bird's eye view of the secondary forest below.
Earth Trail:
Through this trail, you can get a closer look at the secondary forest, the adinandra belukar which grows on land previously used for agriculture. It can be accessed from the Forest Walk through a flight of stairs mid-way through the walk, or at the Telok Blangah Hill end of the walk. It is an adventure, but be sure to carry insect repellant!