The numerous freestanding statues at the Singapore Botanic Gardens delight visitors and perfectly complement the natural beauty of the flowers and trees. Spread throughout the premises, get ready for a surprise at every turn with these masterpieces!
Chang Kuda:
Loosely translating to 'Horse carry' in Malay, this statue depicts a popular outdoor game played by local children in the twentieth century. A version of the piggyback game, this statue looks back at delightful childhood memories spent in the great outdoors.
Location: Lawn E
Chopin:
This stunning statue shows the Polish romantic composer playing a tune, while an enthralled woman watches him in awe. Donated by the Polish Embassy, the sculpture echoes the wonder of Chopin fans admiring the master at work!
Location: Heliconia Walk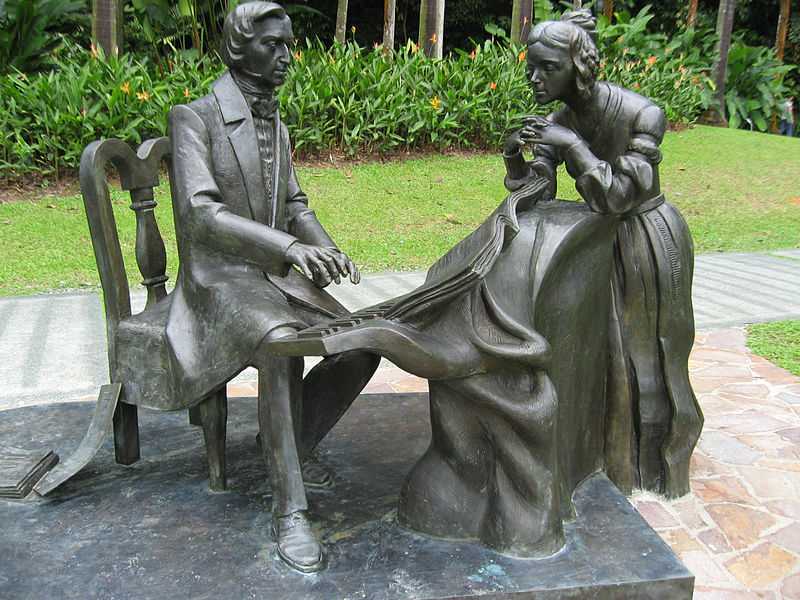 Clock Tower:
Reflecting the Sealing Wax Palm – the logo of Singapore Botanic Gardens, this Clock Tower was commissioned to commemorate the opening of the Visitors' Centre in 1998. Towering at 3.5 metres, this is a famous landmark within the Gardens and is a regal reminder of the Victorian past of the Lion City.
Location: Orchid Plaza, outside National Orchid Garden
Conversation - from Nature:
A gift from the Korean Embassy, this statue depicts the Rose of Sharon – the Korean National flower – on one side, and the Vanda Miss Joaquim – the Singapore National flower on the other. Coming together in the middle as a circle, this statue reinforces the unity and peace between the nations, and symbolises the connections within nature itself.
Location: Heliconia Walk
Cranes:
Perched at the entrance of Singapore Botanic Gardens, these friendly cranes welcome visitors to the garden and stand gloriously amidst blooming orchids. Set up in 1995, these birds symbolise prosperity and good health.
Location: Inside National Orchid Garden
Elephant:
This charming pachyderm is a popular photo-op, especially with children. The dorky trunk and playful expression on this friendly giant are a must-see!
Location: Yuen-Peng McNeice Bromeliad House, NOG
Fan Palm Fountain:
Watch out for this sculpture among the leaves, or one might miss it between the green palms! This true-to-life palm frond statue trickles water through its leaves and lends the Garden an air of serenity and bliss.
Location: Yuen-Peng McNeice Bromeliad House, NOG
Farfugium Fountain:
This realistic masterpiece blooms out of a pond and settles in perfectly against the bromeliads in the background. Don't be surprised to spot a frog or two on its petals!
Location: Yuen-Peng McNeice Bromeliad House, NOG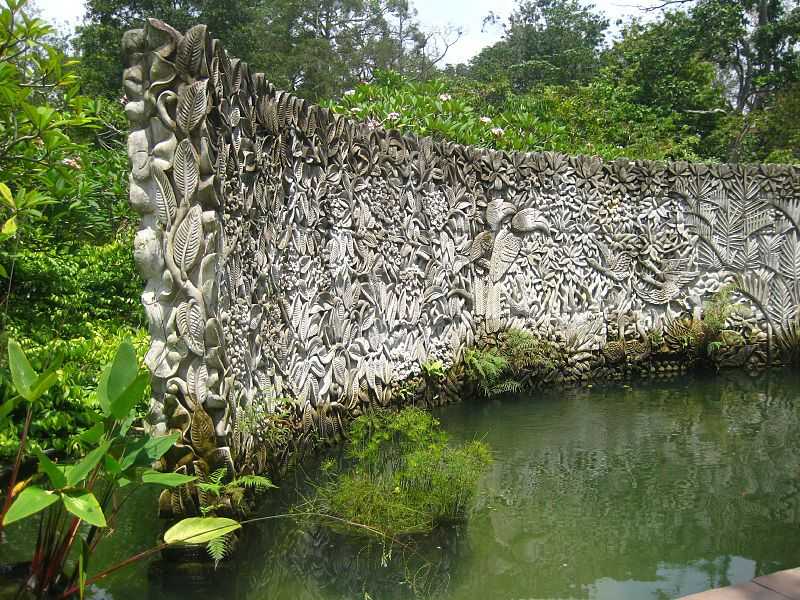 Fifty Wings:
Too lifelike to be a statue, this stainless steel marvel is modelled after the seeds of the Dipterocarp tree. The fifty wings of the seed symbolize the 50 years of the country's independence.
Location: Forest Plaza, the exit of Rain Forest
Flight of Swans:
Watch these magnificent birds take flight from the middle of Swan Lake, and marvel at their beauty and grace amidst the calm waters! Installed in 2006, this bronze statue is a famous photo-op located near one of the most-used entrances of the Gardens.
Location: Swan Lake, Tanglin Entrance
Geese:
This hyper-realistic statue of sunbathing geese is a favourite haunt for terrapins and tropical birds – watch an ecosystem come to life at this gorgeous lake, and admire the intricate detail on these birds!
Location: Swan Lake
Girl on a Bicycle:
The essence of spring is captured perfectly in this carefree statue, which shows a young girl dashing down a hill on her bicycle, legs held high in joy. This 30-year old sculpture is as delightful as the day it was first installed!
Location: Lawn O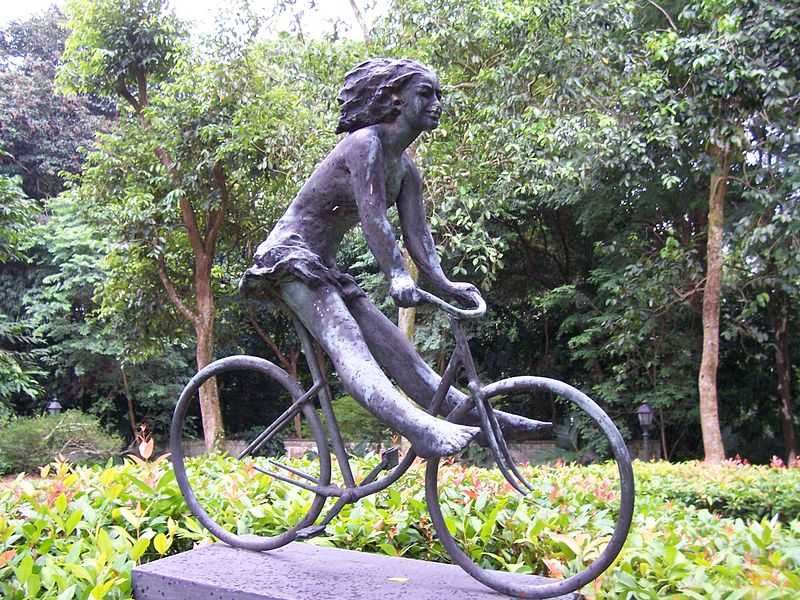 Girl on a Swing:
This dynamic, fluid sculpture was modelled after a real Singaporean girl. Depicting a lass swinging over a lush, colourful lawn, this sculpture captures the essence of youth, joy, freedom, and happiness.
Location: Lawn O
Joy:
This stylized sculpture of a woman playing with her child is a poetic representation of the joys of motherhood. Larger than life at 2.1 metres tall, this artistic masterpiece is a tribute to life and love.
Location: Lawn E
Lady on a Hammock:
Nestled among orchid blooms, this sculpture shows a beautiful young woman lounging and sunbathing on a hammock. An ideal depiction of the idyllic summer.
Location: Lawn J
Little Girl with Shell:
Hidden amongst the ponds, this adorable statue shows a child completely caught up with a shell she has discovered in the water. The rapturous attention to detail draws visitors to this treasure and leaves them wondering what the girl sees within the shell.
Location: Yuen-Peng McNeice Bromeliad House, NOG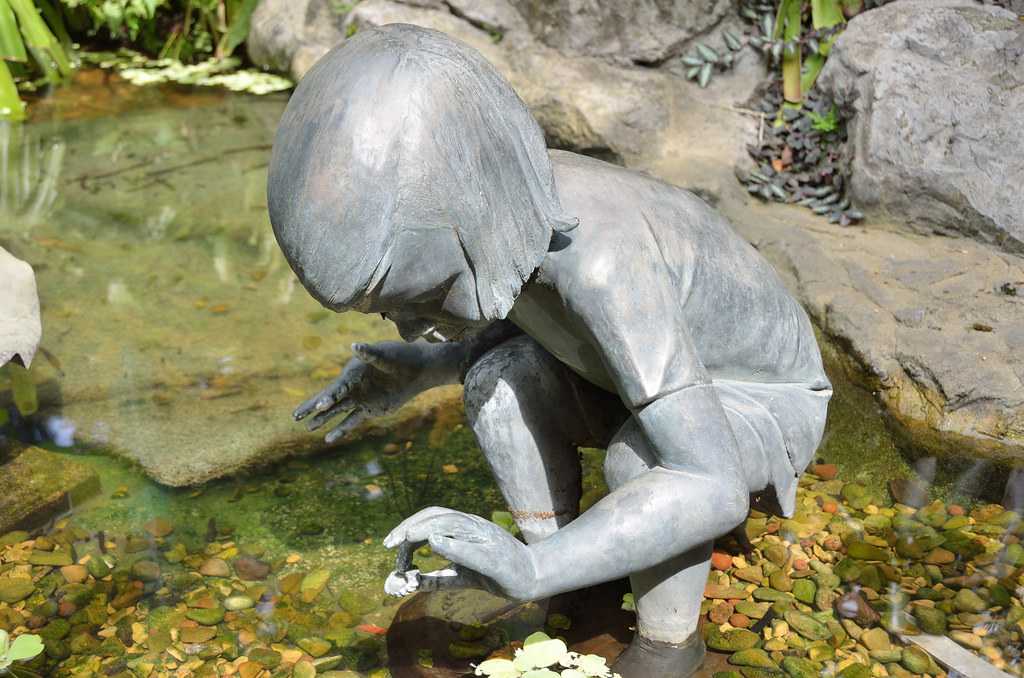 Mystree:
Made of 500 miniature figurines of people, this tall sculpture presents a mystery indeed and conveys the message of the tree of knowledge and humankind to visitors.
Location: Entrance of Jacob Ballas Children's Garden
Nurturing:
This charming statue shows a woman watering plants as her doting child watches. Conveying the message of conservation and love for nature, 'Nurturing' nurtures visitors and the Garden alike.
Location: Frangipani Lawn
Passing of Knowledge:
This statue with a message signifies the passing over of knowledge and wisdom – like water – from father to son, generation to generation. Nestled among colourful flowers, this statue makes visitors pause and reflect poignantly over life and relationships.
Location: Sun Garden
Sundials @ National Orchid Garden:
This European metal sundial oozes Renaissance charm and glory. Presented to the National Orchid Garden at the time of its inauguration in 1995, this gorgeous piece of art welcomes visitors in style, all the time.
Location: Inside National Orchid Garden
The Sundial @ Sundial Garden:
Check the time in style with this intricately carved Egyptian-inspired sundial, with two mysterious carved figures whose identities remain a puzzle to this day. One of the most serene parts of the Garden, find peace and bask in the glory of this ancient innovation.
Location: Sundial Garden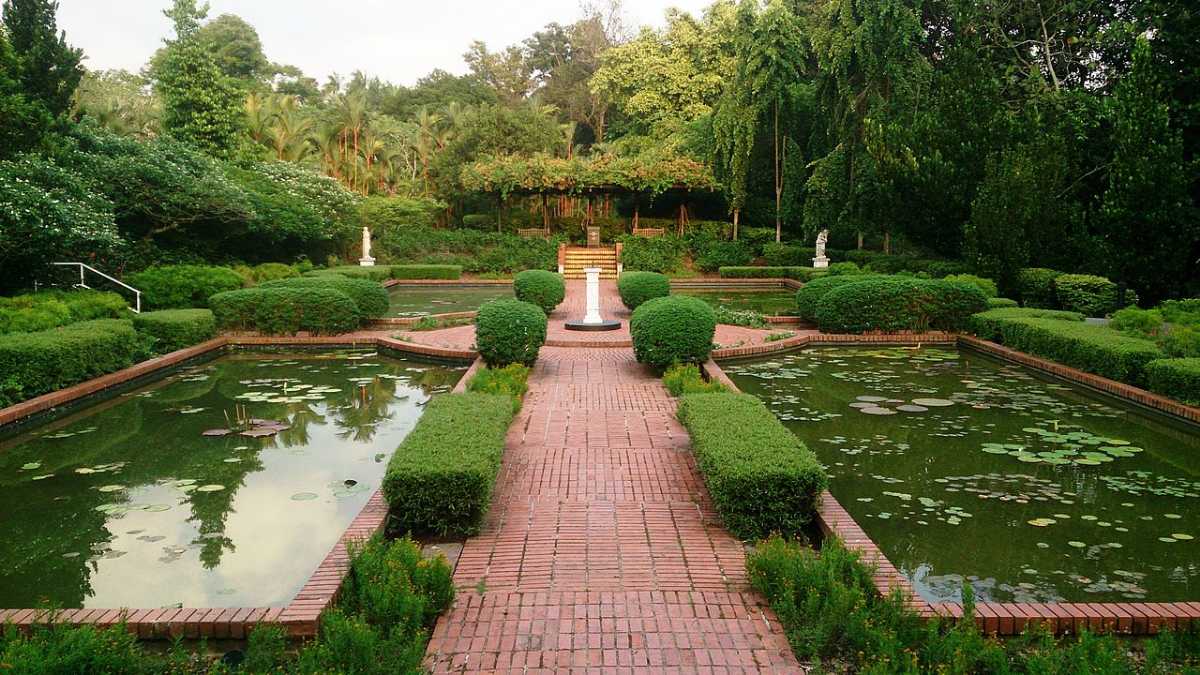 Swing Me Mama:
Located near a lawn frequented by families with toddlers, this adorable modernistic statue captures a mother-child moment with perfection. This stonework depicts a child being swung around by the mama, much like families in the lawn!
Location: Swan Lake
Swiss Granite Fountain:
This gorgeous fountain at Singapore Botanic Gardens defies gravity with a huge granite ball – weighing a staggering 700 kilograms – floating suspended over a basal block. A favourite among children and adults alike, this spinning ball is a great physics lesson in action!
Location: Junction between Lawn D and J