The Last Resort is a storehouse of adventure sports. With trained professionals and reliable safety equipment, the team makes sure that you have a captivating and memorable experience of a lifetime!

Note: For participating in the adventure activities, the people below 18 years old need the consent of a parent or guardian, who has to be present at the site.
1. Bungy Nepal!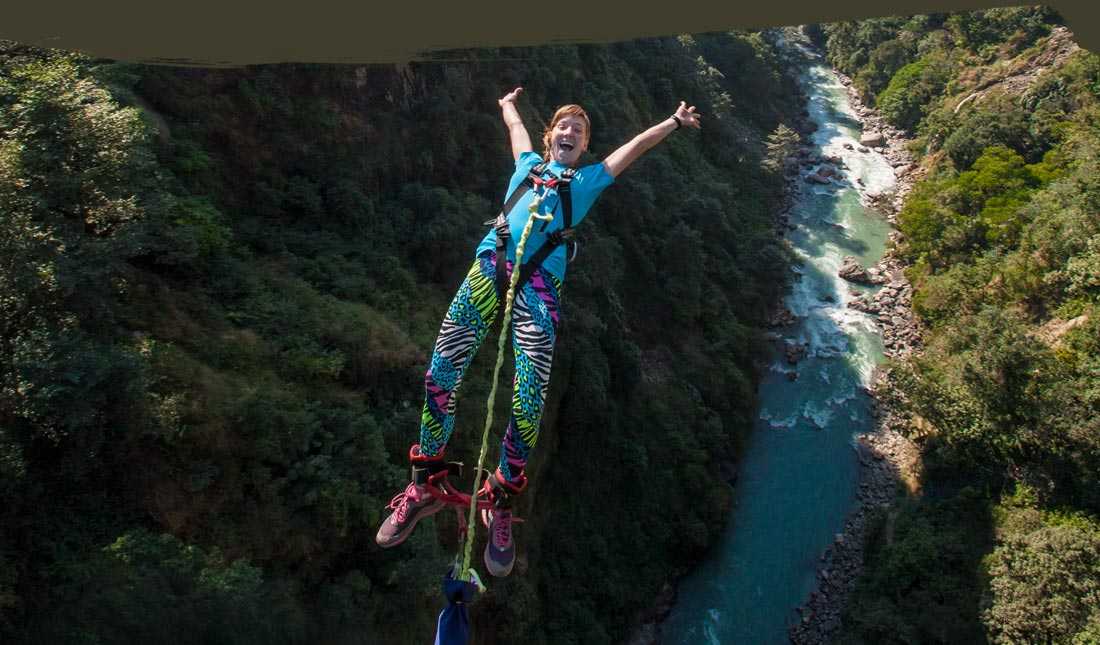 Get ready to take the trust fall test. The only difference is, instead of being caught by a compadre as you fall, the safety rope will save you. So, take the leap from the bridge perched at the height of a hundred and sixty meters over a tropical gorge and come alive as you descend towards the wild river raging below. If you want to see how graceful (or not!) your leap was, you can. The authorities film your bungee jump for you to buy it later for NPR 2500. You can place an order for the DVD and collect your copy from the main office a day later. They also give you four still pictures and a free Bungy t-shirt if you purchase the video.

Bungy Nepal! Packages

The prices of the Bungy Nepal! differ with the facilities provided along with it. Choose what is best for you!

- Bungy Day Trip: One sure does get hungry after flying, isn't it? Take the leap of faith and then gorge on some delicious food afterward with the Bungy Day Trip Package. At six in the morning, get on a bus at Thamel with other interested jumpers and enjoy the picturesque sights on the way to The Last Resort. Along the way, there will be a couple of tea breaks. After reaching, you will be acquainted with the bungee staff who will brief you about safety, note your weight, and provide you with a time slot. All you have to do is stay calm and wait for your turn!
Price - NPR 11,835 (including food and transportation charges)
- Bungy and Overnight:
Who doesn't want to relax after an exciting bungee jump? Instead of leaving the resort after the bungee jump, stay here for the night. For only an extra NPR 2500, rejuvenate yourself by exploring the local villages, drinking iced tea, and making new acquaintances at the Karma Bar. That is not all! You will also be served with four sumptuous meals, starting with lunch, followed by dinner and breakfast, and ending in lunch the next day.
Price - NPR 14,027 (including food and transportation charges)
- Bungy and Canyon Swing Day Trip:
Sometimes, just one adventure sport is not enough to get yourself pumped. Order an extra shot of adrenaline with the Bungy and Canyon Swing Day Trip and dive into a journey that will stay with you for a lifetime.
Price - NPR 15,013 (including food and transportation charges)
From December to February and June to August - On Saturday, Sunday, Wednesday and Friday
From March to May and September to November - all days except Monday
Note: If you wish to stay overnight, you will be charged with an extra NPR 5041.
The minimum weight for bungee jumping and canyon swinging is 40 kilograms. The maximum weight for bungee jumping is 100 kilograms while for canyon swinging is 120 kilograms.
Wear comfortable clothes and tight, closed shoes.

- Bungy and Canyoning Day Trip: Why settle for just a bungee jump when you can explore the most beautiful hidden canyons in the Himalayas as well? With the aid of ropes, harnesses, and wetsuits, embark on a guided journey through the mesmerizing river, and fall in love with the place.
Price - NPR 16,438 (including lunch and transportation charges)
2. Canyon Swing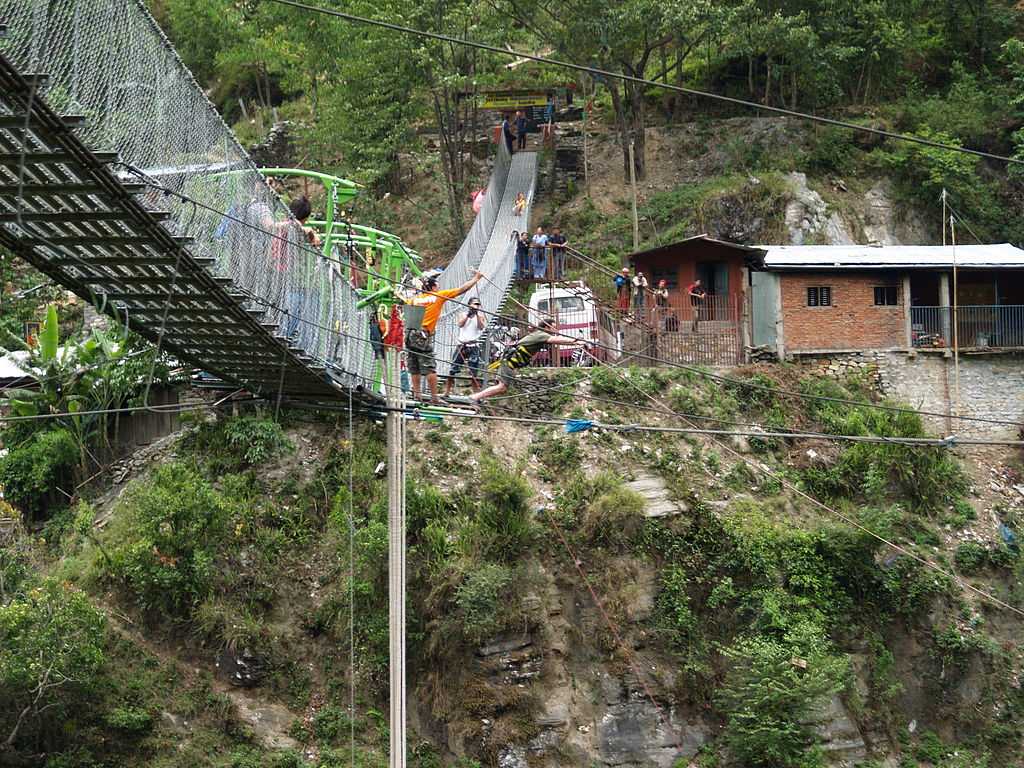 Hop on board with the experience that defies gravity and fills you with excitement that you can feel in every nerve ending! From the world's highest giant swing at The Last Resort, plunge into the depths amidst nature as you fly from a height of a hundred and sixty meters with a speed of a hundred and fifty kilometers an hour. There won't be any need to dive since you will experience a hundred-meter high freefall which will make a tremendous arch of two hundred and forty meters. That's right, it is time to fly without wings! To make sure you have video footage to show your companions while enumerating this awesome experience, place an order for your swing DVD for NPR 2500 and get it from the main office, along with four pictures and a t-shirt, on the next day.

Canyon Swing Packages

The Canyon Swing packages provide many different facilities along with them, and the price of each package varies accordingly.

- Canyon Swing Day Trip: Experience a gigantic freefall and conquer all your fears with this amazing swing. If you think swings are just for kids, you might have to think again!
Price - NPR 11,835

- Canon Swing and Overnight Stay: How about a soothing overnight stay at the resort after the thrilling canyon swing? Lay back with a book or go for a walk, get to know more about the place and make new friends. In addition to this, the Canyon Swing and Overnight Stay also include four delectable meals - lunch, supper, breakfast, and lunch again.
Price - NPR 14,027
3. Canyoning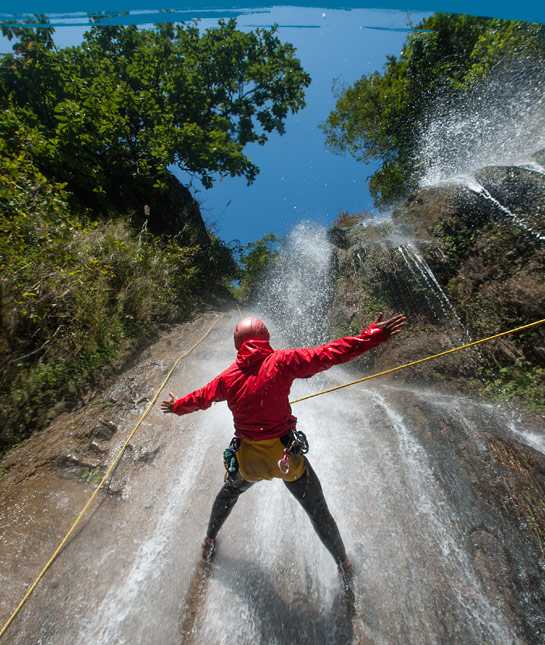 Step into the Forbidden Forest of the Himalayas with some adrenaline-inducing canyoning. Be a part of an amazing experience which ranges from exploratory walks to full-fledged canyoning and discover the hidden sides of Nepal which have the best sights in store! The Last Resort has expert professional guides who will assist you as you indulge in abseiling, sliding, and jumping off steep waterfalls and slopes of the canyon walls into the deep, stagnant pools below. The canyoning trip lasts for three days, and it is up to you to decide whether you want to visit all three canyons or be content with less.

Day 1: The first day of canyoning is at Panglang, which is about twenty minutes away from the resort. After an introductory session, you shall be taught how to abseil by yourself. As you move from waterfall to waterfall, you won't even realize when you have abseiled down the 45-meter waterfall like a pro in no time.

Day 2: The second day is devoted to canyoning at Kanglang. Commencing with a one-hour hike, this journey has eight abseils in store for you, each a little more advanced than the ones on Day 1. With exciting slides and jumps, this trip comes to a crescendo with abseiling down the sixty-meter waterfall.

Day 3: The final experience takes place at Bhulkute and is entirely different from the first and second days. In addition to sixty-meter abseils, splendid slides and long leaps, this canyon cuts you off from the outside world entirely to help you connect with nature by showing its extraordinary, hidden side. Embark on the one-hour hike and be a part of a completely different world as you abseil down nine walls and waterfalls, and swim across flowing streams and deep pools.

Note: You will be provided with the equipment you need. All you need to bring is a swimsuit to wear underneath, and closed shoes which do not get damaged after getting wet. If you choose the day trip, bring a towel.
Canyoning Packages

The variety of facilities offered by The Last Resort with canyoning is truly amazing, and the price for each package differs accordingly.

- Canyoning and Overnight Stay: After spending the day in the midst of the refreshing nature and bathing in natural showers, come back to the resort and relax in the luxuriant surroundings. Pamper yourself with a professional massage or just lay back and listen to some soothing music. This package includes four tantalizing meals, starting and ending with lunch, and having dinner and breakfast in between.
Price - NPR 10,960

- Canyoning and Rafting and Overnight Stay: This package is one of the best ones that The Last Resort has to offer. From rapids to eddies at the Bhote Kosi River, to serene streams and gushing waterfalls at the canyons near Panglang, this package includes canyoning on the first day, an evening meal, a sumptuous breakfast, and finally, three-hour rafting on the Bhote Kosi River on the next day.
Price - NPR 16,438

- Bungy and Canyoning and Overnight: Similar to the Bungy and Canyoning Day Trip, this package includes a guided canyoning journey through the enrapturing river, as well as a thrilling bungee jump. Apart from the cost of food and transportation, this package also covers the additional overnight charges.
Price - NPR 18630
Note: Minimum two people are required for canyoning.
4. White Water Rafting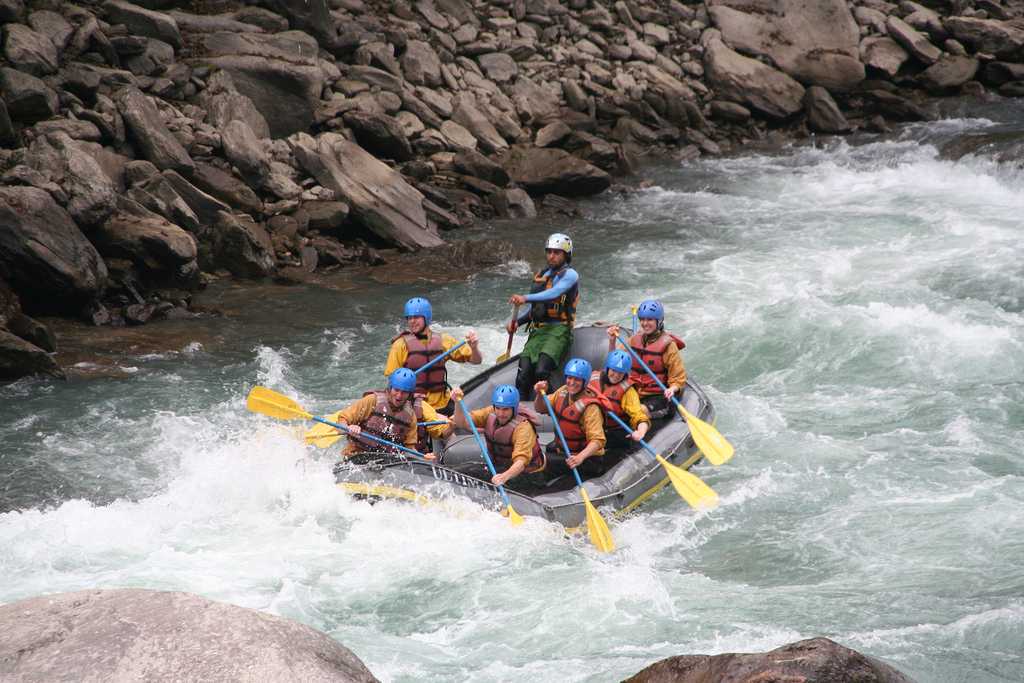 There is no point in visiting the Bhote Kosi River if you do not plan to embark on a kayaking and rafting journey on it. With an experience that is much more than just paddling, this adventure sport is undoubtedly one of the best in the world.

White Water Rafting Day Trip

Immerse yourself in rafting with your companions on the Bhote Kosi River while having the time of your life! At present, this is the sole package that The Last Resort offers for white water rafting, and needless to say, it is perfect.
Price - NPR 5480
Note: Minimum six people are needed for rafting.
The necessary equipment, including a fleece jacket, helmets, paddles, and rafting shoes, are provided.
Bring a pair of clothes to change into after getting wet during rafting.
5. Tandem Swing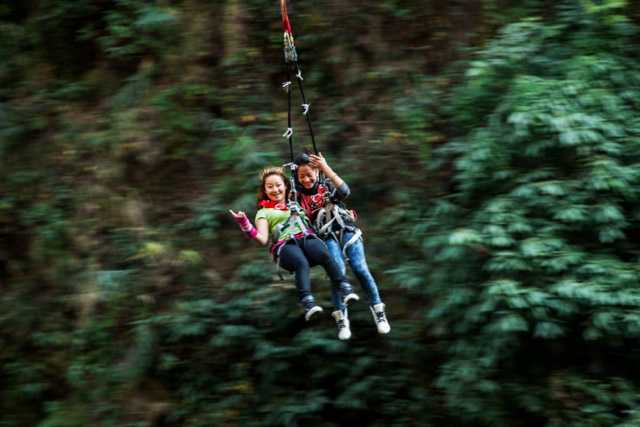 Perhaps the most challenging of all the adventure sports at The Last Resort, the Tandem Swing is all about canyon swinging with someone who is close to you. Be it a parent, a friend, or a significant other, there is no better way than a tandem swing to show how much you trust them.

Tandem Swing Packages
Share a memorable moment with your loved ones by choosing one of the Tandem Swing Packages offered by The Last Resort.

- Tandem Swing Only: Enjoy the freefall from a hundred and sixty meters while holding on to your partner. With a speed of a hundred and fifty kilometers an hour, there is nothing much to do except scream your lungs out with excitement! Just let go of that fear and take the leap!
Price - NPR 18,630

- Tandem Swing Day Trip: Not unlike the Tandem Swing Only Package, this trip includes an exhilarating tandem swing with your partner after which you head back to Thamel.
Price - NPR 19,726

- Tandem Swing and Overnight Stay: This package includes everything that comprises of the Tandem Swing Day Trip Package, the only difference being the overnight stay at the resort with meals provided.
Price - NPR 24657 for foreigners
NPR 19000 for SAARC Nationals
NPR 16800 for two Nepalese citizens

Note: The maximum combined limit of the two people on the tandem swing should not exceed 140 kilograms.