Everyone looks forward to some R & R in a strip of hidden paradise when holidays roll around, but there's no getting around the paperwork that is involved. However, if you're travelling to
Indonesia
for a summer break, you're in luck. The process of applying for a visa for Indonesia policy is quite simple and hassle-free, and you'll be able to spend your days by the beachside or under a waterfall without a worry.
Here's the complete lowdown on obtaining a visa for Indonesia for those travelling to the world's largest archipelago:
Types of Indonesian Visas
There are multiple types of visa for Indonesia available, and it's important to know which one fits your requirements before you start applying. Your
nationality, duration of stay and purpose
determine the kind of visa you will need:
Tourist visa-exemption
If you're staying for less than 30 days, you don't need a visa for Indonesia at all! India falls under the list of countries that are granted exemption from Visa, only for people travelling for tourism purposes and staying for less than a month. Upon arrival, immigration customs will stamp your passport with a visa-exemptions stamp; this allows them to track your stay. This stamp is free of cost, non-extendable and cannot be converted into another type of visa policy for Indonesia. There are 169 nationalities who are exempted from Visas, including
Germany
,
India
,
France
,
Malaysia
,
Australia
and the UK. You can find the complete list of countries
here
. You must arrive at one of the following checkpoints to use this option:
Soekarno-Hatta International Airport, Jakarta
Ngurah Rai International Airport, Bali
Kualanamu International Airport, Medan
Juanda International Airport, Surabaya
Hang Nadim International Airport, Batam
Sri Bintan Pura Seaport, Tanjung Pinang
Batam Center Seaport, Batam
Sekupang Seaport, Batam
Bandar Bentan Telani Lagoi Seaport, Tanjung Uban
Bandar Seri Udana Lobam Seaport, Tanjung Uban
Citra Tri Tunas Seaport, Batam
Marina Teluk Senimba Seaport, Batam
Nongsa Terminal Bahari Seaport, Batam
Tanjung Balai Karimun Seaport, Tanjung Balai Karimun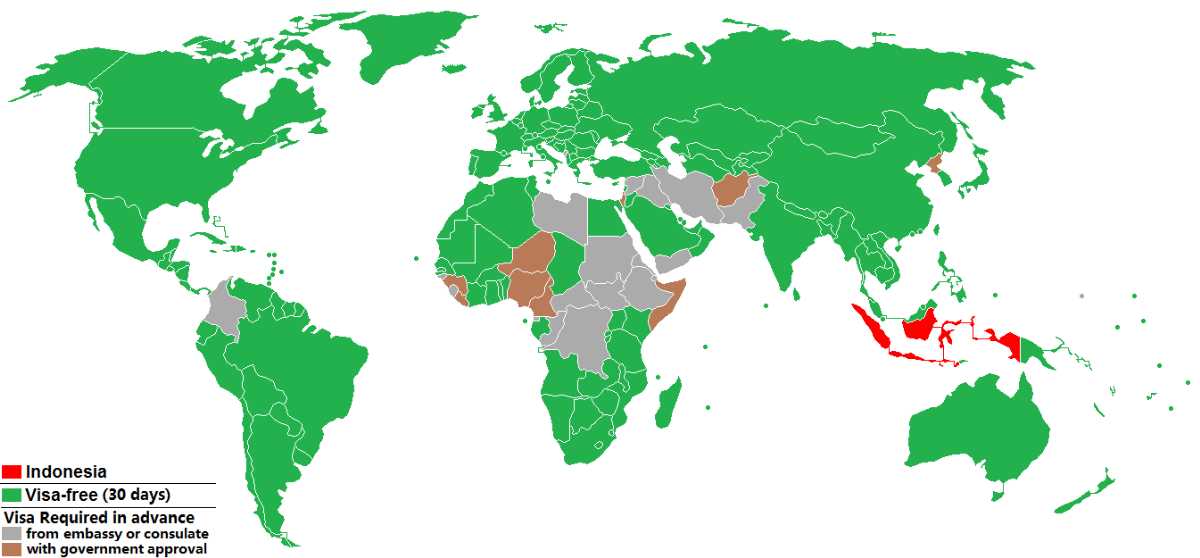 Visa-on-Arrival
You can choose to get your visa for Indonesia once you have arrived, which is valid for 30 days. However, a VoA can be extended once, for another 30 days without having to leave the country. This option is ideal for those planning to stay for 30-60 days. It usually costs USD 35 (approx INR 2,400) to obtain this visa. The extension costs USD 45 (approx INR 3,000), and a visa agent is recommended to smooth things over.
Single Visit Visa
A single visit visa is valid for 60 days straight away and can be extended up to 5 times, wherein each extension is valid for 30 days. This visa allows you to spend a long time in the archipelago, and costs USD 50 (approx INR 3,400).
Multiple-Visit Visa
This kind of visa for Indonesia allows one to enter multiple times and stay for 60 days for each visit. It's valid for one year from the date of issuance and cannot be extended.
Documents Required For an Indonesian Visa
Having your documents in order is essential to have your visa processed in time and to avoid any hassles later on. You need the following to procure your visa:
For visa-exempted travel and Visa-on-Arrival
Your passport, valid for at least 6 months from the date of your arrival into Indonesia. Ensure there are at least 2 blank pages in your passport before your trip.
Your confirmed return ticket out of the country.
For Single Visit-Visa and Multiple-Visit Visa
Your passport, which should be valid for a minimum of 18 months from the date of arrival into Indonesia.
Your confirmed return ticket.
A sponsorship letter from an Indonesian relative or your bank account statements to guarantee you have enough funds to cover your expenses. It's recommended you have over INR 99,000 or USD 1,500 in your bank account.
You may also be asked for your proof of accommodation for your stay.
For students travelling unaccompanied by adult family members, a No-Objection-Certificate is required from the family.
Coloured photographs and photocopies of the first and last page of your passport should be carried just in case.
Indonesian Visa Procedure
It's best to submit an online application at the official website of the embassy, following which you will have to visit the venue for verification. The visa application may be forwarded to the Directorate General of Immigration in some cases, after which the visa will then be delivered to you.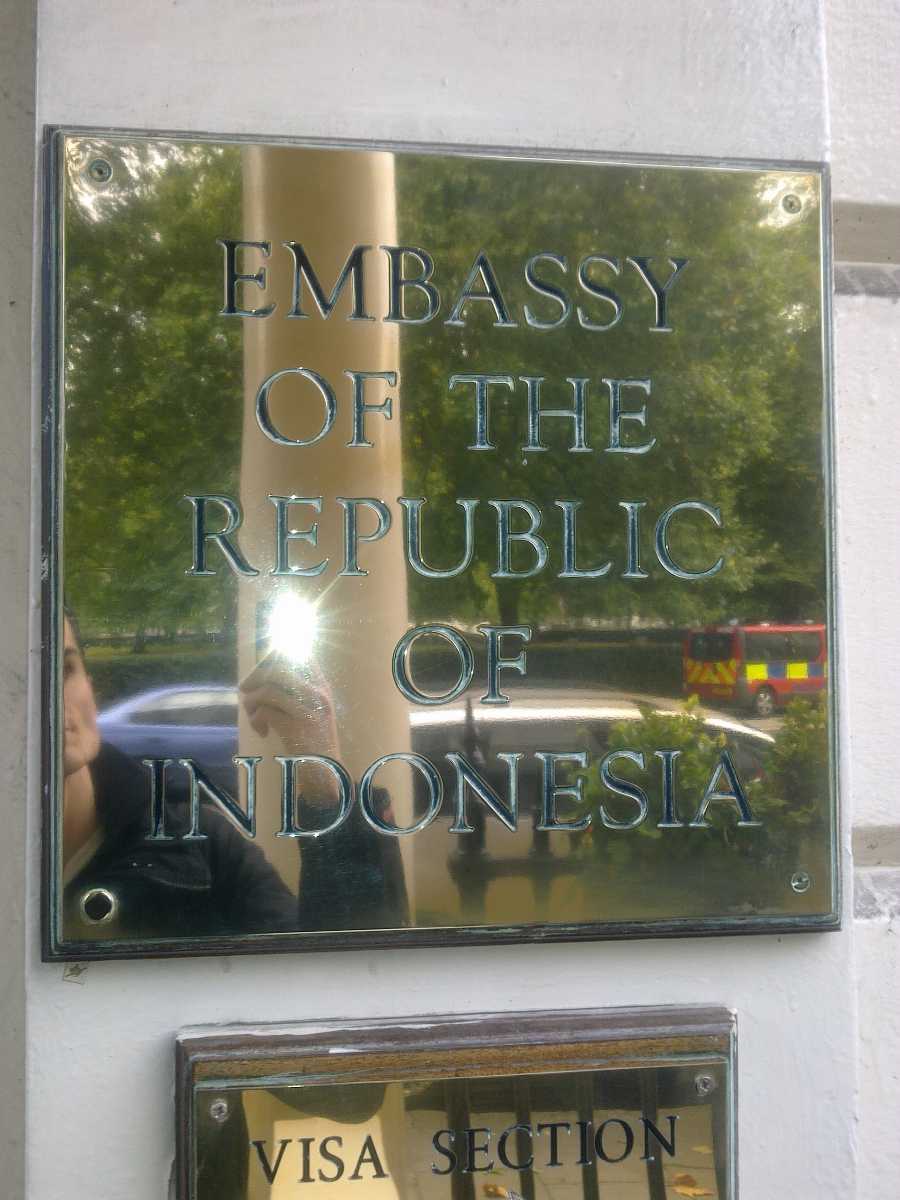 Embassy of Indonesia in India
New Delhi:
50-A, Kautilya Marg, Chanakyapuri, New Delhi, 110021
Contact no:  011 2611 8642
Hours:  Monday - Friday 9:00 AM - 5:00 PM
Mumbai
: 19, Altamount Road, Cumballa Hill, Mumbai 400026
Contact no: 022 2351 1678
Hours: Monday - Friday: 9:00 AM - 1:00 PM, 2:00 PM - 5:00 PM
Tips to Help You With an Indonesian Visa
If you're going for a short stay that exempts you from a visa, make sure you leave within the stipulated time. Remember its 30 days NOT one month. Take extra care during those 31-day months.
If you overstay your visa, don't fret. Just ensure you have your ticket out of the country when you go to the airport, and you'll be asked to pay a fine if your overstay lasted less than 60 days. You will be charged IDR 300,000 per day.
If you can enter the country on a visa exemption but plan on staying for longer than 30 days, use foresight. You won't be able to upgrade or extend to another kind of permit, and it's always a better idea to apply for a long-term visa from the get-go rather than starting the process when you get there.
If you overstay by more than 60 days, you may end up getting blacklisted which can further affect your chances of obtaining a visa for other countries. For a long visit or for business purposes, apply for a single visit or multiple-visit visa straight away.
That's everything you'll need to get started on your Indonesian Rendezvous. Apply well in advance and check the official embassy websites for any further queries. After all, you don't want to spend hours at the immigration office when you could be sipping a drink under a beach umbrella. The South Asian country has a lot to offer to tourists, not just with its natural beauty but also its culture and customs. Taking care of the pesky paperwork brought on by the Indonesian Visa ensures your only worry is not being able to buy some more lovely batik fabrics to take back home.