Who doesn't love to hold a thousand shopping bags and wander around for some trendy apparels and souvenirs abroad? If one enjoys to do exhaustive street shopping and buy fashionable, trendy, yet cheap stuff, then we can call Indonesia in that respect a paradise for shopaholics. Well, informing in advance all these places are open to bargaining so that one can put the best use of their negotiation skills here. These are the top 11 markets for shopping a visitor dare not miss if they want to take back some worthy tangible memories from the "land of a thousand temples":-
1. Lok Baintan Floating Market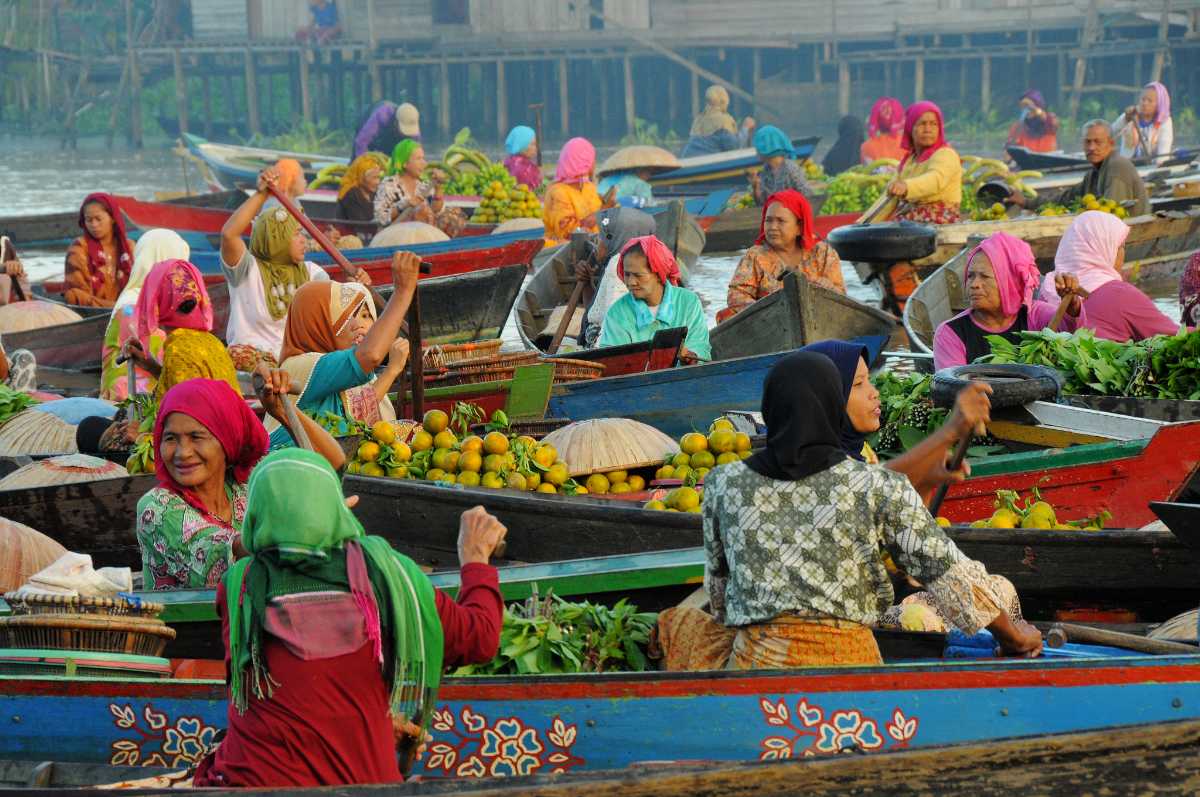 As the name specifies, this is a floating market over the downstream of Kuin River, which stretches to over 1.2 kilometres. This market is one of the many reasons how Indonesia gained back its tourism. One can find fresh produce of groceries and useless junk stuff. The sellers are mostly ladies here who sell products on long boats anchored to the riverside. Because it is a flea market, the scope of bargaining is high. One can catch a glimpse of this market only if they are a morning bird as it operates from 6 am - 7 am only.
2. Beringharjo Market
This place is in the city since 1758 and is located in Yogyakarta. Since it is a market built in an organised gully, there will always be a lot to explore for a tourist. This is the place where one can find good street shops which sell trendy designer dresses. Batik is the fabric used for the majority of the dresses in Indonesia and Beringharjo is the right place to find it. Most of the shopaholics land here to buy dresses but some come here to find antique goods and old currency too. Use the best of your negotiation skills to get the best in the least here.
3. Pasar Cibaduyut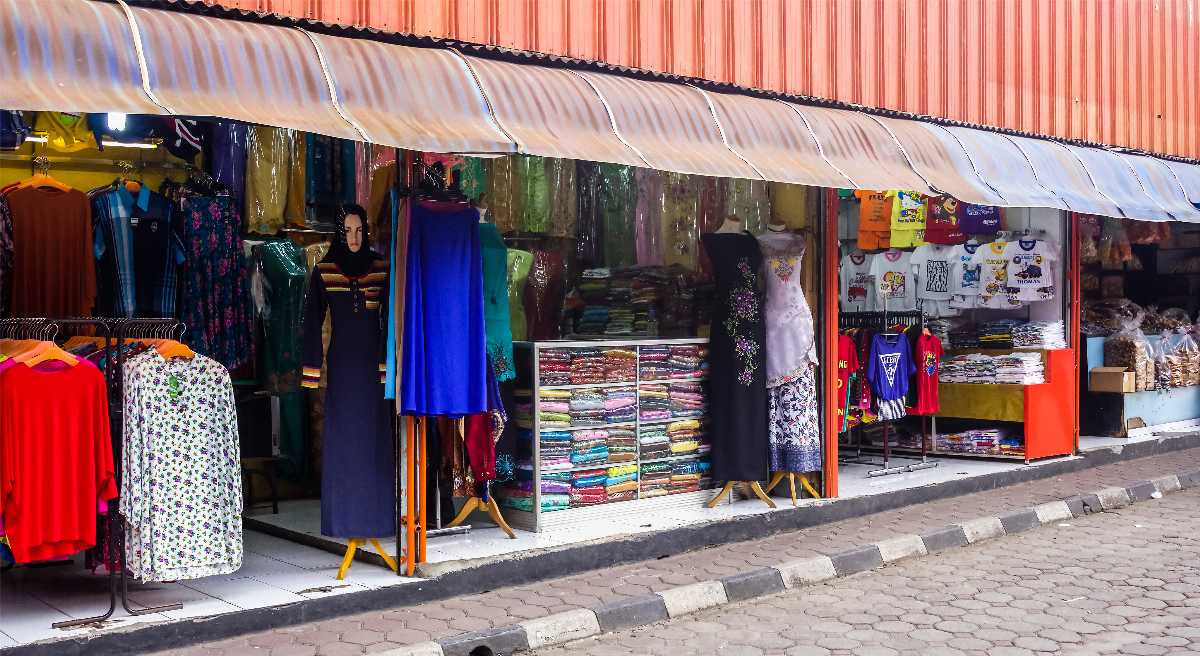 If leather is what you love; then there is no reason for you to miss this market. It is mainly known for its shoes but also offers other leather goods. One would find not just a wide variety of shoes but every shade of colour possible on shoes too. If not the pre-made designs one can give a special order for a pair of customised shoes. The market is known for its good quality products at super unbelievable prices.
4. Pasar Tanah Abang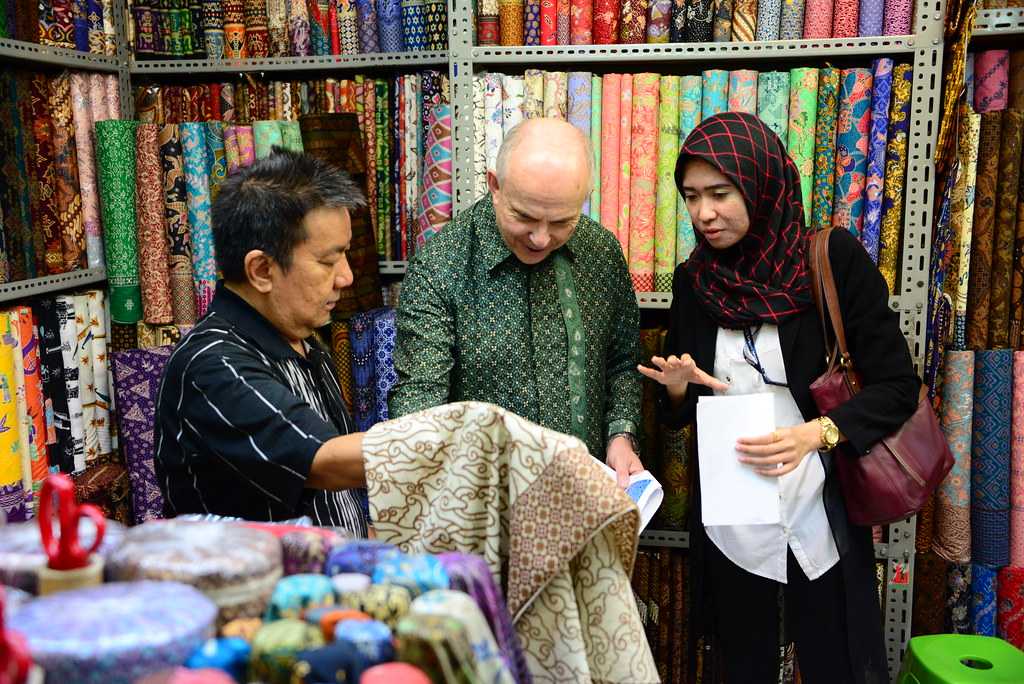 This is one of the most crowded markets in Jakarta and is famous for its wide variety of products available. Like Old Delhi is famous for its diverse category of goods in wholesale quantity and prices, Tanah Abang is the Indonesian version of it. The same way it has been constructed in an old traditional market fashion with full shops and buyers like sardines in a can! Most of the export bulk of textiles people find in other countries is sent from here.
5. Pasar Triwindu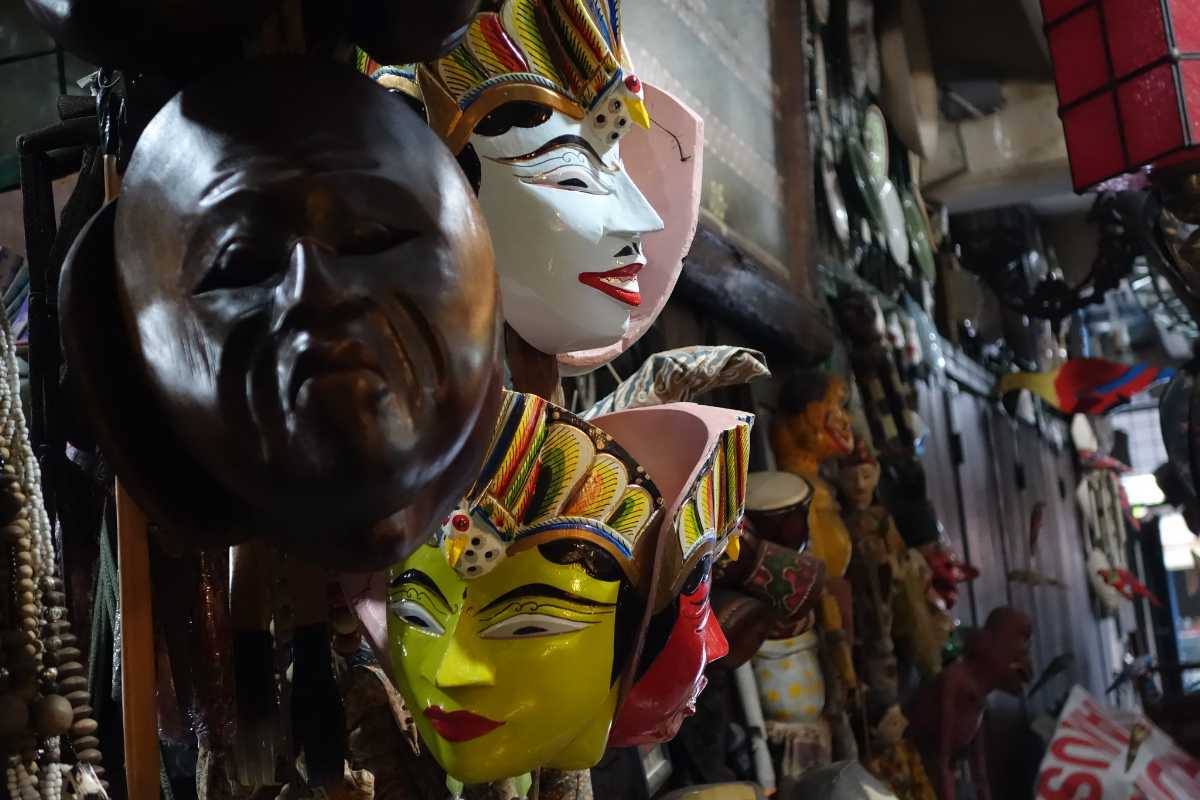 Overloaded with showpieces for home decor with a rustique touch, this place is located in Surakarta. One can bargain and buy impeccable ceramics and old-fashioned electronics at a cheap deal. An overview list of buys includes Batik stamps(block stamp), old currency, ceramics, Keris (traditional dagger), fossils and much more. This busy market opens daily from 9:00 am- 5:00 pm. To one's amaze, there are more than 200 kiosks of vendors who offer a wide variety of antiques. All vendors accept cash only. The market, every Saturday evening transforms into a night flea starting from 6:00 pm, offering a great place for pictures and delicious street food. There are also some very famous and modern restaurants, which are averagely priced and offer lip-smacking food.
6. Sukhawati Art Market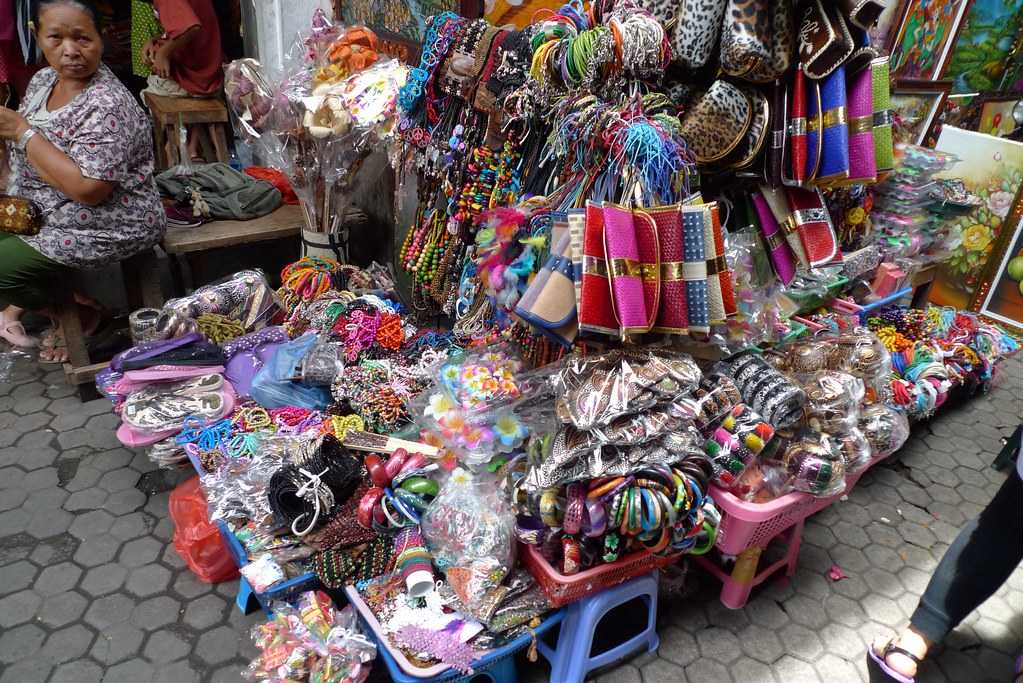 This is one of the most lively and famous markets in Bali, located in Sukhawati village near Gianyar regency. It is famous for  Balinese clothing and souvenirs like traditional crafts at unbelievable prices. The goods sold here can be bought at 1/3rd price offered by the vendor so that one can negotiate high. It is suggested to come here as early as possible to find the best quality stuff at low prices. This art market also offers paintings with and without frames. The operational timings of the art market are 10:00 AM - 5:00 PM and the local market are 8:00 AM - 3:00 PM. When a shopper is done at this market, they can head to the market of silver handicrafts known as Celuk village market, which is only 15 minutes from Sukhawati market.
7. Celuk Village Market
This is the market of silver handicrafts, which is only 4kms to the south-east of Sukhawati and 15 minutes walk from the market. It is a major hub for goldsmiths and jewellery workshops Bali. the quality and design of jewellery sold here are impeccable and worth a look, if not buy.
8. Pasar Gede Solo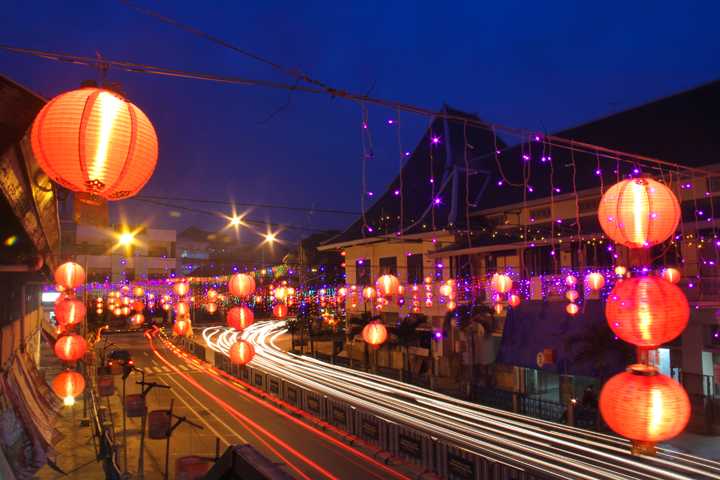 An old and traditional street marketplace located in Java offers the best local street food one should not miss. Naci Pecel(rice with peanut sauce and mixed vegetables), Mie Goreng, Mie Pentil(fried noodles), Lumpia Goreng(spring rolls), Es Dawet, Cendol(cool ice dessert) are some of the savouries available here. This is the local market of the Indonesians where they buy groceries, fruits, raw seafood, spices, street food and other daily needs. Very few foreigners come here so the vendors may not understand English.
9. Pasar Baru
Also called the new market, it's very close to Badung central train station. This shopping hub Klewerhas an old fashioned setting to it offers textiles, clothes, suit material etc. at wholesale prices. One can also find trendy hijabs and burkhas. Other than shopping, local street food snacks are what keeps the shoppers engaged. This market operates only Monday- Friday between 8:00 am till 3:00 pm. Because this is a local and crowded market, it is suggested to keep a watch on your children, purses and wallets. Like all other street shops, this market also welcomes heavy negotiation.
10. Pasar Klewer
It is known as the busiest textile market in Surakarta, and after the recent renovation, it has gained more popularity. This market that is structured into levels offers low to moderately ranged fabric materials. It is worth a look if one is in Solo. It is located near the old museum of Palace Keraton. One can buy souvenirs like batiks, which are sold the most here. The highest level serves different types of traditional tidbits and snacks. The Bu Edi's Tengkleng is always occupied with foodies there for its famous mutton soup and is a must-try.
11. Jimbaran Fish Market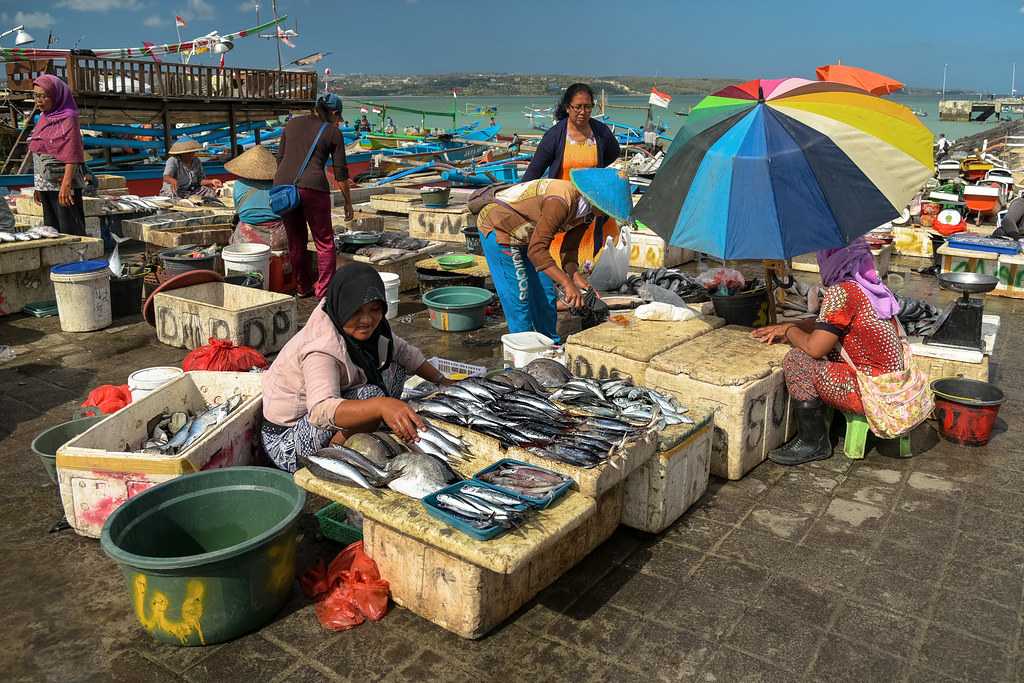 This is a seafood market in Jakarta which sells fresh catches of fishes, lobsters, shrimps, crabs, etc. One fascinating thing is that locals can even cook your freshly purchased fish in front of you with coal-roasted spicy marinade. The market opens daily from 5:00 am - 3:00 pm. Near the fish market are also restaurants which serve amazing seafood by the beach.