Tet Nguyen Dan is a way of saying Lunar New Year in
Vietnam
, and it literally means, "the first morning of the first day of the New Year". It is one of the most important festivals for the Vietnamese people and is a national holiday as well. The locals in Vietnam usually spend this day having a good time with family and friends. Tet arrives with the first day of spring in Vietnam and is the busiest time in the country. So, in case if you are thinking about travelling to Vietnam during Tet celebrations, you need to make your bookings early! Millions of travellers from all over the world visit Vietnam during Tet, and it's a kind of reunion time for them meeting their loved ones. This holiday of yours during Tet will undoubtedly be one of the most exciting ones for you.
And here a few basic things that you need to know about this grand festival in Vietnam.
When is Tet 2021 Celebrated?
Tet holidays are based on the lunisolar calendar of the Chinese. So, the dates change every year for the Lunar New Year / Tet. However, it usually falls in the months of late-January or early-February.
Upcoming Tet dates
Tet Nguyen Dan 2021:
12th February
2022:
1st February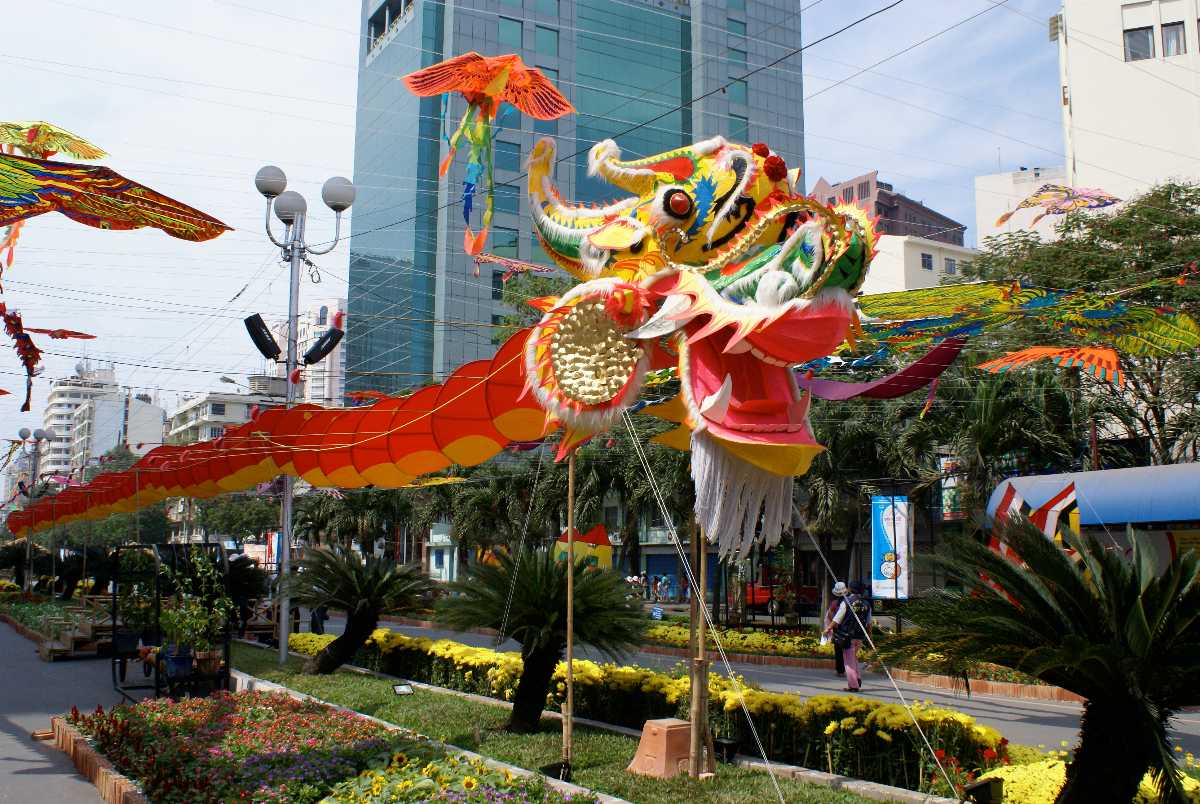 Vietnamese Lunar New Year Traditions
Tet Nguyen Dan is celebrated for three consecutive days, unlike the Chinese New Year which is observed for fifteen days. During Tet, the locals observe a few traditions for a whole week. They usually celebrate the first day with family. The second day is spent on visiting friends. And the last and final day of Tet is celebrated by them by visiting temples, paying respect to their ancestors by offering 'Ngu Qua' (five kinds of fruits) at their family altar, and paying respect to their teachers. Tradition-wise, the Chinese New Year and Tet have a lot of common ones.
Vietnamese have three guardians for their kitchen which they term as Ong Tao (Kitchen God), and they believe that these Gods return to heaven to present his annual report on all the family members on the 23rd day of lunar calendar's twelfth month. So, on the day of their departure, the family members offer sacrifices for them, which they are believed to use on their journey.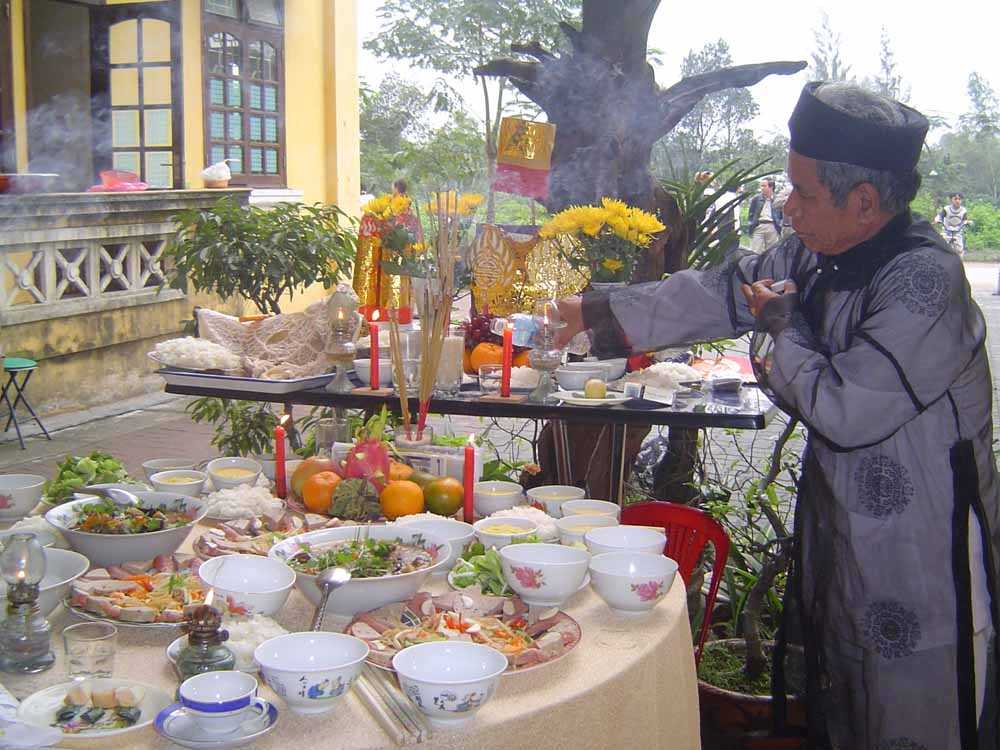 The Vietnamese people cook special holiday foods a day or two prior to Tet. These foods are known as bánh ch?ng and bánh d?y, and the process of cooking these are quite extensive. They usually prepare these remaining awake all through the night. There are special candied fruits, known as Mut, as well for all the guests and visitors.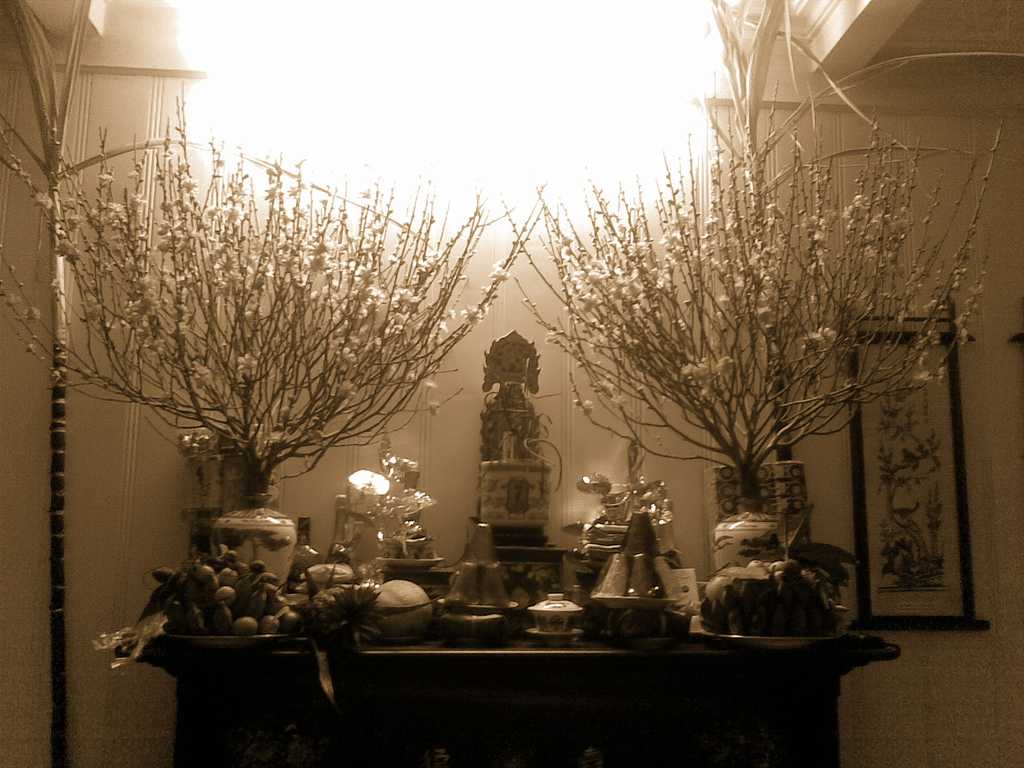 The locals avoid sweeping their houses during Tet as they believe that it might sweep away good luck. Also, they do not cut nails or trim their hair during their Tet holiday for the same superstitious reason.
One of the most important traditions the Vietnamese follow during Tet is that they put a lot of emphasis on who will enter the house first in the New Year. For them, it's the first person that brings good or bad luck for the upcoming year! So, they usually consider the head of the house or somebody really successful to leave and return to the house just a few minutes before midnight.
The Vietnamese believe that the colours red and yellow brings good fortune and hence, you will find the places and streets adorned in these two colours during the Tet celebrations.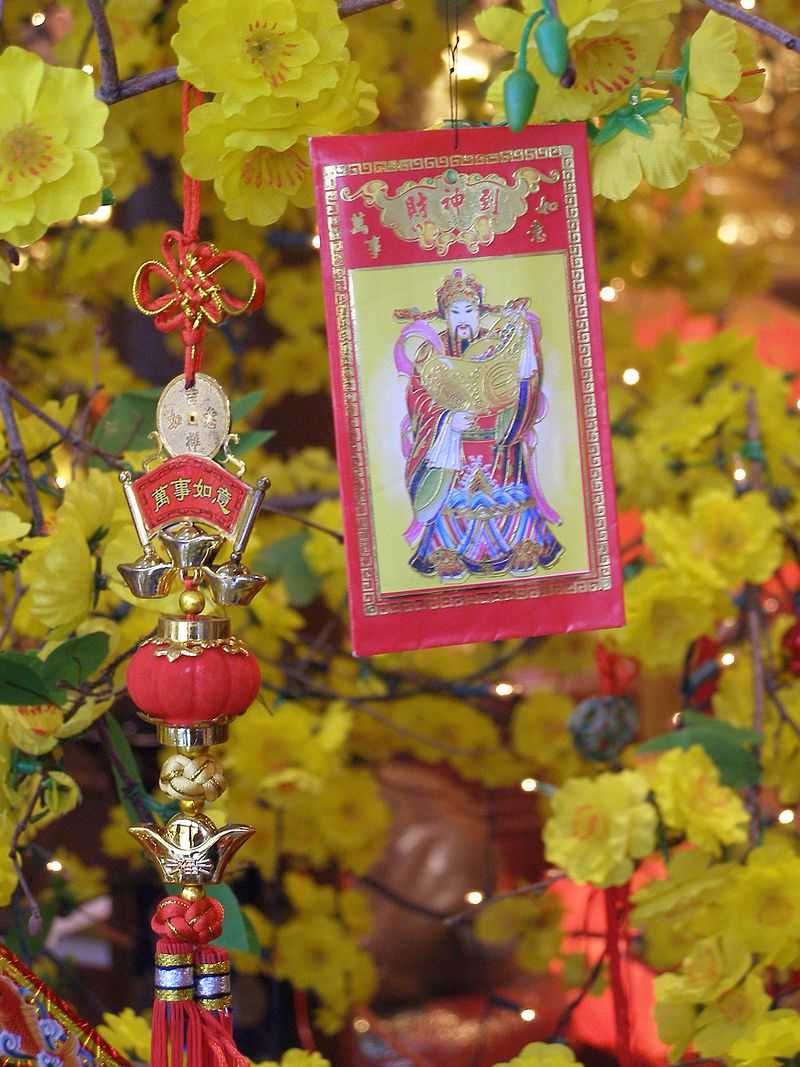 The locals also believe that whatever way they start their day at the dawn of Tet will determine their fate during the upcoming year. Hence, they always smile and behave nicely with people around hoping for a better tomorrow.
Locals in the South and Central Vietnam decorates their houses with Ochna Integerrima, and the ones from North uses the peach flower for decorations. For the living room, they use kumquat tree during Tet. The fruits of these trees symbolise fruitfulness and fertility that each of them hopes for in the coming years.

Preparations Before Tet Nguyen Dan
Tet is basically that time of the year when the locals are up for a fresh start, forgiving and forgetting the past! They settle their debts, forgive old grumbles and clean their houses from all the clutter. This is the time when they make way for all the good luck and fortune to arrive in their lives and hope for a better upcoming year. As it's a national holiday, all local shops and businesses will be closed. People get busy weeks in advance to buy gifts, groceries and clothes and take care of all other preparations.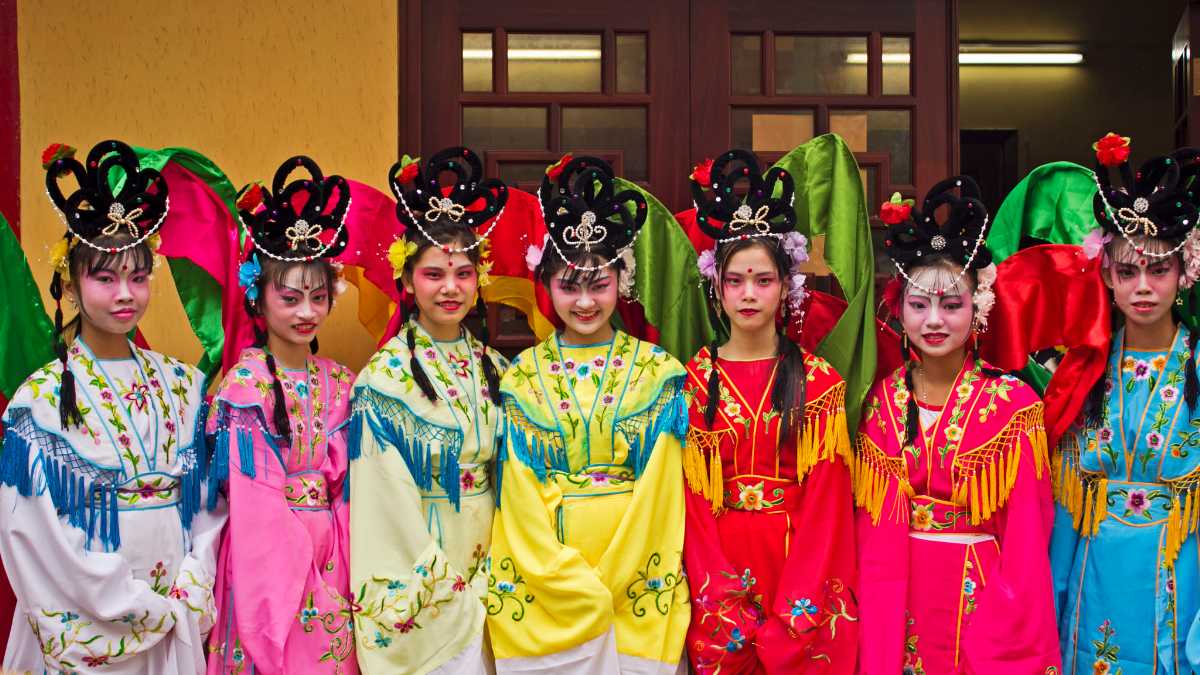 Vietnamese New Year Wishes - How to Greet Locals During Tet
For English speakers, the Vietnamese language is a little difficult to master. It's the same as the Chinese and Thai language, which are tonal and hence, has a difficult pronunciation. However, the Vietnamese people are very jovial and welcoming, and no matter whether you know the local language or not, they will understand your attempt through context. Just say, "chuc mung nam moi", which is generally pronounced as "Chook moong Nahm Moi". This is the traditional greeting during Tet. "Song lau tram tuoi" is used by the children while greeting the elders, and it means 'long life of 100 years'. "Suc khoe doi dao" is said while wishing for good health and "An Khang thinh vuong" is for security and prosperity.
A Few Tips for Travelling During the Vietnamese New Year
Hanoi
,
Ho Chi Mihn City
and
Hue
are the most colourful and vibrant during the Tet holidays. It's basically fun to be there during this time, however, you need to know a few things in order to celebrate this event even better.
Be Prepared for Loud Noise: Tet is incredibly loud and chaotic for the first time travellers. People celebrate this day in the streets, and there are ample firecrackers and banging of gongs in the public areas. They make these noise to scare away the evil spirits, which might bring bad fortunes. If your hotel room's windows are facing the streets, then it will be extra noisy for you. However, if you do not have a problem to be a part of the revelry, then it can be super fun too!
Be a part of the Vietnamese Traditions: Tet can be a great time for experiencing the best of Vietnamese traditions. There are a number of games being played and cultural shows with music, dance and entertainment are conducted on public stages. The Pham Ngu Lao region in Saigon hosts special performances for the tourists. There are electrifying dragon and lion dances as well!
Book Tickets in Advance: If you are planning to move around Vietnam during Tet, you need to plan some extra time as the transportation gets filled up days before the holiday as well as after. All good hotels generally get booked months prior and hence, as mentioned earlier, you need to book your stay well in advance to avoid disappointments later. The prices increase drastically with high demand in the central areas.
Places could get crowded: Popular beach destinations like Hoi An will be super busy with locals as well. The Vietnamese families take a break during Tet and hence, the tourist places are not just filled with tourists but with locals as well.
So, what's your take on Tet now? Are you going to be a part of it in the upcoming year? After all, what's a better way to learn and explore the culture and traditions of a country than visiting it on its most celebrated local festival?