My name is Kovid, and I'm not a virusKovid positive since 1990Kovid, naam to suna hi hoga...
These are some of the jokes that I've made for almost 2 years now - but little did I know that they would propel me to become an 'internet sensation' overnight, and would result in 5+ live TV appearances around the world including primetime news channels in India, 20+ radio interviews, and countless articles in languages I can't even read.
As hilarious as the jokes were, the actual feeling of going through the chain of events was incredible and surreal.
Here is a personal, first-person perspective of how it feels to become a 'viral' internet celebrity!
It all started with one little joke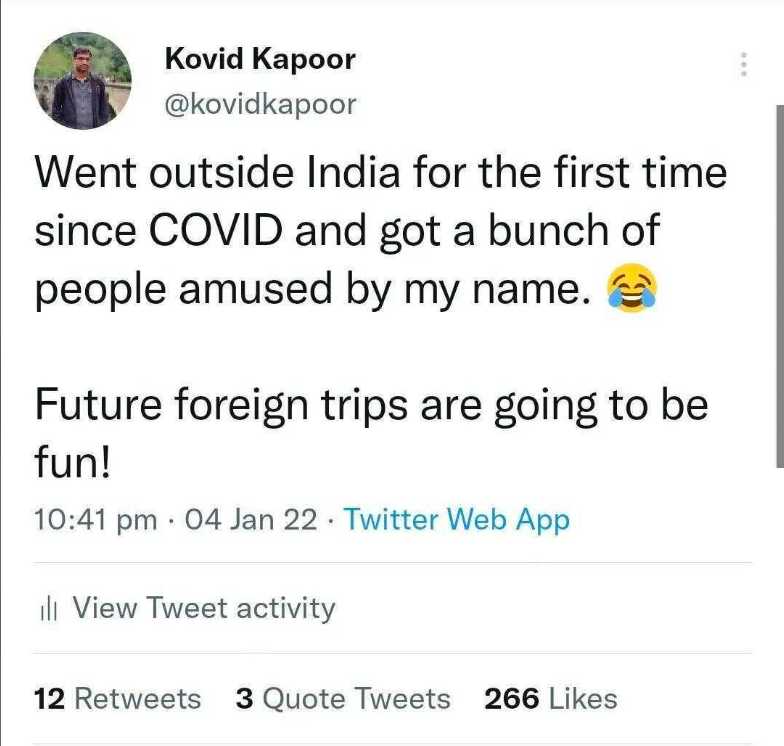 I have made countless jokes about my name on Twitter and Instagram in the last 2 years - not to mention in person - so I thought little about it when I posted this simple tweet about a few small incidents from my latest trip to Sri Lanka over the New Years.

I posted the tweet in the evening, got a few likes, and went to sleep and woke up the next morning to see people interacting to it - just a bunch of likes and retweets that I didn't anticipate.
As the day progressed, the engagement on the tweet started to blow up. So I started responding to some of the comments, adding to the hilarious 'thread of events' that had progressed in just a few hours. In the spirit of humour, I wrote a bunch of follow-up tweets, explaining the meaning of my name, and sharing photos from some of the small funny incidents that have happened with me over the last 2 years.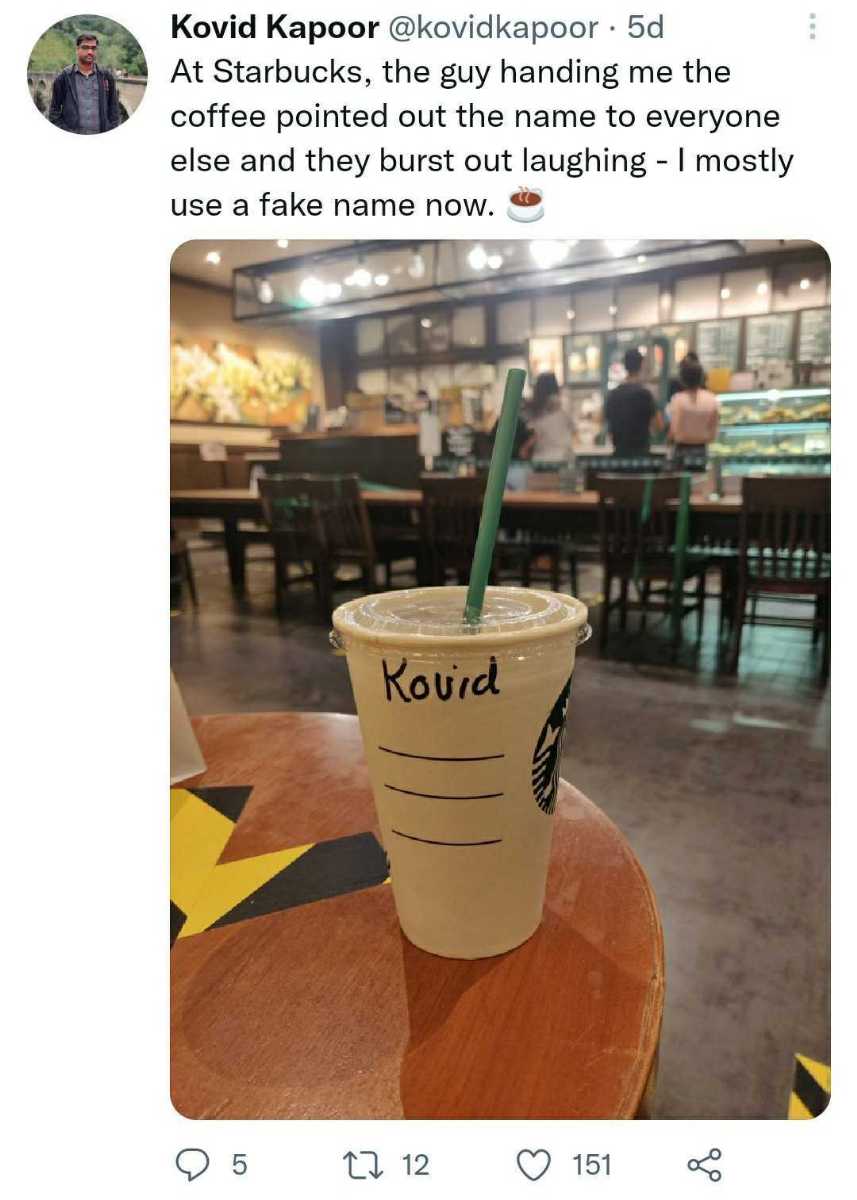 This got a lot more engagement over the next few hours, but I still didn't see the potential of where this might be going. I was just playing along, having fun on Twitter, and went to bed having a good laugh.
Initial media attention


The next morning is when it actually started to amplify. The comments and retweets came flooding in at an incredible pace, with Twitter adding to my repertoire of Kovid-COVID jokes, all in all, having a good laugh. That's when the messages from reporters/journalists started arriving in my Twitter inbox.

It started with an RJ from Red FM Varanasi. She called me to ask if she could record a small session with me. She was amused with my whirlwind of a story and decided to share it with her peers in the other Red FM stations across India. This led to more calls with more radio stations, and I ended up quickly recording a video with Red FM for their main Youtube channel.

Meanwhile, I was unaware that NDTV was following all this. They made a pretty cool blog post out of my Twitter threat, using the photos from Twitter. Scoopwhoop noticed the engagement their post got and made it into a thread/IG post a couple of hours later.
Calls from reporters from around the world

This is the point when it started going really viral - pun intended - and I could see the activity rising. Every time I would refresh my 'Notifications' tab on Twitter, there would be around 50+ interactions, all in a matter of a few seconds. I had gotten messages from reporters at NDTV, Times Now, AFP, Reuters, The National (Dubai) and heck - even the mighty Washington Post! Recorded a few audio clips for journalists that asked me for one, and offered more funny little incidents that were not on my Twitter thread.

The author Mr Nityananda Misra made an extremely nice and intelligent video, crisply explaining the meaning of my name, while referencing the Vedas, in Hindi as well as English.



I have never been involved with any sort of PR activity, even for Holidify, but I decided that I am going to be proactive in the process, and respond to everyone as quickly as possible. It was obvious that the speed of my responses and interactions was going to be critical.
Free cake by Amintiri

Everyone loved the story of the misspelt name on the cake, and Amintiri, a Bangalore-based patisserie from where the original cake was ordered, saw the post and messaged me saying that they'd love to send me a 'corrected' cake. Within a few hours of this interaction, the cake was delivered to my address. Thanks for the free Tiramisu, guys!

Another incident that had occurred was when a custom design T-shirt company did a quick design on one of their t-shirts for me. and asked whether I would like to buy it - so sure, why not?
Shared some audio and video bytes

The reporters understood that not only do they have a good story on hand, but also someone who's happy to share more details, and who can represent himself in good stride on videos/TV. Someone from NDTV messaged me on Twitter whether I'd like to be on NDTV LIVE (!!) next evening around 8:30. As intimidating as it was, who could say no to that!


Meanwhile, I spent much of the next day recording radio interviews, going Live on radio, or getting an interview video recorded via Zoom. By 8:30 PM, I was fully prepared for a live TV appearance.
Messages from other Kovids, and other people who have gotten their names hijacked

I got a bunch of messages from other Kovids, those who got tagged on my tweet threat or ScoopWhoop's Instagram posts on this topic. Most of them were pretty amused by this and shared their own funny incidents and jokes about sharing a name with a global pandemic. But there were some that felt cheated that I had hijacked their claim to fame :P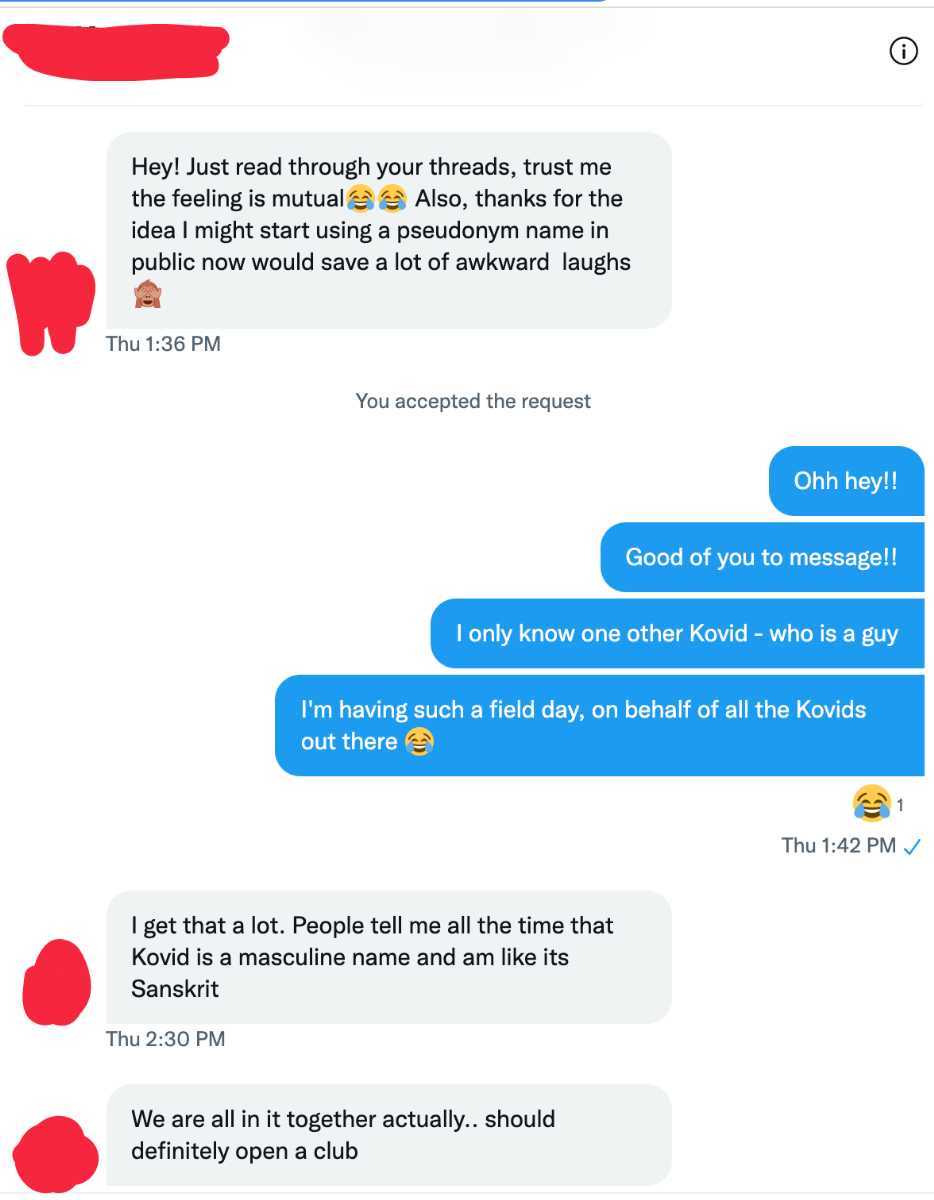 Kovid travels around the world

By this time, Kovid had spread just like the virus all around the world, and I was absolutely stunned to see the dramatic exponential growth just in a matter of 2 days. Reporters from France, Spain, the UK, Bulgaria connected with me, and I was answering questions via text and recording audios/videos left, right and centre.

A French publication wrote 'Little is known about it, but the Kovid arrived in France in September 2018. It passed through Paris (on the heights of Montmartre), then through the vineyards of Beaune and the Château de Chenonceau.' (Full link at the bottom of this post)

Some of the most famous publications in Latin America had published a Spanish / Portuguese version and played my video clips (from AFP?) on national TV, and I only got to find out about this when messages started flowing in from Brazil, Colombia and Chile.
Articles were published in South East Asian nations like Indonesia, Malaysia, Phillippines as well.


That signature dialogue...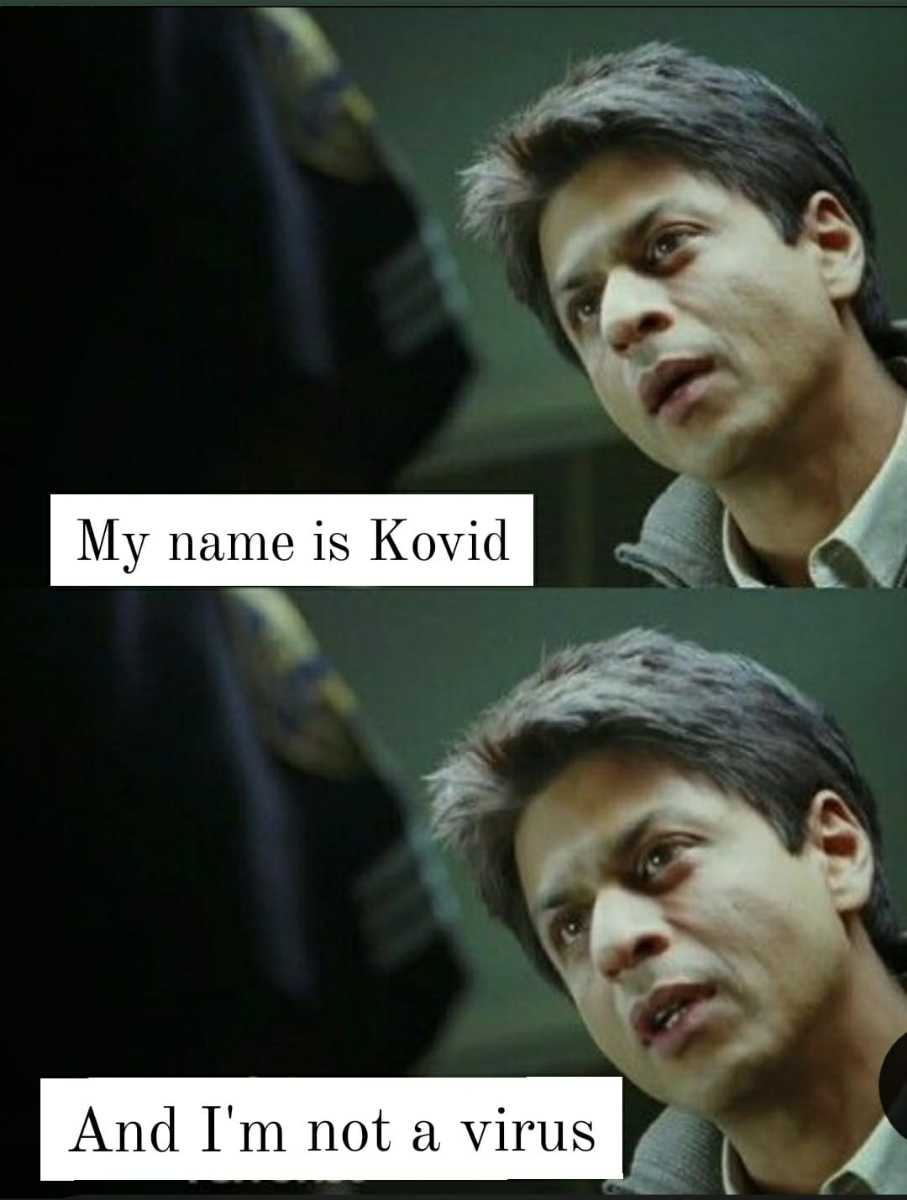 Almost everyone asked me to say my signature line - "My name is Kovid and I'm not a virus" - and I tried to train myself to speak it in an SRK accent, but of course, that was not to be!

Heck, at this point, I had no idea where this might take me - so I even tagged SRK in Tweets / IG, wondering whether he'd be nice enough to record a small video saying that dialogue in his own voice.

(This, honestly, was the only crazier thing that could happen at this point)


So, how does it all feel?

The past week feels absolutely insanely surreal, and unbelievable. I always knew that I had a good joke with my name since Feb 2020, but never once did I imagine in my wildest dreams that it will lead to SO MUCH global coverage. It sounds ridiculous to say it, but I have become an internet 'sensation' and will forever be a part of the internet subculture!

Will people notice my name and remember the virality, once I start going out in the world? Who knows!
If you're interested, you can follow me on Twitter and Instagram to follow the madness.


Links to the entire story
The original tweet
Explaining the meaning
Follow-on thread of incidentsIndia:
NDTV Life
.
Mirror Now
.
Times Now Hindi
.
Brut India (Hindi)
.
ScoopWhoop
Kannada channel
.
Telugu channel
Pakistan
!
US & EU:
Washington Post
.
France Live
. Spain.
England
.
Bulgaria
MENA:
Israel Live
.
The National
(UAE).
Khaleej Times
(UAE)
South America:
Colombia
.
Mexico
. Chile
SEA and Aus-NZ:
Malaysia
.
Indonesia
. Phillippines.
New Zealand Radio