India, as a developing nation is growing both economically and socially. But this growth comes at a hefty price. Cities that were blooming with lush greens and clean roads are now just concrete jungles that are having an adverse effect on our environment. However, even with the increase in deforestation and poor air quality, some cities have set an example by taking quantitative measures to maintain the cleanliness of their area.



What is Swach Survekshan?
One of Prime Minister Narendra Modi's appraisable steps to address the pressing issue of clean India, Swach Bharat Abhiyan (Clean India Movement), is an initiative for keeping the country clean in the long run. According to India's Swach Survekshan 2017, the Quality Council of India carried out a survey in 434 cities and tier two towns to rank the cleanest cities of India. The cities had to meet hygiene criteria's in the field of solid waste management, eradicate open defecation and random disposal of waste. The survey was conducted to review the status of the Swach Bharat initiative after two years of action from local sanitation bodies and the government.
Journey of the Cleanest City of India in 2017
After a vigorous drive to clean every city in India, 80% of the cities saw a drastic improvement in basic sanitation and hygiene measures. However, the city that showed exemplary efforts in this field was
Indore
. Due credit should be given to the IMC (Indore Municipal Corporation) who undertook the tedious task of tackling waste management through a step by step process. The key to success for Indore lies in the groundwork they did to implement their method. Any effort is futile if you cannot educate the citizens of your area and instil a sense of awareness among them regarding the issue. Once the corporation employees had satisfactorily educated people on the need to maintain cleanliness and hygiene, they moved to step two. Slowly and steadily the city embraced door to door collection of waste.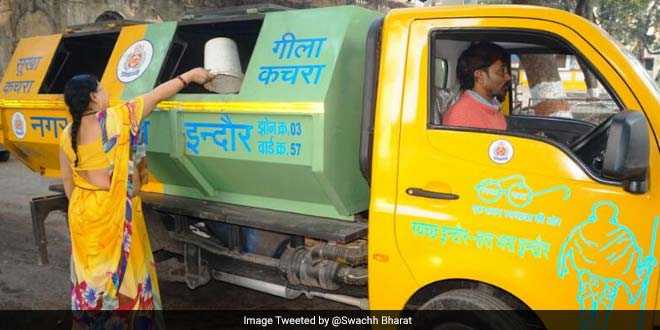 Once waste was collected, it was segregated as per their degradation process. Eventually, the people themselves began to manoeuvre the process of separating organic and non-bio degradable waste. Half the battle is won when each strives to make a difference. Even public venues, hotels and hospitals were offered small incentives if a proper waste disposal process was followed. With a minute 5% discount, Indore managed to lure even big giants into constructing organic waste compost in their vicinity. Once the two models were a success for the Indore Municipal Corporation, they moved forward with vigour to address the more difficult yet pressing issue of open defecation.

A city is made up both, educated and uneducated citizens and neither can survive while the other perishes. So the officials took to educating locals on the importance of using a toilet. Rural areas of Indore saw a massive improvement in hygiene once subsidies were given to construct toilets. Clean drinking water and construction of toilets were the two main targets the Municipal officers had managed to achieve. The climb to reach the top was a time consuming but a highly rewarding one of IMC officials.
Why does India need Swach Bharat Abhiyan?
With a population of approximately 62.5 million people, a national level campaign like Swach Bharat Abhiyan addresses more than just the problem of cleanliness. Clean India innately also educates Indians on the issues of disposal of solid waste, reuse of organic waste, elimination of manual rummage, open defecation and the need for toilets to maintain basic sanitation in the city. Cleaning a city is not a difficult chore, but bringing about a change in the behaviour of people is. Once the people of Indore were motivated for the cause, the city in just two and a half years saw an environmental change through their small efforts. If the same essence is instilled in the hearts of 62.5 million Indians, India on the whole will reach world hygiene and sanitation standards in no time.


India will also see a decent in chronic diseases like cholera, typhoid, and malaria that breed in dirt and faeces. Swach Bharat Abhiyan will render the country an increase in GDP and boost tourism. One of the main shortcomings of India is the lack of sanitation facilities and hygiene in the ones present. Clean toilets, river banks, roads, and thoughts will direct India on the path of growth.
Ethical Obligations
Clean India mission is the need of the hour today. The citizens of India are like little branches that have grown individually and now need to help strengthen its roots. Individuals need to want cleanliness around them and then work toward achieving that common goal. A healthy country will empower a healthy society and those who dwell in it. It is time to learn from the efforts of Indore and implement these changes in every city of India effectively for a clean and green India by 2019!