Ipoh
, the capital city of
Perak
,
Malaysia
, which is popular for its cuisine and natural attractions, stands strong as a shopping hub too. The shopping culture in Ipoh is upheld by its several shopping malls, hypermarkets, shopping complexes, shops, flea markets, and night markets. The shopping scene in Ipoh is pretty relaxed and laid back. The malls have something or the other for everyone who visits, at affordable prices. There are a number of specialties in Ipoh, namely, Ipoh White Coffee, Kacang Puteh, Egg Tarts, Kaya Puff, Tambun Pomelos, Meat Floss Lotus Paste Biscuits, and locally made handicrafts!
Here are the 13 best places for shopping in Ipoh-
1. Ipoh Parade

One of the premium shopping malls in Ipoh, it is home to some of the most exclusive brands which are not available anywhere else in Perak. The mall takes you by surprise from the very moment you step into it, not to forget the unique LED entrance. It is a one-stop retail destination for the tourists as well as the locals with the brands it has to offer, the dining it provides, a number of other amenities like karaoke booths, bowling alleys, and GSC cineplex. This 5-floor mall is widespread and perfectly knows how to welcome people from different walks of life.
Address: 105, Jalan Sultan Abdul Jalil, Pusat Perdagangan Greentown, 30450 Ipoh, Perak, Malaysia
Phone: +60 5-241 0885
2. AEON Mall Kinta City

One of the loved shopping malls in Ipoh, the vibe here is fantastic. The food court is classy and it hosts some of the famous fashion labels. It has all the basic items one will need and the way around the mall is easy. AEON Mall Kinta City also has a bowling center, and cinema. The supermarket here provides fresh groceries and the tenants in the mall are interesting too.
Address: Jalan Sultan Azlan Shah, Bandar Baru Medan Ipoh, 31400 Ipoh, Perak, Malaysia
Phone: +60 5-548 6331
3. Angsana Mall Ipoh

Formerly known as Greentown mall, Angsana Mall is a tech-geeks spot in Ipoh. With more than 80 retail outlets offering international and local brands, one can also shop for traditional outfits. You can also shop for fashion apparel, sportswear, and clothing materials. Besides this, it also has jewelry outlets, home decors, and convenience stores. The food court here serves local Malaysian cuisine and Thai food.
Address: 24, Jalan Raja Ashman Shah, 30450 Ipoh, Perak, Malaysia
Phone: +60 16-447 9280
4. AEON Mall Station 18

Yet another one of the Aeon malls, this one is located quite away from the city center. It is one of the malls where you can find Ipoh White Coffee. Besides this, you will find outlets like Starbucks, and Secret Recipe. It has a number of branded outlets like Charles & Keith, Adidas, Skechers, Hush Puppies, and many more. It also has outlets under the umbrella of beauty and personal care which houses some of the very well-known brands.
Address: No.2, Susuran Stesen 18, Station 18, 31650, Ipoh, Perak.
5. Perak IT Mall
The only mall that is whole and sole dedicated to electronics, it is totally a go-to place for technology geeks. It has everything right from the latest mobile phones, video games, electrical appliances, audio systems, and gaming. The locals no longer need to travel all the way to
Kuala Lumpur
to get their hands on the brand new technology, all credits to this mall! It has a gaming zone, a convenience store, lifestyle stores, and about 2-3 cafes.
Address: Tasek Square, Ipoh
6. AEON Mall Klebang

Yes, Yet another AEON Malls, this one is relatively new. Strategically located, it is easily accessible. It is a good place to visit with family. It has hundreds of stores that cover fashion brands, both international and local, sports brands, and fitness equipment. Spread across 4 floors, it has about 35 restaurants that serve mostly Asian cuisine. It also has amusement facilities and cinemas that can be enjoyed by people of all generations.
Address: AEON Mall, Jalan Kuala Kangsar G13&G15, Ground Floor, Klebang, 31200 Chemor, Perak, Malaysia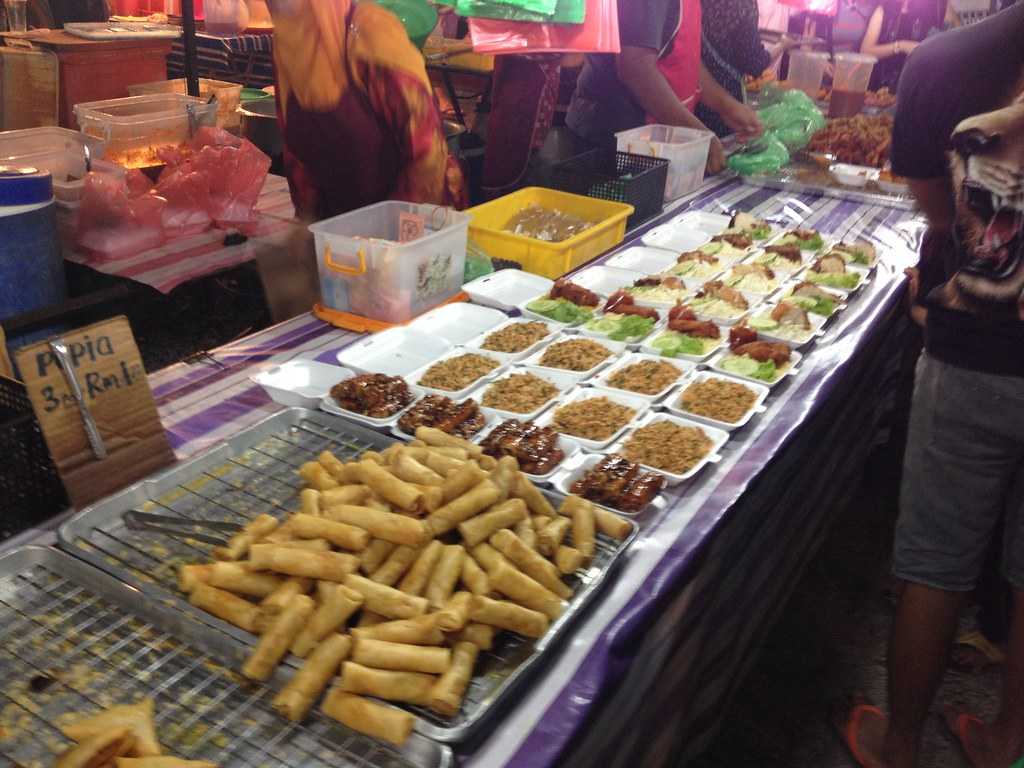 Held every Wednesday, you will find more than 100 stalls at Bercham Night Market in Ipoh. Located very close to Bercham Nova Commercial Centre, it is a treasure of hot sizzling delicacies and a wide variety of goods to shop from. This night market is open from 6:30 PM to 10:30 PM. The moment you step into the market, you will be welcomed by strong flavours that will completely entice you. Similar to a small Chinese market, you will find ready-made food, seasonal fruits, and electronic gadgets.
Address: Hala Bercham Timur 11, Taman Pakatan, 31400 Ipoh, Perak, Malaysia
Timings: Wednesday 6:30 PM - 10:30 PM
8. Pasar Malam Taman Ipoh Timur

A night market that comes alive on Tuesday from 6:30 PM to 10:00 PM, it is also known as the Ipoh East Garden Night Market. Yet another Chinese market, that has a plethora of Chinese food and things to buy. Surprisingly, you will find an unusual version of tofu here called the black tofu.

Address: 13, Jalan Medan Ipoh 6, Taman Ipoh Timur, 31400 Ipoh, Perak, Malaysia
Timings: Tuesday, 6:30 PM - 10:00 PM
9. Pasar Malam Bandar Baru Menglembu
The Pasar Malam Bandar Baru Menglembu night Market engages the locals, who are mainly Malay on both, Mondays and Thursdays from 6 PM to 11 PM. You can try cempedak here and Apong Balik, also known as Apam Balik.
Address: 70, Persiaran Kledang Timur 17a, Taman Bandar Baru, 31450 Ipoh, Perak, Malaysia
Timings: Monday & Thursday, 6 PM - 11 PM
10. Pasar Malam Taman Pertama

This night market in Ipoh comes alive on Friday and is open from 5:30 PM to 10:30 PM. It is one of the largest night markets of Ipoh and it known for its large spread of food. One can spot everything here, right from food to clothes to mobile accessories. One must try the
Assam
Laksa when visiting this night market. The commodities in this market are very affordable and the overall vibe of this night market is vibrant and happening. It welcomes a lot of people who can't seem to stop themselves from treating their tastebuds to delicious local dishes. Given its popularity amongst the tourist and the locals, finding a place to park your car here can become an issue if you reach the market late.
Address: Taman Pertama, 30100 Ipoh, Perak, Malaysia
Timings: Friday, 5;30 PM - 10:30 PM
11. Pasar Malam Taman Rapat Setia Baru

Yet another night market that opens its arms to the locals and tourists every Wednesday, one can find cheap fresh seafood here. The most liked food stalls here are those of Laksa and tauhu sumbat. The sellers of this market are very friendly and offer a variety of clothes, accessories, and toys. There is ample parking available here so you don't need to worry about that. Kuih muih, satay, rojak, nasi ayam, and nasi bukhari are a few of the many dishes present here that are lip smackingly delicious and easy on the pockets too!
Address: Tapak Pasar Malam (Rabu, Jalan Teoh Kim Swee, Taman Rapat Setia Baru, 31350 Ipoh, Perak, Malaysia
Timings: Wednesday
12. SPPK Night Market
This night market is one of the mammoth night markets that Ipoh has. With a plethora of food options, it is truly worth all the time and money. This night market is held every Thursday from 5:30 PM to 10:30 PM. If you can, must visit this night market during the Chinese New Year and you will not be disappointed for this night market is thriving at this time. You can buy clothing, electronic gadgets, screen protectors, shoes and other odd things. A total delight for food lovers, the few of the many dishes that this market has to serve include - fried radish, laksa, fried chicken, skewers dipped into the sauce, thin pancakes, and satay. It also has confectionaries and beverages like bubble tea, sugar cane, coconut, cincau, and calamansi.
Address: Jalan Pegoh, Taman Pengkalan Jaya, 31650 Ipoh, Perak, Malaysia
Timings: Thursday, 5:30 PM - 10:30 PM
13. Gerbang Malam
Open literally every night from 6 PM to 12 midnight, this is the best night market of Ipoh. It has a lot of stalls selling a variety that light up and come alive every night. You will find a lot of tourists here from hotels in Ipoh
Old Town
and Ipoh New Town. One can shop for cheap clothes, accessories, gadgets, jewelry, perfumes, wallet, toys, souvenirs, and bags. This night market spot also has a number of restaurants and shops that add to the hustle-bustle and the lively vibe of the market. The best time however to visit this market is around 8:30 PM to 9:00 PM, neither too early nor too late, which means that you will find the market completely functional and at its peak.
Address: Jalan Dato Tahwil Azar, Taman Jubilee, 30300 Ipoh, Perak, Malaysia
Timings: Everday, 6 PM - 12 AM
With so much being said about shopping in Ipoh, it surely will be worthwhile. Ipoh has night markets that open every night. Different night markets, different nights. Each one of these has its specialties, bringing to you the best of Ipoh - raw and fresh! The consumer goods in most of these malls are fairly priced and are very affordable. The malls of Ipoh witness locals and tourists from all over, taking something back for everyone!