Everyone enjoys a little nightlife by visiting nightclubs.
Dubai
being such a beautiful city, it does not fall back when it comes to nightclubs. It may be a misconception that partying in Dubai is not so enjoyable, but the fact is that there are some great nightclubs to party in. one can attend some of the most chivalrous nightclubs parties as well as some hip and happening ones. On both ends, one is sure to have a lot of fun. So if you are a fan of dancing the night away to in a nightclub with under the disco lights, here's a list of the best nightclubs in Dubai that you can visit to make your night a memorable one.
1. Base


Awarded the nightclub of the year in Dubai in the year 2018, Base is a stunning place to experience a good nightlife experience with a great vibe. It is a unique place with a classy crowd. The visual displays are a major highlight; the pyrotechnic theatre feature within the bar adds to a great visual element. This club has sure raised the bar with its open-air venue. It invites a world-class artist to perform and play music here. it invites a very concert vibe here and makes for an exciting nightclub. It offers all luxuries of a premium lounge along-side as well.
Address: D3, Ras Al Khor Road
Timings: 10:00 PM - 4:00 PM; Open from Thursday – Saturday only.
2. Club 360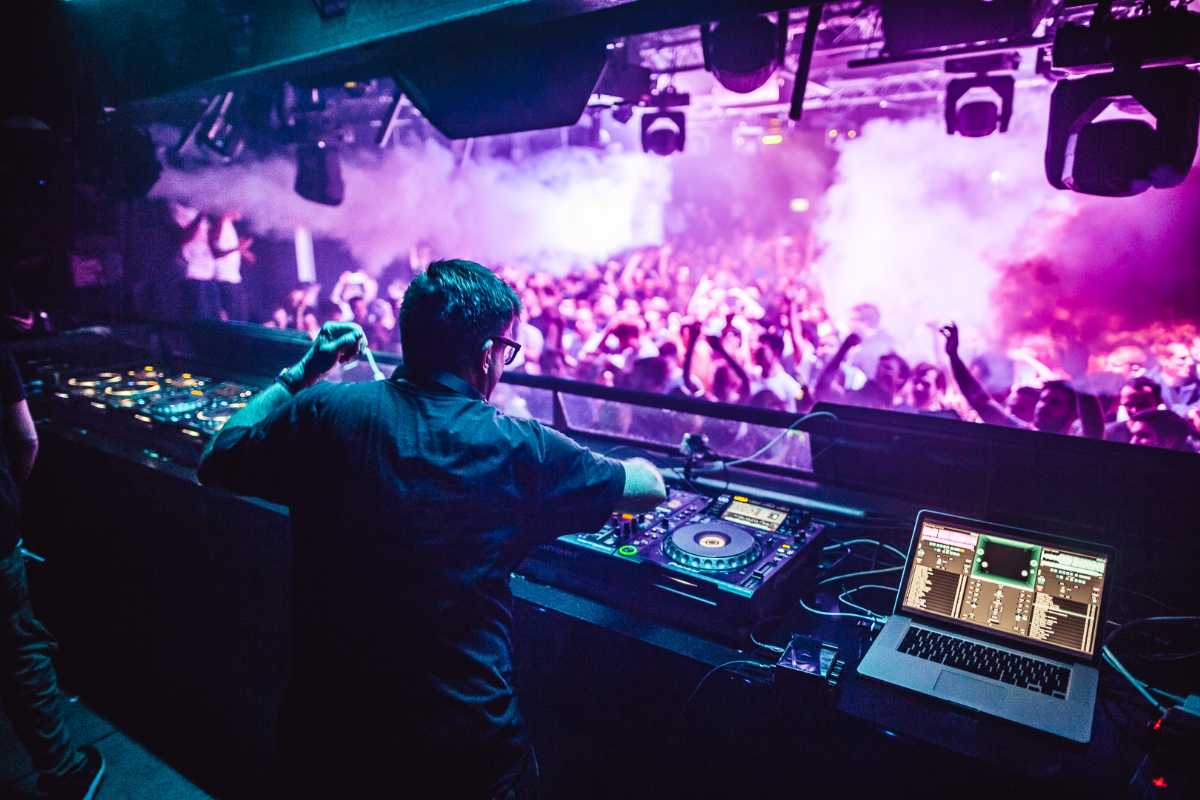 A nightclub in Dubai which engulfs the upbeat nature of the city in the classiest of ways is Club 360. To start with, if you want a panoramic view of the Burj Al Arab and the Persian Gulf, nowhere else can you get one as in Club 360. You can experience a great view of the trendy club. It seems to be the most attractive hub for the residents of Dubai. It has a dynamic deck, featuring eclectic music from hip-hop to contemporary hits. The highlight of the bar being the supremely trained bartenders who curate drinks and a unique cocktail at their fingertips. They also host some of the best occasion parties, the most famous being New Year's Eve. It is also an award-winning nightclub of Dubai
Address: Jumeira Road, Jumeira Beach Hotel
Timings: 5:00 PM to 03:00 AM; Open Everyday
3. Club Boudoir

If you are fond of the very French vibe, Club Boudoir is the right place to head to. The city's partygoers are very fond of this club and it magnets some of the most high-end crowd of Dubai. The club is strict with its dress codes and expects people to behave in a much-organised fashion. But otherwise, you are sure to have a good time partying here. The food is said to be a highlight here as well as the availability of drinks at a reasonable cost. The staff too is very courteous here. It does stand out in the list of clubs housed in Dubai.
Address: Al Reem 1, 3 St
Timings: 10:00 PM - 3:00 AM; Open Everyday
4. Billionaire Mansion Nightclub


Who said a nightclub in Dubai could not be regale and fun at the same time. With a much opulent vibe and an elegant surrounding, Billionaire Mansion is a sight to behold. The A-listed crowd prefers going to this nightclub to enjoy a very royal nightclub atmosphere. You are sure to spot a famous persona, international DJ's and artists, and business executives visiting here. It is known for its custom-made champagne shows and other glamorous parties. It is a multi-venue, award-winning bar and night club which has everything you want in a nightclub- an outdoor dance terrace, karaoke nights, extravagant dinners and some happening shows to entertain, it has got it all.
Address: Taj Dubai, Business Bay
Timings: 7:00 PM - 3:00 AM; Open from Tuesday to Sunday
5. Catwalk Nightclub

As the name suggests, this nightclub has a red carpet which acts as a runway to dance and enjoy the nightclub's atmosphere. It has a magnificent bar; its well furnishes with some of the best music playing in town. It is not so expensive, thus being a popular attraction to tourists. There are many bar counters around the place with some exquisite and unique drinks and cocktails. The club is known for its music since it has a good variety from house to pop music. The club also holds an entertainment program every Friday Night. Several DJ's take charge of the console and play some beautiful music. It is the most popular nightclub in the Al Barsha locality.
Address: Al Barsha 1, Sheikh Zayed Road, Next to Sharaf DG Metro Station
Timings: 9:00 PM to 2:00 AM; Open Everyday
6. Stereo Arcade

If you want to visit a super casual nightclub in Dubai with a very breezy atmosphere, this is just the right place. Stereo Arcade is more for the young crowd. It is a place full of neon lightings and paintings. It bears a very funky vibe. It has gained a lot of popularity amidst the youth because of the great variety of music being played. It is as diverse as it plays both hip-hop as well as old school types. Who wouldn't want such a place to party? There are some energising mocktails as well as some unique cocktails served here. So if you want to experience such a hip and happening party, head to the stereo arcade.
Address: Doubletree JBR Dubai
Timings: 6:00 PM to 3:00 AM on Saturdays-Thursdays, Fridays - 2:00 PM to 3:00 AM. Open Every day
7. White Dubai Nightclub


This nightclub is a rooftop nightclub. It is lively, energetic and more on the hi-tech end with an ultra-modern design. They play electronic, and house music and feature DJ's from around the world. It steers the right party mood and ensures and promises to give you a great night time experience. The place is eloquent with kind and courteous staff. The food here too is commendable. If you want a spectacular evening, with some great drinks and thumping music, head here.
Address: Al Meydan Road, Meydan Racecourse Grandstand, Rooftop Venue
Timings: 11:00 PM to 3:00 PM Open from Thursdays to Saturday
8. N-Dulge


This place stands way superior to other nightclubs in Dubai. It is a wacky place where you can meet some new people, dance the night away and experience one of the best sundowner parties of your life. You cannot underestimate the level of the rush you get when you party here because of the vibe. It can easily leave behind any other party place like Base. It is known for its outdoor terrace and suspended catwalk. The music is a mix of contemporary and pop hits. The drinks here are to die for. N-Dulge is a space to let your hair down and make the most of your time here. It may bear a few rules at first, but you can party-away to your heart's content. To top it off, the place is pocket-friendly as well.
Address: Crescent Dr, Atlantis The Palm
Timings: Thursdays from 9:00 PM till 3:00 AM and on Fridays from 4:00 PM to 3:00 AM
9. Chi @ The Lodge Nightclub


This nightclub reopened with a remodelled and refashioned set up. It is a multi-themed venue now. The nightclub is extremely spacious, offering a large setting to dance. The music again is quite varied. From hip-hop to old soul music, they play it all. The DJ's are popular international artists playing here. It is so popular that it is challenging to get a space during the weekends. Thus it is always better to arrive early here. The crowd is also very mixed here. Chi @The Lodge Nightclub promises one hell of a time here. The finger snacks served here good, and so are the drinks here. It does not burn a hole in your pocket as it is comparatively economical than the other nightclubs in town.
Address: Near the American Hospital, Oud Metha
Timings: 10:00 PM to 3:00 PM; Open Every day.
10. People by Crystal Nightclub


If you are anywhere near the
Dubai Creek
and wish to party at a nightclub in Dubai, this is just the right place for you. People by Crystal has a spectacular ambience with some great seating arrangements. For most of the people who enjoy the vibe and want to sit and sip on their drinks enjoy the most here. Reviewers have thoroughly enjoyed the atmosphere and experienced one of their best parties here. It is popular among the ladies as their ladies nights are one of the most terrific ones. The DJ's sense the crowd type and play some great music suiting the taste of the people. The drawback here being the heavy-handed security and staff as they run a tight ship around the club most of the times. But otherwise, you will have a fun experience at People by Crystal.
Address: Umm Hurair 2, 18th floor Umm Hurair Road, (2.6 Kilometres away from the Dubai Creek)
Timings: 11:00 AM to 3:00 PM; It is open on Tuesday and Thursday to Sunday
11. Armani/Privé Nightclub


Armani/Privé is an iconic nightclub which is an epitome of luxury. The Armani hospitality builds the super classy club and designed by Giorgio Armani. This is more on the high-end of the number of nightclubs in Dubai. If you are an Armani freak and want to experience the Armani essence, head here. It is a fine place for white-collar parties. The highlight of the club is that it's at the
Burj Khalifa
. Exclusive international artists naturally cater to it. It is an expensive place to party, but it is worth the atmosphere, ambience, and hospitality that you get here. Dance, chill and soak yourself in the vibe of the stylish lounge, terrace zone, and the main club area. You will relish the food and drinks here.
Address: Sheik Mohammed Bin Rashid Blvd No 1, Burj Khalifa, Armani Hotel Dubai, Dubai, United Arab Emirates
Timings: 11.00 PM to 03.00 AM; Closed on Mondays and Wednesdays.
12. Cavalli Club


Cavalli Club is the oldest running nightclub in Dubai which still holds its original charm and drives its loyal crowd each time. It is attractive, charming and undoubtedly a redefined luxury. The place is unique because of its fine interior décor which comprises of low-hanging chandeliers, Swarovski crystals, and glamorous furnishings. At the very first sight, one will realise why it still bears its old charisma. They usually have a star-studded crowd and some magnificent artists here. They have their signature cocktails and mocktails, which are a must-try if you are here. Don't miss out on the delicacies on the menu here!
Address: Sheikh Zayed Road, Fairmont Hotel
Timings: 8:30 PM to 3:00 AM; Open Every Day
Things to Keep in Mind When Visiting a Nightclub in Dubai
It is rightly said that Dubai is a little conservative in its approach and likes to have some discipline and regulations. One needs to keep the following in mind before you head out to a nightclub for the night.
There are strict dress codes in some nightclubs like dresses for women and shirts for men. So to get a hassle-free entry, you must confirm with the club before you head out. It's always best to be dressed the right way!
People in Dubai need a license to have access to the bars. Plus one should be 21 and above to be allowed to drink legally. So to avoid any fuss, make sure to have a license even if you have not been asked for it in a bar or two. Always carry an Identity card along with yourself.
Clubs are usually closed during the holy month of Ramadan, so it is recommended to not barge into any place and always ask for a confirmation before you get it.
Bars close down at 1:00 AM, but you still can dance your heart out until 4:00 AM
Some clubs restrict entry for only those who are 25 and above. So enquire before going there.
Clubs also have some internal rules which you must adhere to.
Dubai is much more than just good heritage and infrastructure. With some of the most stunning nightclubs in Dubai, it makes it one of the most happening cities of the United Arab Emirates. Party the night away!