"Life is either a daring adventure or nothing at all" - Helen Keller
This quote perfectly describes one such solo globetrotter who has explored a total of 28 countries and traveled about 50,000 kilometers with her pet dog in a caravan.
Jasmin Lorenz, a German citizen, first went on a road trip back in 2018, where she visited the Northern and Eastern parts of Europe covering 11 countries. Jasmin then started on her second journey in 2019 where she covered 17 countries.
Getting Ready For The Journey Of A Lifetime

34 year old, self-employed Jasmin Lorenz worked at her nail store for more than 10 years while nurturing a dream to travel, explore the world, and experience new things. She has traveled around the world from May to September in 2018 and May 2019 to March 2020.
Her journey started on 6 May 2019 from Germany to the UAE. She reached Dubai on 17 March 2020, after driving through 17 countries and sleeping in her caravan for more than 14 months.
The preparation before the journey included Jasmin locking her store, closing her contracts, checking insurance, and import tax papers for her caravan, especially for her travel to the Arab countries and Iran.
Germany To UAE In A Caravan

Jasmin traveled all over with her best companion by her side, her Caravan - Jakob. Her father fixed a bed and storage spaces, along with that the caravan is super handy with a living area, kitchen which has a fridge, solar cooker, and a water tank. Moreover, the number plate is special as it states J 1985 where J is the first letter of her name and 1985 is her date of birth.
Along the way, Jasmin made a new friend during her journey. She found Zeki, a clean stray dog, next to a restaurant in North Macedonia. She adopted him and he's been a partner in her travels for a year now.
It was important for Jasmin not to drive at night, and hence would sometimes drive for 700 kilometers straight and then not drive at all for some days. Depending on the weather, she cooked food inside and outside the caravan. She also ate at many local restaurants, where the locals invited her to experience their cultures and savor their local cuisines.
Harboring Fears And Traveling Solo As A Woman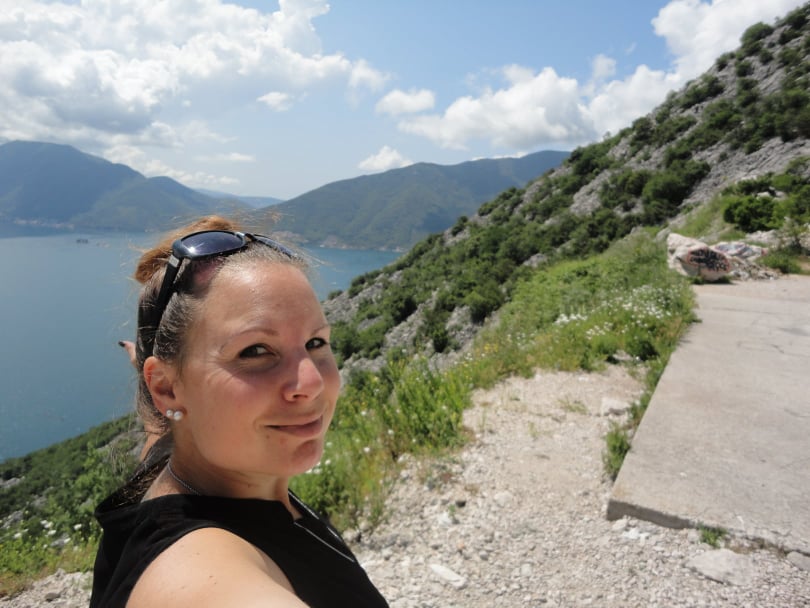 Jasmin says that traveling alone is an extremely special event and she was happy that her entire trip turned out to be safe. She believes that one must follow their mind and heart, no matter what. Although there were situations where she faced some difficulties, she's glad that in the end, everything worked out well and that she has lots of stories about her adventures.
As part of the challenges, Jasmin faced a flat tire in the middle of an empty road in Armenia at night where some locals came to her rescue. She was also surprised by the warm welcome she received at the border in Saudi Arabia as a woman, where the locals were very helpful towards extending the validity of her documents. These circumstances helped reinstall Jasmin's belief in humanity.
For Jasmin no matter how good or bad the trip was, the experience is something she will carry with for the rest of her life and it will always influence the decisions she makes in the future. Her favorite parts of the trip were her visits to Iran where the people were kind and Oman where the beaches and empty roads excited her.
Keeping In Touch
Although she was traveling by road day and night, Jasmin ensured her family was aware of her whereabouts at all times as it was of topmost priority. She even provided her mother with the coordinates of the country where she was sleeping in at night. Furthermore, to be able to use the internet, she bought a SIM card.
COVID-19 Declared

At the onset of the pandemic, Jasmin was in Saudi Arabia with another woman from the overland. She wanted to travel back to Iran and that didn't please the immigration officers. Like a fear that existed at the back of their minds, they were afraid that Jasmin would not be allowed to step foot at the Iran border even though she was carrying a valid visa.
So the best and only solution was to decide on a country that would be safe for her to be stranded in. It was then that she received an offer from a friend she got acquainted with in January 2020.
She mentioned how she had thought through the most possible situations that could occur while traveling and planned what course of action she would take. For example, in case her car broke down, she would park it in a safe area and fly back home but never did she imagine that she would experience a full-blown pandemic during her travel!
Jasmin considers herself lucky that she had friends who were caring enough and helpful during this difficult time. She stayed in Dubai with her friends for a couple of years, after which she moved to Abu Dhabi. Once the flights started to resume, Jasmin came back to Dubai to catch her flight back to Germany.
Back To Her Hometown: Germany
Zeki and his owner, Jasmin flew back from Dubai, U.A.E to Munich, Germany with Emirates on August 8, 2020. Like all travelers are required to, even Jasmin underwent a COVID-19 test before departure and upon arrival in Munich. As Germany is not on Emirates' risk list of countries affected by COVID-19 anymore, Jasmin did not have to be institutionally quarantined and was able to go back to her village in Bavaria to be with her family.