Aside from the beauty of
Abu Dhabi
's mainland, the emirate has a number of beautiful islands just off its coast. They are accessible by car, ferry, or renting private boats. Home to historical sites, luxurious hotels, and even a national nature reserve, these islands are a wonderful getaway from the bustle of city life while still experiencing the beauty of Abu Dhabi!
Here is a list of 11 Best Islands of Abu Dhabi:
1. Dalma Island
This island was once an important stop in the
UAE
's pearl trade. Today, it is home to Dalma Museum (formerly Al Meraikhi Old House) that commemorates this trade in the country's history. Located 219 kilometres from Abu Dhabi, Dalma Island is one of the oldest inhabited islands in the UAE and is considered an important historical site. It has date-juice factories where you can learn more about this important desert dry fruit and religious buildings like Al Dossary and Al Mohannadi where you can glimpse Arab and Islamic architecture. Dalma Island is a great place to enjoy a slice of Emirati culture.

2. Happiness Island
As you must have gathered from the name, this island is meant for a good time. Formerly a private island, Happiness Island has now been converted into an island resort. With an infinity pool and a Jacuzzi that faces the sea, it is a lovely place to de-stress. You can stay here at one of their twenty-six glamorous Houses of Happiness and enjoy a day of Pilates, aqua aerobics and a range of water sports. Access to this island is limited, but you can buy annual and monthly memberships to assure regular visits. They've even got ladies-only Saturdays that would make for a great girl's day out.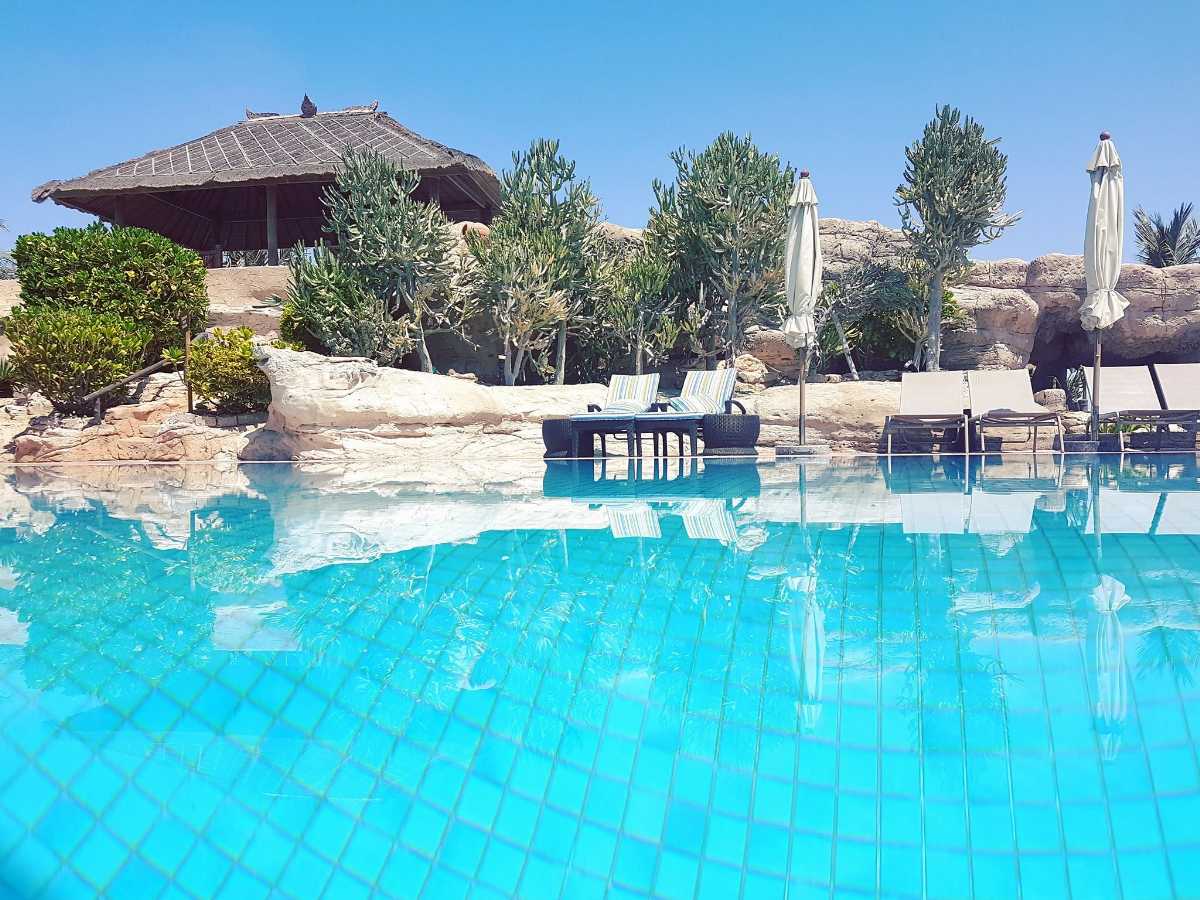 3. Yas Island
This island is one of the most popular locations in Abu Dhabi. It is one of the few islands that can be accessed by car, and it is a pleasant drive to the island with gorgeous waters on each side of the highway. Yas Island is hugely commercial as it is home to not just the Yas Viceroy Hotel but Yas Marina Circuit, Yas Waterworld and Ferrari World as well. Yas Links Abu Dhabi, a golf club designed by renowned architect Kyle Philips, was named one of the top city golf clubs by CNN Travel. You can imagine that it gets pretty crowded on the weekends!

4. Saadiyat Islands
This island is the cultural hub of Abu Dhabi. Easily accessible by car, embrace your inner culture vulture as you reach the Louvre Abu Dhabi that houses over 500 artworks and artefacts celebrating world history and religion and Guggenheim Abu Dhabi. You'd be pleasantly surprised to learn that Saadiyat Island is where prestigious institutions NYU Abu Dhabi and Cranleigh Abu Dhabi are located as well. The island has iconic buildings such as Manarat Al Saadiyat and UAE Pavilion and the promenade features the annual Abu Dhabi Art boutique fair.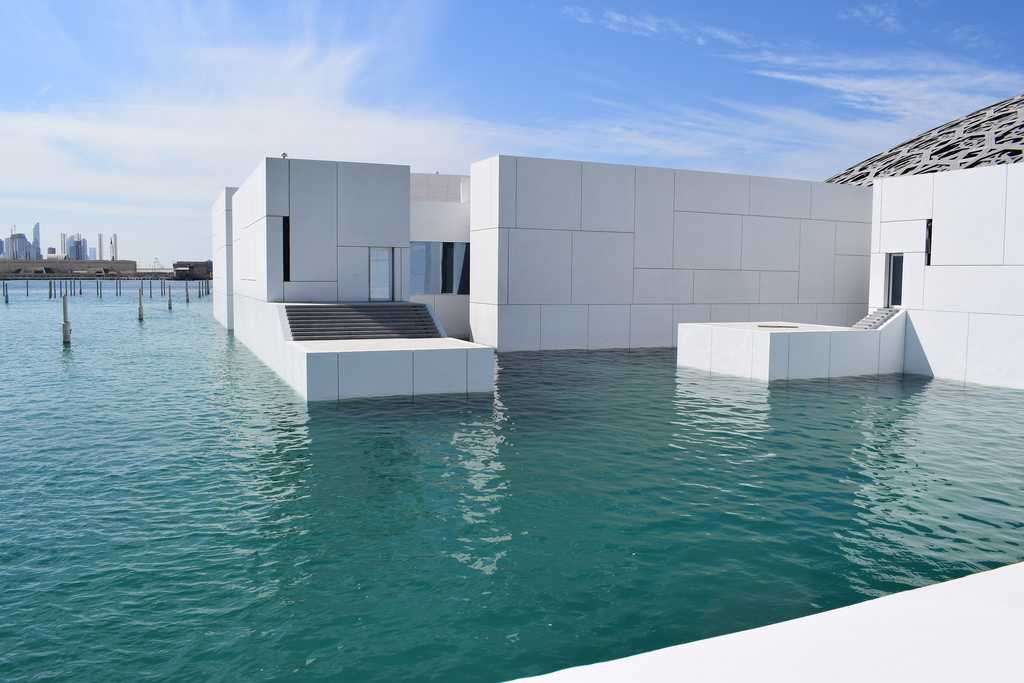 5. Dolphin Island
This island can be reached by renting private ferries of tour companies that normally charge around AED 40 per person or AED 3200 for a private charter. Dolphin Island's sandbank is a sight for sore eyes where you can frolic in the sand in the middle of the ocean. Although sighting of dolphins here isn't guaranteed, the crystal-clear waters promise wonderful snorkelling experiences. Snorkelling at Dolphin Island is typically priced at AED 400 for adults and AED 250 for children, inclusive of the boat ride and refreshments.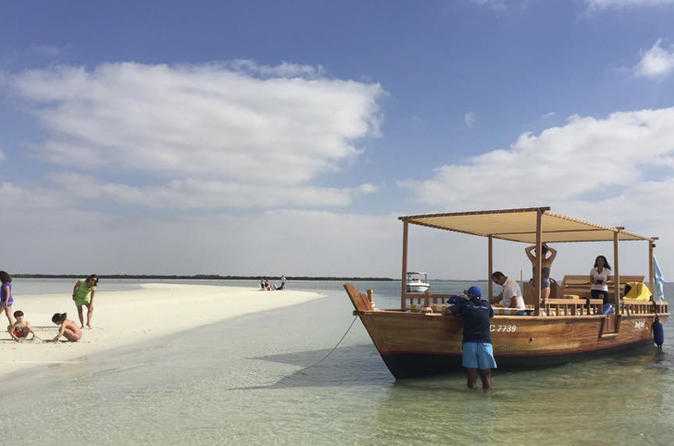 6. Sir Bani Yas Island
Often confused with the commercial
Yas Island
, Sir Bani Yas Island is actually a wildlife nature reserve in Abu Dhabi. Located 170 kilometres from the city, it hosts regular safaris where you can see more than 13,000 animals. In fact, half the island is dedicated to the nature reserve. It is the location of three high-end resorts as well where you can enjoy horse riding, archery and of course, water sports on the island's clean beaches.


7. Al Maya Island
This island is privately operated by Abu Dhabi Country Club which means that there are entry fees. A day trip to Al Maya Island is priced at around AED 100 which includes the cruise, beach access and club access for their facilities. Al Maya Island is located approximately 9 kilometres from the city. It's one of the largest islands in Abu Dhabi and it's popular for camping and barbeques on the beach. If you'd like to spend more than a day here, there are villas on rent too.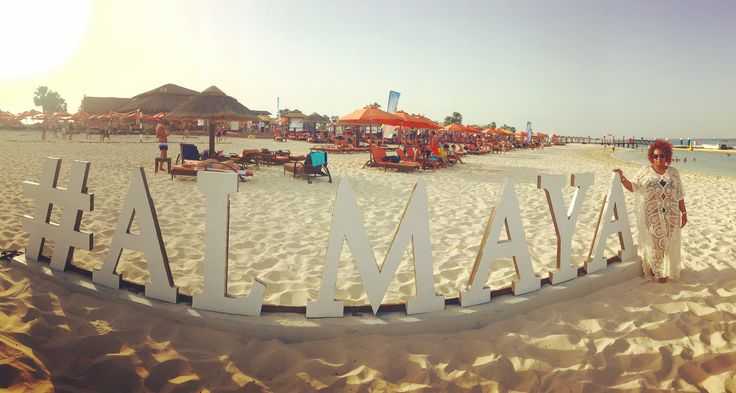 8. Marawah Island
With some of the oldest human-made structures in the Gulf, Marawah Island is an important archaeological site. Ancient houses, stone tools and even water catchment systems have been found here that have helped in understanding how ancient civilizations in this area once lived. Located 100 kilometres from the city, Marawah Island is popular amongst fisherman. You'd enjoy the beautiful mangroves and sheltered shorelines here as you soak in the island's history.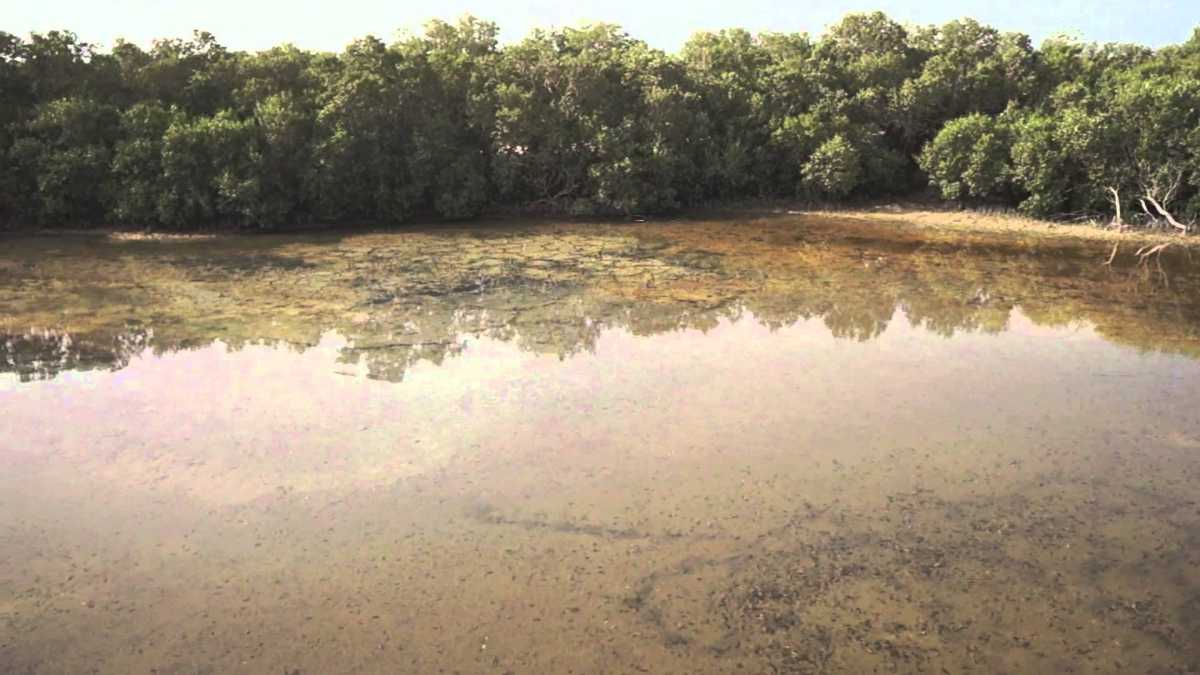 9. Al Maryah Island
This island is an important business and lifestyle destination in Abu Dhabi. Rosewood Abu Dhabi and Four Seasons Hotel Abu Dhabi are located here, along with luxury boutiques and a waterfront pedestrian promenade that offers amazing sunset views. It's becoming an important business hub in the emirate for the Abu Dhabi Global Market that is found here. If you'd like to experience a less-crowded version of Abu Dhabi's happening city life, this is the place to go.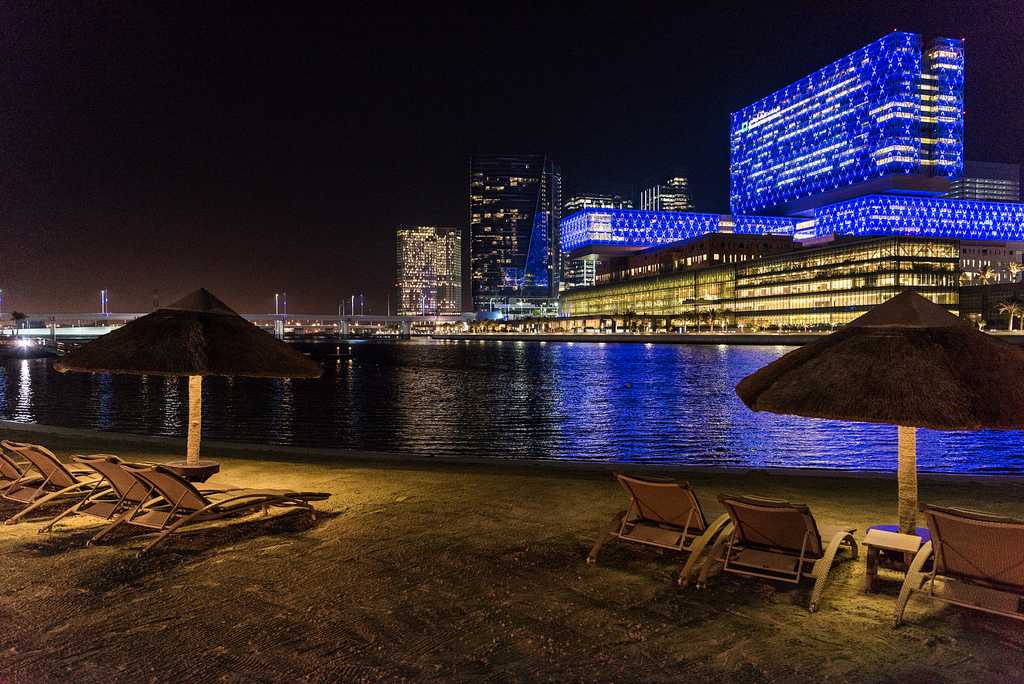 10. Al Reem Island
Formerly Emirates Pearl Island, Al Reem is a popular commercial and residential island. It is one of Abu Dhabi's fastest developed regions as less than a decade ago, it was just an island of sand. It is known for the architectural landmark Gate Towers which resembles the Stonehenge. It hosts education institutions like Paris-Sorbonne University. There aren't any hotels available on Al Reem Island yet but it can be easily accessed by car, taxi and public buses.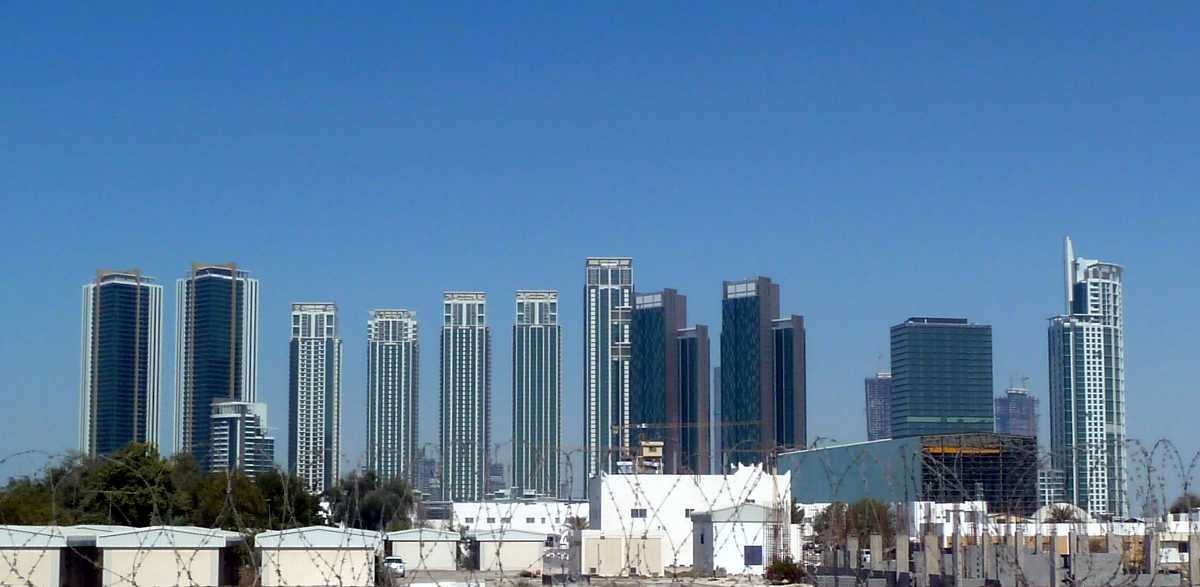 11. Al Lulu Island
This is a man-made island located 4 kilometres outside the city. As the ferry services to the island have been stopped, visits to Al Lulu Island have drastically reduced but those with private boats continue to enjoy the island's beautiful beaches. Recent plans for Al Lulu include construction of a bridge linking it to the mainland and a 1,300-foot tower called Lulu Towers. Aside from its untouched beaches, there are few facilities on the island so it is a good idea to carry food and other supplies on your journey.


From the Guggenheim and Legoland to dolphin watching, there's so much more to Abu Dhabi than the mainland! Plan a day out to Abu Dhabi's many islands and enjoy more of the emirate's many offerings.