If you find yourself lost amidst the soaring skyscrapers of Abu Dhabi; don't worry, it has much more to offer other than its signature skyline and magnificent malls. There are numerous parks and gardens in and around Abu Dhabi to offer you the much-needed solace from the daily grind and awaken the nature lover in you. Most of these are public parks, making them even more accessible and affordable.
Here is a list of 11 plush green parks in Abu Dhabi that can make your evenings super calm and relaxed:
1. Eastern Mangrove Lagoon National Park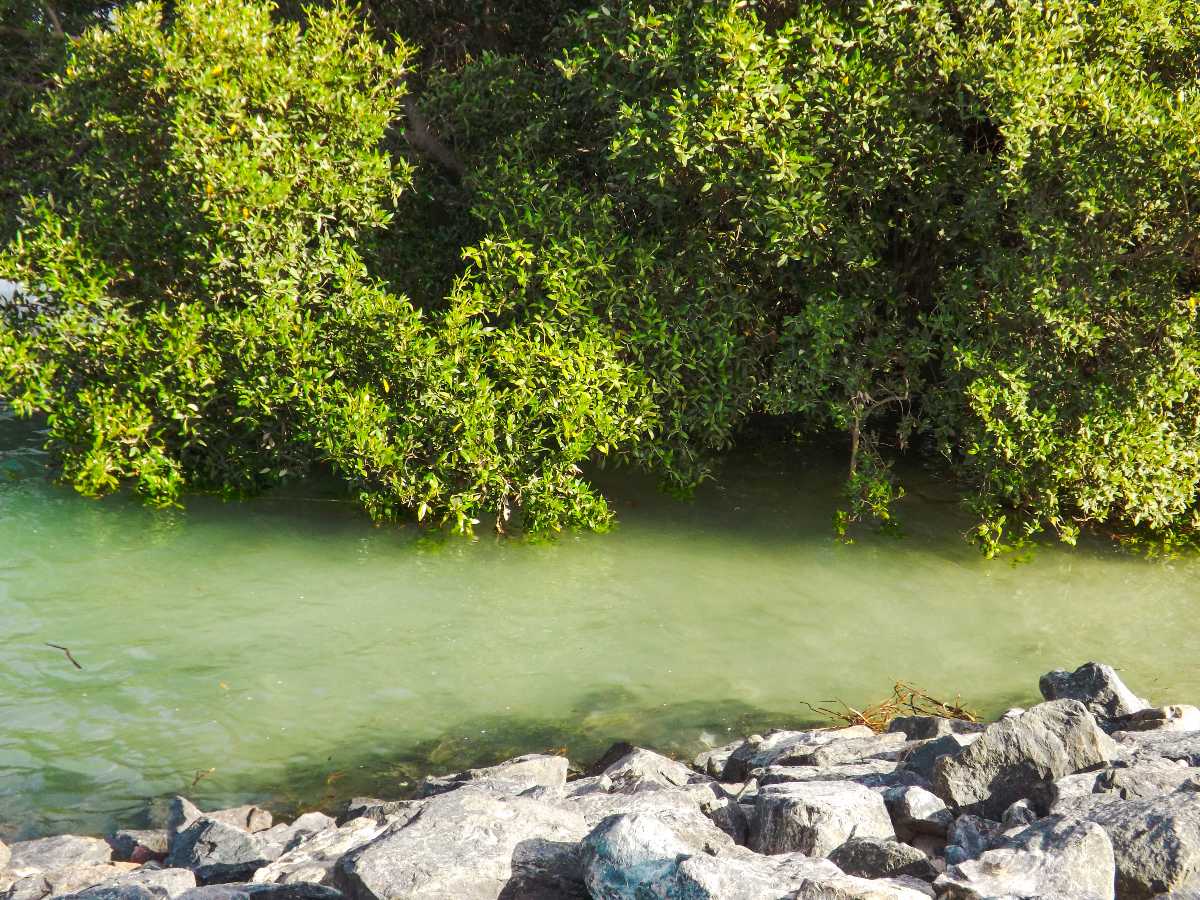 Considered as a biodiversity hotspot, this national park in Abu Dhabi is a promised paradise for nature lovers, bird watchers and outdoor enthusiasts. It is home to over 60 species of birds and a variety of plants and animals species. It offers many exciting kayaking excursions and other water activities (however these do incur some required charges) all year round.
It is a perfect haven for adrenaline-filled adventure and scintillating sunset views.
Timings: 10:00 AM to 12:00 AM
Location: Near Anantara Hotel, Sheikh Zayed bin Sultan Street, Abu Dhabi
Entry Fee: None
2. Umm Al Emarat Park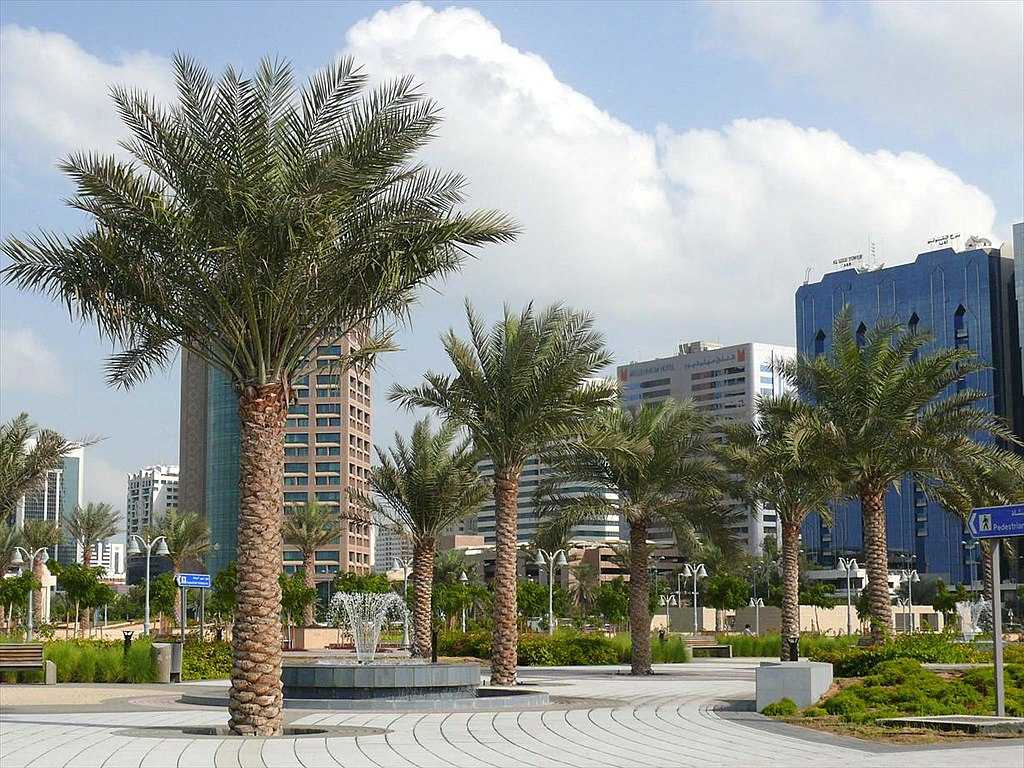 One of the oldest and largest urban parks in Abu Dhabi, it is located close to the Al Mushrif Palace. It features various attractions such as the Wisdom Garden, Shade House, Botanic Garden, Amphitheatre, Animal Barn, Great Lawn, Evening Garden and Friends of the Park. The Shade House is one of the most iconic features of the park. Standing tall at 30 metres, this structure is home to over 30 plant species and is designed in a specific orientation to minimise heat gain. The Animal Barn and Great Lawn are a perfect enjoyment deal for children. Giving off five-star urban park feels, Umm El Emarat park is undoubtedly the best hangout destination for all age groups.
Timings: 8:00 AM to 12:00 AM
Location: 15th Street, Mushrif Area
Entry Fee: AED 5 per adult
3. Heritage Park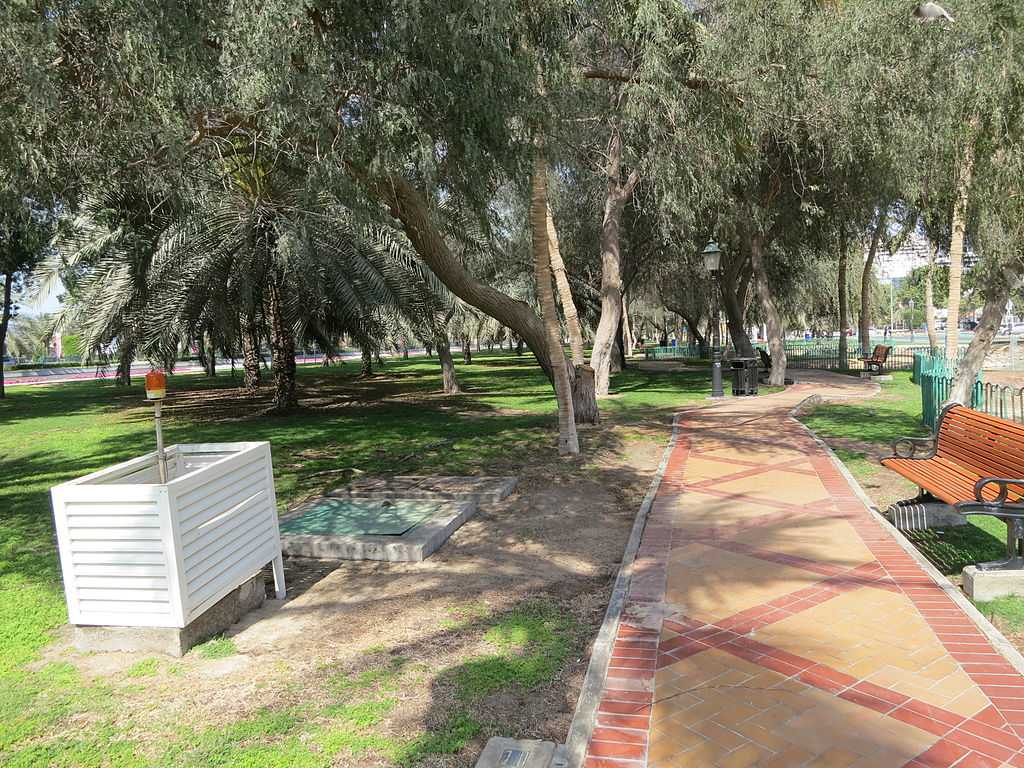 It is a perfect picnic spot with family and friends over the weekends. It offers barbeque facilities, play areas and much more. Not to miss are its picturesque fountains and lush green spaces ideal for a relaxing stroll anytime during the day. The breathtaking antique monuments and other characteristic structures emphasise on the rich history and culture of the UAE, thus making this park a must-see.
Timings: Open 24 hours
Location: Near the Mina Zayed Fort
Entry Fee: None
4. Delma Park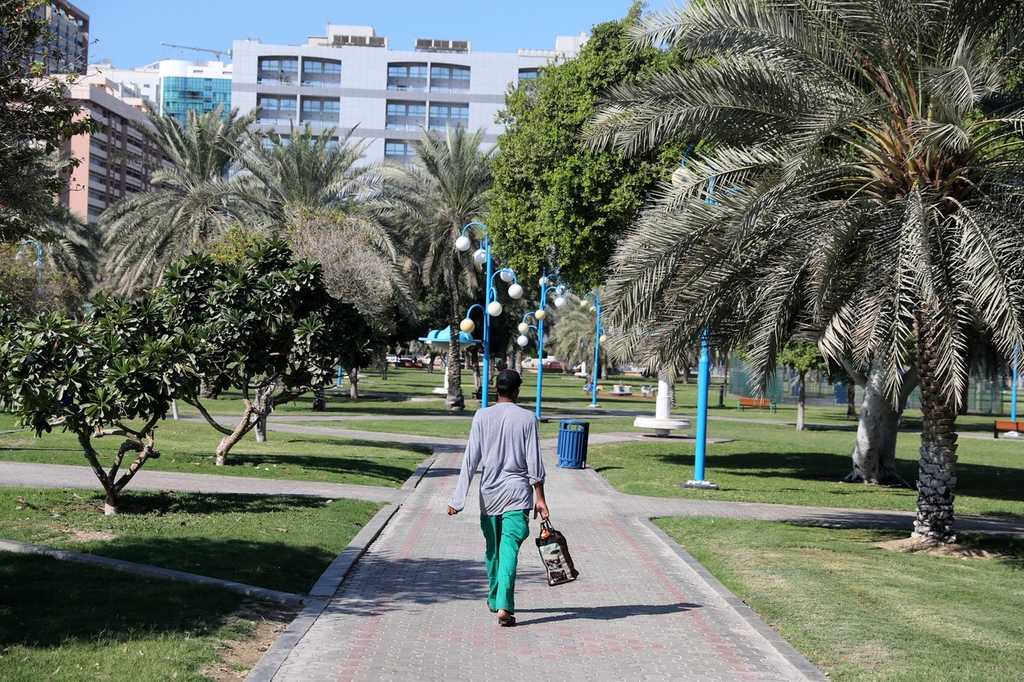 Showcasing plush green garden stretches, this park in Abu Dhabi is ideal for relaxing and hanging out with family. Situated away from the cityscape, it provides some much needed moments of solace and peace. It has a specially designed playground for kids and well-equipped fitness area along with a tennis area, basketball court, football court, chess tables, running track and a climbing wall for kids.
Timings: Open 24 hours
Location: Delma Street, Abu Dhabi
Entry Fee: None
5. Khalifa Park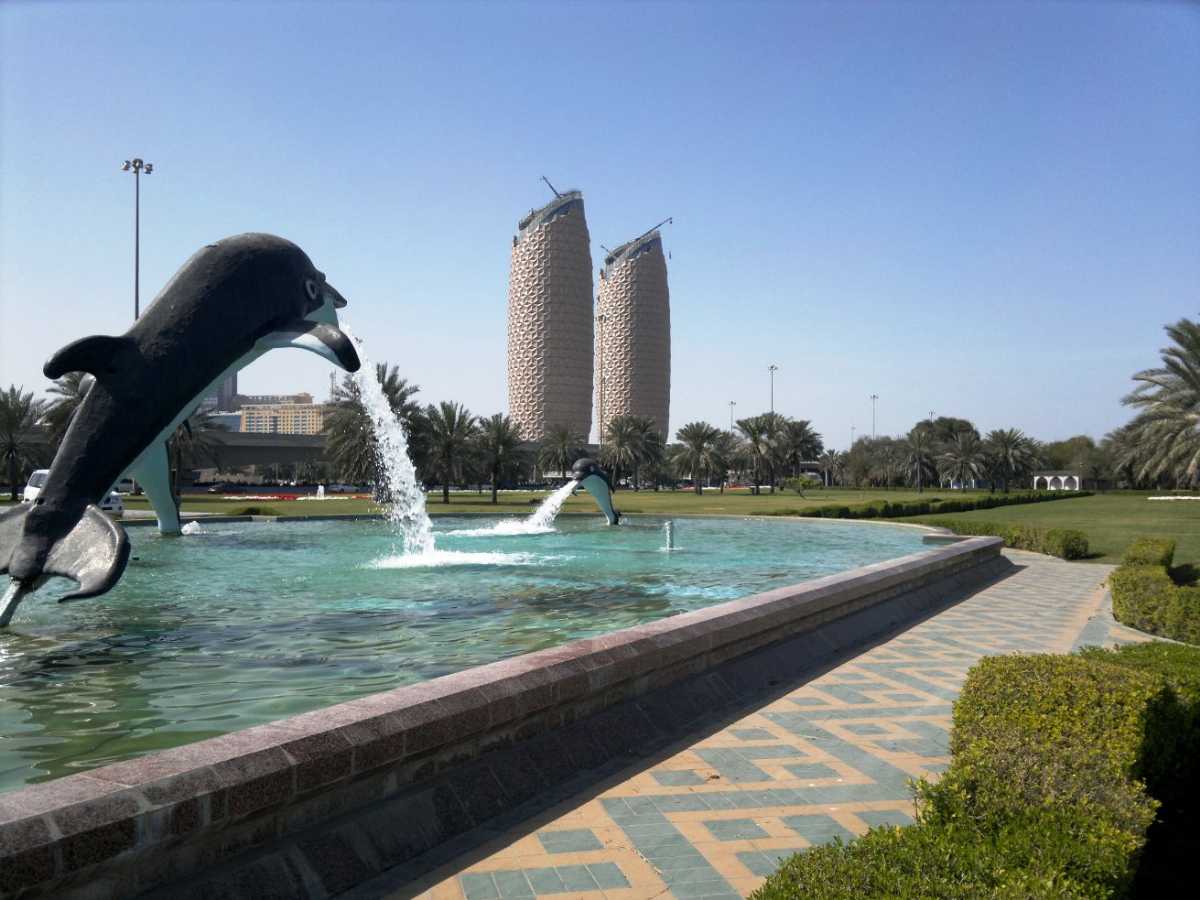 This park is another most preferred family destinations of Abu Dhabi. It covers a massive area of 500,000 metres in total. It is a great place for children to learn as it is the home to a Cultural Library, Maritime Museum and Aquarium, fun-filled train rides and the Murjan Splash Park. The Grand Mosque can be seen at a distance making a splendid backdrop.
It also holds numerous festivals, mainly during the month of December, including the Abu Dhabi festival of Falconry, which attracts major attention from the kids.
Timings: Sunday- Wednesday: 10:00am- 10:00pm / Thursday-Saturday: 10:00am-11:00pm
Location: Khalifa Park, Abu Dhabi
Entry Fee: AED 2 per person
6. Capital Garden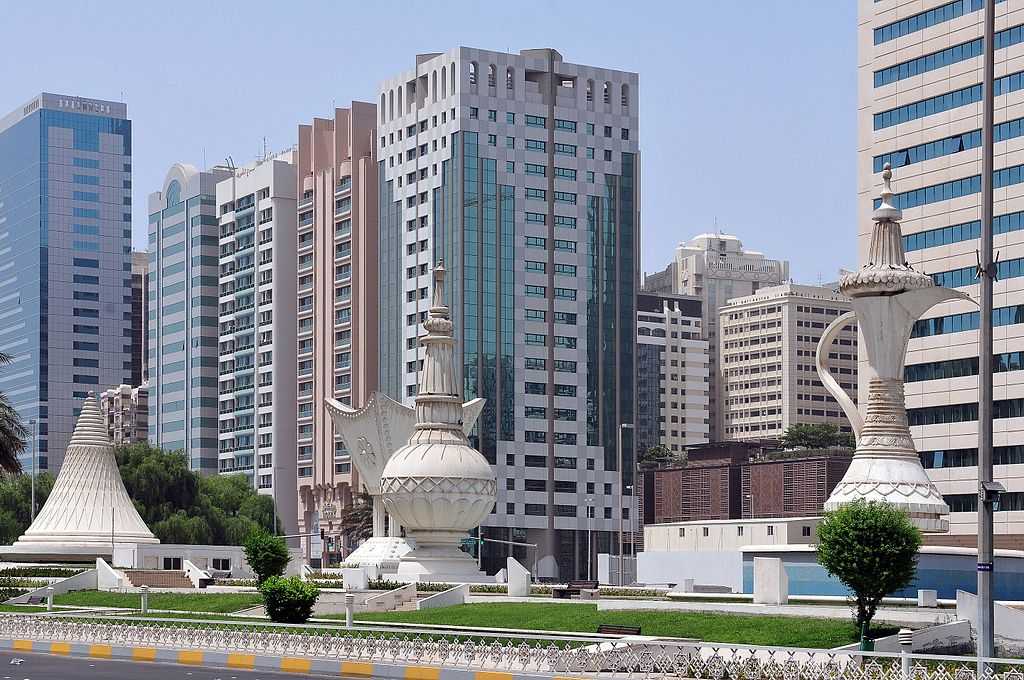 Enveloped amidst the towering skyscrapers, Capital Gardens will lead you to a whole new nature reeling ride inside the city itself. Ironic as it may seem, the idea of peace and relaxation in the epicentre of busy city life, this green oasis proves it all wrong. Locally known as Asima Gardens, this is largely favoured by locals, workers and shoppers. Its impeccable garden design, landscape, brilliant water fountains, lush trees and colourful garden coves make it all worth it. Moreover, it is one of the perfect parks in Abu Dhabi for organising children's parties as the place is outfitted with swings, slides and climbing structures. The garden also has an indoor refreshment facility.
Timings: Sunday- Wednesday: 8:00am- 10:00pm /Thursday-Saturday: 8:00am-11:00pm
Location: Opposite The National Bank of Abu Dhabi
Entry Fee: AED 1 per person
7. Yas Gateway Park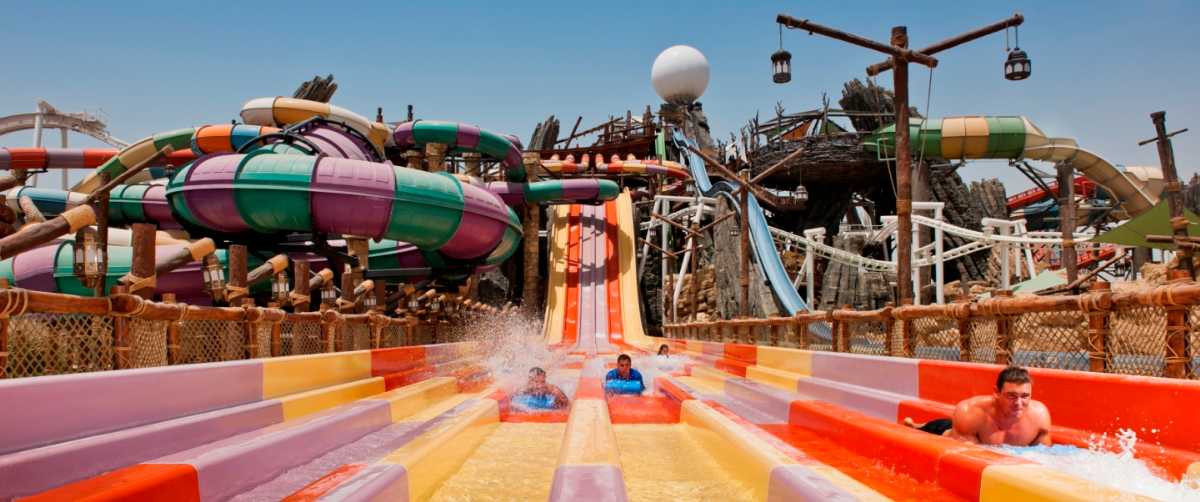 This beautiful park is located on Yas Islands. It is split into two sections - north and south, by the Sheikh Khalifa Bin Zayed Highway. Its vast lawns, play areas, green stretches are the main attractions. It's never too busy and hence it makes this park a mandatory refreshing stop on a drive over to the Yas Islands. It is a perfect place to spend weekends and go on picnics. With the Abu Dhabi International Airport nearby, Yas Gateway Park is the perfect place to sit back, read a book and enjoy the scenic beauty with family and friends.
Timings: Open 24 hours
Location: Sheikh Khalifa Bin Zayed Highway
Entry Fee: None
8. Family Park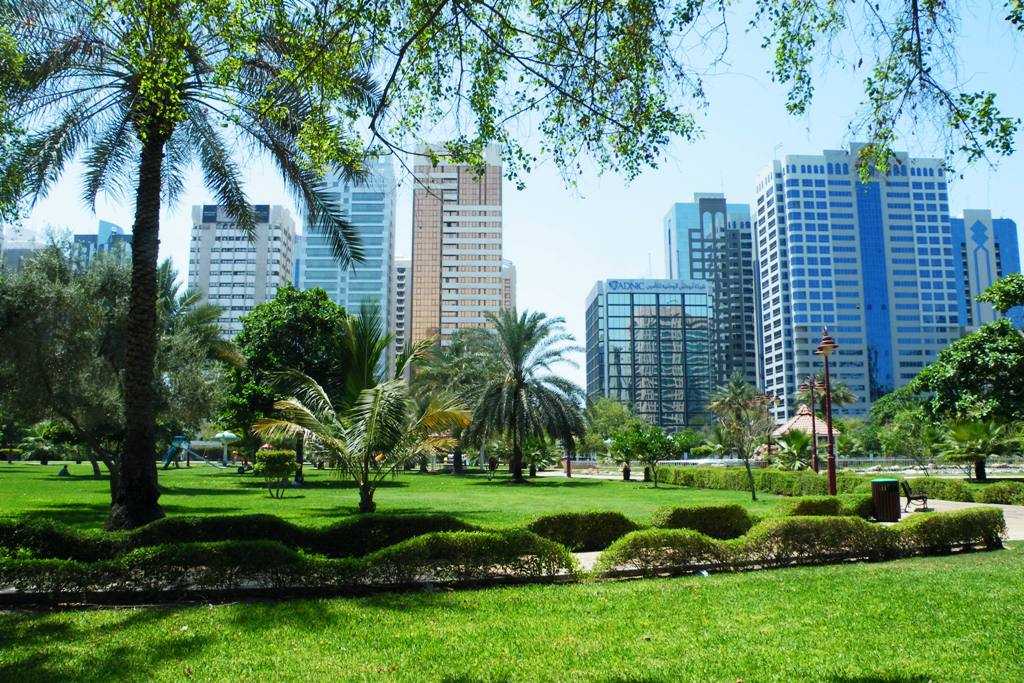 As the name suggests this park in Abu Dhabi is indeed an ideal family hangout destination. There are five play areas (with a definite theme for each), a water park, a palm pool, a skate park and basketball courts. Colourful and attractive, this park is sure to keep the little ones busy for hours. It also has barbeque spaces and a few food kiosks. At the centre, there's a lighthouse and a "tranquillity bay" water feature. Manicured to perfection and dotted with green garden spaces, this park is also a great filming location.
Timings: Open 24 hours
Location: Corniche Road W, Al Khalidiyah, Abu Dhabi
Entry Fee: None
9. Reem Central Park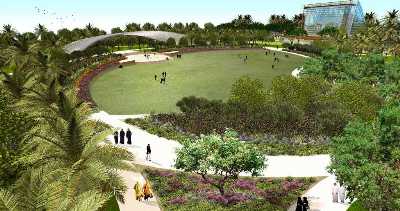 Being the newest park in Abu Dhabi, primarily serving the Reem Island community. This family fun destination has huge play areas, four multi-sports courts, a skate park, a BMX park, cyclist path, street art, spectacular fountain features, attractive graffiti and loads of scenic beauty. It also has the facility to rent kayaks and explore the nearby mangroves. This brand new urban park has over 20 outdoor food outlets with tastes from around the world. It also holds the spectacular laser light show every evening and occasional outdoor family film screenings.
Timings: Open 24 hours
Location: Shams Abu Dhabi, Al Reem Island
Entry Fee: None
10. Formal Park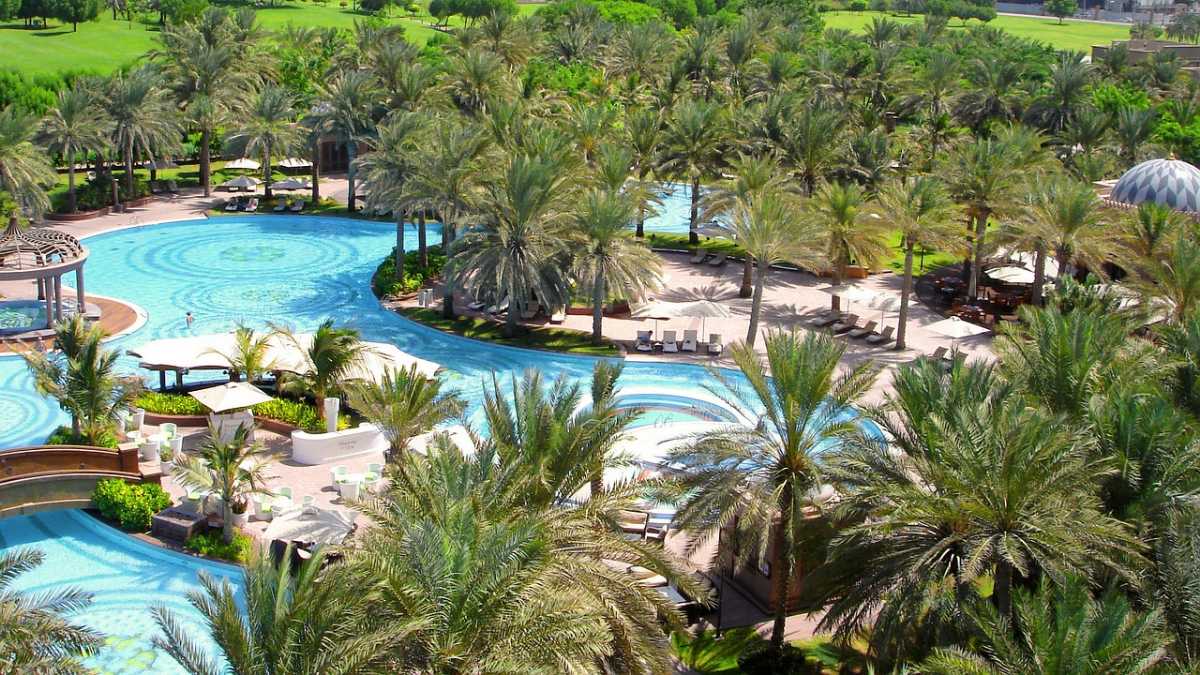 Located just a few miles away from the Family Park, this park is a perfect place to beat the mid-week blues. Quite opposite to what the name suggests, this park is an extremely relaxing place. Dotted with colourful flower beds and centred around a large pond, the Formal Park has its own enchantments. It also boasts of numerous play areas and courts, barbeque spaces and an outdoor gym.
Timings: Open 24 hours
Location: Corniche Road W / 308 Sultan Bin Zayed the First Street
Entry Fee: None
11. New Shahama Park
Lined with plush green trees, fountains and many rides for children, this park is located amidst a residential complex. It has 22 children's playgrounds, soccer fields, hiking trails and cafeterias. It is a preferred hangout place amongst families and ideal for kids enjoyment.
Timings: Sunday- Wednesday: 8:00am- 10:00pm / Thursday-Saturday: 8:00am-11:00pm
Location: Near Pizza Way, New Shahama, Abu Dhabi
Entry Fee: AED 1 per person
With each day passing by, we have shrunken more and more into our own small world and debarred ourselves from some much-needed fun and drama. These parks in Abu Dhabi not only ensure infrastructural growth and development but also force us out of our monotonous life, to spend some moments of joy, laughter and happiness.