Exterior
Drumgoole Coleman built the Armenian Church in Singapore with a few eclectic influences from the British neoclassical style, centrally designed in a manner of Etchmiadzin Cathedral-the mother church of Armenia. Coleman has carefully constructed the church, considering the tropical climate of Singapore. Preference has been given to wide verandas having shade and protection of timbre-louvred windows on the ground floor from the rain. The windows help in diffusing sunlight and inducing cross ventilation. The north, south and west fronts have Tuscan Doric Porticos topped with a triangular pediment, designed to allow horse carriages to pull into porches, so ladies could directly step into the church without soiling their dresses.
Interior
The circular interior of the Armenian Church is believed to be built in resemblance to the Holy Sepulchre in Cambridge. The circle further has square porticos extending from its centre in Roman Doric orders - one of James Gibb's designs inspires the Palladian style of architecture. Coleman's original plan was an octagonal cone supporting a tiny bell with prominent columns. The original bell turret of Coleman was later replaced by a spire, fixed on an octagonal tower, by an English architect named George Maddock. Maddock also had the old roof replaced by his own designs.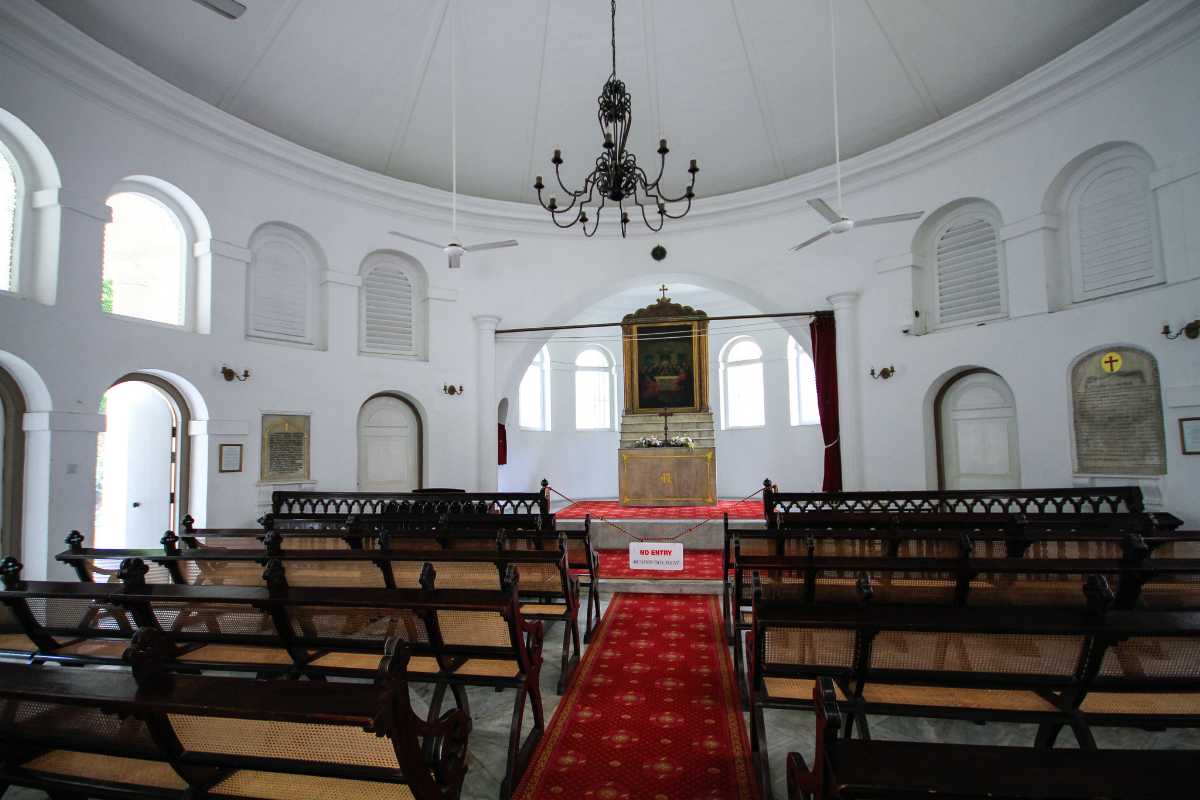 Memorial Garden
The Memorial Garden pays tribute to prominent members of the Armenian community in Singapore. The tranquil location is a fitting memorial to the contribution of Singapore's finest, and hosts the tombstones of famous Armenians from the former Bukit Timah Cemetery, including Agnes Joaquim – who bred Singapore's national flower that now bears her name, Catchick Moses – the founder of the Straits Times, and members of the Sarkies family of Raffles Hotels.