Vietnam in November is a blend of autumn and winter in Vietnam. It is one of the best times to visit North Vietnam and Central Highlands for hiking and other recreational activities. Although Central Vietnam is affected by monsoon and typhoons yet many alluring destinations in the South promise pleasant weather along with the rural areas of Northern Highlands. Stay till the end of the article to know about the breathtaking attractions and beauty of Vietnam in November.
Weather in Vietnam in November

November marks an end to autumn and welcomes winter in Vietnam. In November, this South-Eastern Peninsula is sharply affected by Southeast Monsoon leading to wet weather in Central Vietnam. However, it is the best month to visit North and South Vietnam, which glisten under clear skies and sunshine - superbly suitable for highlands trekking, beach vacations and exotic adventure. The weather is cool and dry in Vietnam with an average temperature around 25°C this month and the average humidity level remains 90%.
Northern Mountain Region - Sapa, Ha Giang, Bac Ha, Mu Cang Chai, Haiphong, Mai Chau


November is a cool and dry month in the northern mountain region hence trekking is joyful in SaPa and Ha Giang. November marks a peak month to visit Sapa, Ha Giang and areas around Mu Cang Chai. This is the month when golden rice crops sway under light showers of rain and are ready to be harvested. Sun appears for plenty of daylight hours but the temperatures begin to drop by the month's end. The average temperature remains around 26°C.
North Vietnam - Hanoi, Halong Bay, Cuc Phuong, & Ninh Binh


By November, North Vietnam is at the beginning of the dry and sunny phase with an average temperature of 24°C. Outdoors have plenty of warmth which tends to decrease by the end of the month. All the major cities in North Vietnam are good-to-go in the fall season. Hanoi remains temperate and Halong Bay is great to explore through a cruise. Since November is the middle of winters and autumn, explorers can face chilly winds all of a sudden.
Central Vietnam - Hoi An, Danang, Hue, Dalat, Quy Nhon & Nha Trang


Central Vietnam experiences northeast monsoon in November at its peak. Central Vietnam has 23-26°C average temperatures with large amounts of rainfalls. Along with stormy weather, prolonged rains may cause floods in the coastal region. Dalat and Central Highlands get clear skies, sometimes it may drizzle, however, outdoor sights are enjoyable. Hoi An, Nha Trang, Phong Nha may get flooded. Central Vietnam is prone to typhoons in November.
South Vietnam - Ho Chi Minh City, The Mekong Delta, Phu Quoc and Con Dao, Phan Thiet & Mui Ne, Ho Tram & Long Hai


During November, rains affect South Vietnam pretty less than the monsoon months, with an average temperature of 27°C. Saigon and Mekong Delta share soothing weather and clear skies. Southern beach resorts dazzle under the warm sun, visiting Phan Thiet & Mui Ne, and the islands of Phu Quoc & Con Dao remain fruitful. The end of the month is mostly dry.
Events and Festivals in Vietnam in November
1. Khmer Oc Bom Boc Festival


Khmer Oc Bom Boc Festival is the festival of worshipping the moon on the 15th day of the 10th lunar month. It's also about thanksgiving and worshipping for abundant crops. It is one of the biggest festivals of Khmer community in Tra Vinh and Soc Trang province in Vietnam. The ethnic community celebrates a year's end on this day. At midnight, offerings of a variety of agricultural products (coconuts, sweet potatoes, new sticky rice) to the moon take place. The highlight of Khmer Oc Bom Boc Festival is the traditional 'Ghe Ngo Racing' in which multiple groups of people participate in the timber boat race and the winning group gets applause and prizes. Apart from this, there are ethnic music and dance performances like every Vietnamese festival, exhibitions and workshops on agriculture. To witness the celebration of the festival, visit Soc Trang River and Ba Dong Beach.
2. Hoi An Lantern Festival


Spectacular night views on the 14th night of every month in Hoi An, Vietnam is worth experiencing as the city celebrates the festival of lights. Lighting lanterns is considered to be good luck and fortune charm in Vietnam. Hoi An lantern festival is considered to be an incredible moment to follow the rituals of worshipping the deceased relatives. The festival not just brings closeness and happiness but is a wise method to save electricity.
Visitors and locals gather at An Hoi Bridge and on the banks of Hoai River as the sunset begins, to enjoy the luring food of Vietnam. The view is the best at the ancient town area of Hoi An where natives light paper lanterns around 9 pm and hang on streets, bars, shops. Families give each other presents like flowers, foods and fake money in the belief of future prosperity. The streets are sparkled with musicians, instrumentalists, poetry readings and mini craft classes for kids too. The traffic is prohibited in the area allowing a hassle-free movement. Not to worry if you are vegetarian as there are numerous vegetarian foods and mouth-watering snacks to grab.
Places to Visit in Vietnam in November

Why visit in November? What are the things to take care of?
November welcomes beach time in the South and reopens the opportunity for hiking in Dalat and Central Highlands after a long time. It is a great time for recreational activities in North Vietnam, especially in Hanoi, Sapa, Mu Cang Chai and Halong Bay. Overall, it is a picturesque month in rural areas of Vietnam.
In HaGiang it's Buckwheat flower season and Canola Flower blossoms in Moc Chau brimming the streets with its unique scent.
November attracts a large number of foreign tourists towards North Vietnam and popular beach areas of South Vietnam still you can expect reasonable airfares. However, cheap prices of hotels and accommodations are hard to find by the month's end.
Where to Go?

Where one major place is known for its art, other excites the beach vibes and another is an attraction point for its nightlife, all-in-all Vietnam wisely preserves its culture. Below is the list of the cities, places from North Vietnam to South Vietnam to visit in November.
1. Sapa

Located in the Northwest Mountain region of Vietnam, this beautiful town Sapa has various small villages. Sapa is cool with an average temperature ranging between 17°C and 11°C but clear skies and dry winds make the surroundings amicable in November. There might occur drizzling but 4-5 hours of sunshine and fresh air make November the best month for trekking in Sapa.
Travellers must visit 'Sapa museum' and 'Cat Cat Village' (one of the oldest villages of Sapa) to learn the history of people here and 'Cloud Yard' to compliment the beauty of clouds. Sapa gives an opportunity to hike Vietnam's Highest Peak 'Mt. Fansipan' whose viewpoint is called Heaven's Gate. Not just this,visitors can do boating on Sapa Lake, have warm beverages and taste local cuisine or delicious desserts in restaurants. You can buy handicrafts from SaPa Market or visit 'Ta Phin Village' to witness Communal Church Singing - a marriage tradition. 3 or 4-star hotels are available at affordable rates in November, book your stay and enjoy the beauty of hills.
Not to miss: Fairy Cave, Silver Waterfalls, Tram Ton Pass, Muong Hoa Valley, Muong Khuong Bird Market.
2. Mu Cang Chai

Mu Cang Chai is a northwest mountainous rural district in Vietnam which creates jaw-dropping scenery in November which is a fall season here. If lucky, you will see ready-to-harvest golden rice crops swaying proudly on the terraces in early November. This is the high-time to know the lifestyle of Mong Ethnic farmers.
Mu Cang Chai consists of many small villages having beautiful terraces and weather. Khau Pha Pass, called 'Sky's Horn' develops magnificent scenery. There are other small villages in the city to visit to adore the beauty of paddy farming and to experience their local culture by the homestay. Visit to Mu Cang Chai is incomplete without visiting two of its breathtaking waterfalls - Mo and Phu Nu waterfalls. Mu Cang Chai has its market so you can carry the memories with yourself.
Not to miss: Ba Nha Bridge, Mam Xoi Hill, Kim Noi Village.
3. Moc Chau


Moc Chau is a beautiful and attractive mountainous district in Northwest Vietnam. November is a blend of autumn and winter in Moc Chau which makes it the best month for trekking and other engaging activities. International visitors arrive at Moc Chau to immerse into the natural colours as white mustard, wild sunflower and green tea plants blossom all around in November. You can take a bicycle ride to enjoy the tricolor beauty of the land. Ba Phach Village in Moc Chau is famous for cauliflower blooming in November.
You can soak up the authentic local culture and spellbinding scenery at Hua Tat Village, trek the pine forest or attend cooking, embroidery, and paper workshops. Know the romantic beauty of Dai Yem Waterfall or Pink Blouse Waterfall and hike the Pha Luong Mountain in Moc Chau. Emblazed with karst formations are On Village's 'Five Caves' depicting five natural elements - Metal, Wood, Water, Fire and Earth. Do not skip the Five-colored sticky rice when visiting Moc Chau.
Not to miss: Son Moc Huong Cave, Tan Lap Hill, Na Ka Valley
4. Ha Giang

Ha Giang is a province in the northeast mountainous region of Vietnam. Its pink coloured atmosphere due to buckwheat blooming attracts the tourists in November every year. In early November, visitors can witness the beauty of layers of golden rice crops in Hoang Su Phi. By the end of the month, you may even witness snow in Ha Giang.
Ha Giang Loop is better known as Happiness Road and was the first road built in Ha Giang. To explore the mountain-view, visit Quan Ba where you get to witness Twin Mountains and the Heaven's Gate. Right above it, is the picturesque 'Dong Van Karst Plateau Geopark' showcasing huge mountain peaks like Mount Mieu Vac (1971m) and deep canyons like Tu San (800m). And if you want an actual adventure, go to Lung Cu Flag Pole (northernmost point of Vietnam) and melt into the panoramic view of Ha Giang, Dong Van and Happiness Road. To know the culture of Han Giang more, hit Dong Van Sunday Market.
Not to miss: Ma Pi Leng Pass, Dong Van town, Meo Vac mountain pass, Ha Biang museum, Khau Vai love market, Vuong mansion
5. Hanoi

Hanoi is the only capital of a country which isn't its largest city. Capital of Vietnam - Hanoi, is a place for every traveller. Hanoi's weather in November is cool with breezes, it's the time when you witness autumn's end. November is a peak month to explore Hanoi and to witness the blooming of 'Milk Flower' or Alstonia scholaris. Definitely taste 'Com' - green coloured rice flake which originates from Vong Village.
From several historical museums to underrated monuments to extravagant nightlife, Hanoi offers everything all together. There's a lot to do in Hanoi, in the morning travellers can visit historical sites and enjoy markets to save the nights for the view of Old Quarter Hanoi at weekend and Hoan Kiem Lake for a boat ride. Where St. Joseph's Cathedral and OnePillar Pagoda are major sites for worshipping, there are Ho Chi Minh Mausoleum, Hanoi Opera House, Thang Long water puppet Theatre, Temple of Literature, Tran Quoc Pagoda that reflects Vietnamese culture.
If you love museums you should not miss the National Museum of History, Vietnamese Women's Museum and Hanoi Museum, Vietnam Museum of Ethnology, and Thủy Cung Times City which is an aquarium. Families can visit Thu Le Zoo, Union Park, Hanoi Botanical Garden. To buy souvenirs, gifts and to taste Vietnam's cuisine, night markets are the best so hit Hanoi Night Market, Long Bien Market.
Not to miss: Hanoi Train Street, Cau Giay Park, Dong Xuan Market, Rose Park, Smiley Ville, Lotte Observation Deck, Long Bien Bridge, Ba Vi National Park, Perfume Pagoda.
6. Halong Bay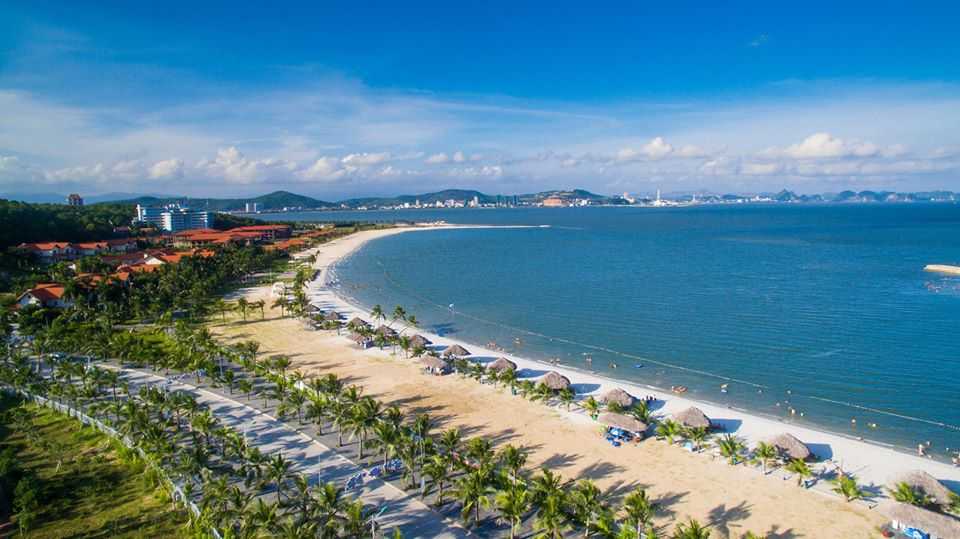 HaLong Bay located in North Vietnam is a UNESCO World Heritage Site, so there's much to explore and spend a perfect November here. The weather starts to cool down with fewer sunshine hours, so it isn't a great time to get tanned on beaches and islands. Near the end, nights become chilly. Nevertheless travellers can go for a cruise, swimming, cooking classes. It is a good month for kayaking and snorkeling.
There are caves to explore and floating villages to visit. HaLong City (divided into East HaLong - Hon Gai and West HaLong - Bai Chay) in the North part of HaLong Bay has an artificial beach 'Bai Chay Beach' and a Bai Chai Market to buy fresh fruits, vegetables, gifts or souvenirs. Amongst islands, Dau Be Island is famous for diving and swimming, Dau Go Island for its large and colourful caves and Fighting Cocks Island for its sunset view when purple-red colour sets across the sky and two large rocks in water appear as two fighting cocks. You can enjoy the top view of islands from seaplane rides as well. To enjoy the quieter part of HaLong Bay, visit Lan Ha Bay renounced for white sandy beaches. You can enjoy swimming, rock climbing, sea kayaking and visit Cai Beo Floating Village.
Not to miss: HaLong Queen Cable Car, Sun World HaLong Complex, Stacking Rocks, Tuan Chau Island, Cannon Fort.
7. Cat Ba Island, Halong Bay

Cat Ba Island is one of the most amazing and highly visited Islands connected to HaLong Bay. November is the beginning of the dry season in Cat Ba Island with an average temperature around 25˚C.
There are three famous sand beaches- Cat Ba 1, 2 and 3, enjoy the time under the sun or swim in the water. If you want to explore caves, visit Surprise Caves to enjoy the colourful atmosphere, Hospital Cave to learn how this secret hospital functioned during the Vietnamese War, Trung Tran Cave. There's Cat Ba Island Resort which offers a water park and spa centres. Cat Ba National Park is home to native Cat Ba Langur, 1500 plant species and over 280 fauna species, commonly seen mammals include civet, deer, macaques and squirrels. Apart from going on a cruise and enjoying the beach, visitors can take part in Yoga Classes which is a popular activity here. To experience the raw culture of Cat Ba visit Viet Hai Village.
Not to miss: Dinh Lagu Lam, Cat Ba Archipelago, Monkey Island.
8. Da Lat

Da Lat, a city in Central Vietnam is recognised as a garland of flowers where the average temperature remains 22-degree celsius in November. Travellers get to enjoy the pleasant weather with light drizzling, adorning flowers everywhere.
Da Lat showcases French Colonial times which can be explored in Colonial Palaces - Da Lat Palace I, II, III. Truc Lam Temple - Zen Buddhist Temple and Linh Phuoc Pagoda are best places to adore the art along with worshipping. Get crazy in the Crazy House, a guest house with weirdly interstitial architecture. Natural beauty can't be skipped in Da Lat, route your tour towards Datanla Waterfall, Valley of Love, Clay Tunnel, Elephant Waterfalls, Xuan Huong Lake. Not just this, the city offers specialised gardens - Dalat Flowers Garden, Zoodoo Garden, Giant Pumpkin Garden, Lavender DaLat Garden, Maple Leaf Garden. There's plentiful flowers, fruits, fruit candies, coffee beans, vegetables to buy from DaLat central market. DaLat is a magnet for photographers to capture the flowery surroundings and spectrum cloudy sky.
Not to miss: Dalat Railway Station, Clay Tunnel of DaLat, Smurf Village, Dalat Heaven Gate, Prenn Waterfall.
9. Ho Chi Minh City

In the Southern part of Vietnam, Saigon or Ho Chi Minh City is the largest city in the country. November is the end of the rainy season with 31-degrees-celsius temperature which makes it the best month for a trip.
Travellers visit Saigon every year majorly for diverse cuisine, magnetic nightlife, french architecture and fascinating skyscrapers. This major city offers spectacular enjoyment spots - Saigon Zoo and Botanical Garden, Ho Chi Minh City Opera House, Notre Dame Cathedral of Saigon, Chu Chi Tunnel and Buddhist Cultural Theme Park. Hit 'Ban Than Market', 'Binh Tay Market', 'An Thong Market' for shopping. The night is alive in Saigon through rooftop bars, lush nightclubs, casinos, music bars and Ben Thanh Night Market.
Not to miss: Artinus 3D Art Museum, September 23rd Park, Tao Dan Park, Ngoc Hoang Pagoda, Cao Dai Temple.
10. Phu Quoc Island

Phu Quoc Island lies in Southwest Vietnam apart from the mainland. Located in the Gulf of Thailand, Phu Quoc is the largest island of Vietnam with its own international airport. November is the peak tourist season in Phu Quoc as beaches dazzle in sunlight.
There are four major beaches - Bai Sao (silky white sand beach with starfishes spotted in crystal water), Hon Xuong Beach (white sandy small beach, perfect for snorkeling), Starfish Beach (white sand beach with floating eateries, red sea starfish being a picturesque) and Bai Truong also known as Long Beach. Long Beach is the main stop-spot for visitors because of the yellow sand, sailing, swimming, snorkeling, and beach massage. Apart from this, there is Phu Quoc National Park and Suoi Tranh Waterfall which offer perfect time for camping, trekking.
The island is distributed in three different parts, out of which the downtown Duong Dong is highly visited for shopping. Duong Dong offers Duong Dong Market and Dinh Cau Night Market from where travellers can buy souvenirs, pearls, funky jewellery and eat delicious seafood. Do not go back from Phu Quoc without buying the world's best fish sauce and Vietnam's tastier black pepper.
Not to miss: Vinpearl Safari, Sun World Hon Thom Nature Park, Trúc Lam Ho Quoc Zen Monastery.
11. Can Tho

Can Tho is the biggest city in the Mekong Delta in South Vietnam. Famous for its floating market, Can Tho has a temperature around 31 degree celsius in October when nights can be warm and sticky nevertheless it's a good month for travelling. Different-sized boats are adorned with vibrant flowers and fresh fruits in Cai Rang floating market. Some of the tropical fruits include dragon fruit, durian, jackfruit, pomelo. So, if you are vegetarian or a botany lover, this is a place to visit in August.
Can Tho Bridge, Mai Khanh tourist village, Bang Lang Stork Garden are some of the outdoor attractions. The city also offers historic art displays at Binh Thuy ancient house and Can Tho Museum. Can Tho has tremendous sites of worshipping - Nam Nha Pagoda, Binh Thuy Temple, Quang Duc Pagoda.
Not to miss: Kai Khe Market, Phong Dien Floating Market, Can Tho Cathedral, Ninh Kieu Park, Luu Huu Phuoc Park.
12. Bac Son valley

A sigh of relief from hot days comes at Bac Son Valley in South Vietnam. November is the best month for nature lovers and photographers in the valley. The land is full of swaying golden rice crops where natives live in stilts houses. The tasty local food (sticky rice, sausage, grilled spring rolls) of Bac Son Valley are a must try in Quynh Son Village. The viewpoint of the valley is on the zenith of Na Lay Mountain. To feel the freshness of Bac Son, Bac Son Flower Valley and Dang Mo Waterfall are spellbinding sites.
Not to miss: Tam Canh Pass, Nong Luc Temple
13. Phan Thiet - Mui Ne

To the south of Vietnam lies a coastal port area 'Phan Thiet' which is, again, one of the best places to visit in November. It is divided amongst the city centre and famous Mui Ne Beach and has plenty of accommodations. Right from tropical forests to mesmerising beaches to ancient architecture, Phan Tiet has some or the other engaging part for every traveller.
Doi Duong Beach, Phu Quy, Mr. Dia Rock are some of the spectacular outdoor sites. Mui Ne is a magnetic point for sand dunes, natural beauty and ancient architecture. A place for everyone is Red and White Sands at Nuoc Beach where you can slide down the slopes. Vietnam's largest statue of reclining Buddha is in Linh Son Truong Tho Pagoda which is constructed at the top of Ta Cu Mountain. Mui Ne Beach has clean and rock-free water which makes it suitable for swimming, jet skiing, banana riding, surfing and kayaking. There are some outlets that sell local handicrafts, jewellery, beachwear. Try the seafood here which is served with Vietnam's famous fish sauce.
Not to miss: Mui Ne Fishing Village, Cham Tower, Ta Ch Pagoda, Ganh Beach.
Vietnam in November is a great place to visit. Most of the country's peak international tourism begins during this month and each part of the county has something different to offer. Let us know down in the comments below what is your favourite experience in Vietnam.