Trams are an inherent part of the culture and history of
Kolkata
. Although their numbers are now diminished, they are still far from extinct, and a trip to Kolkata does not seem complete without a tram car ride across the city. Today, it is the only tram system in
India
, and quite possibly the only one of its kind in Asia. Tram routes run parallel to other vehicles on special tracks laid out along the side of the busy streets. They follow the whims of the traffic lights and are akin to miniature local trains. The rusty trams maintain the very vintage charm and are equipped with a TV and FM radio. Although it was originally an important medium of transport, the trams have lately become really popular with tourists. When in the City of Joy, do not forget to enjoy a dainty tram ride across town.
In this article, we've put together all the relevant information on trams so that the next time you're in Kolkata, you can hop on to one of these incredible vehicles, feeling knowledgeable and reassured about what you're doing and where you're going.
When Did Trams Start in Kolkata?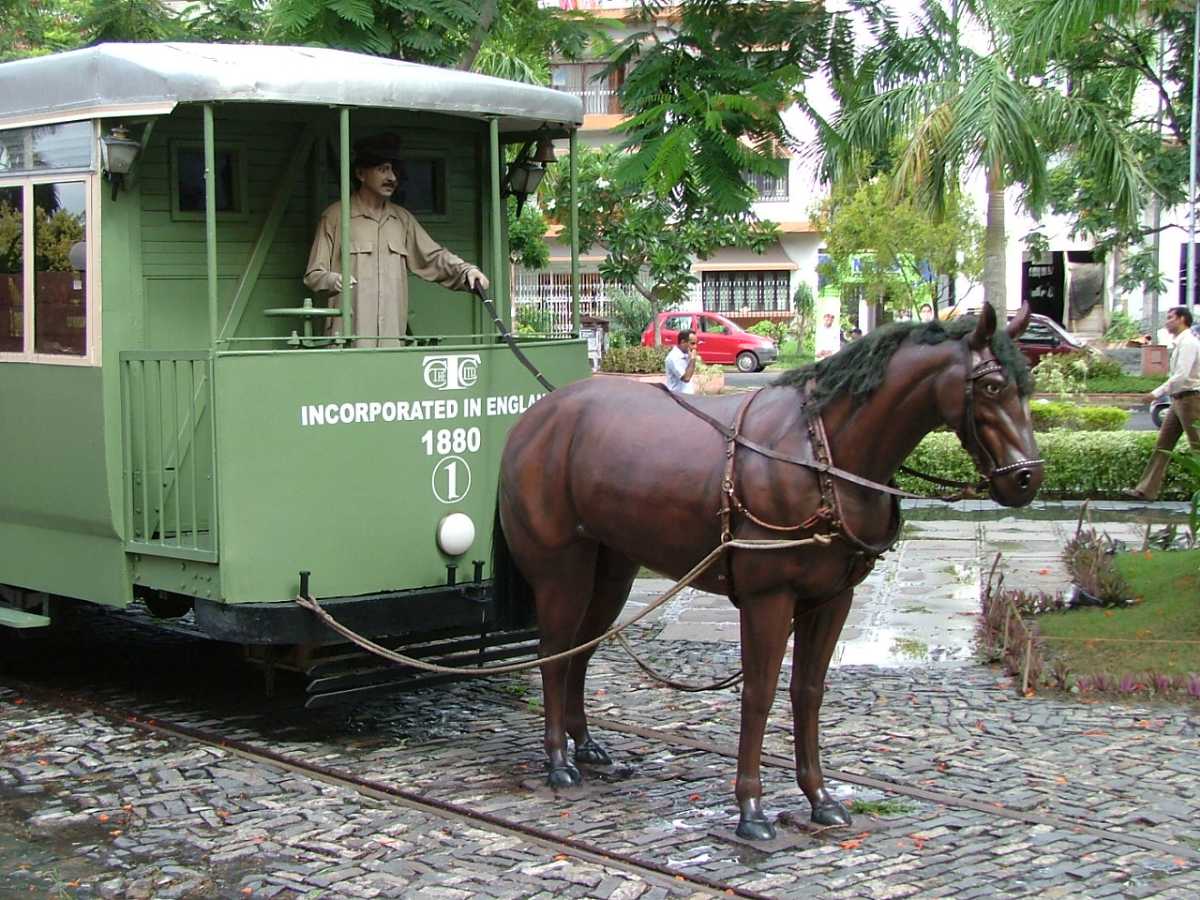 In
1873
, the first attempt to run a 3.9 km tramway service between Sealdah and Armenian Ghat Street, was made. This initiative was unfortunately short-lived as there was a lack of patrons. The facilities were discontinued the same year and remained defunct for the next seven years. History of trams dates back to decades before this in the colonial era when horse-driven trams were first introduced in the UK. Steam locomotives were deployed experimentally in Calcutta in 1882 to haul tram cars. Two decades later, the introduction of the electricity-driven tram in 1902 came as a revolution, and since then trams in Kolkata were born.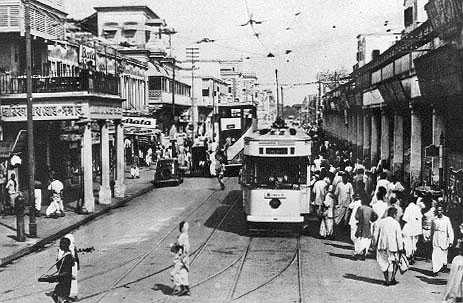 History of Trams in Kolkata
In its heyday, it had the distinction of having the first electric tramcar to run in Asia. More specifically, it was run from the Esplanade tram depot.

One of the defining moments in the history of the Calcutta tramways was 1902 when the first electric tram in Asia ran in Kolkata between Esplanade and Kidderpore. Soon after, the tracks were extended, and service from Esplanade to Kalighat was introduced.

Over the next decade, numerous other routes were established and became famous. These included the Esplanade to Sealdah route, the Esplanade to Bagbazar route, the Howrah Station to Bandhaghat route, Bowbazar Junction to BBD Bag and the Ahiritola Junction to Hatibagan Junction routes and so on.

Soon after this, the trams were connected to yet another station near Calcutta with the advent of the Esplanade to Sealdah station route.

In February 1943, the Calcutta and Howrah sections were connected by the Howrah Bridge. With this extension, the total track length now clocked in at 67.59 km.

In 1946, the tram became the first vehicle to cross over the newly constructed Howrah Bridge that would soon become an icon of Kolkata.

As time went by, the
tram routers spread like a web to cover the entire city of Kolkata and beyond
. Over time several routes were closed for a variety of reasons. The route is passing through the Howrah Bridge, for instance, was closed because it was thought that the bridge would soon be unable to bear the load. 
As the Kolkata metro was constructed and gained popularity, the tram saw a decline
. This, unfortunately, resulted in more routes being shut down, at times permanently.
Route Of Trams in Kolkata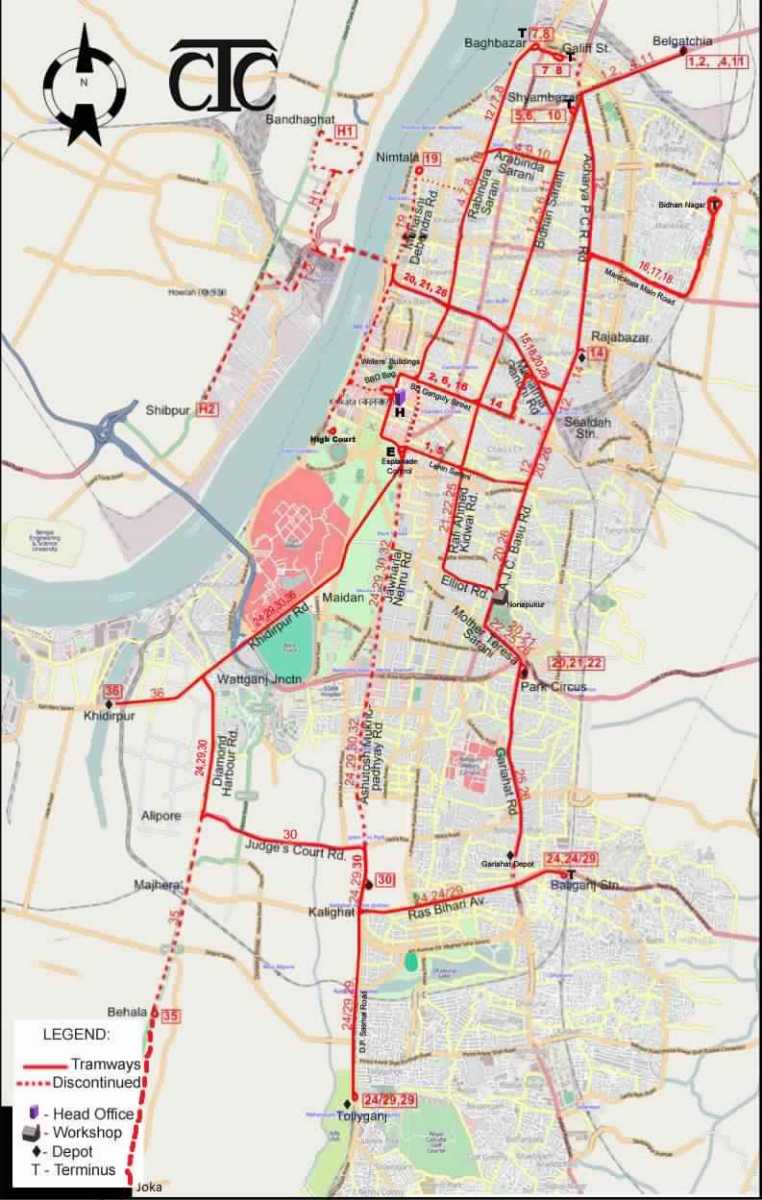 There are seven tram depots namely,
Belgachhia, Rajabazar, Park Circus, Gariahat, Tollygunge, Kalighat and Khidirpur
. There are also nine terminals and a workshop for trams in Kolkata.
Type of Trams in Kolkata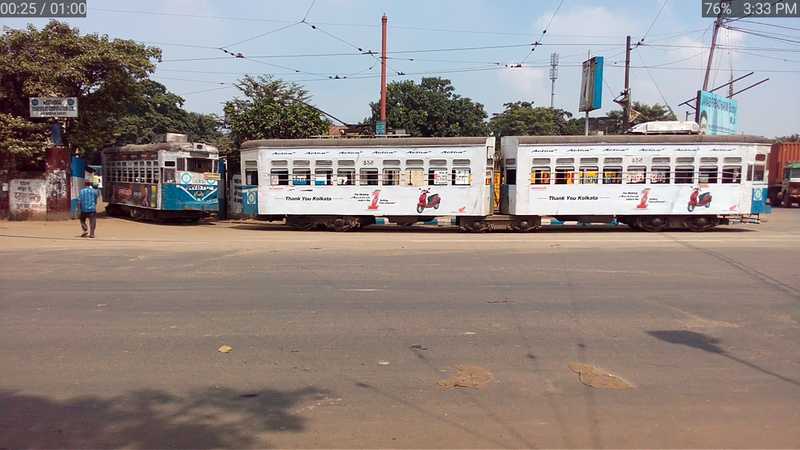 Trams each have two coaches, one of which is a first-class compartment, while the other is a second class compartment. Since 2013 however, trams have become a class-less mode of transport, with the same fare and amenities offered in all chambers.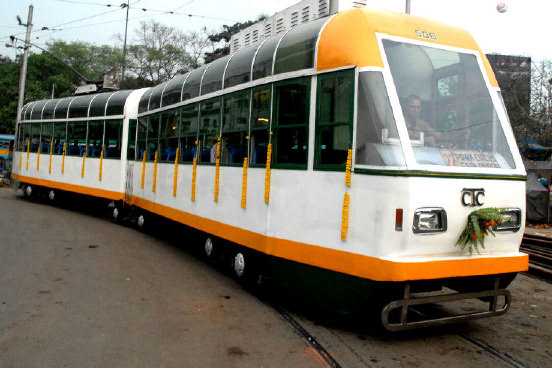 In recent years, a few trams have also been given a new lease of life with air-conditioning. Today, around a hundred trams are still in service.
The Fare for Trams in Kolkata
Trams are one of the cheapest modes of transport you can avail in Kolkata. Tickets begin from
INR 5 to INR 10
.
The Experience of Taking Trams in Kolkata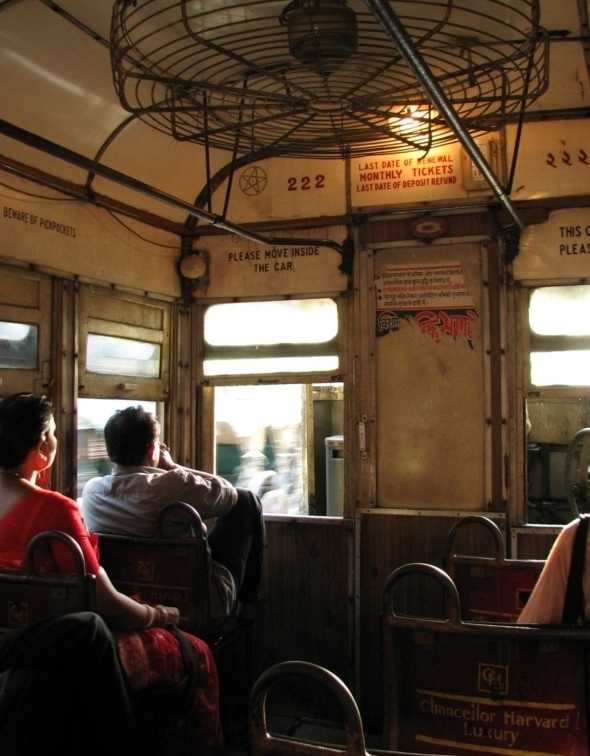 The old-world charm of Kolkata is significantly underlined when one takes a tram ride. You can lean back on the benches and watch the city trundle by with the distinctive growl of machinery as a constant accompaniment. As it slowly glides down congested spaces and open lanes, it is perhaps one of the last vestiges of the historical Calcutta that you can still immerse yourself in.
Inside a tram in Kolkata, you will find, wood and metal benches laid out in two rows. Wide windows with thin, painted bars, lazily and noisily whirring fans and at night, the pale glow of fluorescent lights. The ticket conductor will approach, often with an enquiring flick of this wad of ready tickets. And upon disclosing your destination, he will proceed to hand over small strips of paper emblazoned with the journey details. 
When you're planning to alight, the conductor will ring a bell, both to make the tram halt, and then to give it the green signal to start again.
If you are sitting in the first compartment, make sure to take a peek at the driver in his little cubicle, standing tall and steering a train through heavy traffic.
A bonus, of course, is the fact that you can take comfort in using an environmentally friendly mode of transport. 
Some things to be careful about when in a tram:
-Don't jump on or off a moving tram.
-Be careful with your belongings.
The Smaranika Tram Museum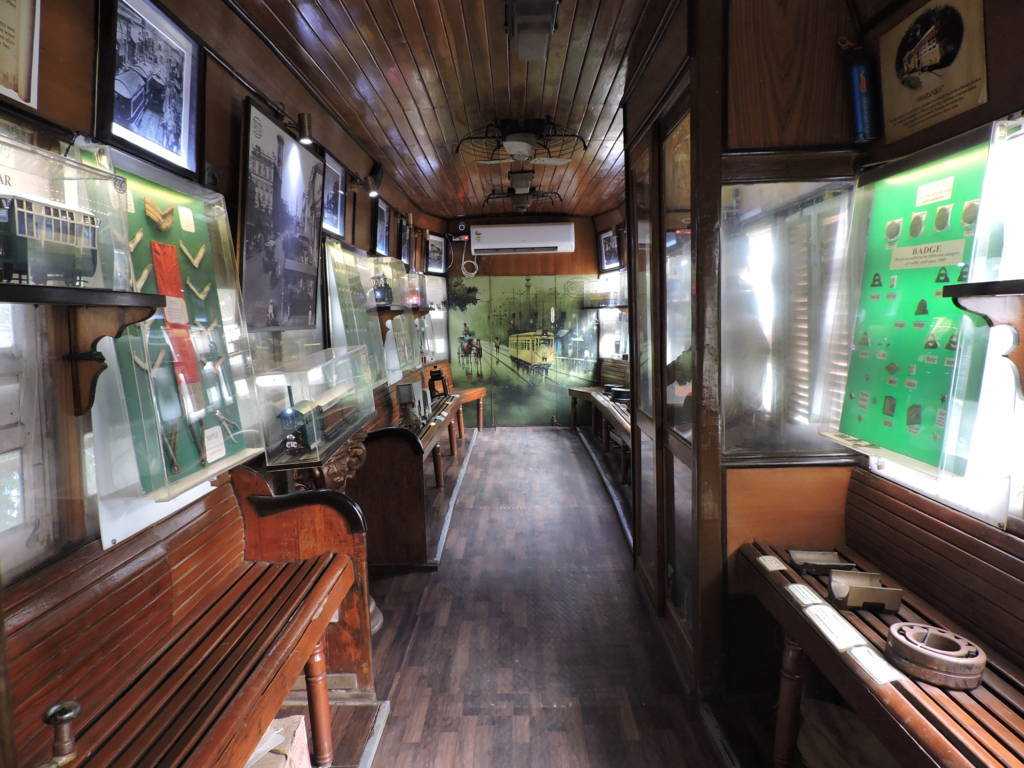 The tram museum in Kolkata is an initiative to highlight the long and exciting history of the vehicle in Kolkata. It is an exhibition of tram memorabilia that stands amidst the grounds of the Esplanade tram depot. It is a two-compartment tram, similar to the ones we still ride, but with a very different interior. 
The entry tickets are designed akin to those the tram conductor gives you and are priced at INR 5 each. You are however allowed to spend only 30 minutes inside the exhibition. 
A full-size statue of a tram conductor in uniform greets you at the entrance.
One of the compartments is a cafeteria where you can sit down for a quick snack. The other is the place to be if you want to absorb some history and facts about trams together. There are displays of artefacts, model vehicles, gears, tickets, uniforms and so on.
The Future of Trams in Kolkata
The trams of Kolkata is a legacy that is till date popular and used by many for their daily commute. The government has over the years added and removed routes, made fare adjustments and arrangements regarding the infrastructure of the trams and so on.
The way ahead seems to be clear for the trams:
They are here to stay for many more years
. They are still used daily by devoted commuters, and their environmentally friendly nature makes them even more appealing. For those who travel to Kolkata as a tourist, a ride on one of the trams is a must.
The government has over the years chalked out redevelopment plans and several other initiatives to make tram rides an even bigger attraction. If these are further implemented, it will soon to make the Kolkata trams a must-ride for everyone.
So if you're in Kolkata, take a tram ride and sock in Kolkata's rich heritage.
Did we miss out on any bit of trivia?
If you have any questions, leave us a comment below and we'll get back to you right away.