Durga Puja in
Kolkata
is the grandest of all festivals celebrated in the capital city in honour of Goddess Durga during the period of
Navaratri
. While the festival of Durga Pujo is, without a doubt celebrated grandiosely across the world, in Kolkata, the vigour with which it is celebrated is second to none. It is celebrated for
10 days
and the
Pandals
with grand idols of Goddess Durga are
open for visitors
. The last day, also known as Dashami, marks the idol's Visarjan (immersion in water) with grand celebrations and processions.
Durga Puja 2023 begins on October 15th
and has its last day, or Dusshera, on the
24th October
.
For a comfortable stay during this vibrant festival, here are the
best places to stay in Kolkata
.
Durga Puja Dates 2023: Calendar and Schedule
| | | |
| --- | --- | --- |
| Important Occasions | Date | Day |
| Maha Panchami | 19 October 2023 | Thursday |
| Maha Sasthi | 20 October 2023 | Friday |
| Maha Saptami | 21 October 2023 | Saturday |
| Maha Ashtami | 22 October 2023 | Sunday |
| Maha Nabami | 23 October 2023 | Monday |
| Bijaya Dashami | 24 October 2023 | Tuesday |
What is the Festival of Durga Puja?

According to the Hindu Mythology, Goddess Durga emerged from the collective energy of all the Kings and Gods (devas) as an embodiment of Shakti or divine feminine power, to destroy demon Mahishasura; who was blessed to not be defeated by any man or god. The name Durga in Sanskrit means 'the impenetrable'; she exists in a state of self-sufficiency and in ultimate power. This powerful form of Mother Goddess is highly revered in Kolkata which is why her return is celebrated with much grandeur and ceremonies. If you are in Kolkata during Durga Pooja, these are the popular features of the grand celebrations, you shouldn't miss out on. The preparations for the festival are as fascinating as the festival itself. A week prior to the festival, the city gears up and can be seen wearing a look of eagerness and excitement as it prepares itself to welcome the Goddess home.
Chokkhu Daan - The Day When Eyes of Goddess Durga are Painted for Durga Puja in Kolkata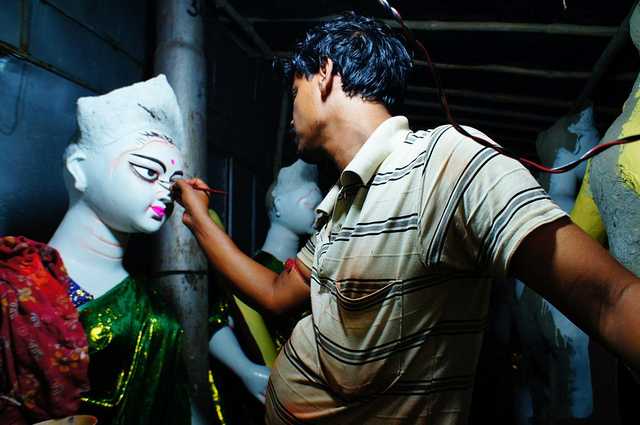 Durga Puja in Kolkata has its own unique rituals. A week before Navratri begins; the idols of Goddess Durga are being painted and made ready except for the eyes. On the occasion of Mahalaya, the Goddess is invited on earth with rituals and so on this day, the eyes are drawn on the idols in an auspicious ritual called Chokku Daan. It is believed the Goddess descends to earth at the time of drawing the eyes on the idols. Kumartuli or potter's locality is a famous place in North Kolkata where a majority of the idols are made.
The Procession to Bring in the Deity: Durga Puja 2023 in Kolkata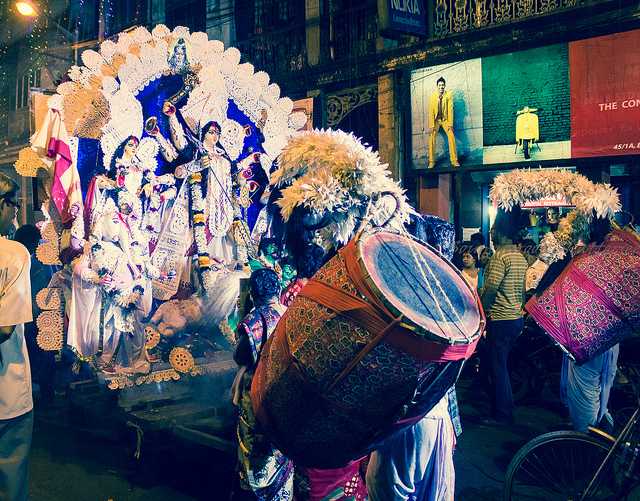 On the sixth day of Navaratri i.e. the first day of Durga Puja in Kolkata; the beautifully decorated idols are brought home or placed magnificently as decorated public pandals. The idol is then decorated with flowers, clothes, jewellery, red vermillion and various sweets are kept in front of the Goddess. The idol of the Goddess is accompanied by the idol of Lord Ganesh. Goddess Durga is considered to be Lord Shiva's wife Parvati's avatar and thus the mother of Lord Ganesh and his brother Kartikeya.
The Ritual of Pran Pratishta - Kola Bou Bath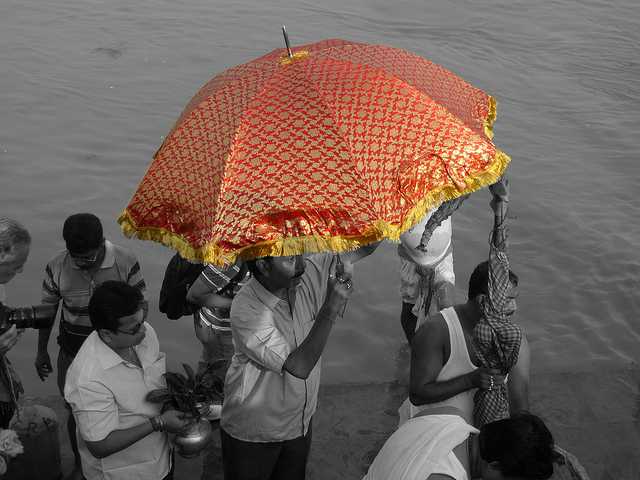 This is the ritual of invoking the presence of the Goddess in the idol. This takes place on the seventh day, when early in the morning; a small banana plant called Kola Bou is taken to the river to be bathed and dressed in a red-bordered sari and carried back in a procession to be placed near the idol of the Goddess. This is then followed by ritualistic prayers and puja, that will take place for all the remaining days of the festival. There are also a lot of cultural activities that take place as part of the celebrations. People come together to dance, sing, perform plays and traditional.
Dashami - The Last Day of the Durga Puja
The tenth day of the Durga Puja festival is called Dashami; it is believed that on this day, Goddess Durga gained victory over the Demon and thus restored the balance on the earth. It is also known as Vijayadashami. On this day, Goddess Durga is worshipped and offered many things as she is prepared to leave. Highly enthusiastic devotees gather in large numbers to join the procession that carries the Goddess to the ghats to be immersed in water. Women, especially married woman initiate the procession by first applying red sindoor or vermillion powder on the Goddess and then to each other. It is said to be a symbol of marriage and fertility. The immersion of the idol is similar to the immersion of the Ganesha idol during Ganesh Chaturti. Babu Ghat is one of the popular places for immersion located near Eden Garden.
Durga Pooja Pandals, Decorations and Food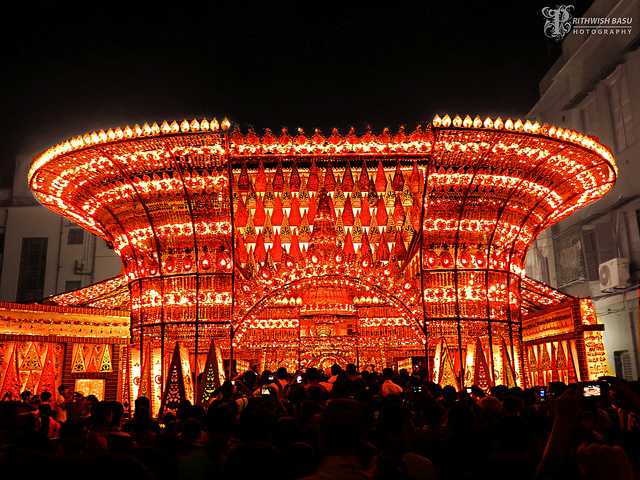 The gorgeously decorated pandals each emphasize a theme; be it the legends of Goddess Durga or scenes from Hindu epic texts. Nowadays, some pandals are themed on a social cause to spread awareness. Day time is usually better to see the pandals closely when the crowd is less however; the brightly lit pandals in hundreds of colors is quite a sight of its own in the evenings. The 10 Famous Kolkata Durga Puja Pandals are:
Ekdalia Evergreen: Set up in 1943, it is famous for replicating temples from all over India through its artwork. It is located in Gariaghat, to the south of the city.
Bagbazar: Located in North Kolkata, along with the river. it is about 100 years old and focuses on simplicity and traditional rituals
Kumartuli Park: Established in 1995 (near Bagbazar, so you can visit them both in one go) and famous for ingenious themes, the idols are handcrafted
College Square: Set up in 1948 beside a lake in Central Kolkata (off MG road), It's illumination and reflected beauty is the talk of the town.
Mohammad Ali Park: Started in 1969 on MG road, this place is famous for showcasing the beautiful architecture of monuments. Club this place with College square.
Suruchi Sangha: Famous for depicting a state of India through it's artwork and installations, even the idols are modelled accordingly. It is 50 years old and located in New Alipore, South Kolkata.
Santosh Mitra Square: Established in 1936 in the Bow Bazar area, it was earlier known as Sealdah Sarbojanin Durgotsav. It is famous for it beautifully intricate artwork display.
Bose Pukur Sitala Mandir: Winner of multiple awards, and famous for showcasing rural Bengal through motifs, idols and artwork. It is located in Bose Pukar kasba in south of the city and is a must visit.
Jodhpur Park: Another popular pandal, this one has a wide gamut of themes and surprises with a unique element each year. It is located near Jadavpur Thana in South Kolkata.
Badamtala Ashar Sangha: A people's favourite and quite old (75 years), this place in Kalighat, South Kolkata, won an award for creative excellence in 2010.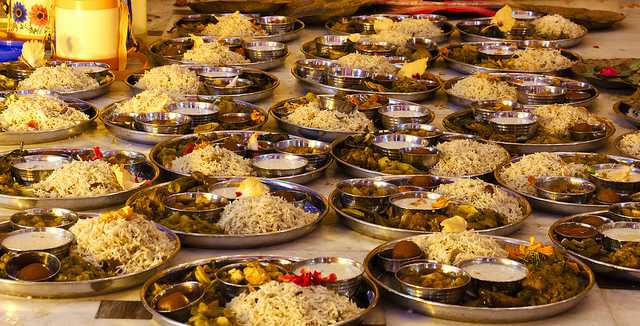 Food is a major feature of the Kolkata Durga Puja festival and Kolkata is reputed to be a foodie's paradise. Sure enough, in a festival this grand you are bound to find the most delicious and incredible variety of Bengali cuisine. From snacks and sweet dishes that only Kolkata is famous for; to the Kolkata Durga Puja special themed Bhog meals that have a little of everything. All the pandals offer Bhog (offerings made to the Goddess Durga which is later distributed among the devotees) and community kitchens are also set up.
If you want to binge on the delicacies that the place offers, you may read Street Food of Kolkata.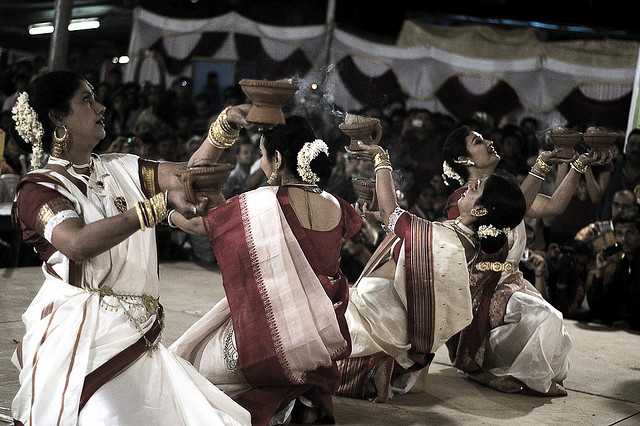 This grand social event of Durga Puja showcases the beautiful culture of the Bengalis in India. The evenings during Kolkata Durga Puja witness the streets packed with thousands of people both locals and tourists alike who come to see the large beautifully decorated idols of Goddess Durga, to offer their prayers, eat at the numerous stalls that pop up in the streets and take part in the grand celebrations to honour the victory of Goddess Durga over evil.


Complete List of Durga Puja Pandals
1. Sreebhumi Durga Puja Pandal

2. Singhi Park

3. Chaltabagan

4. Jodhpur Park

5. Baghbazar Sarbojanin

6. Bandhu Mahal Club in Baguiati

7. Santosh Mitra Square

8. Pally Mangal Samity, Taltala Ground

9. Ekdalia Evergreen Club

10. Badamtala Ashar Sangha

11. Suruchi Sangha

12. College Square

13. Ballygunge Cultural Association Puja Pandal

14. Kumartuli Park

15. Ahiritola Sarbojanin Durgotsav

16. Telengabagan Sarbojanin Durgotsab

17. Dum Dum Park, Tarun Sangha

18. Lake Town Adhibasi Brinda

19. Badamtala Ashar Sangha

20. Suruchi Sangha

21. Sreebhumi, Lake Town

22. Bosepukur Sitala Mandir

23. Singhi Park Sarbojanin Durgotsab

24. Mudiali Club

25. Mohammad Ali Park Durga Puja

26. Naktala Udayan Sangha Puja

27. Maddox Square



For the uninitiated, this could be a lot to take in. So the simplest way to participate in the festivities and enjoy it to the hilt is to take a Durga Puja Festival Tour. Many such tours are organised by Govt and private agencies alike, the most prominent being the West Bengal Tourism Development Corporation. Apart from these, Belur Math in Kolkata also holds a comprehensive program of Durga Puja Rituals.