The legendary actor, Amitabh Bachchan has a massive Kolkata fan base who seems to be absolute devotees of the megastar. Marking their love for the legend, Kolkatans have now built a temple solely dedicated to the 'God of Bollywood'.
Bachchan's Kolkata Connect
Bachchan holds an iconic filming history in Kolkata. The older residents of Kolkata will definitely remember the hit song 'Saara zamana Haseeno ka Deewana' being filmed in the Netaji indoor stadium. The actor also has other cinematic experiences in the city. His recent shooting for Piku attracted fans from all over the city to his shoot locations just to catch a glimpse of their favorite hero. Amitabh Bachchan has himself extended his fondness for the city of joy!
The Temple & Rituals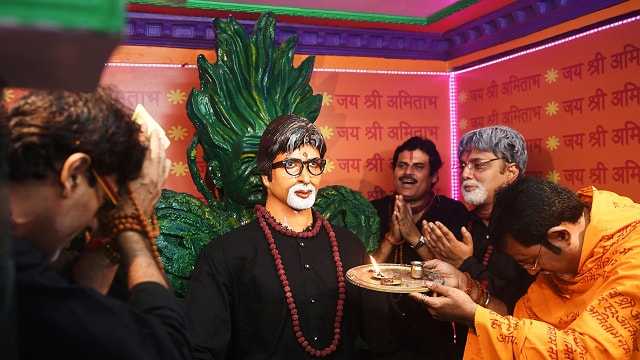 To Kolkatans, Amitabh is a Paragon of virtue, in whose name they have built a shrine where he is treated as the incarnation of a deity. The Shehenshah gets his own throne at the temple and effigy in the get-up of his character from the Bollywood blockbuster 'Sarkar'. It's truly enchanting to see the magnitude of love and devotion towards him. With an impressive montage of pictures all across the temple which has also preserved his footwear from the movie sets of Deewar. And guess what? The temple greets you with a "Jai Amitabh Bachchan" banner on at the entrance!
It is not just a temple for the sake of it. Holy rituals are carried out as well. They closely resemble the ceremonies carried out in any other religious temple. It has been observed that people bow down at the temple gates to pay their respects to the Hero-God. The dedicated pandits of this temple are also in a Sarkar get-up.
Who built it?
One of Kolkata's die-hard fans decided to build a manifestation of his hero-worship and got this temple constructed. The artwork and interiors of the temple have been planned and executed by the All Bengal Amitabh Bachchan Fan's Association.
Where is it?
The Amitabh Bachchan temple stands on
Kustia's 10A, Shri Dhar Roy Road, Kolkata, West Bengal 700039
. It is open 24/7 for all Bachchan devotees.
Kolkata puts every other Amitabh fandom of the country to shame. The deep-rooted love and dedication reflect in this move of building a temple. It's jaw-dropping and leaves all Bachchan fans across India in awe of the devotion.
Image sourced from indiatvnews.com
When are you heading to Amitabh Bachchan Temple? Let us know in the comments below!