A trip to
Jaipur
is synonymous with historical events. The historical wonders of Jaipur take you on a ride to the bygone era, but, what happens when the sun sets and you are done visiting the monuments? In case you are wondering (and also underestimating) about the nightlife in Jaipur, then let us assure you that the nightlife here is not vibrant with ample options to confuse you as to which one to select.
Here is a compiled guide to enjoying the nightlife in Jaipur:
1. F Bar And Lounge

If you are a party person then undoubtedly F Bar & Lounge is the coolest spot to hang out with friends after office hours. The sophisticated cuisine and the lively ambience, the rooftop set-up is a plus here. There is also poolside seating if you would want to chill out by the blue waters. The Selfie Point at the entrance is another attraction for all the selfie lovers. Their main agenda is to keep the entertainment quotient high, and they always come up with innovative events such as live Sufi bands, performances by Rajasthani folk singers and belly dancing as a part of exclusive festive events.
Cost for two: INR 1900 with alcohol
Timings: 2:00 PM - 3:00 AM
Where in Jaipur: Mirza Ismail Road, West Jaipur
2. Club Naila - Naila Bagh

A royal affair, Club Naila in Naila Bagh, will give you a feeling of magnificence as you enter the premises. The open-space lounge will make you feel liberated as you sip on their cocktails. They have indoor as well as the outdoor seating arrangement. One of the oldest heritage hotels, Club Naila Bagh, is also the host of the most important themed parties in the city. Be it the poolside parties or the moon-light parties; this is an ideal hangout spot for anyone that craves the nightlife in Jaipur.
Cost for two: INR 1200 with alcohol
Timings: 6:00 PM - 1:00 AM
Where in Jaipur: Naila Bagh Palace, Moti Doongri Road, Adarsh Nagar
3. Bar Palladio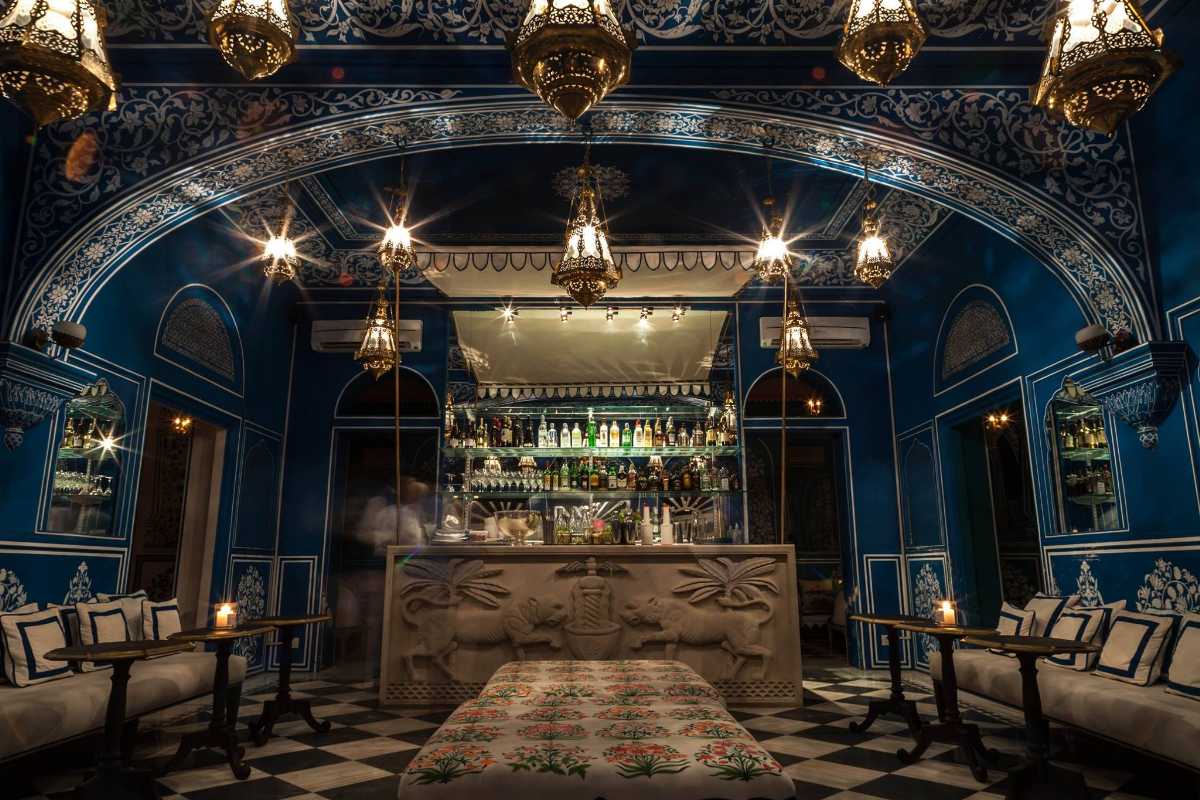 Head to Bar Palladio for an extravagant experience with friends or family; this place is fit for everyone. The splendid interior decor is awe-inspiring. The rich Italian menu will have you wanting to order more. Enjoy the Palladio special Spaghetti Aglio Olio e Peperoncino with their signature, Marina Rossa. The staff is friendly and will be at your service to make your evening a memorable one. On cold nights, bonfires make the place cosier and warmer, making it all the more reason for you to enjoy at this perfect place for nightlife in Jaipur.
Cost for two: INR 1800 with alcohol
Timings: 6:00 PM - 11:00 AM
Where in Jaipur: Hotel Narain Niwas, Kanota Bagh, Narayan Singh Circle
4. House Of People

Are you looking for a perfect place to chill out with stellar live music and the fun-loving crowd? Then, the House of People is the place for you. The well-blended cocktails to the perfectly cooked pasta or chicken dishes will get you in the right mood for an exciting night. They have attractive offers on Tipsy Tuesdays and Ladies Night on Thursdays. The rooftop lounge makes it an excellent place for a Hookah setup with no smoke to bother the non-smokers. The groovy music on the DJ nights will get your feet dancing. This place is
temporarily closed
. They'll restart soon.
Cost for two: INR 1500 with alcohol
Timings: 11:00 AM - 1:00 AM
Where in Jaipur: Hotel Las Vegas, A1, Sehkar Marg, Bais Godam, Jaipur
5. Blackout Club & Terrace

The growing clubbing trend in Jaipur has seen many new additions. Among them, Blackout has become a popular choice for anyone wanting to visit a nightclub in Jaipur. The elegant dance floor and the pulsating music make it a dancer's paradise. The comfortable seating at the rooftop lounge and terrace with a vast range of exotic drinks and delectable dishes on the menu will transport you to a magical land.
Cost for two: INR 1650 with alcohol
Timings: 6:00 PM - 2:00 AM
Where in Jaipur: Hotel Golden Oak, 9th Floor, Ahinsa Circle, Landmark Building, C Scheme, Jaipur
6. Ta Blu - Hotel Clarks Amer

A trending hotspot, Ta Blu is one of the most happening places in the city. Fall in love with the décor and ambience of quintessential Jaipur. It is the kind of place that gives a splendid chance to live music bands to perform every week. The spacious bar lets you have a great night out. The mesmerising neon blue lights and the pretty candle holders provide the perfect set-up for a romantic date with your loved one. They also have a separate 'Late Night Menu; for those who feel the hunger pangs as the night progresses.
Cost for two: INR 1800 with alcohol
Timings: 6:00 PM - 1:00 AM
Where in Jaipur: Hotel Clarks Amer, Jawaharlal Nehru Marg, Near Malviya Nagar, Malviya Nagar, Jaipur
7. Skyfall By Replay

The best way to get the night lit at Skyfall By Replay is with live music and outstanding food and drinks. Being one of the city's favourite rooftop lounges, Skyfall By Replay is an excellent option to unwind under the starry sky. The uptown décor add a shimmer of glamour to the place. They proactively organise live music with bands from different parts of the country to keep the fun vibe up and going. Even during peak hours, you would get the exact attention that you deserve without fail.
Cost for two: INR 1500 with alcohol
Timings: 12:00 PM - 12:00 AM
Where in Jaipur: SB 57, 5th Floor, Ridhi Tower, Opposite SMS Stadium, Tonk Road, Jaipur
8. WTF


One of the coolest pubs in the Pink city, WTF is a place for nightlife in Jaipur that delivers a guaranteed good time on your every visit. In case you are sceptical about its name, let us assure that there is absolutely nothing obscene about it. Watch-Treat-Freak offers cool ambience and some of the greatest cocktails to sip on and finger-licking good food to snack on. You are sure to love this place with additional factors to win your heart such as the snooker table and ice hockey tables that render a sporty look to WTF. Throughout the week, they have some real fun nights planned for their guests. Madhushala Mondays, Bladder Blast Tuesdays, Ladies Night on Wednesdays, Thank you Thursdays will keep the fun quotient high during weekdays. For weekends, Frolic Fridays, DJ Night on Saturdays and special Bollywood Nights on Sundays will keep you in the best of your spirits.
Cost for two: INR 1500 with alcohol
Timings: 11:00 AM - 1:00 AM
Where in Jaipur: 301, Man Upasna Mall, Chomu House, C Scheme
9. Beerlicious


For all the beer lovers, Beerlicious is the best beer hub in the city. They certainly live up to their slogan which is, 'Go Beer Crazy'. From a wide range of beers from all over the world, Beerlicious serves you the best of the beer world. To introduce beer culture in the city, it is a fun stressbuster for both family and friends. Situated at a chief location in the city, the panoramic view from the terrace lounge merely is breathtaking. So, head out to grab a few beers and snack on some of their delicious appetisers such as Panner Tikka, Honey Chilli Potatoes, Grilled Prawns and Choco Frappe and Cheese Chilly Toast. Be it live music performances or stand-up acts, they always have something special planned for the weekends.
Cost for two: INR 1500 with alcohol
Timings: 12:00 PM - 12:00 AM
Where in Jaipur: Plot 34/35, Mahalaxmi Tower, Moji Colony, Calgary Road, Malviya Nagar, Jaipur
10. Jaipur Bar Stock Exchange - Grand Uniara

Based on an innovative concept of bar stock, where prices of the drinks on the menu keep on fluctuating, Jaipur Bar Stock Exchange is a must-visit nightclub in Jaipur. A huge screen display will flash the prices of drinks which fluctuate as per their demand at that time. Every few minutes, the rate card display will refresh and new price list for the drinks is showcased. They also have interesting concepts for each day of the week to keep the fun vibe high. While you can avail some amazing discounts on Margarita Mondays, Techno Tuesdays will have Jaipur Beats performing from 1:00 PM till 3:00 PM followed by a DJ taking over with some cool Techno & Underground music beats. Special music performances by leading bands in the city will make Wednesdays lively whereas you can come with your girl squad to have a blast on Ladies Night on Thursdays. The exclusive Fridays with the Biggest Market Crash of all Time also have Resident DJs with exciting Black Friday. Don't miss out on the Saturday Club Nights if you are looking forward to an absolute refreshing clubbing experience.
Cost for two: INR 2000 with alcohol
Timings: 12:00 PM - 1:00 AM
Where in Jaipur: Grand Uniara, Jawaharlal Nehru Marg, Near Trimurti Circle
11. Grunge - The Fern Hotel

Commonly known by the locals as Grunge - The Fern Hotel, this bar and lounge is located near Airport Plaza, a few kilometres towards the outskirts. Composed of vibrant and colourful interiors, the Grunge Lounge Bar is another entertainment and relaxation hotspot in the Pink City. As a nominee for the 2014 "Times Food Awards", this bar is a local favourite fo thr nightlife in Jaipur as it serves excellent ambience along with a decent crowd. With a bunch of live bands playing on Wednesdays and Fridays and an in-house DJ on the groove, the bar is an immersive combination of good music, food and decor; the ideal time out with your loved ones. Inclining towards the expensive side of the spectrum, the hotel serves a variety of cuisines, mostly Indian. The atmosphere is conducive to throw group parties as well. As the crowd increases, it is preferable to book your reservations in advance, especially on weekends.
Bar facilities include Indoor seating, dance disc and wheelchair accessibility.

Cost for two: Approx. INR 2800
Timings: 3:00 PM to 11:00 PM
Where in Jaipur: Plot No. 3, Airport Plaza, Tonk Rd, Chandrakala Colony, Mata Colony, Jaipur, Rajasthan
12. Aza - Fairmont Jaipur

If you thought that partying and dining is a new-age concept, this place would make you rethink! Integrated with a mixture of Mughalai and English architectural interiors, this bar and restaurant are housed at the Fairmont Hotel. With a collection of books, the library bar emanates a biblio-chor atmosphere in combination with drinks, delicious food and soothing music. You could get your hands on some of the Maharaja-collection of alcohol at this royal bar and restaurant. Happy hours are open between 6:00 PM and 7:30 PM. Surrounded by a peaceful garden and lawn, Aza provides bonfire and Mashaal (fire torch) nights alongside an array of Meditteranean, Balkan and Middle Eastern cuisines. The "Cigar Diwan" beside Aza is a smoking zone for those who wish to indulge in a fine tobacco experience. If the exotic way of life excites you, then Aza is the place to go for a unique nightlife in Jaipur experience! Bar facilities include Outdoor and indoor seating, valet parking, wifi and wheelchair accessibility.
Cost for two: Approx. INR 3000
Timings: 5:00 PM to 11:00 PM
Where in Jaipur: 2 Riico, Kukas, Rajasthan - 302028
13. Steam - Taj Rambagh Palace

Situated within the Taj Rambagh Palace vicinity, the Steam Lounge Bar perfectly complements the luxury of the place. Structured within the design of a train and enclosed in lavish decor, the bar truly emits the vibe of a Steam train. Entry to the bar requires a fee of INR 1400. The lounge bar serves a distinguished variety of cocktails to soothe your burning throat and an array of dishes and desserts handpicked from almost every continent. One of the new additions to the drinks menu is the Orange Mint Spritzer; a definite boost to this royal experience. Relish the extravagant dine-out at Steam Lounge Bar either on your own or with family and friends or that special someone!
Cost for two: INR 2800, with alcohol
Timings: 6:00 PM to 12:00 AM
Where in Jaipur: Bhawani Singh Rd, Rambagh, Jaipur, Rajasthan - 302005
14. 3 D's Restro Lounge

The 3Ds Restro Lounge is frequented mostly for its rooftop seating and lively atmosphere. Located on the eighth and ninth floors of the UBD Corporate Towers, the Lounge serves diverse vegetarian and vegan platters of Indian, Continental, Italian and Chinese cuisines. The 3Ds Restro Lounge hosts a series of live events and themed parties every season such as New Year's Eve, Christmas, to name a few. The bar has a hookah zone as well. You could catch your favourite game on their live game screening, along with your pint of beer!
The bar facilities include; outdoor, indoor and rooftop seating, wifi, wheelchair amenities, television, noise-level control, ac and parking.
Cost for two: INR 1700
Timings: 11:30 AM to 3:00 AM
Where in Jaipur: UDB Corporate Towers, A2, 8th & 9th Floor, Jawahar Circle, Near, Malviya Nagar, Jaipur, Rajasthan - 302017
15. Jal Mahal at ITC Rajputana

Set on the Palace Road, Gopalbari, the Jal Mahal is yet another royal rendezvous wrapped in lavish interiors and comforting premium atmosphere of the ITC Rajputana. The general judgement of the place holds the hospitality of the Mahal to be excellent. Along with buffet services, they also provide other individual delicacies which cover cuisines from all over the world. This 24-hour Mahal serves alcohol under restrictive rules and is open to nightlife as well; but not on the scale of an otherwise pub or club. Come along, and live your meal; king size!
Cost for two: Approx. INR 3500
Timings: 10:00 AM - 11:00 PM
Where in Jaipur: Palace Road, Gopalbari, Jaipur, Rajasthan - 302006
16. Peacock Rooftop Restaurant at Hotel Pearl Palace

Situated at Hotel Pearl Palace on Hari Kishan Somani Road, The Peacock Rooftop Restaurant adorns a vibrance of coloured furniture and interiors, a great desi hang-out spot. With indoor and outdoor seating arrangements, the restaurant serves an array of North Indian, Chinese and Continental cuisines. The menu of the place includes Vegan, Vegetarian and gluten-free diets and dishes as well. This rooftop dining accompanies food along with live music and other events regularly. As part of the Hotel Pearl Palace, the Peacock rooftop restaurant opens to a garden and lawn provision available for customers to relax. The restaurant is an excellent choice to throw your group parties, including bachelors too!
Cost for two: Approx. INR 900
Timings: 7:30 AM to 11:00 PM
Where in Jaipur: Hotel Pearl Palace, 51, Hari Kishan Somani Marg, Near Vidayakpuri Police Station, Gopalbari, Jaipur, Rajasthan - 302001
17. Kalyan Rooftop and Indoor Restaurant

This rooftop restaurant proves that nightlife can exist without alcohol. Situated close to Ajmer Fort, Kalyan Rooftop and Indoor Restaurant is a part of the larger Hotel Kalyan. The restaurant serves a variety of Indian, Chinese, Italian, Continental and European vegetarian delights, including special dishes for vegans as well. Does your idea of nightlife n Jaipur include watching your favourite sports team with your friends? Equipped with a huge projector, you can now catch your favourite game too! Some of the restaurant facilities include home delivery, booked private dining, parking, wheelchair accessibility and television. The restaurant accepts MasterCard, Visa Card and American Express payment methods.
Cost for two: Approx. INR 600
Timings: 7:00 AM to 12:00 AM
Where in Jaipur: 59 Hathroi Fort, Hari Kishan Somani Marg, Ajmer Road, Near Vidhayakpuri Police Station, Jaipur, Rajasthan - 302001
18. Suvarna Mahal

Included within the Taj Rambagh Palace, the Suvarna Mahal is yet another royal encounter embodied in luxurious decor equipped with high roofs, mirrors, floral patterns and themes. This lavish palace for a hotel is a 4.5 star rated restaurants, serving some of the best Mughlai and North Indian cuisines. Traditional food and classical tunes at the background complete the vintage vibe adorned by this elegant restaurant. The restaurant serves an array of alcohol too; ranging from wine to stronger, royal "Maharaja" drinks. The other amenities provided by the restaurant are; validated and valet parking, bookings and reservations and wheelchair accessibility.
Cost for two: Approx. INR 5000
Timings: 12:00 PM to 2:45 PM and 7:00 PM to 11:45 PM
Where in Jaipur: Bhawani Singh Rd, Rambagh, Jaipur, Rajasthan - 302005
19. On the House

With no alcohol served at this House, On the House is a casual cafe and a must-visit if your sweet tooth has been craving for something sweet for a while now. Although an English themed cafe; including the menu, the House provides a selection of multi-cuisine dishes, including Italian, Lebanese and American. They have select varieties for vegetarians and vegans as well; including gluten-free diets. Started in the year 2013, On the House is the perfect point to halt for a meal that would satisfy every kind of taste bud! The House accepts MasterCard, Visa Card, Debit and Credit Card and Cheque payment methods. The Cafe is a great spot to throw themed parties and birthday parties too!
Cost for two: Approx. INR 1300
Timings: 8:30 AM to 11:00 PM
Where in Jaipur: E 145, Ramesh Marg, Behind Talwalkars, C Scheme, Jaipur, Rajasthan - 302001
20. Light Show at Amar Jawan Jyoti

After the Indo-Pakistan War of 1971, the country was devastated, more so because we lost many of our people fighting this gruesome war. Erected in memory of these soldier-lives, The Amar Jawan Jyoti owns a great view from the Vidhan Sabha. One of the many attractions of the Pink City, this empty tombstone is constructed in resemblance to the India Gate. The Amar Jawan Jyoti hosts night-light shows that include a bit of music as well at the end of which there would be a commentary highlighting the war history of the country. The memorial composes of a museum as well — a 20-blocked dedication to the Indian martyrs. You could pay a quick visit through this museum while you are at Amar Jyoti Jawan and breathe some patriotism!
No entry fee
Timings: 7:30 PM to 10:00 PM (for the light show) but open 24 hours otherwise.
Where in Jaipur: Jan Path, Jaipur Nagar Nigam, Lalkothi, Jaipur, Rajasthan - 302005
21. Light Show at Amber Fort and Palace

The fort is a 16th-century conserved monument and has been recorded as a World Heritage Site, 2013 by UNESCO. Blended in Mughlai and Hindu architecture, The Amber Fort and Palace lies on the banks of the Maota Lake and is one of the many breathtaking and thought-provoking sites of Jaipur. An exciting tour through the Amber Palace consisting of 6 major sections with independent entrances and courtyards; with Sun Gate or Suraj Pol as the main entrance to the first courtyard. Each of these courtyards has historical significance concerning the lives of the then kings and queens. Do something different when exploring the nightlife in Jaipur, attend the light shows at night which light up this beautiful monument. Although elephants are used to commute to and through the fort, it is advisable to use other transportation facilities; taxis and cabs and promote animal kindness!
Entry fees: (per person)
National adult INR 50
Foreign national adult INR 550
National student INR 10
Foreign national adult INR 100
Light shows: (per person)
English INR 200
Hindi INR 100
Timings:
Fort timings - 9:00 AM to 6:00 PM
Light show timings -
English - Begins at 7:30 PM
Hindi - Begins at 8:00 PM
Where in Jaipur: Devisinghpura, Amer, Jaipur, Rajasthan - 302001
22. Nahargarh Fort

One among Jaipur's group of forts massive in architecture and history is the Nahargarh Fort. Located at the foothills of the Aravalli Hills, this fort is locally known as the "abode of tigers". Engulfing supernatural historical myths, the Nahargarh Fort adorns a mixture of Indian and European architectural styles. The fort acts as a tower of the Pink City as it provides visitors with a fabulous perspective of the whole city. It is said to be the perfect point for sunset viewing too. The Fort has an integrated Wax Museum to the left of the entrance to the fort building; a remarkable collection of replications of some of India's most prominent personalities. Within the abode of tigers, is the glass palace or the Sheesh Mahal, embroidered in lavish and colourful interiors, designed and structured in Glass. The perfect glimpse into ancient royalty and luxury. The fort hosts an entertaining series of regular puppet shows as well.
Entry fee: (per person)
Entry to Nahargarh Fort -
Nationals - INR 50
Foreign nationals - INR 200
Students - INR 25
Entry to Sheesh Mahal, Wax Museum and puppet show -
INR 500
Timings: 10:00 AM to 5:30 PM
Where in Jaipur: Krishna Nagar, Brahampuri, Jaipur, Rajasthan - 302002
23. Hawa Mahal

The Palace of the Winds as the name suggests, Hawa Mahal initially built for women, is yet another engineering wonder of Jaipur. A five-storied building, the Palace is designed in rows and columns of honey-comb structures constructed in the delicate latticework, giving the walls a knitted texture. These structures adorn numerous windows, thus illuminating the Palace naturally with no necessity of external lights within during the day. Each level of this pink Palace tells a story through its architecture; such as the glassed interiors of the Ratan Mandir on the second story. Entry to the Palace is through the back, which is often mistaken to be the face of the Palace. The Hawa Mahal adorns a little museum piled with the then relics and artefacts as heritage preservation.
Entry fees:
Nationals - INR 50
Foreign nationals - INR 200
Timings: 9:00 AM to 5:00 PM
Where in Jaipur: Hawa Mahal Rd, Badi Choupad, J.D.A. Market, Pink City, Jaipur, Rajasthan - 302002
24. 100% Rocks

100% Rocks is a club cum pub in the heart of the city. The place offers some wide range of cocktails and the cuisine varies from Continental, Chinese, North Indian and Thai. Let go of all your worries at this place and dance the amazing tunes played here.


No Entry Fee
Timings: 11:00 AM to: 01:00 AM
Where in Jaipur: Yudhishthir Marg
25. Henry's The Pub

The vintage-styled interior will take you back to the era of the Britishers at Henry's The Pub. There are musical and karaoke nights organised at the Pub that allows people to let go of their stress. The classic cocktails at the pub must be tries by all.


No Entry Fee
Timings: 11:00 AM to : 12:00 AM
Where in Jaipur: C-Scheme
26. Statue Circle

Statue Circle was constructed for paying eulogy to Sawai Mansingh II, the founder of the city. The circle is lit up with lights and the nearby lawns are a good place for idyllic time with your loved ones. A coffee shop adjacent to the park is a popular destination for the coffee lovers and goes well with a stroll for a wonderful time.

No Entry Fee
Timings: 7:00 AM to : 12:00 AM
Where in Jaipur:C-Scheme

It is a new open-air food court in Ram Niwas Garden where you enjoy all flavours of Jaipur. The word "Masala Chowk" hints at a place with a variety of shops serving street food. All famous eateries of Jaipur have a stall in Masala Chowk. Initially, it was made for tourists as it is near the famous tourist attraction Albert hall Museum.
Cost for two: INR 500
Timings: 9:00 AM TO 10:00 PM
Where in Jaipur: Jawaharlal Nehru Marg Ram Niwas Garden

Inbound and native tourists have a desire to experience the unique culture of Rajasthan and Chokhi Dhani is the best place where they can do so. Choki Dhani is like a mini Rajasthani village promoting the local traditions of food, art and handicrafts.
Cost for two: INR 1400
Timings: 5:00 PM To 11:00 PM
Where in Jaipur: Choki Dhani village resort, 12 Miles Tonk Road, Goner Mod Flyover, Sitapura
29. Zarza

If you are the one who loves partying, get-togethers, rooftop chilling, clubbing etc. In the pink city, Zarza is the heat destination for them. It gives a 360 view of the city. Exquisite food prepared using fresh produce from the farm. A stellar bar doling out picture-perfect cocktails. Foot tapping music that will tempt you to shake your leg. Things one must order here are - Gin Basil Smash, crispy Fattoush salad, Patiala chicken.
Cost for two: INR 1500
Timings: 4:00 PM TO 1:30 AM
Where in Jaipur: 9th floor, Dreamax Plaza, opposite Parivan Bhavan, Shankar Marg, Bais Godam
30. Zoya

It is a unique place that Jaipur has. It's the ambience and its beauty is unexampled. Whatever you order is going to ravish your taste buds. Must try: tandoori Broccoli, Fried Dim Sums and Soya Chaap. The cuisine here is continental. This is a classic place to take family and friends for a good outing.
Cost for two: INR 1200
Timings: 11:00 AM to 1:00AM
Where in Jaipur: The Fort, P-20, Lal Bahadur, S.L Marg, Malviya Nagar
31. Levels

Levels is a state of the art club in Jaipur with an exclusive VIP Section. The place is divided into three levels; a pub, a club and a VIP section. A wide range of worldly cuisines such as Italian, Mexican, Chinese etc are prepared by culinary class chefs is offered. All kinds of liquor are available.
Cost for two: INR 2000
Timings: 1:00 PM To 1:00 AM
Where in Jaipur: Ramada Hotel, Avenue 1, Govind Marg, Raja Park
This culturally rich city awaits an endless catalogue to experience the perfect nightlife in Jaipur. Pick your favourites and trust us, it would be worth the shot!