Jaipur
, The
Pink City
of
India
, has always been an attraction for people around the globe. It is mostly known for its historical background with numerous stories about Kings and Kingdoms, a wide range of markets with exquisite handmade products and exceptional architectural sightseeing. Recently, it has gained popularity for having various water and amusement parks. People including the tourists and locals visit the parks to enjoy the lovely family time. Most of the parks have now been converted into resorts, so it acts as the best weekend destination for most families.
Here is a list of 9 Water Parks in Jaipur that you should visit with your friends and family for a chill getaway:
1. Appu Ghar

It is spread over an area of 8 acres on the
Delhi
-
Ajmer
Highway, roughly 9 km away from the Jaipur city. The location of Appu Ghar provides a scenic view to those staying in their luxurious resort. There's a huge swiiming pool and a water park is being planned. One can also enjoy ATV rides, playstations, rope courses, and zorbing and of course, amazing food.
Address: Delhi Ajmer Bypass Rd, Near Vishwakarma Industrial Area
Dress Code: Polyester or nylon swimsuit
How to get there: It is situated 24 km away from the city. You can reach Appu Ghar following NH 48 by utilising public or private transport. It is at close proximity of Hotel Jaipur King which is about 10 minutes of walk.
Timings: 10:00 AM - 6:00 PM
Ticket Price: Entry fee: Adults- INR 100; Kids- INR 50The charges for activities range from INR 350 to INR 20 for Adults and INR 250 to INR 20 for children.
Website: http://www.appughar.com/
Contact: 0124-4891000
2. Hotel Aapno Rajasthan

This water park in Jaipur is a recreational paradise and an ideal weekend getaway. The fun slides and pools would keep individuals of all age groups engaged. You can explore the resort and laze around or dance to the beats of DJ under the rain dance umbrella. Apart from this, there is a never-ending fountain/waterfall in the pool. Occasions like the family gathering, receptions or parties are organised at the resort with a pool party. The key features of the waterpark are wave pool, giant slides, lazy river, kiddies and family slides and the landscaped gardens.
Address: Hotel Apano Rajasthan & Holiday Resort, Chomu Road, Jaipur
Dress Code: Swimsuit or clothes of polyester or nylon
How to get there: The water park and resort is located at a Distance of 15 km from Jaipur on the national highway 52. You can easily reach here by use of public or private transport. It is at a walkable distance from Jagadamba Foundry.
Timings: 10:00 AM - 10:00 PM
Ticket Price: Adults INR 599; Children INR 399 (includes food)
Website: hotelapanorajasthan.com/water_park_in_jaipur.html
Contact: +91-141-4034935
3. Angel Resort and Amusement Park

Angel Resort is a 3-star resort which is built to international standards. It is located in
Sikar
-Jaipur highway and is the best option for toddlers. Made in the lapse of nature with a spectacular view and hygienic environment it is a place where the most tourist wants to go after a stressful week. For a water park, it has all the best features of a big swimming pool, water slides, splash pads, spray grounds (water playgrounds) and lazy rivers. It also has artificial surfing or bodyboarding environment. Such as a wave pool or Flow Rider. Like all water parks in Jaipur, it has a rain dance, open-air DJ floor and a billiard room.
Address: Eden Garden, 20th Milestone, Rajawas, Sikar Highway
Dress Code: Synthetic swimwear that's made of nylon or polyester.
How to get there: Situated approximately 20 km from Jaipur city, the waterpark can be reached through a private taxi or cab following the Sikar road. there are public transport all the way along the national highway that passes from the city to the resort.
Timings: 10:00 AM - 6:30 PM
Ticket Price: Adults (above 4 ft height) - INR 300 + GST; Children - INR 200 + GST
Website: http://angelresortjaipur.com/
Contact number: +91 9783994000
4. Pink Pearl Water Park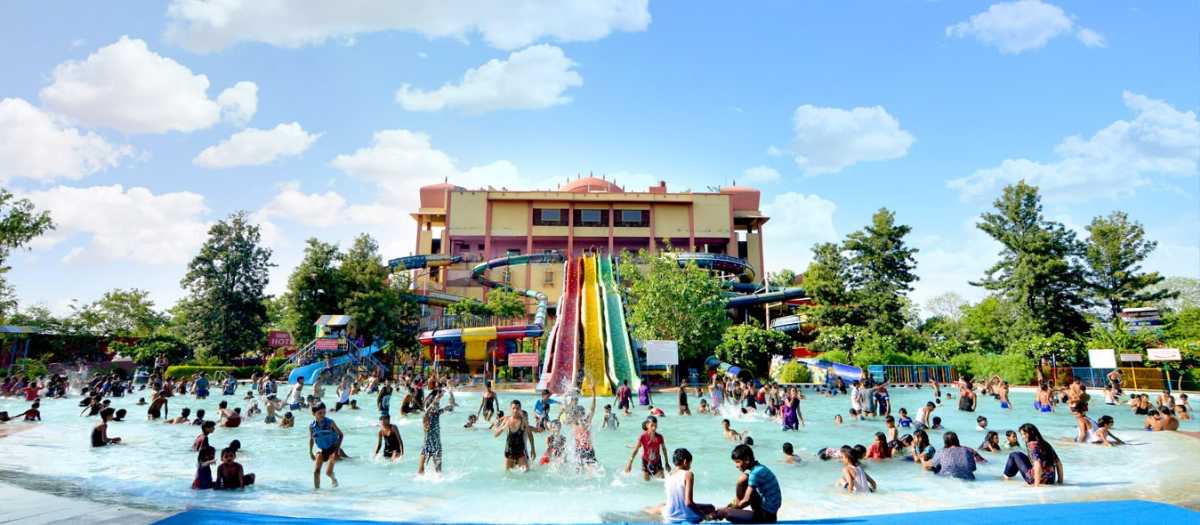 Pink pearl is the first amusement park in India which has almost everything a child or an adult can dream of. Located 16 km away from Jaipur city, it has Water Park, Go Karting, Laser games, Discotheque, Skating rink, Treasure Island and virtual reality games. It is very famous for its water slides and has India's first water Disco. Things like aqua disco, swimming, Wobble up and down Aqua Tubes, Zoom down slides and Lazy River leaves everyone wanting more. For the tiny toddlers there are Bumper Boats and a kiddie pool where they can play under the supervision and at the same time have lots of fun. This water park is a favourite place for both water lovers and non-lovers.
Address: Pink Pearl Hotel & Fun City, 8th Mile, Ajmer Express Highway Road
Dress Code: Swimsuit and rubber slippers. No jewellery or other metals allowed in the pool.
How to get there: The waterpark is situated on the Ajmer-Jaipur expressway. Situated 15.9 km from Jaipur city, the water park is easily accessible by a private vehicle or the public transport.
Timings: 10:00 AM - 6:00 PM
Ticket Price: Adults (above 4.5 ft height) - INR 300; Children - INR 200
Website: pinkpearl.co.in
Contact: 1415167000, 8875691555,1415167000
5. Fun Gaon Water Park

Located near Jamwa Ramgarh Dam, Fun Gaon has many water rides. Located at a distance of 22 km away from the city, it is just placed at the foothills of Aravalli's giving a splendid view. Spread over an area of 33000 sq.ft, it is one of the biggest water parks in Jaipur. It is a resort cum water park which allows the tourist to stay at the hotel and take pleasure of the same. It is also called the Heaven Dream Resort because of the breathtaking view of the Aravalli's surrounding the resort. It is a perfect choice for a family weekend trip where one gets to immerse themselves in all the water rides and innovative water slides. If one is not willing to get wet, then they can enjoy the simple boating at the resort.
Address: Jamwa-Ramgarh Road, Vishanpura, Near Jamwa Ramgarh Dam, Jaipur
Dress Code: Nylon or Polyester swimsuit. There are swimsuits available inside the waterpark which can be easily bought with INR 50.
How to get there: Fun gaon resort and waterpark are situated at 37.2 km on the outskirts of Jaipur city. The easiest way to reach the water park is by a private taxi or cab. If you have your own vehicle follow the national highway 55.
Timings: 10:00 AM - 06:30 PM
Ticket Price: Adults - INR 250; Children upto 5 years - Free
Contact: 9314512034/9314823132/8857691555/0141 5167000
6. Birla City Water Park

Not much far from the city, Birla city water is just 10-15 minutes away from the Jaipur Railway Station and 100 km from Jaipur. It has been voted as the best water park of Jaipur by the locals and tourists. Due to its proximity to the city, it is the most visited water park. Packed with outdoor games and activities it also has air condition cottages and dormitories. Apart from the perfect weekend vacation, this place is also an excellent choice for marriages, kitty parties, picnic, birthday parties and receptions. For a water park, it has a huge swimming pool with seven slides. This pool can turn the regular temperature water into a freezing cold party which happens to be a major attraction, especially during summers. For the kids, there is a separate section which has games likes mini train, jumbo ride water merry go round, rain dance and a mini space shuttle. An amusement water park-like Birla city is all you need to take a short break from your stressful and boring life.
Address: Near Circle Makhupura, Makhupura Industrial Area, Ajmer
Dress Code: Swimwear
How to get there: Birla City water park is very closely located to Ajmer, about 13.8 km on the National Highway 58. It can be easily accessed by public or private transport.
Timings: 11:00 AM - 6:00 PM
Ticket Price: Adults (above 4 ft height) - INR 400; Children - INR 300
Contact: 098297 66258
7. Sunrise Naturopathy Health Resort

As the name suggests, the resort and water park in Jaipur promotes recreation along with health exclusively in the hospitality industry. Its naturopathy centre is loaded with naturopathy with a fully equipped gym. It stretches over an area of 20 acres over the Aravali Hills in the village SAR, (Bilochi) at D-zone Chandwaji Delhi-Jaipur-Ajmer Express Highway. It is located about 20 km away from the Pink City of Jaipur, which is approximately a three hours drive from Delhi Indira Gandhi International Airport. The place provides a unique balance of entertainment and fitness. At the water park, there is an artificial wave maker that splurges waves up to 5 ft high. It also has water slides, rain dance, open-air Jacuzzi, kids pool, a dance floor open for all kinds of parties, with an in-house DJ playing on the dance floor.

Address: Delhi-Chandwaji-Ajmer Bypass Express Highway, Sar
Dress Code: Casual clothes and swimwear
How to get there: The health resort is located at a distance of 35 km from the Jaipur city on the Delhi-Ajmer expressway, you can reach the resort by a public or private transport. There are frequent buses from Ajmer, you can take an auto or book a cab from the main road. It is located at a distance of 11 km from Samode Bhag Resort.
Timings: 10:00 AM - 6:00 PM
Ticket Price: A day picnic package - Adults - INR 800; Children - INR 500
Website: sunrisenaturopathy.com
Contact: +91-98285 90094 / 7665644441
8. Mauj Mahal Water Park and Fun Resort

One of the most prestigious budget hotels in Jaipur, Mauj Mahal is also a fun-filled resort that houses a water theme park. It combines the charm of Jaipur and the Indian hospitality, with a multi-purpose theme park. Resting on the foothills in the lap of nature, Mauj Mahal renders a peaceful stay nearby a reservoir which provides its visitors with a refreshing experience.

Address: Bad Pipli Stand, Chomu Sikar Road, Jaipur
Dress Code: Casuals and Swimwear
How to get there: It is located 35 km from the city of Jaipur on National Highway 52 and 2 km away from Suncity. Located 30 km from Jaighar fort, the water park is easily accessible by private transport like a cab or a taxi.
Timings: 10:00 AM - 6:00 PM
Ticket Price: INR 350
Website: hotelmaujmahal.com
Contact: 91-72404-49804, 72404-49805
9. Sunshine Resort And Water Park

Situated at the foothills of the Aravalli Range in Jaipur and nestled amidst beautiful surroundings, the Sunshine Resort and Water Park is a famous water park in the city. It has a separate shallow water pool for very young kids in addition to several thrilling rides and roller coasters.


Address: Bandi Puliya Near Toll Plaza At Tatiawas, Sikar Road, Jaipur
How to get there: It can be easily accessed by public or private transport.
Timings: 10:00 AM - 8:00 PM
Ticket Price: Adults - INR 500+ GST (Above 11 years of age); Children - INR 350+ GST
Contact: +91 97823 48250

Please note: The Fun Kingdom is now permanently closed
Jaipur is fast catching up with modern times. We are familiar with the standard of amusements parks in Delhi,
Mumbai
or
Chennai
but we cannot ignore the effort and dedication of the Jaipur authorities in building something which was considered impossible in a desert. Apart from sightseeing and shopping never miss a chance to visit at least one of these water parks in Jaipur.