Part 1:
I had gone on tour with my cousin Rohini, who's come back to Bombay now after being away for four years. She still wanted to roam about the country, and I was looking for a chance anyway!
Our train left Bombay (Bandra Terminus) on the 24th of July at 15:45 hours to go to Jaipur. It was pouring that day, and we were worried about our train getting delayed due to the rains but thankfully, it stopped raining as soon as we crossed Bombay. We were scheduled to reach Jaipur at 10:50 hours the next day. A cousin Lakshmesh and a family friend Prasen were supposed to receive us. I didn't even know a cousin of mine existed and lived in Jaipur till the time I planned this trip- that's when Rohini told me! So, the train reached Jaipur at 11:45 a.m. after an hour long delay. After Prasen and Lakshmesh took our luggage even after us insisting them not to (men!), we went to the RTDC office on the platform to inquire about their night tour package and booked four tickets for the Pink City night tour – Rs. 250 per ticket with vegetarian meals included! After dumping our bags at Lakshmesh's place and freshening up, we went for lunch at this place called Candles and Cuisines. You may never have any qualms about food when you're in Rajasthan. The food there is awesome.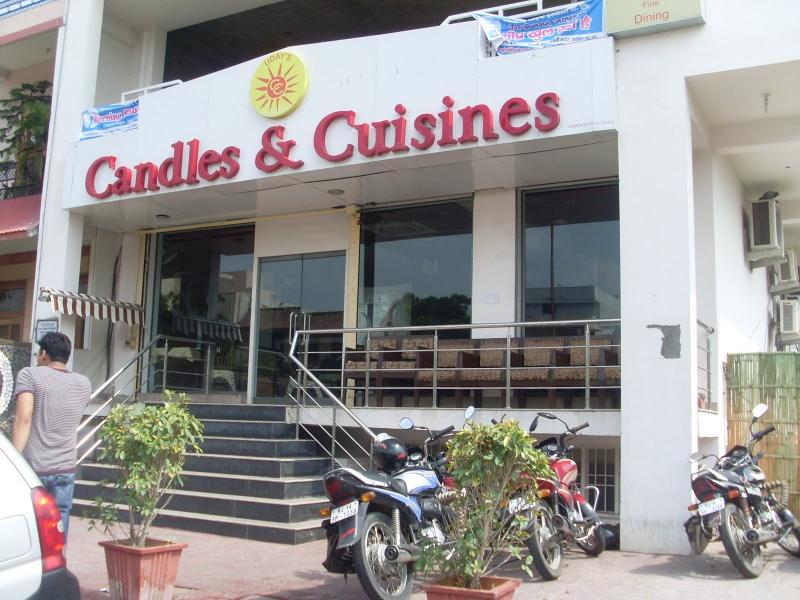 In Jaipur, cycle rickshaws, horse and camel carts, elephants as modes of transport other than tempo rickshaws are a common sight. The roads are clean, and you can see Rajasthani paintings even on the side-walk.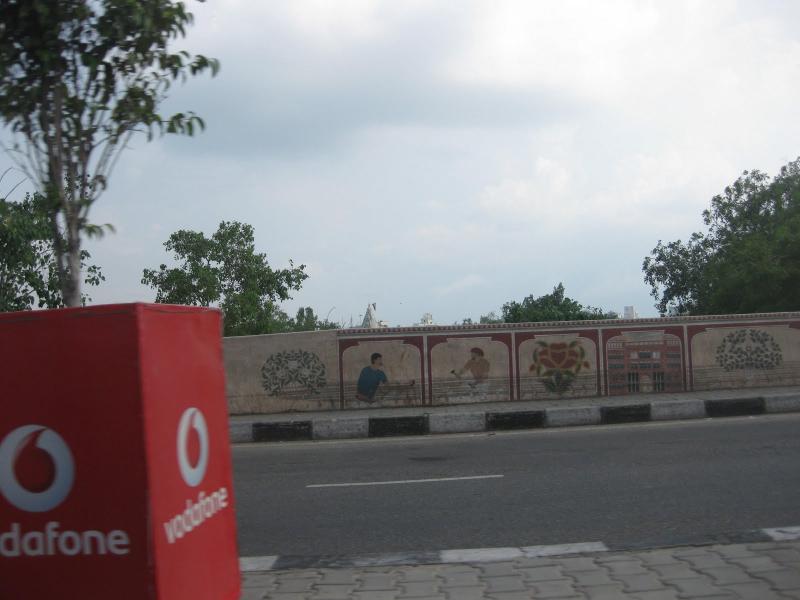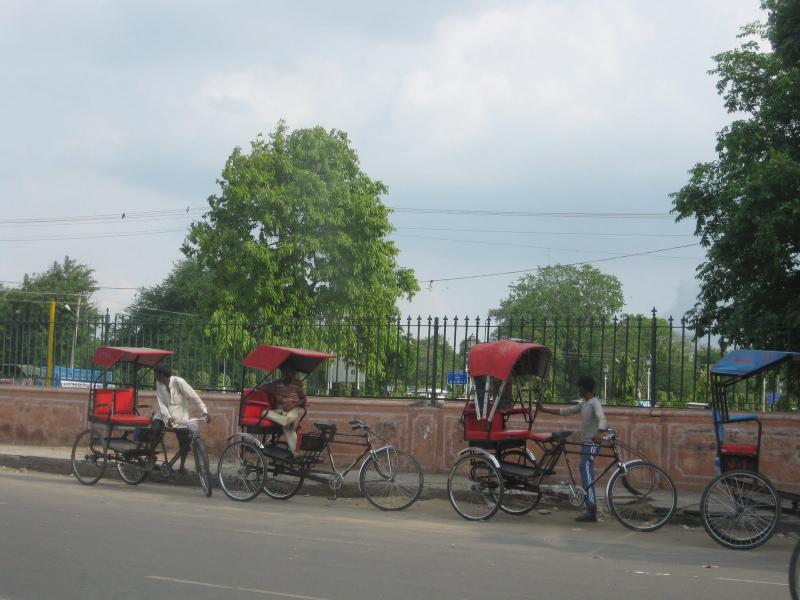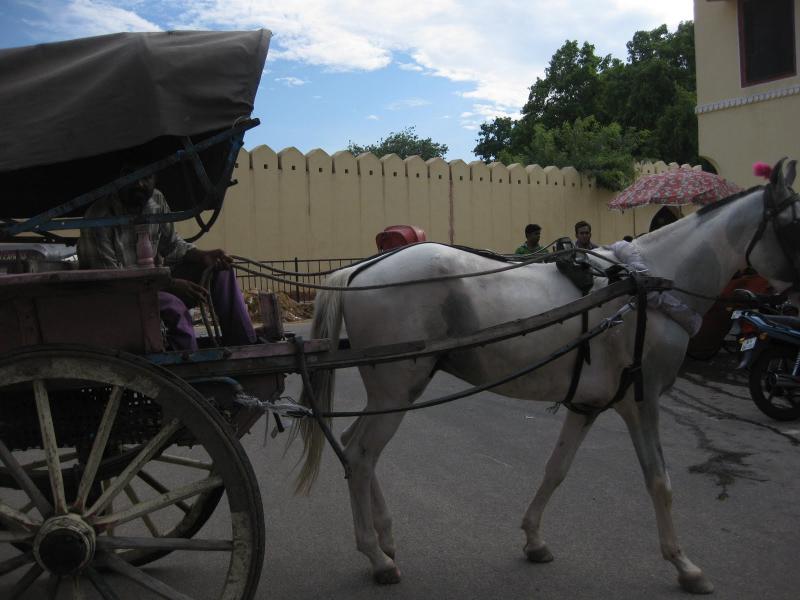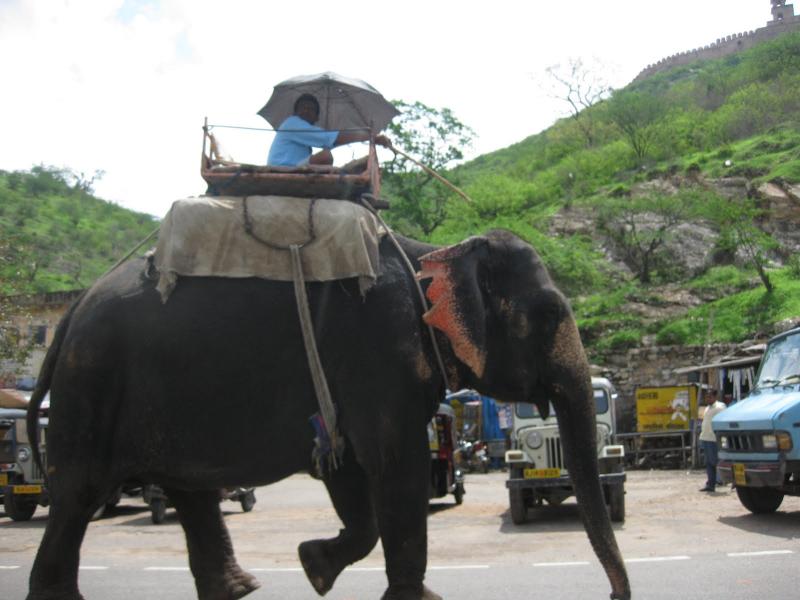 Soon after lunch, we headed to City Palace.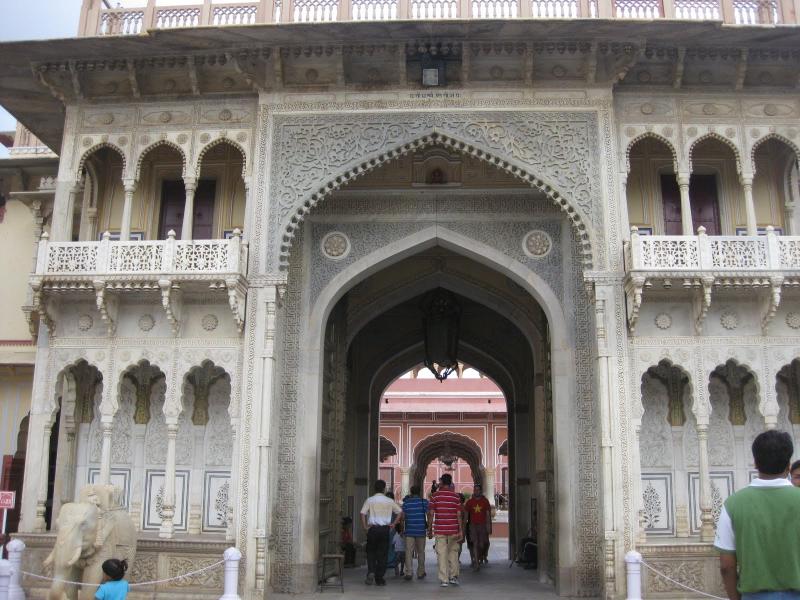 It's where the present king Maharaja Sawai Bhavanisingh and his royal family reside. The previous king Maharaja Sawai Mansingh II's palace is there too. We hired a guide to show us around the palace. When you're in Jaipur, make sure you bargain everywhere (other than the RTDC shops and office of course) to avoid getting fleeced!
This is Sawai Bhavanisingh's palace: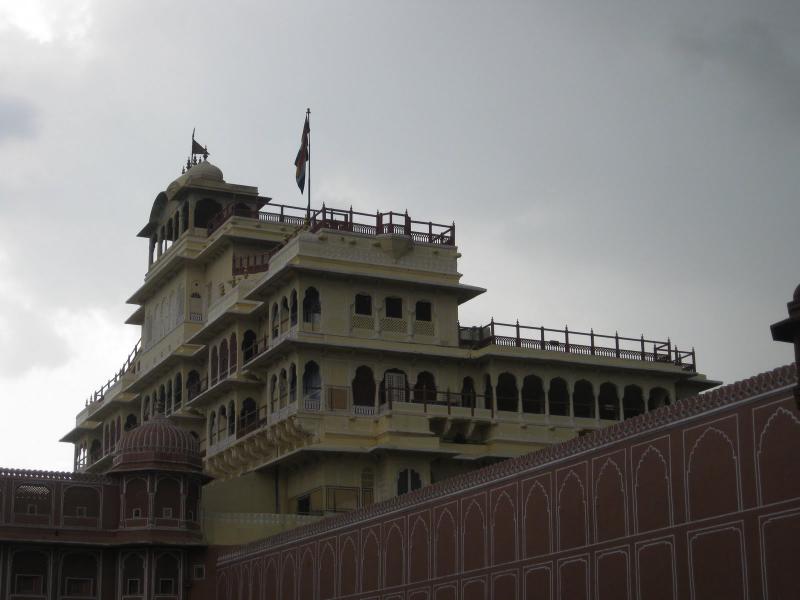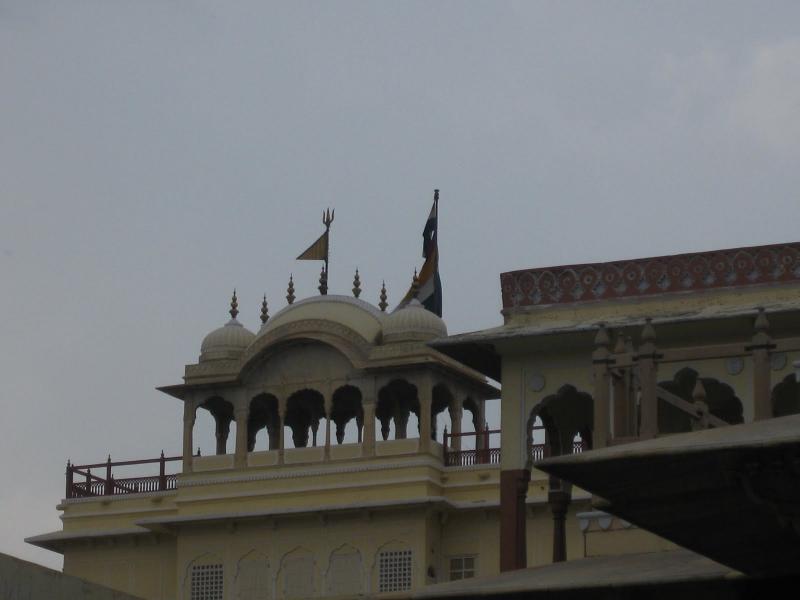 The yellow flag suggests that the king is in town. When he's out of Jaipur, the yellow flag isn't there. The other flag is a sign of the king's property.

Sawai Mansingh II's palace is huge in comparison and this is only a part of it: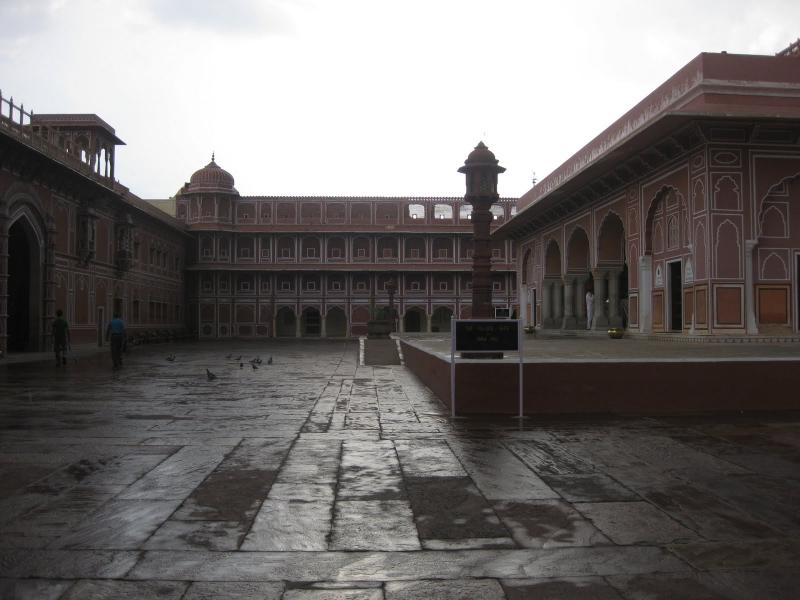 Sawai Mansingh II was the 10th king of Jaipur, that is, the one before Sawai Bhavanisingh. He was married to Maharani Gayatridevi, a woman very well known for her beauty. The palace is humongous and we were in awe of the delicately carved doorways.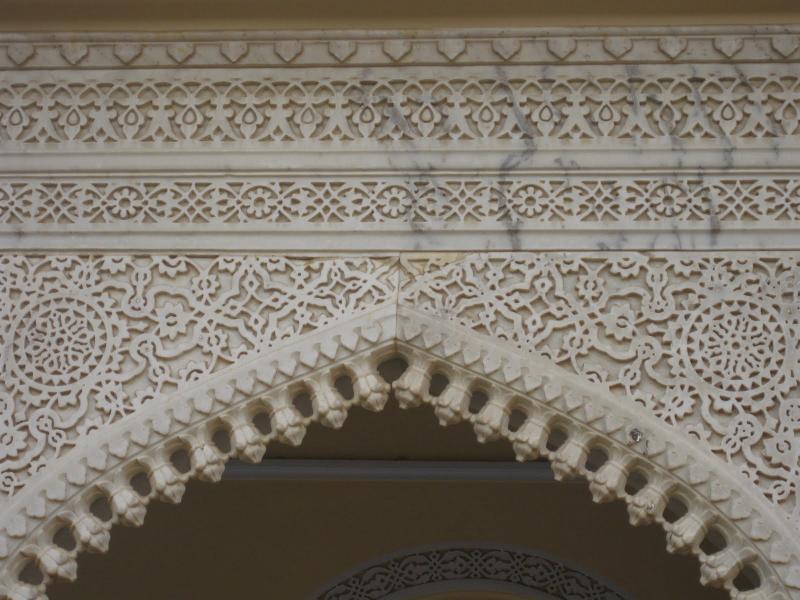 Sawai Mansingh II would only drink Ganga Jal (water from the Ganges), and hence it'd be stored in two identical huge silver vessels. These vessels have made it to the Guinness Book of World Records for being the largest silver vessels in the world.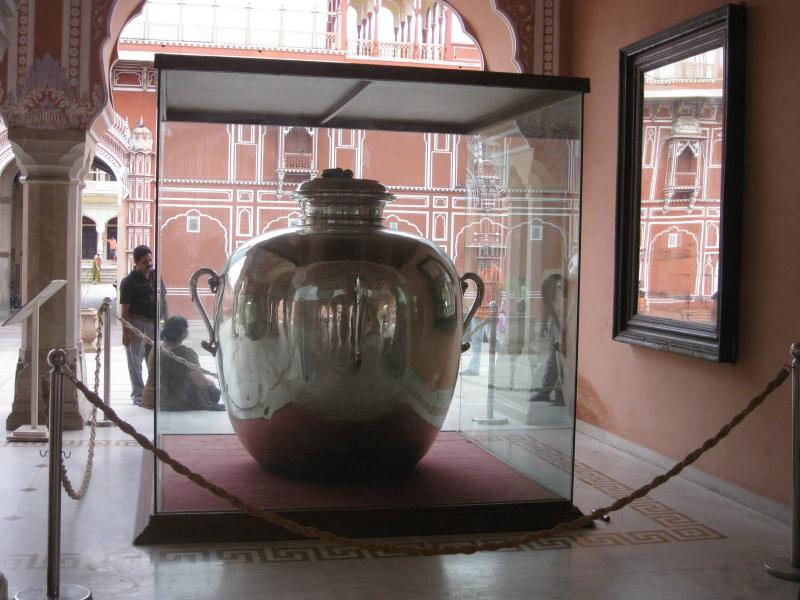 The guide took us to the dancing area where professional dancers would perform, and the Maharaja would watch these ladies dance along with his jury. There were separate windows for the Maharanis so that they could enjoy the dance too. There are four gates- two on each side of the dancing area, all symbolising the four seasons in India.
This gate symbolises the monsoons: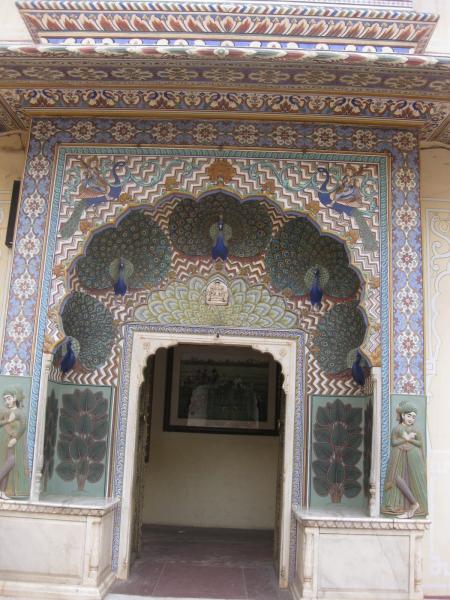 This one symbolises summer: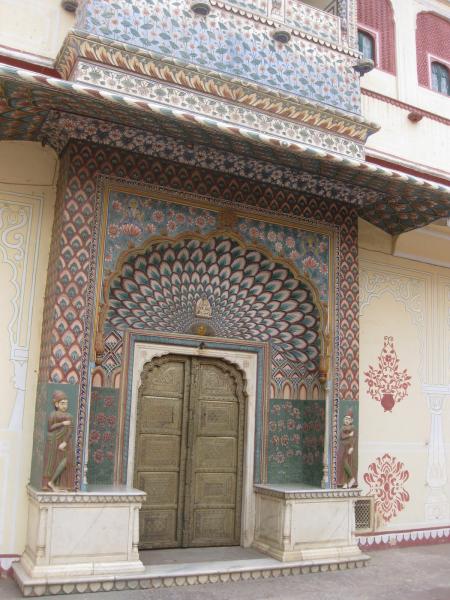 And the following gates symbolise winter and spring respectively: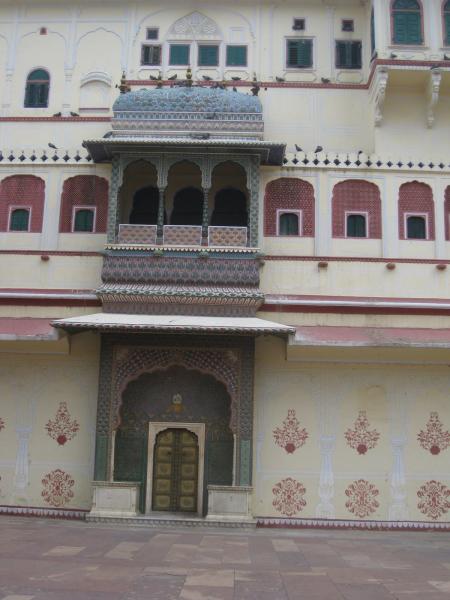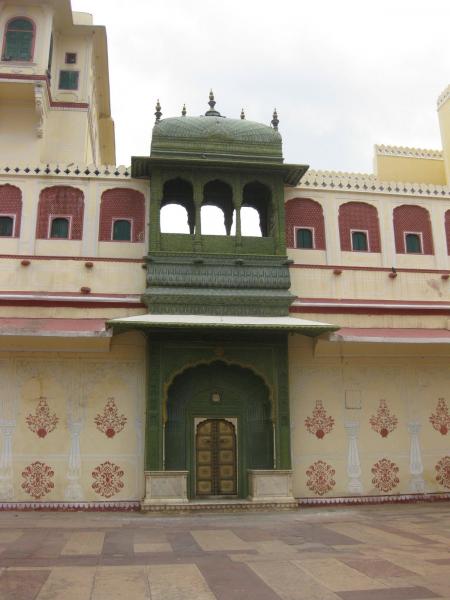 Next, the guide took us around another side of the palace. It was a chamber, and it had the portraits of all the kings of Jaipur. Unfortunately, photography was prohibited in there so I could not take any pictures. He went on to tell us something about each king. Jaipur got it's name from it's first king Maharaja Jaisingh. The third king was a sumo wrestler. The fifth king of Jaipur got the Jal and Hawa Mahals erected whereas the eighth king Sawai Ramsingh got the entire city painted pink, giving it the title of "Pink City".
After looking around some more, we rushed to the RTDC office on M.I. road. The night tour was supposed to start at 6:30pm and we got there by 6:15. The vehicle wasn't there yet, and we got time for some chai (tea) at a tapri(roadside stall) just opposite the tour office. It started pouring soon after, and it seemed like the rain would never stop. We crossed our fingers hoping for the rain to stop but it wouldn't. The tour office members told us to wait for a while, and that the tour won't get cancelled come what may. They also added that it hadn't rained the way it did that day in a lot of years! They joked about us bringing the rain from Bombay. At 7pm, a sumo arrived. There were already five people seated in there- the driver, the guide and three tourists (one from Spain and two from France). We hopped in from the back and made ourselves comfortable. The tour began with Statue circle being our first stop and Vidhan Sabha Bhawan being the next. Our third stop was the Laxminarayan temple or, more commonly known as, Birla Mandir.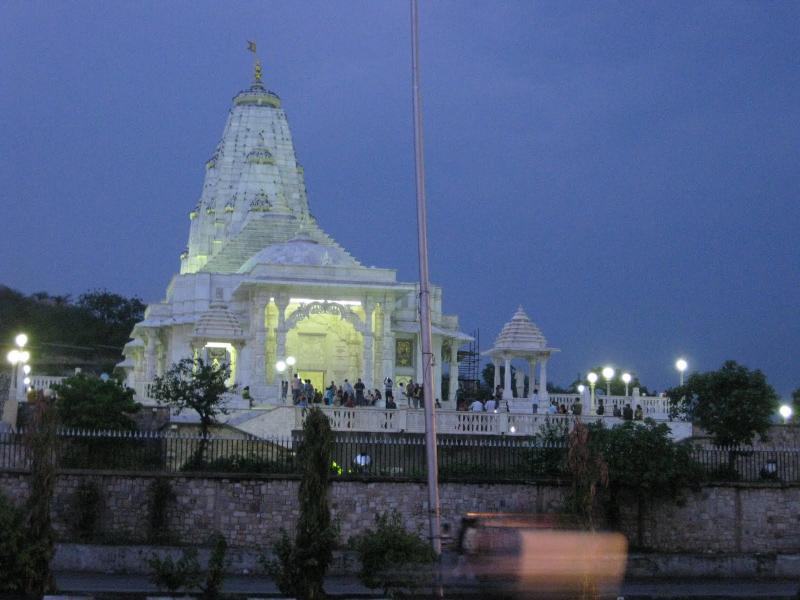 Albert Hall museum was our next destination: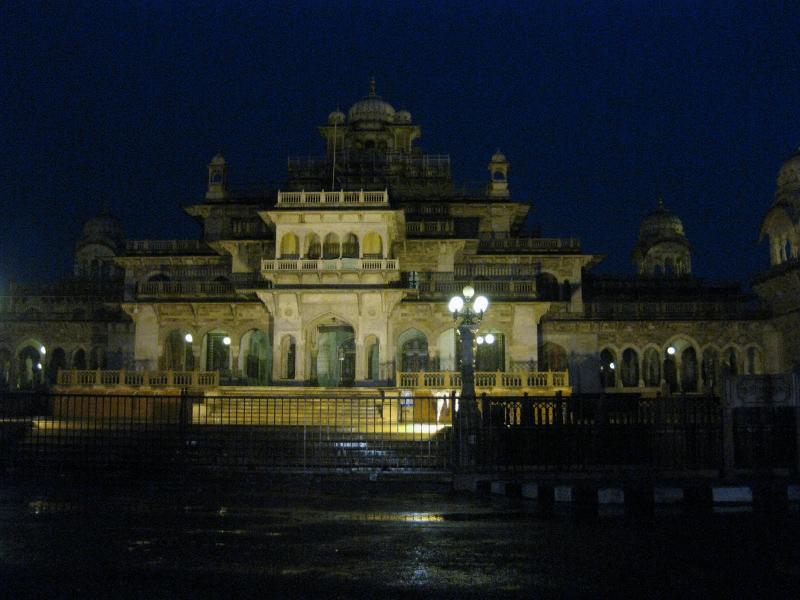 We couldn't see the Jal and Hawa Mahals properly courtesy the rains, so they took us straight to an RTDC shop where we could buy quilts, sarees, dress materials, gemstones and other handicrafts. There was a small Sanganeri print presentation by a man standing at the entrance. He showed us how these prints are made. I recorded the whole thing! The green colour is made of spinach, while the yellow one is made of turmeric, lemon juice and sunflower. After printing the designs on a plain cloth, it is dipped into plain water mixed with herbal salt which gives the cloth its colour. The water appears colourless when mixed with the salt (made of 22 different herbs) but the cloth still gets a colour somehow. These are Sanganeri prints and they say the colours don't fade away even after the cloth is washed.
There were some beautiful quilts inside but we don't really need huge quilts back here in Bombay so without spending much time in that section, I went to a gifts section to buy some Rajasthani coasters for home. Rohini bought some gemstones.

We missed seeing the lighting at Amber fort which is supposed to be the best part of the tour. It wasn't lit that day due to the rains. We decided to visit all the places we missed the next day, and the tour guy took us straight to Nahargarh fort for dinner.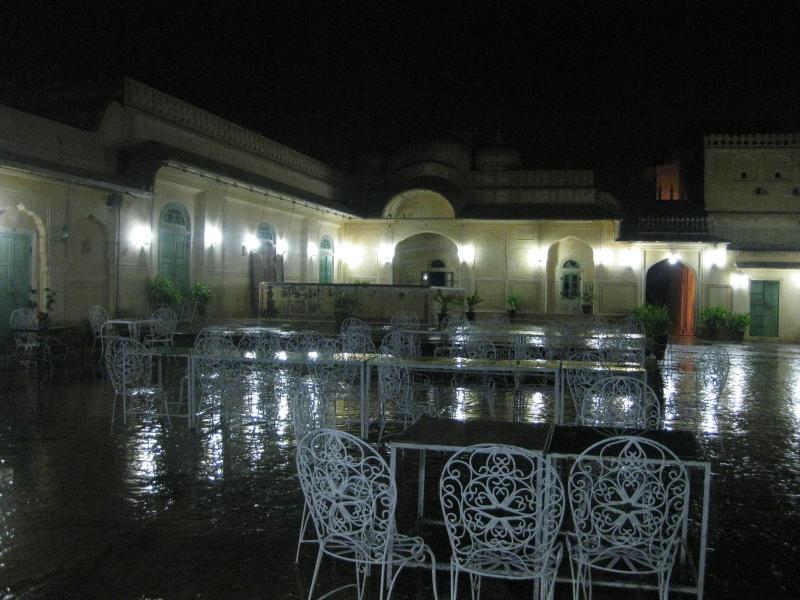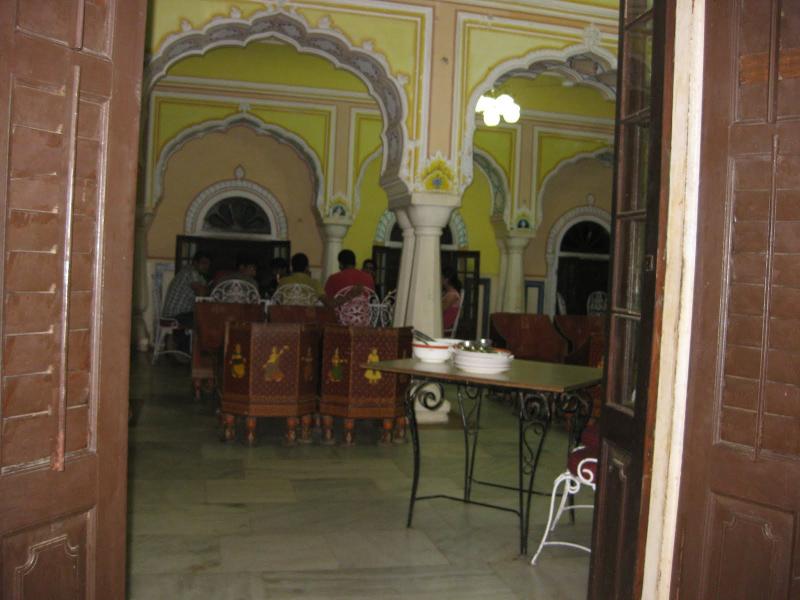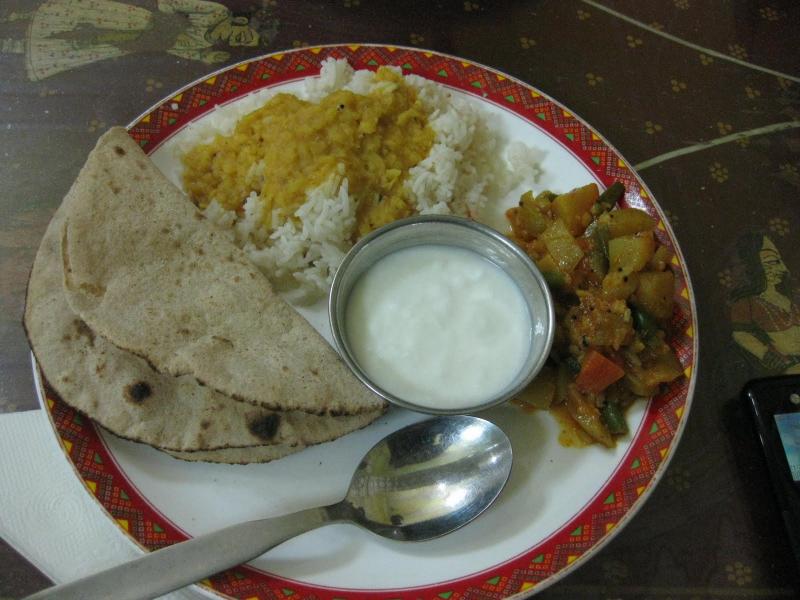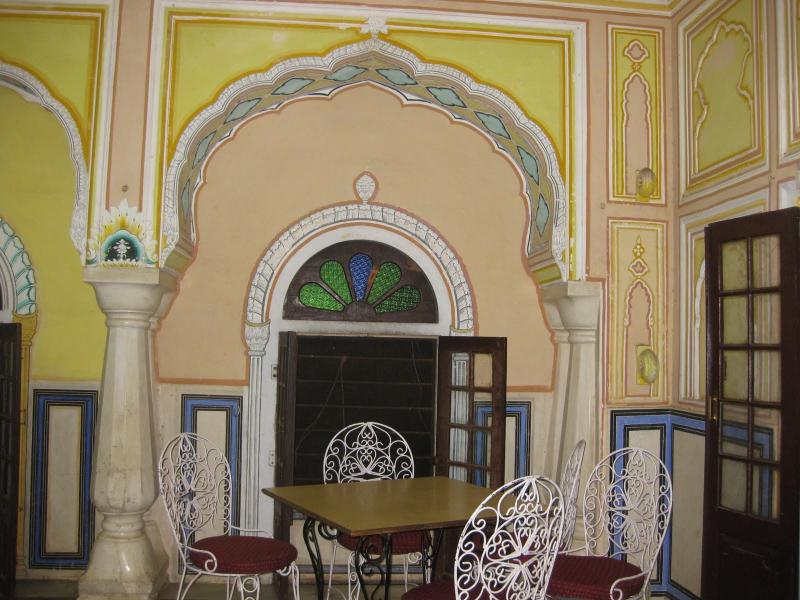 After dinner, they dropped us back to their office on M.I. road and we headed homewards (Lakshmesh's place). We saw Raj Mandir, a famous theatre, on the way. It's very well known for it's interior design and structure but we could see it only from the outside as it was getting late to go home.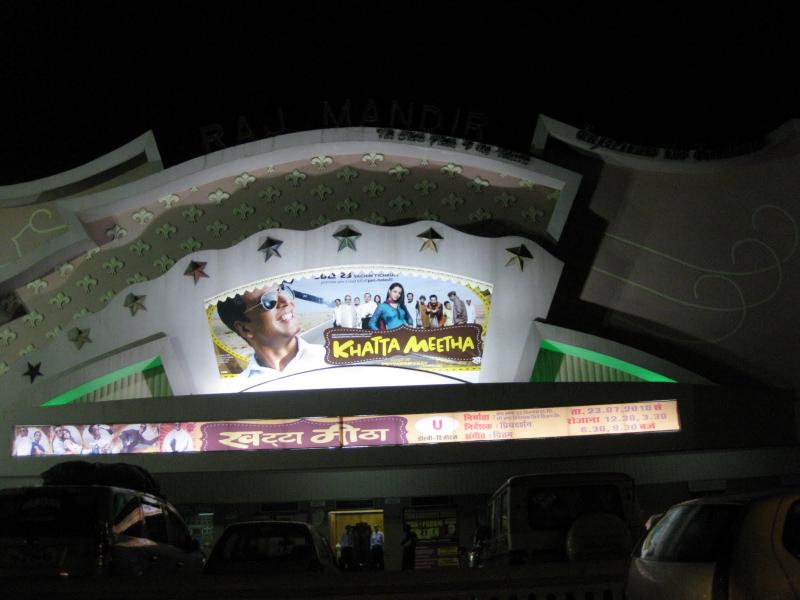 We dropped Prasen to his hostel and went home. Lakshmesh had to go to work the next day i.e. the 26th of July and he had booked a vehicle for us so we could go wherever we wanted to throughout the day time. We quickly planned places we'd see the next day and went to bed. I had a good night's sleep.
Part 2:
The next day we left the house early in the morning around 9:30 am. Our driver, Mr. Dilipsingh was a friendly old man and before taking us to Amber Fort, he took us to this wonderful chai stall on the way claiming they made the best chai in the whole of Jaipur.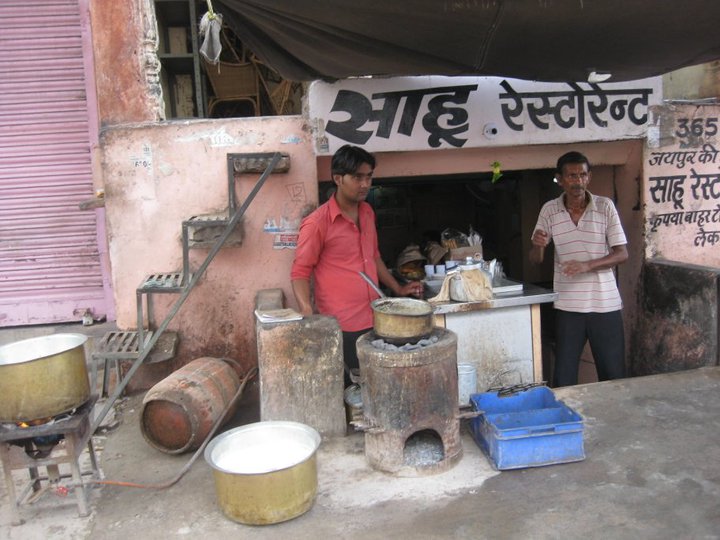 After a nice, hot and promisingly wonderful cup of tea, we got back into the car to go to Amber Fort, thanking the driver, who said the stall's owner makes better tea than the owner's son whose chai we had!
Amber Fort's unique artistry must be seen to be believed. The Amber palace was commenced under the reign of Maharaja Mansingh I who led Akbar's army. Mansingh I's sister Jodha Bai was Akbar's love interest and wife. As such, the fort bears both Hindu and Muslim elements to signify the union of the two.
A spiral, stoned road leads to the fort, and there are little shops on the way.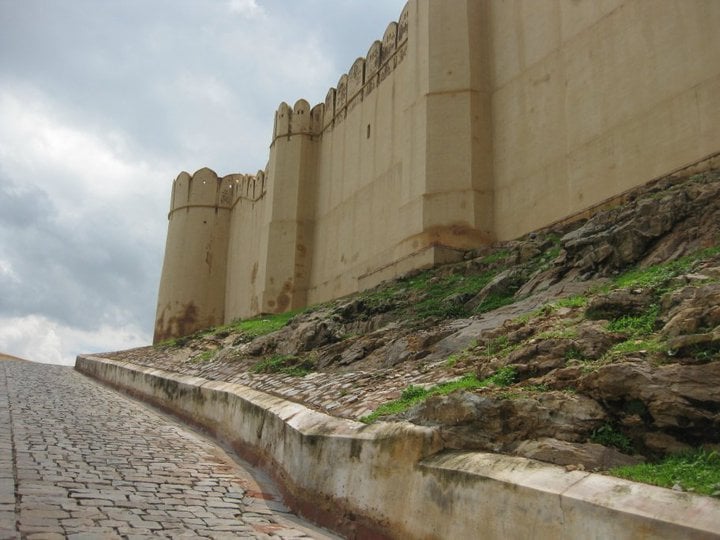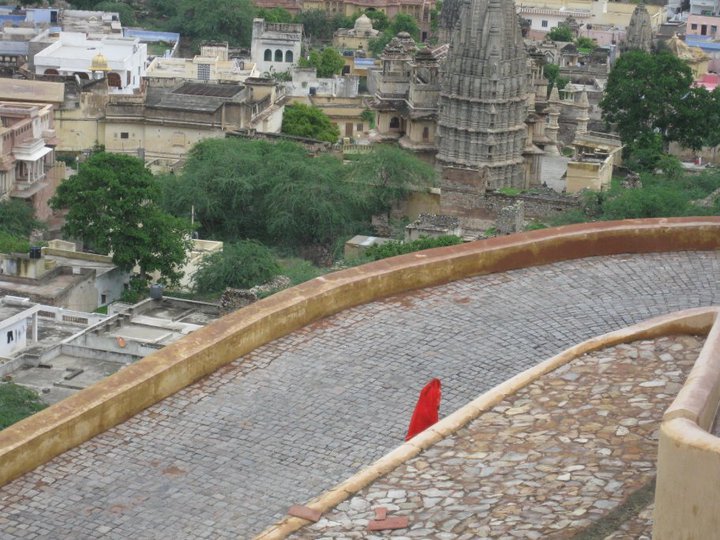 Here is where we hired a Govt. approved guide. It's best to hire Govt. approved guides (they wear badges) than to take the private ones who'd agree to show you around the fort for as less as Rs. 30, the reason being they aren't allowed to enter a lot of places inside the fort; the Govt. approved ones can go where they please. As I mentioned in my earlier post though, everything here is bargain able, and the guide agreed to show us around for Rs. 100.
The first thing we saw from Amber was, Jaigarh fort, where Akbar's army men got their weapons from. It can be seen from the western gate (Chand Pol) of Amber Fort.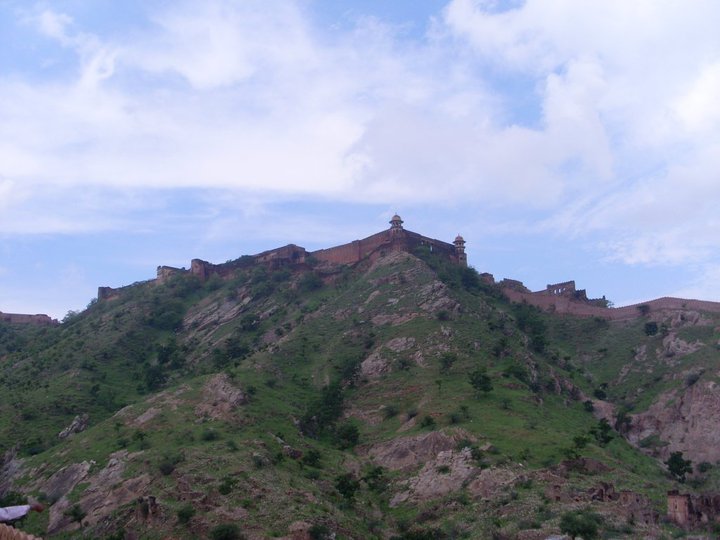 You can also see the Nahargarh fort from here- the place where we had dinner the day before: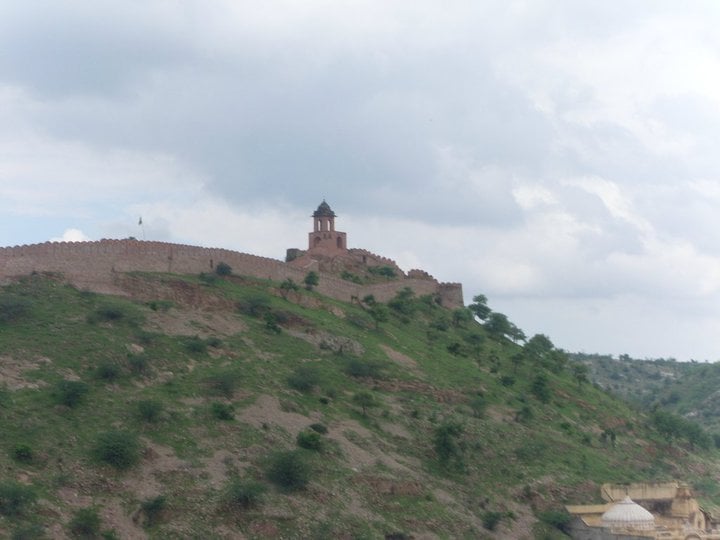 As we went further ahead, our next stop was at the Shila Mata Devi temple. I wasn't allowed to take pictures here unfortunately. The temple was beautiful though.

After a bit of prayers there, we walked to the Diwan-E-Aam or the public hall in those times. This has 23 pillars- 15 of red marble, and 8 of white, each signifying one of the two religions (Hindu and Islam), again depicting the union of King Akbar and Jodha Bai. This is where the general discussions would take place.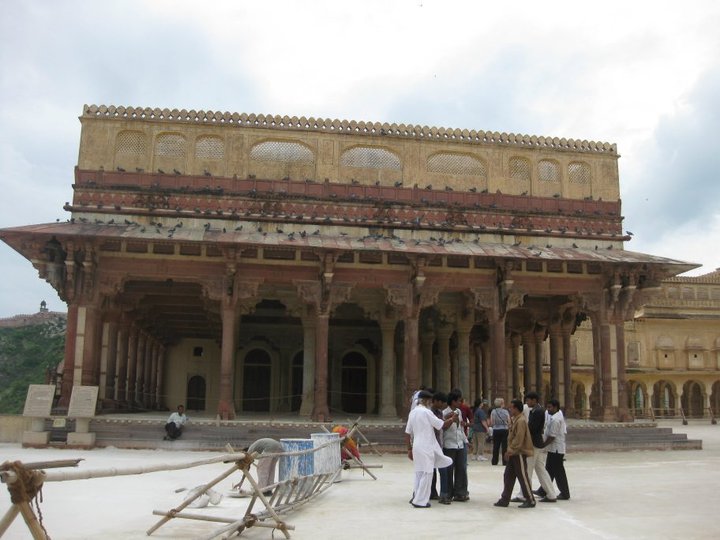 Next to it was the Diwaan-e-Khaas, for the king's members. This is where decisions about administration and accounts were made.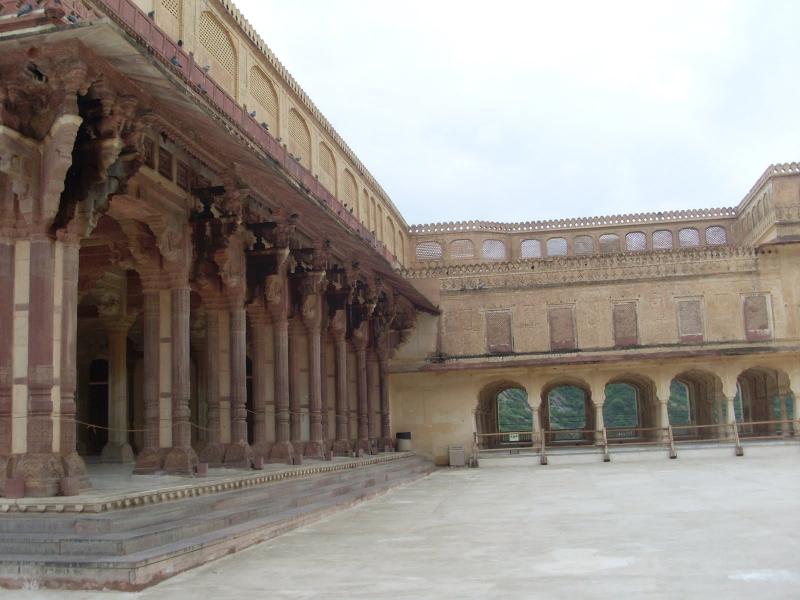 And just next to Diwaan-e-Khaas, facing Diwaan-e-Aam, is the magnificent Amber Palace: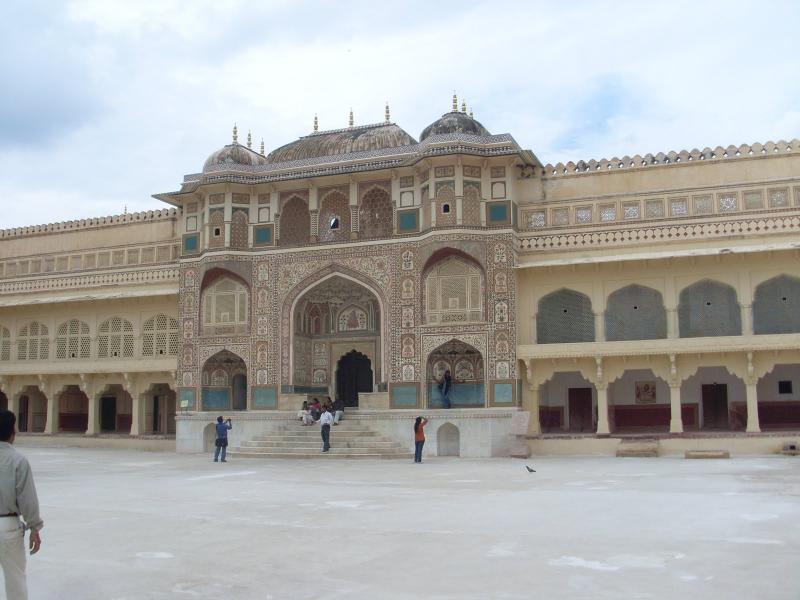 The interiors of the palace were beautiful. None of these designs here are painted. The colours are all stones: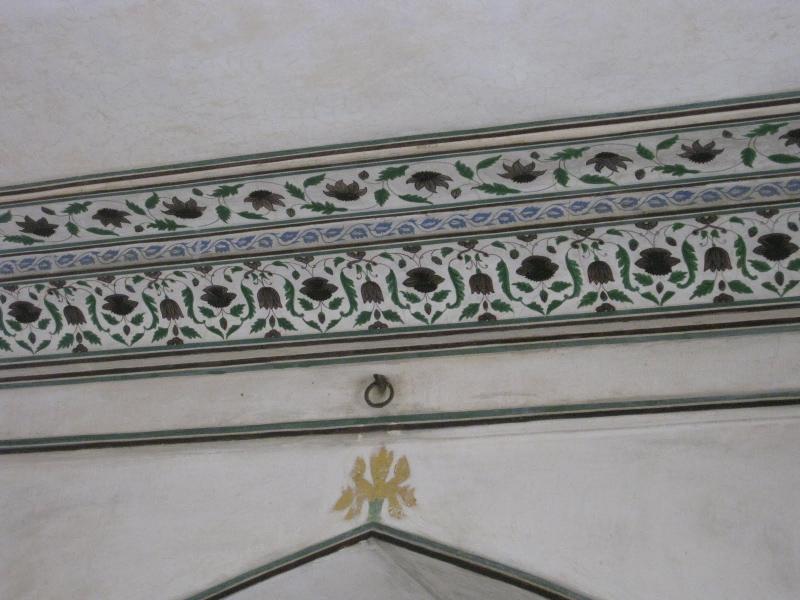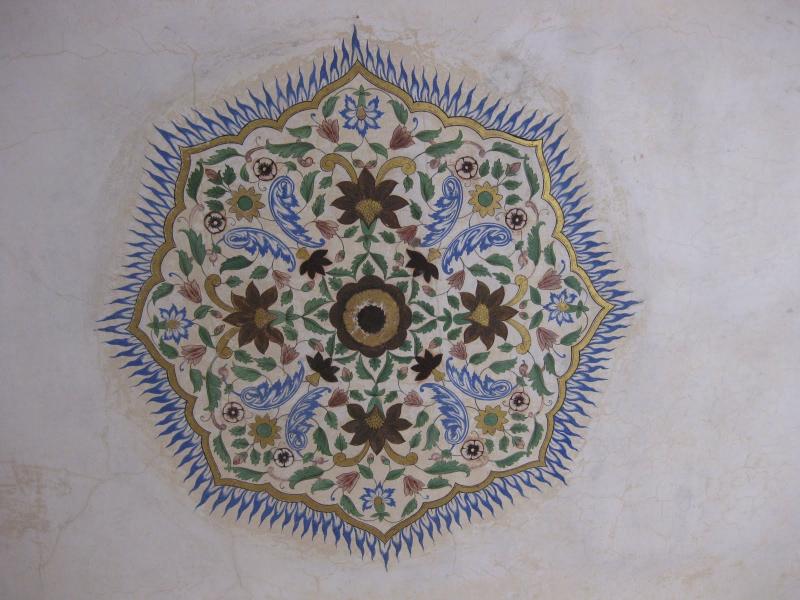 Next was the Sheesh Mahal or the Hall of Mirrors: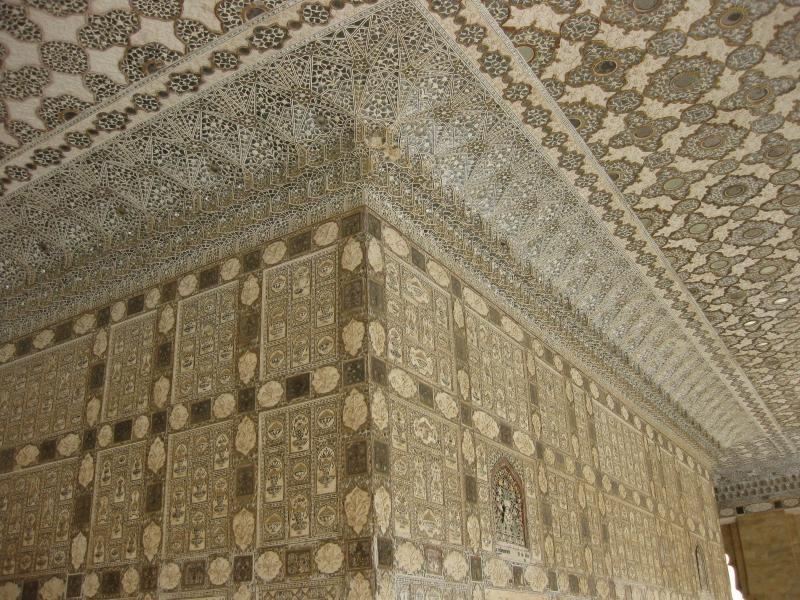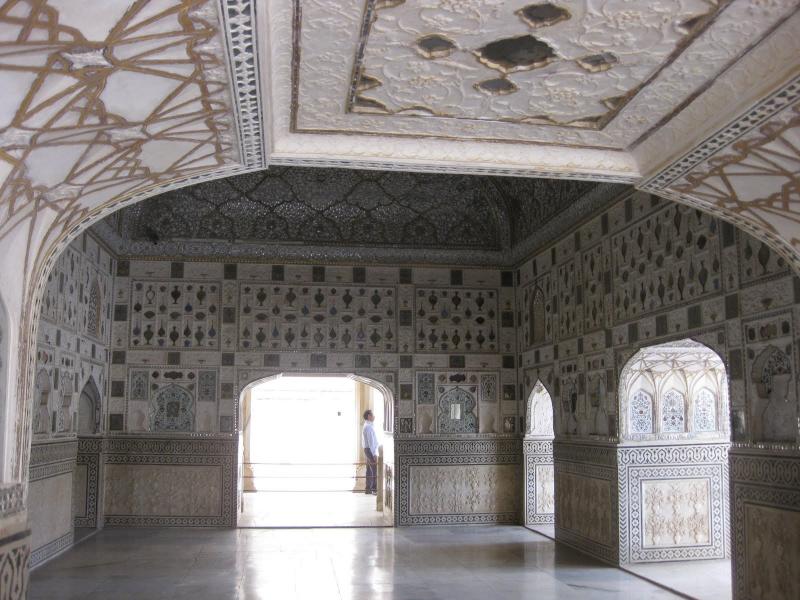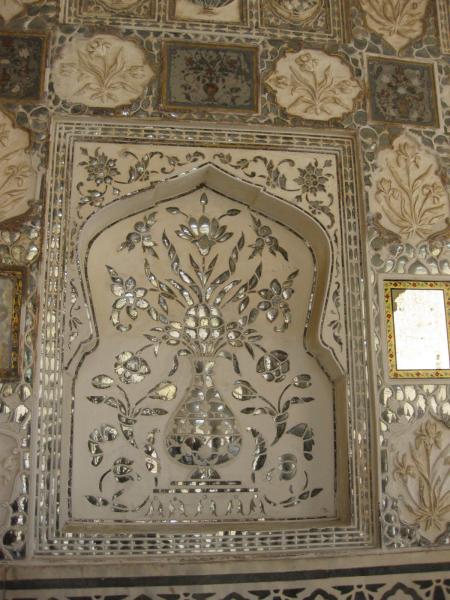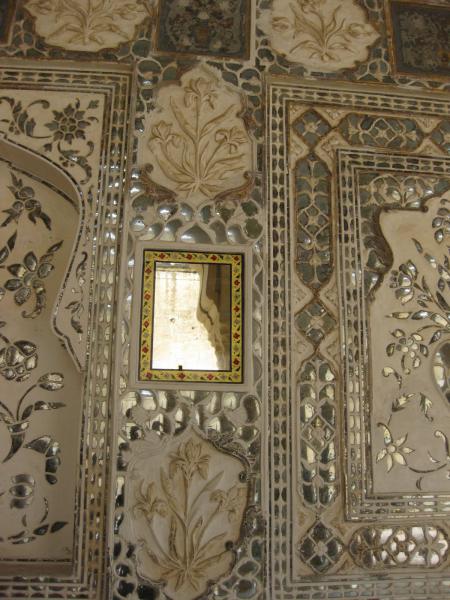 They say that it takes just a single lamp to light the entire hall because of the number of mirrors within and on it. In winter, the mirrors kept the room warm. Just above this is the summer hall.
Next we went to the garden of the kings- Aram Bagh.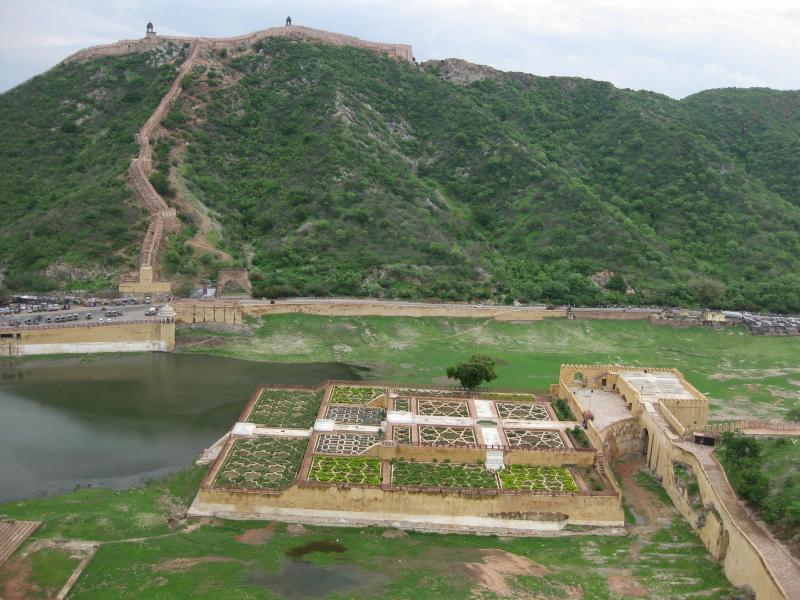 We then went to Suhag Mandir. The queens would come here just before a wedding to dress up. There are rooms for two queens here, one on each side.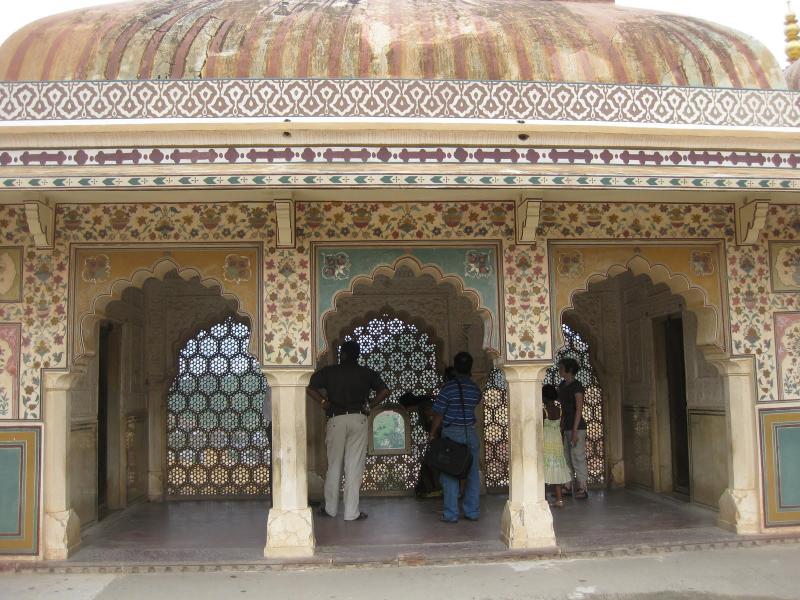 Finally, we made our way to the zenana or the womens' quarters. In those days, there was always a fear of women of the royal household getting kidnapped by the enemy army men. This courtyard houses 12 rooms, 3 on each side, with 2 guard posts on each side. Men weren't allowed to enter these rooms. The guards were eunuchs. If the king wished to see any of his wives, he was allowed to do so in a small 12 columned pavilion called the "Baradari" in the centre of the courtyard.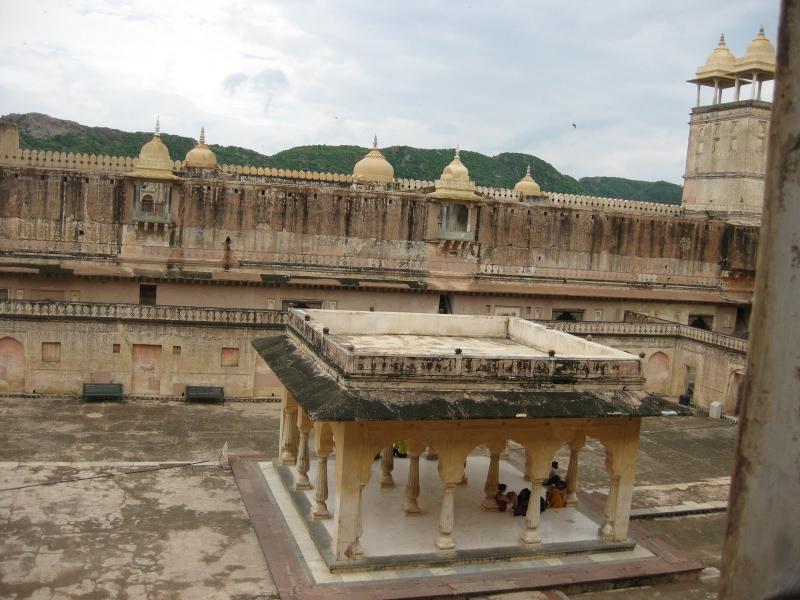 As I mentioned before, there are little shops on the way to Amber and we went to these stalls on our way out. I bought some lac bangles for my mother, some purse mirrors for my girl friends and some pens for the guys.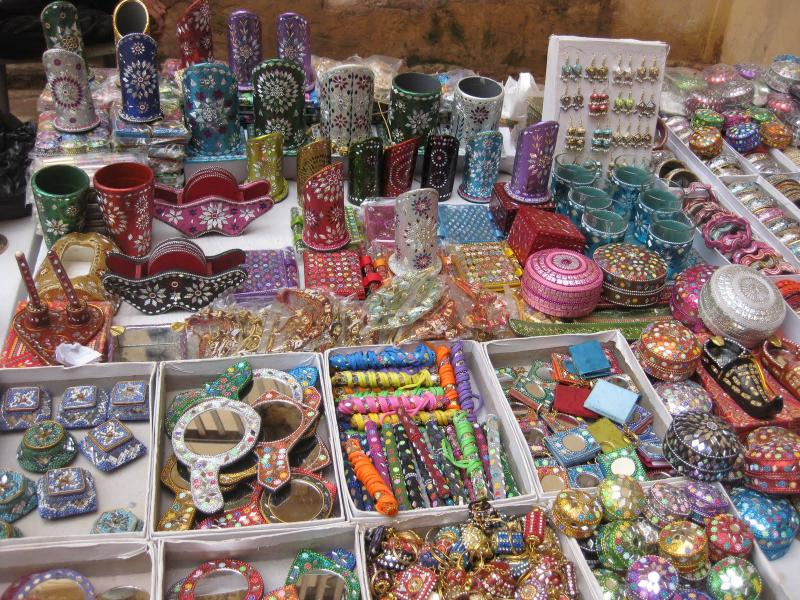 We were supposed to go to Jal Mahal from here, but we stopped at an RTDC tourist shop on the way. The RTDC tourist shops have fixed rates and good quality goods. There are two to three of them in the city. I bought a red salwar kameez with Rajasthani prints all over!
We also stopped at Kanak gardens, but just spent some time outside without going in. We were really tired and had to go see the other places too. The outside was really beautiful though; I can imagine how beautiful that garden must've been!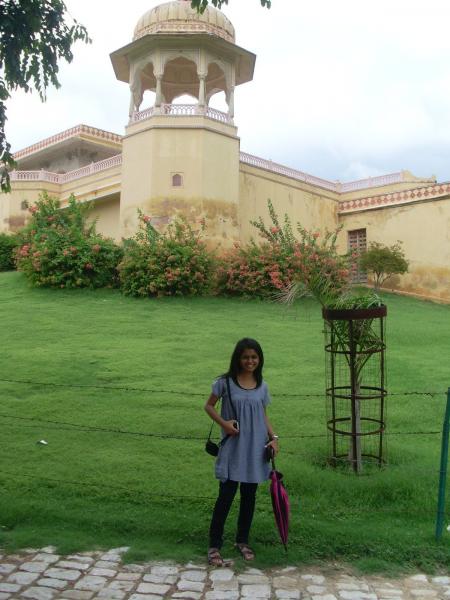 And off we went to Jal Mahal…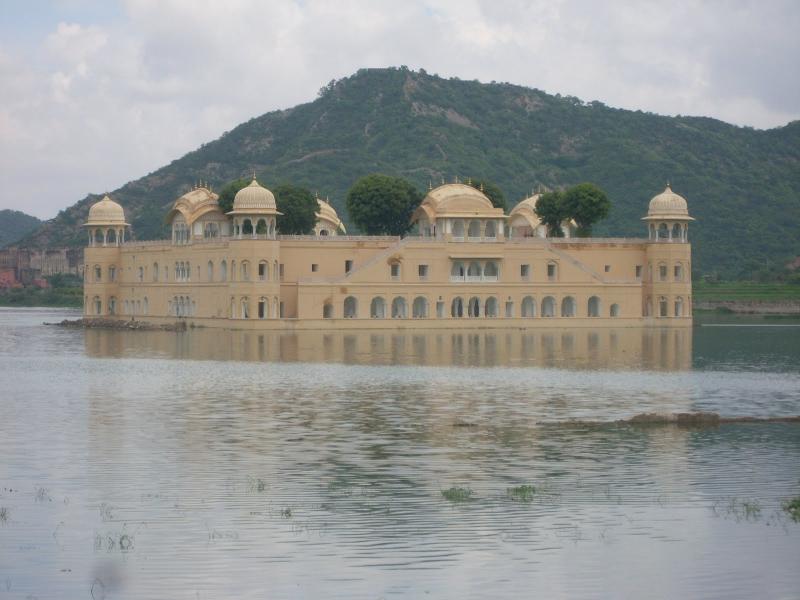 The Jal Mahal, erected by King Madho Singh, the fifth king of Jaipur, stands in the middle of the Man Sagar lake. They say there are two more levels of the palace under water!
All that travelling made us hungry and we asked our driver, Dilipsingh, to take us to a nice dhaba where we'd get to have authentic Rajasthani food. He took us to this small place called "Balaji Veg Restaurant" where we had to pay Rs. 150 for a Rajasthani/Punjabi thali with unlimited food. The thali was mouth-watering! The food was undoubtedly delicious..
Our thali consisted of three different sabzis (vegetables), a roti, a "missi ki roti" (Rajasthani speciality- made of wheat and gram flour), papad, raita, rice, chhas (buttermilk) and Gulab Jamun for to top it all!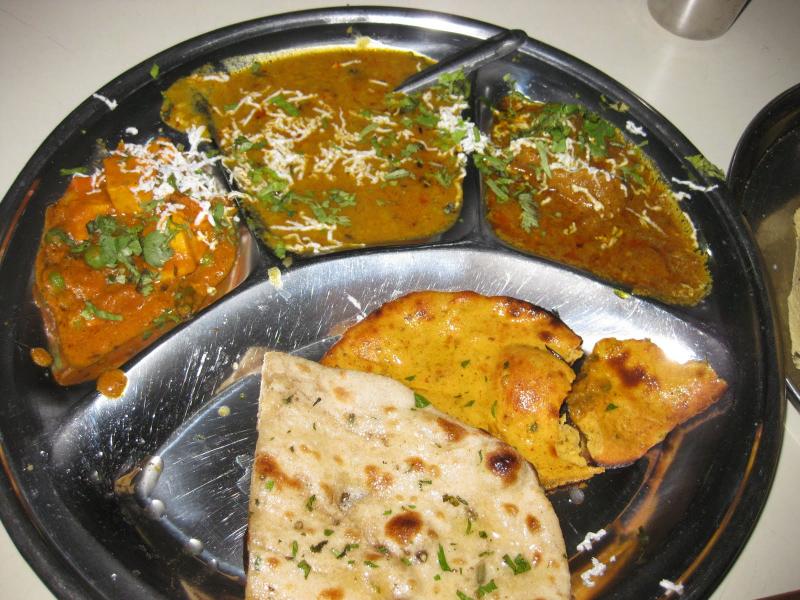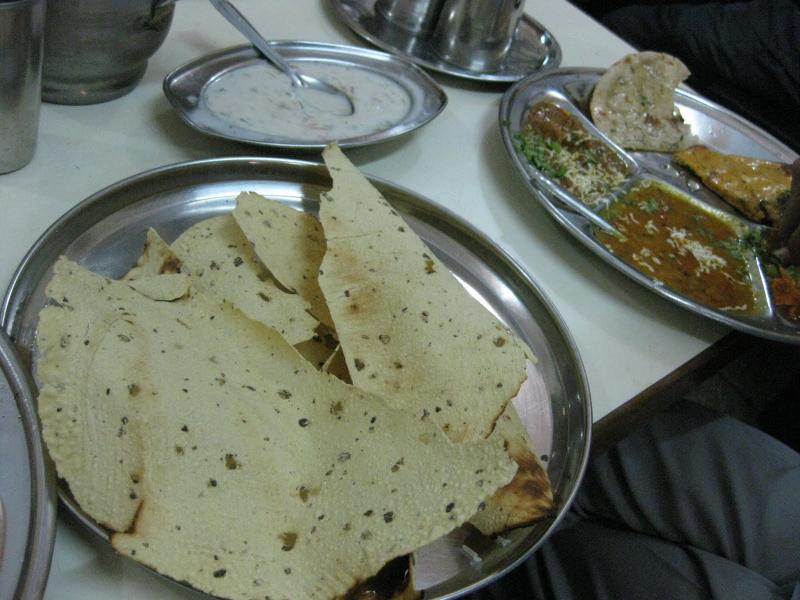 I know y'all are swearing at me for putting these pictures up! I just had to!
After lunch, we made our way to Jantar Mantar, an astronomical observatory built by Maharaja Sawai Mansingh II, the tenth king of Jaipur. He got five of these built in the whole country.
We first stopped at the Unnatamsa, which is used to measure the height of an object in the sky.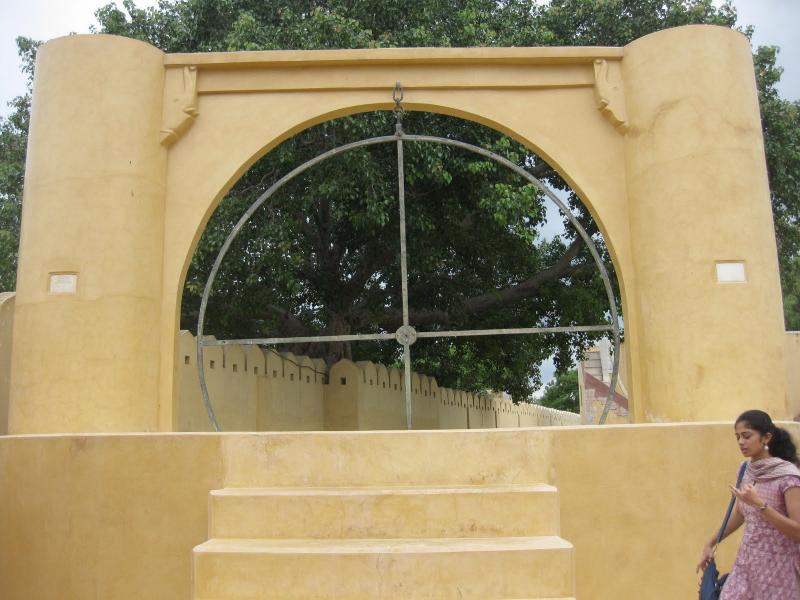 The Samrat Yantra, or the giant sun dial, is used to find out the time of the day.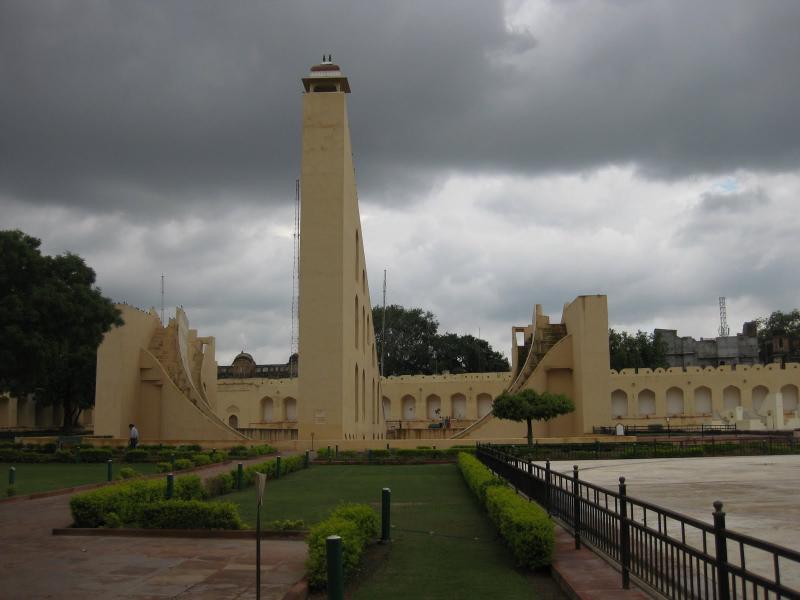 Then there was also the Vrihat Samrat Yantra that gave an accuracy of time up to two seconds. We spent a lot of time at the Rasivalaya or the zodiac circle looking for our sun signs! There were twelve different instruments here, representing the twelve signs of the zodiac. And that's my sign: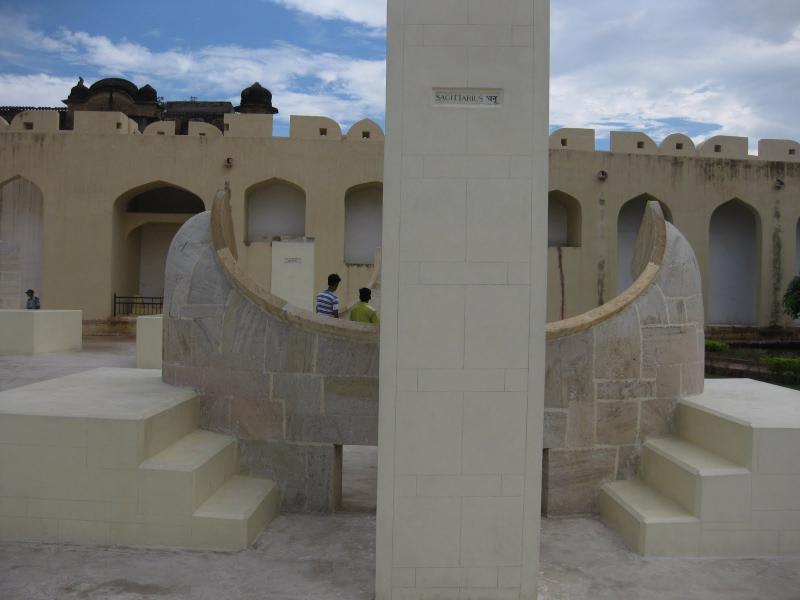 My cousin said I'm a cusp considering my birthday falls on the 23rd of November, but I'm more of a Saggi. Anyway, so now that you know my birthday, you must also know I love gifts!
So, after Jantar Mantar was shopping outside the gates in a local store and then in the streets of Hawa Mahal. I picked up a couple of t-shirts with Rajasthani elephants printed on them from the store just outside Jantar Mantar. Then we made our way to Hawa Mahal. This palace was also erected by the fifth king of Jaipur, Maharaja Sawai Madho Singh.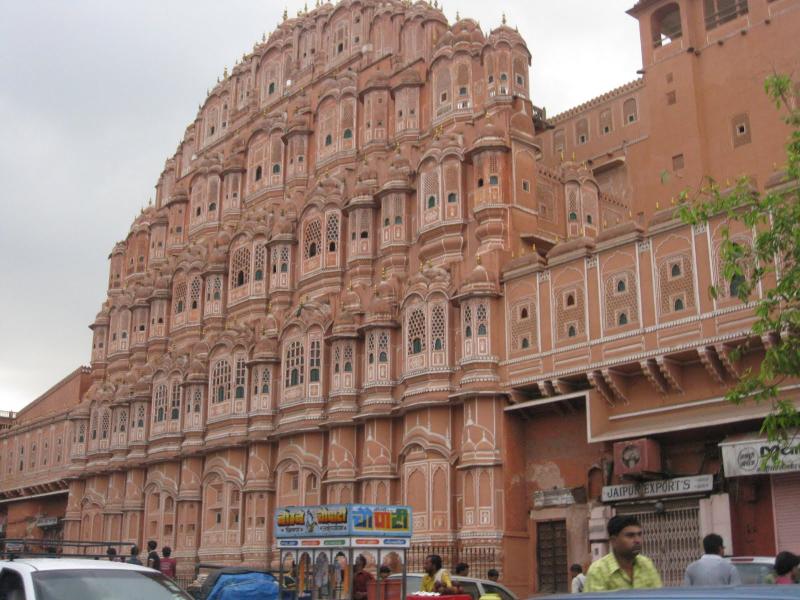 I shopped for some paintings and jootis (shoes) here and I got a pair that matched with the Rajasthani salwar kameez that I got from RTDC! We bought some wall hangings to gift Lakshmesh, our cousin whom we had been staying with. Lakshmesh joined us here and we went to Bapu Bazaar. There's a garment store in Bapu Bazaar called M.K. International where you can never get cheated and can trust the quality of the clothes they sell (as told to me by Lakshmesh). He bought two dress materials for each of us (my cousin Rohini and me) from there, and I bought a lovely pair of earrings with elephants on them from just outside M.K. And yes, they match the Rajasthani dress too!
We quickly rushed home, our hands full of shopping bags. After some packing, we rushed to the station for our 9:30pm train to Haridwar.
Jaipur is an awesome, awesome city and I'd love to go there again! Soon.
This entry has been shortlisted for Holidify's Travelogue Writing Contest in association with Linger. The content and pictures may not be used without prior permission of the author.
Submitted by: Anubha Bhat
The original post can be found here.