Jaipur
, famously renowned as the pink city is the royal capital of India's largest state,
Rajasthan
. Jaipur breathes royalty and wealth. With its gigantic forts, alluring palaces and enormous lifestyle, this city well reminds us of the royal era. If these poised attractions do not tend to mesmerize you, then you could always experience the grandness of it by taking an elephant ride in Jaipur. It would definitely be a great experience for you to recall for years. Every year hundreds of tourists flock towards the Amber Fort just for this majestic ride. The beauty of these animals decorated in royal colors would definitely ensorcelled you. These enthralling animals also showcase a great amalgam of painted colours which reflect beautifully. This joy ride takes you to the entrance of the
Amber Fort
, up the steep slope. It is definitely a ride worth taking.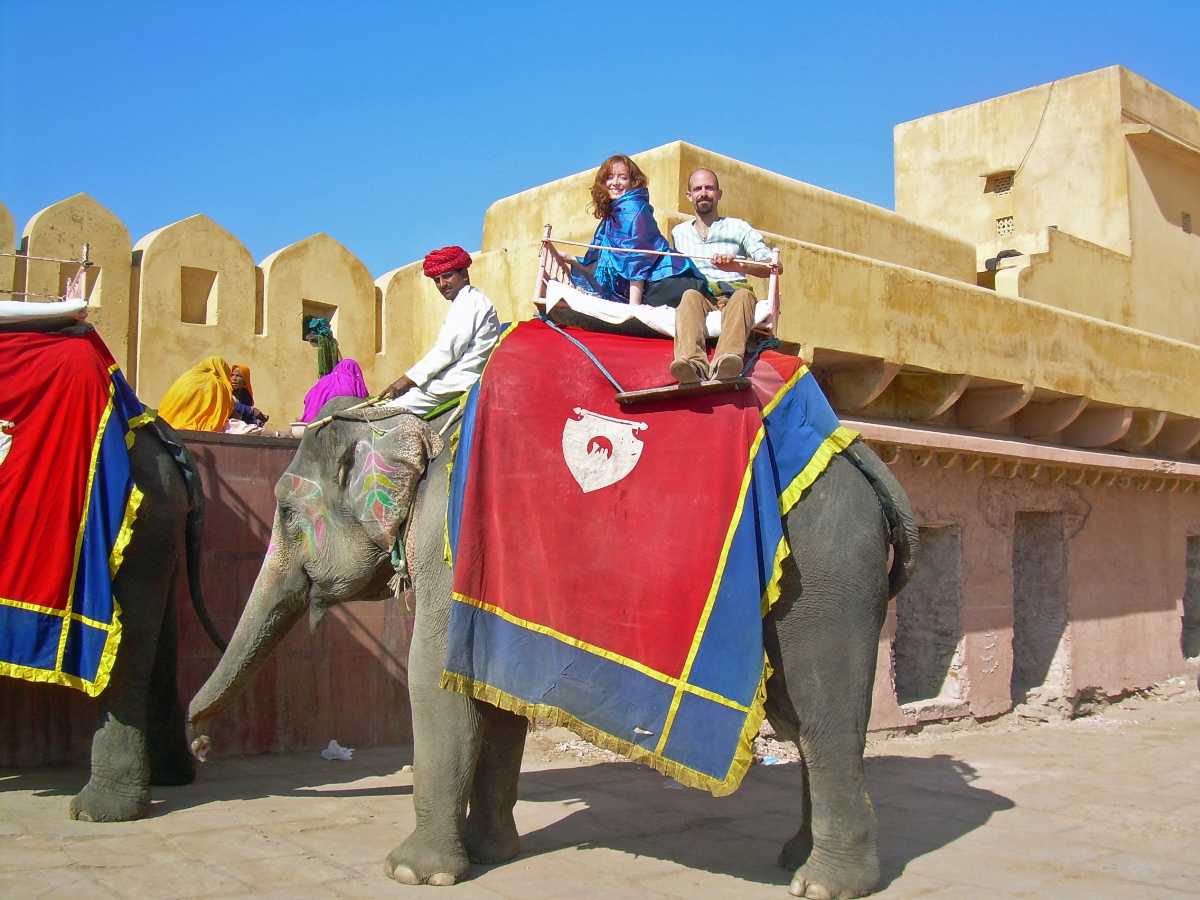 Elephant Ride at Amber Fort
The elephant ride up the steep hill commences from the car parking lot and ends at the courtyard of the Amber Fort. The total duration of the trip is estimated to be around 20 to 30 minutes. The trip duration varies from elephant to elephant and also on the traffic. The cost of taking an elephant ride up this hill is approximately INR 1000 for two. You can enjoy the setting sun while sitting on the back of an elephant. This mesmeric view would enthral your senses and would surely give you a taste of royalty to experience. These elephants carry around 900 - 1000 visitors per day, and there are about 80 - 90 elephants in the service. The Rajasthan government conducts regular checks to ensure the safety and the welfare of these animals. These checks have been implemented to ensure the safety and limit the cruelty to these animals.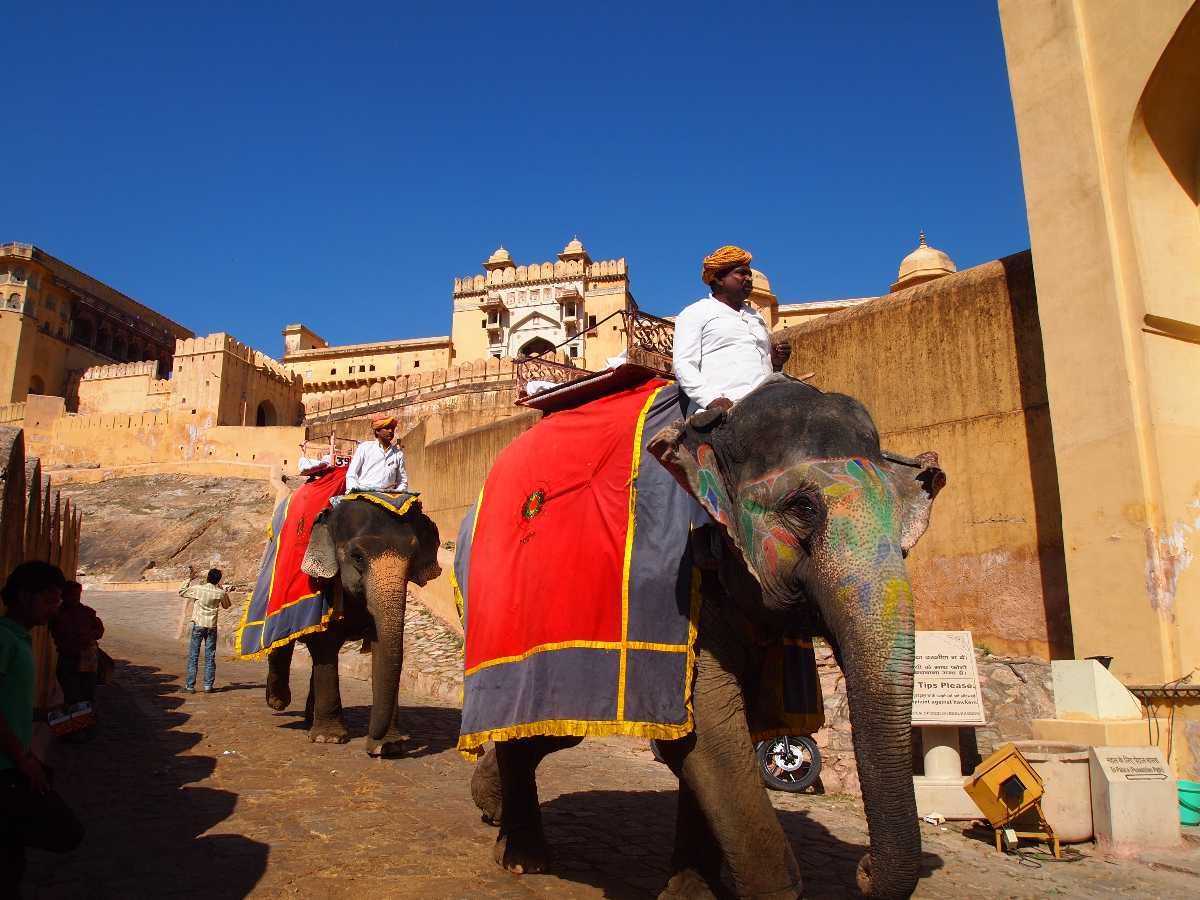 Why the Elephant Ride in Jaipur?
The elephant safari starts from the bottom of the hill and takes you on a joyous ride up the hill towards Amber Fort. Why people mostly prefer to take this elephant ride in Jaipur is because it gives you enough time to stand witness to the marvellous and the gargantuan architecture and wealth of the grand Amber fort. You would be ensorceled by its vast gateways, towering arches and its colossal palaces.
If you think this wasn't enough to satisfy the wanderlust in you, then you could also take a ride and explore the neighbouring regions of Amber fort such as
Jaigarh Fort
, Sun gate etc. Apart from these, you could also indulge yourself in other activities such as bathing and feeding the elephants which are a fun-filled activity. If that isn't your thing, you could always ignite the artist in you and paint on these elephants your vivid dreams.
This trip would not only be worth your money but also your time. It's not every day that you clamber upon an elephant and take a royal ride inside a humungous fort. It provides you with an opportunity to embark on a new journey and feels close to nature. These lovely animals which carve for your love would enthral you with their caring and docile nature. A trip to the Amber fort would be incomplete without taking a joy ride on the back of an elephant.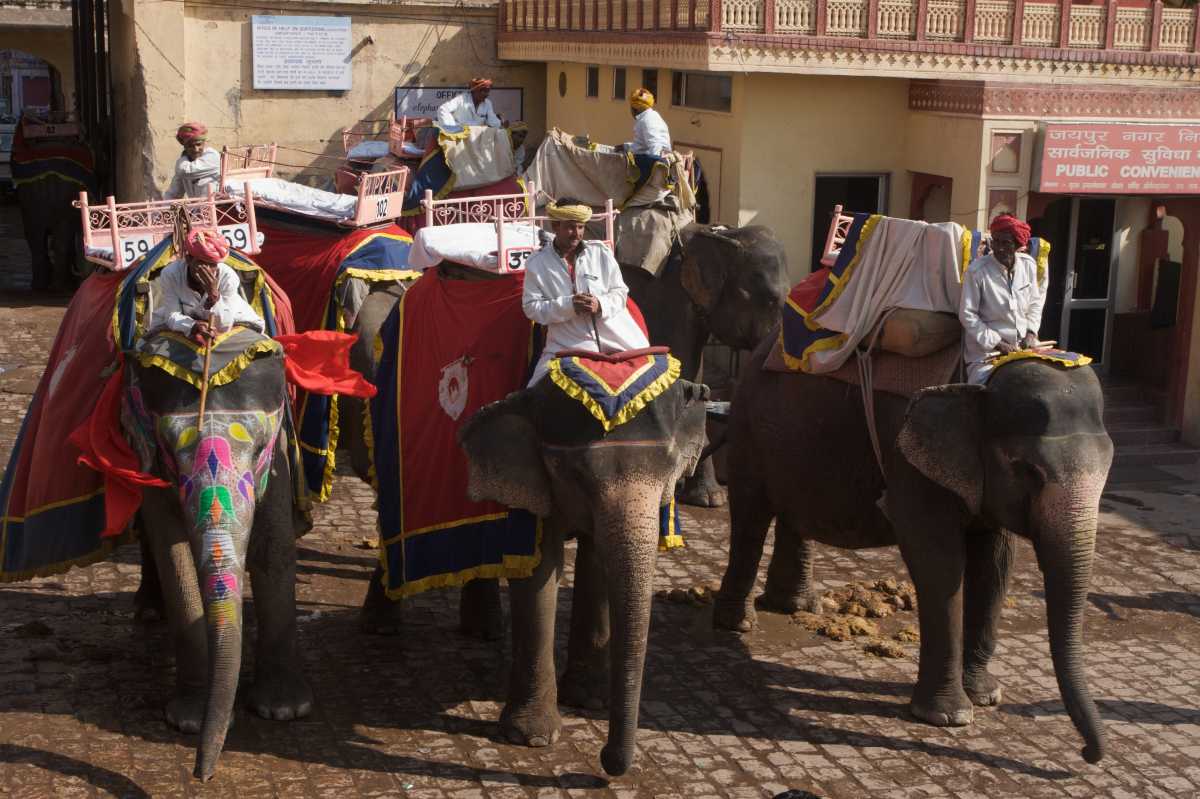 Best Time To Visit Amber Fort for Elephant Ride in Jaipur

The best time to visit the fort would be early in the morning around 9:00 AM to beat the queue for taking an elephant ride. It is challenging to get hold of a trip during the tourist season because by then all the elephants are exhausted haggling passengers to and fro.
Ticket Price for Elephant Ride at Amber Fort  
The fare for this ride does not vary from day to day and remain constant for both adult and child. The fare for an elephant ride for an Indian national would cost INR 650 per person. The trip starts at 8:30 AM every day and ends by 12:00 AM.
Booking of an Elephant Ride in Jaipur
Tourists can either use sites such as Elefanjoy and Elefantastic, or they could book it via the local ride operators. Regardless of where you book, you should avoid touts who charge extra and might not even guarantee a ride.
How to reach Amber Fort
By Air:
 The Jaipur airport is not very well connected to all the major cities of the country. Hence, people often prefer to fly from Delhi airport to Jaipur. The fort can be reached either using public transport or by renting a cab service from the Jaipur airport.
By Train: 
Jaipur railway station is well connected to all the major cities of India. If a difficulty arises from going directly to Jaipur, then you could always take a train to Delhi. There are frequent trains for Jaipur from Delhi.
By Road:
 The pink city is well connected to all the major cities of Rajasthan,
Gujarat
, Delhi and
Mumbai
. Amber Fort has located around 11 km from the central city of Jaipur.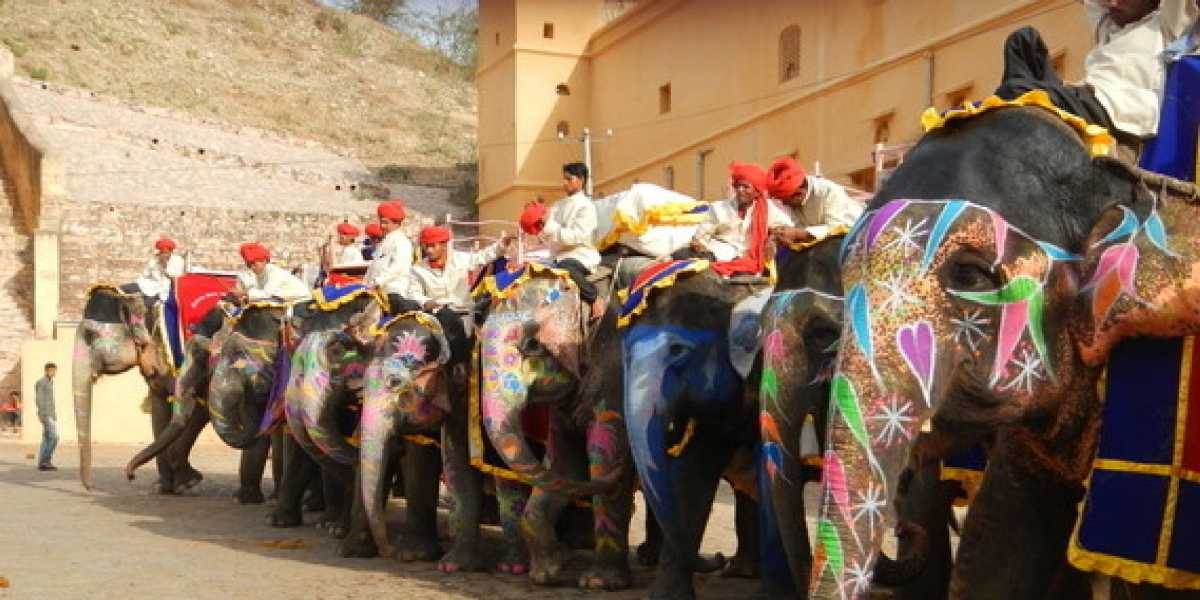 The Welfare of Elephants at Amber Fort
Although the treatment and conditions of the elephants used for climbing up the hill to Amber Fort have greatly improved over the years there are still problems among the herders as they can be aggressive towards the animals. The Jaipur Government now ensures that the animals are healthy and routine inspections are conducted after backlash from a lot of animal rights groups like People for Ethical Treatment of Animals(PETA) and others. Originally, the elephants would work all day, but now as there are strict enforcement in place, they are limited to only five trips a day and can carry only two passengers plus the driver per trip.
Hathi Gaon Jaipur
At about 5 km from Amber Fort, Hathi Gaon is an establishment built by the government of Rajasthan in 2010 for the welfare of families and their elephants who serve tourists in Amber Fort. There are shelters and huge man-made ponds for the elephants to bathe and play. You can visit this place in the evening at around 4 PM when the elephants return from Amber Fort.