Bhutan
, a multilingual country, is the land of rich and diverse culture, different from the rest of the world in its beliefs, traditions and architecture. About 20 dialects and languages are spoken in the country much smaller than Switzerland. The reason for such variety in dialects can be credited to the mountainous terrain, which separates villages and cities by high peaks and made them live in isolation. However, these languages have a lot of similarities between them, that brings some similarities in their cultures.

Interesting Facts
Dzongkha is the national language of Bhutan, and also the only one with a native literary tradition. It is spoken widely in the western part of the country since it is was the native language of Ngalops of west Bhutan.
Prominent Languages
Beside Dzongkha, there are three other prominent languages -
1. Tshanglakha, the native language of Tshanglas of eastern Bhutan
2. Lhotshamkha also called Nepali is spoken in south Bhutan
3.
Bumthang
kha is expressed in the central region of the country.
English is the medium of communication and education in the schools of Bhutan. Locals also speak it at tourist attractions due to its popularisation in the world. Many locals also understand and converse in Hindi due to its massive Indian and Bollywood influence.
Here is a brief description of the languages spoken in Bhutan:
1. Dzongkha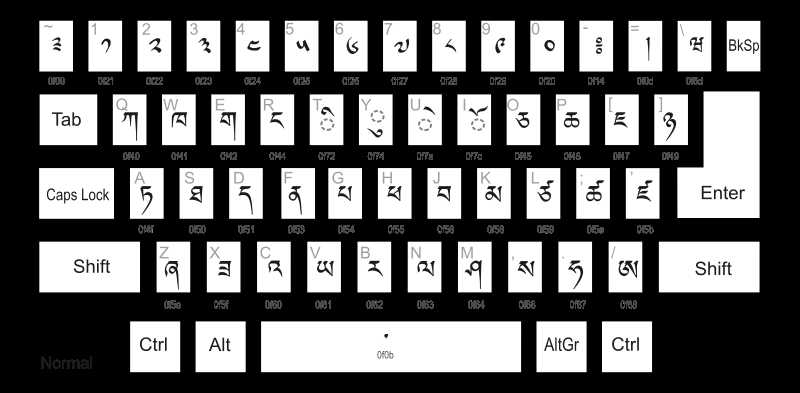 Spoken by half a million Bhutanese people, Dzongkha is a Sino-Tibetan language. It was declared the national and official language of Bhutan in 1971. The name translates to 'Dzong' meaning district and 'kha' meaning language. Thus, 'language of the district'.
Dzongkha and its dialects are native to the people of 8 districts of western Bhutan. However, it is compulsory to study Dzongkha in all the schools of Bhutan, with a national literacy rate of 54%.
Dzongkha has many similarities with the Sikkimese and other Tibetan dialects and is written using the Tibetan alphabet.

Here are some useful phrases that you must be acquainted with for your stay in Bhutan:
1. Hello - Kuzu Zangpo la
2. Where - Ga tey?
3. Which - Ga dee?
4. Yes - Inn
5. No - Men
6. Thankyou - Kaadin chhey La
7. Welcome - Joen pa Leg So
8. How are you? - Gaday bay zhui?
9. I'm from …. - Nga …. Ley in
10. Goodbye - Log Jay Gay
11. How much is this? - Gadem chi mo?
12. Sorry - Tsip maza
13. My name is ... - Nge gi ming ... in

2. Bumthangkha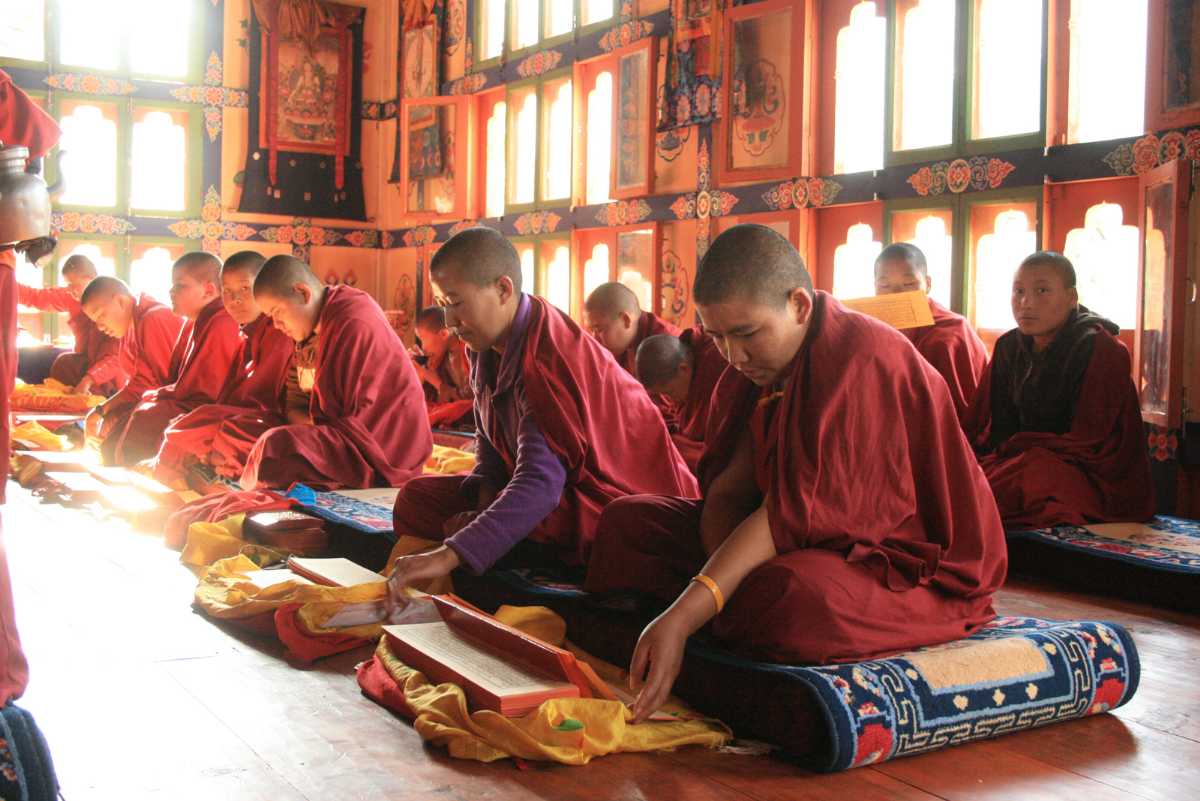 Spoken by 30,000 people in the Bumthang and the neighbouring districts, Bumthangkha is a prominent language in central Bhutan.

Here are some words and phrases useful to know when visiting this part of the country :
1 Hello - Kuzuzangpo la
2. Please - kuje
3. Thank you - Kadin chay
4. Sorry - gom ma thay la
5. Good bye - lok sey jay gey
6. I don't understand - madran
7. How are you? - ah dar nak ke
8. What is your name? - weth key meng sha yo?
9. You're welcome - tsoro bu si ma sung la
10. Yes - phath
11. No - mengo
12. Hello (informal) - kuzu

3. Tshanglakha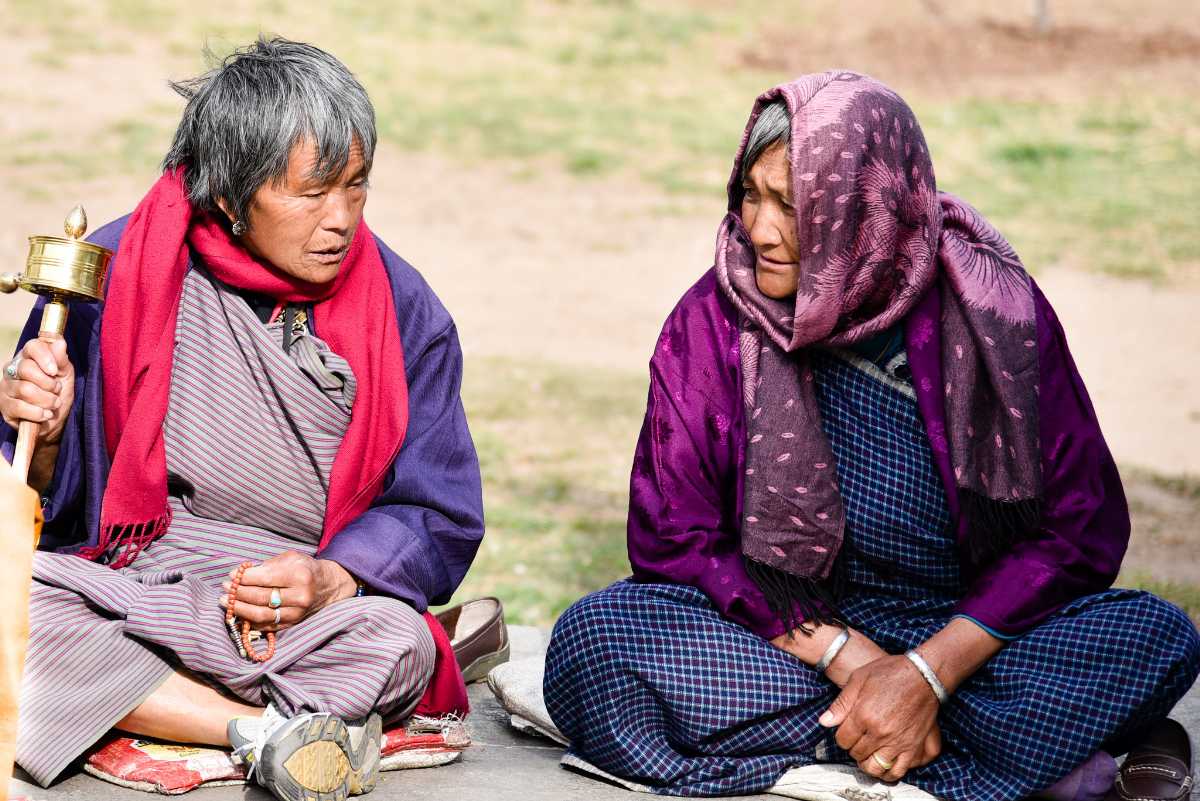 Also known as Sharchokpa, Tshang language is typically spoken by 170,000 people in the eastern part of the country. It is a Sino-Tibetan language, meaning that it has many similar characteristics and has derived its grammar from the Tibetan language. It is also spoken in the north-eastern states of India by 11,000 people and Tibet by 7,000 people. It was spoken by the native people way before Dzongkha was introduced, and is the most prominent indigenous language of Bhutan.

Some common words and phrases are:
1. Hello - Kuzu zangpo
2. How are you? - Hang ten cha ya
3. My name is …. - Ja ga ming …. gila
4. Goodbye - Lassola
5. Friend - Charo
6. I live in ... - Jang druk ga choncha
7. I know English - Jang English sencha
8. House - phai

4. Lhotshamkha
Nepalese language is known as Lhotshamkha in Bhutan. Nepali is spoken in the southern region of the country and was also taught in the schools. However, after a dispute between Bhutanese and Nepalese, Lhotshamkha has become just a language spoken in homes. Over the years, the traditional Nepali language has been modified by Bhutanese people to create a new language called Lhotshamkha.

Some words of Lhotshamkha translated are :
1. hello /goodbye - namaste
2. Thank you! - dhanyabaad
3. Excuse me, sorry - Maaph garnuhos
4. My name is ... - Mero naam … ho
5. brother - daju
6. wait - parkhe
7. shop - dokan
8. How much? - Kati paisa?

5. English

English is the medium of instruction in most of the schools in Bhutan; hence, many people are familiar with English. There are many newspapers such as Bhutanese News, magazines and other platforms of media use English due to Tourism and growing modernisation. Social media platforms also give Bhutanese users to communicate in English. Such widespread use of English makes it very easy for tourists to communicate with people.

6. Hindi
Surrounded by India on three sides, the Bhutanese are largely influenced by Hindi and use it for essential communication with Indian tourists as well. Since the Bhutanese are significant fans of mainstream Hindi cinema, Hindi remains to be an often-used language. With the coming of modernisation and globalisation, Bhutan is learning to connect with the world by adopting foreign linguistics. However, the Bhutanese need to retain their identity, culture and traditions by studying the native and local languages. The people of Bhutan are amiable and welcoming; the language would not be a barrier for tourists visiting this beautiful country.