The attention to detail, the extensive use of bold colours, the choice of themes and the symmetry of objects in Bhutanese art is known worldwide. The Land of the Thunder Dragon blends Indian, Chinese and Tibetan artistic traditions into their artforms. Art has always remained an essential part of the daily life of a Bhutanese because it represents internal and external spirituality.
The Bhutanese Form of Art
Each art piece that they create connects them to something beyond the self and enlightens them with a religious experience like nothing else. The art depicts deities, sacred animals, temples and other relevant imagery, and most art is used to decorate streets, homes, temples and other objects that a Bhutanese comes across in his daily life. This practice is ancestral, however, every artist's own individual portrayal of symbolisms and ideologies makes the art unique.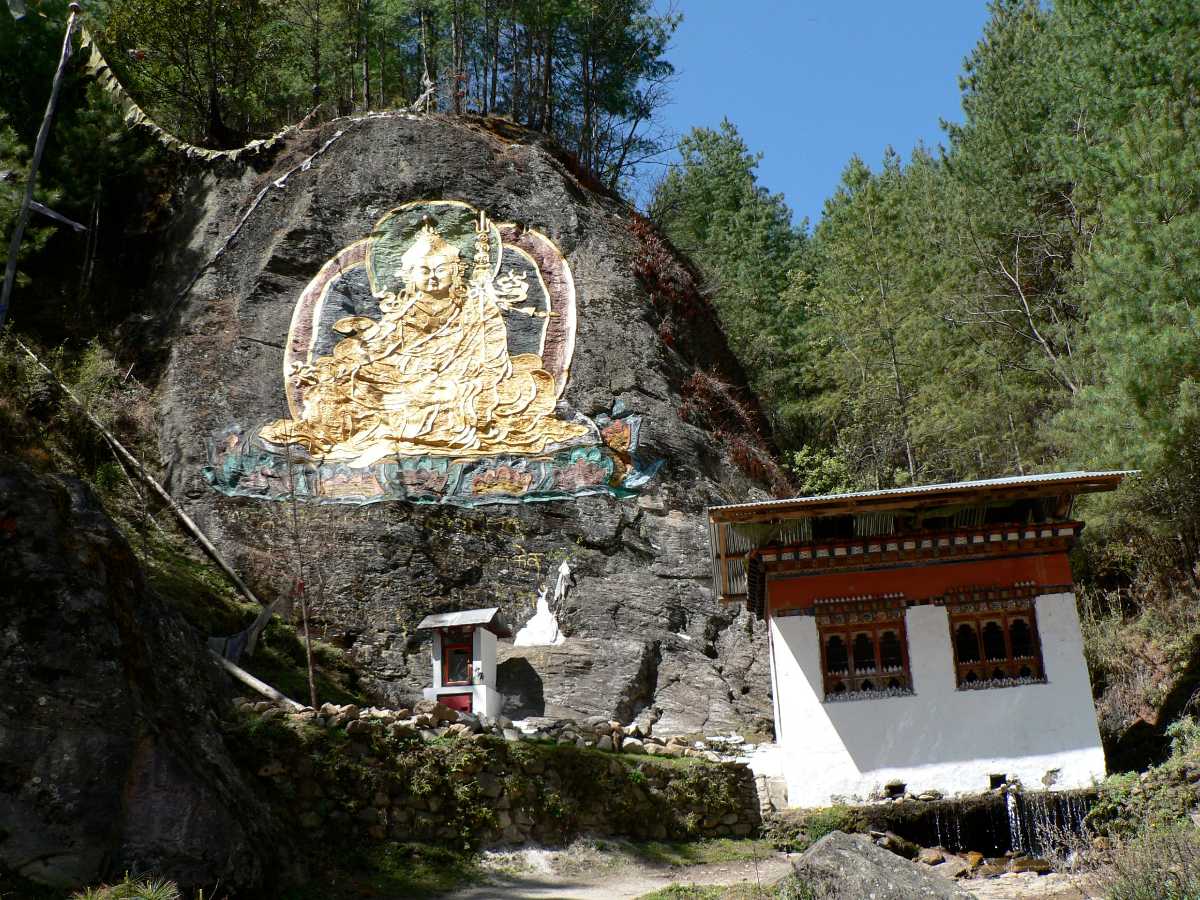 Traditional Bhutanese Arts
Since the ancient era, there are 13 different types of art and crafts practised in
Bhutan
, collectively termed as Zorig Chusum. All 13 arts are rooted in Buddhism and believed to have been introduced by Pema Lingpa in the 15th century.
Below we have listed all the 13 types of art in Bhutan:
1. Lhazo - Bhutanese Wall Paintings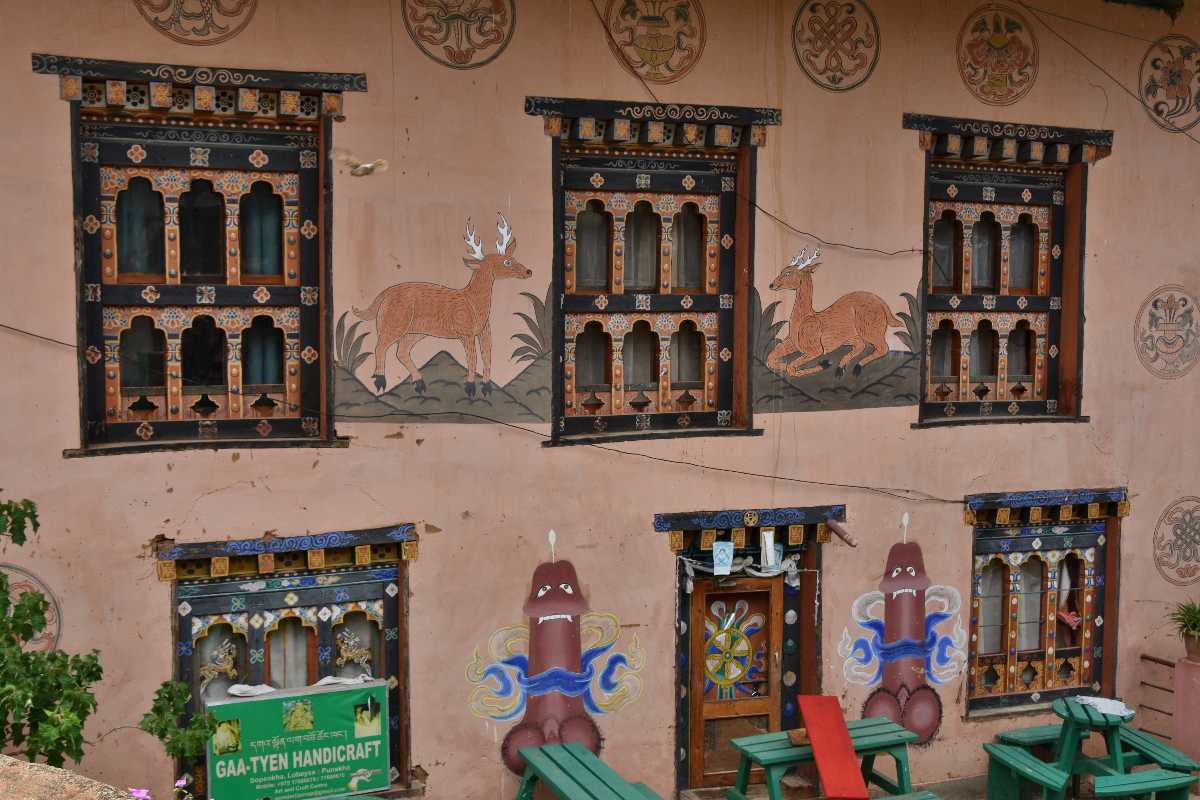 Unique natural pigments and mineral paints made out of varied colours of soil are used in Bhutanese paintings. This art form particularly portrays symbolism of the human beings interact with nature, religion and their beliefs.
The painters are usually known as Lha Rips and they paint on canvases, walls, frescoes, wood, paper, stone and fabric among other things. A unique Bhutanese painting of the phallus can be found on the wall of almost every rural house as a part of their tradition.
Chimi Lhakhang
is known to be a popular place in Bhutan where you can find these rural houses.
2. Jimzo - Sculpting
Jimzo is the practice of ancient clay sculpting, which goes long before the metal and bronze sculpting was introduced. These clay statues usually portray deities like Buddha, Guru Rinpoche, Zhabdrung and other Buddhist imagery.
Clay sculpting in Bhutan is more of a male craft usually found in temples, monasteries and dzongs, whereas, pottery is more a female craft used in daily life. You will find these delicate and beautiful clay statues in temples across the country, however, the tall statues in
Paro Taktsang
are a must-see.
3. Shingzo - Wood Carving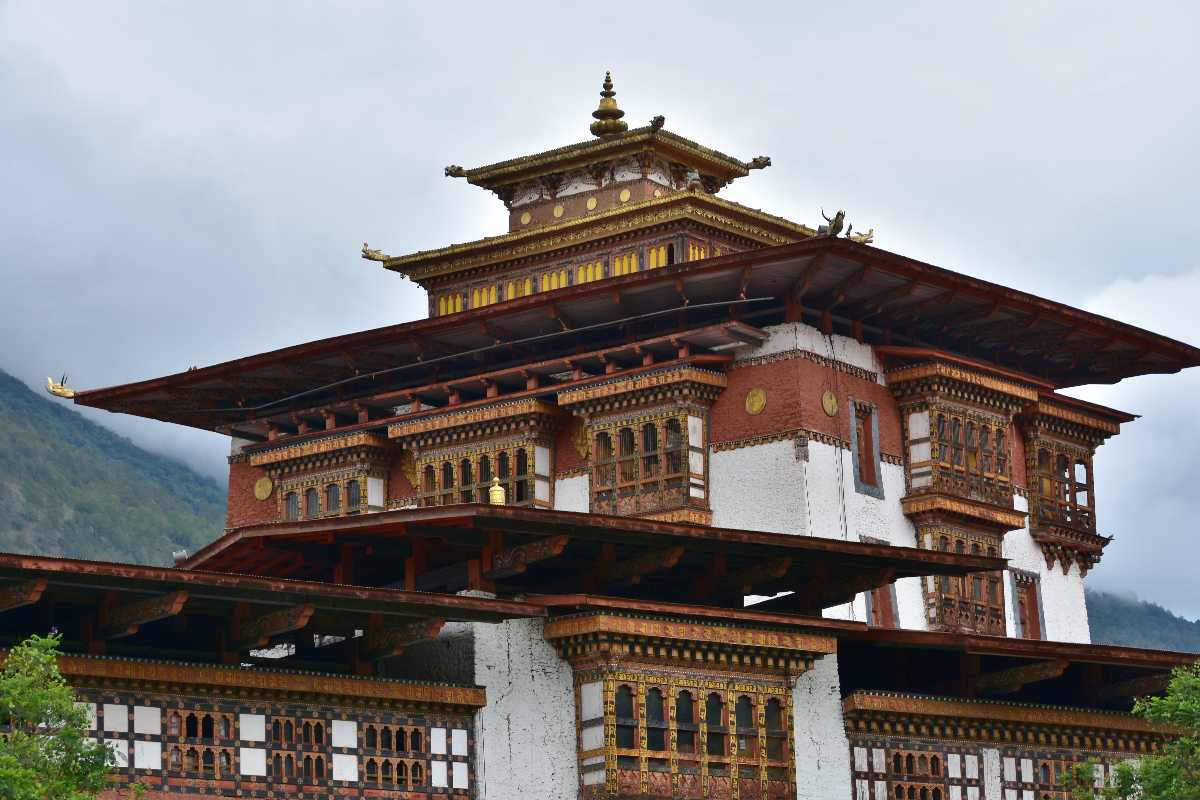 Wood carving and carpentry are one of the unique art forms of Bhutan, a part of its distinct identity. The master carpenters known as Zo Chen and Zo Wo create flawless masterpieces by carving and designing the most intricate details on wood pieces.
From the 17th century till today, the craft of Shingzo can be found in many dzongs, houses, palaces, bridges, temples, monasteries, institutes and even for pillars and furniture inside a house. Their exquisite skills can be seen in wood structures throughout the country. One such example of a majestic sculpture is the
Punakha Dzong
built-in 1637.
4. Parzo - Carving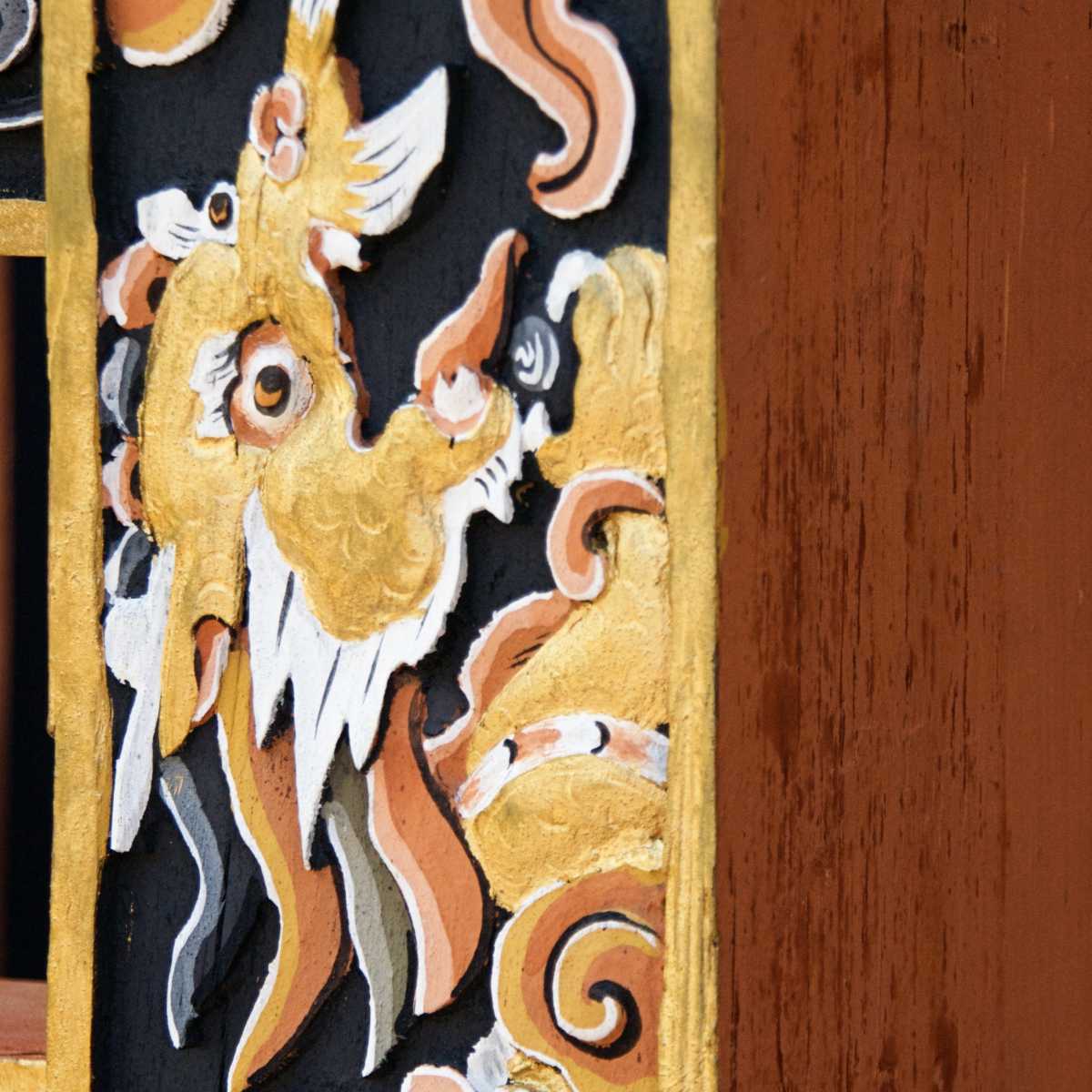 Introduced in the 13th century by Tibetan Buddhists, Parzo, which means carving, is one of the most important forms of art in Bhutan. Due to Bhutan's rich collection of trees there is a variety of wood available in the country. Wood, stone, slate and paper are the popular different materials used to carve on. The carvers usually carve out deities, mantras and other relevant cultural imagery into wooden masks used in the Tsechu festival and phalluses used on the doors and windows of rural Bhutanese houses.
5. Dezo - Papermaking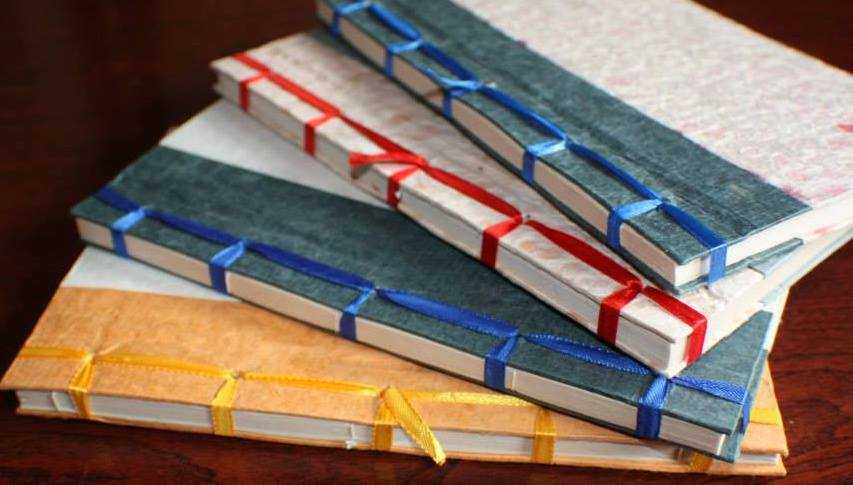 Made from the bark, fibre and pulp of Daphne and Edgeworthia plants, the art of papermaking in Bhutan is known as Dezo. The master papermakers also called as Dezop, are responsible behind making this beautiful and termite and insect repellent paper with extensive care.
All the sacred and religious scriptures in manuscript books for monks used to be written on Dezo with traditional ink, sometimes even gold. Handmade papermaking is a very important part of Bhutanese tradition and culture. Today, Dezo paper products like greeting cards can be purchased at
Jungshi Handmade Paper Factory
or in many shops around
Thimphu
.
6. Dozo - Masonry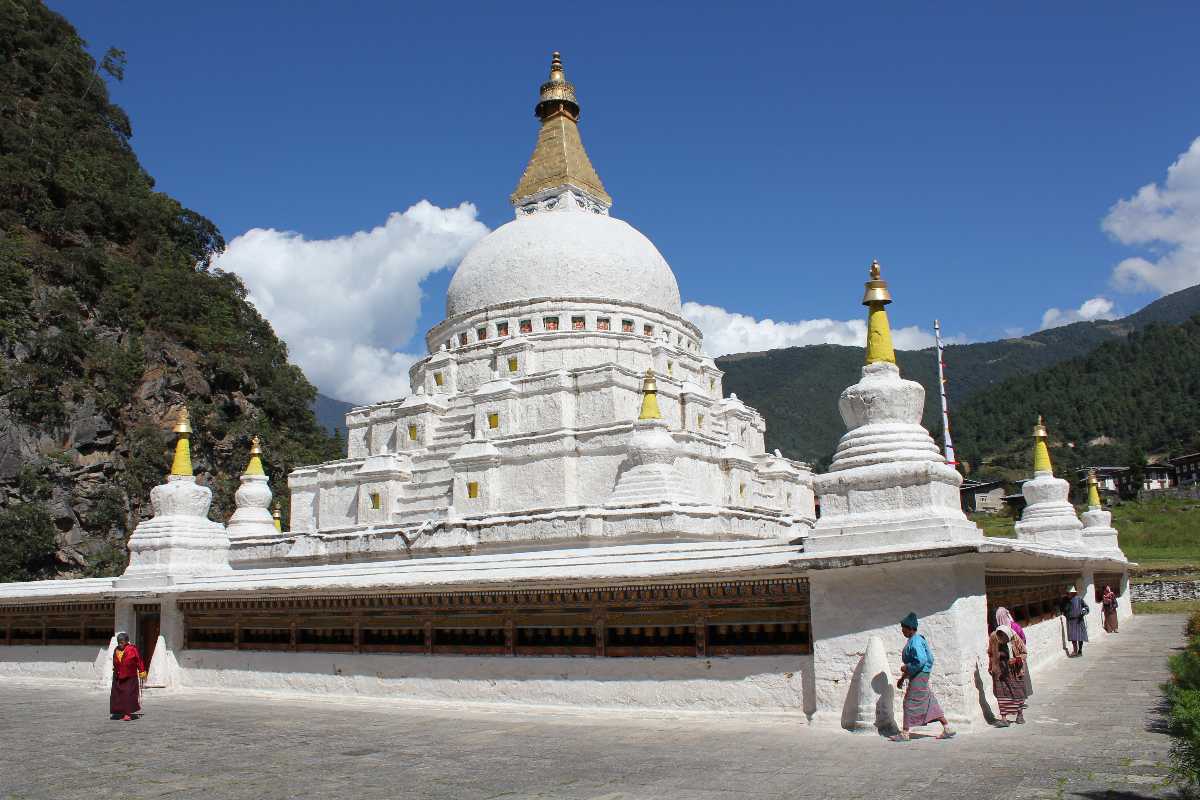 The ancient craft of masonry where every structure is built by wood or stone is called Dozo in Bhutan. Carpenters and masons together use their skills and build dzongs, walls, stupas, buildings, houses, bridges, courtyards and temples out of stone. Besides these, masons also produce utensils for daily use at home.
The master mason is called Zope in Bhutanese and he is the one responsible behind the preparation of mortar, planning, construction and supervision of the building process from scratch to end. This craft is still prevailing today and can be seen in houses all over the country. One of the best examples of a stone structure is the Chorten Kora in Trashiyangtse.
7. Shagzo - Wood Turning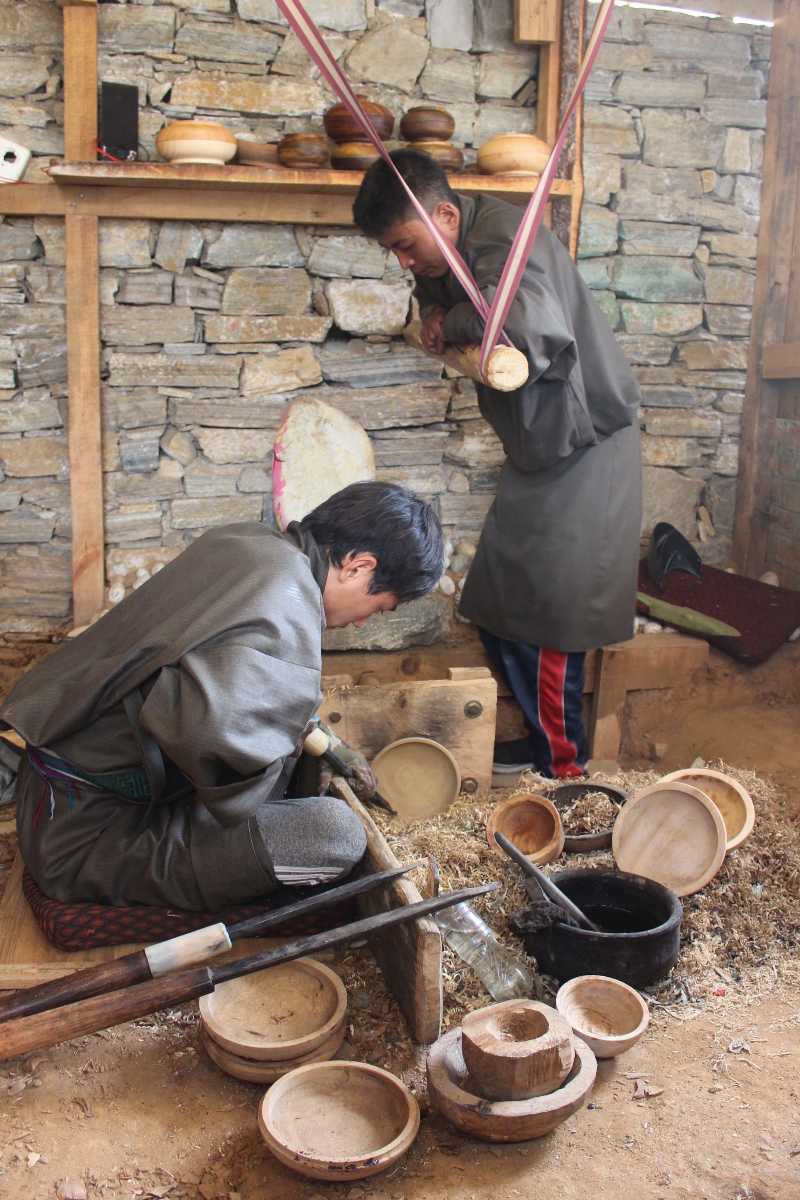 Before the popular ceramic, steel, brass or melamine utensils, the ancient generations used the process of woodturning to make handmade containers. This art form of Bhutan is known as Shagzo, churning out bowls (dapas), cups (phobs), plates and other unique containers of different shapes, sizes and colours. The master woodturning artisans are known as Shagzopa.
Many different kinds of wood are used such as tashing, hashing, etometo, but the most exquisite and expensive type is called burl wood. Burls are hunted often by the Bhutanese people to be sold in the markets for a good price. Apart from being a marvellous souvenir, these bowls are also used in many local restaurants to serve food until today.
8. Thagzo - Weaving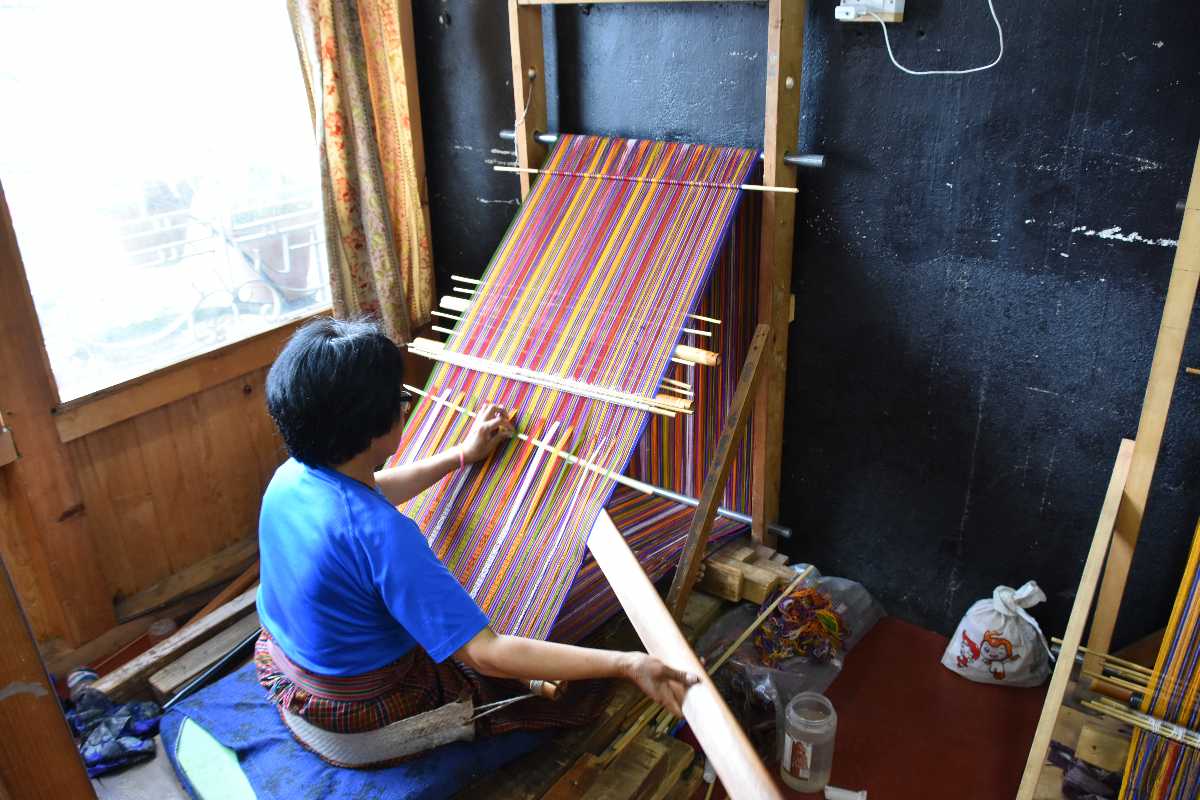 Made out of cotton, silk and wool yarns, textile weaving or Thagzo is an old Bhutanese tradition exclusively done by rural women who needed an alternative source of income. Different patterns and colour combinations are used with each weave having a particular symbolism, the most spectacular one being Kishuthara. The eastern and northeastern regions of Bhutan are known to have the best and professional weavers. You can find some great examples of weaving in Khoma village and Adang village.
9. Tshemzo - Embroidery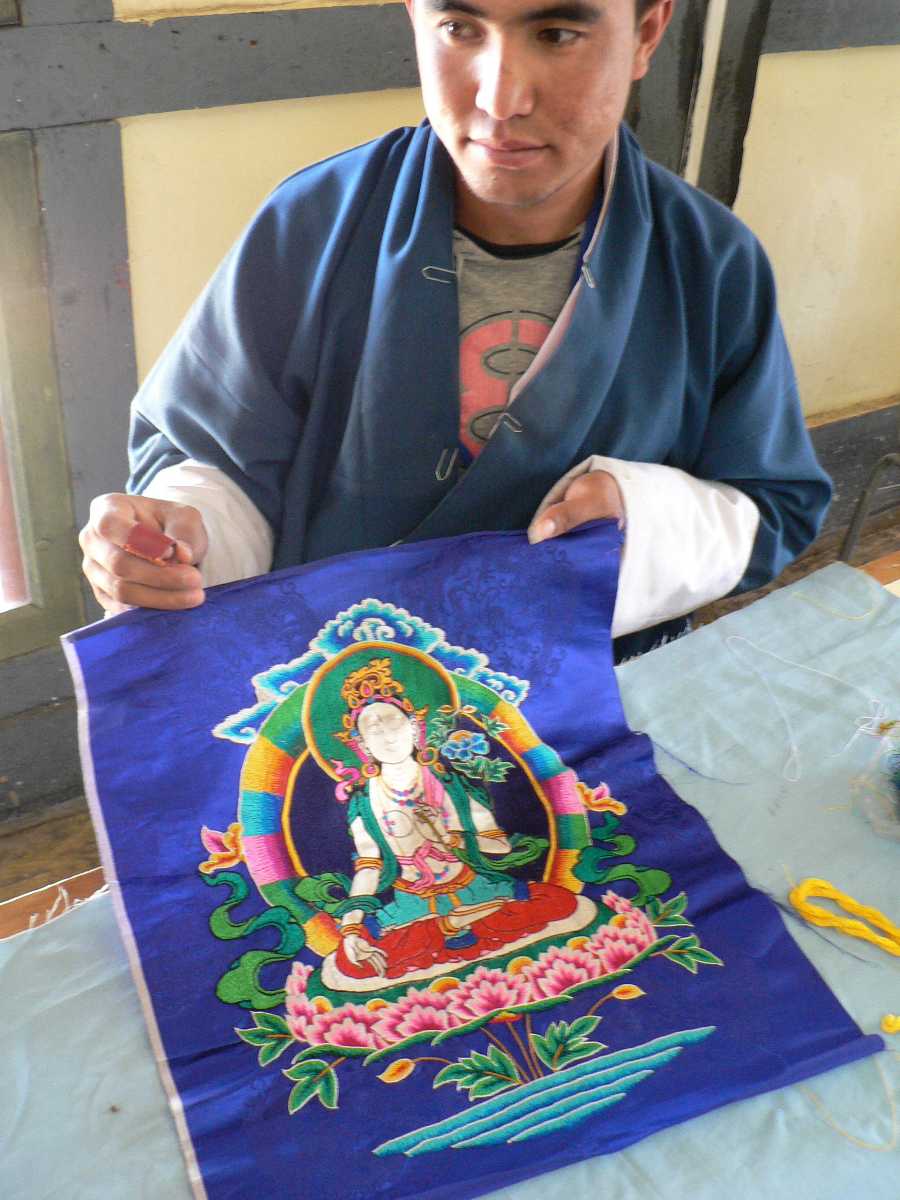 The Bhutanese art of embroidery and applique (patchwork) is known as Tshemzo. This was more of a man's art, originally practised by monks and gomchens, and now it is taught to girls at the
Zorig Chusum School
.
The ancient art was essentially for religious and royal textiles, however, today you can find it in clothes, traditional footwear, household items like table clothes and many other things. Elaborate thangkas and thongdrels are created with this embroidery which are mainly used for the annual festival of Tshechu in Thimpu,
Paro
or
Punakha
.
10. Lugzo - Casting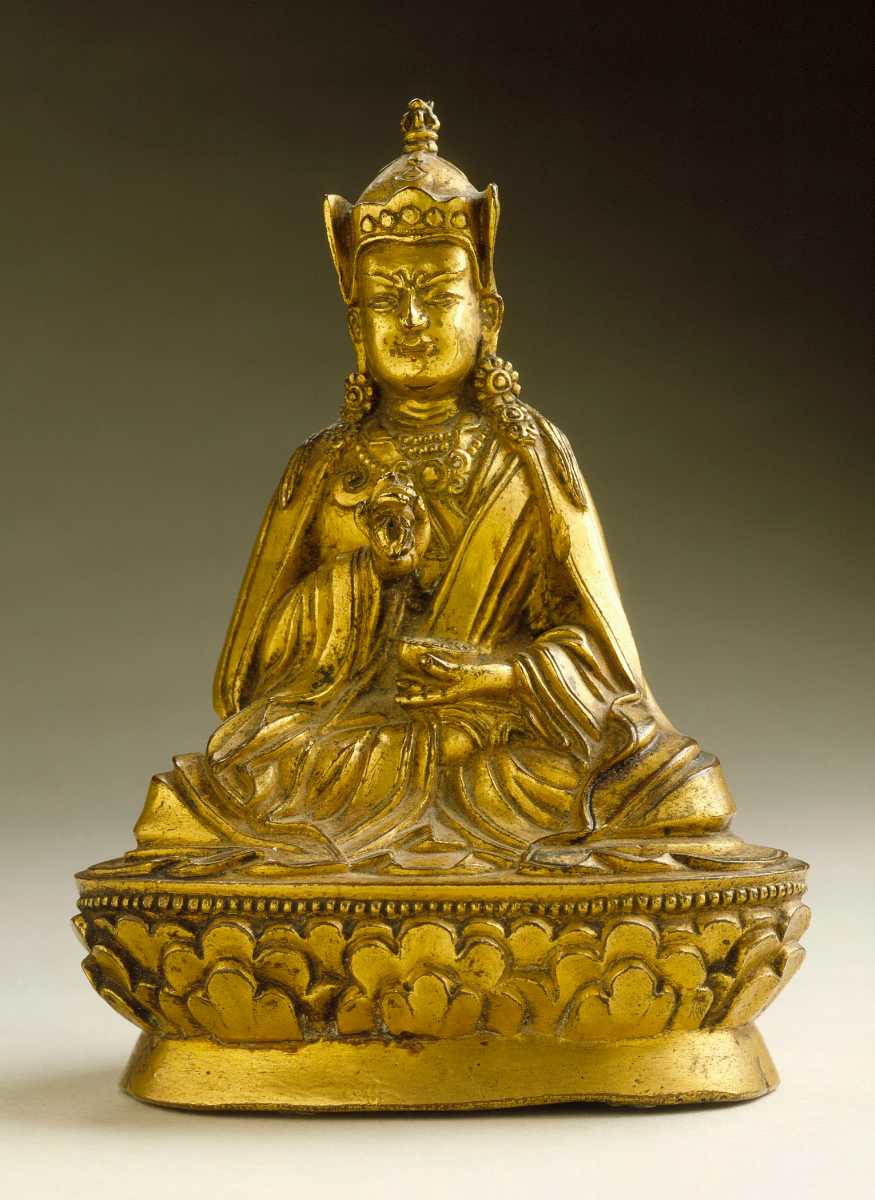 The art of bronze casting, called Lugzo, was introduced in Bhutan in the 17th century by Newari artisans of Kathmandu who were invited by King Zhabdrung. Bronze is typically cast into containers, utensils, weapons, armours, statues, tools, instruments and ornaments, among other things. There are two different techniques involved, wax and sand casting.
In ancient times, religious statues were moulded using the lost wax casting technique and the ritual objects were moulded using the sand casting technique. The finishing, engraving and decorating of the objects in both the techniques are done with hand by skilled craftsmen who expert in drawing, sculpting, casting, carving and polishing.
11. Tsharzo - Cane Weaving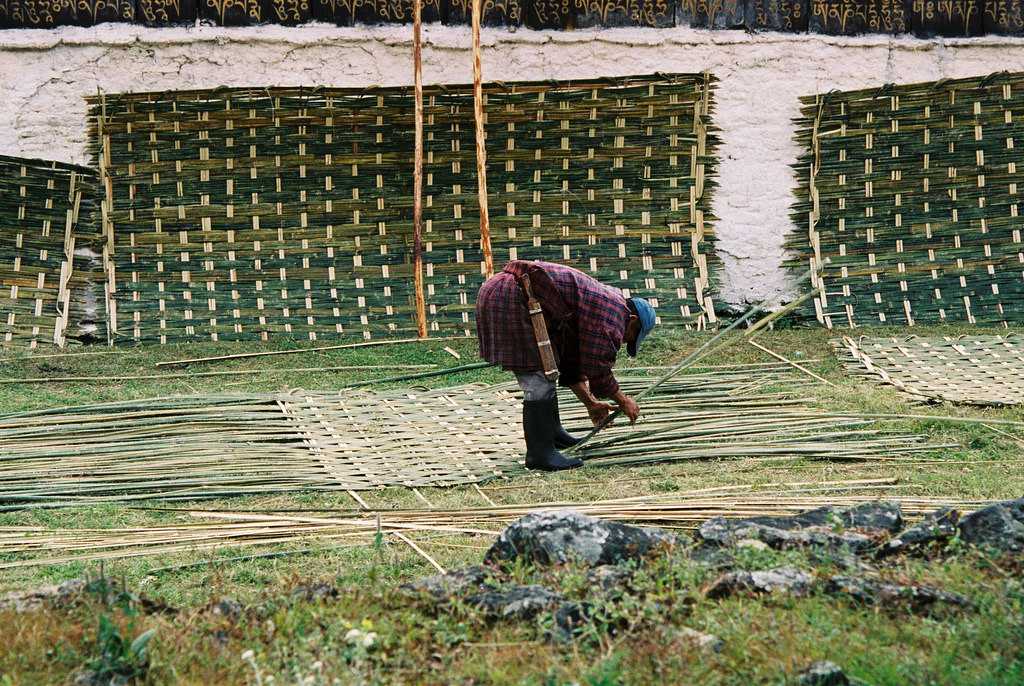 Popular among the locals of central and eastern Bhutan, bamboo and cane weaving is one of the prime art forms due to the extensive amount of bamboo groves that grow here. Traditionally used to make a fence for fields or roofs for sheds, cane weaving is now used widely to make plates, baskets, containers and mats, among other things.
These are not only used in Bhutanese homes but also sold at markets to the tourists. The weavers cut, split, dry and weave the bamboos using the outer and inner layers both, and then they're made into the beautiful different products.
12. Garzo - Blacksmithing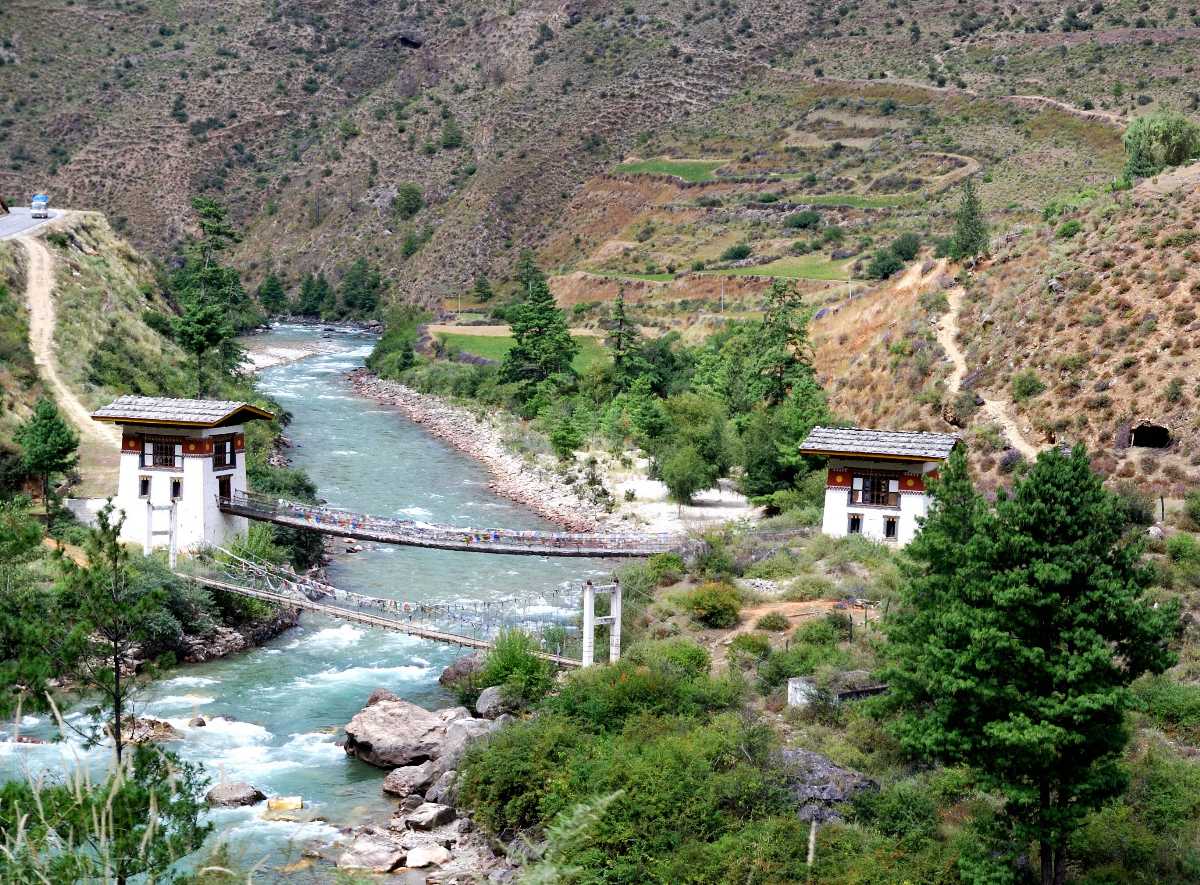 Introduced in the 14th century by Tibetan religious saint, Thangtong Gyalpo, the art of blacksmithing in Bhutan is called Garzo. He came to Bhutan in search of the abundant amount of iron ore present in the country. This master engineer built the 
iconic suspension bridge
over
Paro Chhu
, visible on your way from Paro to Thimphu. It is one of the eight suspension bridges in Bhutan. Today these blacksmiths build not only bridges but also agricultural tools, chains, knives, swords, daggers and armours.
13. Troeko - Metal Ornaments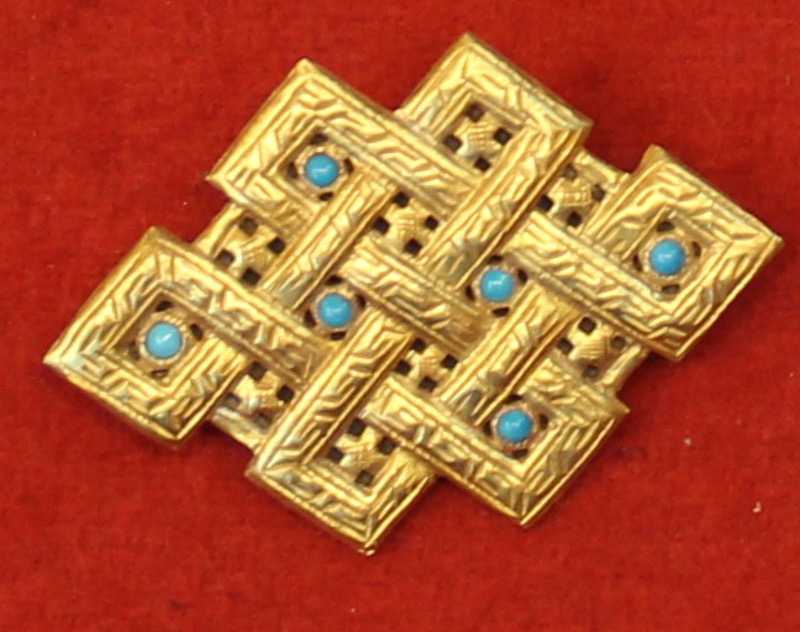 Using corals, turquoise, stone and most importantly, gold and silver, the Bhutanese art of making metal ornaments are called Troeko. The masters in making these ornaments are called Tro ko lopen and they make beautiful jewellery products like bracelets, earrings, necklaces, bangles, amulets, rings and brooches.
Not only that, but they also create stunning decorative containers like cups, vases, offering bowls, lamps and also swords. Metal ornaments are seen as a part of a status symbol in the country, hence it is evidently visible in almost every household, either worn by the women or used for daily usage around the house.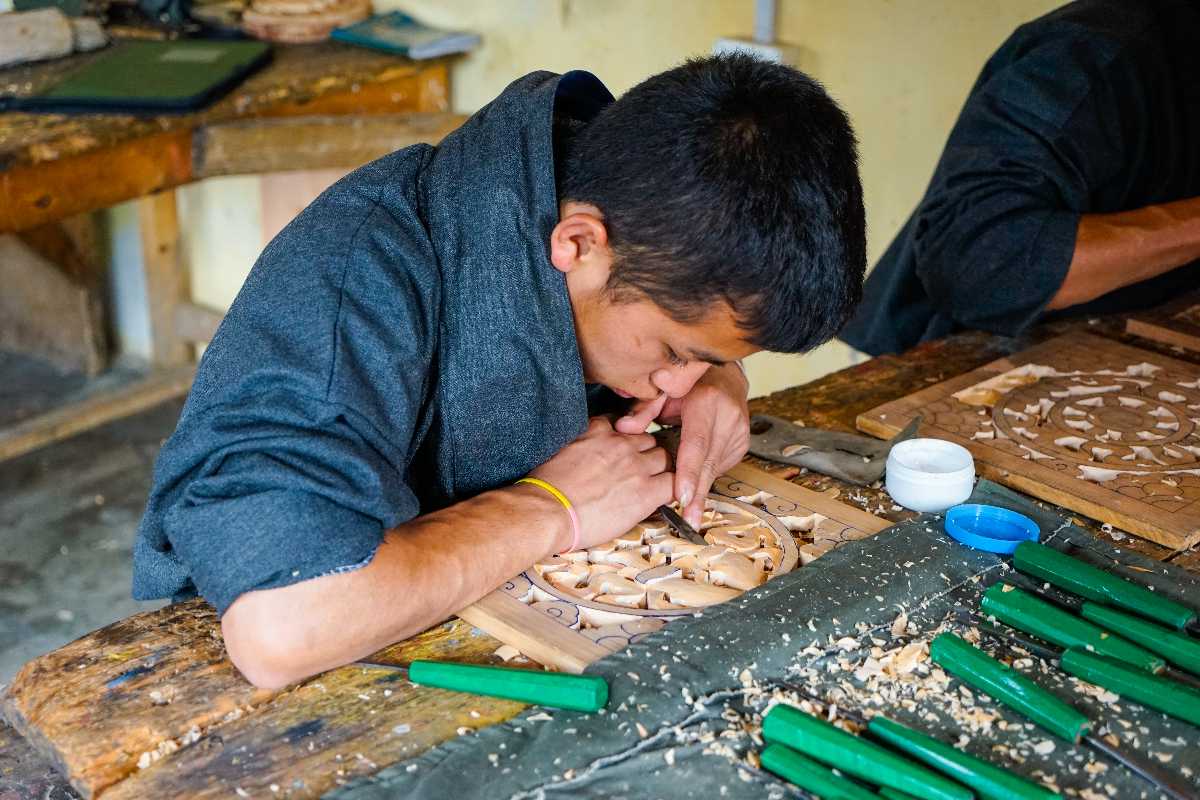 Each one of these arts and crafts has a deep-rooted historical and cultural value which contributes to the societal and economic needs of the country. The Zorig Chusum represents the skills and identities of the artisans and craftsmen from all over the country who are widely recognized in the everyday life of the Bhutanese. Today, many institutes including the National Institute for Zorig Chusum, teach these varied arts and crafts to the young generation so that the spirit of traditions never dies in this country.