While travelling, tourists often wish to experience an offbeat culinary experience, authentic and original to the particular destination. One should undoubtedly embark upon an unconventional gastronomic experience while exploring a foreign destination.
So here's a well-curated list suggesting some of the best restaurants in the world to opt for while exploring the enlisted destinations. Check them out!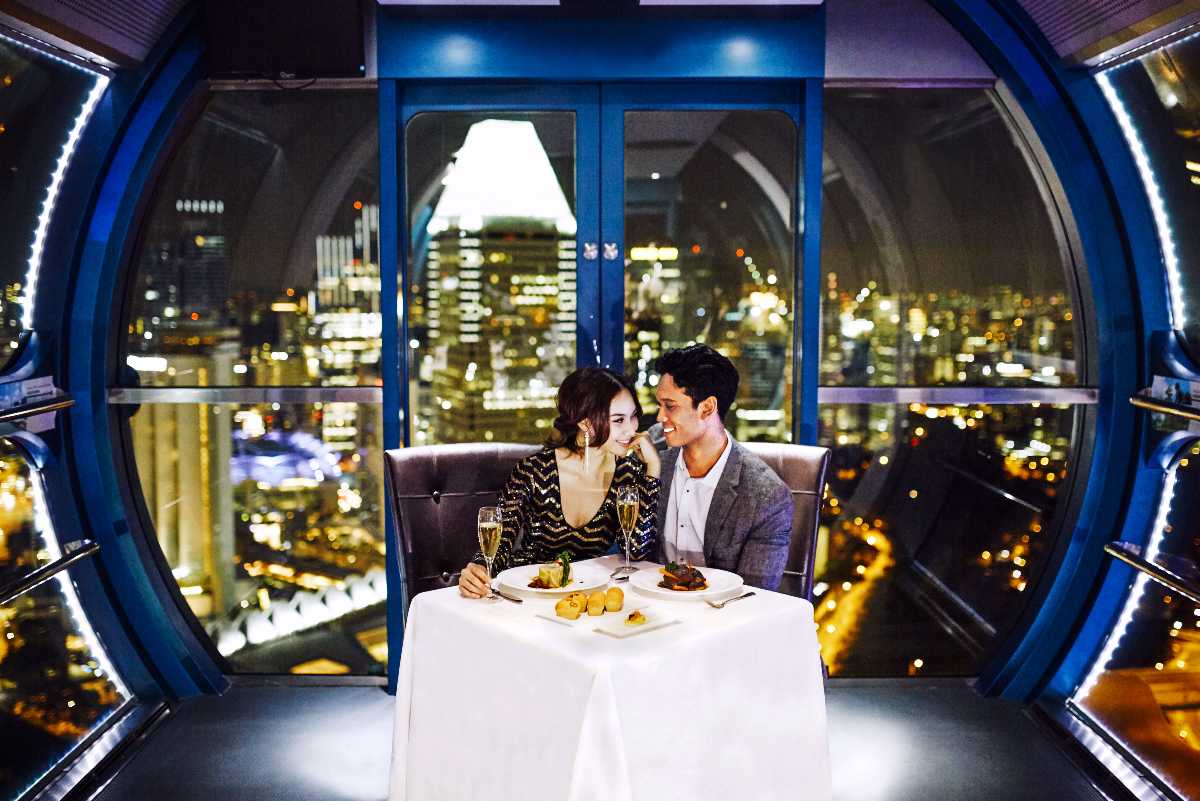 The Singapore Flyer Sky dining offers a luxurious dining experience on Singapore's giant observation wheel. Seated in a capsule, you can catch sight of the cityscape and view the stunning landmarks of the Garden City. It's a marvellous experience with a five-star dinner service in the sky! Along with a panoramic view, one gets a four-course meal including dishes like shredded duck meat with cucumber, pan-seared barramundi, Morchella and vegetable in superior broth, mango parfait, Nespresso coffee and more. With priority boarding facilities, gracious in-flight hosts and exotic meals to gorge on, Singapore Flyer Sky Dining surely stands out on the list!
Address: 30 Raffles Avenue, Singapore-039803
Cost for two: 18,500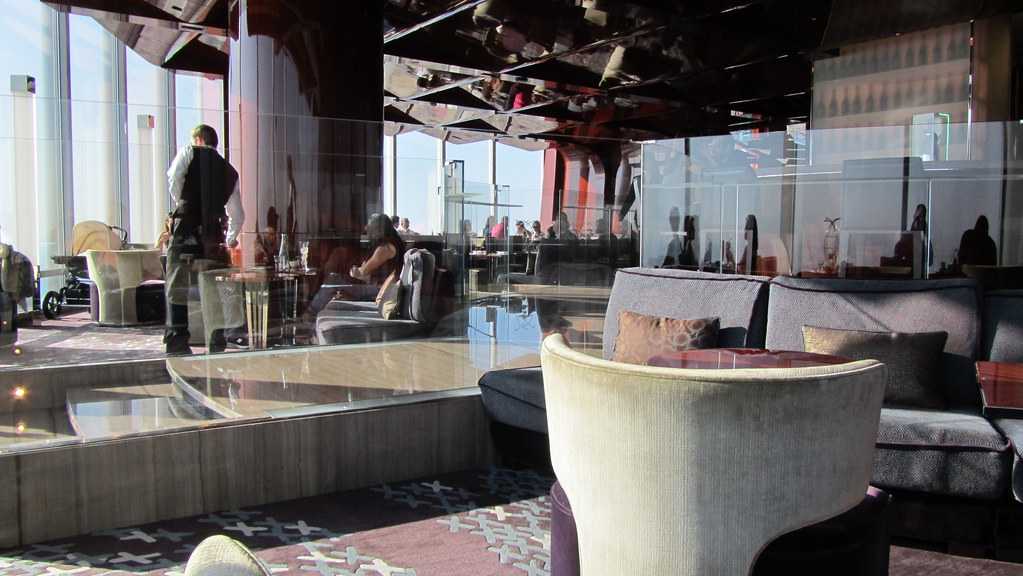 Presenting an unparalleled dining experience, At.Mosphere woos your taste-buds at the 122nd floor of the tallest building in the world, Burj Khalifa. Presenting an array of dishes on the menu, it serves European, French and Central European cuisines. You can opt for the splendid 5-course tasting menu with wine. A view of the cityscape from the 180-degree see-through glass windows is a visual treat! Don't miss out on the salmon, oysters, steaks, and coffee at At.Mosphere. It's a fine-dining experience like never before!
Address: 122nd Floor, Burj Khalifa, Downtown Dubai - Dubai - United Arab Emirates
Cost for two: INR 7,800
3. Ithaa Undersea Restaurant, Maldives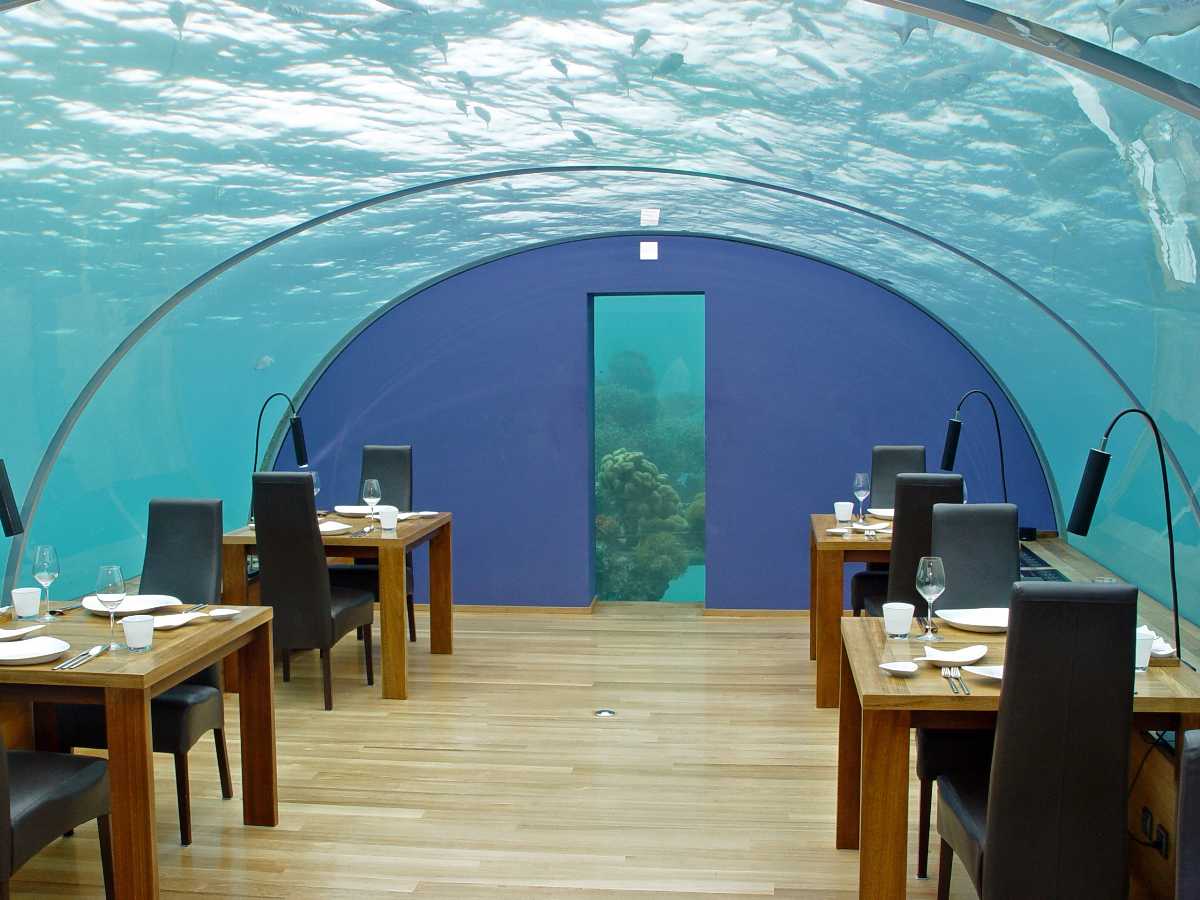 An all-glass undersea restaurant, five meters below sea level, Ithaa gives a scuba-dining experience. With a visual aesthetic of marine animals through the glass, the ambience of this marvel will leave you awestruck! Leading through the wooden jetty to a tiny thatched pavilion, then pointed down a dark, winding staircase, lies Ithaa. Only fourteen diners are served at a time. Ithaa offers a European and French curated menu with novelty food ranging from Australian wagyu beef to French chocolate and the Caspian Sea caviar. Exquisite meals of Ithaa look and taste fantastic!
Address: Conrad Rangali Island 20077, Maldives
Cost for two: INR 28,500
4. Soneva Kiri Treepod Dining, Thailand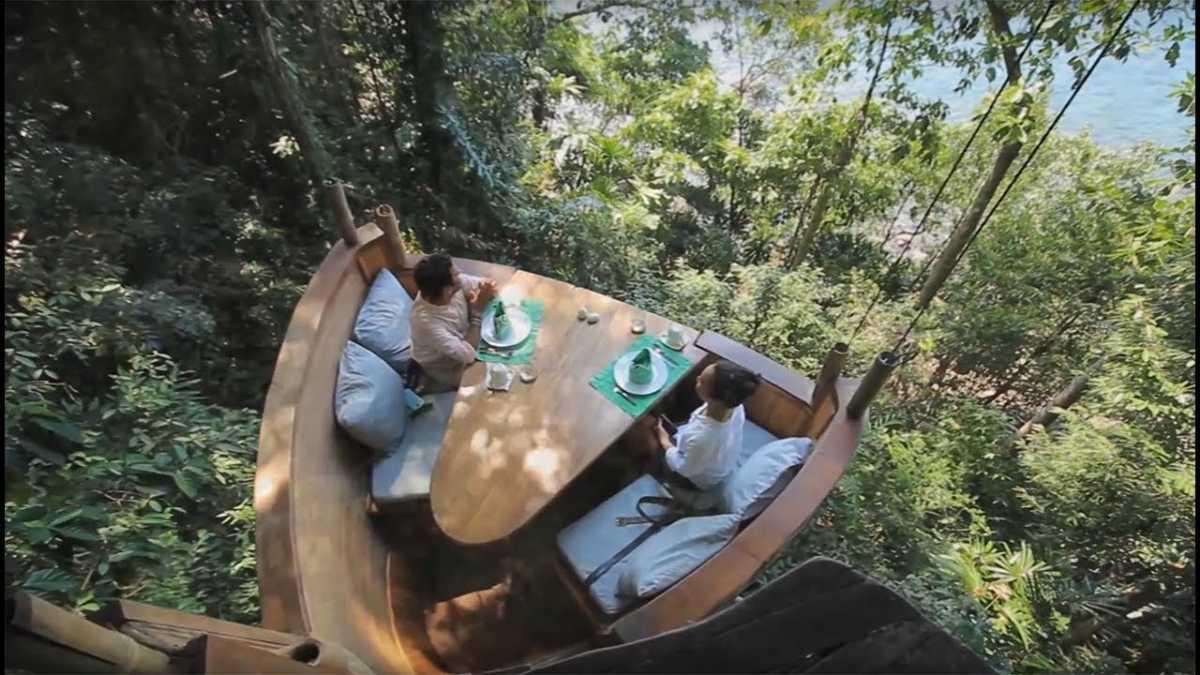 Ever thought of a dining experience in a suspended bamboo pod against a tree in the wilderness of a jungle? This is exactly what Soneva Kiri Treepod dining offers and why it is on the list of best restaurants in the world. It's offbeat, exotic and oh-so-picturesque! The nest hangs twenty-feet off the ground along the native Masang tree. A waiter then brings along food via
Zipline
. The pod is comfortable enough for its diners with occasional bird visitors. The gourmet experiences are unlike any other as you get to devour starters including banana and taro chips and main courses like Galangal baked white fish in banana leaves with lime and Soneva garden salsa verde. It's all from the pan to the plate! It sure seems like a must-have experience on a foodie bucket list!
Address: 110 Moo, 4 Ko Kut, Ko Kut District, Trat 23000, Thailand
Cost for two: INR 26,000
5. Labassin Waterfall Restaurant, Philippines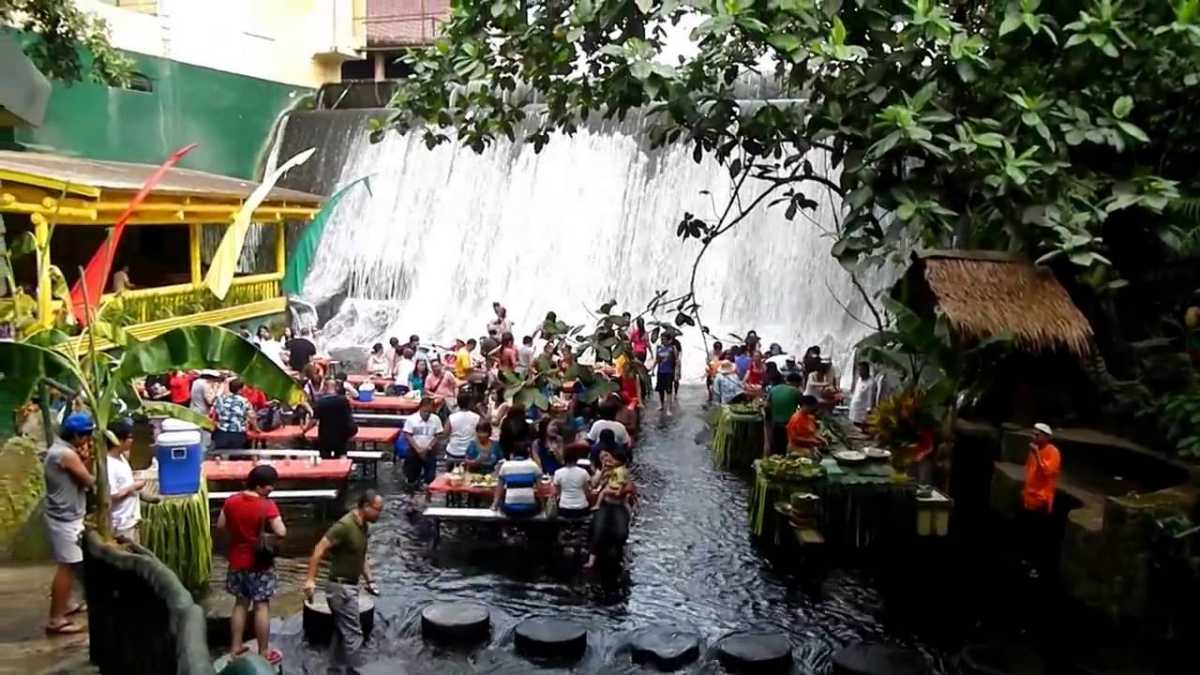 Imagine yourself in an open-air restaurant with your feet dipped in cold water and waterfalls cascading all around you. Labassin Waterfall Restaurant offers such a gourmet experience nestled amid a waterfall formed by Labassin Dam; Philippine's first hydroelectric plant. Showcasing traditional dancers and regional music, the ambience never fails to keep you thoroughly entertained. Diners can tuck into dishes like a kamayan-style buffet of fish, rice, barbecued chicken and bananas, fresh fruit, and more, all spread across banana leaves, served on a bamboo table. It is parallel to an authentic Phillipino meal setting.
Address: Tiaong, Quezon,Villa Escudero Plantations and Resort, Philippines
Cost for two: INR 7,200
6. Grotta Palazzese Cave Restaurant, Italy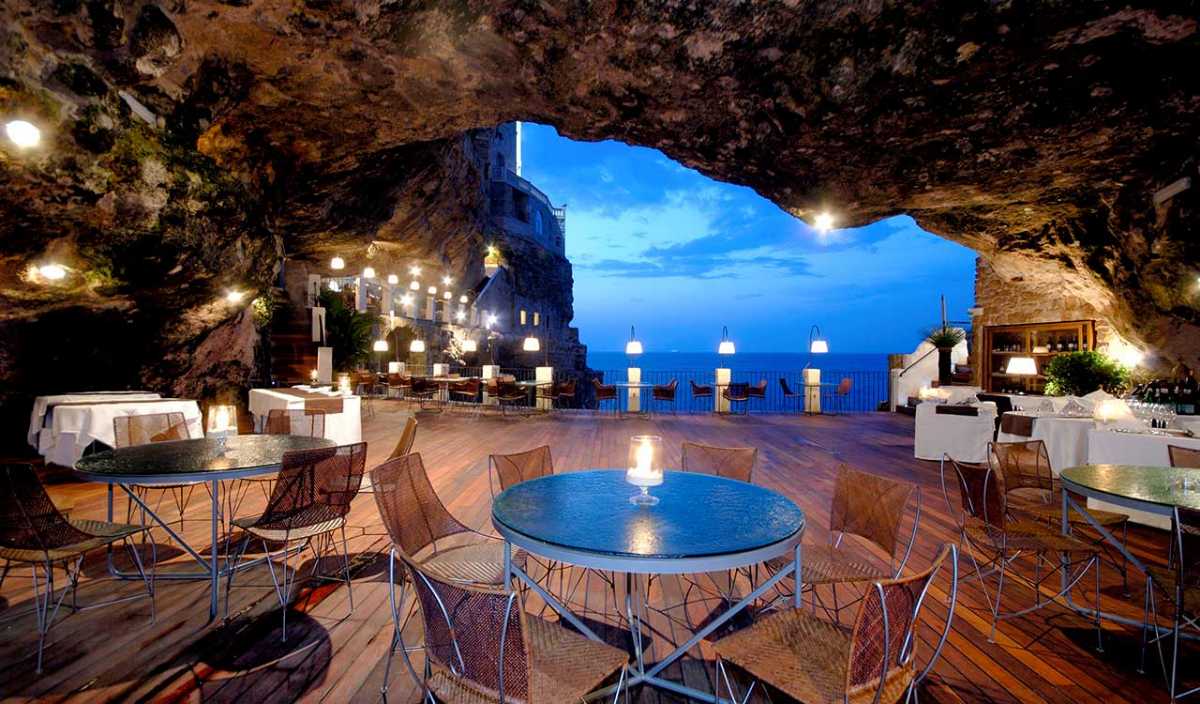 Grotta Palazzese's exclusivity lies in its setting. It is an outdoor lounge ensconced in a natural cave with pleasant lighting, invoking a tranquil vibe. Flanked by a seascape with a marine horizon on one side and overlapping caves on the other, the ambience is simply classy and upscale. It makes for a great romantic dining spot. Fancy Apulian cuisine? You'll get served with exotic dishes from the cuisine at the cave-like Calamari Fritti with salad greens, tuna with burrata cheese, lobster ravioli and what not! Don't forget to dress well; they are very particular with the dress code policy here!
Address: Via Narciso, 59, 70044 Polignano a Mare BA, Italy
Cost for two: INR 7,900
7. SafeHouse Spy Themed Restaurant, Wisconsin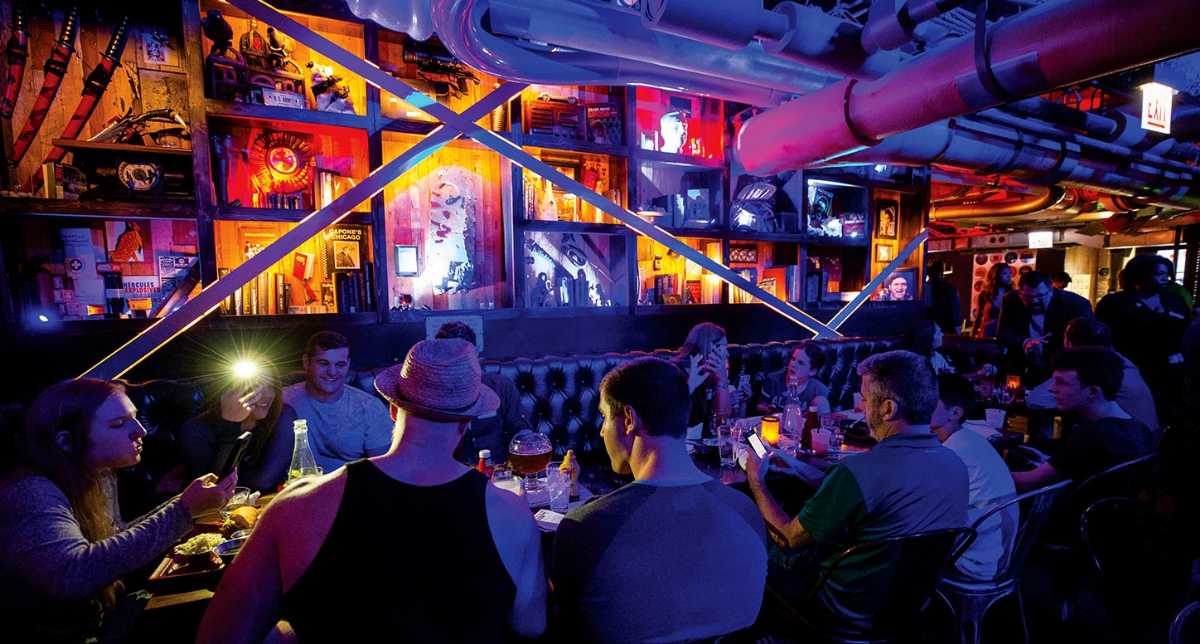 Wondering what's with the spy theme? SafeHouse is a restaurant and pub where you're spoken to and treated as a spy. Right from the entrance, everything's a secret game of Chinese whispers! It's fun with memorabilia from the cold war era. The dusky atmosphere of the pub adds to the spy theme. Ordering your food and finishing it to the last bit is your mission. The food comes with a twist too. The Mac and cheese here are served with broccoli, bacon, chicken, peppers topped with bread crumbs. On completion of your meals, the waiters whisper "I will now destroy the evidence'' which is pretty cool! Embark upon a dining mission! This is one of the best restaurants in the world as it provides diners with an unforgettable adventure.
Address: 779 N Front St, Milwaukee, WI 53202, United States
Cost for two: INR 4,500
8. Snow Castle Restaurant, Finland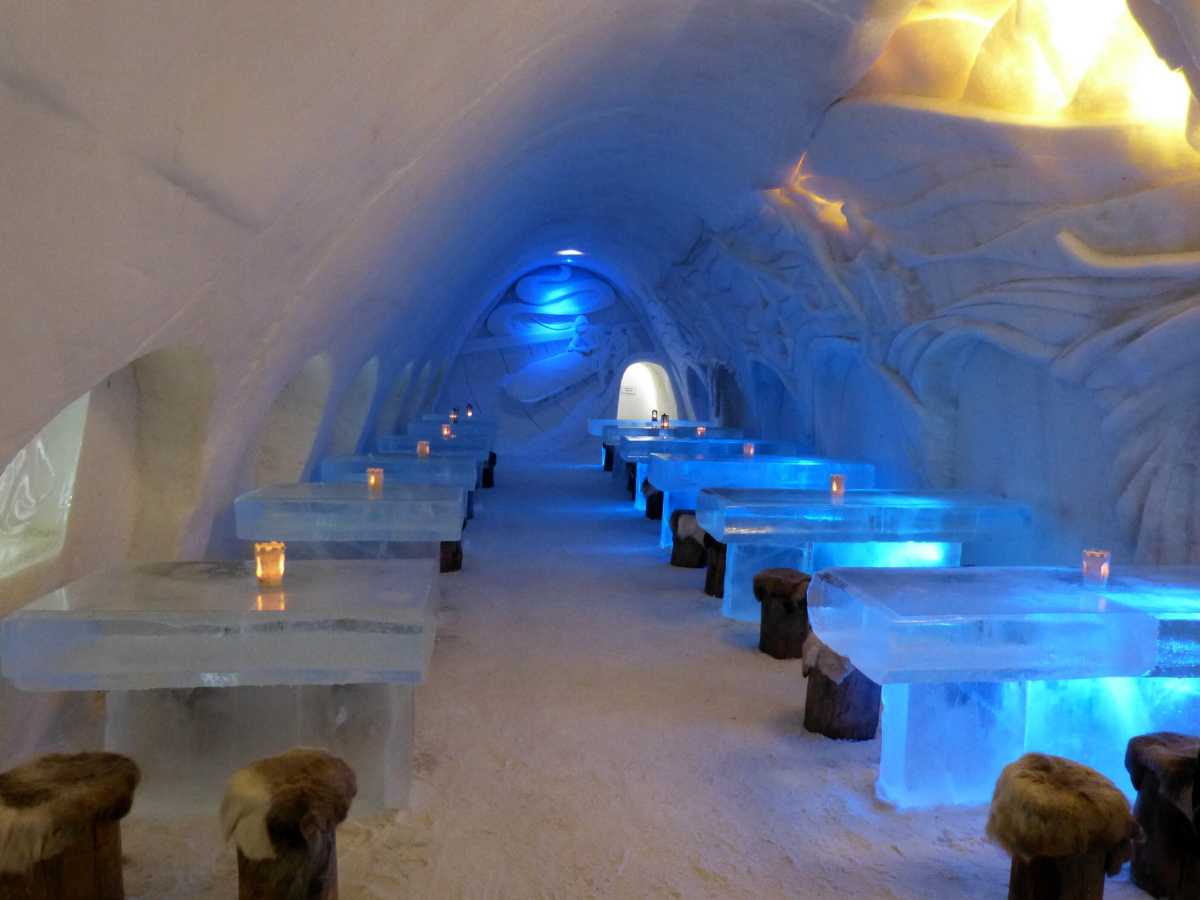 Put on your warmers and leather jackets and head to the Snow Castle restaurant to dine in the freezing and snowy chamber. Everything here is made of ice. Even your drinks will be served in ice cups. It bears an ice chapel making it a unique wedding location too. The restaurant encompasses many activities like ice breakers and more. Start off with the irresistible mulled wine, go on to gorging on a warming vegetable soup, followed by fillet of reindeer, vegetables and a sauce made with loganberries and end with a cranberry mousse which is a speciality here. With such a well-curated dining experience with an icy twist, who wouldn't want to head here?
Address: Lumi Linnankatu 15, 94100 Kemi, Finland
Cost for two: INR 6,500
9. In Situ SFMOMA Museum Restaurant, San Francisco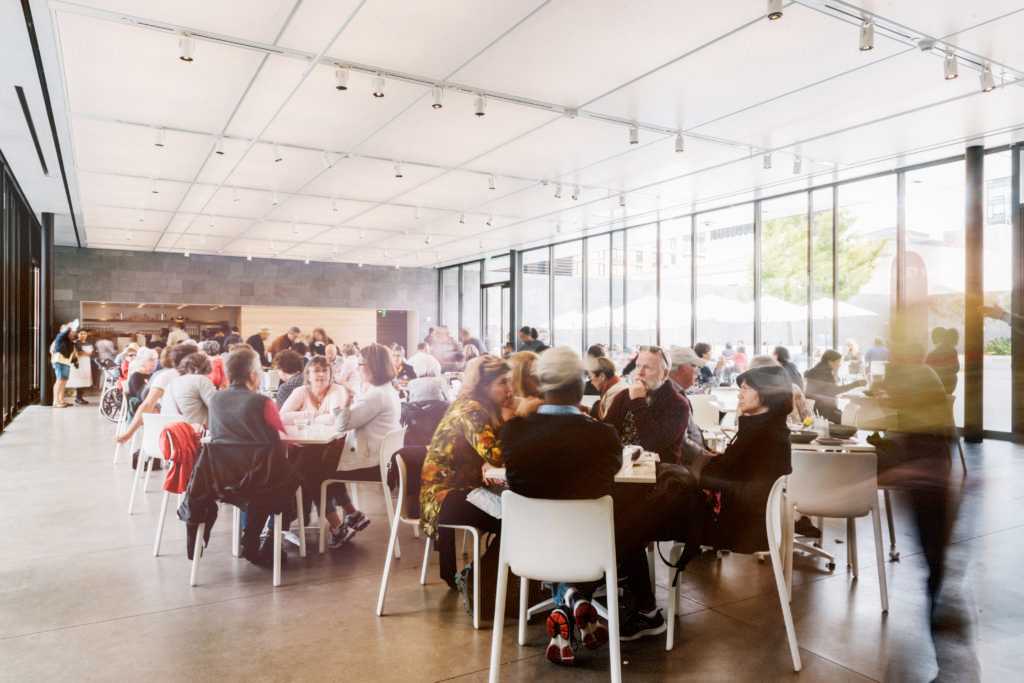 In Situ is a restaurant offering a multitude of dishes curated by over 90 chefs from across the world. No, we're not kidding! It's a Michelin star restaurant known for its gourmet experience, offering palate-pleasing dishes to all its diners. The chefs have put down offbeat dishes on the menu to make it stand apart from any conventional five-star restaurant. For appetisers, they have dishes like raw lobster, yellow chives and basic cake. For mains, Celeriac and Goat Cheese Profiterole; a David McMillan recipe, and for desserts they serve interpretation of vanity and Jasper hill cheesecake. The variety of wine accompanists are spectacular. It's a high-end, up-beat place showcasing dishes that you'll never come across!
Address: 151 3rd Street, San Francisco, CA 94103, United States
Cost for two: INR 14,300
10. The Disaster Café, Lloret de Mar, Spain
Ever thought of having a dining experience that comes with a nerve-wracking 7.8 magnitude of an earthquake. The Disaster Cafe in Spain will turn that eccentric thought into a reality. The customers are supposed to hold onto their drinks tights while simultaneously maintain a balance. While the cafe workers are expected to wear a helmet and construction suits, the diners are expected to be vigilant as they don't know when the earthquake's gonna strike. Now taste your food, and feel the ground suddenly shake, see the lights go out, and get ready to get the most ultimate experience of your life. The sheer thrill of the restaurant is what makes it one of the best restaurants in the world.
Address: 9, 17310, Carrer de Francesc Layret, Lloret de Mar, Girona, Spain
Cost for two: INR 24,000
11. The Grotto, Thailand
View this post on Instagram
Imagine yourself relishing delectable dishes but inside a huge cave. Well, that's what awaits you at The Grotto. The restaurant is literally inside a cave at Thailand's luxurious Rayavadee Resort. Absorb the gorgeous beauty of the rocky islands named Ko Kai and Ko Poda and dine inside a high-roof limestone cave. Fare leans Thai, and prawns are the most popular dishes of the place and the stunning ambience adds the icing on the cake.
Address: Ao Nang, Mueang Krabi District, Krabi, Thailand
Cost for Two: INR 4400
12. The Rock Restaurant, Zanzibar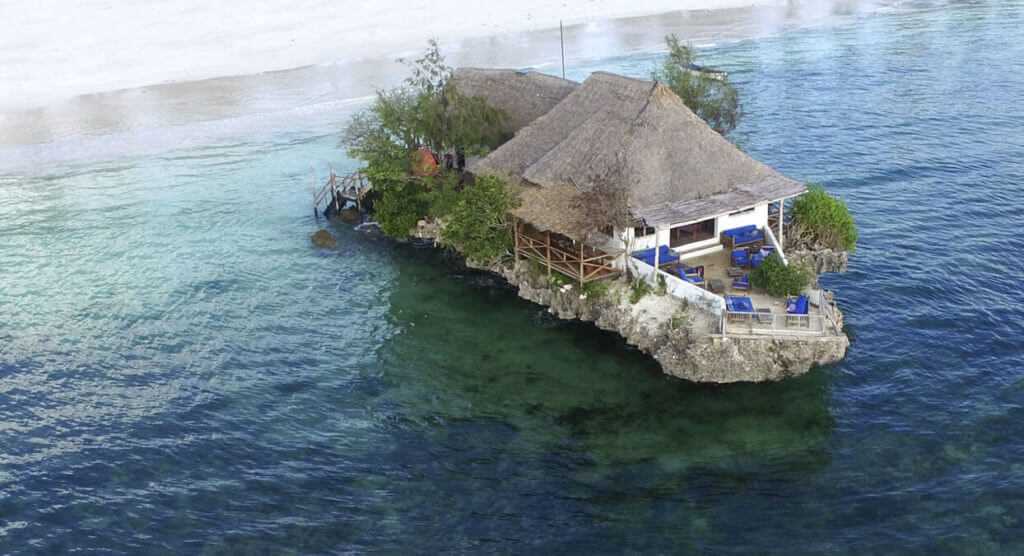 This world-famous place doesn't just come with an amazing location but the food too is given a delectable twist with the Zanzibar and Italian cuisine. This restaurant, perched on a rock in the Indian Ocean, appears to be straight out of a fairy tale and boasts of an international, cosmopolitan menu and caters to all people, including vegetarians. Get ready to relish the local seafood delicacies, and make sure you make prior reservations before hitting the place.
Address: Pingwe michanvi kae, Michamvi, Tanzania
Cost for two: INR 760 to INR 3000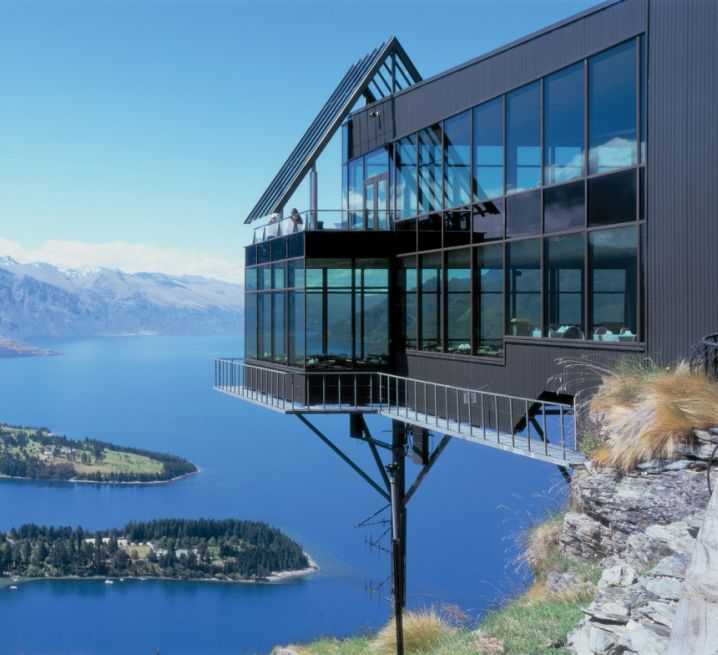 With a panoramic view, this beautiful restaurant offers a sumptuous buffet lunch or dinner, which is inspired by iconic New Zealand cuisine and is given various international twists. From fresh seafood to delicious vegetarian, the restaurant is a sheer delight where chefs prepare dishes using the finest of the ingredients at different interactive cooking stations. Not to forget, the desserts here just can't be given a miss. Stratosphere is on the list of best restaurants in the world as it probably provides one of the best views.
Address: Skyline Queenstown Brecon Street, Queenstown 9300, New Zealand
Cost for two: INR 2,783 - INR 3,490
14. Trinity Place, New York City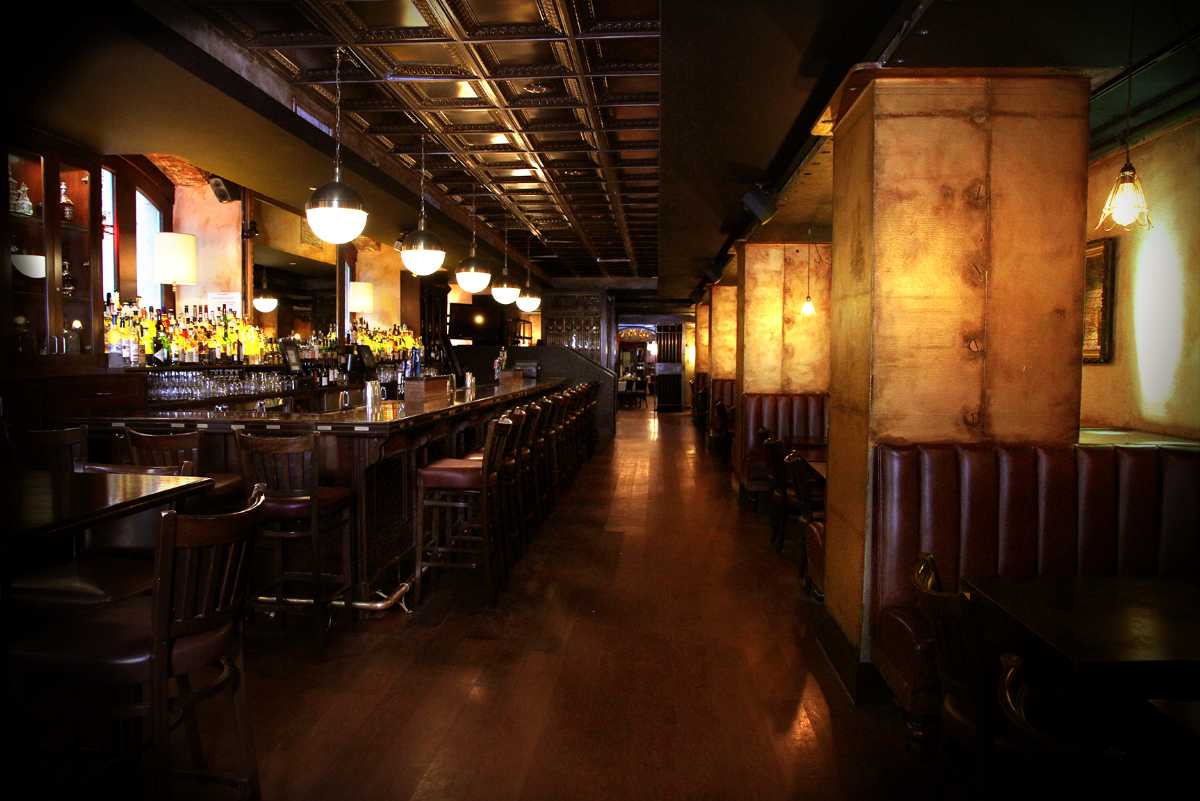 This stunning place is nestled in an old bank vault constructed in a magnificent skyscraper, that brims with historical opulence and mysteries. This old vault was carved in the year 1904, and as restored from its dusty conditions in 2006 that gave birth to the famous Trinity Place Bar. This historical bank vault turned restaurant holds low lighting and splendid ambience. The place comes with excellent service facilities and gives its visitors loads of delectable gluten-free and vegetarian options.
Address: 115 Broadway, New York, NY 10006, United States
Cost for two: INR 2,667 - INR 3,429
15. 58 Tour Eiffel, Paris, France
View this post on Instagram
Ever dreamt of dining in the Eifel Tower? Then 58 Tour Eiffel is where you need to head. Perched at a height of 58 meters above the ground, the restaurant with its amazing french cuisine will leave you gasping for more. Ingredients only produced in France are used at 58 Tour Eiffel and offers a fixed menu that includes a glass of champagne, a starter, wine and water, main course, dessert and coffee. You can also order a-la-carte if you prefer.
Address: 1er etage Tour Eiffel Champ de Mars, 75007 Paris, France
Cost for two: INR 3,375 - INR 13,995
16. El Tovar Lodge in Grand Canyon National Park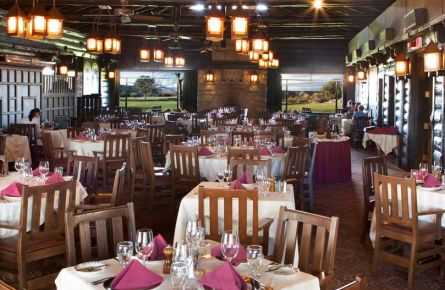 Gourmet dining in an environment of historical and casual elegance is what awaits you at this world-class dining place. Located in the historic El Tovar Hotel, this celebrated and majestic Dining Room is constructed of native stone and Oregon pine. The place has numerous paintings of the canyon created by the local artists and holds spectacular views, where the diners can enjoy the hazy sunsets along with the mouth-watering dishes. What brings this restaurant in the list of best restaurants in the world is the stunning views diners get of the Canyon.
Address: 1 El Tovar Rd, Grand Canyon Village, AZ 86023, United States
Cost for two: INR 7000
17. Le Panoramic, France - Switzerland Border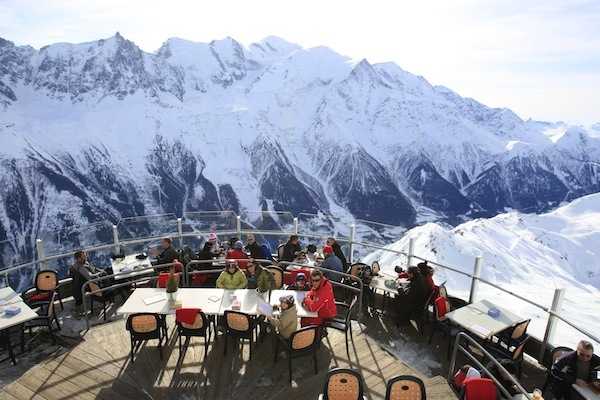 Perched on the summit of Brévent, near the France and Switzerland border, Le Panoramic offers you a panoramic view of Mont-Blanc. The place is open for lunch and snacks and could be accessed via gondola or the cable cars. The restaurant serves Savoyarde food as well as pasta, soup and steak.
Address: Le Brevent, 74400, Chamonix France
Cost: INR 991 - INR 1,905
18. Central Perk, Beijing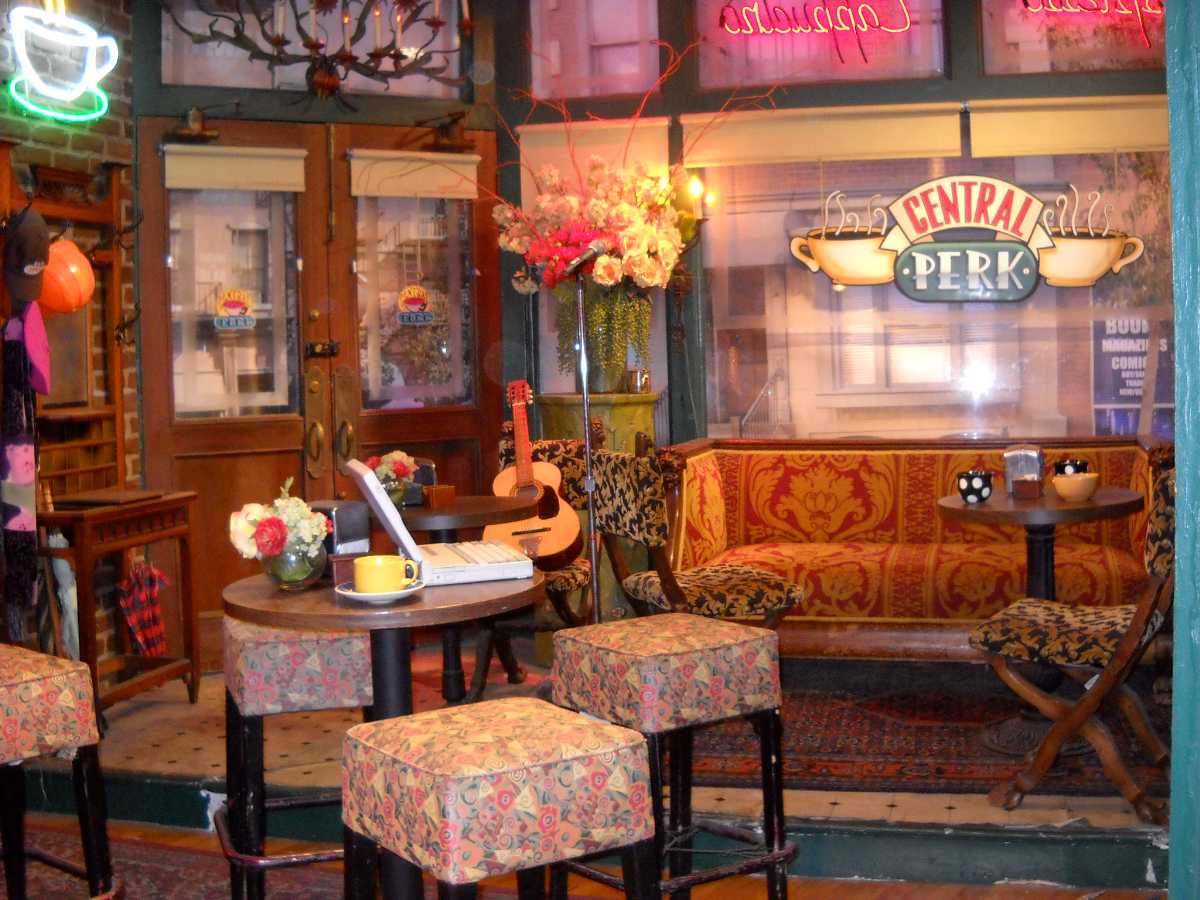 Can't get enough of the 'F.R.I.E.N.D.S', the classic American sitcom, well, then this working replica of the popular Central Perk Cafe from the show in Beijing, will enliven your memories and is the perfect hangout spot that you need. Only a true fan will flag this as one of the best restaurants in the world. The owner of the cafe, Du Xin, who describes the show as his religion, has beautifully recreated every aspect of its bohemian style. The TVs in the cafe also play Friends' episode with Chinese subtitles, and each food item in the menu comes with an annotation that states on which episode did that dish appear on the show. The cafe also has identical brick walls, tables, and even the ever-present orange couch, this Central Perk in Beijing is the hotspot for local fans of the show.
Address: 616, Bldg A, Chaowai SOHO CBD, Chaoyang District, Beijing China
With these splendid dining experiences housed in several locations of the world, make sure to flank them during your visit as it's worth it! The list of best restaurants in the world will render experiences that you are unlikely to expect! Have you visited any of these? Give us your review in the comments below!