Lazy summer afternoons, temperatures lingering with ice-teas and lemon sodas and idle holidays almost asking you to step out into a vacation. Sounds June enough? Let's try another version, with 20 places to visit in June in India- its temperature, season, dates and holidays. Pick the one for you, for a June that says 'GET.SET.PACK AND HOLIDIFY'.
1. Spiti, Himachal Pradesh - A lesser known adventure
If you are into mountain biking, you should probably be packing your bags for Spiti by now, for it is a place to visit in June in India that can offer a ride you don't want to miss. Even otherwise Spiti has a bit of every colour from some of the highest lakes in the world, monasteries to an unseen charm of these mountain desert valleys.
Spiti Travel Guide  Book Your Trip
2. Srinagar-Jammu and Kashmir - For a  house on a lake.
One moment getting up to a beautiful sunrise on your houseboat, while going for a Shikara ride through Dal lake and countless flowers, in another. This is pretty much what Srinagar feels like, be it its gardens, lakes like skies you can ride through or the most photogenic views your camera might hold.
Srinagar Travel Guide  Book Your Trip
3. Mussoorie, Uttaranchal - The picture perfect hill station your summers are incomplete without
Mussoorie has been an escape from the unforgiving heat in the plains since the colonial era and is still pretty wonderful at that job. This 'Queen of hill stations' has a bit of history and most of nature's pretty gifts from streams to waterfalls to make an ideal summer vacation place to visit in June in India for you.
Mussoorie Travel Guide  Book Your Trip
4. Kudremukh, Karnataka - Literally meaning horse-faced, this one is brimming with lush greenery
Kudremukh has been a popular getaway from Bangalore for a while now and with some natural hotspots and a mountain range recognised as a UNESCO world heritage site, this one needs to be marked out in your calendar this June. It has got all you can ask from a hill station and some of the densest and green forests you might ever go trekking through.
Kudremukh Travel Guide  Book Your Trip
5. Tawang, Arunachal Pradesh - Your escape into a scenery of spirituality and colourful monasteries
Tawang is popular as the birth-place of Dalai Lama and is an almost perfect destination with its sceneries echoing with chants of spirituality and Buddhism. Tawang has many monasteries laid out all across its mystical landscapes, with Tawang Monastery being the most popular one.
Tawang Travel Guide  Book Your Trip
6. Mudumalai, Tamil Nadu - For an exotic break with the rarest of creatures
If your idea of this summer is about exotic flora and fauna, spotting wildlife around lush green forests and bird-watching with skies filled with rare varieties of birds, then Madumalai is beyond perfect. With views inherited from the Nilgiris, Madumalai National Park can offer you a truly memorable June.
Madumalai Travel Guide  Book Your Trip
7. Aizawl, Mizoram -A summer tinted in cultures and colours of Mizos
Aizwal can be the very colourful and lively bit of the North-East you want to explore this summer. A state museum, the highest waterfall in the area, a lake borrowed from a fairy-tale, hills and picturesque views, this capital is a simple summer getaway which will almost leave you enchanted.
Aizawl Travel Guide  Book Your Trip
8. Lansdowne, Uttarakhand - A summer vacation right from the colonial era
Lansdowne is the place to visit in June in India for you if you want peace, calm and quiet on one hand and adventure, Jungle Safaris and trekking on the other, on demand. For the rest of your time here, you can let the beauty that the area shares with the Himalayas refresh and fascinate you as you walk through its landscapes full of pine and oak.
Lansdowne Travel Guide  Book Your Trip
9.  Hemis, Jammu and Kashmir - Your vacation borrowed from paradise
Ever thought what it would be like to have sceneries borrowed from paradise filled with colours of Buddhist festivals, chants and awe- inspiring monasteries? Hemis is the very place to visit in India that this dream would look like, on each side of it,  beyond imagination and absolutely breathtaking.
Hemis Travel Guide  Book Your Trip
10. North Sikkim, Sikkim - Like most magical things this one too is lesser known and mostly uninhabited
This one is mystical, magical and serene and all yours to keep for the summers. It is one of the most uninhabited areas of the country given the harsh conditions, but summers will let you see its softer and welcoming side. Along with one of the highest lakes of  India, North Sikkim is the home to the most heaven-like landscapes and views.
North-Sikkim Travel Guide  Book Your Trip
11. Ponmudi, Kerala - Your pleasant surprise from the Western ghats
While most of Kerala deals with a hot and humid summer, Ponmudi is a pleasant surprise for the area. It checks all columns on your list with a Golden Valley, tea plantations, water springs, waterfalls and streams, a deer park and sparkling green surroundings almost defining the area. Top it up with a bit of excitement with trekking and mountain climbing and there it is – an ideal summer vacation in India.
Ponmudi Travel Guide  Book Your Trip
12. Hemkund Sahib, Uttarakhand - A vacation more spiritual
This is the place to visit in June in India if you want to be someplace which has lakes and mountains guarding a temple and a gurudwara which have histories as sacred as the air here. And if you are running a bit late this June you might get to witness a Valley of Flowers, nearby almost ready to bloom in the coming month.
Hemkund Sahib Travel Guide  Book Your Trip
13. Mount Abu, Rajasthan - Rajasthan's only hill station
Sitting among green forests on the state's highest mountain. Mount Abu provides respite from the scorching temperatures and arid terrain of Rajasthan. This place is especially hit with honeymooners and middle-class families from the alcohol-dry state of Gujarat. It is of great spiritual importance for both Hindus and Jains and has over 80 temples and shrines, the most notable one being the famous Delwara temple. The place gets pretty busy from May, when the Summer Festival hits the town, with music, fireworks and boat races.
Mount Abu Travel Guide  Book Your Trip
14. Manali, Himachal Pradesh - Adventure Sports capital of Himachal
Manali is a year-round magnet for tourists, with a spectacular view of the Pir Panjal and Dhauladhar ranges, and the Bear River flowing through the town. It beacons all kind of tourists here, the backpackers come here to hang out in the hippy villages, adventure tourists come for enjoying the adventure sports, and the honeymoon couples and families for the cool mountain air. It is also a great spot for unwinding before continuing the ardours journey into the mountains, as it is the jumping-off point for Ladakh, Spiti and Lahaul.
Manali Travel Guide  Book Your Trip
15. Gangtok, Sikkim - Land of monasteries
One of the most visited destinations in India, Gangtok is a beautiful and serene town housing a great number of Buddhist monasteries. It swarms with tourists in the month of June because of the pleasant weather. The mighty Kanchenjunga serves some of the most mesmerising views during the sunset and sunrise. What makes Gangtok more alluring is the blend of varied cultures and religions. It is the perfect destination for a relaxing vacation on the nature trails.
Gangtok Travel Guide  Book Your Trip
16. Coorg, Karnataka - Scotland of India
Gifted with emerald landscapes and acres of plantations, Coorg is nestled amid the ageless hills and is a major centre for coffee and spice plantation. This is one of the most preferred tourist destinations in the South. The uneven and cool terrain makes it a great spot for trekking and bird watching. Visiting Coorg is rejuvenation guaranteed. June is a good time to visit this place as you can watch numerous waterfalls.
Coorg Travel Guide  Book Your Trip
17. Amarnath - The holiest shrine in India
Dedicated to Lord Shiva, Amarnath is one of the holiest shrines in India. It is a naturally formed ice 'Shivalinga', set at an elevation of 4157 meters above sea level. This place is thronged by devotees in large number in what is famously known as the 'Amarnath Yatra'. According to some legends, it is the same place where Lord Shiva revealed the secret of life and eternity to Goddess Parvati. The Amarnath Yatra begins after the summers, making June a perfect time to visit the place.
Amarnath Travel Guide  Book Your Trip
18. Dalhousie, Himachal Pradesh - A welcome break from the other crowded hill stations
Yet another hill station established by the British, Dalhousie is a little less explored place retaining the old world charm in its colonial mansions. It provides a fascinating view of the nearby valleys and the lush surroundings. It has a number of mountains and river streams which are a must visit for the tourists. A perfect place to sit back and relax, Dalhousie transports you to a pollution-free environment in the lap of nature.
Dalhousie Travel Guide  Book Your Trip
19. Almora
Cradled in the Himalayan Ranges located on the southern ridge of Kumaon hills is Almora.  Magnificent view, mouth-watering cuisine, wildlife and easy accessibility from Kathgodam makes it a must visit place in the month of June for a perfect summer getaway.
20. McLeodganj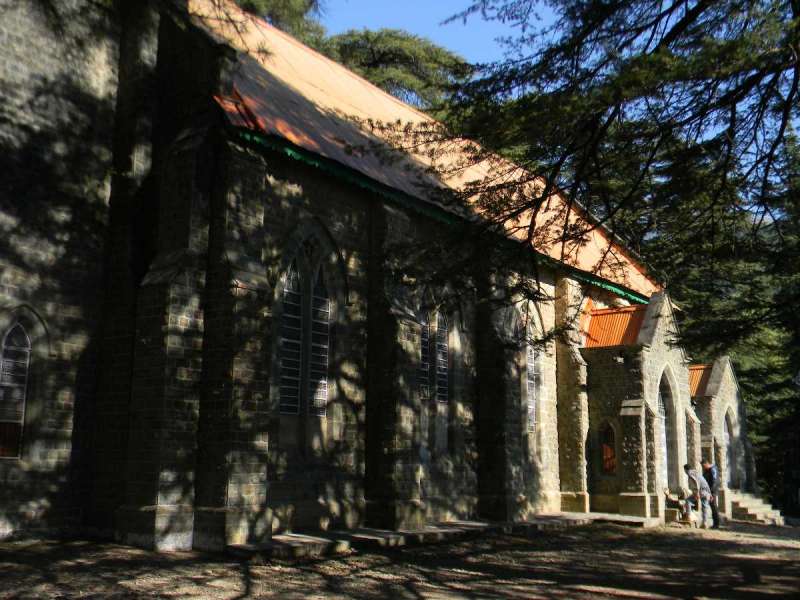 Mcleodganj is a hill station located near Dharamshala. With beautiful Tibetan culture influenced by british architecture, sumptuous food, mesmerising view of Dhauladar makes it a must visit place in June. There are also numerous trekking options available nearby Trekking Near McLeodganj – A Complete Guide
Have you visited our website to read travel guides for tourist destinations
Related Links:
Best Places for August in India
Best Places for September in India
Similar Posts That You Might Like