The ideal one-stop shopping complex for techies, gadget fanatics and IT professionals, Sim Lim Square adorns the Rochor Canal Road with its six whopping levels. Bustling with stores, each featuring a plethora of useful and amazing gadgets, this spectacular shopping and retail complex is a haven for everyone who loves a good bargain on IT products and electronic goods. From highly sophisticated digital cameras to rewritable compact discs, from sleek LED television sets to a range of computer parts, Sim Lim Square has it all. In addition to selling gadgets, this resplendent shopping complex also specialises in software updates and the repair and servicing of electronic products. Mundane peripherals are not the only products that are found here - people usually find themselves spoilt for choice among fascinating palmtops, thumb drives, and zip drives, among several others.
While the first three levels are mainly focussed on consumer electronics ranging from MD players to digital camcorders and office equipment like fax machines, levels three to six deal with an unparalleled range of computer components. Whether you are looking for a brand new product or a second-hand gadget, or if you are in search of an assembled computer built from scratch, Sim Lim Square is the place to go to.


Along with the endless, sprawling collection of the products, this IT shopping complex also houses a food court in its basement which specialises in Asian cuisine and ensures fast-paced delivery. The mall is also home to row after row of fun contests, mostly lucky draw competitions with cars, computers or cash as the winning prizes. All in all, people who shop at Sim Lim Square certainly hit the jackpot one way or the other.
History of Sim Lim Square
The construction of the magnificent retail complex began in 1983 and was originally meant to be shopping as well as an office complex. Two years later, this place was transformed into a shopping mall entirely devoted to electronics and electrical gadgets. The construction of the complex reached completion in January 1987.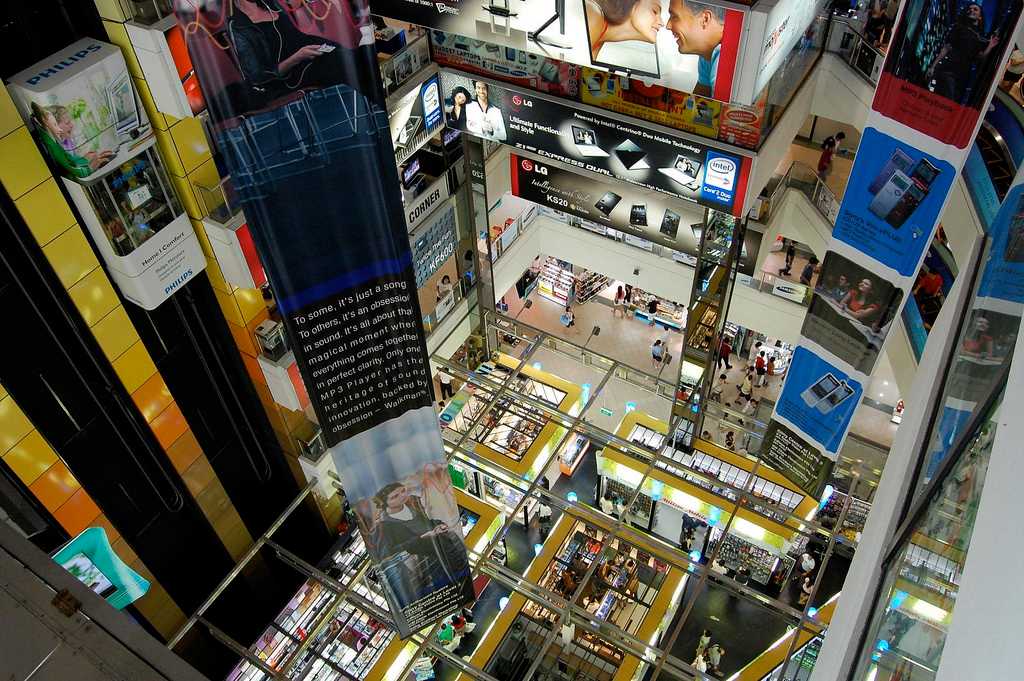 How to reach Sim Lim Square
Sim Lim Square is connected to many major routes and can be accessed both by the public as well as private transportation.
By MRT
From the Exit A of the Rochor MRT Station, it takes only a minute on foot to reach Sim Lim Square.
By Bus
Get on the bus 23, 48, 57, 66, 67, 170, 851, 960, or 980 and disembark at the bus stop at Rochor Canal Road. It is a short walk from the bus interchange to the shopping and retail complex.



Tips for shopping at Sim Lim Square
The arrangement of the products available at Sim Lim Square is quite haphazard which may turn out to be challenging to explore. Owing to this, the mall keeps a buyer's guide for anyone who wishes to seek assistance. Make sure to grab one of these guides before you commence shopping for a more organised shopping experience.


For receiving information about the best deals and getting the most out of the shopping experience at Sim Lim Square, ask for information about the products, get hold of the brochures that are distributed, and bargain for the best deals on goods.


Compare the prices of the products in various shops to find what is best for you.


To purchase the exact product that you are looking for within a short period, go through the online catalogue available on the official website of the Sim Lim Square complex first.


The prices here tend to be a fraction of the costs at other places hence tourists often prefer this complex to the ones in their hometowns. However, it is always recommended to check if the product can be used at home before purchasing it. For instance, factors like current capacity and voltage requirements may differ, in which cases an adapter should be purchased along with the products.