A total of fifteen interactive exhibits have been put up at Images of Singapore live.
Quayside Walk
The time-travel begins with the Quayside walk which aims to explore the docks of Singapore. This aims to explore the Boat Quay region of Singapore which includes the bustling Clarke Quay and the hub of Robertson Quay. These Quays were once integral for the economic development of Singapore.
Four Winds Trading Co.
From the Quayside Walk, you move on to the Four Winds Trading Company. Here, you can see how the growth of Singapore began. Shaped like an office from the past, the Four Winds Trading Company demonstrates what influences the city went through to be the metropolis it is, today.
Malay Fishing Village
Interact with actors dressed up as local fishermen and discover why Singapore is called so. The fishermen also take you through the signing of the treaty that founded the city for the first time.
Commercial Square
Soon after Singapore was established, traders from China, India, Southeast Africa and other countries started sailing to Singapore to establish a business. This part of the exhibit deals with the financial centre of Singapore at that time.
Chinatown
Follow an actor dressed up as a Samsui woman into the Chinatown of the 1900s. Thousands of Chinese moved to Singapore hoping to live a better life. However, most of their attempts were in vain as demonstrated by their dire conditions and cramped living spaces. Similar to the Chinatown Heritage Centre, this exhibit takes one through the harsh living conditions of the Chinese in Chinatown.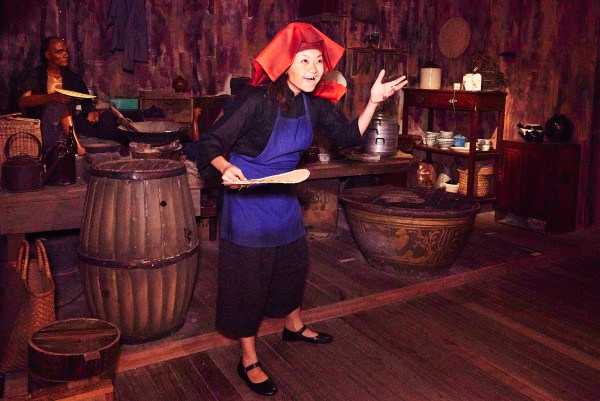 Jubilee Cinema
At the Jubilee Cinema, one can have a first-hand experience of watching a cinema back in the times. A siren sounds in the middle of the show, and terror awaits. The actor soon tells you that the Japanese are going to initiate an air raid and throw bombs down at the city and that everyone must evacuate immediately to a shelter. After a minute of staged running and screaming (very optional), you reach a shelter from where you depart into the next exhibit.
Television Shop
A rather excited-looking actor, dressed as the owner of the of a TV Shop greets you and goes on to invite you to watch several footages of Singapore between 1945 and 1965.
Miracle of Singapore
A timeline of the previous 50 years of Singapore is demonstrated in this exhibit. It is here that you will get an idea of how rapid and spectacular the growth of Singapore has been.
Spirit of Singapore Boat Ride
Words are not enough to describe how mesmerising this boat ride is. With its colours and magnificence, the boat ride explores the Botanical Gardens of Singapore, the Grand Prix and the Singapore Airlines Flight. There is also a huge Merlion which spurts out water from time to time. Once here, it is highly recommended to take the boat ride. Young ones would especially love it.