Picture-Perfect Beach of Ilot Gabriel
If the Ilot Gabriel beach had to be described in one word, the perfect word for it would be jaw-dropping. With unbroken stretches of powder-soft fine white sand, and calm, crystal clear sapphire water, the Ilot Gabriel beach is often used as backdrops for Mauritian postcards. Regardless of whether you want to lie back under the sun and laze the day away, or go for a long swim, or even a bit of snorkelling – if you're feeling slightly adventurous – the Ilot Gabriel beach is the perfect getaway. The beach can be reached via a catamaran trip, which is an integral part of the experience of visiting the island and the Ilot Gabriel beach.
Catamaran Cruise to the Island
Since the Ile aux Gabriel is located around twenty kilometres off the northern coast of Mauritius, the only way to get there is by availing of the catamaran cruises that ferry tourists to and from the island. There is one catamaran cruise scheduled every day, departing from the Grand Baie public beach at eight a.m. sharp. The cruise includes not only the trip to and back from the island, but also a barbeque lunch, free drinks, and options for snorkelling under the guidance of trained supervisors.
The time taken to reach Ilot Gabriel beach from the Grand Baie beach takes around 1.5 hours, and the scheduled return time back to Grand Baie is at 4 p.m., so you get about 5 hours on the beach to relax and enjoy the beautiful scenery all around.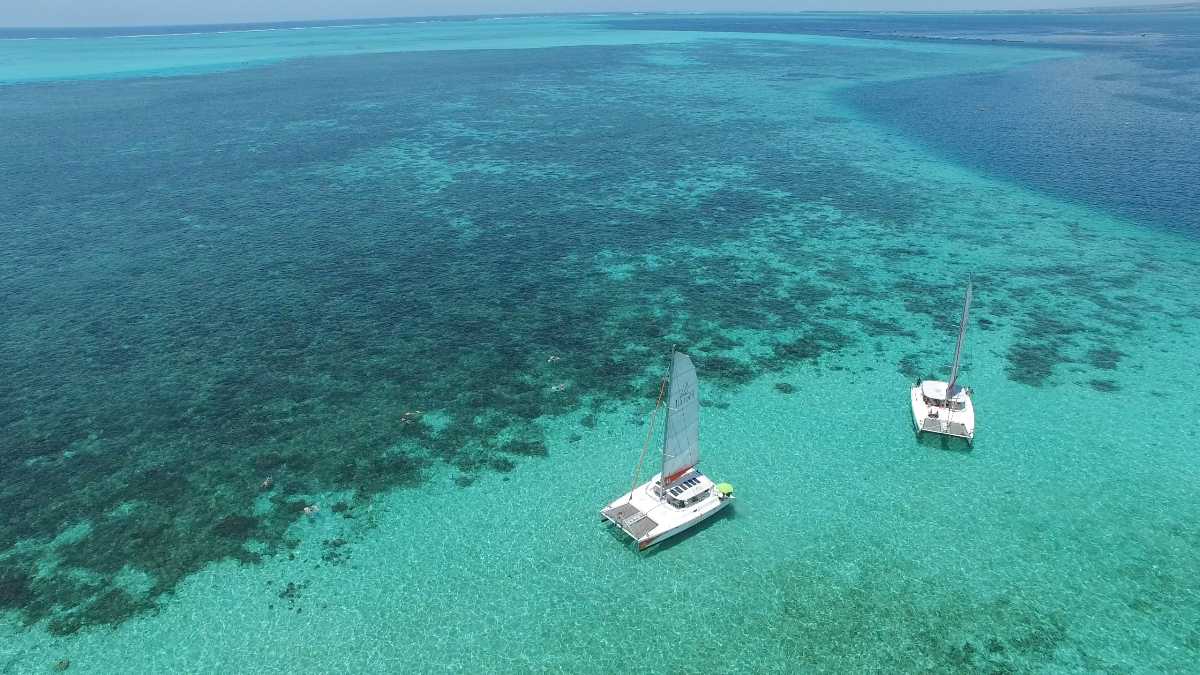 The Ilot Gabriel beach is fringed with lush green vegetation, and the green spots in and around the beach make for great picnic spots. Snorkelling in the lagoon around the beach is a must-do tourist activity because the island is mostly surrounded by a reef, which not only ensures that the water is calm enough to provide excellent visibility of marine life, but you also get to witness the colourful diversity of the coral reefs.
If snorkelling is not your thing, you can go for a swim in the cold blue waters, or maybe even take a walk down the beach, soaking in the breathtaking landscape all around and feeling the ocean wind in your hair! Lunch is served at around 12:00 - 12:30 PM onboard the catamaran itself (please note that if you're a vegetarian, you will have to notify the tour operators while making the cruise booking). During the return journey from Ilot Gabriel beach back to Grand Baie, the catamaran makes a quick stop at Gunners Coin island for another short round of snorkelling (for those who're interested, that is), and then you return to Grand Baie at around 4:00 PM.