The Truc Bach Lake is one of the many lakes in Hanoi. It is an ideal spot for those looking for a beautiful landscape with many historic relics and unique architecture. Around the lake you can visit the ancient pagoda and statue of Amida, the Quan Thanh temple to worship Saint Tran Vu or the Chau Long pagoda. There are many shops selling coffee, beer and a delicious lunch for you to grab.
Truc Bach Lake, present in Ba Dinh district of Hanoi, is one of the many lakes in the city, and undoubtedly, an attractive destination in the city. Thanh Nien Street separates Truc Bach Lake from West Lake, which is the biggest lake in the city. Being located near Hanoi's Old Quarter, Truc Bach Lake is a favourite chill-out spot for many shoppers who yearn for unwinding strolls and comforting sunset views.

Historical Significance of Truc Bach Lake


Initially, Truc Bach Lake was a part of the enormous West Lake. However, in 1620, the residents of Ye Hoa and Yen Quang built a dyke across this big lake in the form of a small embankment to expedite fishing activities. As a result, it was separated into two lakes - the western part became West Lake, and the eastern part became Truc Bach Lake. The dyke was known as Co Ngu embankment, which is presently the Thanh Nien road.
The origins of Truc Bach Lake dates back to the 17th and 18th century when it first came into existence under the reign of King Le and Lord Trinh. A palace was built on the lakeside during the 18th century, which was later transformed into a reformatory for rebellious royal concubines. The accused were condemned to this place to spend their punishment days weaving pure white silk. It is not much of a scenic monument in today's date, but the grounds make up for a tranquil stroll.
McCain Memorial at Truc Bach Lake

Truc Bach Lake has a strong connection with the Vietnam War, and it is depicted through the John McCain Memorial near the lake. John Sidney McCain, a US Navy aviator, was on a mission against a Hanoi power plant during the Vietnam War. On 26th October 1967, an anti-aircraft missile shot his plane down. He somehow managed to parachute down into Truc Bach Lake, almost making him drown. Nonetheless, the city residents dragged him out of the water and assaulted him severely. Eventually, he was held as a prisoner of war. The John McCain Memorial stands on Thanh Nien road at the western shore of the lake, and it commemorates the capture of 'Tchn Sney Ma Can'. Fascinatingly, it was not until 1985 when John McCain saw the monument during his first journey back to Vietnam.
Truc Bach Lake Restaurants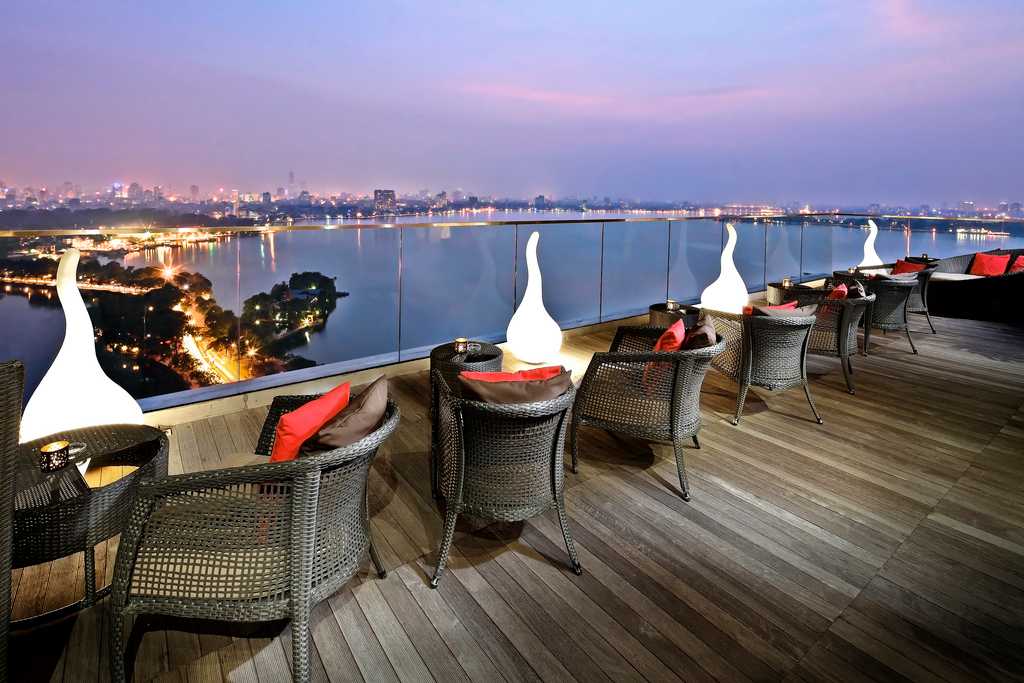 Truc Bach Lake not only attracts visitors with the serene views of its calm waters but also with a number of eateries in the region. Tourists can sit and relax in these restaurants and bars while appreciating the incredible lake views. Here are some of the frequently chosen eating options near Truc Bach Lake:
1. Foodshop 45:
With a delightful waterfront location on Truc Bach road, this restaurant is famous for its international cuisines. Some of its specialities include traditionally cooked Indian curries and naan bread.
Opening hours:
10:00 AM to 10:00 PM
2. Bia Hoi U Phao:
Serving the best crispy pork belly in Hanoi, this is an ideal dining spot adjacent to Truc Bach lake. It is also a fine place for trying out the popular draught beer of Vietnam - Bia Hoi.
Opening hours:
All day
3. Standing Bar:
Featuring 19 taps and specializing in craft beer, this place is perfect for chilling out with friends. Contradictory to its name, the open balcony and outdoor seating area provide lovely lake views.
Opening hours:
Tuesday to Sunday: 4:00 PM onwards
4. Summit Lounge:
If you want a unique place to witness impressive views of West Lake, Truc Bach Lake and the suburbs of Hanoi along with a wide array of light meals and drinks, visiting the Summit Lounge on the 20th floor of the Pan Pacific Hotel is what you are looking for.
Opening hours:
4:00 PM onwards
How to Reach Truc Bach Lake

By Motorbike:
Xe Om, meaning motorbike drivers in Vietnamese, is available on almost every corner in Old Quarter. Your negotiating and bargaining skills will prove to be beneficial in deciding the fair. VND 10,000 per kilometre is a good starting price to stick with.
By Bus:
The bus services in Hanoi are the scam-free means of exploring the city. Though it can be a little tricky to comprehend in the beginning, buying a guided map with printed bus lines can be helpful. Some buses have LED displays and loud audio announcing the bus route. It generally costs VND 7,000.
Truc Bach Lake Geography

Truc Bach Lake has privileged topographical conditions that make it such a special attraction among tourists. The middle of the lake has distinctive features like a whirlpool, a gem-illusion dragon, and a pearl shaped knoll known as Chau Long. The banks of Truc Bach Lake are made of stone, and the surrounding pavements are gravelled with tiles. Miniature flower gardens with grass, roses and daisies encircling the lake augment its natural charisma. Rows of bamboo and willow trees along the pathway provide a refreshing sensation to the strollers. Recently in the year 2000, Truc Bach Lake was upgraded with the introduction of circle-streets called Tran Vu and Truc Bach streets; both these streets link the two ends of Thanh Nien road.

Tourists mainly visit Truc Bach lake to check out the historic relics and unique architecture in the nearby areas. The statue of Amida and an ancient pagoda at Ngu Xa peninsula, Quan Thanh temple, Chau Long pagoda, Ly Tu Trong Park, and the 4-meter tall bronze Buddha statue at Than Quang - all of these establish the harmonious and beautiful landscape around Truc Bach lake, making it an ideal destination for both locals and foreign tourists in Hanoi.