Summer has officially arrived and along with it comes the dirt, grime, and sweat from our everyday lives. Cool down, take a much-needed break from your stressful lives and beat the summer heat by heading to one, or, if you're feeling adventurous, more of these fantastic Water Parks in
Chennai
.
1. VGP Universal Kingdom - One of The Best Water Park in Chennai
The VGP Universal Kingdom has a high reputation for being a fun and entertaining hangout spot. They have a long stretch of greenery near the beaches, Paneer fort and live music show every year. Those who have visited it have often likened it to being in a completely different world. The aqua Kingdom is the most significant Waterpark in Chennai. Popular rides include the tornado, the lazy river, and the wave pool.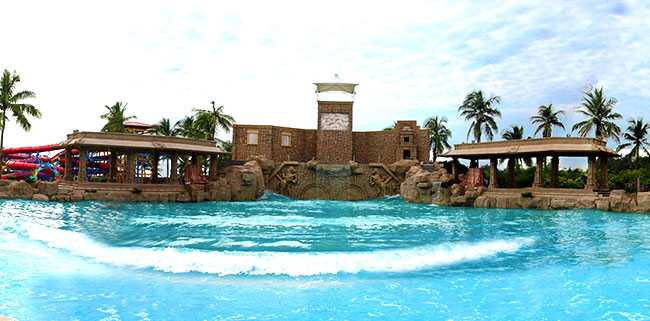 Address
East Coast Road, Injambakkam, Golden Beach, Chennai, Tamil Nadu.
How to get there
You can get there by Car or Bus. Parry's corner bus route number 109 stops at the entrance of the park. T.Nagar Bus Route number 19H takes 45 minutes to reach the entrance. Koyambedu Bus route number 599 takes 1 hour and 30 minutes to reach the entrance at Injambakkam. The Saidapet Railway station is located close to the park
Ticket price
This is divided into two categories Silver crown and Golden crown.
The silver crown includes complete access to all rides at the Universal Kingdom.
Adults: INR 350; Children: INR 300
The Golden crown includes complete access to the universal kingdom and the water kingdom.
Adults: INR 475; Children: INR 375; Still camera: INR 10; Handycam: INR 50; Professional Video camera: INR 2000
Timings
10:00 AM to 6:30 PM on Weekdays
10:00 AM to 7:30 PM on Weekends
Phone numbers
+91-7667847847 / +91-044-24491443 / +91-044-24491445
Official website
vgpuniversalkingdom.in
2. Queensland
Queensland theme park in Chennai was started in 2003. One of the most visited water parks in Chennai, it encompasses a 70-acre campus. The park has 33 rides for adults and 18 rides for children. Popular rides include Freefall Tower which is 300 feet high, American wave pool, Himalayan Water ride, and octopus. Queensland has been popularly known as the best water park in Chennai.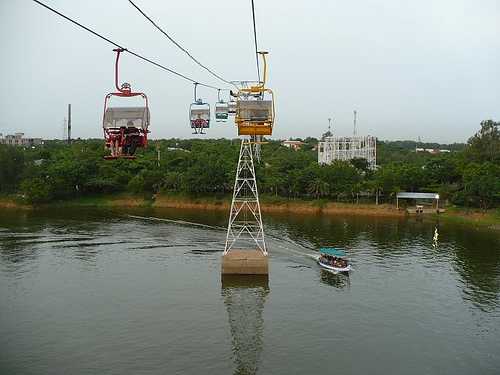 Address
Bangalore-Chennai Trunk Road, Palanjur Village, Near Pleasant Days Resort, Chennai
How to get there?
It is located between Sriperumpudhur and Poonamalle and therefore, is relatively easy to get there. You can also take the busses from T. Nagar depot. The stop is called Queensland stopping.
Ticket Price
Adult - INR 550; Child - INR 450 (No charge for children below 2 feet); Camera - INR 50 - DSLR not allowed
Timings
Monday: Closed (Except in May)
Tuesday to Sunday: 10:00 AM to 7:00 PM
Phone Numbers
044-26811124 / 044-26811136 / +91 9444394702
Official Website
www.queenslandamusementpark.com
4. Kishkinta Theme Park
Spread over 120 acres, M.C. Punoose founded this water park in Chennai. It was built in 1995 and ever since then has been a famous escape from daily life. Some believe that this was India's first theme park. Favourite rides include the anaconda slide, Eskimo slide and rain disco.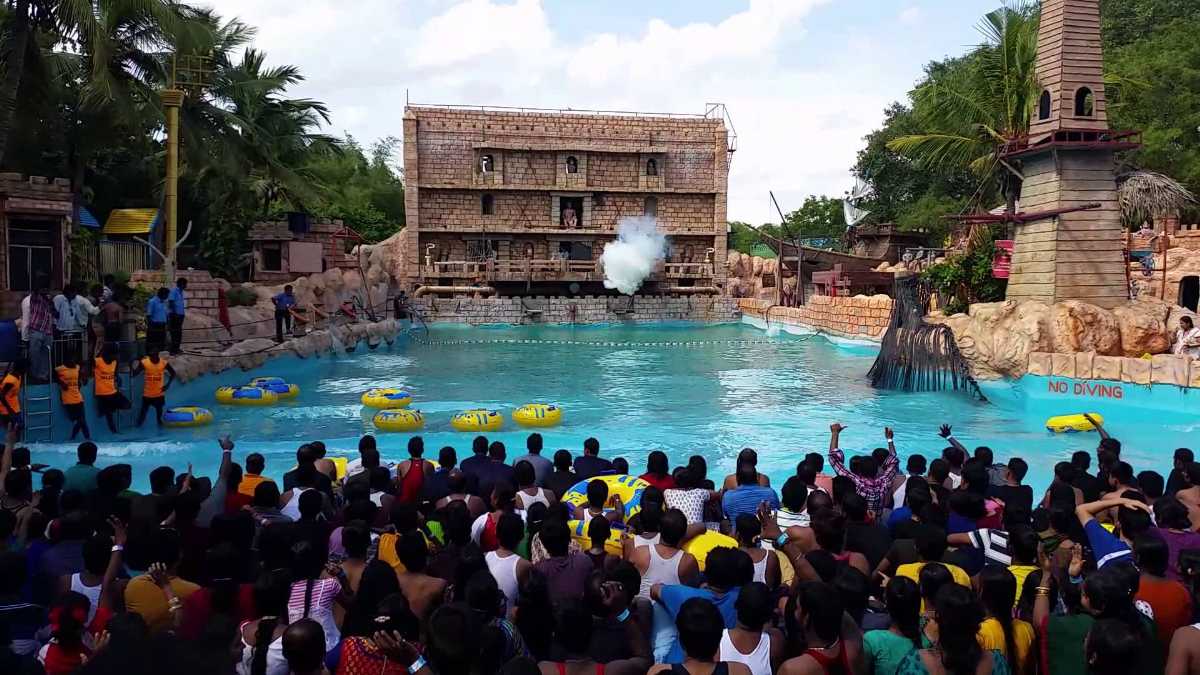 Address
82, Varasarajapuram, Darkas Ward II, Near Tambaram, Chennai.
How to get there
The park is located merely five kms away from Tambaram in South Chennai. If you're taking your vehicle, you can drive to Tambaram and then take the Rajaji Salai route to get to Kishkinta
Ticket price
Adults: INR 590; Children (Height below 4'6" and above 2'6"): INR 490
Timings
10:30 AM - 6:30 PM on weekdays
10:30 AM - 7:00 PM on Sundays and Public Holidays
Phone numbers
+91-44-32910078 / +91-44-22512001
Official website
www.kishkinta.in/
5. MGM Dizzee World
Spend an entire day of excitement and thrill at MGM Dizzee World. Known to be a thrilling water park, it offers 60 thrilling rides. Rest assured, the park conforms to all international safety standards. Popular rides include a water coaster, tornado, and the wave pool.

Address
1/74, East coast road, Muttukadu, Chennai
How to get there
The park is located approximately 35 kms from Chennai, near the east coast road. Most busses that go to Kovalam and Mahabalipuram stop at Dizzee World. If you prefer to use the train, the nearest station is Velachery from where a bus will take you to the park.
Ticket price
Mega Fun for adults: INR 899
Mega fun for children: INR 699
Jumbo package for adults: INR 599
Jumbo Package for children: INR 499
Timings
10:30 AM - 6:30 PM on weekdays
10:30-7:30 on weekends and Public Holidays
Phone numbers
044-27472129 / 9500063716 / 9500063717 / 9790955554
Official website
www.mgmdizzeeworld.com
So, on your next visit, apart from acquainting yourself with its history and culture, beat the summer heat at these Chennai Water Parks!