Paragliding in
Chennai
allows one to enjoy the thrills and excitement in the city while soaring in the sky. Paragliding requires the participant to strap on a parachute and fly through the sky. Visitors have the provision of enjoying an activity like paragliding in Chennai with the help of motors. This technique is called paramotoring. In paramotoring, the person is made to sit on a small motor car which has an attached parachute. The vehicle is driven fast on the plain land, and then the parachute lifts it into the air. 
Paragliding in Chennai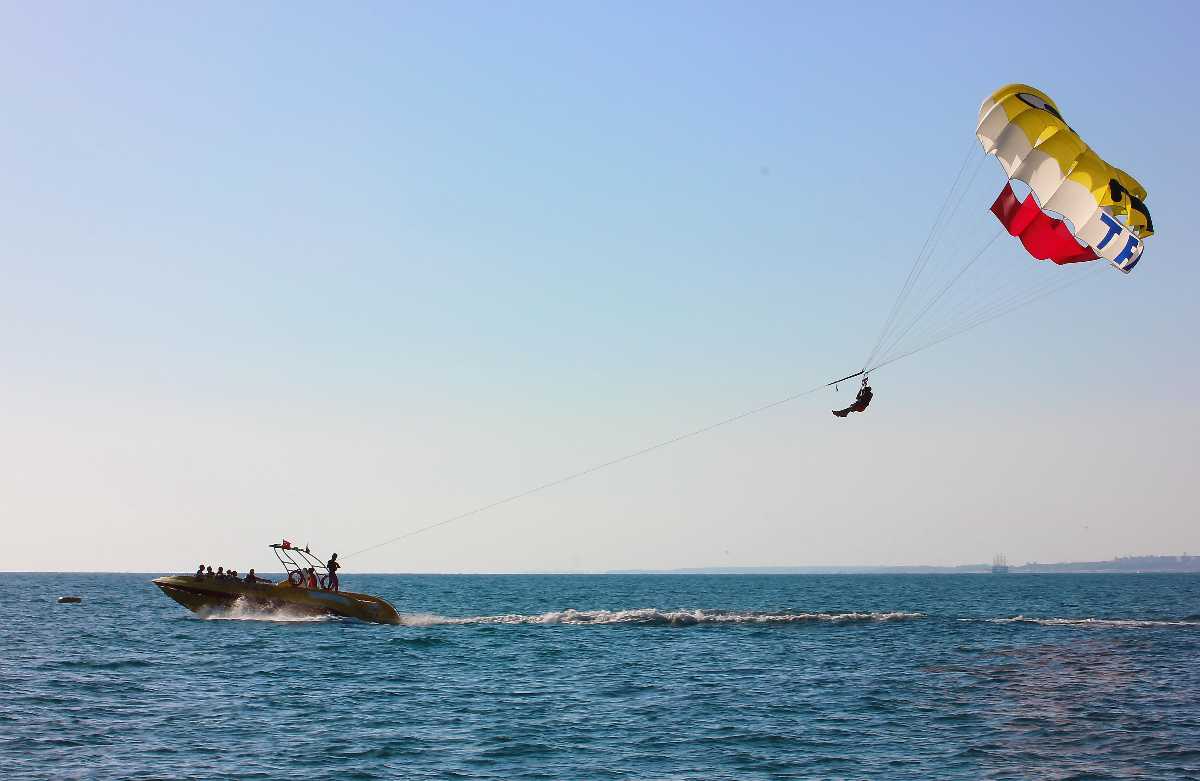 Paragliding is held on Marina Beach whereas parasailing (through the sea) is held on a small coastal town called
Kovalam
 in Chennai. In parasailing, one puts on the harness with the parachute attached and then a long rope attached to high-speed boat pulls the person in the air — quite an experience with a lot of adrenaline rush.
Best time
: Pre-Monsoon to Winter, October and February. Early mornings and evenings are the best time to fly.
Weight limit:
80 kg
Cost
: A ride costs approximately 2,500. Also, it costs about Rs. 700 for a solo ride of 20-minutes during the peak season. 
Height of flight
: The height depends primarily on the weather conditions. The paraglider is taken up to an elevation of 1000 feet on a plain ground. 
Location
: Held on boats off the coast of the Marina beaches and Kovalam, this adventure sport is popular with most tourists. One can either go solo or with a partner.
Timings
: From 9:30 PM to 6 PM.
Average flight time
: 10-15 minutes
Operators For Paramotoring and Parasailing in Chennai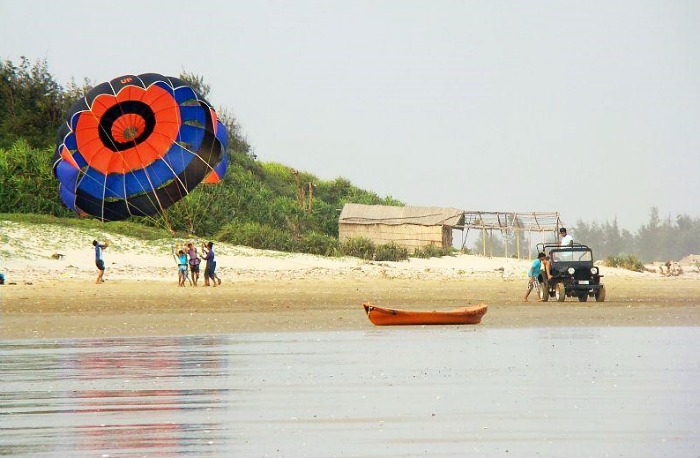 1. Adventure Aero Sports Association
It is a para-motoring facility in Palavakkam and organises tandem (two people – a rider and a pilot) para-motoring experiences for the public every weekend on East Coast Road (ECR). The best thing about paragliding is that the speed of flight is slow and the trip also feels very gentle. The take-off, ride and landing are quite smooth without any jerks or sudden ups and downs. 
Once airborne, your comfort level goes up. It may do good for people who have a fear of heights. Paramotoring is a simple way for people to overcome their fear of heights. 
Cost
: There are four different packages:
A silver package entails a ride for a maximum of five people at INR 2,500 per head
A Gold package allows ride for groups of above five people and below ten people at INR 2,000 per head.
The Diamond package is for a group of 16-49 people with a ride costing INR 1,500 per head
The Platinum Package is for a group of above 50 and less than 100 people where a trip costs just INR 1,000 per head.
Address: 305, Palkalai Nagar, Palavakkam, Chennai
Phone
: 094880 11194
Time Duration
: Each ride lasts for about 10-15 mins 
Features
: The organisers equip the rider with a safety helmet, a life jacket, a noise reduction headset and even attach a GoPro to a selfie stick to record your experience. 
2. Aero Sports
Timings
: Timings 10 AM to 9:30 PM.
Phone
:044 4315 0555. 
Address
: 1st Floor, Rajiv Gandhi Salai, OMR, Seevaram, Thoraipakkam, Nearby Seevaram Bus Stop, Chennai
Tips For Paragliding in Chennai:
1.Children above 5 years and elders up to 70 years of age can participate in the activity.
2. Follow the instructions very carefully and avoid doing too much movement on the paramotor.
3. The 20-minute flight can be terminated at any time and reach the designated landing area within minutes if one starts feeling uneasy. One needs to inform the pilot.
4. One can book a slot in advance since it's a popular activity, but there are not many places where it takes place in Chennai.