A North Indian in Chennai feels both apprehension and excitement. I went through the same process when my husband got posting orders for Chennai. Apprehensive because I have never been down South, not even as tourist and my mind was hazed by common stereotypes that a regular North Indian has for South India. Added to this were the horror stories about language issues. These are my,  a North Indian's, experiences in Chennai.
1.    Beach Prawn Shopping
Credit: http://squierj.freeyellow.com/
Those who know me will have no doubts that prawn shopping tops the list. Fresh catch of prawns is seductively displayed in heaps on the beaches of Chennai. Remember to negotiate hard. With time you learn the nuances of the game. They sell in heaps and not by weight. So you have to see that the heap is not misleading. The tactics is to place the big sized prawns on top while the smaller and sometimes the rotten ones are hidden underneath. Trust me it is an art and I am a pro at it now. The trick is to combine Tamil, English, Hindi and throw in a lot of body language to crack the best deal.
"Prawns romba costly solreenga …konjam less amma…"
Tip: Go late evening to get the best negotiated deal. I mean almost ½ kg of prawns in Rs. 40.
Chennaites have a good business sense. The moment you buy prawns, a lady sitting quietly till now will all of a sudden get hyper active – snatch your packet and start de-skinning and cleaning the prawns while shouting throughout… only 10 rupees, only 10 rupees. Well, not a bad bargain at all!
Ah! I so miss Chennai and prawns.
2.    Minimalist Fashion
Nighty seems to be the state dress for women in Chennai. Actually, nighty is the most practical dress in the sweltering humidity of Chennai. People here generally follow simple dressing unlike some other states like Chandigarh that can actually give you a complex of being under-dressed. I love Chennai for I could be myself, unkempt; not that I will grow bushy eyebrows but yes comfy dressing.
3.    The Love for Gajra
Every woman in Chennai gracefully wears a gajra be it young girls, married women, old ladies, corporate working class or a housewife. And, it is simply romantic! Very early in the morning you have ladies coming up with baskets of fresh gajra and selling from door to door. If you book them on monthly basis (which a lot of Chennaities do) then they will hang a packet of gajra on your door knob and it is the first thing you see when you wake up. Every street, every bus stop, and at every market you will find a lady with a small makeshift arrangement selling gajras. I so fell in love with gajra that I pestered Soumen to get one for me and put it in my hair in typical Bollywood fashion. He obliged, reluctantly.
4.    The Footwear Rule
If you are in Chennai then book yourself for a good pedicure membership. Most of the shops have leave your footwear outside policy. They have taken the 'work is worship' a little too seriously. Not that I have problems with moving around barefoot but I surely won't be comfortable in an unclean and unhygienic place but sadly,that is the case with most of the shops. Eventually, I ended up with limited shopping outlets.
5.    Wholesome Food
Chennai, the land of idli, dosa and aapams actually offers yummy, healthy and filling food within Rs 100.
At Murugan Idli, restaurant, a banyan leaf is laid  as soon as you sit (not even a minute is wasted) and an army of people with traditional pots and ladles will come in such speed that you are left startled. Varieties of chutneys, sambhar, vada, idli, dosa, rasam is served within matter of minutes. For the first timers this can be a little intimidating but soon you enjoy all this quick service.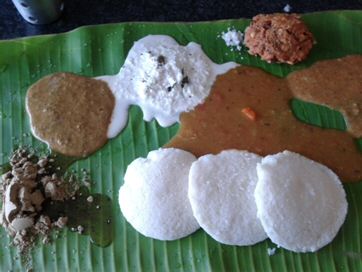 Each time at Murugan Idli we hogged like anything and even when we had stuffed ourselves with every possible variety of South Indian food with double servings of chutney and sambhar for which the bill would hardly cross Rs 500, for a group of four people.
The best thing about food in Chennai is that you can eat with hands. Fork and spoon is not even served. My father-in-law, a true Bengali at heart, once said, "Ah such is the irony that I am served with palatable food but because eating with knife and fork is considered courteous (stupid British systems) I am deprived of savouring the real flavours which emanates only when eaten by hands."  Isn't that true for most of us?
When in Chennai I realized that the South Indian food served in most of the restaurants in North India actually have a Punjabi Tadka(essence). The authentic South Indian dosa and sambhar is much different.
6.    Beach Romance
No matter how much a couple fights through the day if they go for a beach walk romantic feeling is imminent – the beach breeze, playful ambiance, moon light and beach food (vendors selling all sorts of snacks) makes you feel light and refreshing.
7.    Spencer Mall
I have a crush on Spencer mall. It is so huge with so many shops that you do fall in love with it and keep coming back frequently. The mall has 3 phases, 8 storeys and is approximately 1.068 million sq ft, consisting of nearly 600,000 sq ft of air-conditioned shopping units. You can practically spend 24 hours there. My personal record is straight 12 hours of marathon shopping inside Spencer mall. I got lost in there so many times, but that was fun too!
Spencer Mall has an historical angle worth mentioning. "Spencer Plaza was built in 1863–1864, established by Charles Durant and J. W. Spencer in Anna Salai, then known as Mount Road, in the Madras Presidency", quoting Wikipedia. So, it is just not another mall. It is part of history.
8.    Blind Love for Politicians
When it comes to show love for politicians Chennaities are quite expressive. I have come across men wearing huge gold rings, lockets and bracelets with Amma or Karunanidhi's pictures. And pure gold jewellery! That is the level of reverence. Often on roadside you can see larger than life cut outs of politicians so designed to resemble a sun with flames fluttering from all sides. It is truly a piece of art.
9.    High on Culture
In the evening giggling, girls dressed in Bharatanatyam dresses are seen almost in every colony. There is at least one dance and music academy in each lane. Such is the love for music and dance in Chennai. We also have the master himself conducting classes in Chennai, the A. R Rahman Music Academy.
Sensible audience with understanding and appreciation for literature is key to a commendable theatre culture of Chennai. I watched a play written by Girish Kannad and performed by Shabana Aazmi, Broken Images, that still remains very close to my heart. Unlike Delhi or Chandigarh you will not find a single mobile ringing or disturbance inside theater and that speaks volumes about audience maturity.
10. Lots of Money
From where do they get so much money? Huge saree shops and so systematic that it is unbelievable. Every variety has a different counter. Also no window shopping allowed for the first thing they ask is what's your budget? Kanjevaram sarees can be as expensive as 50K . The designs are traditional and you feel feminine wearing them. When it comes to saree shopping, Kumarans in T. Nagar is my absolute favourite.
Who wouldn't know about gold shopping in Chennai? Gold is quite cheaper in Chennai than any other state and that cajoles you to buy some more. Also the designs are inspired by Dubai and you get some beautiful designs.
Wandering in T.Nagar amidst all these flashy shops I missed having a hubby with a fat wallet.
Update: This post is adjudged the Top Post on Indiblogger
This entry has been shortlisted for Holidify's Travelogue Writing Contest in association with Linger. The content and pictures may not be used without prior permission of the author.
Submitted by: Gitanjali Banerjee
The original post can be found here.