The first food-related thought that pops up in our minds when we hear
Chennai
's name, is of idli, dosa, uttapam, and filter coffee. Starting off this piece of writing with the thought of these food items, shows how intrinsic they are to the food culture of Chennai (at least for us novices). With places serving absolutely any flavours of dosas, one finds it difficult to think of any other place to define Chennai's food culture. However, with the passing time, Chennai, like the other hubs of India, is embracing different food culture. A young Chennai (or anybody looking for a different variety of food for that matter), is embracing a different culture, that of the new swanky cafés.
While there is a whole new variety of places coming up, we have listed some of the best cafes in Chennai:
1. The Brew Room - One of The Best Coffee Shops in Chennai

This place is just heavenly for people who prefer an outdoor sitting arrangement in eateries. Especially on a nice, pleasant morning (really fresh), or a breezy evening (extremely romantic), this is the 'it' place to get away from the hustle-bustle of the city life. Touted as one of the best cafes in Chennai, The Brew Room is located in the gardens of The Savera Hotel which is an ideal spot for a Sunday brunch. The Hot Chocolate and Brownies served at this café, top the favourites chart. There is another branch of The Brew Room in Anna Nagar.
Location:
The Savera Hotel, 146, R.K. Salai, Mylapore
& Shop F 63, VR Mall 1st Floor, Koyambedu, Anna Nagar West
Average Cost for Two:
INR 1100
Timings:
8:00 AM to 11:00 PM
2. Tryst Café

The Tryst Café is the typical café which specializes in food items like Chicken Sandwich, Pizzas, Apple Strudel, coffee, Fajita, and bread. Yes. Bread. Located in the Gatsby Village, one just has to try the bakery section right at the entrance of this café. Initially, bread was sourced from Pondicherry for this great café. This practice soon ended as they started baking a whole new interesting section of bread. So, if you are craving a nice cafe in Chennai with some strong European vibes, head to this café! Oh, and do not forget to gorge on their signature bread, the Kraftkorn.
Location:
Tryst Café, Gatsby Village 359, East Coast Road, Neelankarai
Average Cost for Two:
INR 900
Timings:
9:30 AM to 10:00 PM
3. Chamiers Café - One of The Best Cafes in Chennai

Chamiers happens to be the absolute example of a classy, tastefully furnished, English café. One of the cute cafes in Chennai, the décor and the ambience of Chamiers Cafe is absolutely breathtaking. And in such a soothing décor, one can hardly resist their delectable menu comprising of coffee, chocolate drinks, and pancakes and waffles. While their coffee section is an ingrained part of the establishment, the café specializes in quick bites, the favourites being Risotto, Bruschetta Platter, and their salads. Head out to this beautiful Chennai cafe for some peace of mind!
Location:
106, Chamiers Road, Opposite Adyar Park Gate, RA Puram
Average Cost for Two:
INR 1000
Timings:
8:00 AM to 11:30 PM
4. Wild Garden Cafe - Amethyst

What started off as a fashion and accessories store has now become a beautiful venture known as 'Wild Garden Cafe - Amethyst', which comprises of a flower shop, fashion and accessories shop, and a café, which is currently hugely popular amongst the masses. If you are café hopping in Chennai, it would just be foolish to miss out on this one. You can choose a favourable sitting arrangement in the enclosed area, or the garden or verandah. While the beverage section obviously draws the crowd constantly (especially their coffee), the main highlight is the availability of their amazing breakfast section 24/7. Oh, and, this is THE place to head to if you are looking for a romantic dinner out!
Location
- Amethyst, next to Corporation Bank, Whites Road, Royapettah
Average Cost for Two
- INR 1400
Timings -
10:00 AM to 11:30 PM
5. Shiraz Art Cafe @ Tryst

If you find yourself daydreaming about having a nice meal, overlooking a beach, this is the place to be at! This café is also considered a restaurant, and the meals are absolutely worth the title. Specializing in the Persian cuisine, one must try their Brinjal Curry and Saffron Rice. Later, head out to this peaceful beach for a nice long walk!
Location:
27, Beach Road, Kapleshwar Nagar, Neelangarai
Average Cost for Two:
INR 1100
Timings:
12:00 PM to 3:00 PM; 6:00 PM to 11:00 PM
6. The 90's Café

As the name suggests, this quirky café in Chennai will instantly take you back to the 90s (hopefully you were born then and have a box full of memories). It happens to be an extremely small café, and it would be advisable to look out for it with an attentive eye, as it is slightly difficult to find. However, once you get here, just dive into the memories of the beautiful decade of the 90s!
Location:
AB 137, 4th Avenue, Shanti Colony, Anna Nagar East
Average Cost for Two:
INR 600
Timings:
12:30 PM to 11:00 PM
7. Ciclo Café

'Ciclo' (as the name suggests), happens to be an extremely popular (EXTREMELY POPULAR, I repeat) cycling café in Chennai. In fact, it happens to be the first-ever one in India. It's a dream come true for all of the bicycle enthusiasts, as it is much more than a décor based café. It happens to be fully equipped with all of the necessary equipment and is home to the top international brands. You even get to wash your own bicycle. Imagine. It is another experience altogether. And yes, coming to food, this café is extremely popular for its quick bites, like pasta, pizza, and pies.
Location:
47, Gandhi Mandapam Road, Kotturpuram
Average Cost for Two:
INR 1100
Timings:
8:00 AM to 11:00 PM
8. Kipling Café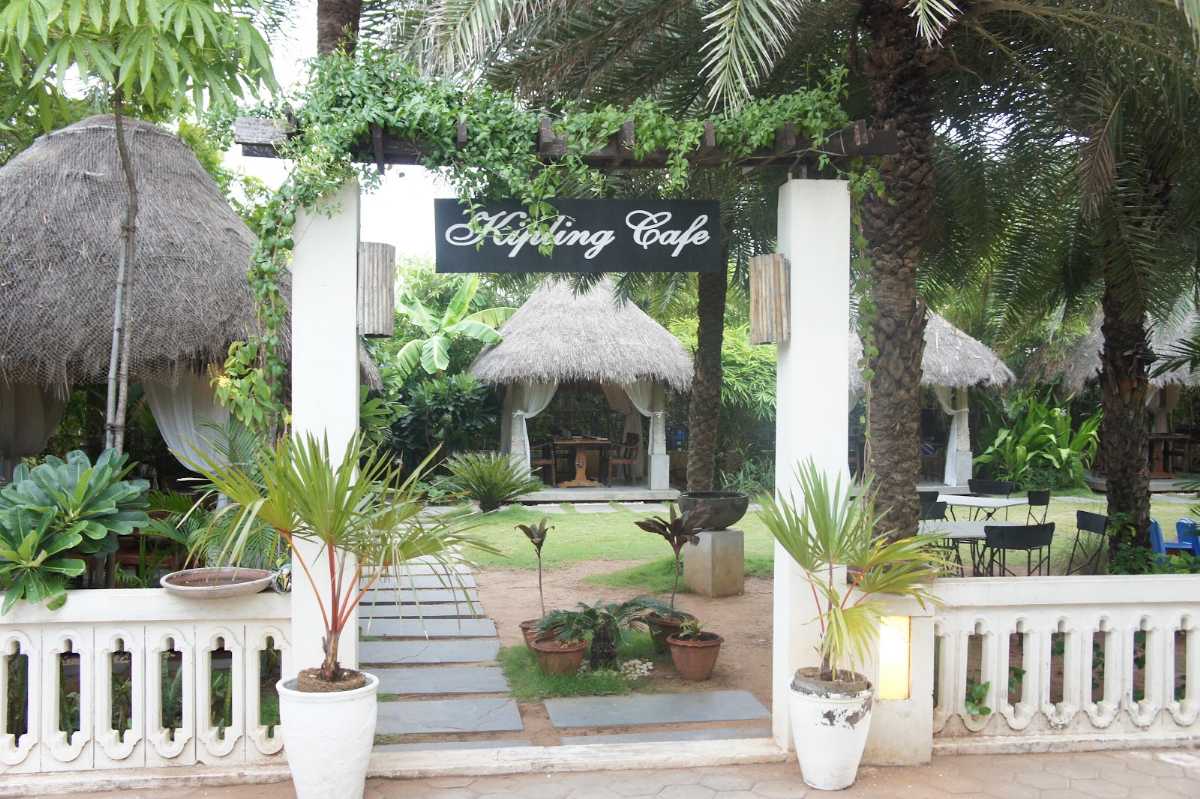 So this café/restaurant is one of the most beautiful places with a perfect outdoor setting. This is one of the romantic cafes in Chennai. The ambience is perfect with all of the lush greenery that it has to offer. This place is artistically designed with tones of white, with greenery in the background, and a beach nearby. This place is also ideal for cocktail lovers, given their large selection of drinks. It would be advisable to have a prior booking as this place is constantly buzzing with people.
Location:
16, L Jey Avenue, East Coast Road, Akkarai
Average Cost for Two:
INR 2400
Timings:
12:00 PM to 11:00 PM
9. Azzuri Bay

This place has an ideal rooftop setting for a romantic date. One can enjoy from a wide variety of both south and north Indian dishes. They absolutely stand out because of their seafood. So don't give it a miss!

Location:
13, 1st Crescent Road, Gandhinagar, Adyar
Average Cost for Two:
INR 1000
Timings:
12:00 PM to 3:00 PM; 7:00 PM to 11:00 PM
10. Café Mercara Express

Now, if you are looking forward to spending on a proper luxury coffee house, this is the place to be. Located in the Hotel ITC Grand Chola, this café specializes in providing a variety of coffee (and that too in clay pots!). Apart from coffee, their menu comprising of numerous quick bites is absolutely scrumptious. Their signature dishes happen to be Chennai Chowder, Madras Mulligatawny soup, and Madras Fried Chicken.

Location:
ITC Grand Chola, 63, Mount Road, Guindy
Average Cost for Two:
INR 2000
Timings:
24 hours
11. Higginbothams Writer's cafe - A Book Cafe in Chennai

With a western menu surrounded by books, Higginbothams Writers cafe holds a special place in the heart of literature enthusiasts. This place is popular for the neat, classy and charming ambience, Spaciousness and the walk-thru bookstore which is the star of the show. The food has a consistently great western taste in both the branches and garners a lot of appreciation.
Location:
#127, Peters Rd, Gopalapuram, Chennai
& #1, CSIR Road, MGR Nagar, Taramani, Chennai
Cost for Two:
INR 900 (Approx)
Timings:
9 AM to 10:30 PM
12. That Madras Place

Situated on a quiet street in Chennai, this cafe offers a small cosy place to hang out with friends. The Cafe has a wide variety in its menu getting the conversations interesting over what to order. The taste and portion of food served by the cafe are much revered by food lovers all the time.
Location:
2nd Main Road, Kasthuri Bai Nagar, Adyar, Chennai
Cost for two:
1200
Timings:
12 Noon to 9:30 PM
13. This Way In - The Cafe with a 'Furry' Twist!

This place is legit your 'way in' to some real goodness. If you are an animal lover, you get to spend quality time with 3 tamed dogs and some birds in their aviary zone! Delicious cheesy fries, pasta, pizzas, nachos and burgers are some of their popular appetizers. Keeping innovation alive, they have #NoBunCulture which features burgers without buns. There are a whole lot of delectable thick shakes and mocktails as well. The perfect ambience with cool decor, dim lights, fun walls, board games & books, an interesting menu, a workspace, and a pet-free zone as well! What more could you ask for?. 'This Way In' has a really upbeat vibe that is sure to uplift your spirits!
Location:
9/5, Dheenadayalu Street, Thyagaraya Nagar.
Average Cost for Two:
INR 600.
Timings:
12:00 p.m to 11:00 p.m.
14. Tea Villa Café - A Tea Lover's Paradise!

Tea Villa Cafe is hands down, one of the nicest places to get a mindblowing range of different teas! It has more than 62 kinds of authentic, traditional and international teas! There's a cafe vibe on the 1st floor & fine dining on the 2nd. It's a vegetarian food place, that also looks after vegans and Jains with options for them as well. Along with delightful teas, coffees and lip-smacking food, it also offers amazing desserts. It makes for a wonderful hangout spot that has great ambience, pretty decor, an elaborate menu to choose from, and a cool vibe!
Location:
Old 52/2, New 40/2, Thirumalai Pillai Road.
Average Cost for Two:
INR 1000.
Timings:
11:00 a.m to 11:30 p.m.
15. Cafe Arabica - A Sweet Tooth Heaven!

Cafe Arabica, the oh-so-attractive cafe is a must-visit for everyone having a sweet tooth. It has a wide range of fresh-baked cakes, pastries, smoothies, ice creams and way too many desserts beautifully adorned in glass displays. Although sweet is what its best known for, it also offers some real good savoury stuff to indulge in. With veg and non-veg options, there are sandwiches, burgers, wraps, fries and various beverages. It's attractive interior, comfortable seating & cosy ambience is sure to please everyone.
Location:
No. 4, Beside Sea Shell, 3rd Avenue, Block E, Annanagar East.
Average Cost for Two:
INR 400.
Timings:
9:00 a.m to 11:30 p.m.
16. Zuka - Quite a Chocolate Heaven!

This cafe ought to be synonymous with chocolate. With a plethora of chocolate desserts, it has been winning hearts of chocolate lovers all around. Their emphasis on speaks volumes through their menu, decor (yes, there's chocolate there too) and consistent innovations. Apart from chocolates in every shape, size and form you can imagine, you can also find sides like sandwiches, fries, pasta, tarts etc. Zuka is also pretty famous for having the '2nd Best Coffee in Town,' quite admittedly.
Location:
100/1, Doctor Radha Krishnan Salai, Mylapore.
Average Cost for Two:
INR 700.
Timings:
11:00 a.m to 11:00 p.m.
17. Fromage - The Cheesy Wonderland

Fromage is the translation for 'cheese' in French. Justifying its name, it's Chennai's only cheese-themed restaurant. Their menu has various amazing vegetarian and non-vegetarian dishes different kinds of cheese at their heart. 'Cheese Fountain' & 'Are you Crazy Chicken Wings' are two of their most renowned delicacies. A beautiful food place overlooking the coastline, that has bright interiors, calming ambience and aroma of fresh cheese as soon as you enter! Could you ask for something else? Fromage has also recently won an award for Restaurant of the year award by Swiggy.
Location:
Lords Avenue, MRC Nagar, Raja Annamalai Puram.
Average Cost for Two:
INR 1000.
Timings:
11:00 a.m to 11:00 p.m.
18. Amelie's - All About Fun Colors & Yummy Food

Amelie's Cafe and Creamery has quite a lively & colourful vibe to it. It is known for its amazing ice creams, cakes and desserts. Even the ice cream cones in there look super tempting. Apart from sweet, you can also find a whole lot of savoury as well. There's everything from soups, salads, pancakes, pasta, sandwiches, burgers, veg & non-veg mains and more! There are quite a lot of interesting smoothies & mocktails as well. When it comes to good food, great ambience and lovely desserts, you can't afford to miss Amelie's!
Location:
6, Seshadri St, Venus Colony, Alwarpet.
2nd outlet: 197, NJK Avenue, Thoraipakkam.
Average Cost for Two:
INR 1000.
Timings:
11:00 a.m to 11:00 p.m.
19. Cafe de Paris - Where Paris is a State of Mind

The aesthetics of Cafe de Paris are far from ordinary. This place has quite a warm, comforting and delightful ambience with its well thought indoor and outdoor setting. There's beautiful lighting & wonderful greenery in their garden, making you feel at home. It offers delicious cakes, pastries, an array of breads, sandwiches, coffee, appetizers and a whole lot of Italian cuisine, with their own little twist! Fun Fact: This place looks even more spectacular during the festive season!
Location:
24, Cenotaph Rd, Teynampet, Garden Section.
Average Cost for Two:
INR 900.
Timings:
11:00 a.m to 11:00 p.m.
20. Sandy's Chocolate Laboratory - There's much more than just Chocolate!

This eatery is best described with two words: Modern & Minimalist. Its classy interiors with glass doors and outdoor seating with fairy lights & plants make it seem all the more cozy and pleasant. There's a lot going on in terms of sweet, and food. Sandy's Signature Hot Chocolate and Tiny Chocolate Cake are two of the most popular items on their menu. You'll also get Insta-worthy shots of delicious waffles, red velvet pancakes and other such gorgeous looking (and tasting) desserts.
Location:
2, 16/1, Wallace Garden next to Subway, Nungambakkam.
Average Cost for Two:
INR 1400.
Timings:
08:00 a.m to 11:00 p.m.
21. Gastronomer by Double Roti - The Cafe with a fine dine vibe!

Gastronomer is a revamp from the house of Double Roti. With a new menu and renovated interiors, it's a place you must visit for their innovations and yummy non-veg food. The place offers everything from an array of breakfast choices (a lot to do with eggs), to health bowls, salads, soups, starters, fries, burgers, sandwiches, pizza, pasta, hotdogs, beverages, delectable shakes and desserts. The non-veg items are a huge hit among the masses. Gastronomer is beautiful with its intelligent lighting, glass exteriors, cute little plants on their tables and comfortable seating.
Location:
4/27, First Street Cenotaph Road, Sri Ram Nagar, Alwarpet.
Average Cost for Two:
INR 1000.
Timings:
12:00 p.m to 10:45 p.m.
22. Cafe Cakebee - One of the most homely cafes you'll ever visit!

Cafe Cakebee is one of the nicest and cosiest places in town. Apparently, it's a huge bungalow converted into a cafe. This is the reason it has quite a homely vibe, with spacious interiors, wooden furniture, light walls, terrace gardens & peaceful ambience. Along with serving cuisines like Continental, Mediterranean, Italian, and fusion flavours, another highlight is their own little bakery, serving freshly made bread and cookies. Their western breakfast and hot chocolate are absolute must-haves. The hot chocolate steals the show, as it is perfectly dark, dense and decadent.
Location:
Old no.47, New no.50, Seethammal Road, Teynampet, Off, TT Krishnamachari Rd, Alwarpet.
Average Cost for Two:
INR 900.
Timings:
08:00 a.m to 11:00 p.m.
23. Nolita - Major Videsi Vibes!

'Nolita' is short for 'North of Little Italy.' It's a beautiful eatery offering much more than just pizza. The speciality of their pizzas is that their crusts are made with hand-stretched sourdough using natural yeast, and there's a wide range of interesting toppings; making 'em all the more delectable. Words fall short to describe the aesthetics of this place. The playfulness & calmness of its blue & white theme shines through the decor. Their crockery too is in sync with the theme with blue and teal shades. The lush green plants & glass doors between the indoor and outdoor seating add pleasing seamlessness to the place.
Location:
6 Nawab Habibullah Avenue, 1st Street, Off, Anderson Rd, Nungambakkam.
Average Cost for Two:
INR 800.
Timings:
12:00 p.m to 3:30 p.m; 6:30 p.m to 10:30 p.m.
24. The Bark - Eat, Play, Repeat!

This place, justifying its name, has a dedicated place for dogs. It's a pet-friendly cafe that allows you to bring along your pets, or play with the adorable dogs in their backyard. The Bark has pretty decor with subtle details in terms of lighting. The 'Skyscraper,' on their menu, featuring 4 different coloured & uniquely flavoured burgers along with scrumptious melted cheese, and french fries; is a crowd-pleaser. This place has an elaborate menu offering veg & non-veg food in cuisines like Continental, Italian, Mexican and North Indian.
Highlight:
Pet-friendly!

Location:
40, Maharaja Surya Rao Road, Dutch Village, Venus Colony, Alwarpet.
Average Cost for Two:
INR 800 to 1000.
Timings:
12:00 p.m to 11:00 p.m.
25. Pappa Roti - Where Every day is a Bun Day!

Pappa Roti is a place that has taken buns to another level. With more than 400 outlets around the world, it's a wonderful eatery making its mark at Chennai as well. You will find immense varieties of delicious buns that are no less than perfect. The signature Pappa Roti bun is a must-have. Although buns are the highlight, you can also consider dining here. Right from its decor, lighting, pleasant aroma, an attractive & exciting menu, to good food; this place has all that you need to make your outing deliciously memorable!
Location:
Ground floor, Phoenix Market City, Palladium Mall, Indira Gandhi Nagar, Velachery.
Average Cost for Two:
INR 800.
Timings:
10:00 a.m to 11:00 p.m.
26. Bistro 1427 - Your own ideal cafe!

Bistro 1427 has 3 different outlets in Chennai: At Mylapore, at Nungambakkam, and Velachery. The one at Mylapore is veg-exclusive. This place serves as an ideal choice when it comes to hanging out with friends and having good food. It's all about a vibrant vibe, fun decor, interesting combos and a whole lot to choose from. You can find many cuisines and everything ranging from sides, appetizers, mains and desserts. Some really cool shakes and beverages as well!
Location:
Multiple outlets: At Mylapore, Nungambakkam, and Velachery.
Average Cost for Two:
INR 800.
Timings:
11:00 a.m to 11:00 p.m; 9:00 a.m to 11:00 p.m (Mylapore).
27. Aegam Cafe - There's more than what meets the eye!

Located in a peaceful residential area, Aegam Decor Cafe is truly one of its kind. It has a very comforting, homely ambience and the decor looks gorgeous as well. It offers breakfasts, soups, salads, omelettes, wraps, sides, sandwiches, panini, pizzas and tonnes of drinks and beverages. Having a comfy couch & a few board games, books around, it's the perfect place to unwind and spend quality time with friends or colleagues. The fun part about this cafe is that you can actually purchase the beautiful artefacts that you like!
Location:
1, Guruswamy Nagar Main Rd, Sivagami Nagar, Gowrivakkam, Sembakkam.
Average Cost for Two:
INR 500.
Timings:
11:00 a.m to 10:00 p.m (Weekdays); 10:00 a.m to 10 p.m (Weekend); Closed on Wednesdays.
The ambience that these cafes in Chennai offer, will take you back to the 'British era' that was there in the city. While some of these cafés are extremely modern and fresh with their concept, a few of the others have a colonial touch to them. So, if you have been embroiled in the thoughts of gorging only on the traditional dishes of Chennai, think again. These new cafés just happen to take you to a different past of the Chennai (the 'Madras' past). At the same time, they will show you exactly what the crowd of Chennai favours these days.
So, take out a few sinful days, and dash out to these places. Feel free to hop on to as many cafés as you can explore!
Submitted by Arushi Mathur