The first food-related thought that pops up in our minds when we hear
Chennai
's name, is of idli, dosa, uttapam, and filter coffee. Starting off this piece of writing with the thought of these food items, shows how intrinsic they are to the food culture of Chennai (at least for us novices). With places serving absolutely any flavours of dosas, one finds it difficult to think of any other place to define Chennai's food culture. However, with the passing time, Chennai, like the other hubs of India, is embracing different food culture. A young Chennai (or anybody looking for a different variety of food for that matter), is embracing a different culture, that of the new swanky cafés.
While there is a whole new variety of cafés coming up in Chennai, we have listed 15 cafes in Chennai:
1. The Brew Room - One of The Best Coffee Shops in Chennai

This place is just heavenly for people who prefer an outdoor sitting arrangement in eateries. Especially on a nice, pleasant morning (really fresh), or a breezy evening (extremely romantic), this is the 'it' place to get away from the hustle-bustle of the city life. Touted as one of the best cafes in Chennai, The Brew Room is located in the gardens of The Savera Hotel which is an ideal spot for a Sunday brunch. The Hot Chocolate and Brownies served at this café, top the favourites chart. There is another branch of The Brew Room in Anna Nagar.
Location:
The Savera Hotel, 146, R.K. Salai, Mylapore
& Shop F 63, VR Mall 1st Floor, Koyambedu, Anna Nagar West
Average Cost for Two:
INR 1100
Timings:
8:00 AM to 11:00 PM
2. Tryst Café

The Tryst Café is the typical café which specializes in food items like Chicken Sandwich, Pizzas, Apple Strudel, coffee, Fajita, and bread. Yes. Bread. Located in the Gatsby Village, one just has to try the bakery section right at the entrance of this café. Initially, bread was sourced from Pondicherry for this great café. This practice soon ended as they started baking a whole new interesting section of bread. So, if you are craving a nice cafe in Chennai with some strong European vibes, head to this café! Oh, and do not forget to gorge on their signature bread, the Kraftkorn.
Location:
Tryst Café, Gatsby Village 359, East Coast Road, Neelankarai
Average Cost for Two:
INR 900
Timings:
9:30 AM to 10:00 PM
3. Chamiers Café - One of The Best Cafes in Chennai

Chamiers happens to be the absolute example of a classy, tastefully furnished, English café. One of the cute cafes in Chennai, the décor and the ambience of Chamiers Cafe is absolutely breathtaking. And in such a soothing décor, one can hardly resist their delectable menu comprising of coffee, chocolate drinks, and pancakes and waffles. While their coffee section is an ingrained part of the establishment, the café specializes in quick bites, the favourites being Risotto, Bruschetta Platter, and their salads. Head out to this beautiful Chennai cafe for some peace of mind!
Location:
106, Chamiers Road, Opposite Adyar Park Gate, RA Puram
Average Cost for Two:
INR 1000
Timings:
8:00 AM to 11:30 PM
4. Wild Garden Cafe - Amethyst

What started off as a fashion and accessories store has now become a beautiful venture known as 'Wild Garden Cafe - Amethyst', which comprises of a flower shop, fashion and accessories shop, and a café, which is currently hugely popular amongst the masses. If you are café hopping in Chennai, it would just be foolish to miss out on this one. You can choose a favourable sitting arrangement in the enclosed area, or the garden or verandah. While the beverage section obviously draws the crowd constantly (especially their coffee), the main highlight is the availability of their amazing breakfast section 24/7. Oh, and, this is THE place to head to if you are looking for a romantic dinner out!
Location
- Amethyst, next to Corporation Bank, Whites Road, Royapettah
Average Cost for Two
- INR 1400
Timings -
10:00 AM to 11:30 PM
5. Shiraz Art Cafe @ Tryst

If you find yourself daydreaming about having a nice meal, overlooking a beach, this is the place to be at! This café is also considered a restaurant, and the meals are absolutely worth the title. Specializing in the Persian cuisine, one must try their Brinjal Curry and Saffron Rice. Later, head out to this peaceful beach for a nice long walk!
Location:
27, Beach Road, Kapleshwar Nagar, Neelangarai
Average Cost for Two:
INR 1100
Timings:
12:00 PM to 3:00 PM; 6:00 PM to 11:00 PM
6. The 90's Café

As the name suggests, this quirky café in Chennai will instantly take you back to the 90s (hopefully you were born then and have a box full of memories). It happens to be an extremely small café, and it would be advisable to look out for it with an attentive eye, as it is slightly difficult to find. However, once you get here, just dive into the memories of the beautiful decade of the 90s!
Location:
AB 137, 4th Avenue, Shanti Colony, Anna Nagar East
Average Cost for Two:
INR 600
Timings:
12:30 PM to 11:00 PM
7. Ciclo Café

'Ciclo' (as the name suggests), happens to be an extremely popular (EXTREMELY POPULAR, I repeat) cycling café in Chennai. In fact, it happens to be the first-ever one in India. It's a dream come true for all of the bicycle enthusiasts, as it is much more than a décor based café. It happens to be fully equipped with all of the necessary equipment and is home to the top international brands. You even get to wash your own bicycle. Imagine. It is another experience altogether. And yes, coming to food, this café is extremely popular for its quick bites, like pasta, pizza, and pies.
Location:
47, Gandhi Mandapam Road, Kotturpuram
Average Cost for Two:
INR 1100
Timings:
8:00 AM to 11:00 PM
8. Kipling Café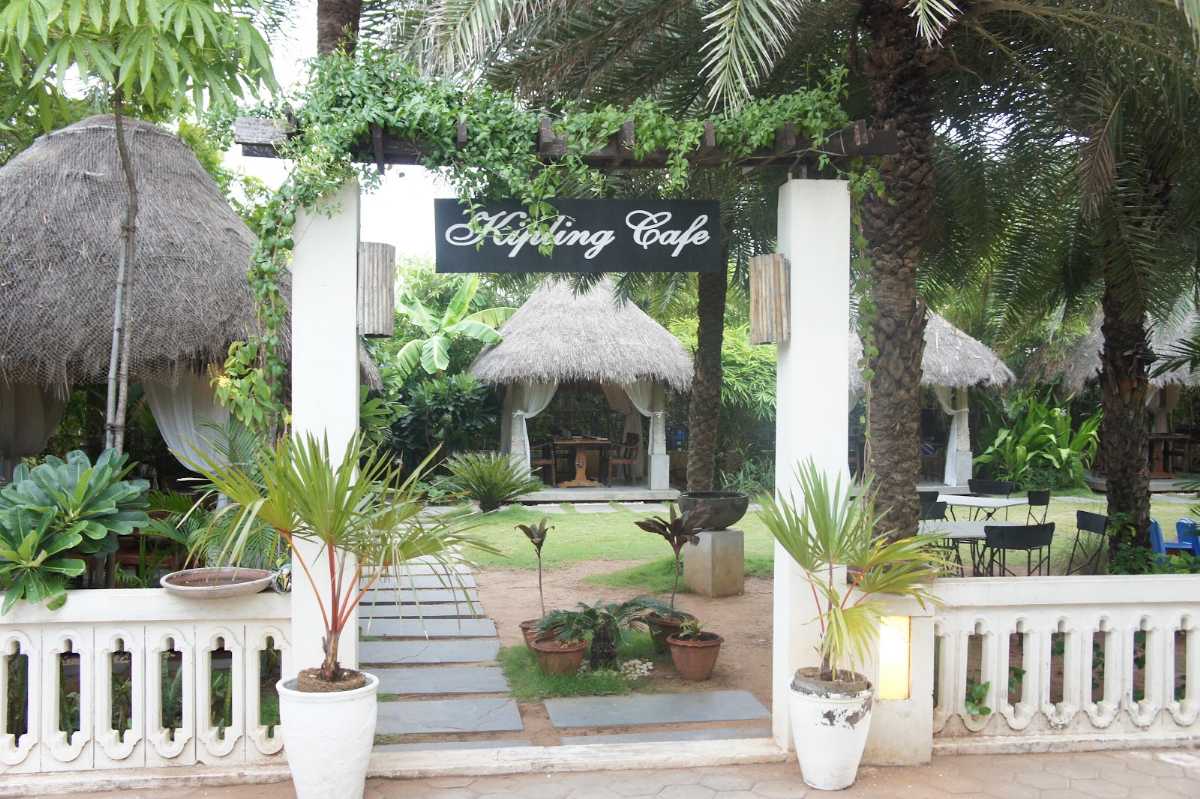 So this café/restaurant is one of the most beautiful places with a perfect outdoor setting. This is one of the romantic cafes in Chennai. The ambience is perfect with all of the lush greenery that it has to offer. This place is artistically designed with tones of white, with greenery in the background, and a beach nearby. This place is also ideal for cocktail lovers, given their large selection of drinks. It would be advisable to have a prior booking as this place is constantly buzzing with people.
Location:
16, L Jey Avenue, East Coast Road, Akkarai
Average Cost for Two:
INR 2400
Timings:
12:00 PM to 11:00 PM
9. Azzuri Bay

This place has an ideal rooftop setting for a romantic date. One can enjoy from a wide variety of both south and north Indian dishes. They absolutely stand out because of their seafood. So don't give it a miss!

Location:
13, 1st Crescent Road, Gandhinagar, Adyar
Average Cost for Two:
INR 1000
Timings:
12:00 PM to 3:00 PM; 7:00 PM to 11:00 PM
10. Café Mercara Express

Now, if you are looking forward to spending on a proper luxury coffee house, this is the place to be. Located in the Hotel ITC Grand Chola, this café specializes in providing a variety of coffee (and that too in clay pots!). Apart from coffee, their menu comprising of numerous quick bites is absolutely scrumptious. Their signature dishes happen to be Chennai Chowder, Madras Mulligatawny soup, and Madras Fried Chicken.

Location:
ITC Grand Chola, 63, Mount Road, Guindy
Average Cost for Two:
INR 2000
Timings:
24 hours
11. Higginbothams Writer's cafe - A Book Cafe in Chennai

With a western menu surrounded by books, Higginbothams Writers cafe holds a special place in the heart of literature enthusiasts. This place is popular for the neat, classy and charming ambience, Spaciousness and the walk-thru bookstore which is the star of the show. The food has a consistently great western taste in both the branches and garners a lot of appreciation.
Location:
#127, Peters Rd, Gopalapuram, Chennai
& #1, CSIR Road, MGR Nagar, Taramani, Chennai
Cost for Two:
INR 900 (Approx)
Timings:
9 AM to 10:30 PM
12. That Madras Place

Situated on a quiet street in Chennai, this cafe offers a small cosy place to hang out with friends. The Cafe has a wide variety in its menu getting the conversations interesting over what to order. The taste and portion of food served by the cafe are much revered by food lovers all the time.
Location:
2nd Main Road, Kasthuri Bai Nagar, Adyar, Chennai
Cost for two:
1200
Timings:
12 Noon to 9:30 PM
The ambience that these cafes in Chennai offer, will take you back to the 'British era' that was there in the city. While some of these cafés are extremely modern and fresh with their concept, a few of the others have a colonial touch to them. So, if you have been embroiled in the thoughts of gorging only on the traditional dishes of Chennai, think again. These new cafés just happen to take you to a different past of the Chennai (the 'Madras' past). At the same time, they will show you exactly what the crowd of Chennai favours these days.
So, take out a few sinful days, and dash out to these places. Feel free to hop on to as many cafés as you can explore!
Submitted by Arushi Mathur