People who say 'money can't buy you happiness' have not discovered the joy of shopping. Walking past the clothes, shoes, jewellery accessories and everything that are yearning to be yours forever is bliss! And if it is a shopping mall, you have won big in life. Not only can you shop to your heart's content but also avail the different offers - movie, food, grooming all under one roof.
Here is a list of Top Shopping Malls in Chennai:
1. Express Avenue - The Biggest Mall in Chennai

When you talk of shopping malls in Chennai, you must mention Express Avenue, the largest mall in Chennai and Southern
India
. Express Avenue or EA as it is affectionately known has a unique blend of luxury, affordability and entertainment. The more prominent names include acclaimed brands like H&M, Global Desi, MAC, F21, Rado, Swatch, Seiko, etc. If you are a fan of cosmetics, do visit the grand showrooms of Sephora, The Body Shop and Bobbi Brown. Bags and shoes are a hot deal to grab at Clarks, Charles and Keith. If you do not wish to shell out a bomb and yet crave shopping, don't worry! Pocket-friendly shops like Pantaloons, Max, Reliance Trends, Bata are to your rescue.
Enjoy the services of E-Hotel, a hotel within the mall or pamper yourself with a spa from O2. Treat yourself (and your loved ones) with the delicacies of Entree Global Cuisine Restaurant, Chennai's largest vegetarian excellent dining restaurant- Kapila Dasa and Elixir Lounge Bar, in addition to the spacious food court.
Address: 2 Club House Road, Express Estate, Royapettah, Chennai
Timings: Weekdays 10:30 AM- 09:30 PM
Government holidays and weekends 10:00 AM-10:00 PM
2. Spectrum Mall

Formerly known as the Grand Venus Mall, Spectrum Mall is the first mall of Chennai. Located in Perambur, it is a hub of activities like shopping, adventure, food, dance and fun! If you have love budget-friendly malls, then Spectrum is your go-to place. Shops like Big Bazar, Gini and Johny, Archies, Health and Glow, Silver Touch, to name a few offers you grocery, accessories, clothes and cosmetics at affordable prices.
Enjoy the scares at the Scary House located on the fourth floor. Enjoy games with your family, friends and kids at the Play Games and Play Palace on the 1st and 3rd floor. Let your passion for dance find feet at John Bitto's Dance Company which offers you Jazz and Hip-Hop classes. Catch a movie at S2 for a perfect movie experience, enjoy games at Play Games and find your best match at the Carnival Food Paradise Food Court, with a variety of options to choose from like Dosakall, BBQ Destination Sigdee, Roti Wrap, Scoop and Straws, Dumm Biriyani and Veggie Table.
Address: 114A & 114B, Paper Mills Road, Perambur, Chennai
Timings: Weekdays and food court -10:00 AM - 10: 00 PM
Weekends- 10:00 AM-11:00 PM
3. Ampa Skywalk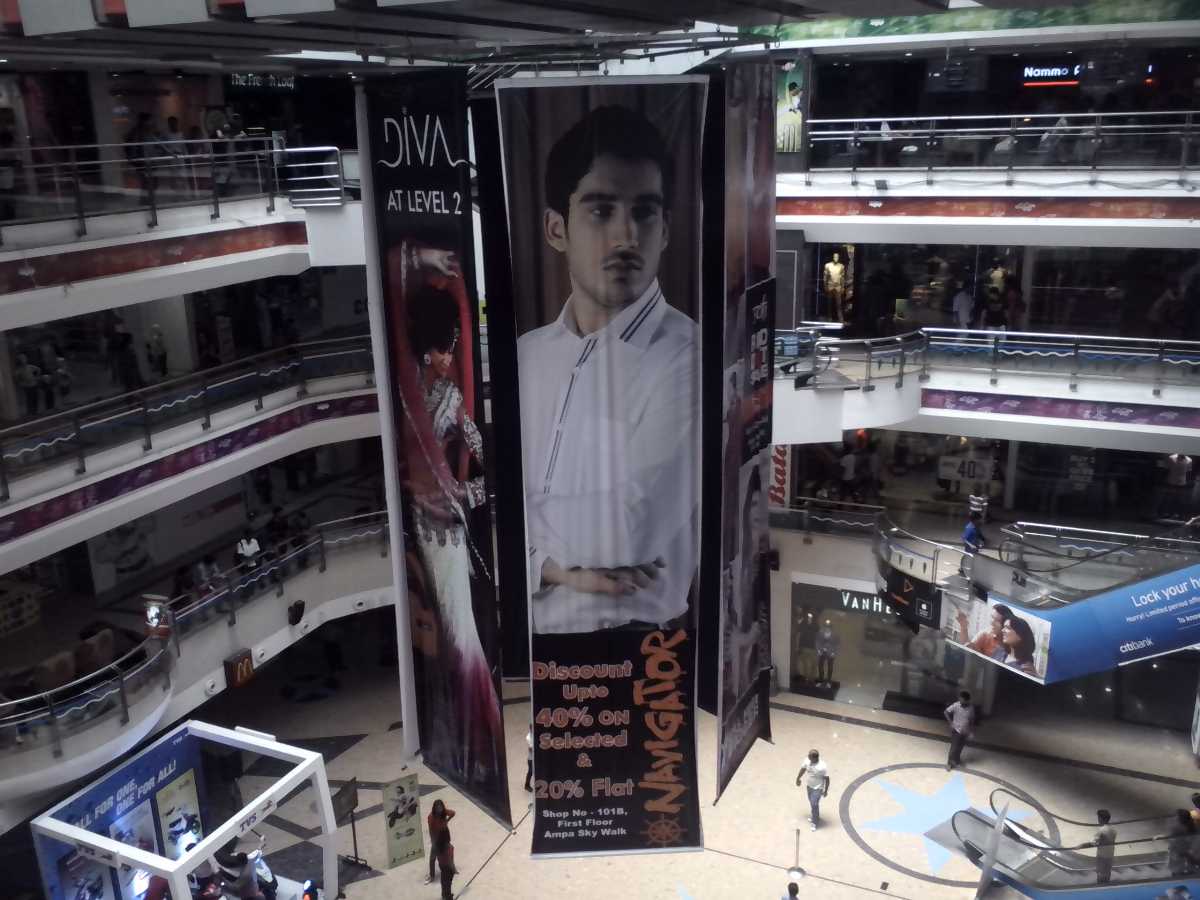 Ampa mall, which proclaims itself as 'Mall for All' (and rightly so) has it all. From luxuries like M&S, United Colors of Benetton, Van Heusen, Mufti, Adidas, Toni & Guy, Rado, Apple Imagine, (to name a few) to affordabilities like Bata, Westside, Bata, Health and Glow, Samsung Nikon, etc.- you name it, and they have it. Shop clothes, bags, shoes, watches, cosmetics, jewellery, electronics and everything you want till your heart is full of content.
Groom yourself at the Thai Sabai Spa or YLG Salon, located on the ground and first floor, respectively. Climb to the third level and pamper your taste buds from a host of eating joints- 19 to be precise, at the F3 food court or experience fine dining from among China Town, Pizza Hut, etc.
Address: 1, Nelson Manickam Road, 627, Poonamalee High Road, Aminjikarai, Chennai
Timings: 10:00 AM- 10:00 PM on weekdays and weekends
4. Phoenix Marketcity - One of the Best Malls in Chennai

This Velachery mall in Chennai would surely leave you perplexed with its brand diversity. From Zara to Big Bazaar, from Adidas to Bata, from W to Biba to Ethnicity to Fab India, from Kushals to Caratlane- the list is never-ending. They probably have every name that comes to your mind when you think of shopping. Get your clothes, accessories, jewellery, shoes, bags, decor-only if you can successfully decide from which store to buy!
Enjoy a great variety of food in Phoenix. Not only shopping and food, but the entertainment segment of this mall is also one of the best in the city. Kids can now interact live with their favourite cartoon character 'Chhota Bheem' - a first of its kind experience in India. Entertain yourself at the game zone, enjoy the thrill and fun of Scary House and Fun City. For all the movie buffs (and not)- catch a movie with some popcorn and cold drinks at Luxe Cinemas on the 2nd Floor.
Address: 142, Velachery Road, Indira Gandhi Nagar, Velachery, Chennai
Timings: Weekdays 11:00AM- 10:00 PM
Weekends 10:00AM-10:00 PM
5. The Forum Vijaya Mall

Find groceries at Hypermarket; apparels at Westside, Max, Biba, Arrow, Global Desi, Levi's; electronics at Lenovo, HP; jewellery at Damini; bags and accessories at Ayesha, Bata, Colorbar, Estelle and a lot more! A small tattoo booth will fulfil your desire of getting inked. Have a spa day at O2, get your muscles relaxed at Relax 'N' Go and get a funky makeover at Tony & Guy. With its incredibly long list of shops and categories, Forum will keep boredom and monotony at bay.
Satisfy your sweet or savoury cravings; choose from around 42 food joints including MacDonald's, Arabian Hut, Chopsticks, KFC, Cookie Man, Cream World, etc. Play a game FunCity, experience virtual reality at Trix 7D World Cinema, drop into Scary House or catch your favourite movie at Imax or SPI Cinemas. Chennai's first 7D theatre at Forum Vijaya
Address: 183, Arcot Road, NSK Salai, Vadapalani, Chennai
Timings: 10:00 AM- 10:00 PM
6. Spencer Plaza

Perhaps the oldest mall in Chennai, Spencer Plaza's reputation is now on a decline. This mall is still, however, preferred for items like leather goods, silver jewellery, mobile covers, handicrafts and cameras. Find that perfect handicraft gift in the form of Pashmina shawls, carpets, bags, Tibetian jewellery, bedsheets, and others- but make sure you have bargained enough. The shop MASK sells a variety of wig, masks, caps, hookah stands, ashtrays and loads more. Pick your favourite mobile cover at reasonable prices throughout the mall. Shetala Cameras - an authorised Sigma lens dealer on the first floor of Phase I acts as a service centre, fix lenses at an affordable price and also offer a camera for rent.
If all this shopping awakens your hunger pangs, grab some food at small eateries or the McDonald's.
Address: 769, Mount Road, Anna Salai, Chennai
Timings: 10:00 AM- 10:00 PM
7. Bergamo Luxury Mall

Named after an Italian city Bergamo, this luxury mall in Chennai's first of its kind. Visit this place, and you will find brands that are meant for people who want the 'finer' and luxurious things in life. Find a few European brands like Lladro, Louis Bitton and Harman/Kardon that will leave your pocket a little more empty than normal. Drop-in at Barbeque Nation or Starbucks for a food break.
Address: 5/3, Khader Nawaz Khan Road, Thousand Lights West, Nungambakkam, Chennai
Timings: 10:00 AM- 08:30 PM
8. Chennai Citi Centre

Chennai Citi Centre is one of the oldest malls in Chennai. Located near Mariana Beach, this hub is an amalgamation of shopping, food and entertainment under one roof. The stores of Lifestyle and Landmark occupy half of the total area. The mall also houses popular brands like Mochi, Titan, Health and Glow, etc. Make your way up to the top floor and catch a mesmerising view of the Mariana Beach.
For food, some small outlets serve coffee, samosas and other snacks. The food court; apart from serving a wide variety of cuisines, also provides for a large play area for children to have fun. Watch a movie at Inox and grab some food, though the menu here is strictly vegetarian.
Address: Dr Radha Krishnan Salai, Loganathan Colony, Mylapore
Timings: 10:00 AM- 10:00 PM
9. Ispahani Centre

You might not find plenty of shops in this mall in Chennai. There are Ritu Kumar and Jealous 21 for clothes, Art karat and Anmol Palace for jewellery, Hide Design and Giordano for accessories, Imprints and Florsheim for footwear, Bose and Mobile Store for electronics and Archies, Swarovski for gifts and decor.
There are, however, a lot of other options to have fun. Drop-in at India's largest gaming cafe, Arknemesis for high tech games such as Virtual Reality. Come to Bounce Salon for a quick (or long) makeover. Enter Desi Dhaba Estd 1986 Delhi for fun ambience, delicious North Indian food and mocktails like Shikanji, Kala Khatta, Aam Panna. Visit Caffe Coffee Day or Marrybrown for a casual hangout.
Address: 123, Nungambakkam High Rd, Tirumurthy Nagar, Nungambakkam, Chennai
Timings: 10:00 AM-11:00 PM
10. Grand Square

The Chennai Grand Square in Chennai is located on Seetharam Nagar Main Road, Velachery is a short three-storied building furnished with amenities such as shopping, movies, games and restaurants. Shops such as Croma (digital and technology), Shoppers Stop are housed in this mall. With above-average parking space at INR 20 per hour, the Grand Square provides a five-screen PVR cinema theatre.
PVR Grand Square is one of the recognized and significant attractions of this mall. Consisting of a functional but limited food court, the mall does provide a play area and a bowling arena for gamers on the second floor. With a lesser crowd, compared to more prominent malls in the city, the Chennai Grand Mall is an affordable evening hang-out spot.
Address: 137, Velachery - Tambaram Main Rd, V.O.C Nagar, Doctor Seetaram Nagar, Velachery, Chennai, Tamil Nadu 600042
Timings: 10:00 AM to 10:00 PM
11. Alsa Mall

Located on Montieth Road, Egmore, the Alsa Mall is one of the oldest malls in the city. Established in the 1980s, Alsa came into being along with Spencer Mall and was the most happening mall hang out point up until the 2000s. Although the mall may have lost some lustre over the years, the shops housed within, cater to almost every basic need of the customer.
One interesting fact about the mall are the names of various stores set up way back in the 80s that are retained even until today. Some of the stores in this age-old mall are: Touch of love - Children's boutique on the basement floor, Joonus Sait - Winter garment shop on the basement floor, New Bollywood Shoes on the ground floor, City Xerox and Stationery on the first floor, Chandini Collections on the basement floor and a few more.
Address: Montieth Road, Egmore, Chennai, Tamil Nadu - 600008
Timings: 10:00 AM to 10:00 PM
12. VR Chennai

Recently opened in 2018, VR Chennai is one of the best shopping malls in Chennai. The mall has a PVR multiplex with 10 screens, 240 retail stores, a 50000 square feet co-working space called 'The Hive', a dining facility called 'Madras House', a boutique hotel, an amphitheatre and even residences.
Address: Inner Ring Rd, Thirumangalam, Anna Nagar
Timings: Weekdays- 11:00 AM to 10:00 PM
Weekends- 10:30 AM to 10:00 PM
13. The Marina Mall

Located in Egatoor, The Marina Mall is a new mall in Chennai. The Mall offers an 8 screen multiplex with an IMAX Auditorium. The Mall also offers an amazing VR Gaming Experience. There are huge retail stores of Toys4Us, Lifestyle, Pantaloons, Spar Hypermarket, Home Centre, Max and many more. There is a food court and many restaurants and cafes.
Address: Old Mahabalipuram Rd, Egatoor
Timings: Weekdays- 11:00 AM to 11:00 PM
Weekends- 10:00 AM to 11:00 PM
With a host of shopping malls in Chennai that allows you to shop, eat, get entertained or simply hang out with your gang. Choose to shop, dine, watch a movie (or everything) and hop in for a fun-filled experience!