From the finest biryani to one of the best sculptures of the past,
Hyderabad
is an alluring city. Serving several aspects, Hyderabad is a South
India
n jewel. Marked as the most liveable city in India, Hyderabad has consistently been ranked the best city in India for last three years. An extravagantly evolved cuisine gives the city its identity. The world-renowned biryani, as they say, has the taste of the finest spices and the touch of the Mughal Sultanates. Having witnessed one of the zealous dynasties, Hyderabad displays one of the most beautiful heritage sites. What more is to come as an attractive package of surprise is the number of fun-filled water parks in the city.
Here is a list of 6 Water Parks in Hyderabad to chill out this summer:
1. Wonderla Amusement Park - The Most Famous Water Park in Hyderabad
This amusement park is the first park to enjoy India's first reverse roller coaster ride. This amusement water park is indeed a new beginning of a thrilling experience. Leaving no bounds to mesmerise the visitors, the park has a one-time payment facility, and you can enjoy any ride as many times you want to. What makes people love Wonderla, even more, is the fact that it has rides for all age groups, making it easy for people to decide, where to have a family picnic. This fun-filled family destination has 43 rides and is open on all the seven days from 11:00 AM to 6:00 PM with differences in the ticket price per day. There are 25 land-based rides and 18 water-based rides which will leave you asking for more. This joy-filled experience leaves you enthralled for days.
Address:
Nehru Outer Ring Road, Exit No. 13, Ravirala, Hyderabad
Dress Code:
Swimsuits, tops and shorts, bodysuit, shorts, t-shirts and burkini are allowed.
Sarees, Jeans, Salwar Kameez, Cotton Pants, Shirts, Tops are not allowed.
How to get there?
It takes about 1 hour of time to reach Wonderla from Kachiguda, there are many public as well as private transports from Maheshwaram Mandal.
Timings:
11:00 AM - 6:00 PM
Ticket Price:
Weekdays: INR 845 + 18% GST for adults; INR 675 + 18% GST for children, INR 635 + 18% GST Senior Citizen
Weekends: INR 1060 + 18% GST for adults; INR 850 + 18% GST for children, INR 795 + 18% GST Senior Citizen
Festive Season: INR 1100 + 18% GST for adults; INR 880 + 18% GST for children, INR 825 + 18% GST Senior Citizen
Website:
wonderla.com
Contact:
+91 40 23490333
2. Escape Water and Adventure Park
Being the best place to visit on the weekend with family, this theme park is all set to enthral with its lively atmosphere. Opened throughout the week from 11:00 AM - 6:00 PM, the park offers one of the most entertaining facilities with unique rides and activities for kids. The theme park is divided into two zones, the water zone and adventure zone, with a variety of rides to try. It also offers lockers to pack your stuff in and a lavish food court to curb your hunger. There is a dress to be followed in both zones. The ticket price would not create a hole in your pocket. The best way to escape the heat is to visit this water cum amusement park and have an experience par excellence.
Address: Rallaguda Road, Lane Besides RGIA Police Station, Shamshabad, Hyderabad, Telangana
Dress Code: Only nylon clothes should be worn for taking water rides and for entering into the pools.
How to get there?
4 km from Imbliban bus stand and at close proximity to the airport, the waterpark is easily accessible by private taxi or public transport.
Timings: 11:00 AM - 6:00 PM
Ticket Price: INR 490 for children; INR 590 for adults
Website: escapewaterpark.com
Contact number: +91 7337333428, +91 7337333429
3. Leonia Splash
The ultimate destination for chills and thrills is this famous amusement water park. Promising utmost fun and joyous moments it offers exclusive packages where you could indulge in many water sports and activities. The packages also include DJ rain dance. With the most courteous staff at work, they also ensure the safety of the visitors. The timings are from 10:00 AM -11:00 PM, with quite a beautiful nightlife. Paying a visit to this amusement park is worth spending all the pennies.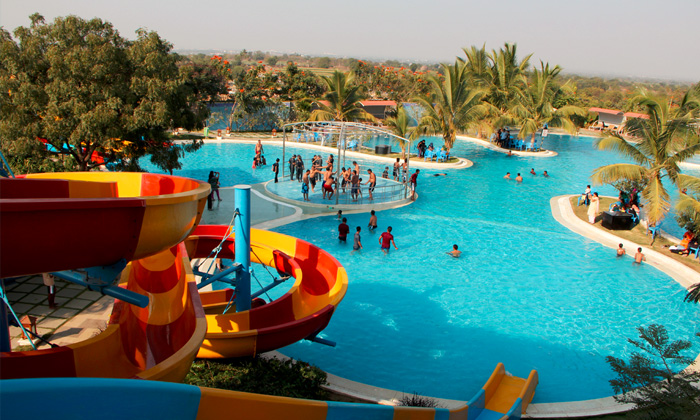 Address:
Bommaraspet, Shameerpet, Ranga Reddy District, Hyderabad
Dress Code:
Swimwear made of Nylon or Polyester
How to get there?
Situated in Kachiguda, Leonia splash is 8.5 km from the popular Nehru
Zoological Park
in Hyderabad. There are frequent buses from ISKON Hyderabad to Kachiguda. You can easily access the water park by a private transport too.
Timings:
10:00 AM - 6:00 PM (Waterpark Timings)
Ticket Price:
INR 599 per person
Website:
leonia.in
Contact number:
04066400000
4. Ocean Park
Situated 20 km away from the city, this is one of the first three theme parks in the city and has two sections, one for water sports and one for amusement games. This amusement park offers something for all the age groups that vary across water rides, kiddies pool, wave pool, water slides and dry slides. The price of most of the rides is included in the entry fee while some rides are paid. One has to wear a swimming costume only which one can either rent or get their own. The park timings are from 11:00 AM-7:30 PM with a pretty economical ticket rate. There are special rates for college and school students. All those who love fun and adventure should pay a visit to this amusement park.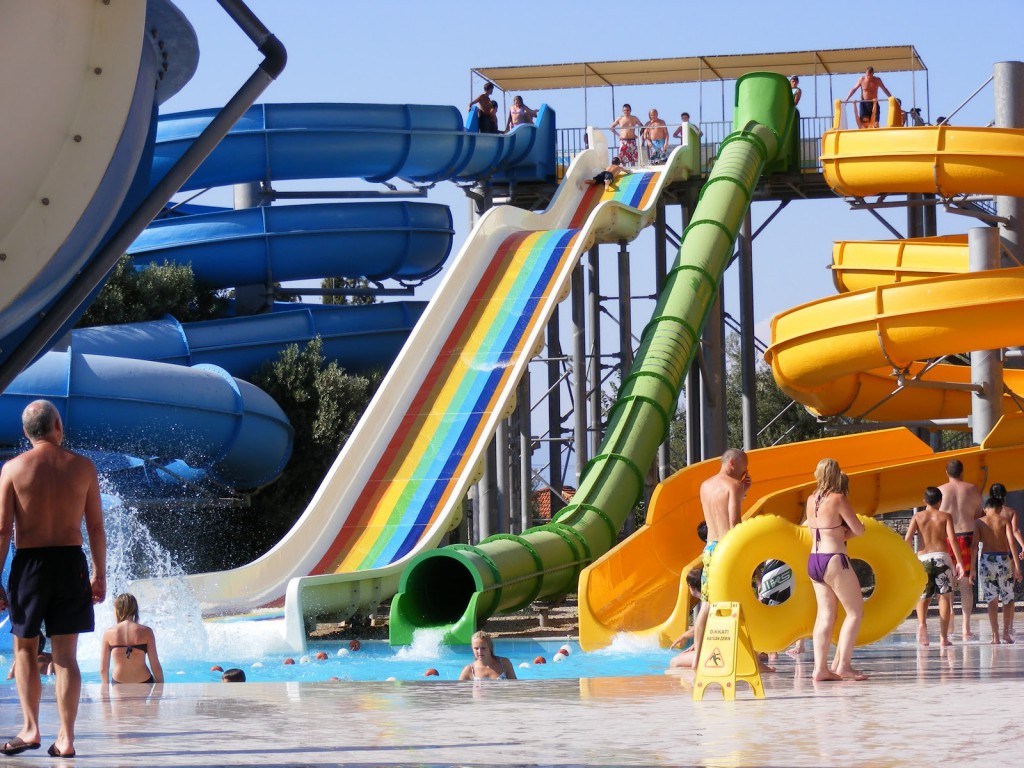 Address:
Shankarpalli Road, Near CBIT College, Kokapet Village, Gandipet, Hyderabad, Telangana
Dress Code:
Swimwear made of polyester or nylon. No metals allowed on clothes.
How to get there?
Catch a bus from Mehadipatnam to Langahouz via flyover bridge near CBIT college. or simply book a taxi.
Timings:
11:00 AM - 7:30 PM
Ticket Price:
Adult: INR 400; Child: INR 300; College Students: INR 350; School Students: INR 300
Website:
oceanparkhyderabad.com
Contact number:
9866699476, 9866699475
5. Mount Opera Multi Theme Park
Mount Opera is the biggest Multi Theme Park in Hyderabad. Placed on the hilltop, this park provides many water sports as well as dry rides like Skating Rink, Toy Train, Merry-Go-Round, Merry Cups, Slam Bob, Columbus, Sliding Ring, Skating Rink, Striking Cars, Tele-Combat, Ferris wheel,
Go-Karting
, etc. There are slides for adults too, with wave pools and a separate pool for family and kids. Facilities like rain dance and boating are also provided along with some indoor games like carom, billiards, table tennis and a lot more. The name Multi Theme Park organises parties and has an open theatre complex with a seating capacity of 1500 people, displaying many performances and dramas. It also has stay options at Mount Opera, ranging from suites to cottages. For the gym freaks, there is a gymnasium available. There also is a broad array of cuisines, from authentic North Indian food to a lavish coffee shop. There are seasonal and weekend packages to choose from. This family entertainment station sets to provide anything and everything, without making a hole in your pockets.
Address:
Batasingaram, Hyderabad -Vijayawada Highway, RangaReddy, Hyderabad
Dress Code:
Nylon swimwear
How to get there?
It is situated just 4km from Ramoji Filmcity on the Hyderabad-Vijayawada highway. It can be easily accessed by private or public transport.
Timings:
Weekdays- 11:00 AM to 6:00 PM; Weekends- 11:00 AM to 7:00 PM
Ticket Price:
Adults: INR 425; Child: INR 330
Website:
mountopera.in
Contact number:
+91 9849550059, +91 9177444471, +91 9399999407
6. Jalavihar
Being one of the prime tourist attraction in Hyderabad, Jalavihar is an entertainment family park. It is one of the most pocket-friendly water parks with the best rides for the kids to enjoy. The setting of the park is in two zones, the party zone and the entertainment zone. The party zone further is divided into three zones, according to the gatherings and accommodation. The entertainment zone is everything one could desire for in an amusement park, from wave pool, considered the largest in India, generating artificial waves to water rides, dry rides, rain dance, gaming zone, and food court. The park also ensures the safety of the visitors, having lifeguards appointed. The park remains open throughout the week from 11:00 AM to 7:00 PM. There is a dress code that needs to be followed, and Jalavihar also provides costumes for rent.
Address:
22/9, Necklace Rd, Hussain
Sagar
, Khairatabad, Hyderabad, Telangana
Dress Code:
Nylon beach shorts or tops, leggings, tights, tees, swimwear are all allowed. Salwar kameez, saree are not allowed. Costumes available on rent.
How to get there?
Catch a bus from NTR garden or get down at Karidabad Railway station and go by auto. It's a walkable distance from the necklace road.
Timings:
11:00 AM - 7:00 PM
Ticket Price:
Adults: INR 400; Children: INR 300 extra charges for dry rides.
Website
: jalavihar.in
Contact number:
04020013106
7. Wild Waters
Hyderabad boasts another big water-themed park in Shankarpalli - Wild Waters. Spread over an area of 30 acres, Wild Waters offers a wide range of unrivalled fun activities in the combination of aqua park, adventure park and amusement park. This park is the ultimate entertainment choice for your weekends, if you are planning to hang out with your family or friends. Talking of the rides, there are more than 60 dry and water rides. There are food stalls as well, offering some mouth-watering bites for you to satisfy your taste buds. Of the three parts of Wild Waters, Aqua Park is the designated area for the water rides. There are 21 water rides in this space and all of them provide a thrilling experience to those who love water. Some of the popular rides in the water park are Paradise Beach, Rain Disco, Crazy River, Pirates Cave and Aqua Play. Paradise beach is a good place for couples to spend some relaxing time in the wave pool that caters a real beach experience, with the coconut trees and sand setting. Rain disco is a must-go if you love rain dancing. Built over an area of 3000 square foot, Rain Disco is the ultimate place for you to dance to the beats, whilst enjoying the cool showers. Pirates Cave offers varied rides and games. There are 6 slides for adults and kids each, both of varying lengths, water pools for kids with buckets that tilt every 4-5 minutes, spilling water on everyone. Aqua Play consists of 5 different fountains and 3 kinds of water slides. For more craziness, move on to Crazy River. You are made to sit on a tube which floats on a river, 600 feet deep, and you can explore the landscape, but the river may surprise you with sudden crazy waves. For some next-level thrills, adults can try out the tornado, loop racer, twister, hurricane, cyclone and pendulum. These rides are sure to leave you screaming.
Address:
Sy.No.125, Masaniguda, Shankarpally, Telangana
Dress Code:
Only polyester and nylon costumes for water rides. Shawls, scarfs, loose footwear, dresses, spectacles to be avoided. Swimming costume available at the park.
How to get there?
You have to travel 50 kilometres from the main city to Masaniguda Village in Shankarpalli. It is easily accessible by road and can be reached in one and a half hours.
Timings:
Weekdays- 11:00 AM to 6:00 PM; Weekends- 11:00 AM to 7:00 PM
Ticket price:
Weekdays- INR 670 + 18% GST for adults; INR 585 + 18% GST for Children & Senior Citizens
Weekends- INR 754 + 18% GST for adults; INR 670 + 18% GST for Children & Senior Citizen
After Hours- INR 424 + 18% GST for adults; INR 339 + 18% GST for Children & Senior Citizen
Website:
www.wildwaters.in
Contact number
- 04048511111
8. Dream Valley Water Park
Take a break from your hectic schedule and rejuvenate yourself at the Dream Valley Water Park, featuring in the Dream Valley resort. With amazing water slides, splash pads, spray grounds and large swimming pool, the water park is one of the biggest fun zones in South India. You can buy a day visit package for the resort which will include access to the water park, food, drinks, rain dance and swimming pool. You can chill and sip some drinks in their Olympic size swimming pool or simply dance with your friends in the rain zone. Be it the harsh summers or mild winters, it is an ideal choice in all seasons. The park is also ideal for corporate outings and reunions. You can also book an overnight stay at their ethnic cottages and farmhouses.
Address:
Bakaram Jagir, Vikarabad Road, Before Chilkur X Roads, Nazeebnagar, Hyderabad
Dress Code:
Swimsuits, Bodysuits, Shorts and Tops, T-shirt, Burkinis allowed
How to Reach?
Easily accessible by road, it takes 1 hour to reach Nazeebnagar from the main city.
Timings:
10:00 AM to 6:00 PM
Ticket Price:
INR 1000 plus Taxes for adults, INR 800 plus taxes for children between 6 and 12 years of age
Website:
https://dreamvalleyresorts.com
Contact:
7036000027
9. Aalankrita Water Park
Aalankrita Water Park situated a bit far from the city in the 4-star Aalankrita Resort, which is a popular choice for families for a getaway or gatherings. This water park is ideal for all age groups and features both indoor and outdoor activities. The hospitality and facilities are the icing on the cake. The resort witnesses footfall of family vacationers every weekend, relaxing in the water rides and the swimming pool. You can book a day outing package for the resort, which gives you access to the swimming pool and some outdoor games. Kids of 5 years and below are only allowed in the babies' swimming pool and are not allowed for water games. Adults can enjoy the DJ and Rain Dance, water slides and water games. You can also book group packages for 15 people. It is a good choice for reunions or get-togethers. Right from the moment you enter the resort, you will be enthralled by the panoramic beauty, blended by the luxury of the 4-star resort. The rich architecture and detailed interiors are sure to remain etched in your memory for some time.
Address:
Thumkunta Village, Shamirpet Mandal, Medchal District, Telangana
Dress Code:
Swimsuits, Bodysuits, Shorts and Tops, T-shirt, Burkinis allowed
How to Reach?
About 73 kilometres from the Hyderabad International Airport and 24 kilometres from Nampally Railways station, it can be reached by road in one hour.
Timings:
10 AM - 9 PM
Ticket Price:
INR850 per person for adults, INR 425 per person for children between 2 and 11 years of age
Website:
http://www.aalankrita.com/water-park.html
Contact:
8418309999
Hyderabad gives us many options to combine our celebrations with. The water parks around, fulfil the purpose of a proper cream layered cake with the world-famous biryani as the cherry on the top. The title "most livable city" totally reflects the reason to be named so. This is a perfect destination for a short break from the monotonous life.