Everyone deserves a fair share of romance. While you are in
Hyderabad
, you are bound to get overwhelmed with the number of options available to plan a romantic date for your lover. The city has a lot to offer for a couple madly in love, from historical sites turned into luxurious hotels to exclusive restaurants that might carry you to a different world altogether. Whether you want to go for a long-weekend holiday or a charming dinner date, this post can be your guide for all.
Experience and explore these romantic places in Hyderabad with someone special by your side:
1. Ramoji Film City
Your partner is a movie buff and you are in a dilemma to create magic among the cinematic hues for a perfect start? plan a trip to the major attraction of Hyderabad, Ramoji Film City for a tour behind the scenes of the Live Studios to get a glimpse of the backstage work involved in Bollywood and Tollywood movies. You can book hotels located within the sprawling campus and delve into the grandeur of luxury where your favourite stars acted in the biggest cinematic hits. Not just that, this theme park offers a plethora of interesting activities such as adventure sports (Bungee ejection, swinging and climbing through the loop, Football, cricket), studio tours (Askari Garden, Mughal Garden, Japanese Garden, Angel's Fountain Garden, Sun Fountain Garden, Sanctuary Garden), Movie Magic Park (experience earthquake tremors, Filmi Duniya, amazing acoustic effects, simulation experience of free fall, and Action Studio and much more. Wrap it up with a dinner date with your love in one of the fine-dining restaurants to double up the fun.
Timings: 9:00 AM to 5:30 PM
Cost:  INR 1250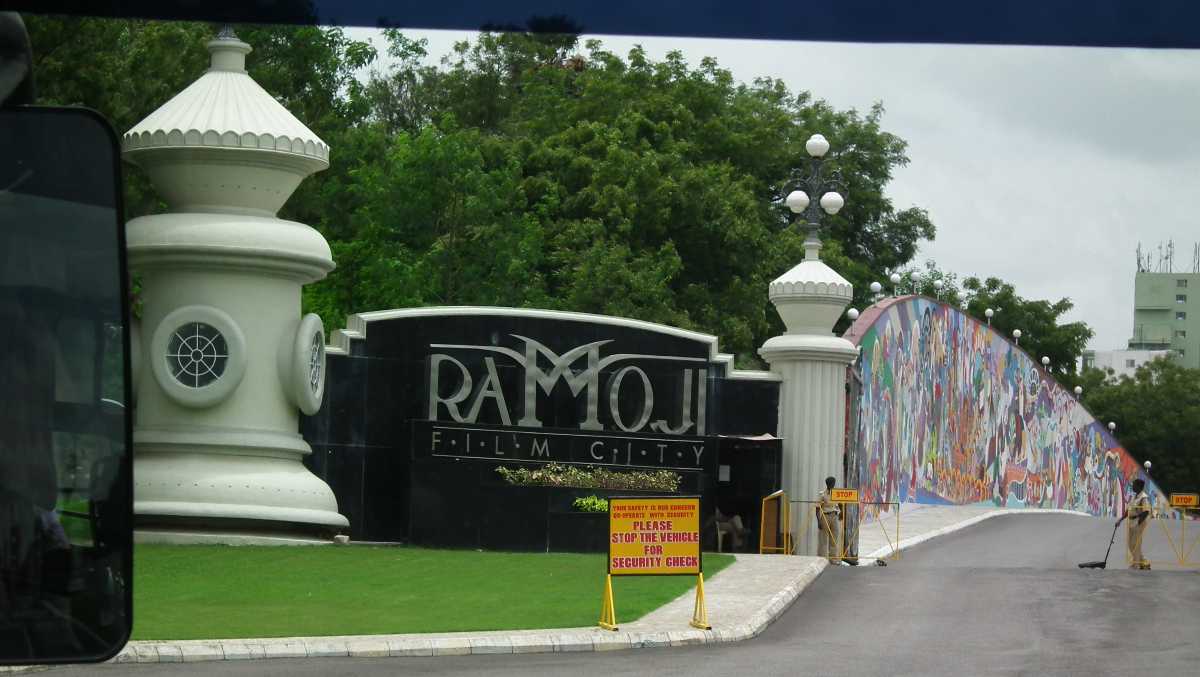 2. Necklace Road
Traffic jams during daytime in Hyderabad are a menace when you have planned to go on a long drive with your loved one. However, a late-night drive around the Necklace Road can be lovely. It gets its name because of the curvaceous pathway bends around the Tank Bund in a similar fashion to what a necklace does when worn by an individual. There are also some great restaurants in the area such as 1857, The Water Front, Ohri's Tansen and Bidri to make your date even more interesting. You can spend some peace-time amidst lush greenery at the well-maintained parks alongside Necklace Road, from NTR
Gardens
and Lumbini Park in Hyderabad to Sanjeevaiah Park in Secunderabad.
Timings: 8:00 AM to 10:30 PM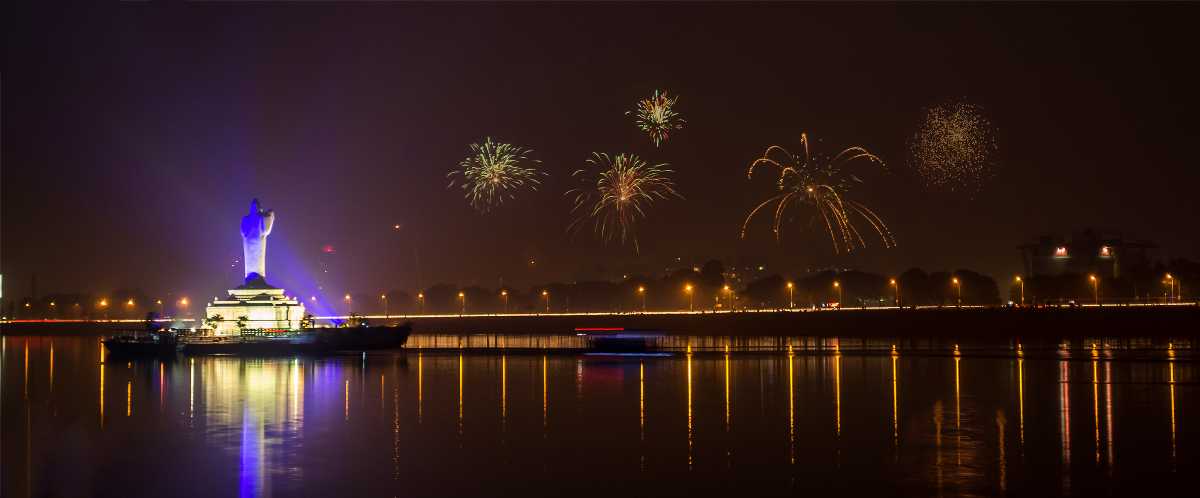 3. Eat Street
To spice up your love life with some mouth-watering street food, you must head out to one of the most popular culinary retreat in Hyderabad ? Eat Street, located by the side of picturesque Necklace Road. The food court offers plenty of options to choose from, and the best part is that you can indulge in the goodness of the meal by the lake with a glamorous view. Savour the Indian Chaats, relish the North/South -Indian meals, dig into the delectable Hyderabadi or Mughlai cuisine, the aroma of food here will enchant your foodie partner. There is outdoor seating available if you want to spend some quality time with your partner in a lush green park and at the same time, you can choose to sit up on the first floor and delight yourselves with a panoramic view of the city.
Timings: 9:00 AM to 11:30 PM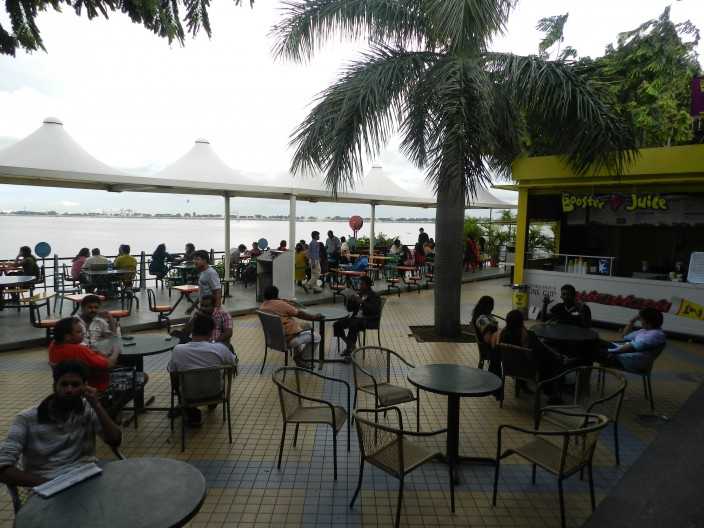 4. Golconda Fort
A visit to the Golconda Fort might come to you as an absolute cliché but it's tried and tested, and it works perfectly! The famous tourist spot gets its name from the Telugu words 'Golla Konda' meaning 'Shepherd's Hill' which was passed from one dynasty to another until the Qutb Shahis built it over a span of 62 years. The Fateh Rahben gun is one of the cannons which has historical significance as it was used in the last battle here when the Fort fell to Aurangzeb, is the major interest here apart from the palaces, system of acoustics and architecture. Watch the day turn into the night and the sky turning into its magnificent glory with your romantic partner here.
Timings: 9:00 AM to 5:30 PM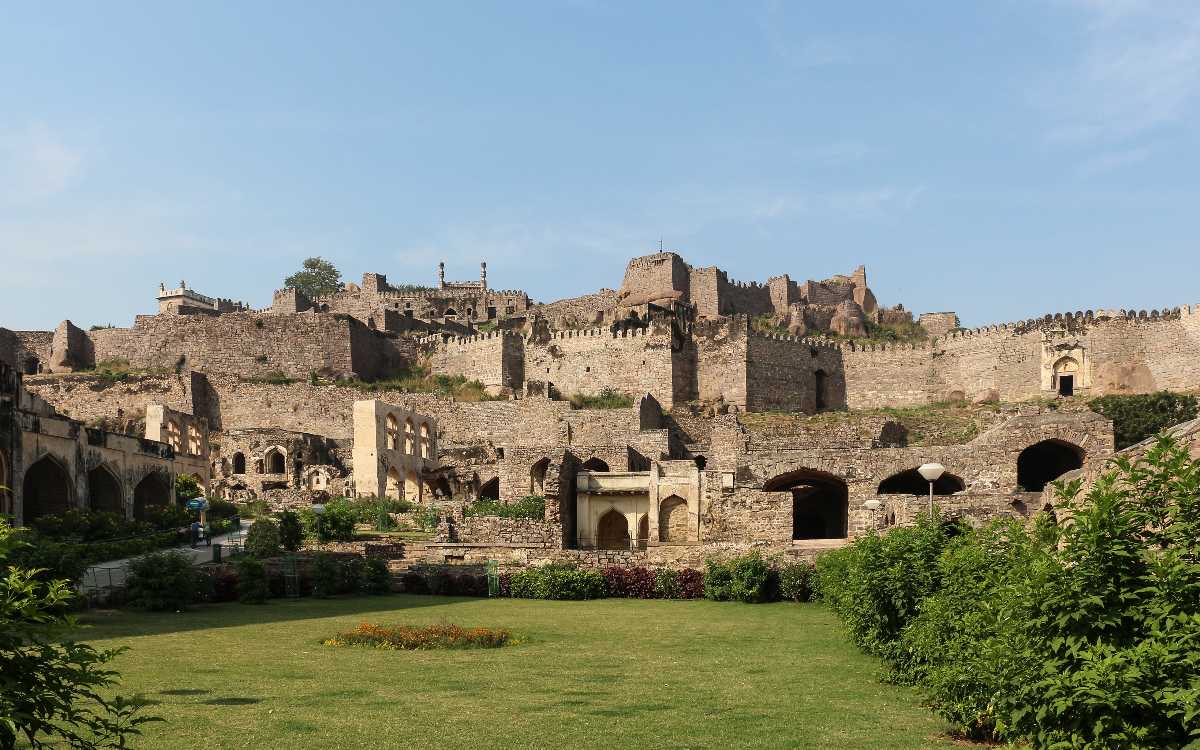 Fancy taking your partner to a 'Secret Lake' Durgum Cheruvu is a freshwater lake located in the Rangareddy district,
Telangana
. You can go on a merry ride a mechanized boat, water scooter and pedal boat which are also available here or go for a romantic walk along the water. The picturesque lake offers a peaceful break from the chaotic fast-paced city life. If you are trekker love birds, you and your love interest also have the option of trekking your way to the lake.
Timings: 10:00 AM to 6:30 PM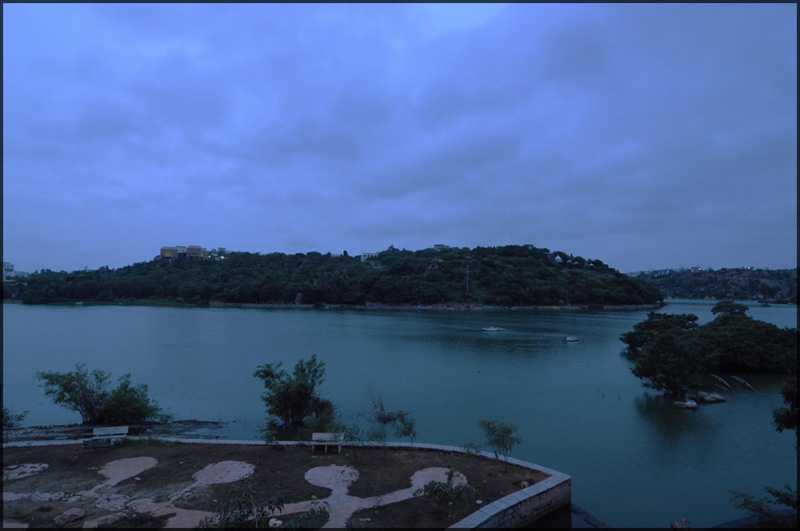 6. Olive Bistro
A date with love in a fancy restaurant in a white bungalow enveloped in tranquillity and serenity that overlooks the 'Secret Lake' of Hyderabad is bound to be special. A rustic hideaway where the blend of ambience and décor will transport you to the Mediterranean hues. Add a twist to your date with an exotic cuisine paired up with some of the best wines. The sun-drenched cobblestone alleyways are the perfect place to pull off the grand gesture for the special someone. Undoubtedly, this is one of the best places for couples in Hyderabad.
Timings: 7:00 PM to 11:00 PM
Cost for two: INR 2000 with alcohol
Where: Road 46, Inside Durgam Cheruvu, Jubilee Hills, Hyderabad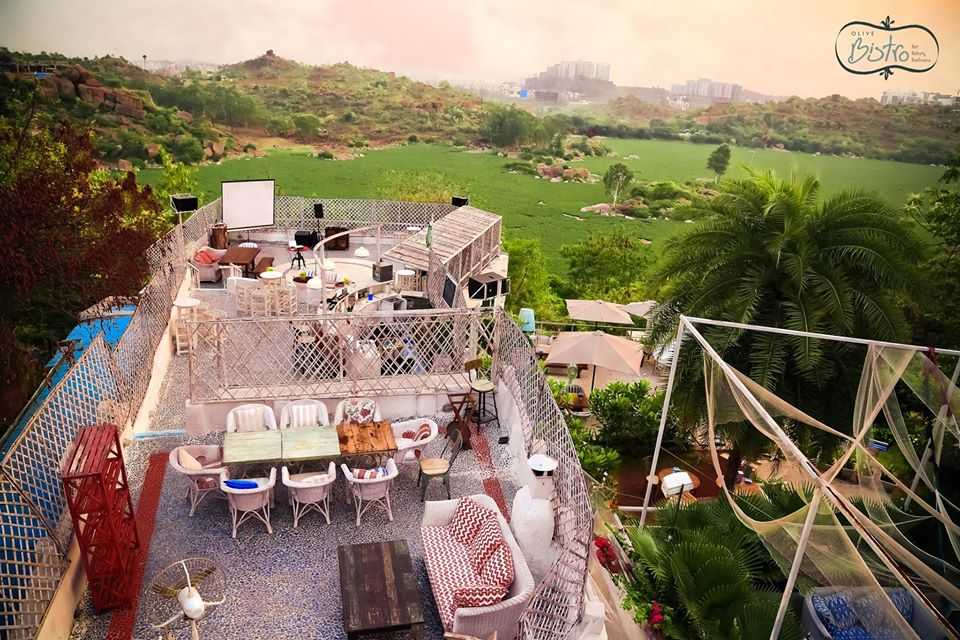 7. Leonia Holistic Destination
You want to make everything perfect for your partner this weekend, but you are clueless where you should head to. Leonia Holistic Destination is the answer to end all your dilemma. On a sprawling complex that houses four hotels and villas is a complete fun-package set up just for you. Located at Shameerpet, amidst greenery and natural rock formation, Leonia Holistic Destination has it all - medispa, movie theatres, live performances, a surfing ridge, water park, paintball, live DJ with rain dance, multi-cuisine restaurants, cosy bars and nightclub to get you started. The luxurious retreat has palace-like Leo Celestia Suites and poolside Lagoon Villas for those who want to do profess their love in style. Relish the bold flavours with tailor-made cocktails by the culinary experts to deliver an unmatchable experience to you and your partner.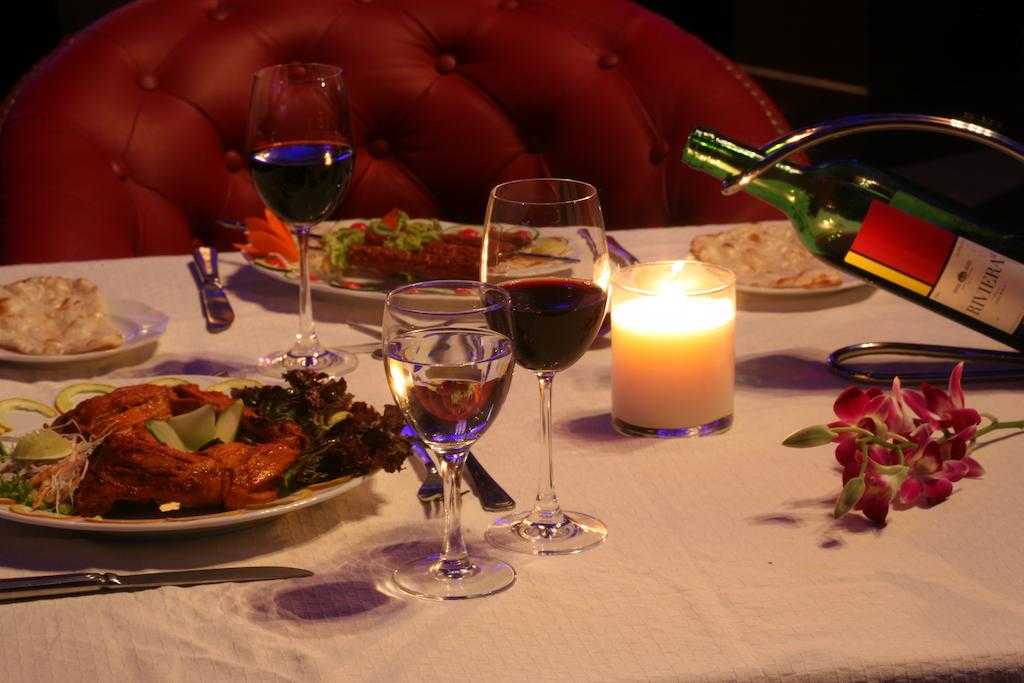 8. Ohri's Gufaa
With surreal interiors to render a mysterious element to the ambience of the place, Ohri's Gufaa is extravagant themed fine dining restaurant is a great place to impress their special someone. Gufaa's interior décor will transport you to a time when people used to live in caves. The waiters are dressed as hunters. An exquisite menu with an eclectic mix of food from all over the world, to choose from, you won't be pressed for options. Add a little sweetness to the evening by trying their special Khubani ka Meetha and Zafrani Phirni at the perfect cave-like eatery with dim lights for your romantic date to be perfect. This is one of the best places for a date in Hyderabad.
Timings: 12:00 PM to 3:30 PM and 7:00 PM to 11:00 PM
Cost for two: INR 1000 with alcohol
Where: 5-9-30/16-20, Ohri's Cuisine Court, Opposite Old Gandhi Medical College, Basheer Bagh, Hyderabad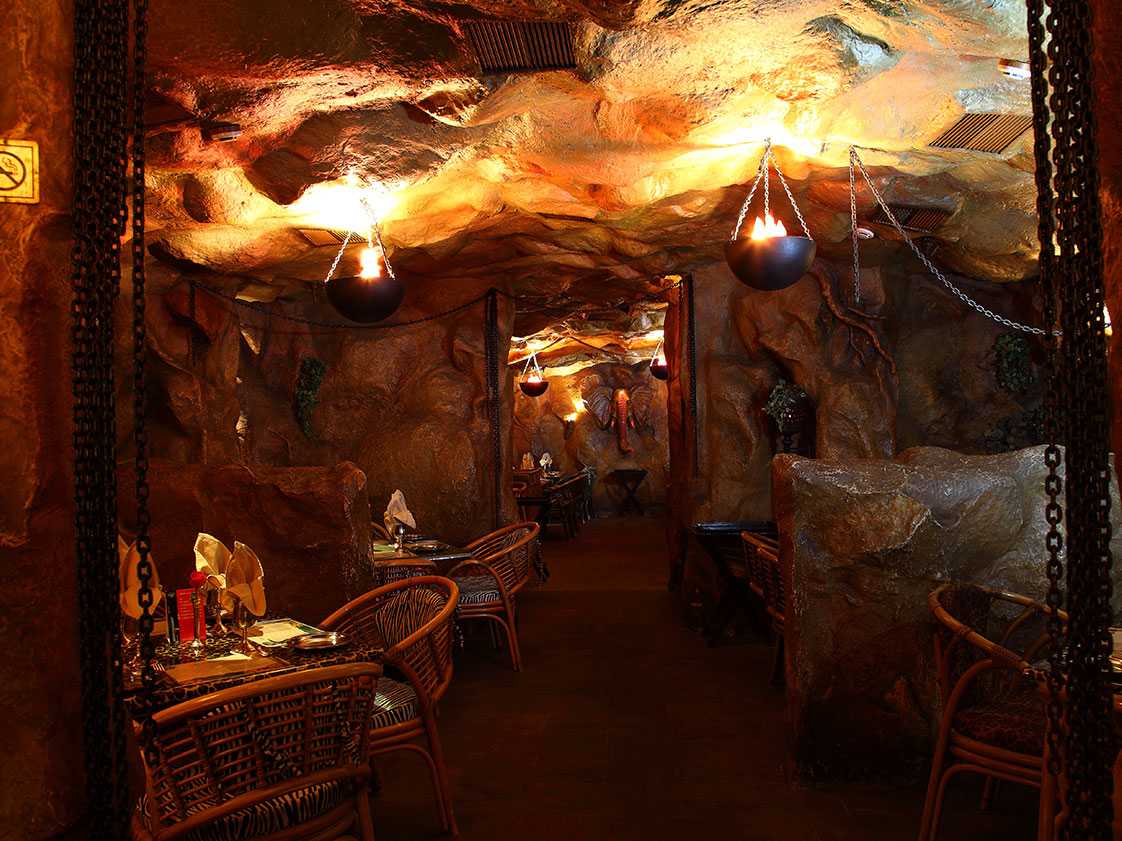 9. Little Italy
If Italian food is a turn on for your love interest, where would you take them for a dinner date? Find romance with your special someone over a delightful bowl of spaghetti paired up with the best mocktails at Little Italy. Their huge spread of Italian delicacies and service is second to none. Bring your taste buds alive as you indulge in the authentic Italian dining experience by opting for a buffet or a la carte at Little Italy.
Timings: 7:00 PM to 11:00 PM
Cost for two: INR 2000
Where: Film Nagar and Hitech City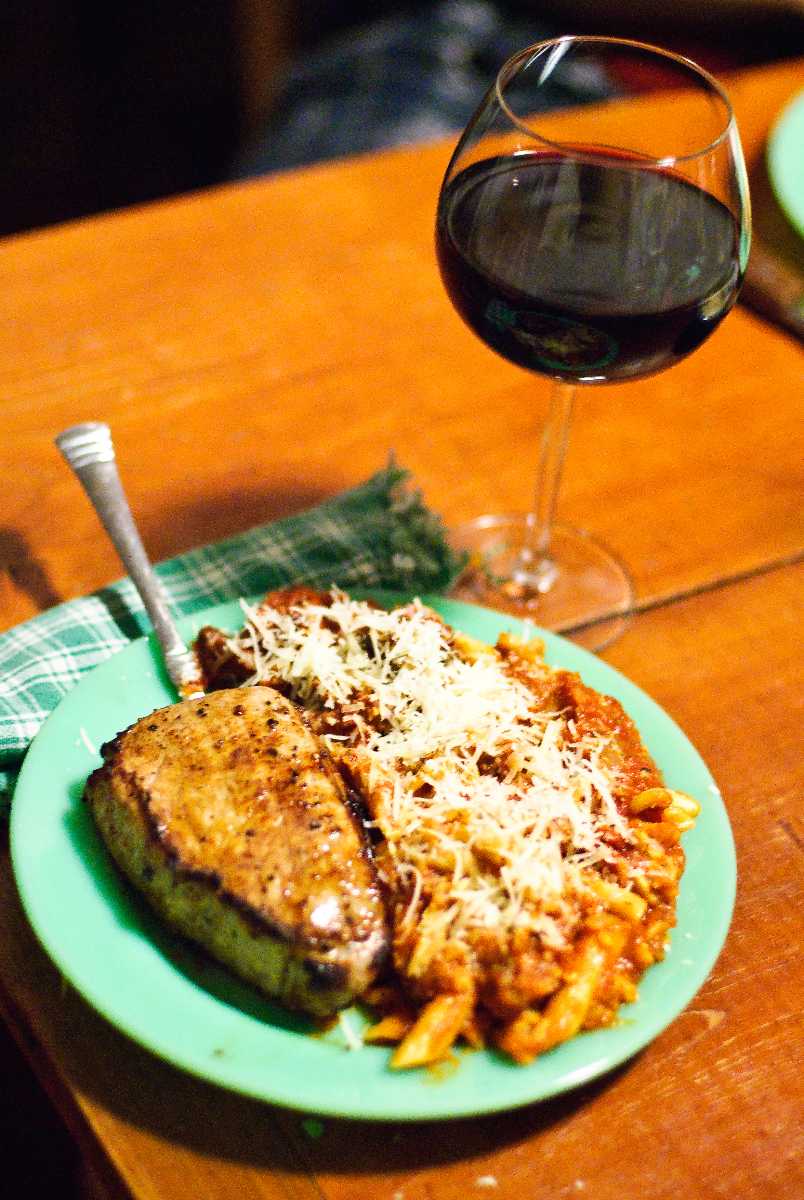 10. Alfresco
This location is ideal for an extravagant dining affair. The grandeur of Alfresco, Taj Krishna will charm your sweet with its tranquil ambience. Reserve a table in the lawn or by the poolside and savour some Pepperonata or BBQ Pork Chops with a delicious red-wine to have a fantastic evening. The stylish white tables and chairs, the fresh blue water in the pool and a candle night-dinner will leave a lasting impression on your darling.
Timings: 11:00 AM to 10:30 PM
Cost for two: INR 2000
Where: Taj Krishna, Road 1, Banjara Hills, Hyderabad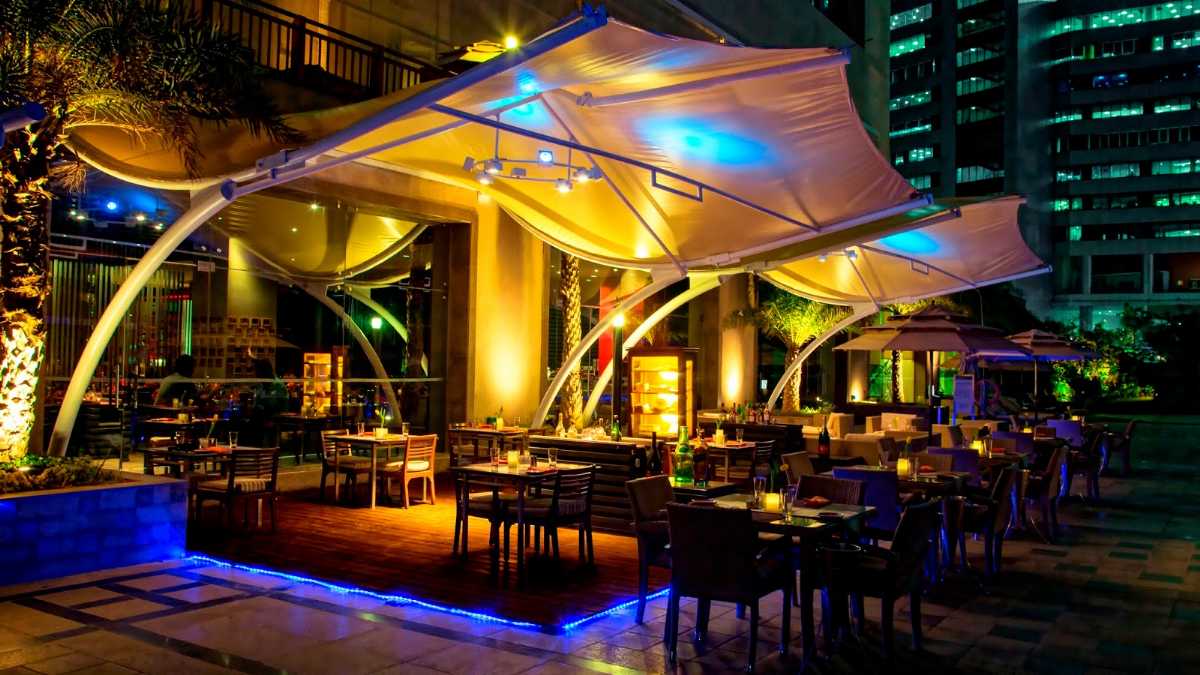 11. Dialogues in the dark
Candle-light dinners might sound boring after you have been to 'n' number of those before. You want to surprise your sweetheart and are clueless, then, plan a dinner at Dialogue in the Dark in the city. You will be asked to keep your phones, watches and anything that might produce light, aside before entering the restaurant. Accompanied by a guide who will be visually impaired, you will lead to your table and be asked for the choice of food? vegetarian or non-vegetarian. Your food will arrive in a duration mentioned by your guide. During this waiting period, you and your partner can talk your heart out instead of scrolling through your mobile screen. Go on this exhilarating experience, it's worth it.
Timings: 12:30 PM to 3:30PM, 7:30 PM to 9:30 PM
Cost for two: INR 1300
Where: 5th Floor, Inorbit Mall, Hitech City, Hyderabad
12. Falaknuma Palace
Situated at an approximate distance of five kilometres from the infamous Char Minar, Falaknuma Palace is located on a hilltop of about 2000 ft. high. Check-in to this luxurious hotel to live life the Nizam style. Soak in the magic of the royal architecture with frescoes adorning the ceiling and Venetian chandeliers, marble staircase, paintings from a long-lost era at the Falaknuma Palace, a hookah lounge, a tea room and two fine dining restaurants. Take your partner on a lavish love journey to this place which they will always remember.
Timings: 4:00 PM - 5:30 PM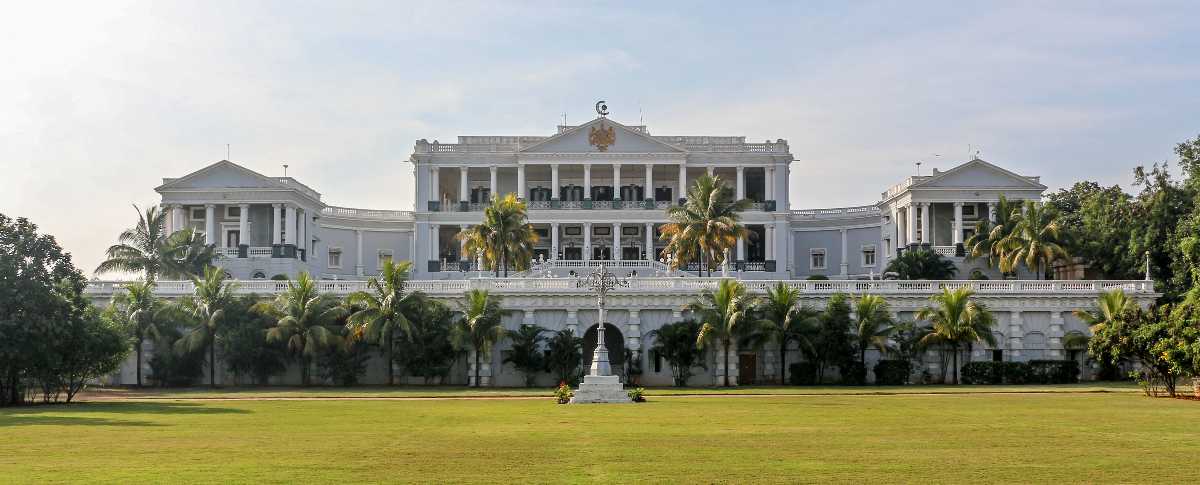 With the above-mentioned places, you have the key to unlocking the feelings in your sweetheart's heart which might not have surfaced due to the busy work schedules that have been occupying both of your minds lately. Choose a romantic getaway or plan out a special dinner with your love interest and feel the romance cast its magical charm on the two of you.