Ditching the very mundane life, four women braced their motorcycles and embarked upon a journey through diverse vistas across six countries. Nothing could stop these valiant women from setting out on this unforgettable trail which changed their lives forever. Living with innumerable inhibitions, this trip transformed these women into confident and assertive individuals, obliging any challenge life throws at them with renewed positivity. 
Penning down their experience in 'Road to Mekong', a fellow biker; Piya Bahadur talks about the book she volunteered to write and shares her journey with us. Here's an insight into our conversation with the traveller and now writer - Piya Bahadur.
A Travel Testimony 
If you want to describe yourself as a traveller in three words, what would they be? 
After a moment of thought, Piya exclaims that in retrospect, she considers herself to be open-minded, comfortable with uncertainty and adventurous. 
Road to Mekong - Piya Enlightens Us About the Escapade 
To anybody who hasn't read Road to Mekong, how would you describe the book? And your expedition?
Piya promptly replied that the book is all about their exploration. From planning, globetrotting on their two-wheeler to sightseeing, and most importantly retrospecting, she has shared it all. 
'
It's about me stepping out under the conditions of a harsh expedition discipline, ostensibly to explore new roads and finding out that I like talking to myself
.' The book also records many of her self-conversations. 
She continued to say that their dream began with a plan to ride into neighbouring countries. That's how their trip set into motion. It required detailed groundwork which included consolidating resources, identifying a team, and finally executing the trip. They traversed through five different countries in the Southeast Asian peninsula covering 17,000 km which also included a delightful afternoon as an audience with the Prime Minister of India.
A Special Anecdote 
River Mekong covers the entire region you motorcycled through on your expedition, is there a special memory you lived at this river?
In all enthusiasm, she said '
Several
! ' Having celebrated her birthday on March 17th during the exotic road trip which commenced in early February and terminated in April, left her with an everlasting memory. 
'
It was such a coincidence to find us waking up that morning right on the banks of the Mekong. We had arrived the previous night and in the starless night not noticed the Mekong right there! That was also the only time we actually took a boat ride on the languorous river which separated Cambodia and Vietnam
.' 
It was in a boat at the centre of the Mekong in the heart of the Southeast Asian peninsula that it struck the humbled travellers that they had travelled a long way from home.
Stepping Out Of Comfort Zones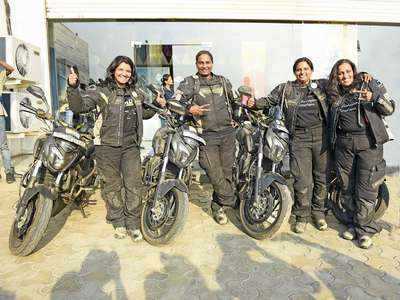 We are sure it must be covered in the book, but can you tell us again why a motorcycle expedition? Why not get something more "comfortable"?
In response to this, she exclaimed that it commenced as a simple enough idea to see India's eastern neighbourhood. Since they were already ditching the conventions, visiting countries through the airports seemed liked something regular to do but riding through the cities and witnessing the rustic rural hinterlands seemed like a better idea. Approaching places along the roads is what charmed them! 
Traversing on 400 cc motorcycles, through 6 countries, hopping across 17,000 km and using offbeat trilateral India -Myanmar-Thailand highway to access these countries, seemed like an adventure worth it to them!
'
Feeling the powerful machines tearing up the road under you, the wind in your hair, experiencing the countryside –seemed like a fabulous adventure
!' 
Daunting Dreads En-Route
17000 km is no mean feat! What was the thing that scared you the most, if at all?
Listing a couple of things that could go wrong on such a long expedition, she said accidents and vehicle breakdowns were the more obvious obstacle. Travel documentation and infighting within the team would be other minimalistic road bumps. 
However, there was one thing that scared her the most. She said braving a smile '
I was afraid I would be the only rider who would cry at the physical hardships.'
Piya's Preachings & Tip-Offs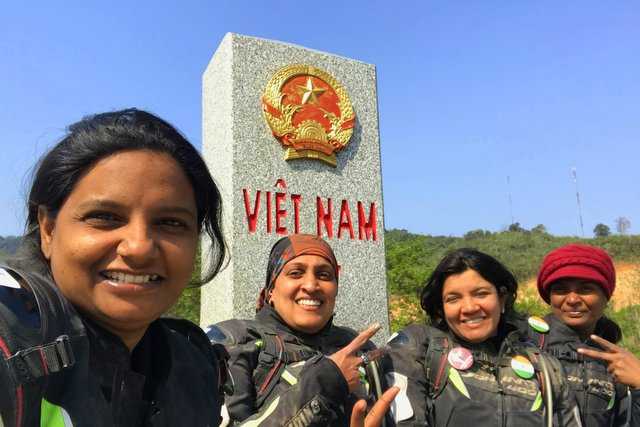 What do you think about solo female travel, especially in India? What is your advice to young aspirants?
She thinks it's about time for more women to take to travelling - solo or in groups whichever comfortable. She advises to start with shorter and more familiar trips and then as one gains experience to travel; one should undoubtedly set upon longer, more intricate journeys. 
The travel pro has more definite telltales from her side. She firmly says, '
There is definitely a vocabulary to travel, one needs to be alert. On a personal level, I find social media engagement on a trip very distracting. One needs to be aware of one's surroundings. Often people are unaware of changing dynamics around them. One needs to pay attention to place, time and people around them
.' 
What is your message to other mothers who have caught the travel bug?
Piya says good parenting is to teach children that life is meant to be lived and cherished. She surely recommends travel to any mother as she sees it as a sign of good mothering to teach children to step out of comfort zones.
She added that '
It is up to mothers who traditionally don't make travel plans to lead by example and show their children that planning vacations, researching travel destinations and coming back with armfuls of memories call for a higher order of leadership - one that their mothers are capable of!' 
Her Major TakeAway From The Trip 
Your journey is definitely filled with sweet anecdotes and deep realisations, but if there was only one thing that you could carry with you from this experience, what would it be?
Piya sadly commented that people had encapsulated themselves in socio-economic bubbles, meeting the same kind of people with similar sensibilities and life experiences. 
But with renewed optimism, she said, '
for me, the trip brought home the fact that the world is a larger window than what is seen from our limited viewpoints. There is a multitude of experiences and truths out there. And we, as a species, are still very similar but seemingly different on the surface
'.
Future Travel Maneuverings
If you ever had the chance to retake another such expedition, where would it be? Have you given that some thought?
'Umm, I would love to ride through Australia. I think the wide-open spaces and the long road to the horizon are intoxicating enough to drive me there.'

Women are making it big in the field of travel, and Piya Bahadur is proof of the success despite all the thrills and adventures. We're in awe of her and her fellow travellers for setting such an incredible example for all aspiring women travellers. 
Have you read Road To Mekong? If not, give it a read and leave us your reviews in the comments below!