When it comes to Macau, picking out a gift can be tough given the range of exceptional items locally prepared here. From its luscious pastries to vintage wines, from trendy clothing to intricate woodworks, each souvenir will reflect the harmonious blend of East and West cultures at this place. So check out the shopping list prepared below of the eight best souvenirs you can bring back home from your trip to the liveliest cities of Macau.
1. Baked Goodies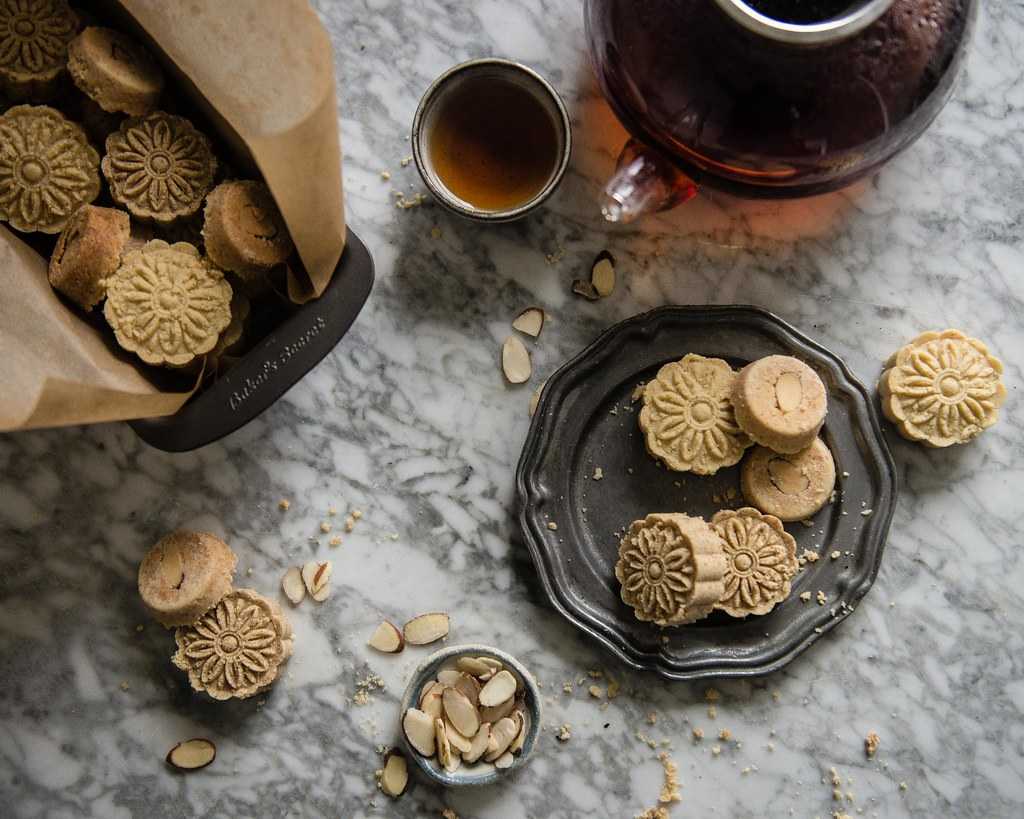 A delight for sweet-tooths visiting Macau is the multitude of assorted desserts prepared in its little bakeries. From cookies to pastries, every baked item is a rage among tourists because of their delectable and unique taste. One such delicacy is their almond cookies. With softness that makes them crumble in your mouth, Macau's almond cookies have a distinctive way of preparation and serve as an excellent souvenir from your trip. So do their cashew cookies and peanut brittles. This is one of the cute souvenirs from Macau, packed in designer mouldings and adorable little tins.
Where to get them:
Koi Kei Bakery- 27 outlets spread across Macau
Pastelaria Fong Kei at 14 Rua do Cunha
Shops in the area of Senado Square and Rua de S. Paulo. 
2. T-Shirts from Loving Macau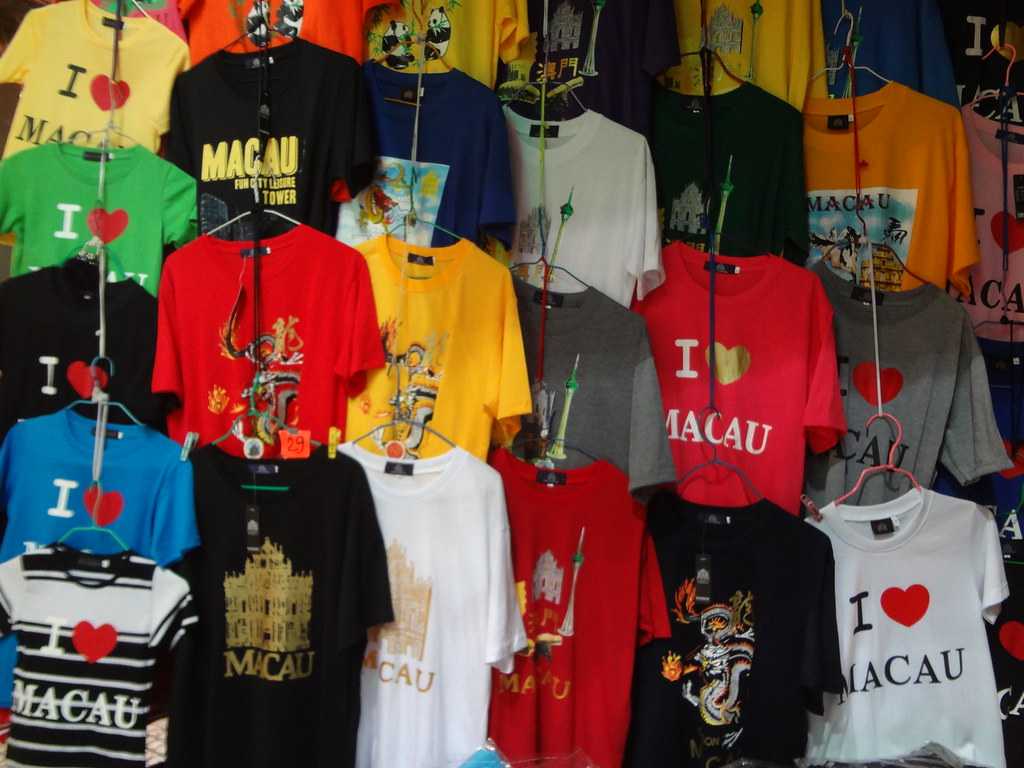 Promoting their friendly culture and rich traditions is the online shopping destination titled 'Loving Macau'. Clubbing local artisans together to create high-quality products for tourists, Loving Macau is a well-known brand for getting a perfect souvenir from Macau.  Simplistic yet cool tees and hoodies, with 'Made in Macau' or 'I am Macanese' or 'Macau, it's not Hong Kong' printed across them, are available in various colours and sizes. Not only do they have their own clothing range, but they also have customized bags, caps and keychains.
Where to get them: Since the brand of Loving Macau doesn't have any store, you can only purchase their products online through their website.
3. Traditional Portuguese Wine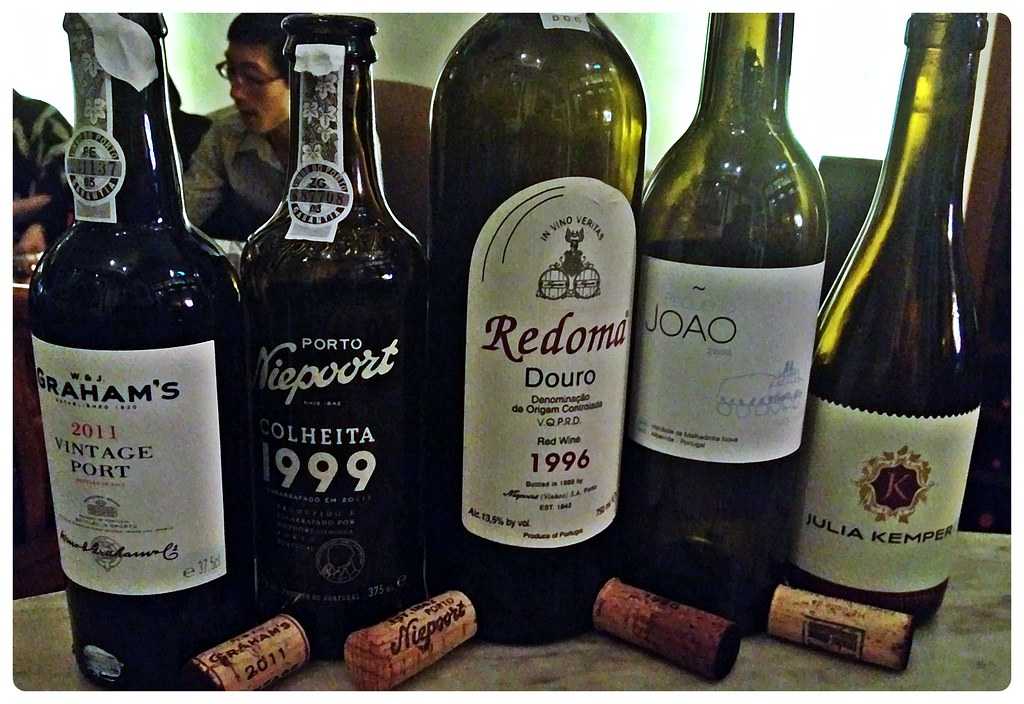 While touring the cities of Macau, you'll experience a Portuguese influence not only on their culture but also on their wine cellars. Whether small or top-notch, many pubs and restaurants stock aged Portuguese port wines in their collection. In fact, the country even has a wine museum with a tasting station which lets you taste samples from their vintage collections. Hence, gifting someone a bottle of classic port wine makes an elegant souvenir. You can also collect a duty-free bottle from the stalls at the airport.   
Where to get them: Supermarkets, bars and restaurants
4. Macanese Postcards and Keychains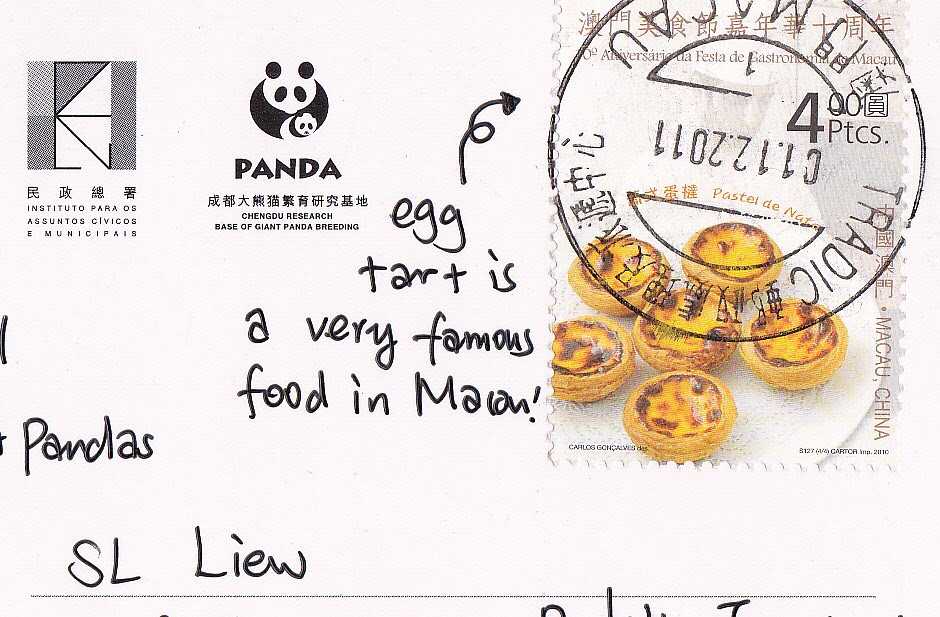 Cute little items like keychains, fridge magnets, pins and stickers are a new draw amongst customers looking for perfect souvenirs from Macau. Hence many souvenir shops in the bustling markets of Macau now prepare such customized accessories. Pictures of renowned landmarks, or the heavenly egg tarts, or simply 'I love Macau' written on, you can get quirky keychains that glorify the different aspects of Macau's vibrant culture. Designer postcards illustrating the magnificent monuments and picturesque heritage sites of Macau are also purchased in bulk.     
Where to get them:
Local market of Senado Square; Cunha Bazaar at 1/F, Rua do Cunha
Macau Creations- shop at T1, Macau Tower Convention and Entertainment Centre
Online on the website of 'Loving Macau'.
5. Chinese Antiques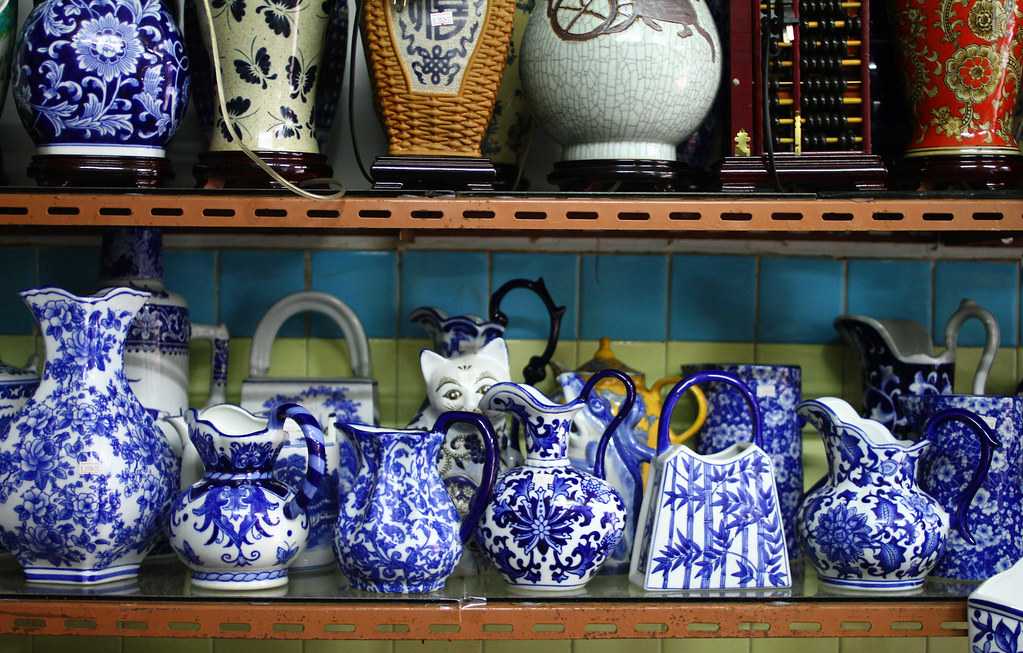 No, not the original relics. But you can undoubtedly purchase the replicas and reproduced versions of intriguing Chinese antiques to add a traditional touch to your house's interior. Slowly gaining popularity among tourists, the fascinating detailing and intricate carvings of these artefacts make them a good buy. Be it the porcelain wares, or ancient coins, or the vivid murals, or the scripts inked with Chinese calligraphy, or rosewoods carvings; all these items make for a charming and offbeat souvenir from Macau.
Where to get them:
Streets near the ruins of St. Paul's
Flea markets in Rua de Sao Paulo, Rua de Tercena and Bombeiros Square.
6. Peanut Candy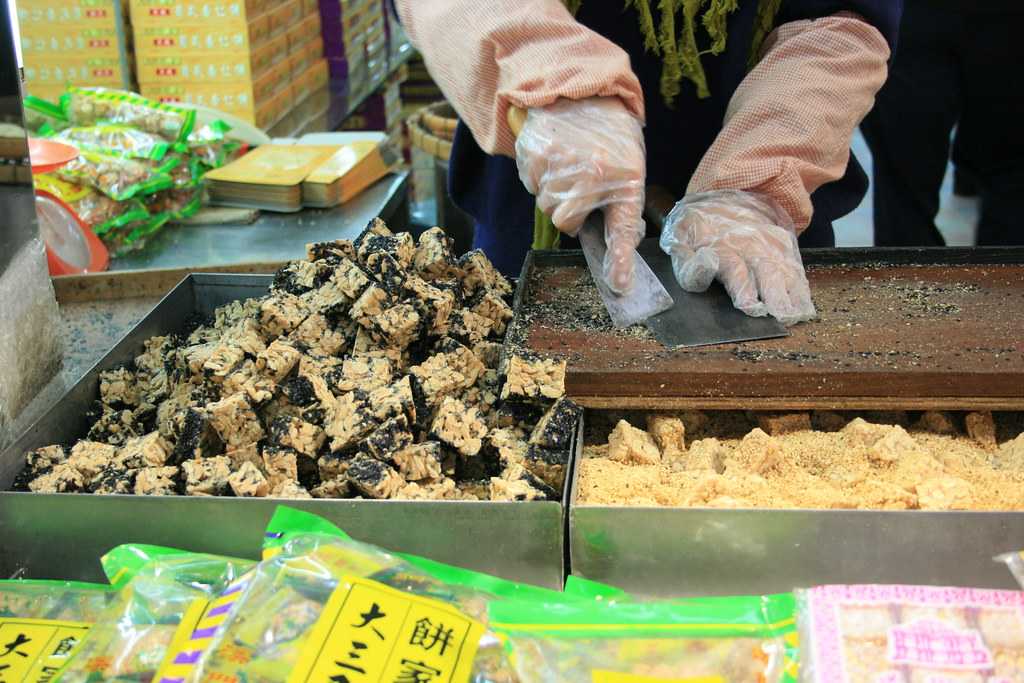 Another traditional Macanese delight is peanut candies. Filled in illustrious packets of various sizes, the crunchy and chewy flavour of these nibbles are loved by adults and youngsters alike. With a base of crunchy peanuts, these candies are usually coated in black sesame or shredded coconut or sea salt. 
Where to get them: Koi Kei Bakery- 27 outlets spread across Macau
7. Meat Jerky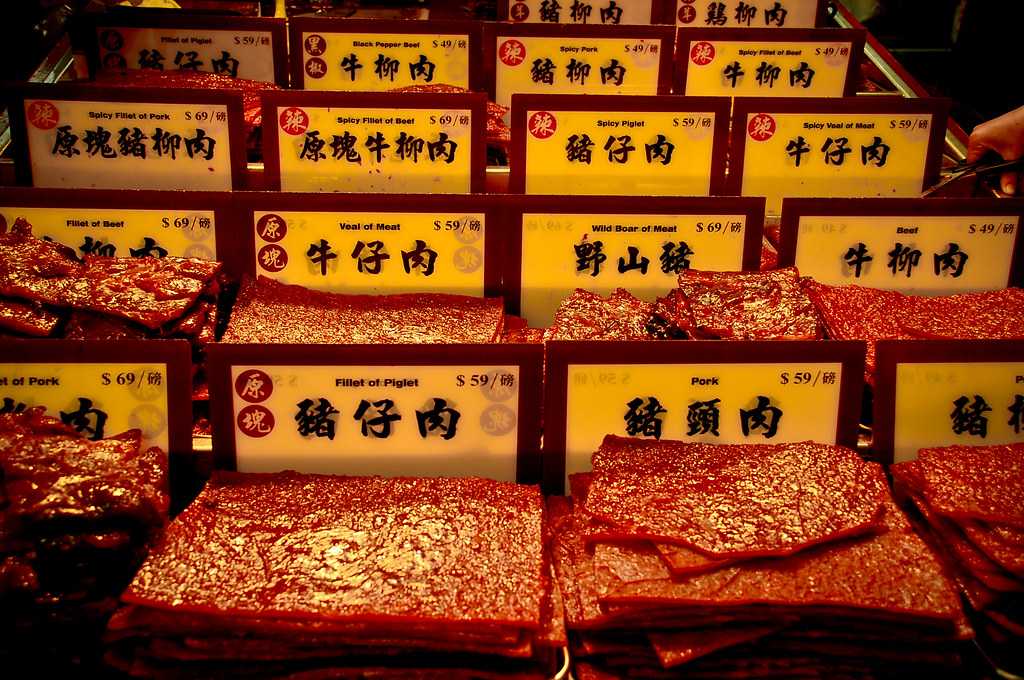 Dried with salt, sweetened with sugar and cut into rectangular slices, meat jerkies are the savoury delights of Macau. Prepared generally with pork or beef, the marinating of the meat in sauces and spices is what grants it a unique combo of sweet and spicy. Fortunately, the bakeries in Macau have mastered in striking a balance in its luscious taste. Hence, while visiting any local confectionery, you'll find meat jerky being sold in decorative packets in huge numbers.
Where to get them:
Koi Kei Bakery- 27 outlets spread across Macau
Shops near Senado Square and Ruins of St. Paul's.
8. Custard Egg Tarts
Travelling all the way from the patisseries of Portugal to the streets of Macau is the renowned recipe of luscious egg tarts. Baked hot in the oven, these creamy and buttery delights are a speciality dessert in Macau and have been a rage among its visitors for over two decades now. A puffy core formed with egg custard while a crispy top of hard caramel fills the flaky crusts of this sweet dessert. The gooey taste of its shell is preserved and packaged in a manner that can make them fit for travel.
Where to get them:
Lord Stow's Bakery at 1 Rua do Tassara, Coloane Town Square
Margaret's Café e Nata- Pastry shop at 17B R. do Cmte. Mata e Oliveira
Koi Kei Bakery- 27 outlets spread across Macau
Shopping for souvenirs is shopping for memories. Sometimes, it is for bringing back a piece of that trip with you. Sometimes, it is for gifting your loved ones a celebrated artefact of that place. Now that you have an idea of what to buy and where to buy, all that is left for you is to make room in your suitcase to accommodate all the interesting finds and souvenirs from Macau!