When it comes to shopping,
Pattaya
checks off all the right boxes. Be it brand labels or local antiques; it is a perfect place for shopaholics. The product prices are also quite reasonable. Besides, the astounding variety of things that Pattaya has to offer is in itself vast and impressive. Be it clothing, handicrafts, furniture, jewellery, Thai spices, spa products, silk; you'll find almost everything here. When purchasing from the local market, make sure you strike a good bargain as vendors tend to state a way higher price even for some cheap, basic stuff.
All the malls and markets are situated quite close to each other, so have a complete idea about the markets in any place you go and give them a quick visit. The best part is, you'll enjoy shopping in Pattaya. The markets are full of colours and have an impressive range and variety. We bring you a complete guide to shopping in Pattaya with some of the best picks in malls and markets to help you make your shopping experience the best. Go ahead, have a look!
Best Markets in Pattaya: 
1. Pattaya Floating Market (Four Regions Market)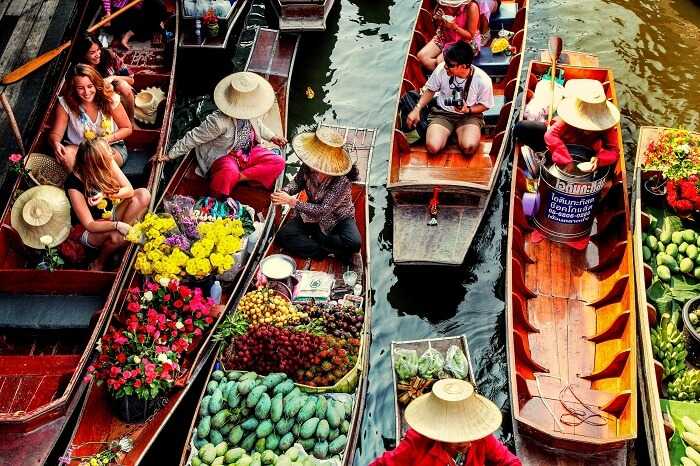 If you're looking for some fun-filled shopping experience, Pattaya Floating Market is the right place. How thrilling does it sound to hop on a boat and paddle through a wide array of authentic Thai shops selling the best of souvenirs! The boat is big enough for four people and can be hired for 30 minutes for a small fee. The market is spread over an area of 100,000 meters square and is quite easy to navigate. To make your shopping much more comfortable and enjoyable, the market has been divided into four sections; each selling item from four major parts of
Thailand
- North, North-east, Central and South.  It is the best place for souvenir shopping, and you'll find a vast collection of high-quality wares such as clothing, handicrafts and art.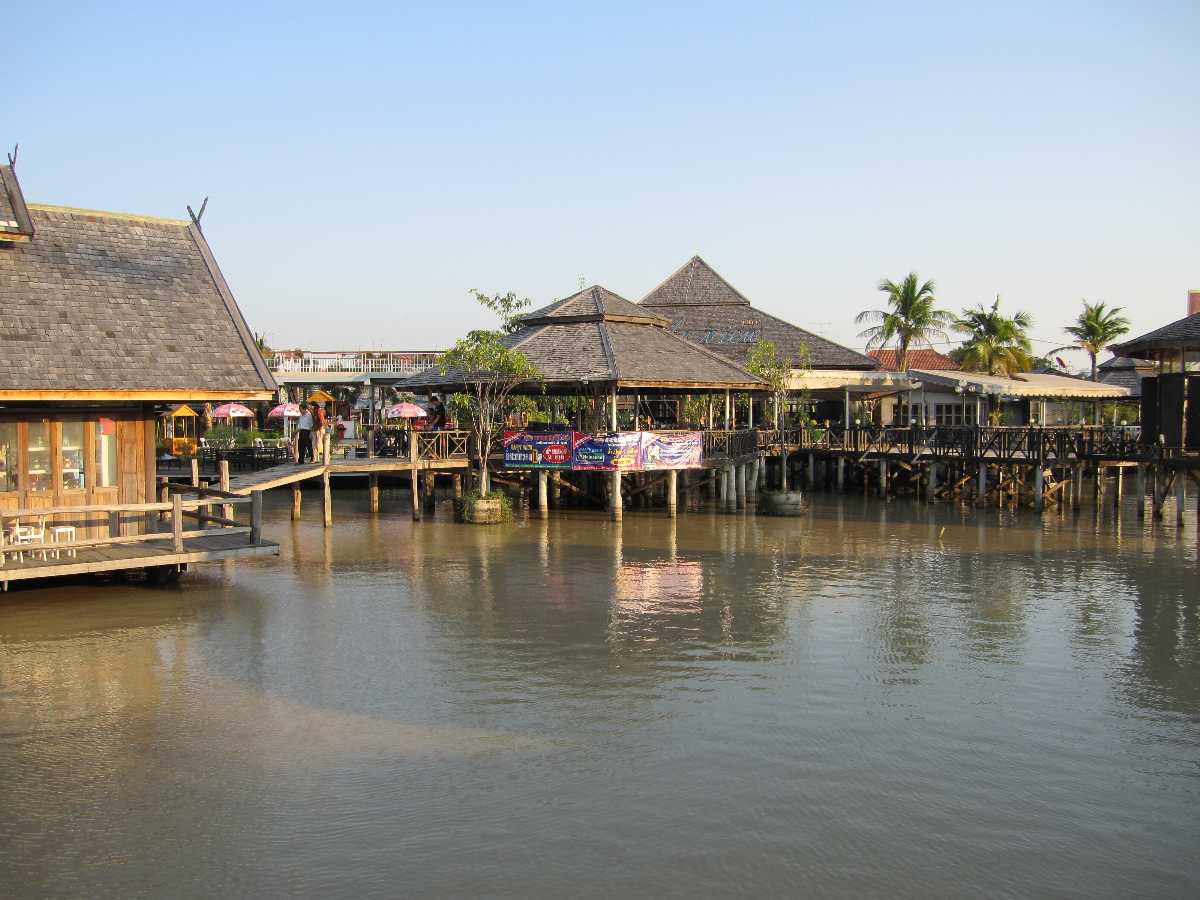 You can even enjoy the various cultural demonstrations that take place in many parts of the market and what's even more fun is that you can witness them for free! There is a daily show featuring four cultural performances. It has over a hundred shops selling traditional Thai cuisines from all over the country. Make sure you try the pad thai noodles, coconut pancakes, thong yip (sweet egg yolk) and many more. It is spread over a large area and has a million fascinating things to witness. So keep one whole day just for the floating market.  Check out the work at the wood carving museum and do not miss the sunflower and agricultural demonstrations field. Filling your bags with traditional Thai handicrafts and paintings is a must here.
Location: 451/304, Moo 12, Sukhumvit-Pattaya Road, NongPrue Sub-district, Banglamung, Chon Buri, Pattaya
Opening Hours: 9:00 AM to 8:00 PM
2. Thepprasit Night Market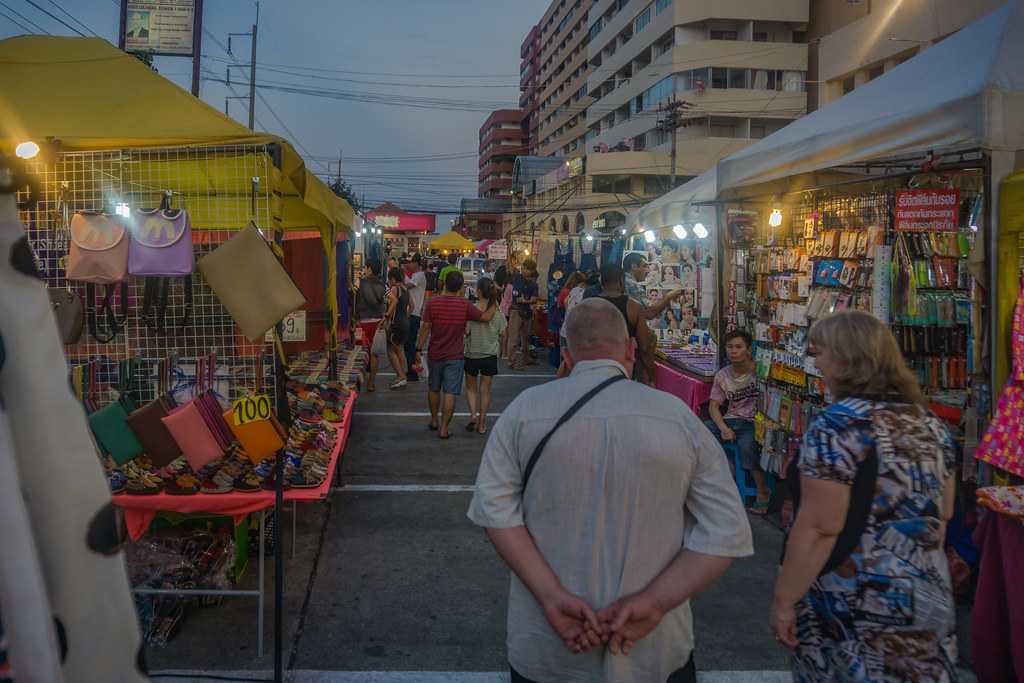 This weekend night market is a must-visit. It is one of the biggest and the most popular places for shopping in Pattaya and therefore you will find it a bit crowded. It is sometimes also known as the 'Kankheha Thepprasit Market'. It has over 500 stalls selling a wide variety of goods such as t-shirts, shorts, skirts, jewellery, shoes, makeup, toys, plants, handbags, hats, sunglasses, watches, mobile phones, cosmetics, electronics, first copy designer items, trinkets, souvenirs and even pets! The real catch here are the food stalls selling mouth-watering traditional Thai cuisines, juice centres and dessert stalls. Try to haggle as and when you can. Conversing in Thai will be very helpful for the same. It is quite close to the Outlet Shopping mall and has a large parking area, so traffic isn't an issue here.
Location: Thepprasit Road, Jomtien, Pattaya
Opening Hours: Friday to Sunday - 5:00 AM to 11:00 PM 
3. Pattaya Night Bazaar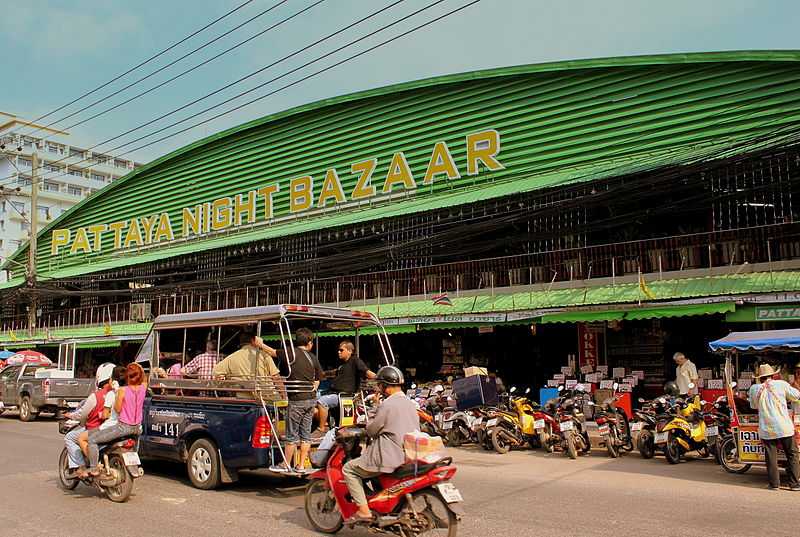 Unlike Thepprasit Night Market, this one remains open throughout the week. Though the name says that its a night bazaar; but it is open all day long. It is sometimes referred to as 'Made in Thailand' market. To beat the heat outside, you can go and shop here as it is entirely air-conditioned. It is a sizeable local market under one roof with some other shops that you might not spot in different regional markets. However, the prices are a little bit hiked up, but some bargaining can set things straight. Moreover, the range and variety of items here make it very favourable among the locals and tourists. Items that you'll find here include scarves, shoes, hats, handbags, shorts, t-shirts, scented candles, spa products, trinkets, jewellery, cosmetics, wood-carved statue and fixtures, beer and much more. Use your smart bargaining tactics and make your purchases worth it. What sets it apart from the other local market are the tailor shops. It houses a large number of tailor shops than anywhere else in the city. Besides these, it has many stalls selling Thai snacks, spices and dishes. You'll find the Central Festival Pattaya mall right across the road.
Location: 519/106, Moo 10, Bang Lamung District, Chon Buri 20150, Pattaya
Opening Hours: 11:00 AM to 11:00 PM (Daily) 

4. Jomtien Beach Night Market
This place for shopping in Pattaya is not as popular as Thepprasit Night Market. However, the location and timings make it ideal for anyone to visit it once. Since it is situated just down Jomtien Road, it attracts a lot of people who come over to the beach to spend the day. The stalls mainly sell local handicrafts, trinkets, hats, beachwear and sunglasses. Unlike a typical market, you'll love it because of the party vibe it has. The loud music and cheap cocktail drinks are the real draws here. It is very famous among young locals and tourists. Here you'll find a variety of cuisines and not just Thai, at very reasonable prices. Do not forget to try the seafood when you're here. 
Location: Alongside Jomtien Beach, Pattaya
Opening Hours: 5:00 AM to 11:00 PM (Daily) 
5. Soi Buakhao Market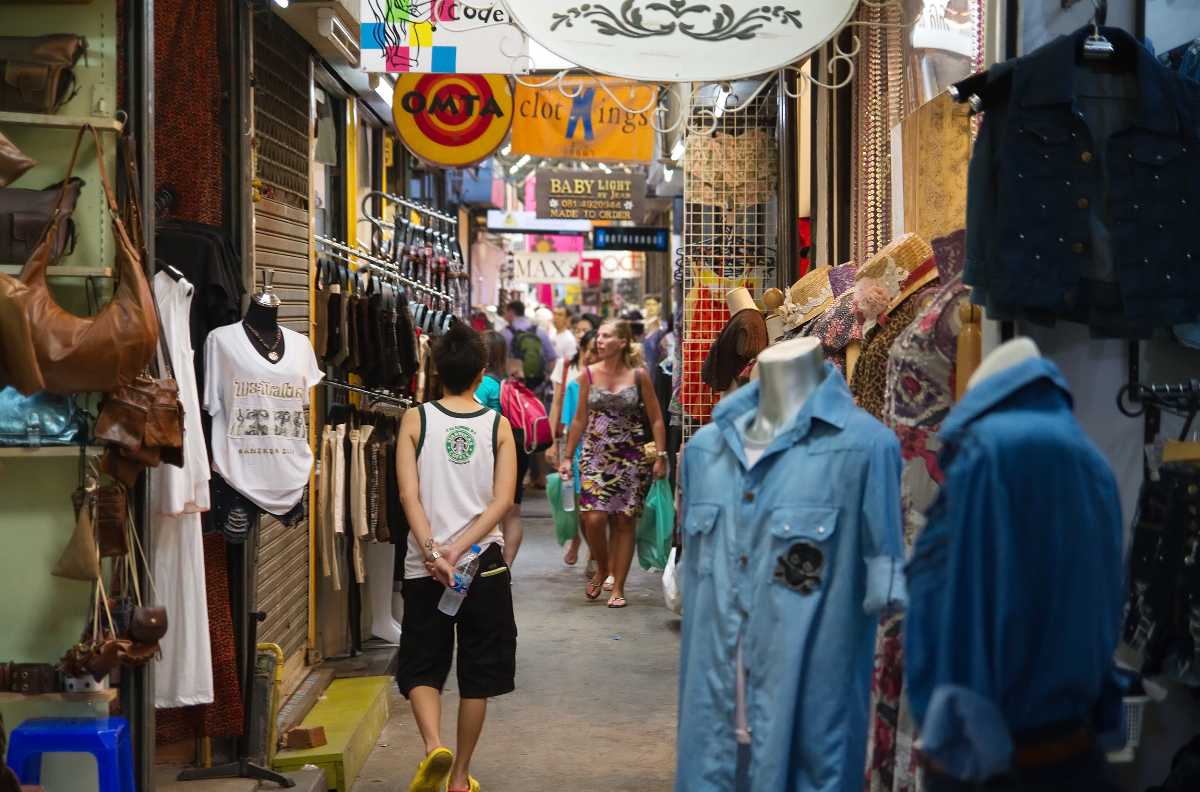 It is one of the busiest and well-known markets in Pattaya. It is the best place to look for souvenirs. Though it might get a bit hot while shopping as it is an open market. The goods on sale are mainly t-shirts, shorts, sunglasses, bags, Thai silk items, gold jewellery, paintings, souvenirs, trinkets, rice bags, hats, shoes, denim, gadgets and other clothing. You can even find spices, vegetables, plants and pets in one section of the market. The market is surrounded by many cafes and local vendors selling Thai food. So make sure you grab a meal while you shop.
Location: Pattaya City, Bang Lamung District, Chon Buri 20150, Pattaya 
Opening Hours:  Tuesday, Friday, Sunday - 9:00 AM to 5:00 PM

6. Naklua Fish Market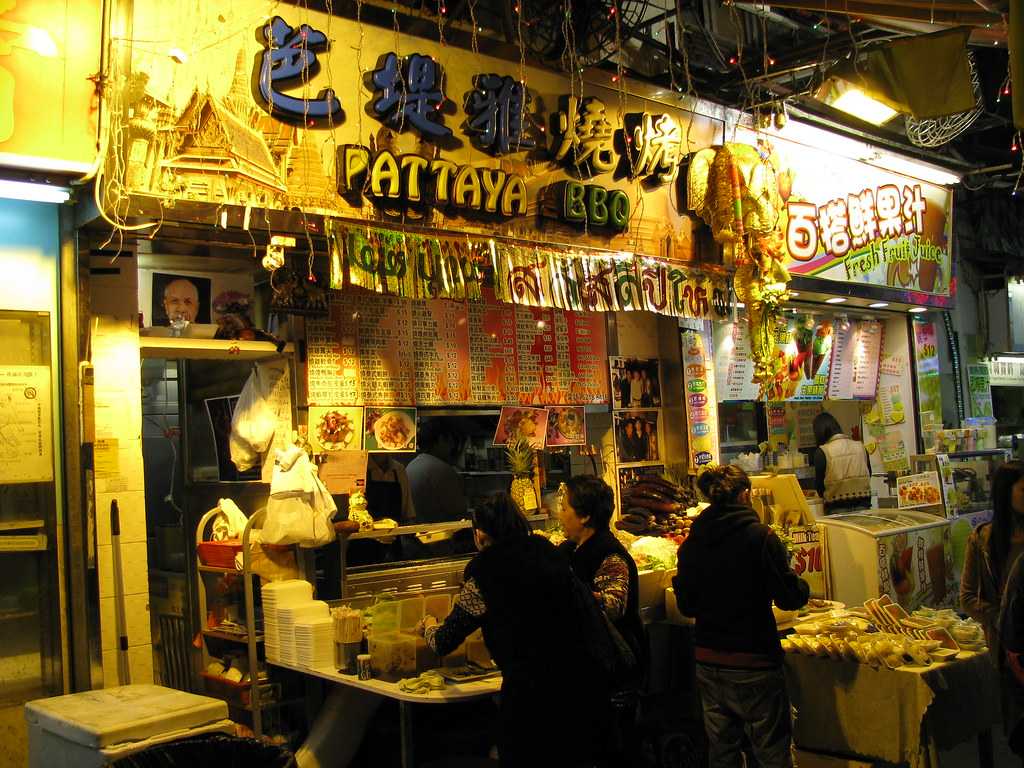 This place for shopping in Pattaya is not exactly a place where you can buy souvenirs and trinkets, but if you want to spend your day savouring different types of seafood, this is the best place. You can purchase fresh seafood then and there and cook it yourself outside in the barbecue area. Also, the prices are quite low than in any other place in Pattaya, and the produce is fresh. Here you'll find prawns, cockles, oysters, baby squids, scallops, crab, different types of fish and other seafood items. If you're not sure about your cooking skills, you can even order them here and enjoy the delicious grilled seafood with spicy Thai dips and sauces.
Location: Pattaya City, Bang Lamung District, Chon Buri 20150, Pattaya 
Opening Hours:  Tuesday, Friday, Sunday - 9:00 AM to 5:00 PM
Best Shopping Malls in Pattaya:
7. Central Festival Pattaya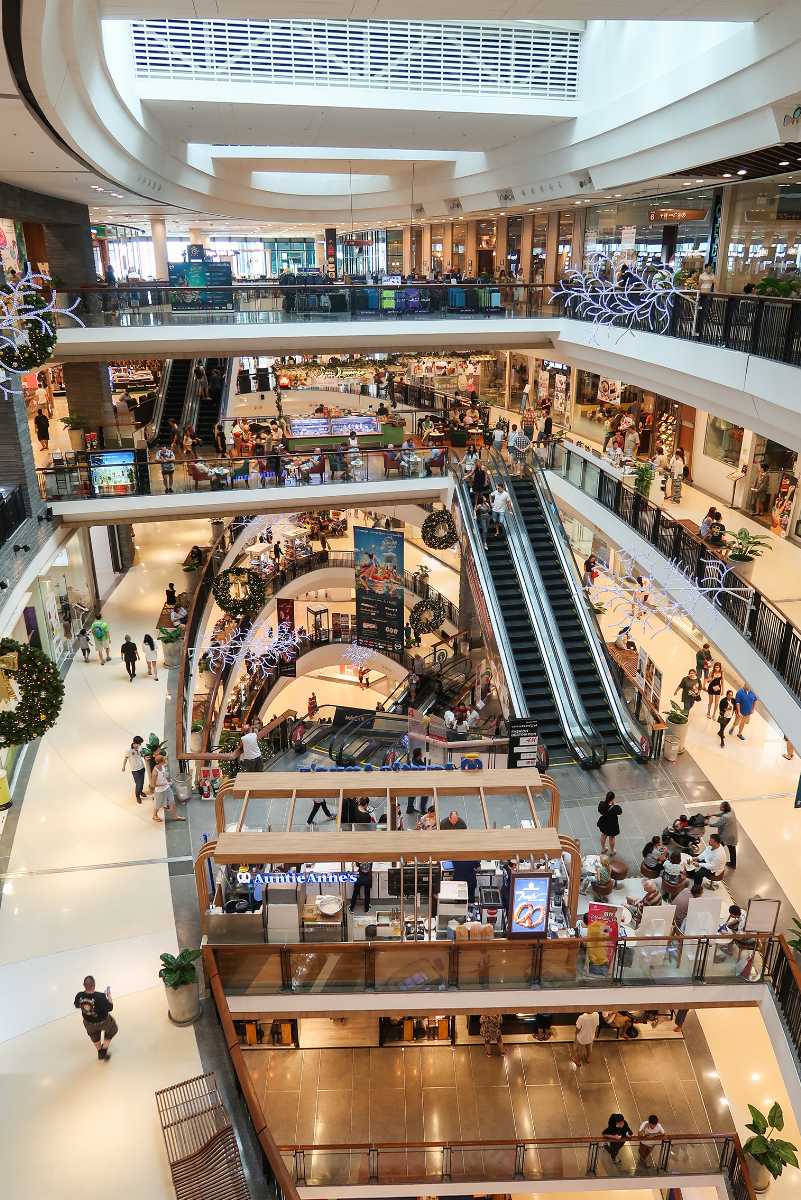 Central Festival Pattaya is one of the most prominent malls in the area. It is possibly the tallest structure on the beachfront and is a unique retail space with over 300 shops housed within it. Since its opening in 2009, it has been a famous social hotspot among the locals as well as the tourists. The contemporary architecture and world-class range of shops make this mall a must-visit shopping destination. Several water features near the entrance of the mall add further charm to its appearance. 
Brand hub:
It is home to many high street fashion brands such as Zara, Clavin Klein, Marks and Spencer, Esprit, H&M, Nautica, Dior, Giorgio Armani, Victoria's Secret, Supreme, North Face and many more. Other than the branded ones, you find a complete range of stores offering clothes and accessories at a reasonable price range. The excellent backdrop of the Pattaya Bay through the glass facade makes the shopping experience even more incredible. It also has a department store which spans five floors of the building.
Tech Hub:
You'll find a certified Apple reseller on the third floor. Other than that, you will also find Canon, PowerBuy and Samsung outlets here.
Other Amenities at the Central Festival:
The mall also has a ten screen cinema to help you catch up on the latest movie while you're at your vacation. For kids, the Mario Land games arcade is perfect. The Kiddy Land is for the infants. You'll also find a bowling alley above the department store.
Food at Central Festival:
The Central Food Court on the ground floor has many food outlets. Just in case, you find yourself craving badly for Japanese cuisine, on the top level, you'll discover Oishi Ramen. Besides these, you'll find many cafes and restaurants offering cuisines from all around the world. FoodLoft, which is part of the food court and part a la carte buffet, is a perfect dining option. Or the Al Fresco dining overlooking the Pattaya Bay is an equally appealing option. Though the mall closes by 11, however, you'll find a few standalone bars and restaurants that stay open till 2. Perfect for a late-night date.
Location: 333/99 Moo 9, Pattaya Beach Road, South Pattaya, Pattaya
Opening Hours: 11:00 AM to 11:00 PM (Daily)

8. Royal Garden Plaza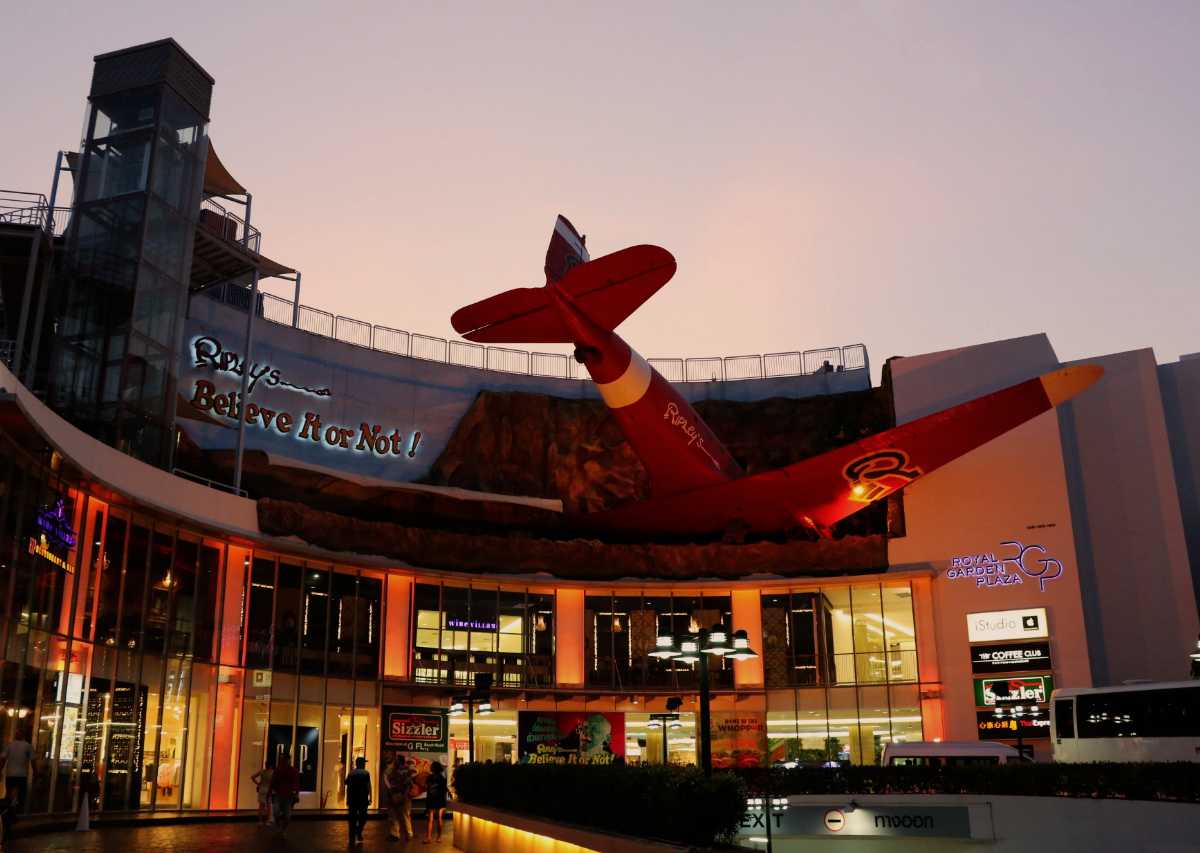 This is one of the most happening places for shopping in Pattaya (you'll surely know once you're there). It all starts with the first glimpse of the entrance. The first thing that catches your eye will be a bright yellow coloured balloon jutting out of the roof and a red aircraft half hanging out the building (enter from the 2nd road entrance to witness this fantastic setup). Both of these being a part of the Ripley's Believe It or Not! Museum. 
Attractions and Highlights:
The Ripley's Believe It or Not! The museum is the real gem of this mall. It has amphibian cars, a Titanic model made from one million matchsticks and a bunch of other oddities! Louis Tussaud's Wax Works is another intriguing attraction here. Make sure you get yourself clicked with Angelina Jolie, David Beckham and other great personalities (not the real ones though!). The Infinity Maze and a 4D Moving Theatre are among the other exciting attractions here. To experience a thrilling rush of adrenaline, do not forget to try the Haunted Adventure. 
Brand labels and other shops:
It harbours many international fashion brands such as Esprit, Guess, Pandora, Jaspal and many more. To keep you updated with the latest trends in jewellery, the mall even has a Swarovski store. The Jim Thompson Factory outlet will help you purchase excellent souvenirs for your trip such as silk bags, silk scarves and pillowcases etc. 
Food at Royal Garden Plaza:
The Food Wave food court overlooking Pattaya Bay is a perfect place to grab a bite while watching the sunset down. It offers cuisines from all around the world. Besides this, you can also dine at the Sizzler, The Coffee Club, KFC, Burger King, Pizza Company and many more.
Location: 218 Pattaya Beach Road, South Pattaya, Pattaya
Opening Hours: 11:00 AM to 11:00 PM
9. Outlet Mall Pattaya
If you're looking for the best deals and considerable cuts in prices, there isn't any place better than the Outlet Mall. With authentic international brands offering as much as 40% to 70% off their original cost, what else could a serious shopaholic wish for? The mall has an orange colour scheme and is lined with Palm trees on the outside. It is divided into two sections - the Outlet Mall and the Premium Fashion Mall. It does not have many dining options, but it is sure to satisfy your shopping pangs!
Brands:
This indoor complex mainly offers selected international brands such as Adidas, Nike, Benetton, Esprit, Levi's, Camel Active, Lacoste, Timberland, Crocs, Warner Bros. Studio, Samsonite and many more. You'll also find many stalls in the central forecourt selling all sorts of things at discounted prices. This mall is considered the best for when it comes to shopping, swim and beachwear.
Location: 666 Moo 12, Thepprasit Road, on the corner of Sukhumvit Road, Pattaya
Opening Hours: 10:00 AM to 10:00 PM
10. Mike Shopping Mall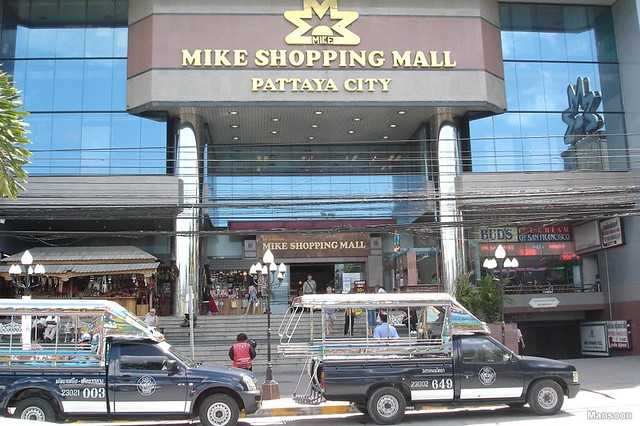 You might not find many designer brand labels at this place for shopping in Pattaya, but it promises to be a fantastic shopping destination with a wide range of products available at affordable prices. It is more like a sizeable air-conditioned market. It has a few brand stores like Pierre Cardin, Nike, Maybelline etc. The mall is dotted with many stalls selling cheap local products such as printed t-shirts, beachwear, shoes, bags, flip-flops etc.  It is the best place to shop for cheap souvenirs. From carved elephants, Buddha statues to regional handicrafts, you'll find everything here. You can quickly strike a good bargain here.
Highlights:
Unlike many shopping malls in Pattaya, this mall has a rooftop pool which can be used after paying a small fee. There are also a few foods and refreshments stalls alongside the pool selling delicious noodle soup and other Thai dishes.
Location: 262 Moo 10, Pattaya Second Road, South Pattaya, Pattaya
Opening Hours: 11:00 AM to 11:00 PM

11. Mimosa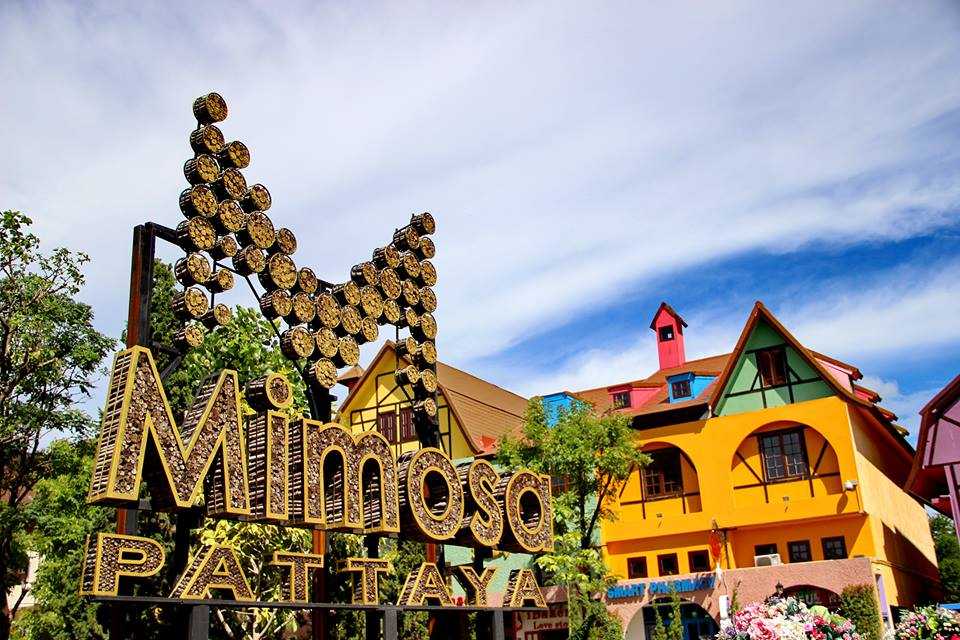 This shopping arcade is relatively new to the Pattaya shopping scene. Quite colourful and attractive, this mall is a recreated version of the rural town Colmar, situated near the France-Germany border. It is based on the concept of 'City of Love' and is perfect for a romantic date. The renaissance era buildings, musical water fountains, picturesque canals and windmills add further charm to its vividly bright setup. What could be more fascinating than a European getaway in the middle of Thailand!
Shopping:
It houses over 300 shops, bars, bistros, cafes and restaurants. It has an impressive collection of shops selling Thai handicrafts, souvenirs, toys, clothing and fashion accessories.
Highlights and attractions:
The Mimosa Cabaret Show & Musical Fountain Mimosa Cabaret Show are the main highlights of the event here. Every night you can witness such spectacular shows and performances. Each show takes about 45 - 50 minutes. The showtime is 5:00 pm, 7:00 pm, 8:30 pm daily. 
A separate section towards the end is dedicated to children's entertainment. The rides and tours at the Funland Amusement Park are sure to cheer them up. It even has a small zoo and a 6D movie theatre. It also has a pre-wedding venue for pre-wedding photography
Location: 28/19-20 Sukhumvit Road, Tambon Na Chom Thian, Amphoe Sattahip, Chang Wat Chon Buri. Opposite to Ambassador City, Jomtien, Pattaya
Opening Hours: 11:00 AM to 9:00 PM
12. Central Marina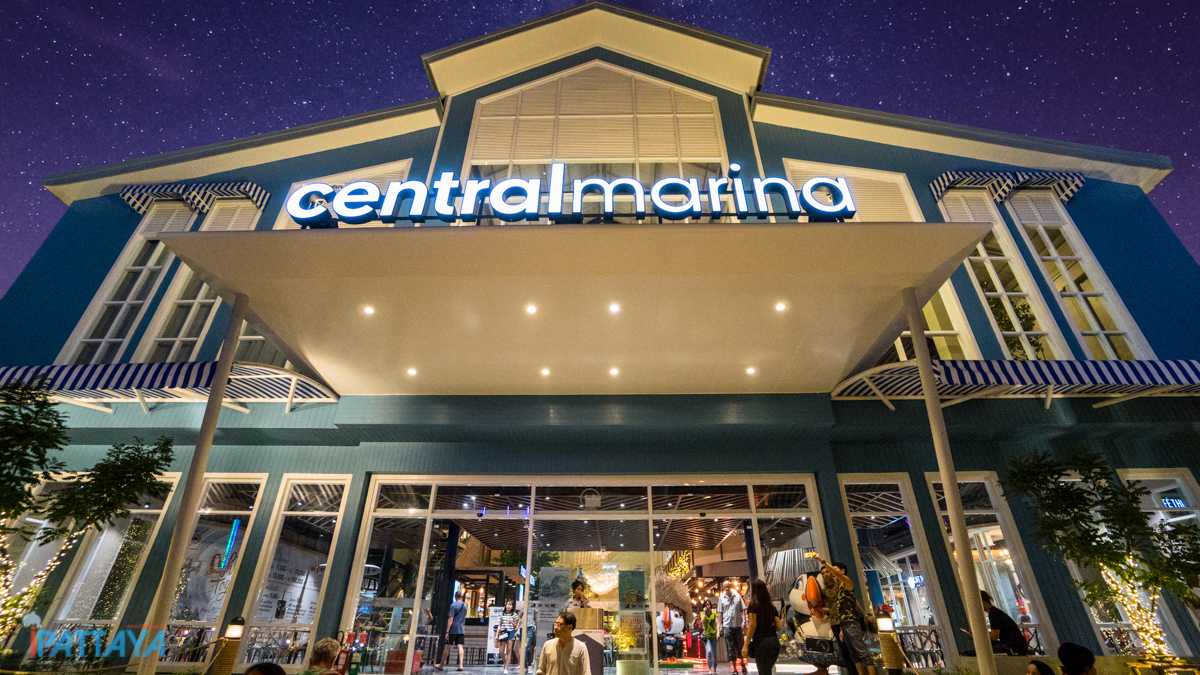 Located in the North Pattaya, this place for shopping in Pattaya was earlier known as Central Centre in Pattaya. You'll be greeted by refreshing greenery once you're there. The courtyard is full of plants and has an impressive interior. There's also a Big C supermarket complex located at the far end of the mall. Due to this, the mall is often referred to as 'Big C North'. 'The 1 Card' offer is perfect for tourists as they fetch 5% to 55% discount on various products all across the mall. 
Shopping:
In here, you'll find clothing and fashion stores, jewellery stores, branded outlets such as Bata, Lee Jeans, Levi's and much more. The central area on the first floor is mainly set up like a market with many kiosks and stalls selling the right quality products and souvenirs of local and Thai brands.
The IT corner:
There's an IT corner dedicated particularly to electrical goods and gadgets.
Attractions and Highlights:
It has an impressive range of dining options. You can find almost every cuisine here; be it Thai, Italian, Chinese, Japanese, Continental, Indian or Mediterranean. In the evening, cocktail cars and beer gardens are set up to help visitors enjoy the drinks. Besides this, the mall also has a six-screen cinema.
Location: 78/54 Moo 9, Pattaya Second Road, North Pattaya, Pattaya
Opening Hours: 11:00 AM to 11:00 PM
13. The Avenue Pattaya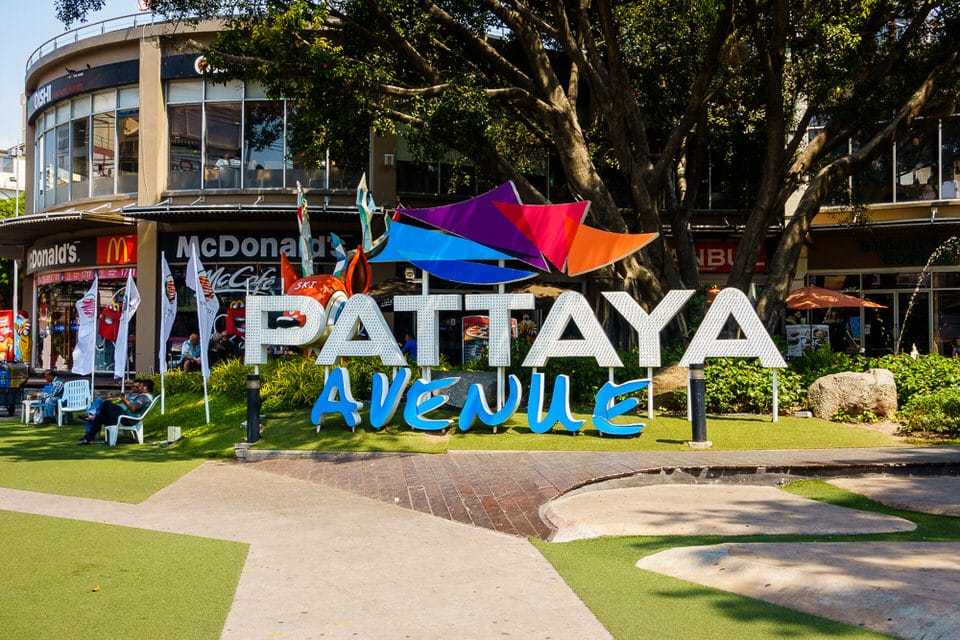 Built around a central water fountain, this mall has an awe-inspiring and attractive modern appearance. It is favoured by residents and tourists alike. It also has many factory outlet stores. It is situated behind Mike's Shopping Mall and is a short walk from Royal Garden Plaza. The attractive outdoor setup makes this mall different from the others. Moreover, the perfect mix of shopping and leisure is another best thing about this mall. 
Floor Divisions:
On the lower floors, you'll find the local market and Villa Supermarket. The sidewalks near the entrance are lined with vendors selling toys, clothing, sunglasses, sportswear and other items. The upper floors are dedicated to branded shops such as Adidas, Nike, Reebok, Quiksilver etc. offering various products at a discount.
Highlights:
The indoor arena has a 'Blu-o' bowling alley and an eight-screen cinema complex. There are a few karaoke booths as well. 
Food at the Avenue Mall:
It has numerous dining options. On the lower floors, you'll find popular food outlets like McDonalds, Starbucks and others. The Car Park bar on the second floor is a modern bar where you can sip on a cold beer with friends. Oishi Buffet sells the best Japanese cuisine so make sure you check that out too.
Location: 262 Moo 10, Pattaya Second Road, South Pattaya, Pattaya
Opening Hours: 10:00 AM to 10:00 PM (Cinema stays open till late)
14. One Tambon, One Product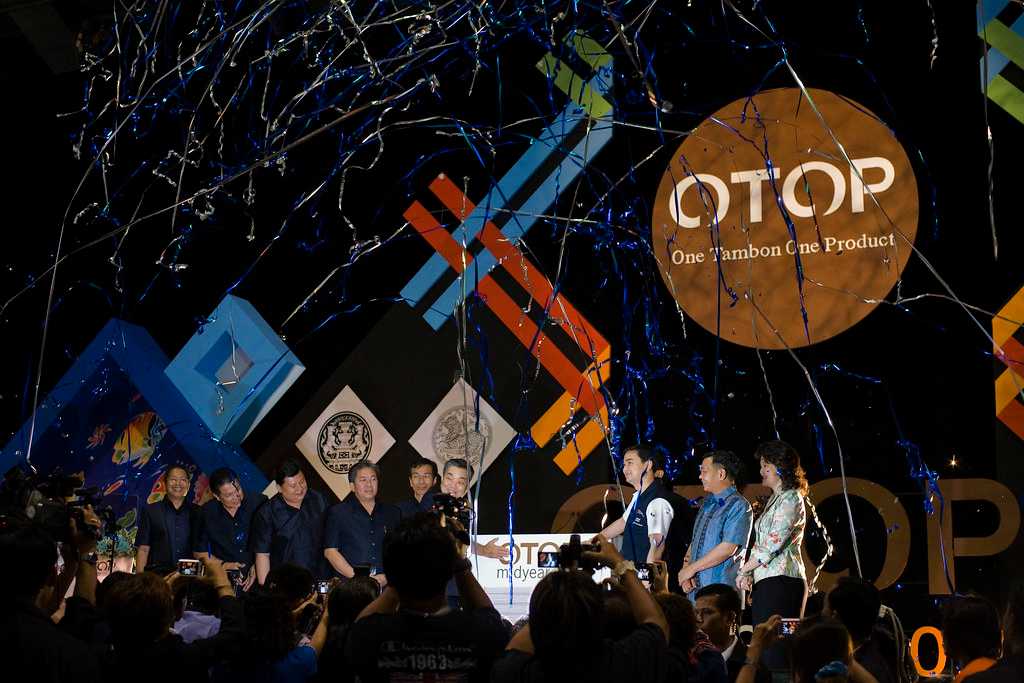 This place for shopping in Pattaya is a part of a government initiative to support locally made and marketed products of each of Thailand's 7,255 Tambons (tambon means a regional subdivision such as a town or village). Spread over an area of 1500 square meters, you'll find almost everything here; from scented soaps, textiles, pottery, bamboo products, wardrobes, lampshades, furniture to home decor stuff. Local artisans make the products available here, and the quality is also very satisfactory. You should shop for souvenirs from here and contribute to a genuinely good cause. The Mike Shopping Mall also has one section dedicated to OTOP. 
Location: 98/68-69 Pattaya North Road, Naklua, Pattaya
Opening Hours: 10:00 AM to 10:00 PM
15. Harbor Pattaya Mega-Fun Mall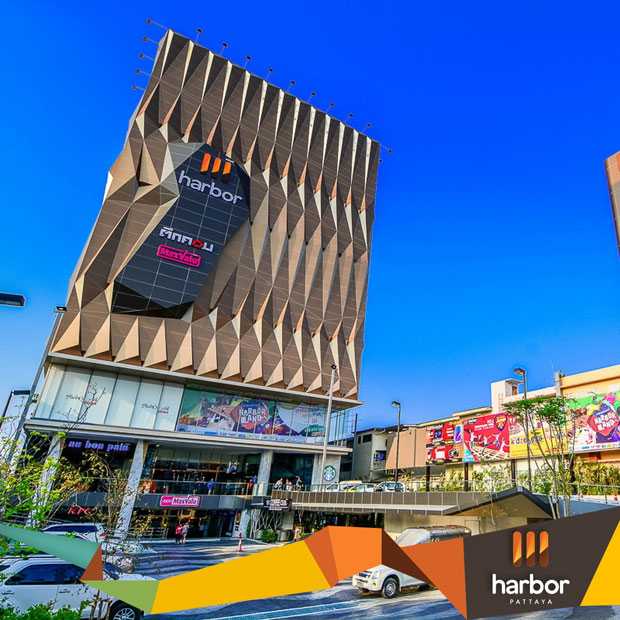 Now this one's perfect for children to have a fun day out during their stay in Pattaya. It has plenty of recreation options to keep the kids busy while you shop through the fantastic stores the mall has. From beauty, cosmetics, fashion, jewellery, banking, maternity products to IT and food & beverages, you'll find everything here.
Attractions and highlights:
The mall has the largest indoor playground in all of Asia called the HarborLand! In addition to this, it has other play zones such as Kidzoona (Toddler Playground), Snowland (Indoor Snow Playground), JumpZ (Trampoline Park), Wonderland (Family Amusement rides), Laser Battle, the Rink (Ice Skate Standard Rink), LittleBike (indoor balance bike mini-stadium), Mini World (games arcade), RollerLand (air-conditioned roller skating rink) and Deep (a climbing gym).
Tuk Com IT Center spin-off:
If you do not wish to travel down to South Pattaya for IT related products and phone accessories, don't worry Harbor Mall has got you all covered. 
Food at Harbor Pattaya:
The Harbor Pattaya has plenty of dining options as well. You'll find many famous food outlets here such as Starbucks, Dunkin Doughnuts, KFC, Coffee World, Au Bon Pain, Swensen's Ice Cream and many more.
Location: Next to Foodland Supermarket, 190/25, Central Pattaya Road, Bang Lamung District, Chon Buri 20150, Pattaya
Opening Hours: 10:00 AM to 9:00 PM 
16. Index Living Mall
It is one of the best places for shopping in Pattaya to purchase furniture and home decor stuff. Right from a cushion covers to wardrobes, you'll find everything here. Not just that, the quality is also quite impressive, so you do not need to worry much about the same. They have furnishings for the bedroom, office, kitchen, living areas, leisure spaces and whatnot. You can even customise your furnishings, and they are are more than willing to help you perfect your piece. 
Location: 13/122 Sukhumvit Road, Bang Lamung District, Chon Buri 20150, Pattaya
Opening Hours: 10:00 AM to 9:00 PM
17. Big C Extra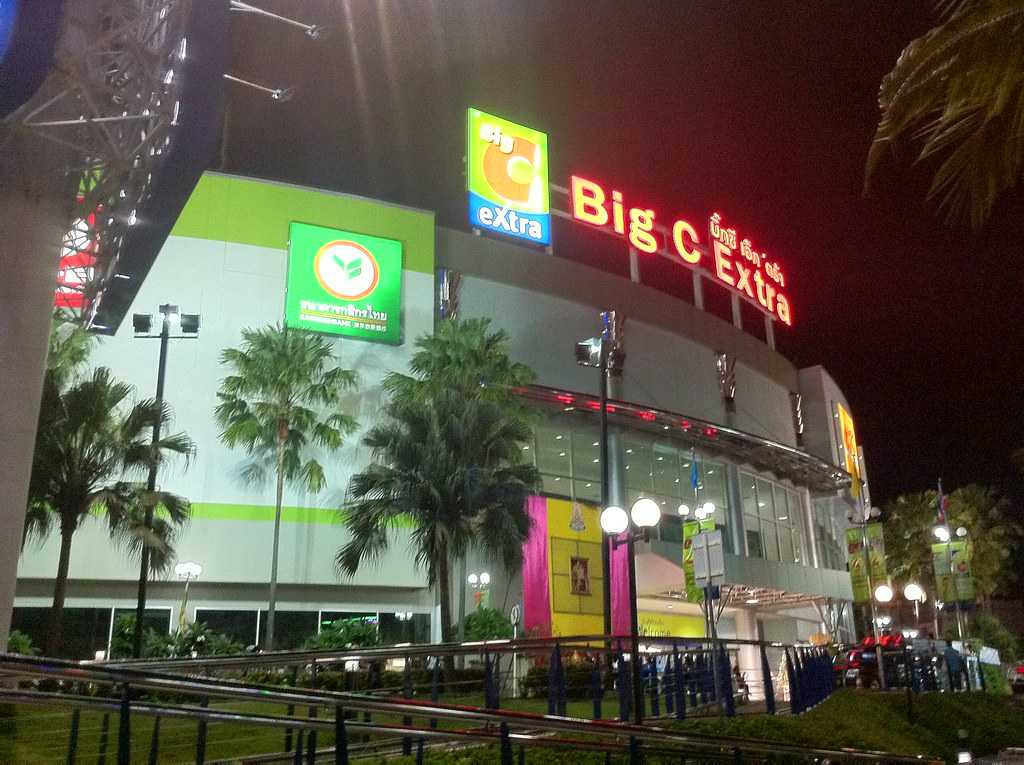 The Big C Extra is the largest and most beautiful of all Big C stores in Pattaya. This hypermarket is a one-stop destination for all varieties of groceries, fresh meat and seafood, an extensive collection of beer and wine (which you won't find in other Big Cs). There is a large selection of fresh meat here. You can even bag and wrap the meat yourself and pay after that. In addition to the hypermarket, there's also a department store attached where you can find clothing, home goods, glassware, refrigerators etc. There is a 'Food Park' food court on the first floor that will help you satisfy your hunger as there are many food outlets here such as KFC, MK Restaurant, Swensen's Ice Cream and a few others. Attached to the Big C Extra is the HomePro store. Here you will find furniture, appliances, furnishings, cabinets, and much more.
Location: 9/333 Central Pattaya Road, Bang Lamung District, Chon Buri 20150, Pattaya
Opening Hours: 8:00 AM to 12:00 AM

18. Tukcom IT Centre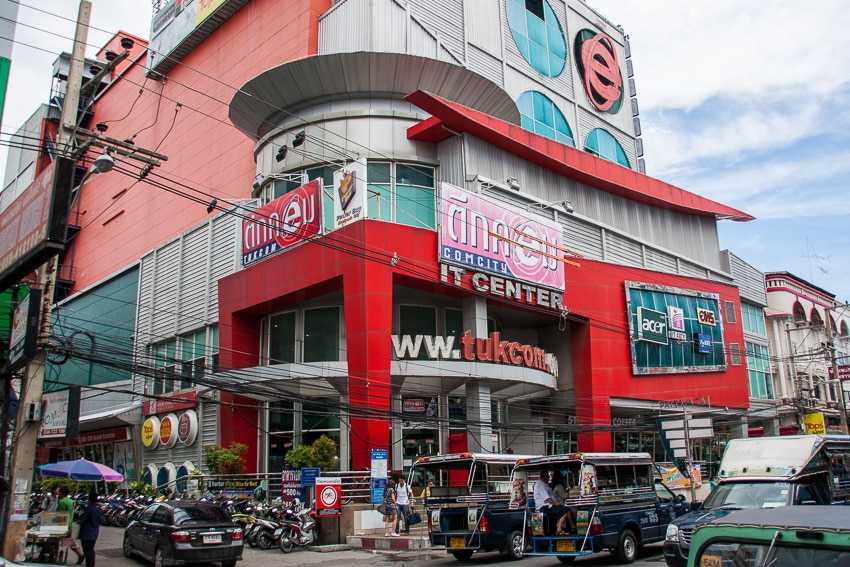 If you are a gadget freak, then this place for shopping in Pattaya is for you. You will find almost every gadget and electronic goods here. It is a one-stop destination for tech-savvy consumers and gadget geeks. You'll find over 200 shops selling It goods and electronic products. Each floor is dedicated to a specific kind of gadget. On the first floor, you'll find new and refurbished mobile phones and related accessories. The upper floors sell laptops, desktops, software, cameras and stuff like that. The best part is that you can even bargain while buying much such stuff. However, the software may be fake at a time so you might want to be careful about that. The basement has a Tops Supermarket as well. It has a large parking lot, so traffic isn't an issue.
Location: 8 Moo, 10 South Pattaya Road, Bang Lamung, Chon Buri 20150, Pattaya
Opening Hours: 10:00 AM to 9:00 PM (Daily)                        
                        Ground floor- 10:00 AM to 9:30 PM
19. Friendship Supermarket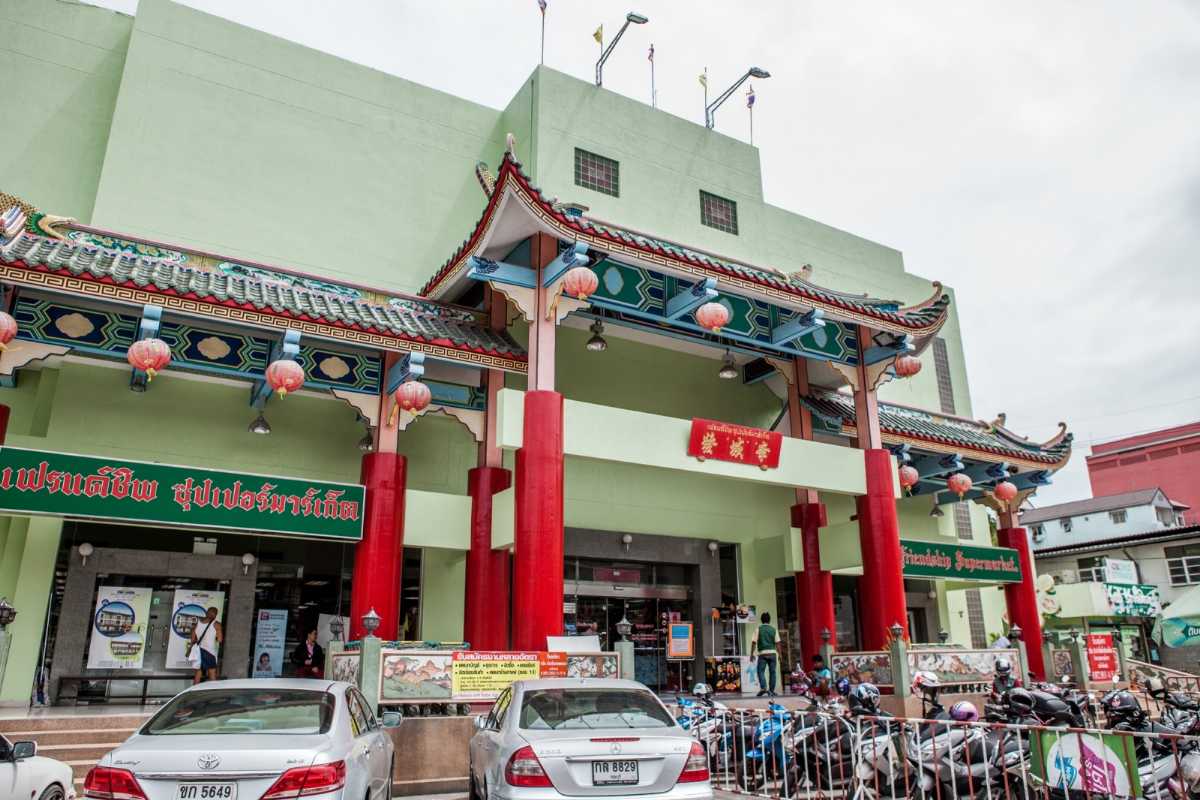 To cater well to your grocery needs, there couldn't be any place better than the Friendship Supermarket. It has two floors in all. The ground floor has local and imported food products, whereas the upper level has stationery and home products. Located in the South Pattaya, the supermarket is set up in a pastel green building with Chinese architecture. Here you can find Chinese, Thai and Western items. You'll find mostly frozen items here like meat. Other than that, you will also find American and Thai beers here. It has a large parking area, so it might not be a problem just in case you're driving to the place.
Location: Moo 10, 20/390 South Pattaya Road, Bang Lamung District, Chon Buri 201500, Pattaya
Opening Hours: 7:30 AM to 2:30 AM
What to buy in Pattaya:
1. Thai Silk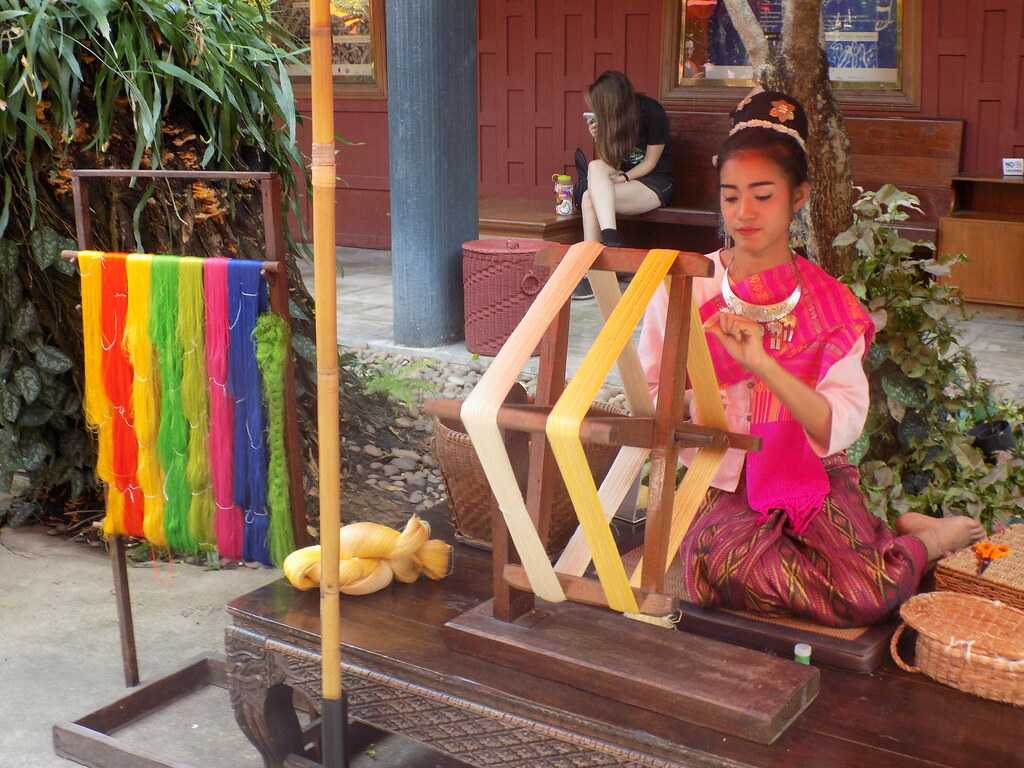 You'll find the best quality Thai silk in the Jim Thompson store at the Royal Garden Plaza. Buy yourself some bright coloured silk scarves, shirts, ties, cushions and pillowcases, table cloth, wallets and other items made out of it. You can even buy the raw silk fabric and style it in your way. Make sure you purchase Thai silk products from a trusted shop like Jim Thompson, Queen Thai Silk and a few others in the Central Festival.
Where to buy: Authentic and pure silk can be easily found in Jim Thompson stores. You can also check out the malls and Queen Thai silk for the same.
Price range: Pure hand woven silk can cost about TBH 500 - 2,500 per yard depending on the quality whereas imitation silk is less expensive and costs around TBH 150 - 300 per yard.
2. Woodwork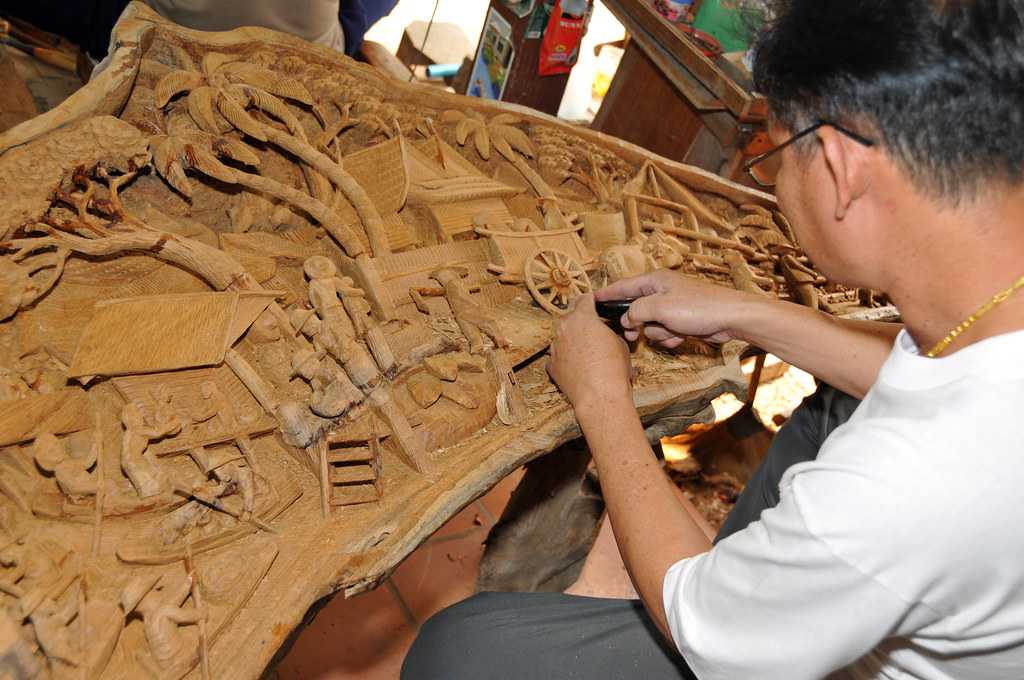 The perfection of wood carved products here is fantastic. You can find beautiful wooden trinkets and sculptures in the local market at low prices. Apart from that handicrafts, key chains, figurines, elephant statues and home decor furniture is also available here. You can shop for these in the Beach Road or Jomtien Beach. If you can't find enough here, head over to the Lukdod shop which claims to be the most significant wholesale souvenir shop in Pattaya.
Where to buy: Lukdod shop, Chiang Mai's Night bazaar and local markets near beaches.
Price range: Approximately TBH 1000- 15,000, depending on what you buy and the wood quality.
3. Toiletries and Spa

You can easily find amazing personal care products and toiletries here in Pattaya. Body scrubs, carved soaps, herbal lotions, bubble bath, massage oils, foot soaks, essential oils and cologne you'll find everything here. And yes, make sure you take some scented candles back home! You'll find small gift packages complete with scented candles and carved soaps in many souvenir shops at reasonable prices. Price widely varies according to brand, quality and size.
Where to buy: Souvenir stores, malls and local markets.
Price range: Again, the price varies according to brand and quality. However, they usually start from TBH 300- 500 and go up to as high as TBH 2000.
4. Clothing, Apparels and Accessories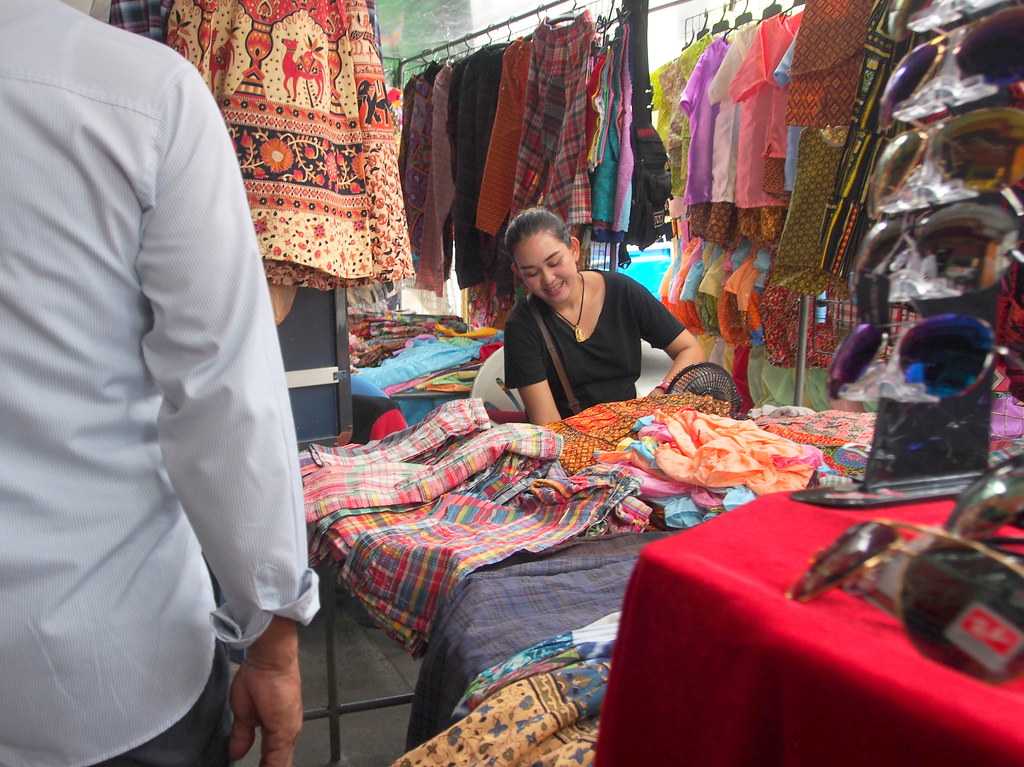 When it comes to clothing, Pattaya will offer you the best deals ever. Be it in shopping malls and street markets; you'll find something for yourself. You'll mainly find printed t-shirts, denim shorts, tank tops, beachwear, swimsuits, sandals, sneakers, cane hats etc. also, it would be better if you buy these off a local market than go for big brand labels, because the quality is quite good and prices are also reasonable. If you want to purchase some of the latest trends at affordable prices, make sure you check out the Pomelo shop. Quite similar to Zara, this shop has all the latest trends and is a famous Thai fashion brand. You'll also find colourful bracelets stalls almost everywhere near beaches, bus stands and in local markets. Pick some of the bright colours and beautiful patterns and gift them as souvenirs back home. These bracelets barely cost a few bahts and look pretty. Apart from this, you can also find beautiful colourful wallets and purses made by the local artisans.
Where to buy: Clothing from Pomelo, AIIZ (A to Z) or the local street market that you will find near beaches, bus stands and on footpaths.
Price range: TBH 100 - 150 for clothing items.
5. Gemstones and Jewellery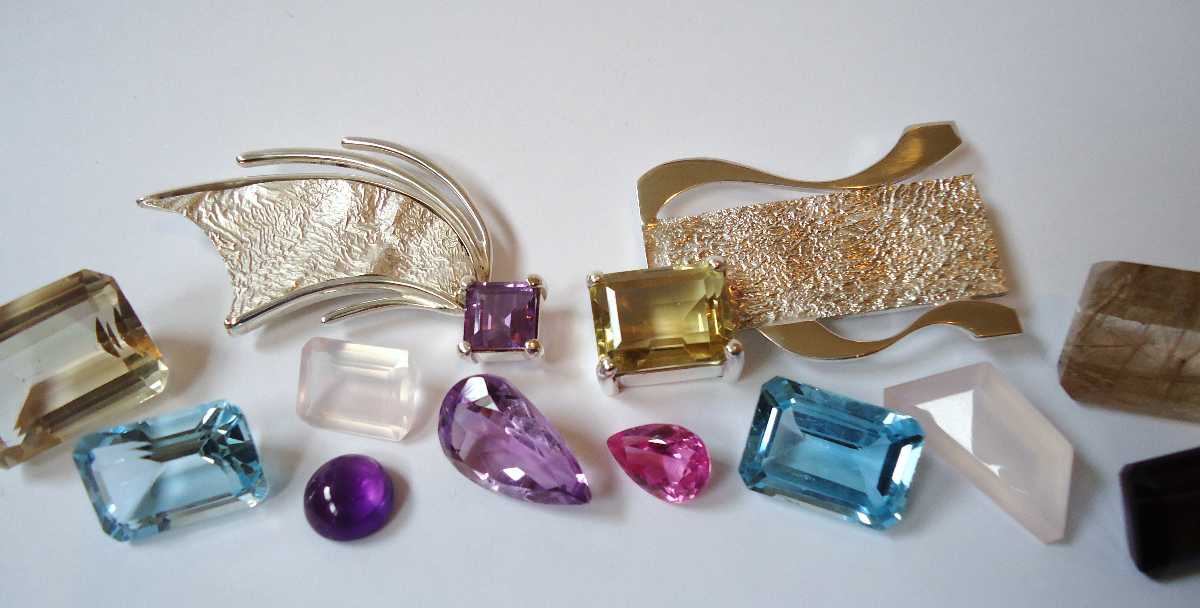 The World Gems Collection at 98 North Pattaya Road, Naklua is Asia's most significant museum of gems and stones. It has an impressive collection of earrings, bracelets, necklaces, pendants, rings, bangles, brooches etc. besides this, you can also check out the Gems Gallery Pattaya situated in North Pattaya Road as well. You can check out the local markets for inexpensive ones and remember to bargain well.
Where to buy: For high quality gems and jewellery, you can check the The World Gems Collection and Gems Gallery Pattaya. Besides these, local markets sell these too.
Price range: Simple earrings, bracelets and brooches start at TBH 100. High quality goods may cost a bit more.
6. Thai Spices and Sauces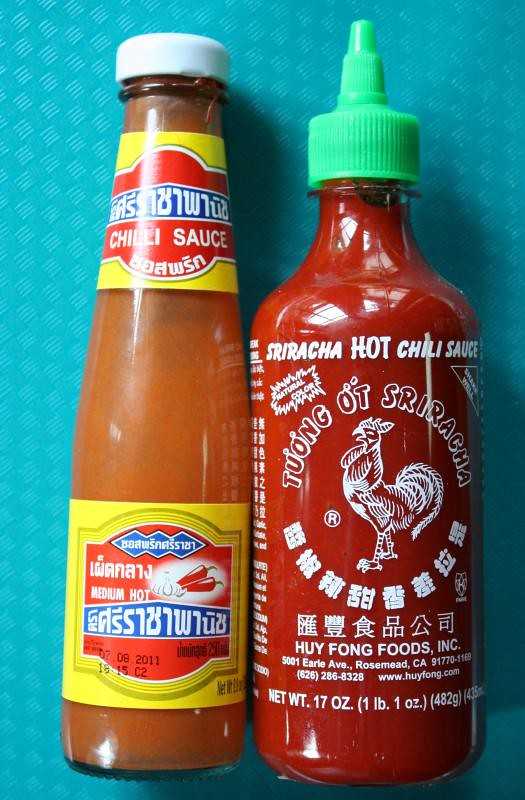 If you are a fan of Thai food, then what better place to buy Thai spices and sauces from there itself. Sriracha, hot sauce, spicy dips, chilli sauce and traditional Thai spices; buy them all and enjoy the delicious Thai food even after your vacation ends. Moreover, these will have the original tastes and will be of good quality than the ones you would get otherwise.
Where to buy: Can be found in any grocery store, in Thepprasit Night Market and Pattaya Night Bazaar.
Price range: These cost only a few baht, approximately TBH 5 - 100 depending on the brand and quality.
As you make the list of what to buy and where to go shopping in Pattaya, you might have realised that this city has almost everything for all age groups. And it has more than just beautiful beaches. The malls have plenty of recreation options to make your vacation equally enjoyable and memorable. Food is not a concern as most places serve a variety of cuisine. Moreover, who would want to miss on delectable Thai cuisine anyway. The local markets also sell a wide range of products. Nonetheless, a little retail therapy has never troubled anyone. Hope you grab the best of what Pattaya has to offer.
Happy shopping!