Pattaya
is a vibrant beach city in East
Thailand
. Famous for its beaches and nightlife it is visited by all kinds of tourists including couples, families, and business travelers. The city offers endless possibilities in terms of entertainment, fun, and food. Cafés in Pattaya offer some of the best Thai food options along with food from around the globe.
Here are the top 10 cafes in Pattaya you must visit -
1. Jasmin's Cafe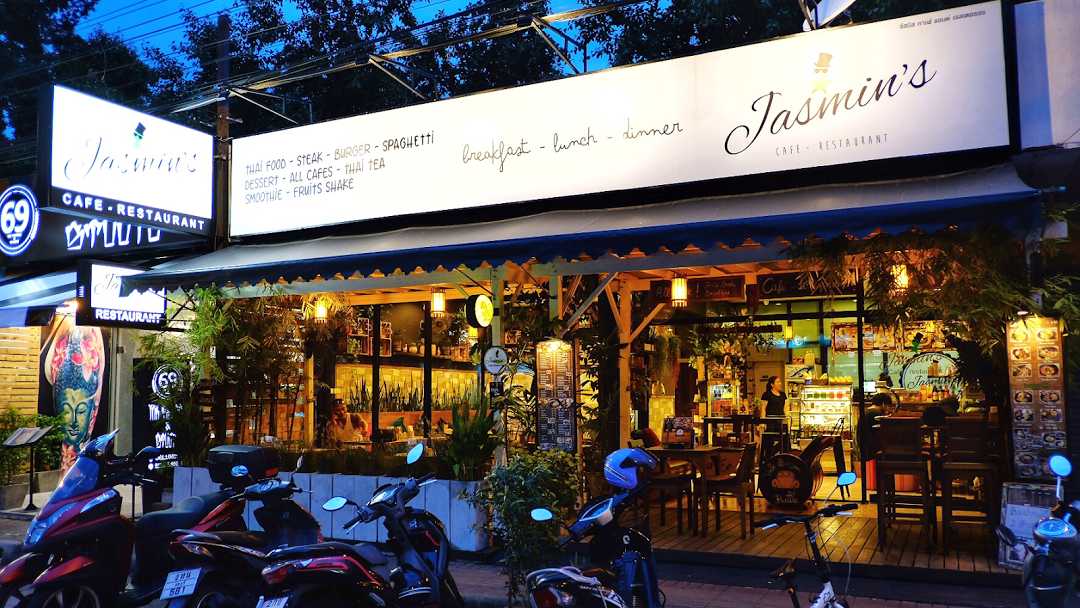 A small and cosy outlet near the shoreline, Jasmin's cafe serves delicious food for breakfast, lunch, and dinner. Located near Beach Road, this place has limited seating space so caters to small crowds at any given time. At this nicely decorated and neat cafe, you can enjoy some fantastic Thai dishes along with yummy shakes and coffees. They also have an extensive section of western dishes as well. It is among the best cafes in Pattaya owing to its great food and prompt service.
Note: This is a Cash Only Outlet.
Location: Pattaya Klang Road (Central Pattaya Road)
Opening Hours: 8:30 AM - 10:00 PM every day
Specials: Tom Yum Goong, Thai Fried Rice
2. Bake n' Brew
One of the busiest coffee shops and bakery of Pattaya, Bake n' Brew is one of the most popular cafes in the city. This place is famous for its breakfast menu and desserts. You can enjoy amazing Thai food with amazing coffee here while hanging out with friends and family. They also serve various Asian and European dishes to cater to customers from across the globe. The cafe has a pleasant ambience and offers excellent food at reasonable prices. Vegetarians and vegans also will find a wide variety of items which cater to their taste buds and dietary restrictions. 
Location: Banglamung Pattaya
Opening Hours: 8:00 AM - 7:00 PM every day
Specials: Spaghetti Alla Carbonara, Lemon Cheesecake and other desserts
3. Cabbages and Condoms
This beachside restaurant made to our list of cafes in Pattaya because it is ideal for a romantic date for couples. The name and décor of the restaurant are focussed on creating awareness about HIV and its prevention in Thailand. The beautiful view of the ocean and great tasting food makes it a must-visit place for brunch, lunch or a sunset dinner. In addition to fantastic seafood and cocktails, you can also enjoy Thai, Asian and European dishes. They also serve vegetarian and vegan-friendly food.
Location: Phra Tam Nak 4 Road Muang Pattaya
Opening Hours: 7:00 AM - 11:00 PM every day
Specials: Deep-Fried Shrimp Cakes, Deep-Fried Crab Balls, Fried Rice, Chicken with Basil
4. La Baguette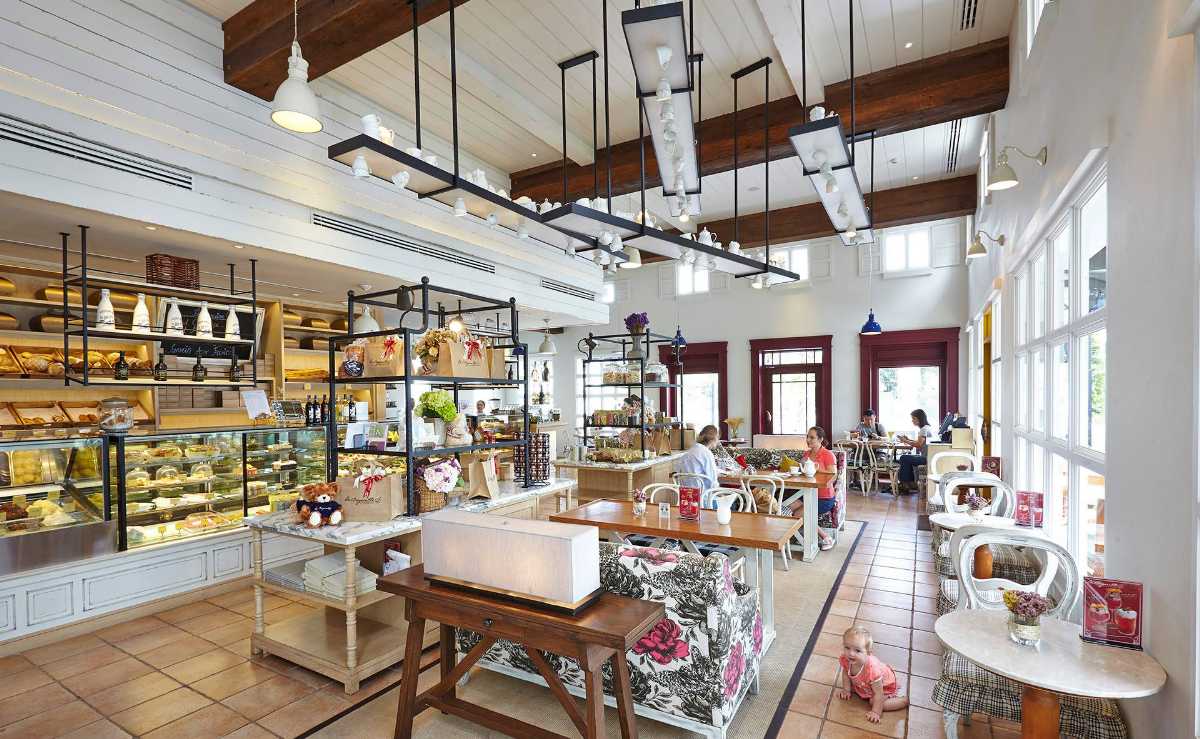 A well known French styled, La Baguette is a bakery that offers exquisite cakes, pastries, baguette bread, and chocolates. This is one of those cafes in Pattaya that can boast of freshly baked items, made using the finest quality ingredients. They also serve other European dishes and varieties of coffee. They have well-decorated interiors and serve breakfast, lunch, brunch, and drinks. The food is a bit expensive, but it's worth the price as the quality is top-notch and the ambience is luxurious. They offer comfortable outdoor and indoor seating options.
Location: Naklua Road Pattaya City Banglamung
Opening Hours: 8:00 AM - 11:30 PM every day
Specials: Almond Croissants, Coffee, Cheesecake
5. The Coffee Club - Royal Garden Plaza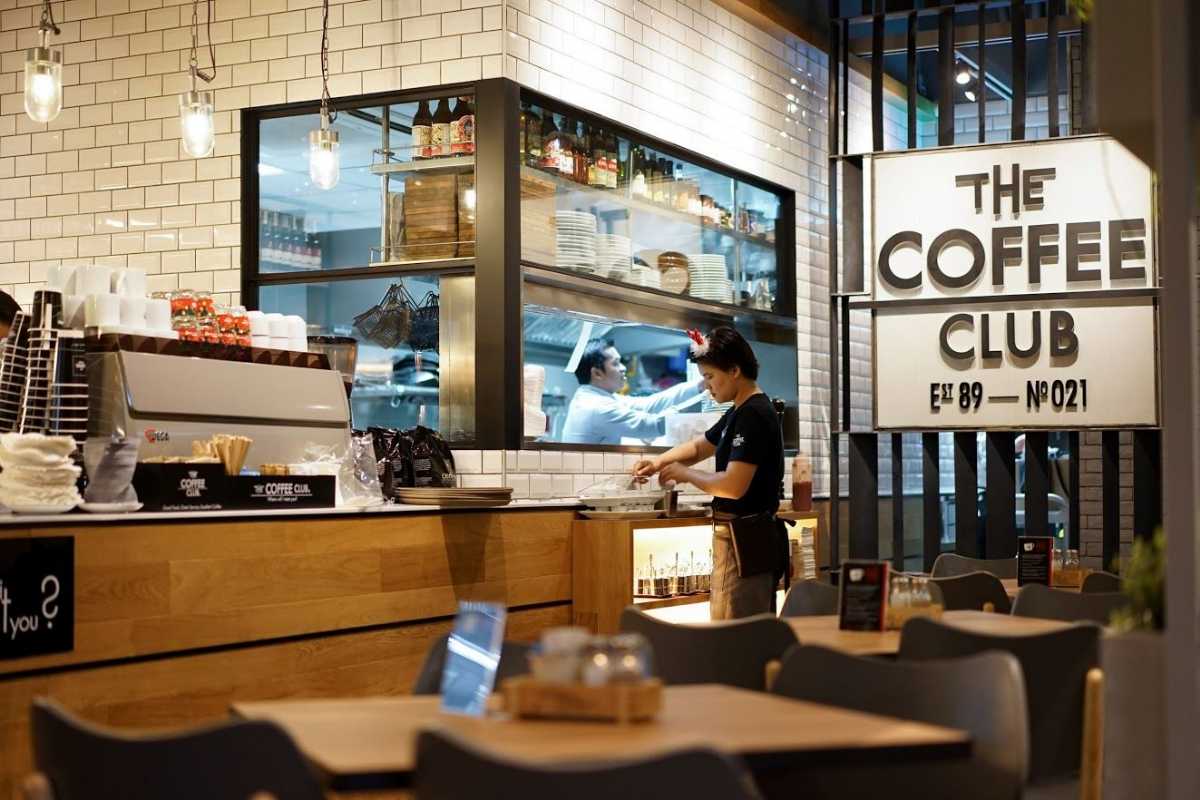 The Coffee Club is one of the 24/7 cafes in Pattaya, which you can visit for breakfast, lunch, dinner and after-hours meals and drinks. The cafe is a part of a famous Australian chain which offers high-quality food and great services. The menu offers a wide range of starters, open grills, gourmet wraps and light meals including sandwiches and salads. Another speciality of this cafe is that their breakfast menu is served throughout the day. The Coffee Club has a modern décor and very courteous staff. They have a well-trained barista who serves you with the perfect blend, making it the best coffee in Pattaya. You can relax at this welcoming cafe after shopping at the mall or just hang out with family and friends for an elaborate meal.
Location: Royal Garden Plaza, Pattaya
Opening Hours: 12:00 AM - 11:59 PM every day
Specials: Coffee, Eggs Benedict
6. Sketch Book Art Cafe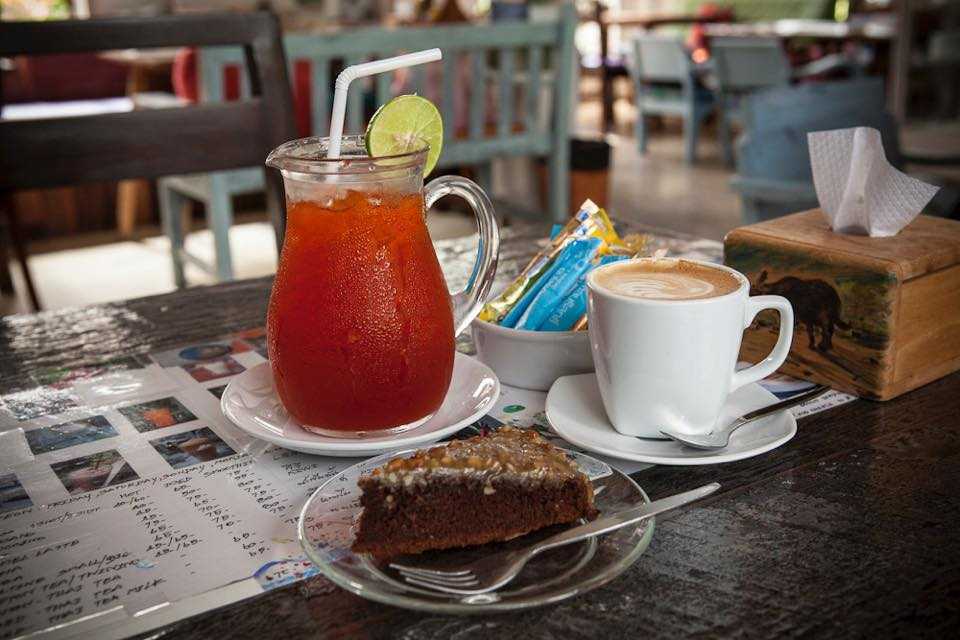 One of the unique cafes in Pattaya, the Sketch Book Art Cafe is a gorgeous cafe with a unique display of sketchbooks, pictures, and paintings. The cafe is run by a family who are passionate hosts and serve you with amazing breakfast, brunch, lunch, and dinner. The café has handmade art pieces and a unique vibe. The state-of-the-art restaurant is surrounded by a sprawling tropical garden to provide you with the perfect outdoor seating experience. You can enjoy lip-smacking local Thai cuisine along with other Asian and Western dishes. They serve great coffee and yummy smoothies and also offer vegetarian and vegan-friendly food options.
Location: Thappraya Rd, Muang Pattaya
Opening Hours: 8:30 AM - 10:00 PM every day
Specials: Iced Coffee, Cappuccino, Smoothies, Black Fettuccine With Spicy Seafood
7. Cafe De Beach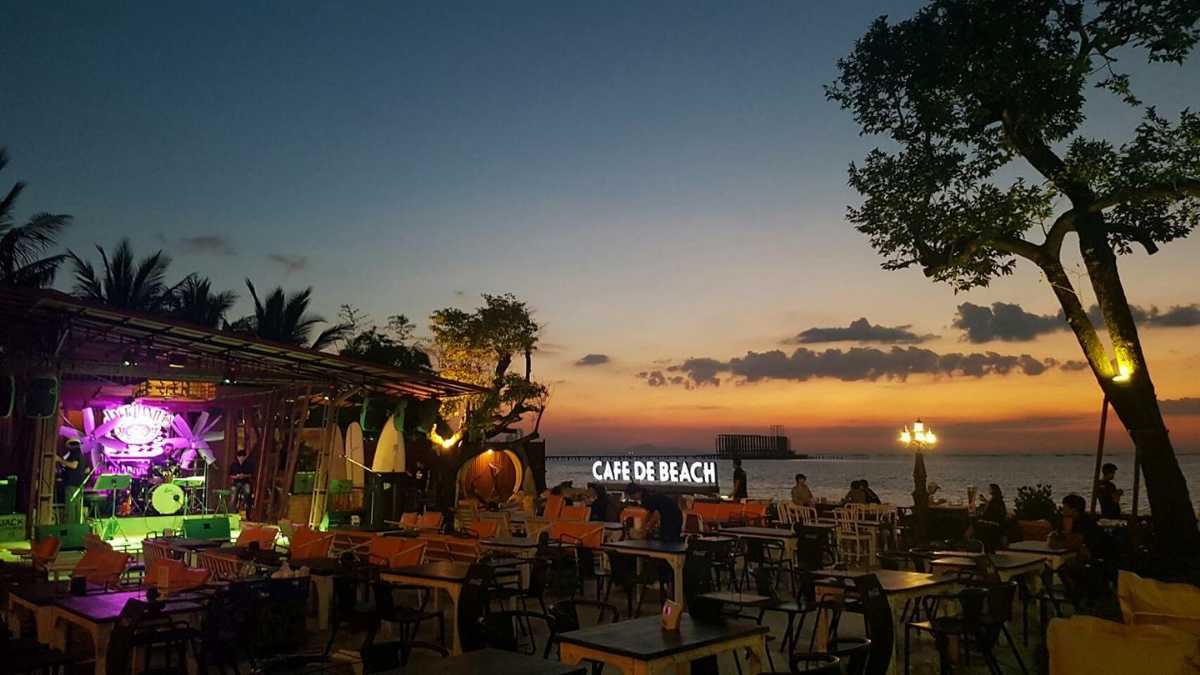 Located on the road between Pattaya and Sri Racha, Cafe De Beach is a laid back sea view restaurant. Café De Beach is surrounded by palm trees and has a relaxed tropical vibe, unlike the other crowded cafés in Pattaya. You can also visit them for a romantic beachside dinner and feast on lip-smacking Thai food while enjoying the beautiful view of Jomtien Beach. They have options for comfortable indoor and outdoor seating in an open-air garden. They offer amazing seafood, including fish, prawns, squid, and mussels. They are well known for their freshly brewed coffee, sandwiches, and desserts. You can groove to live music and enjoy drinks at their bar.
Location: Soi Sukumvit-Pattaya 2
Opening Hours: 5:00 PM - 1:00 AM every day
Specials: Coffee, Grilled Prawns
8. Pirate Bay Cafe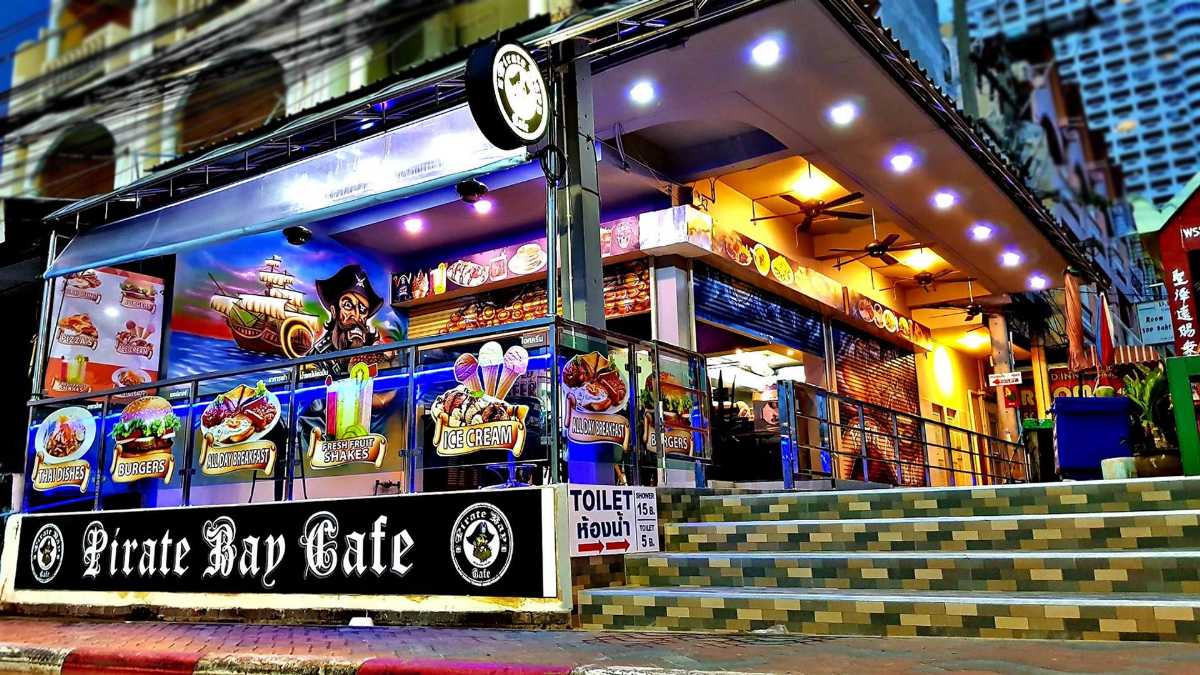 It is a pirate-themed cafe located on Jomtien Beach. Unlike most cafes in Pattaya, this one is a family place. You can relish a wide variety of Thai specialities while enjoying the sea view. They serve English breakfast throughout the day and strong brewed coffee. They also have a sports bar with widescreen televisions where you can enjoy cocktails. This is a great place for people with kids as they serve delicious Western dishes too.
Location: Dongtan Beach, Pattaya
Opening Hours: 7:00 AM - 10:00 PM every day
Specials: American Breakfast
9. Reader's Cafe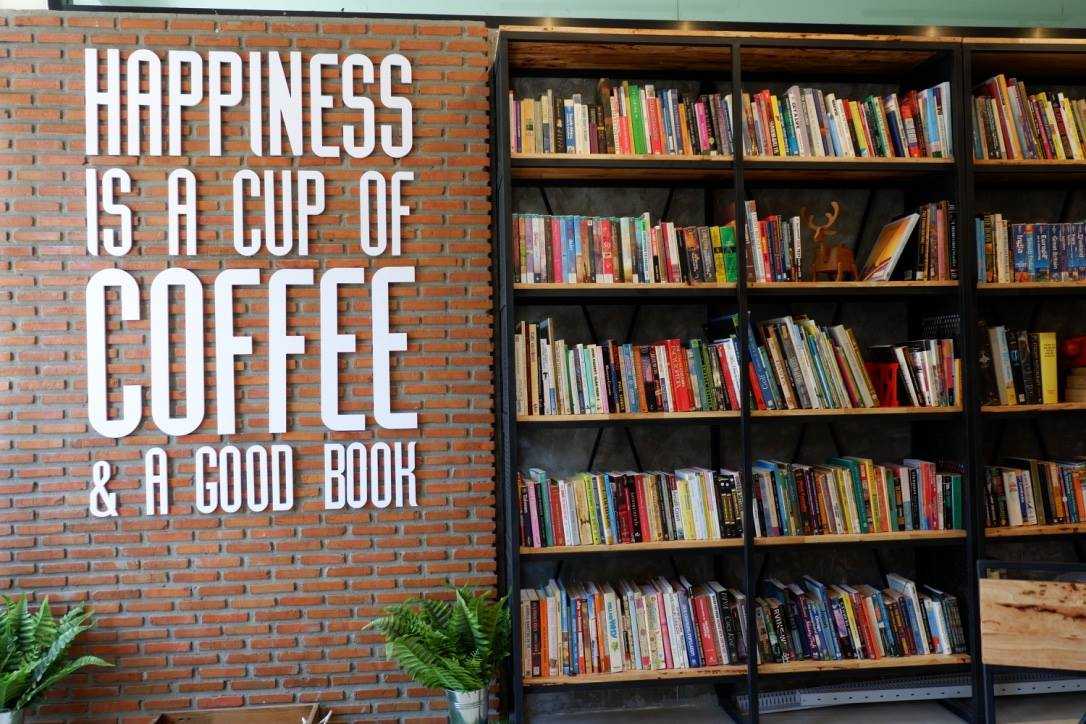 As the name suggests, Reader's Cafe is one of the cosiest cafes in Pattaya. Located in the Kasetin area, it is a place for book lovers. This stylish café offers you hundreds of books to read along with great food options and a comforting ambience. They offer an all-day breakfast menu, brunch, lunch, and dinner with Thai, Asian and European cuisine at reasonable prices. The café also offers a wide selection of beverages, including teas, coffees, smoothies, and mocktails. It is a great place to hangout for those in love with books, but the cafe also has highlights such as a kids menu to attract families with young ones. They also have interesting handcrafted ornaments such as motorbikes, sewing machines, tuk-tuks, etc. to capture the attention of visitors.
Location: Rajchawaroon Road, Pattaya
Opening Hours: 10:00 AM - 9:00 PM every day
Specials: Coffee
10. The Hopper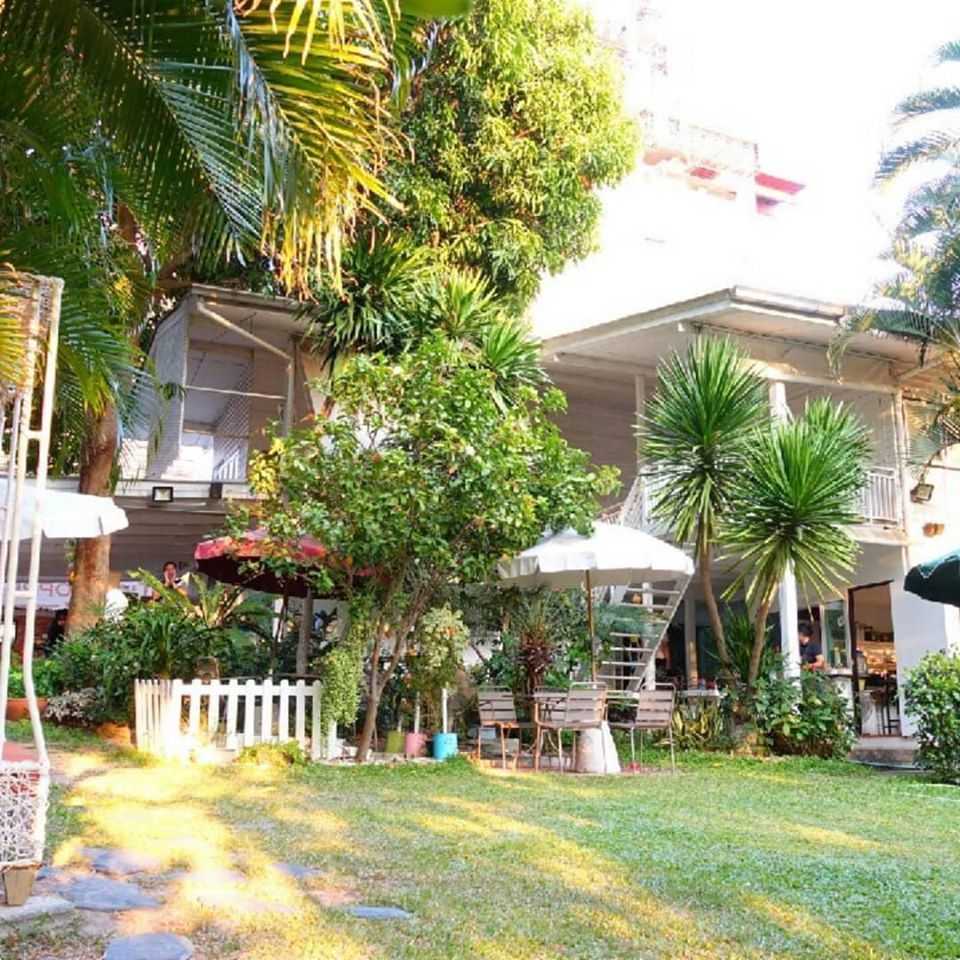 This lovely garden cafe is located just 100 meters from Pattaya Beach. You can walk in here for a relaxing cup of coffee and yummy cakes. Like many other cafés in Pattaya, they also serve English Breakfast throughout the day. You can also enjoy several Thai and Western dishes at affordable rates. The cafe has a tranquil outdoor seating arrangement in a lush garden with a simple menu and courteous staff.
Location: Na Kluea 16 Alley, Muang Pattaya
Opening Hours: 9:00 AM - 6:00 PM every day
Specials: British Coffee, Cakes, English Breakfast, Pak Moe Khai Dao
A holiday in Pattaya is full of fun, and the cafes in Pattaya provide a respite from the crowded beaches and buzzing streets. You can chill around these places exploring the local food and learning about Thai culture while enjoying your cup of coffee.