Beautiful beaches, adventurous water sports, the happening nightlife and boozy bars in
Pattaya
, make it the most preferred place to visit, in
Thailand
. Parties at pristine beaches, DJs playing lively music, multicolored laser light lit discotheques, crowds grooving to pulsating beats till dawn, beautiful girls performing cabaret, you can enjoy it all in Pattaya. In addition to the vibrant nightlife, there are bars in Pattaya that offer surreal views and fantastic brews.
1. Horizon Bar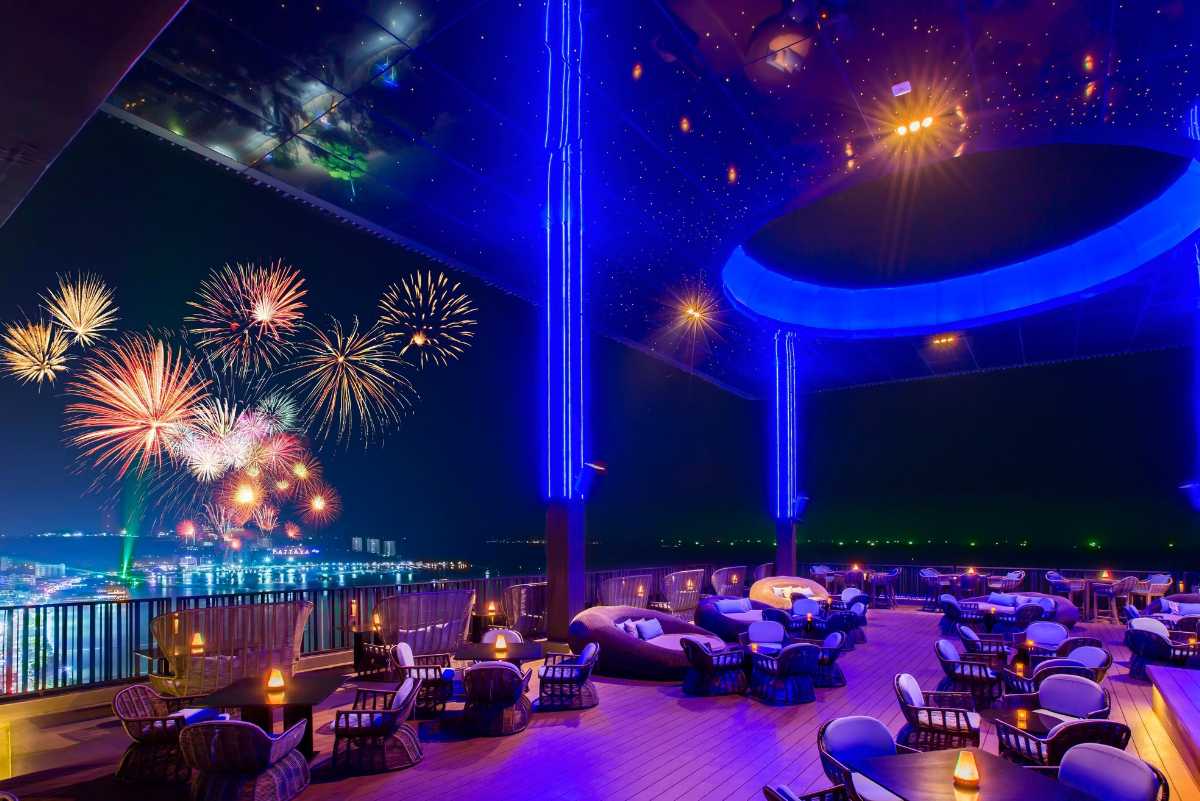 This place is ideal for a romantic dinner for couples. It offers a stylish lounge with an open-air bar with a spectacular view of Pattaya Bay. The indoor seating is luxurious while the outdoors are classy yet comfortable. The entrancing ambience is accompanied by a menu of delectable dishes and cocktails. The sunset view is breathtakingly beautiful while the night scenes are refreshing with starry skies.
Location: Hilton Pattaya Hotel, Beach Road, Pattaya
Timings: 5:00 PM to 1:00 AM
Happy Hours: 5:00 PM to 7:00 PM
2. Legends Pool And Sports Bar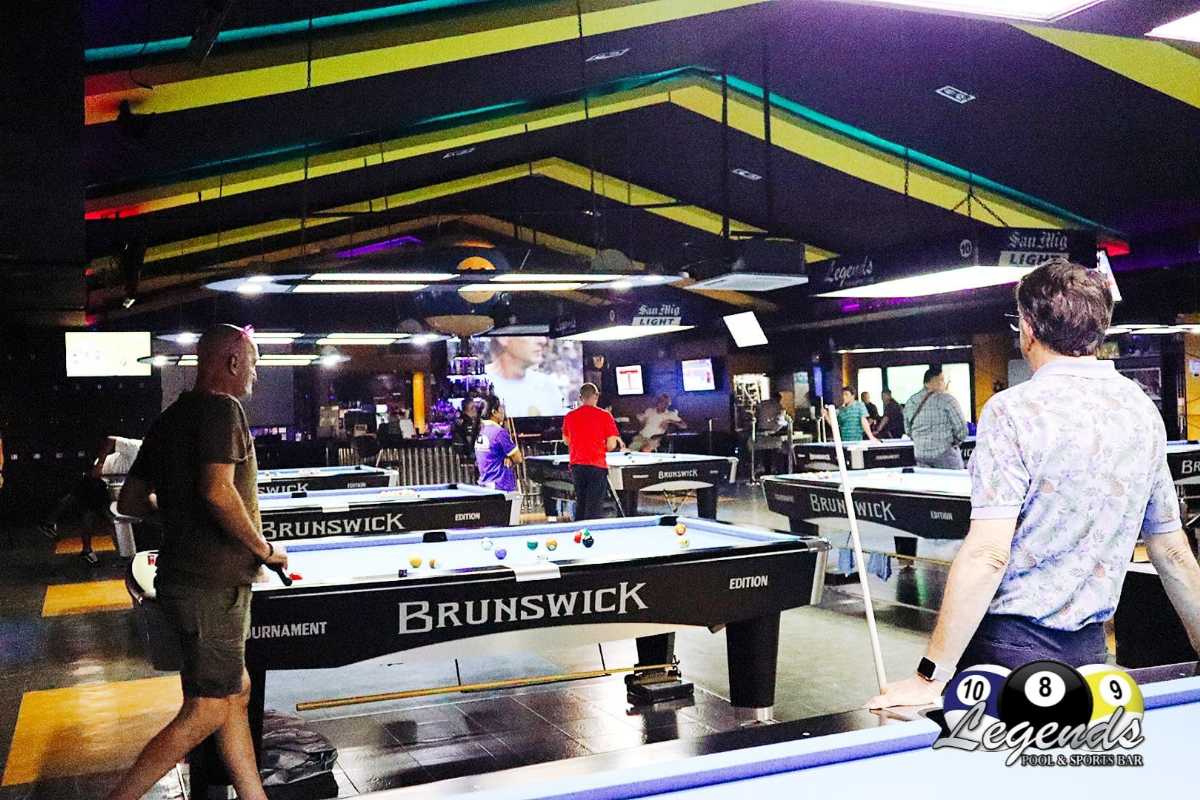 Legends Pool & Sports Bar is one of the best bars in Pattaya for sports lovers. This lively bar has 11 Brunswick tables where you can spend your time playing pool. You can grab a drink from their bar and chill while watching your favourite sports matches on large plasma-screen TVs. The dart area is well-equipped for local and national level competitions. The atmosphere is bursting with energy while the staff is quick and courteous.
Location: Muang Pattaya, Chang Wat Chon Buri
Timings: 11:00 AM to 3:00 AM
3. Hops Brew House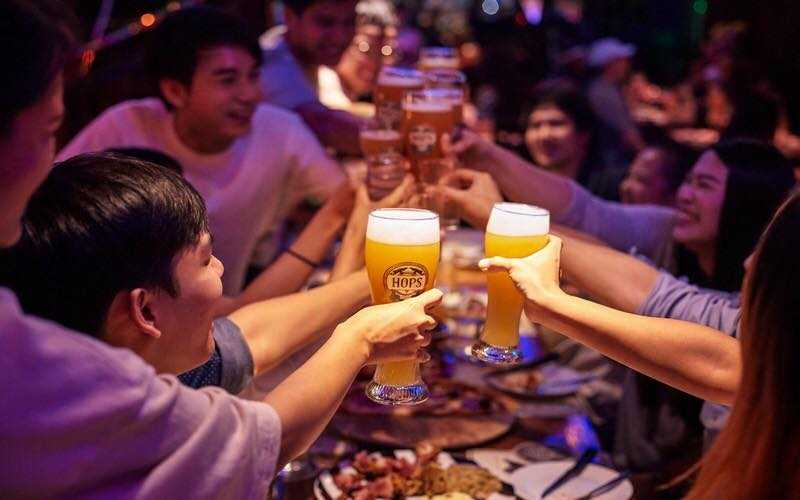 Formerly known as Hopf Brew House, this is the first microbrewery in Pattaya. Established in 1997 it is a German beer bar that is famous for its craft brews. Also called the Mecca of beer lovers it is one of the most popular beer bars in Pattaya. You can choose from their wide variety of home-brewed beers such as brew lager, wheat beer, and dark beer. They also serve a tasty menu of German bites such as pork knuckle sausages, carbonara, and pizza.
Location: Beach Road, Muang Pattaya, Chon Buri
Timings: 12:00 PM to 12:00 AM
4. The Roof Sky Bar & Restaurant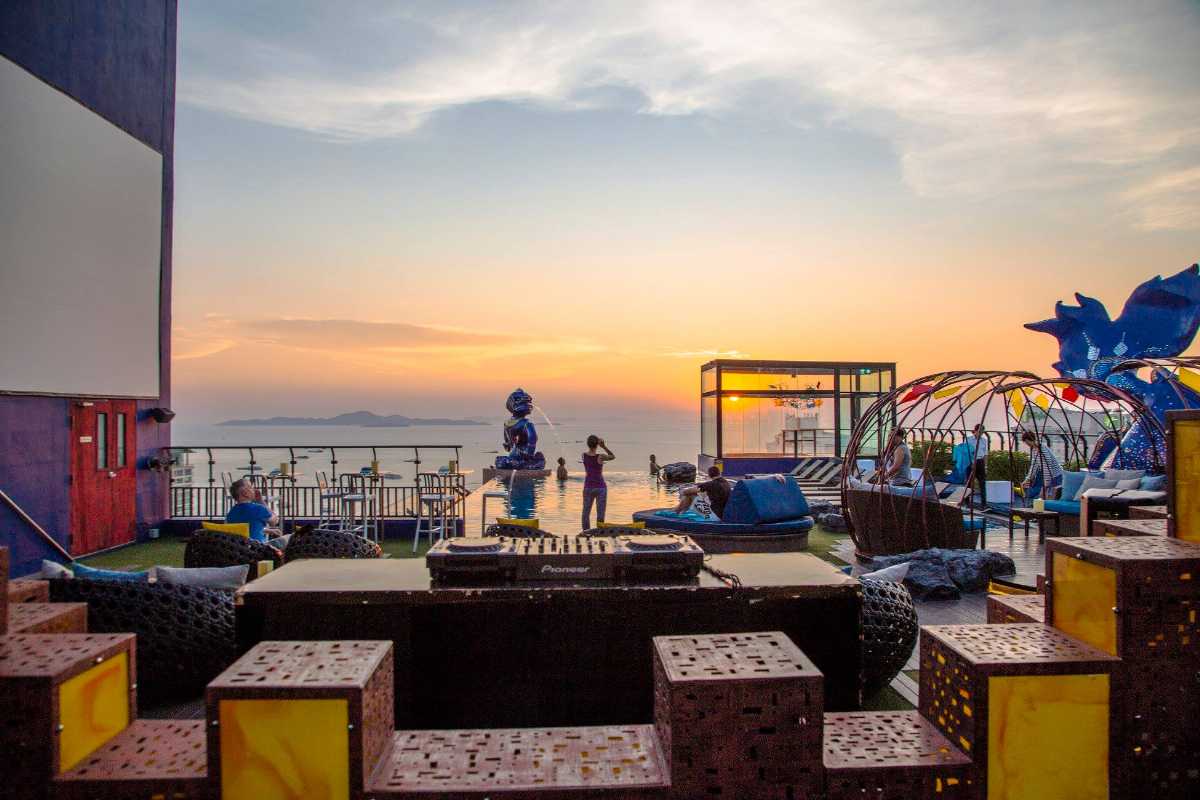 Atop Siam@Siam five star hotel, The Roof is among the most luxurious and lively bars in Pattaya. It is a chic restaurant on the 24th floor of the hotel, and the pool-side bar is on the 25th floor. It offers an astounding panoramic view of Pattaya bay and the entire city. The restaurant offers a family-friendly atmosphere with cosy seating in a garden-style setup. The top deck features a swimming pool with large TV screens for screening movies. The seating comprises a variety of options, including sofas, swings, and loungers. Their menu features international and local dishes along with a wide range of creative cocktails.
Location: 24th Floor, Siam@Siam Design Hotel Pattaya
Timings: 7:00 AM to 12:00 AM
5. V2O Ice Bar & Cocktail Lounge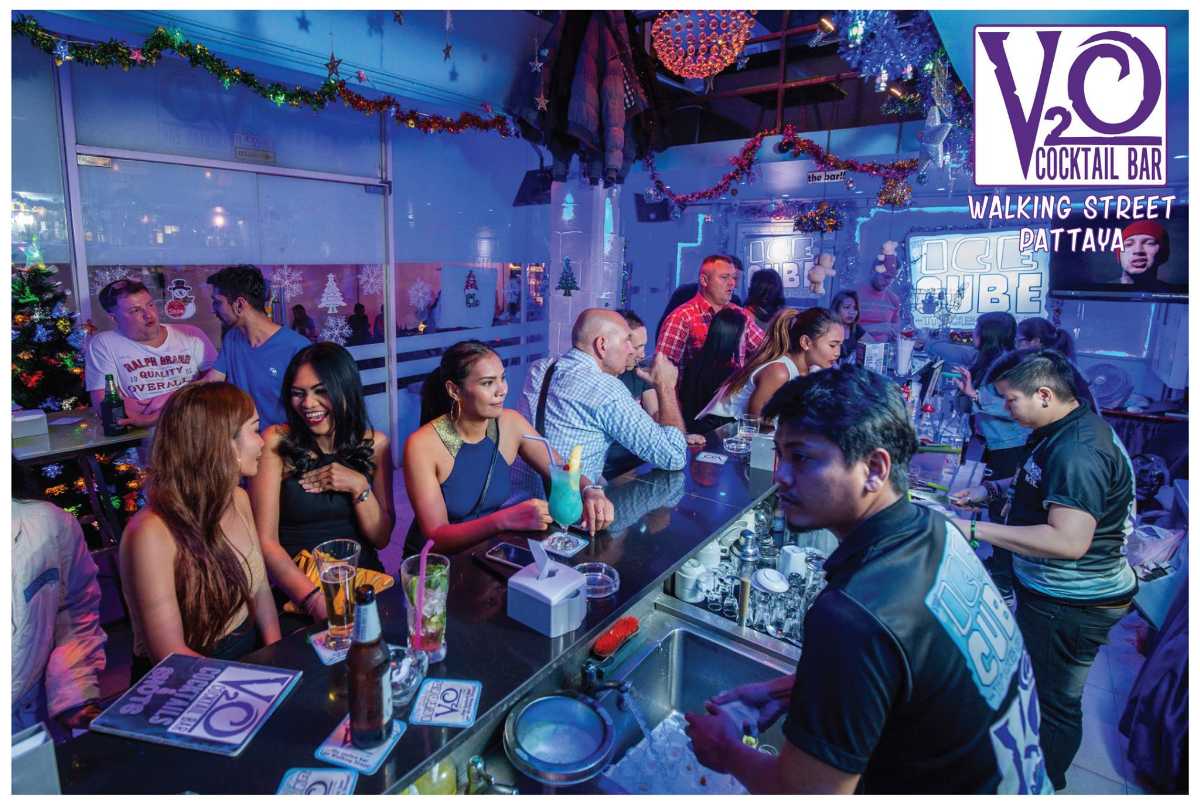 One of the unique bars in Pattaya, V2O Ice Bar & Cocktail lounge is a frozen bar that serves premium alcohol. You can chill in their stylish lounge or beat the heat in the -11 degrees ice room. Their iconic bar features an extensive choice of liqueur such as Jagermeister, Sambuca, tequila, Whiskey, Wine, Beer, and Vodka. Their bartenders are highly professional, and they serve an expertly mixed variety of signature cocktails.
Location: Soi 15 Corner, Walking Street, Pattaya
Timings: 7:00 PM to 4:00 AM
6. Pattaya Beer Garden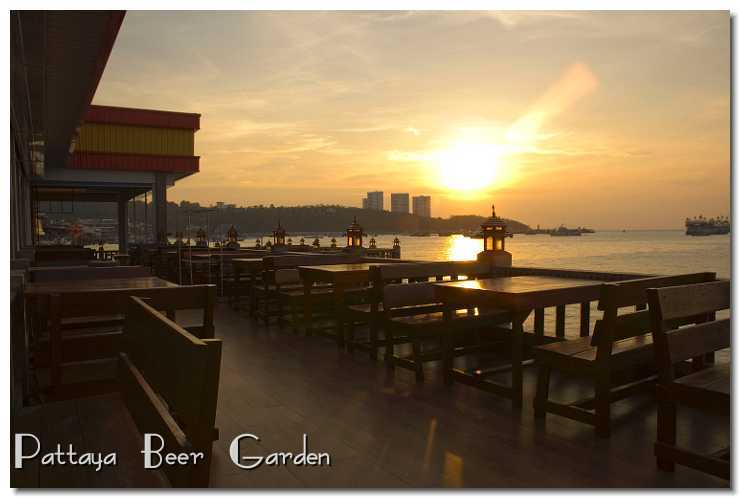 Popular as one of the more economical bars in Pattaya, this bar is inside a large complex which is located at the entrance of Walking Street. Pattaya Beer Garden offers a spectacular view of Pattaya Bay along with cheap drinks and food. The complex has more than 20 bars along with the Pattaya Beer Garden and a boxing ring. You can chill here while enjoying drinks and watching live Muay Thai boxing fights.
Location: Beach Road, near the entrance to Walking Street, South Pattaya
Timings: 10:00 AM to 2:00 AM
7. Hot Tuna Bar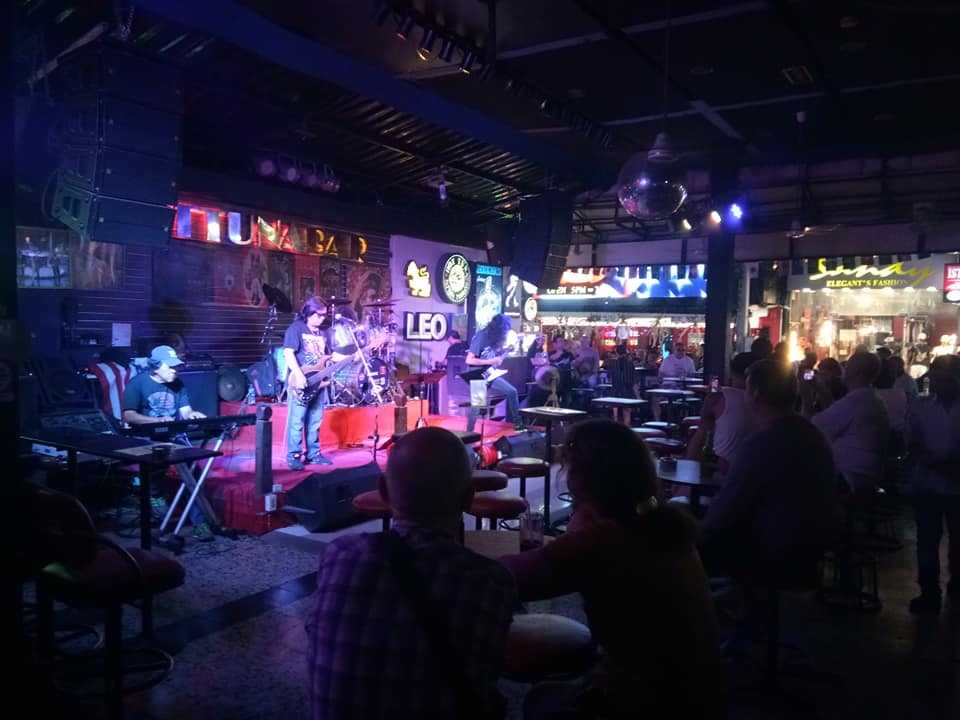 The Hot Tuna Bar caters to those tourists who come looking for amazing live rock music. It is a chilled-out spot in the heart of Walking Street, which is famous for offering the best of Pattaya's nightlife. This open-air bar offers drinks at reasonable prices, entertaining live music and typical Thai bar experience.
Location: Walking Street, Pattaya
Timings: 9:00 PM to 5:00 AM
8. Coast Beach Club & Bistro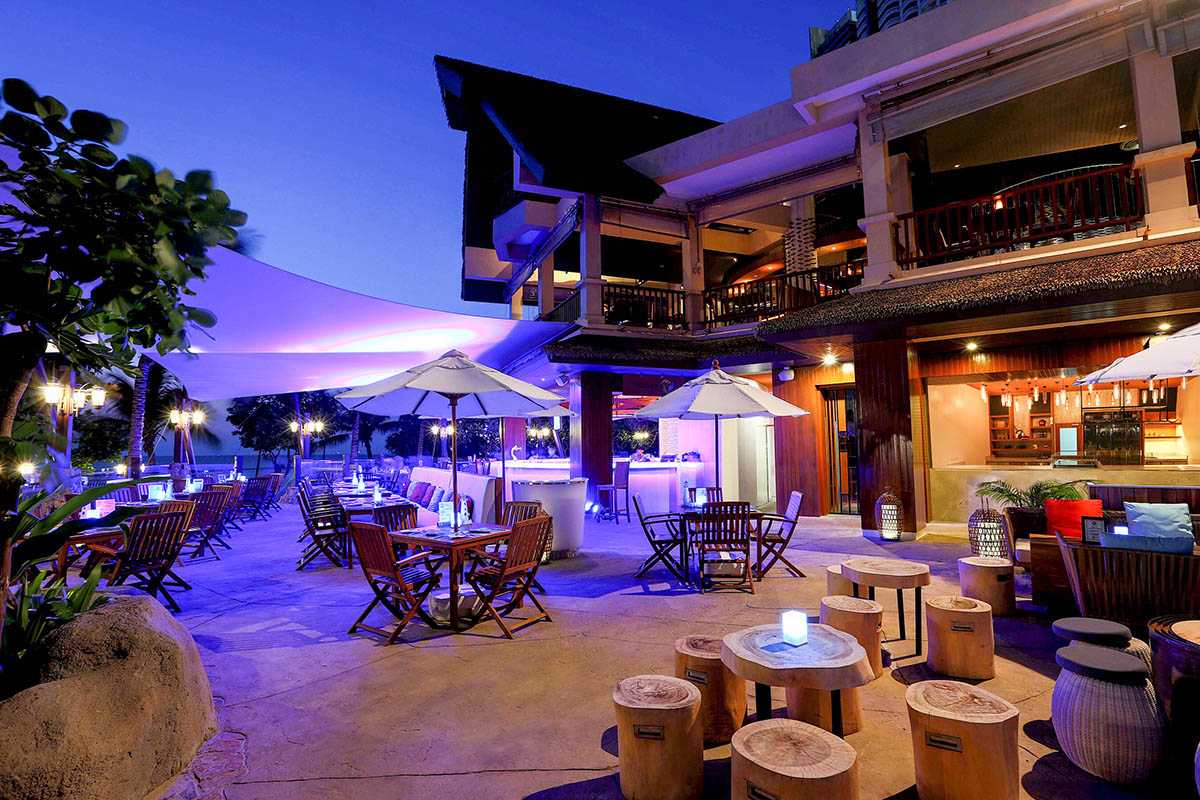 Rated among the sophisticated bars in Pattaya, Coast Beach Club & Bistro is a tropical delight. It is located inside the Centara Grand Mirage Beach Resort Pattaya. It offers a relaxing experience with plush seating by the beach and also a covered terrace with casual seating. It is ideal for chilling out in both day and night. They serve international and Thai cuisine while the seafood barbeque is alluring too. You can enjoy the beach vibe while sipping on perfect cocktails spun by expert mixologists. The upbeat ambience, well-mannered staff, and great food will surely make your overall experience at Coast Beach Club & Bistro memorable.
Location: Centara Grand Mirage Beach Resort Pattaya, Banglamung, Chonburi
Timings: 12:00 PM to 11:00 PM
9. The Cave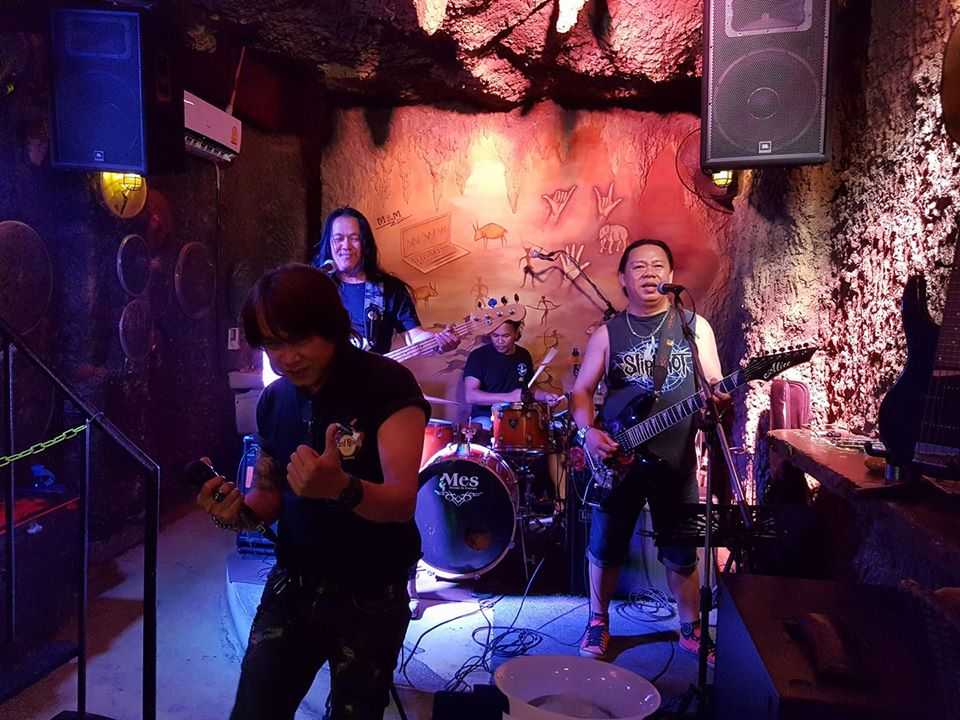 Several bars in Pattaya offer live music, but The Cave is the bounciest rock bar that offers intimate live music. It has been built with real rocks and decked with authentic cave paintings to give you the feel of a real cave. The band plays from 8:30 PM to 12:30 AM, and an array of reasonably priced drinks is available to add to the hard rock vibe.
Location: L K Metro Alley, Pattaya City
Timings: 6:00 PM to 2:00 AM
Happy Hours: 6:00 PM to 9:00 PM
10. Havana Bar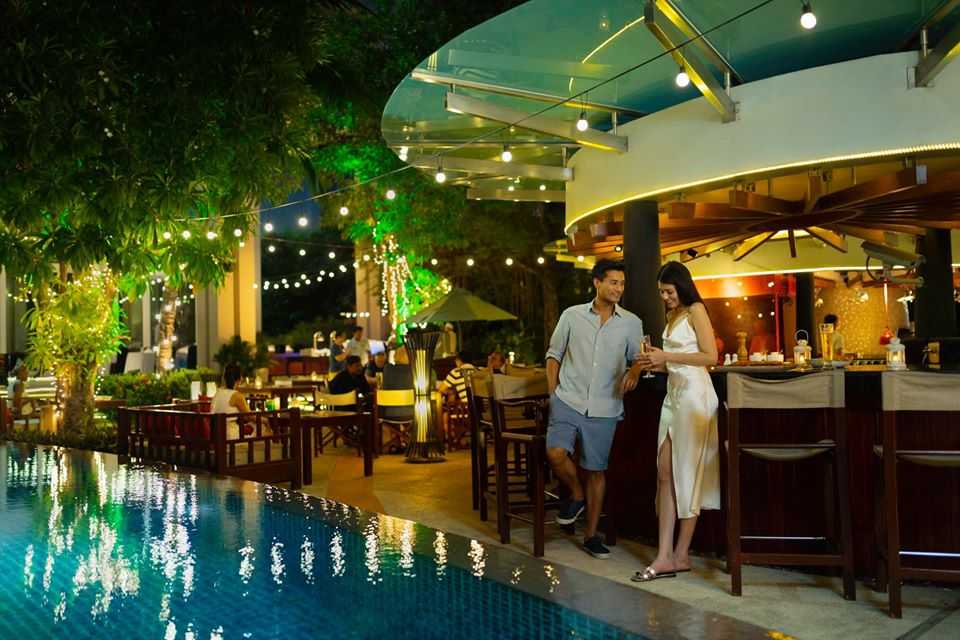 Known as the chicest bar in Pattaya, Havana Bar is stylish and cosy. The retro-Cuban ambience makes it the perfect place to unwind. The spacious bar offers comfortable seating, a pool table, and a classy cigar display. Their great service is accompanied with live music on weekends. The bar is stocked with varieties of rum, local and imported beers, wines, and a premium selection of single malts. They serve international and Thai cuisine along with fresh juices, smoothies, and cocktails.
Location: Ground floor, Holiday Inn, Pattaya Sai 1 Road
Timings: Mon- Thu 2:00 PM to 12:00 AM; Fri & Sat 12:00 PM to 1:00 AM; Sun 12:00 PM to 12:00 AM
Famous for its exuberant nightlife Thailand has much more in store for you. You can begin by hitting up one of these bars in Pattaya to experience a night of dancing, drinking, and enjoyment.