The Palace on Wheels is a luxurious
India
n train which takes you on an unforgettable journey to the royal land of dunes and palaces, thus allowing you to experience regality at its best. Explore the land of royal palaces,
Rajasthan
 aboard the majestic Palace on Wheels. This luxurious train of India has a natural ambience which blends perfectly with a touch of mesmerising charm, and glorious beauty spread lavishly in Rajasthan. The Palace on Wheels is rated as the fourth best luxury train in the world and the best in India. It not only offer you a beautiful train ride but a heart-rending trip to cherish forever in just seven days. This trip also includes the epitome of love, the
Taj Mahal
on its itinerary.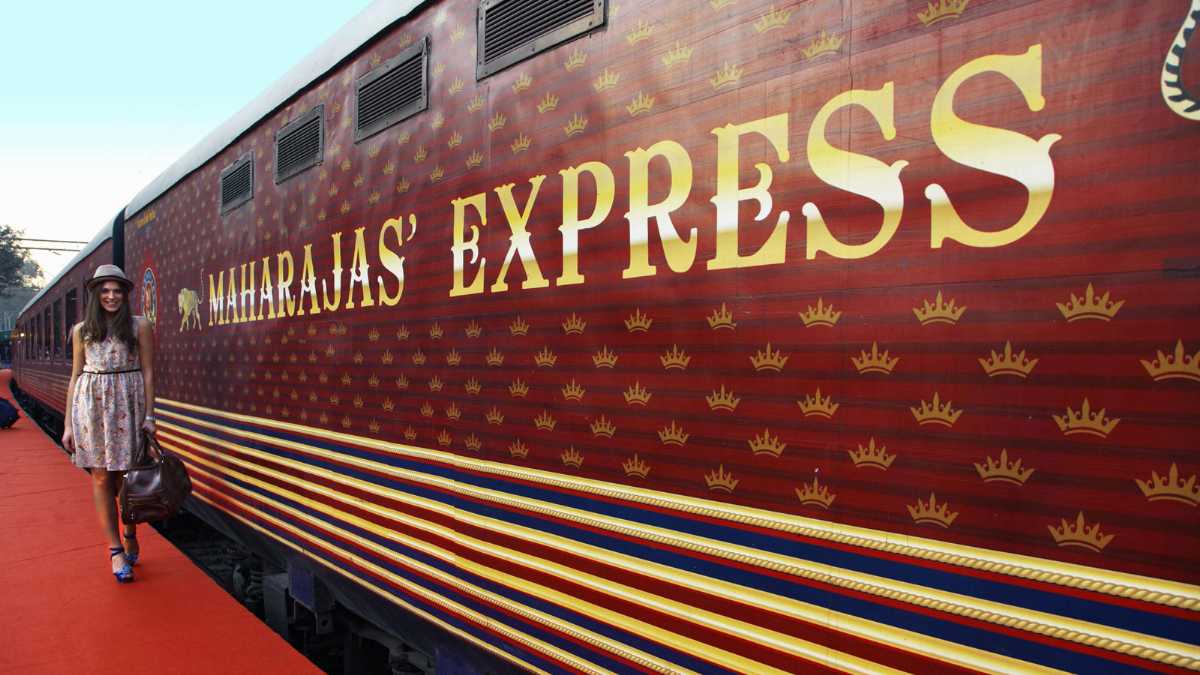 Features of the Palace on Wheels: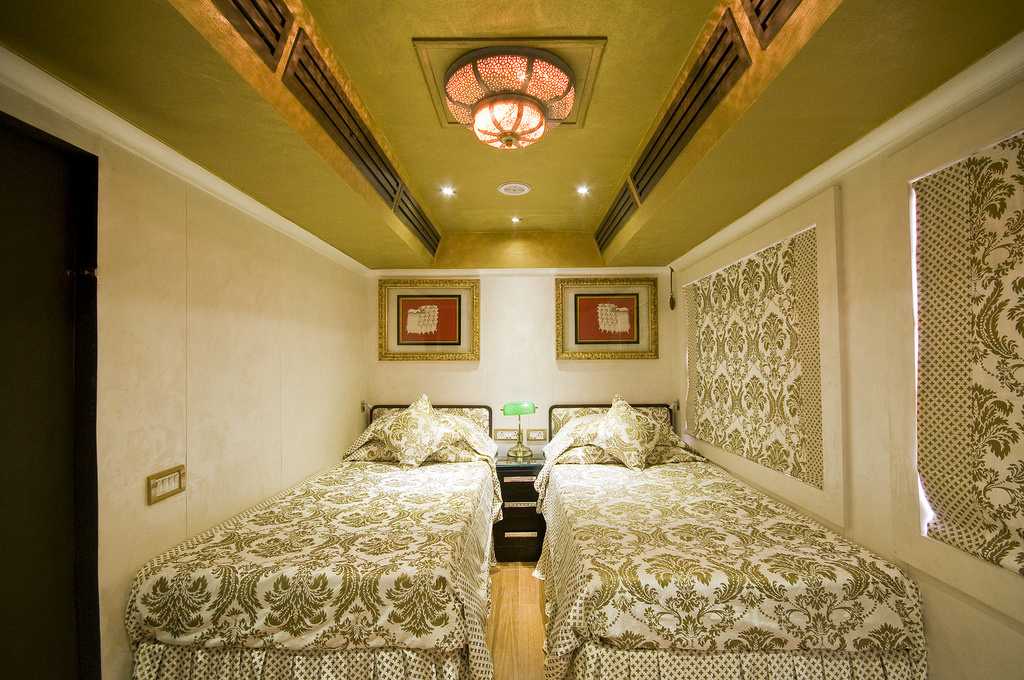 There are 39 Deluxe Cabins & 2 Super Deluxe Cabins. These cabins can be booked on either single or Double Occupancy.
There are Two Resto-Bar lounges, Ayurveda spa facility and Complimentary Wi-Fi services.
The Size of Deluxe Cabins are of 140 square feet & Super Deluxe Cabins are 190 square feet.
Sightseeing arrangements for Guests booked in super deluxe Cabins are by private AC car with guide except for Ranthambhore National Park where a shared canter is used.
The Deluxe Cabins are twin bedded while the Super Deluxe has a single large bed.
Each Passenger Saloon is catered by two exclusive attendants who are attired in traditional Rajasthani uniforms.
Onboard Facilities
Luggage collection The luggage of the passengers is picked and transported to the passenger's saloons just like how you would expect at a five-star hotel.
Arrival kit Each passenger is given a package upon arrival consisting of stationery items, brochures etc.
Personal Attendant, They also provide personal attendant at your service round the clock. An assortment of dishes are served, and a great platter is offered to choose from like continental, Indian, Rajasthani and Chinese. If you are worried about missing your newspaper, then it should be least amongst your worries as newspapers and magazines are provided onboard every morning.
Commodities Toiletries like shampoos, soaps etc. are all provided on board, so you don't have to worry about carrying them around in your bag. You can never get bored in this journey as there is an excellent collection of indoor games like chess, playing cards, carom board etc. A medical kit is always kept in handy on the train, and a doctor can be made available at the very next station.
Wifi Free Wi-Fi connectivity.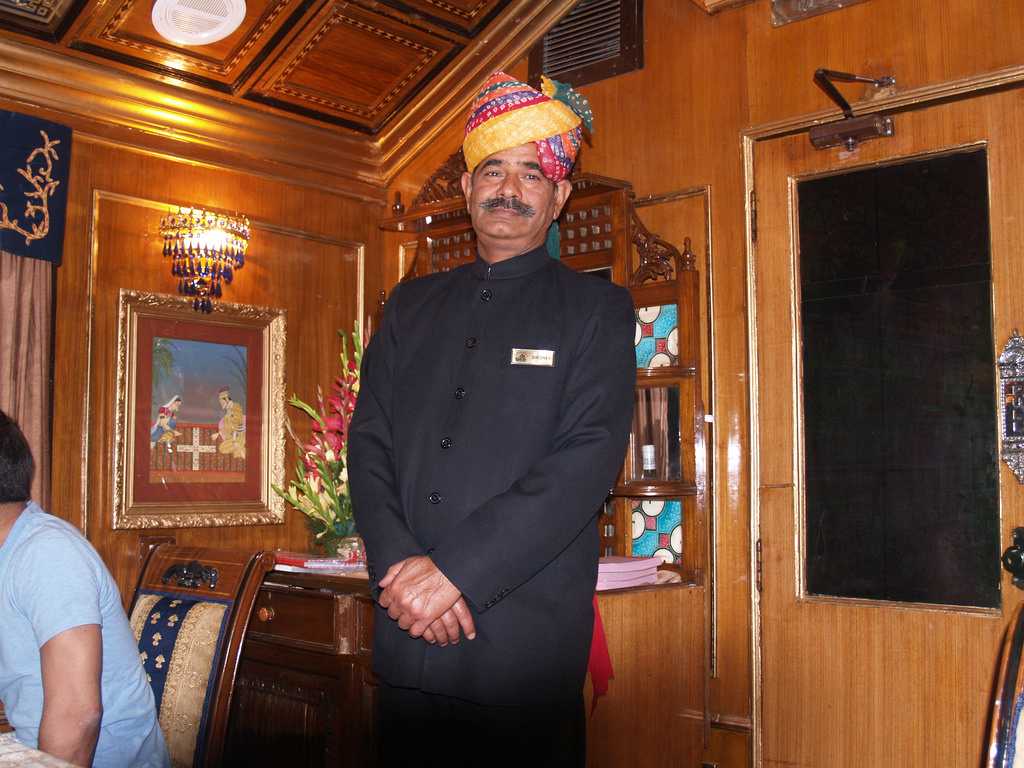 Lounge and Spa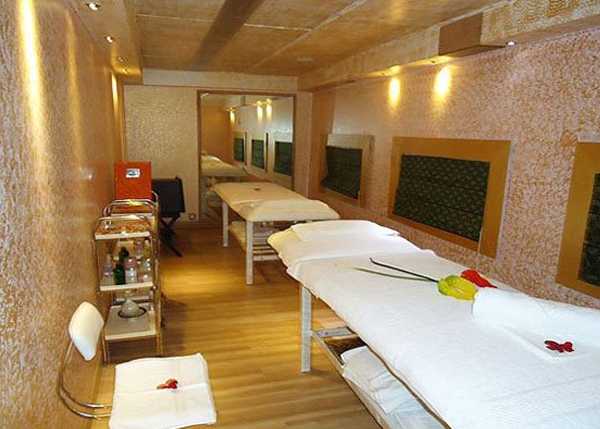 A lounge is present on board for recreational purposes such as relaxing, interacting with other guests and participating in games etc. The Spa car offers an Ayurvedic rejuvenation and calms your body and mind completely. It provides a variety of massages, therapies and treatments to its passengers.
Types of Suites
There are two types of suites available onboard.
Deluxe Cabin  The deluxe cabins are of either single or double occupancy. The Size of Deluxe Cabins are of 140 square feet, and they are twin bedded.
Super Deluxe  The super deluxe cabins are also of either single or double occupancy. It is uniquely bedded and 190 square feet in size.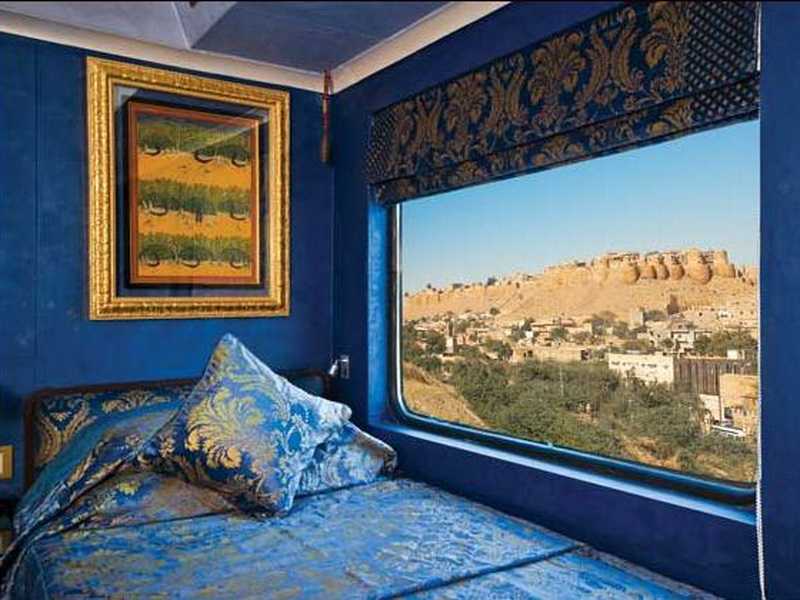 Dining
The train boasts of two lavish restaurants titled 'The Maharaja' and 'The Maharani' which will cater to your taste buds in its purest form of ambience and will even quench your insatiable appetite. The restaurants have a seating arrangement made in either a group of two or four by the window.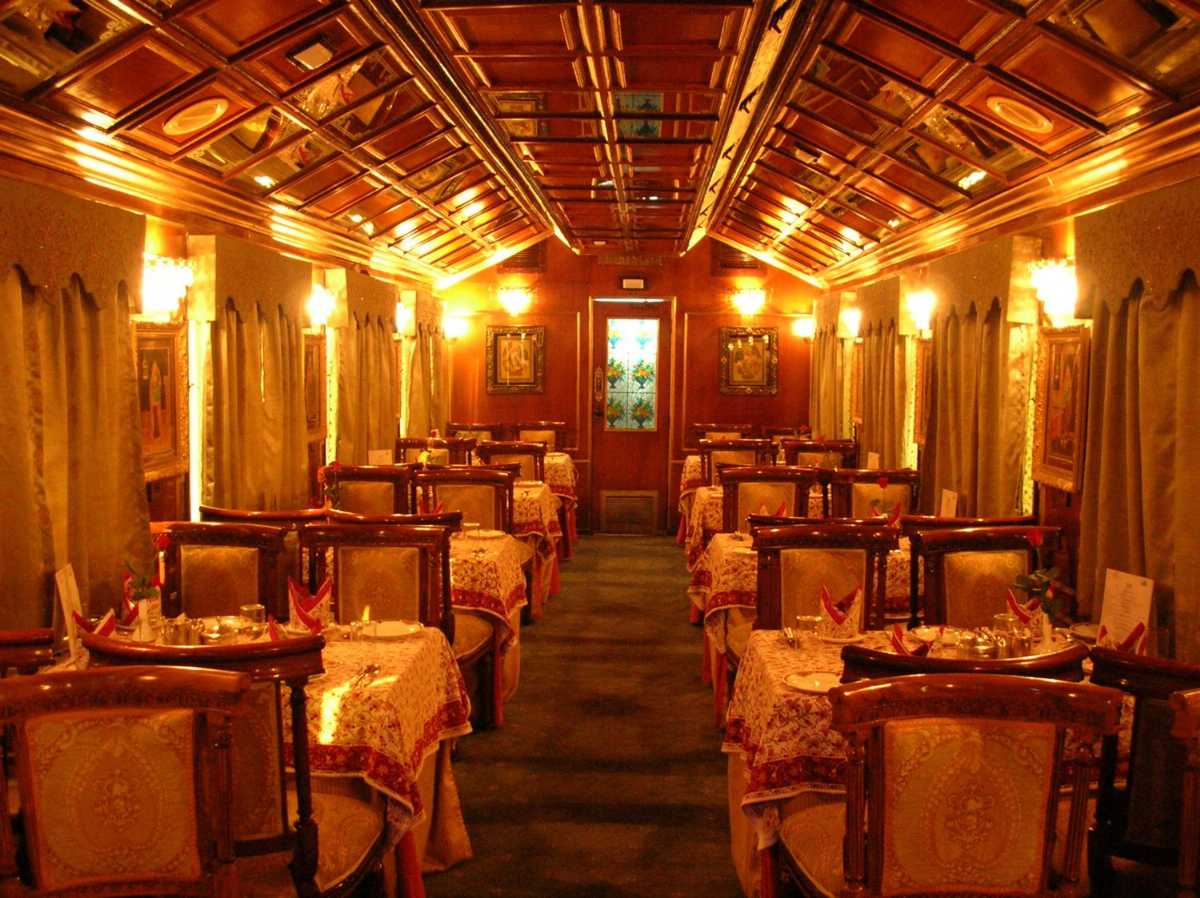 A Brief Tour Description:
Travel & stay in luxury train with AC Sleeping chambers with private attached bathroom
Group excursions & sightseeing trips (pre-paid).
Bed Tea; Daily 3 meals (viz. breakfast, lunch & dinner) & bottled drinking water.
Jungle Excursion in Ranthambhore Tiger Reserve by a 15 sweater open to air Canters.
Elephant joy ride in Jaipur; Sound & Light Show at Chittoor Fort; Boat joy ride in Udaipur; Camel joy ride at Sam dunes; Cultural Program with dinner in Jaisalmer; Cycle Rickshaw ride in Bharatpur Bird sanctuary
Free Wi-Fi connectivity
Visit Taj Mahal in Agra
Palace On Wheels Price
The fare for the Palace on wheels are divided into High Season (October - March) and Low Season (September and April).
High Season
Depending on the cabin you choose the cost would differ
| | |
| --- | --- |
| Deluxe cabin (single occupancy)  |  US$ 6055 (INR 3,63,300) |
| Deluxe cabin (double occupancy) |  US$ 9100 (INR 5,46,000) |
| Super Deluxe cabin (single occupancy) |  US$12600 (INR 7,56,000) |
| Super Deluxe cabin (double occupancy) |  US$12600 (INR 7,56,000) |
*Note: Taxes extra.
Low season
Depending on the cabin you choose the cost would differ
| | |
| --- | --- |
| Deluxe cabin (single occupancy) | US$ 4550 (INR 2,73,300) |
| Deluxe cabin (double occupancy)  | US$ 7000 (INR 4,20,000) |
| Super Deluxe cabin (single occupancy) | US$12600 (INR 7,56,000) |
*Note: Taxes extra.
Palace on Wheels Package: The Seven Majestic Day's Itinerary
Day 01 - Wednesday: New DelhiDepart
Passengers have to report at Safdarjung Railway Station at 4:30 PM for traditional welcome & check-in formalities.
Photo-shoot with Palace on wheels staff flaunting Rajasthani attire.
A short briefing on cabin facilities by a personal attendant
The Train Departs at 6:30 PM & dinner is served onboard.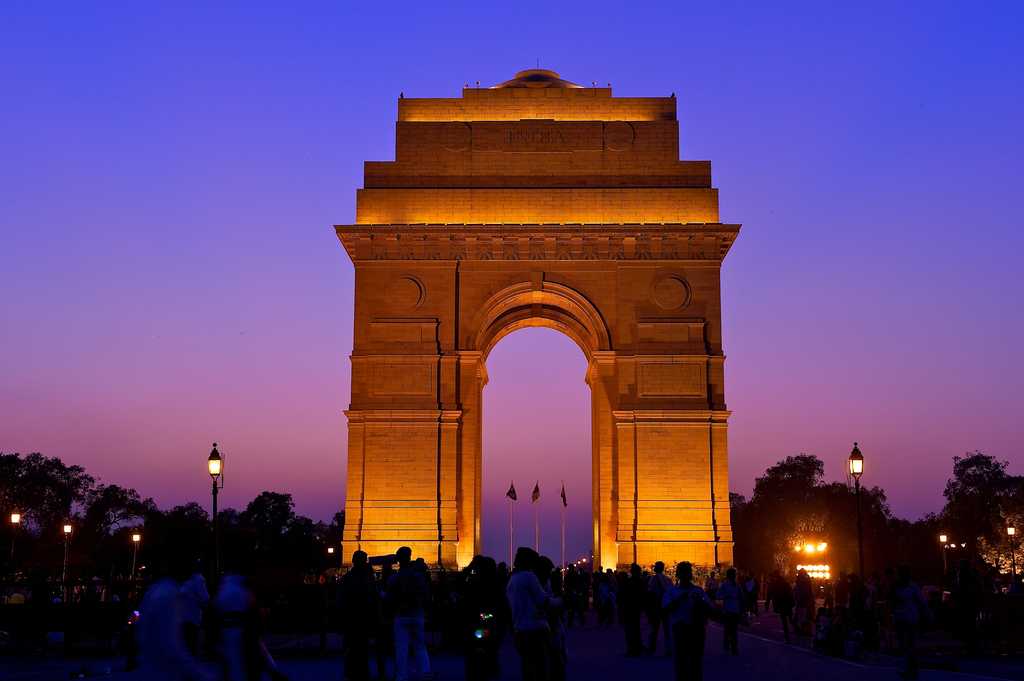 Day 02 - Thursday: Jaipur-Pink City Tour
Royal Welcome by Elephants at Jaipur railway station awaits the passengers & party proceeds to visit St. Albert Museum, Pink City Palace & the UNESCO World Heritage Site of Jantar Mantar (sun Observatory).
The party halts at Hawa Mahal (Palace Of winds) for photos.
Afternoon excursion trip to UNESCO World Heritage Site of Hill Fort Palace of Amber on the back of festively decorated Elephants.
Lunch in 1135 AD Boutique Restaurant, located in Fort premises.
Post lunch Fort Palace is visited with its vast courtyards and built-in fusion of combined Rajput and Mughal architecture.
Time is offered for shopping post which passengers are asked to return to train by 6:00 PM
The train departs, and dinner is served onboard.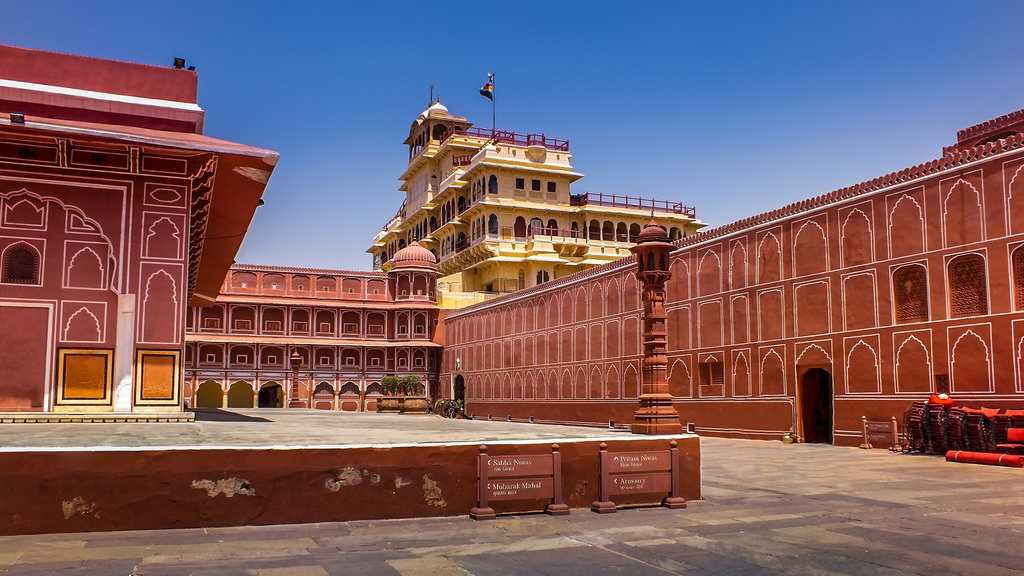 Day 03 - Friday Early Morning: Ranthambore
The party proceeds from Sawai Madhopur Railway Station at 6:30 AM for Tiger Reserve by a 15 Seater Canters to Ranthambhore Tiger Reserve.
The Jungle is home to Tigers, Panthers, Sloth bears, Pythons, Marsh crocodiles & hundreds of deer & numerous birds. 
Passengers return to train by 9:30 AM and the train departs. Breakfast & lunch is served onboard.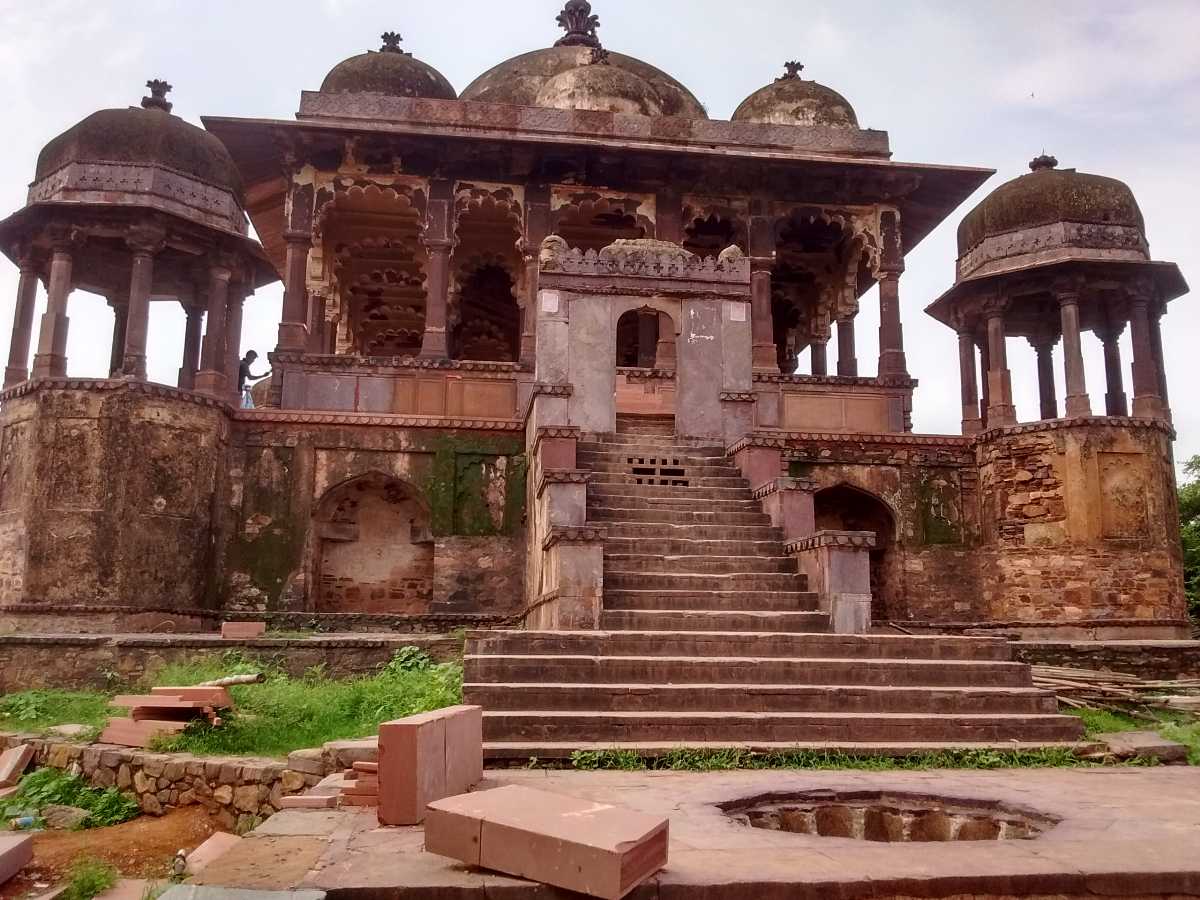 Day 03 - Friday Afternoon: Chittorgarh- Hill Fort
At 4:00 PM the train reaches Chittorgarh Railway Station.
Excursion trip to Hill Fort of Chittorgarh a UNESCO World Heritage Site.
The Evening is enjoyed with a Sound & Light program in the fort complex. The day ends with tourists returning to the train for dinner. The train departs post-midnight.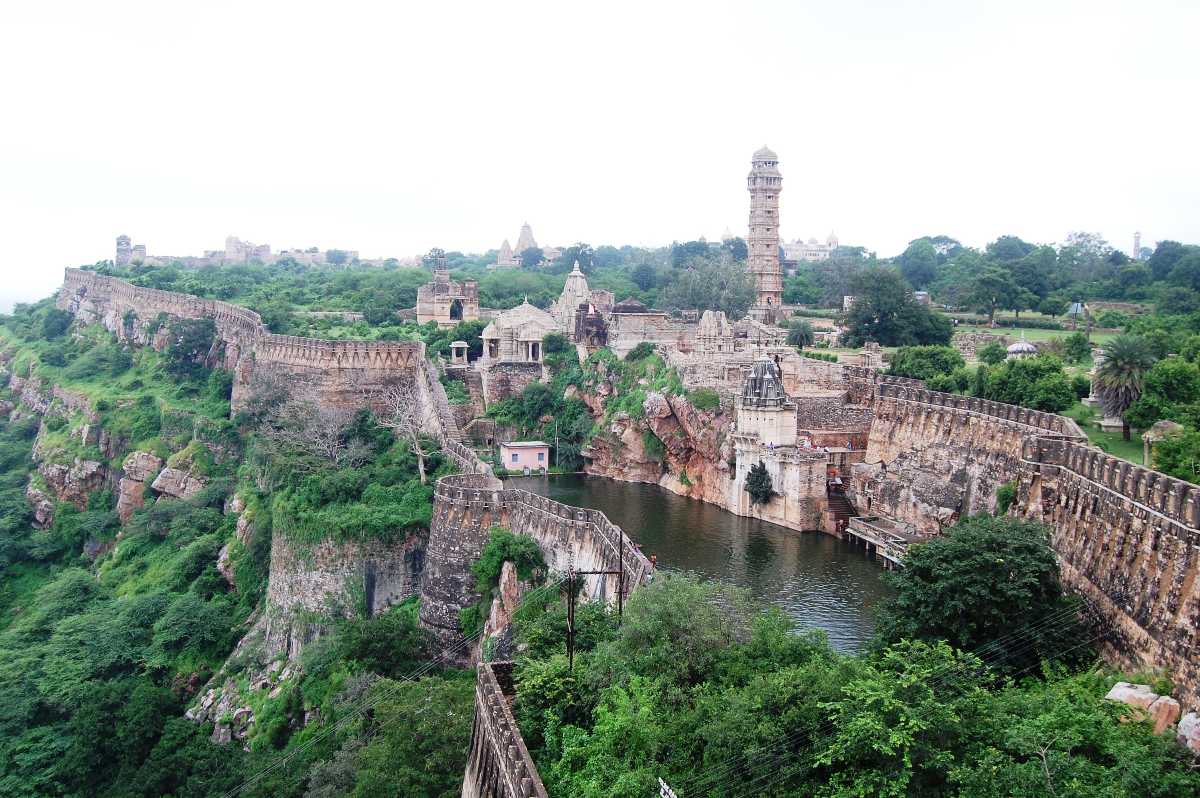 Day 04 - Saturday: Udaipur: City of Lakes
The train arrives by 08:00 AM and onboard breakfast are served.
The procession arrives at City Palace complex which has eleven constituent Mahal (palaces), balconies, towers and domes.
A visit to the Crystal Gallery which houses the personal collection of H.H. of Udaipur is also undertaken.
The visit is followed by a boat ride around the world famous "Lake Palace Hotel" atop a small island in Lake Pichola.
Lunch is served at Fatehprakash Palace Hotel.
Time is allotted for shopping and visiting the Royal Gardens at Saheliyon Ki Bari. The day comes to an end by returning to the train by 3:00 PM and the train departs. Dinner will be provided onboard.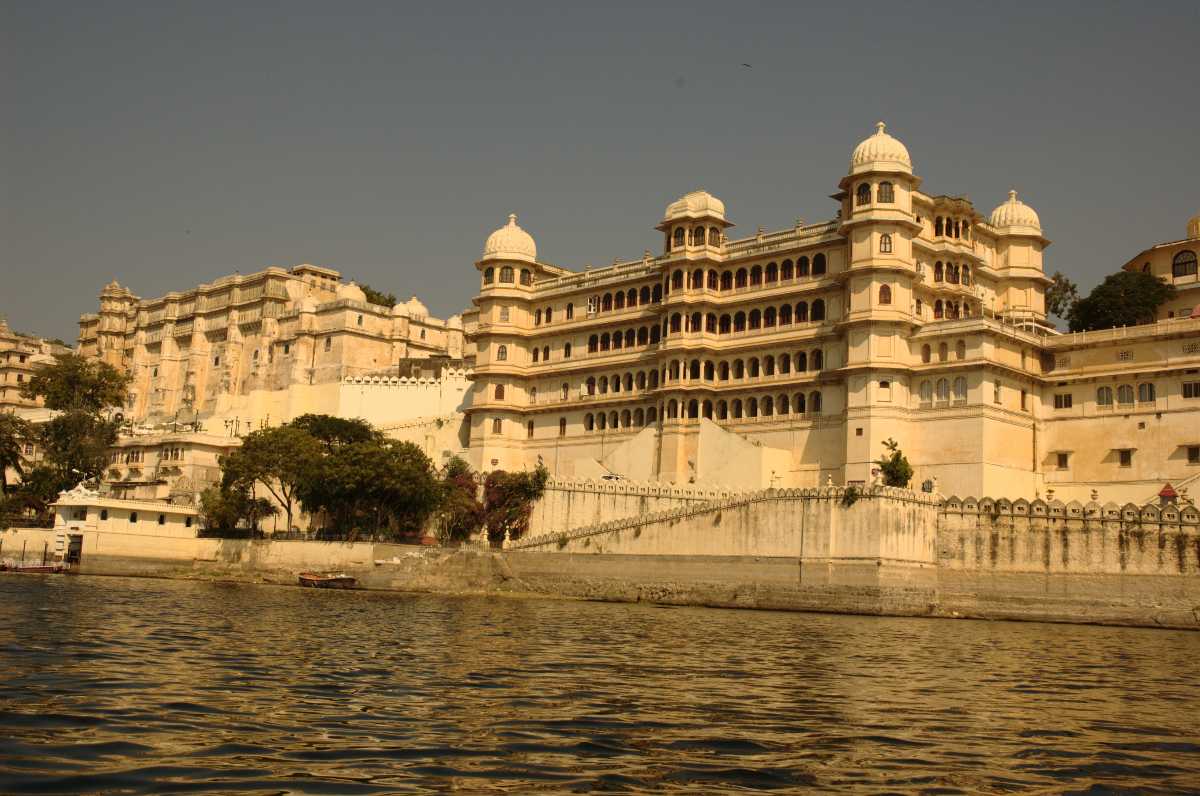 Day 05 - Sunday: Jaisalmer: Oasis in the desert
Onboard Breakfast.
A trip to Jaisalmer Fort by 9:30 AM The fort is entered through a forbidding series of massive gates leading to a significant courtyard.
A visit to Patwon ki Haveli, one of the most extensive and most elaborate mansion houses takes place later.
Lunch is served at a 5-Star Hotel.
At 4:30 PM hours excursion to Sam dunes in the Thar Desert for Camel joyride & sunset photo shoot opportunity takes place.
A Cultural Program & Dinner at a 5-Star Hotel concludes the day.
Return to the train by 10:00 PM & departure of the train is encountered.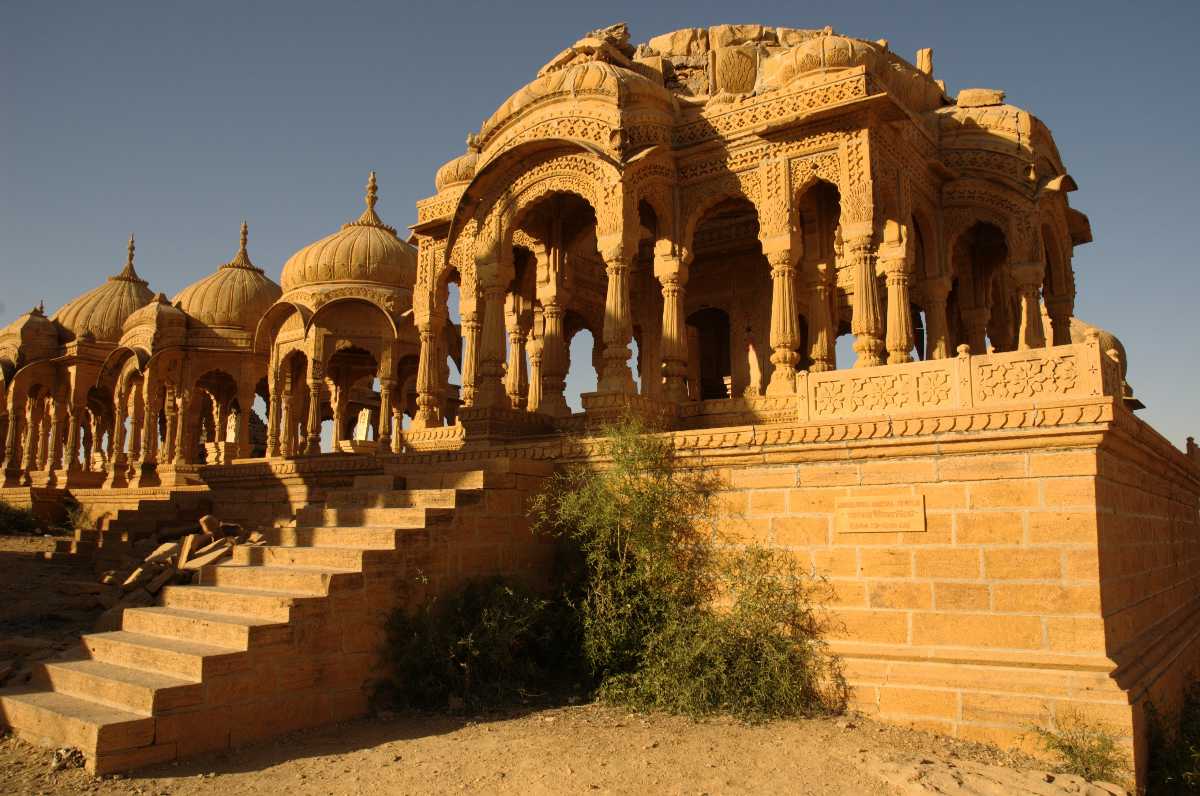 Day 06 - Monday: Jodhpur: Heart of Marwar
The train arrives at 8:00 AM & post breakfast proceed for sightseeing of Mehrangarh Fort, atop a rocky hill which soars 125 Mts. above Jodhpur town.
The fort complex is located near the 19th century built Jaswant Thad, a cluster of royal cenotaphs in white marble.
The museum at Umaid Bhawan Palace is visited which displays personal artefacts of H.H. Maharaja of Jodhpur. Lunch at Hanwant Mahal Boutique Restaurant.
Return to train & depart by 3:30 PM.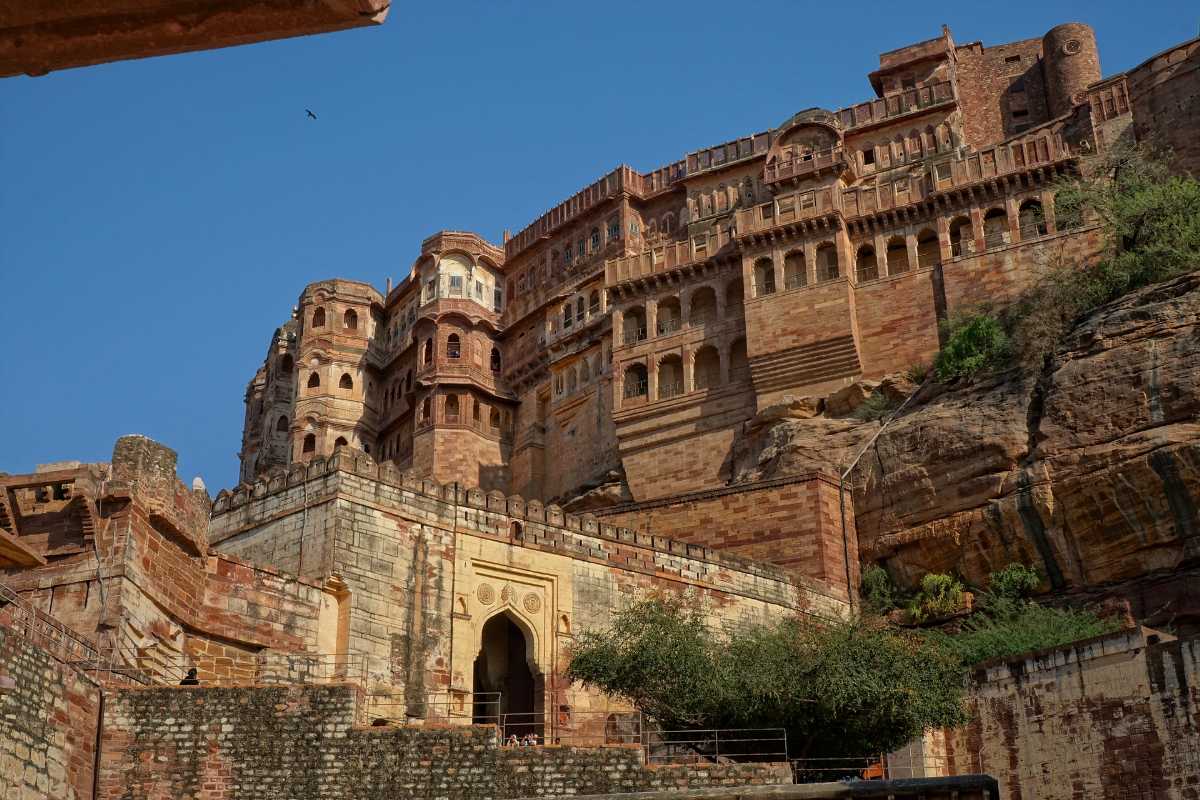 Day 07 - Tuesday Early Morning: Bharatpur - Bird Sanctuary 
At early morning 6:30 AM proceed Bharatpur Bird Sanctuary, a UNESCO World Heritage Site. This sanctuary is home to 375 species of both local & migratory birds (from places like SriLanka, Europe,
Siberia
,
China
and Tibet) atop a cycle rickshaw.
Return to train for breakfast & depart by 8:45 AM.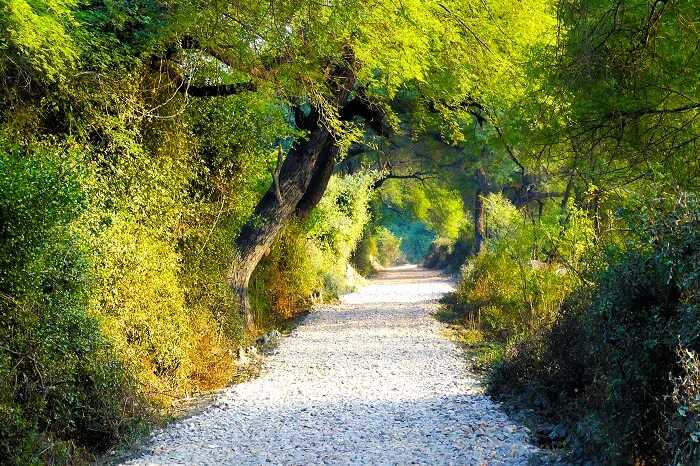 Day 07 - Tuesday Noon: Agra - City of Taj Mahal
The Train halts at a railway station located on the outskirts of Agra at 10:30 AM
Agra Fort another amongst the UNESCO world heritage site is visited.
Lunch is served at ITC Mughal Hotel.
The epitome of love and one among the Seven Wonders of the World is visited glistening in pearl white marble.
Time if allocated for shopping and the day comes to an end. Return to train for onboard dinner & depart.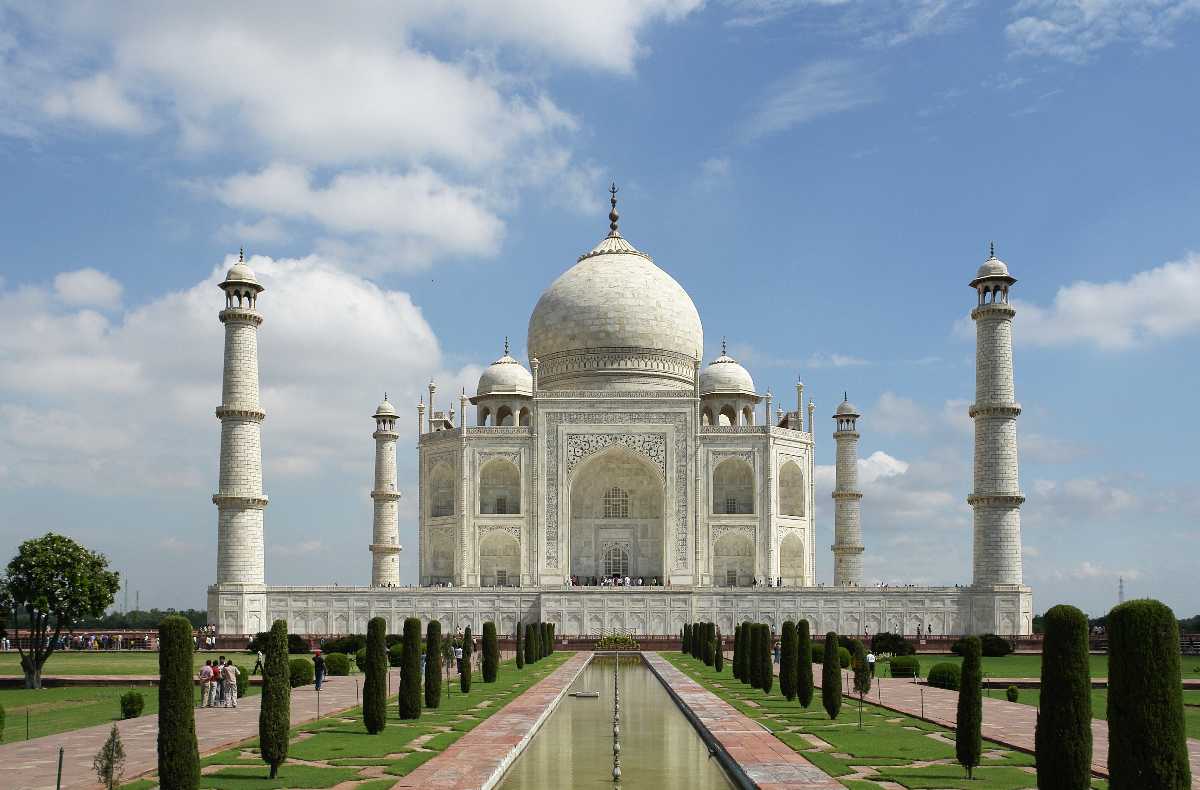 Day 08 - Wednesday: New Delhi Return
The Train returns to Delhi Safdarjung Railway Station by 5:30 AM.
Check-out takes place at 7:15 AM after early breakfast.
This majestic and imperial tour thus comes to an end.
Palace on Wheels Booking
The booking for the palace on wheels can either be made through the website by clicking on their booking enquiry or via a travel agent. Payment of 20 % at the time of booking is mandatory, and the remaining 80 % can be paid two months before departure.
Cancellation policies as mentioned in the tariff
When a booking stands cancelled two months before departure then 5 % of the ticket value would be deducted.
If the booking is cancelled between 30 - 59 days before departure then 20 % of the ticket value would be deducted.
50 % of the ticket value would be deducted if cancelled 15 - 29 days before departure.
100 % of the ticket value will be deducted if the booking is cancelled a fortnight before departure.
History of Palace on Wheels
The format of this luxurious expedition dates back to the pre-independent India when Royal subjects and British dignitaries used a less modern version of such coaches for commuting. Rulers of Rajputana,
Gujarat
,
Hyderabad
and British Viceroys travelled via these grand coaches that were shelved after independence.
In 1982, the tourism department of Rajasthan in association with Indian Railways resurrected these coaches and inaugurated the first version of what came to be known as the ultimate royal extravaganza. Coaches were named after popular forts of Rajasthan and showcased their royal history through interior work and art.
Palace on Wheel's royal lineage was the main motivation behind its name. Several modifications were made throughout its 36-year-old journey. Original passenger coaches were replaced by meter gauge train to accommodate air conditioning systems and bathrooms. It was later changed into a broad gauge version for a more comfortable and spacious experience.
The tourism department of India launched brand new coaches for the train in September 2017.
Inclusions in the 7-day package
Staying and travelling in your preferred air-conditioned cabin with attached bathroom.
Three meals (breakfast, lunch and dinner) and morning tea.
AC buses for transportation from the train to mentioned monuments and an English speaking guide.
Entry fee for monuments and wildlife reserves. Excludes video camera fee.
Jungle safari in an open-air canter at Ranthambore Tiger Reserve, Cycle Rickshaw ride at Bharatpur Bird Sanctuary, Light and Sound show at Chittorgarh fort, Elephant ride in Jaipur, Boat ride in Udaipur, Taj Mahal in Agra and Camel ride (Sam Sand Dunes) in Jaisalmer along with a cultural event and dinner.
Wi-fi services throughout the journey.
Booking Procedure
Rajasthan Tourism Department (RTDC) manages Palace on wheels. You can inquire about the departure dates from their website and finalize accordingly.
Choose your preferred cabin (single or double occupancy) and the number of persons travelling.
Booking procedure involves conveying Name, Sex, Nationality, Photo identification, Passport (foreign nationals) and residence proof (Indian nationals) for all travellers.
Bookings will be confirmed after depositing 25% advance. Remaining charges have to be paid 61 days before departure. Bookings made in the final two months prior to departure will be confirmed upon full payment in advance.
10% cancellation fee is levied if you inform 92 days prior to departure. 20% for 91 to 32 days and no amount is refunded after 32 days deadline.
Payment Options
You can pay online through Credit/Debit card (Visa and Mastercard only). Foreign nationals can use Swift Bank Wire Transfer and Indian nationals can pay through NEFT or RTGS bank transfer.
Schedule for the year 2019-2020
Palace on wheels operates between September to April and concludes the itinerary over a 7 day period. The journey begins every Wednesday from New Delhi and ends next Wednesday at the Safdarjung Railway Station.
Departure schedule:
4th September 2019 is the first departure date. They follow a 7 day gap period and you need to select your slot keeping that in mind (8th, 15th, 22nd and so on). Last departure is on 29th April 2020.
Check in/Check out:
4 PM/7:30 AM at Safdarjung Railway Station.