Whenever we think of
Rajasthan
, yellow sand, intricate architecture and colourful, vibrant attires come to our minds. Colourful clothing, heavy ornaments and designer dresses aren't just their fancy, but it is what defines their identity, their status- social and economic, their religion and their region. Everything they put on, from hair to toe, has a deep significance.
Rajasthani Dress for Men

Pagri (Turban)
Pagri is one of the most important parts of men's attire in Rajasthan as it defines their social and economic status. Their colour, cloth, design and shape- everything symbolises individuality. The width of a Pagri is 8 inches and length is about eighty feet. The common man wears a Pagri of a single colour while a rich man wears a designer multicoloured Pagri. Although people wear special Pagris during festivals or events.
The shape and size of Pagris vary region to region. Pagris of
Udaipur
are flat, and men of
Jodhpur
wear safa which have a curved bend. In
Jaipur
, people prefer an angular Pagri.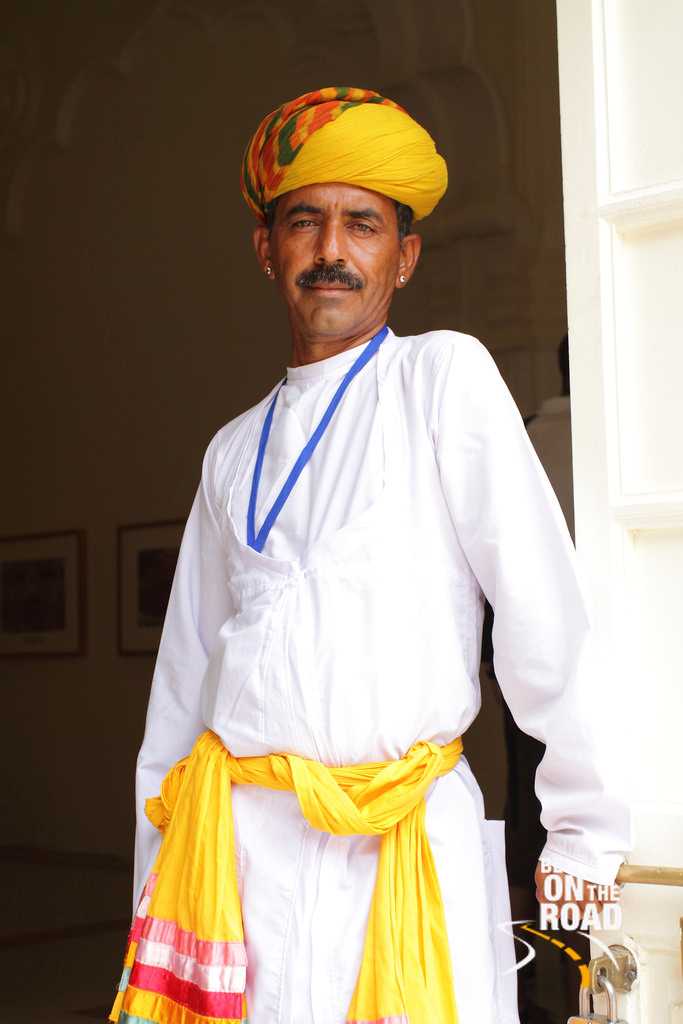 Angrakha
The upper garment is called as Angrakha which means protecting the body, Angrakha is made of cotton. On festivals, people wear designer, multicoloured angrakhas. They are designed in two ways; frock style Kamari Angrakha and knee-length Long Angrakha. Printed Angrakhas are more prevalent in the markets of Rajasthan.
Dhoti/Pyjamas
Dhotis or Pyjamas are used to cover the lower portion of the body. Mostly white, dhotis are not comfortable to wear and need some practice. But people in Rajasthan wear cotton dhotis on a regular basis. For special events, they prefer a silk one or the one with Zari border or embroidery.
Traditional Dress of Rajasthan for Women

Ghaghara & Choli
This long skirt has a narrow waist and broad base, reaching just above the ankles covering the lower portion of the body. It is short to provide visibility to the foot ornaments. They come in many prints and colours. There are many pleats and studded ornaments in the Ghaghara itself. Like Pagaris, they are also found in cotton and printed in laharia. Mothra and chunari. The blouses or short kurtis which Rajasthani women wear are known as cholis. Also made with cotton or silk depending on the occasion, the reach to the waist depends on the caste, religion and age of women.
Odhni
Odhni is worn over the blouse, with one end tucked into the skirt and the other end on the head or the shoulders. It is made by a 2.5 to 3 meter long and 1.5 to 2-meter wide cloth, printed in different colours and designs. It varies in different religion and castes. At some places, it is mandatory for women to wear Odhni as a veil, especially in front of the elders as a token of respect.
.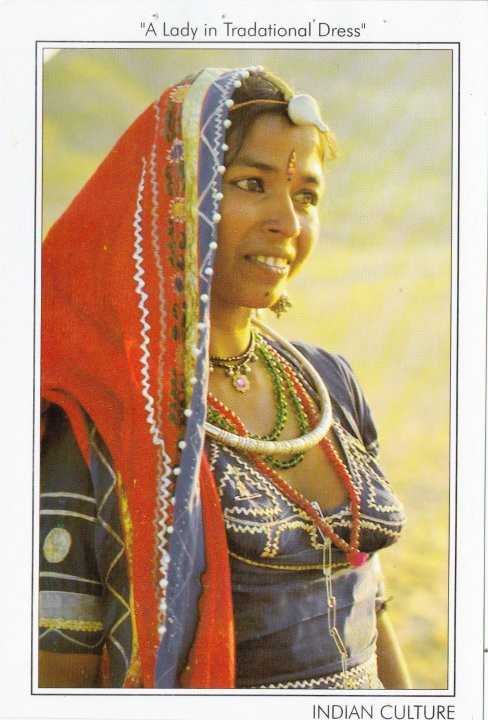 Women's Traditional Jewellery
Rajasthanis have a very peculiar taste when it comes to ornaments and jewellery. Semi-precious stone-studded trinkets are very popular. Even the men wear ear-studs and neckpieces. Gold or pearl chains are common among the rich, and silver hansli (big round bracelet around the neck) is worn by the commoners. Women wear 'jhumkas' in ears; multicoloured bangles, long and short beautiful neckpieces, large anklets, rings, nose rings, etc. These unique designs take inspiration from the sun, moon, leaves and flowers. Every design signifies something sacred and enroots deep meaning.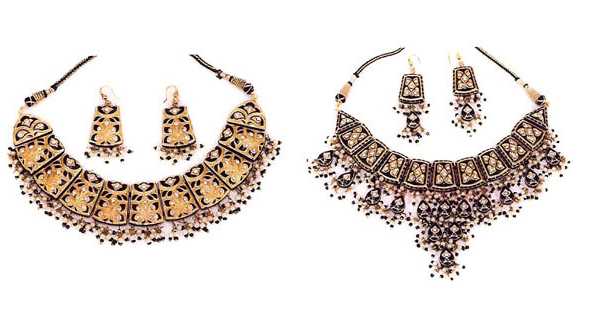 Footwear
The shoes are called as Mojaris or Jootis which are made of animal's skin and embellished with embroidery on velvet or brocade. Both men and women wear these. The footwear from cities like Jaipur, Jodhpur and
Jaisalmer
are worn all over the country.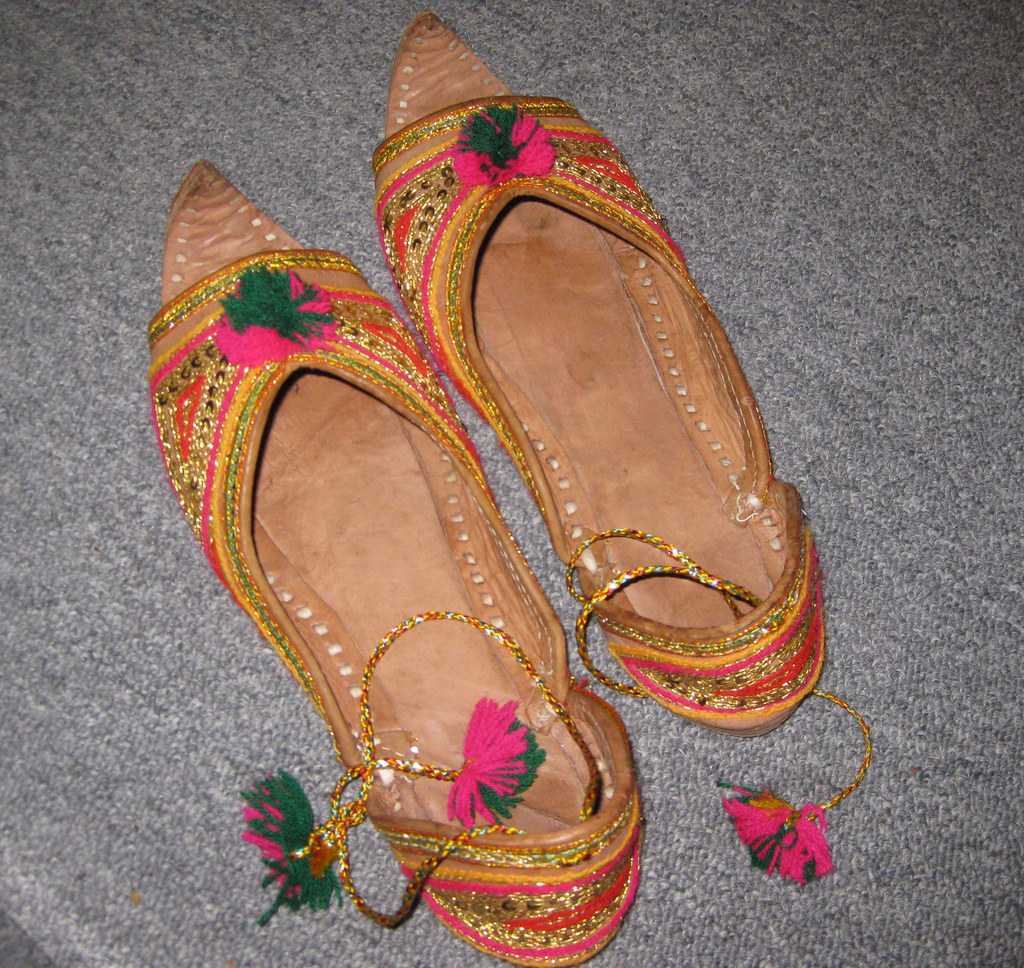 Rajasthani Textiles
Rajasthan is also known for a variety of prints and textiles like-
Bagru Print
Sanganeri Print
Leheriya - a type of tie-dye
Bandhani - a type of tie-dye
Barmeri Print
Kota Doria
It can be gathered that a lot of uniqueness and vibrancy to this northwestern state of
India
is derived from the distinct dressing culture. It's laudable that a state with a vast stretch of sand, scanty vegetation and scarcity of water has such a rich history and culture. They dress beautifully even for everyday purposes celebrating each day which makes their culture different from others. Suffice it to say, Rajasthani couture is a classic, which is celebrated all over the globe.