Rajasthan, the Land of the Kings is a heartthrob for travellers with a taste for traditional and antique stuff. Shopping is one of the best things to do during a Rajasthan trip. Tourists across the globe are getting gaga over these charming markets with legendary past. Right from stunning pottery to vibrant textiles, multi-coloured jootis to vibrant paintings, Rajasthan markets has everything for everyone. If you are planning a trip to Rajasthan and want to get a glimpse of the best markets, then continue to read on to know more about these places. This list will help you to decide the top picks and from where you can get it.
Jaipur
You will be smitten with the colourful markets of the Pink City. Every nook and corner of the streets is beautified with artefacts, handicraft and jewellery. Jaipur markets hold a special place in people's heart who wants to take back souvenirs that flaunt Rajasthan's culture.
1. Johari Bazaar
Johari is another name for jewellery, hence Johari Bazar is all about pretty Rajasthani jewellery. This market is known for intricate Kundan work and the traditional Meenakshi jewellery. All the exotic ornaments are beautifully adorned with precious and semi-precious gemstones. The vast collection of jewellery comes in different price ranges. So, this shopping arcade is never going to disappoint anyone. You can also get your hand on Rajasthani lehengas and saris in a few of the shops at Johari Bazaar. And when you are tired of shopping, head to the food stalls and grab some authentic delicacies of Rajasthan.
Top Picks: Rajasthani Jewellery
Timings: 10 AM to 11 PM

2. Nehru Bazar
The key attraction of Nehru Bazar is the pretty, multi-coloured jootis which enhances the look of ethnic outfits. Apart from footwear, textiles, bags, handicrafts and pottery are available in this market. It is a lively place and a popular hang-out for tourists and locals alike. Here, you need to use your bargaining skills to get your favourite items at the best price. Do not forget to shop for memorabilia and souvenirs from Nehru Bazar during your trip to Jaipur.
Top Picks: Rajasthani footwear
Timings: 10:30 AM to 7:30 PM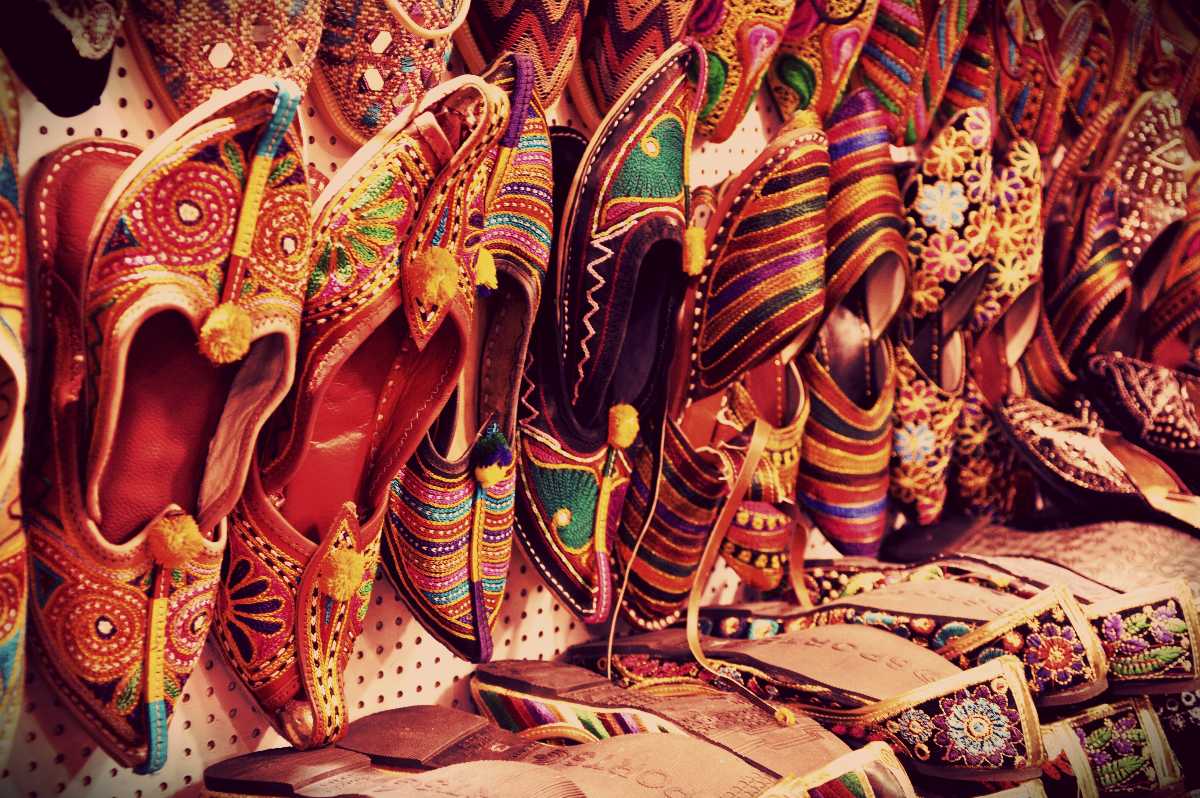 Jodhpur
Shopping in Jodhpur must be on the priority list of every tourist. The markets in Jodhpur have so much to offer. Starting from antiques to accessories, textiles to leather goods, you will be spoilt for choice. Explore these markets and get a closer look at the traditions and culture of Rajasthan.
3. Nai Sarak
If you are a shopping aficionado, a trip to Jodhpur is incomplete without getting a glimpse of Nai Sarak. The speciality of this market are the bandhej and badhni apparels commonly known as tie and dye products which are a must buy for every tourist. You can also take home the beautiful turbans, leather items and hand-painted, vibrant saris which reflect the extravagant Rajasthani culture. Local artisans themselves make these products and sell them at Nai Sarak which means there are no middlemen involved.
Top picks: Bandhani clothes, leather goods
Timings: 10 AM to 10 PM, remain closed on Sunday

4. Sojati Gate Market
One of the most significant markets in Jodhpur is the Sojati Gate Market. Choose from a myriad of Rajasthani handicrafts, accessories, jewellery, souvenirs as well as dye products. So, shop till you drop and satisfy the shopaholic within you. If you are a lover of henna designs, you would simply fall in love with this market. Decorate your palms with henna that look absolutely stunning and give the authentic Rajasthan vibe.
Top Picks: Bandhani fabrics, Rajasthani handicrafts, jewellery
Timings: 7 AM to 11 PM, remain closed on Sunday

Udaipur

Udaipur has everything, from modern showrooms to street-side vendors. Get your mind boggled with the myriad choices and hues of the markets. Go on a shopping spree at Udaipur and come back with a delightful experience.
5. Bada Bazar
Bada Bazar is a one-stop destination for gold jewellery, clothing materials, silver and copperware. You name it and they have it. Some of the shops also sell precious gemstones, antique items, and leather goods. There are modern showrooms as well as street shops and the prices are also reasonable. Do not worry about the Rajasthan heat, there are a number of roadside stalls selling buttermilk, fruit juices and snacks that will refresh you instantly. Go munching and keep shopping.
Top Picks: Bandhani apparels, jewellery, leather items
Timings: 8 AM to 9 PM

6. Hathi Pol Bazar
Udaipur is all about stunning art and paintings and Hathi Pol Bazar is the finest example. Here you will find folk art and handicraft which are unique and fairly priced. It is one of the buzzing markets in Udaipur that swarms with tourists from different corners of the world. You can also take home with you beautiful Rajasthani footwear namely jootis and mojris. Locals quite often go shopping in this market, so there is a lesser chance for shopkeepers to overcharge.
Top Picks: Traditional miniature paintings
Timings: 9:30 AM to 5:30 PM, remain closed on Sunday

Jaisalmer
Jaisalmer, the home of the golden Thar Desert, charm travellers with its lively street stalls. The intricate craftsmanship by the local artists in Jaisalmer deserves appreciation. The markets offer ample variety at best rates. No doubt Jaisalmer is your one-stop-shop.
7. Sadar Bazar
Packed with traditional Rajasthani items, Sadar Bazar is one of the liveliest markets in Jaisalmer. Also, it is a perfect example of a typical Rajasthani ethnicity. When you are here, get your hands on blankets, rugs, carpets, apparels, handicrafts, antiques and so on. Apart from the Rajasthani charm, Sadar Bazar also offers other trendy items such as dye and Khadi fabric to name a few. And the best part, everything is available at a wholesale rate. So, even a stroll around this market will leave you dazzled.
Top Picks: Handicrafts, jewellery, carpets
Timings: 10 AM to 6 PM

8. Pansari Bazar
Pansari Bazar, the oldest market in Jaisalmer is a shopper's paradise. Being the oldest market, it has retained its cultural and historic charm. Popularly known as villager's market, Pansari Bazar sells a wide variety of exquisite traditional pieces with a unique print, patterns and colours. It is a hub for Jaisalmer goodies namely ethnic wear, wall hangings, handicrafts, bells and puppets. Do not forget to take a bit of Rajasthan with you during your visit to the Pansari Bazar.
Top Picks: Ethnic attire, local handicrafts
Timings: 10 AM to 6 PM

Bikaner
Bikaner is a picturesque desert city that gained acclamation for its tasty bhujia. The markets in Bikaner are hidden gems that are not overrun by tourists. The shops are filled with leather jootis, miniature paintings, khadi fabric and other knick-knacks. There are a few kundan jewellery shops in Bikaner that deserves a lot of admiration.
9. Kote Gate Road
Kote Gate Road is a treasure trove for budget shoppers. Admire the architecture of Kote Gate and engage in shopping from the busy shops around you. This market is full of energy and exhibits the exuberant Rajasthani culture. Take home charming accessories made from camel hide, multi-coloured sandals, vibrant miniature paintings, colourful Khadi kurtas and the list goes on. A hot cup of tea made from camel's milk is a speciality of this market that will leave you rejuvenated and help you with your sightseeing expeditions.
Top Picks: Bikaneri namkeens and sweets, camel leather items
Timings: 9 AM to 9 PM

10. Station Road Market
One of the most unexplored hubs in Bikaner is the Station Road Market. This market is popular for its leather goods and handicrafts. It is not one of the high profile shopping destinations but gives a pleasurable shopping experience. It is also known for its snack shops that sell lip-smacking bhujias. The bhujias of Station Road Market in Bikaner has gained widespread popularity across the country.
Top Picks: Bikaneri namkeens, handicrafts, leather items
Timings: 9 AM to 9 PM

Hope this Rajasthan shopping guide helps you to get the best of the royal city. Always keep your bargaining skills handy while shopping in this princely state. Give a perfect closure to the Rajasthan trip by shopping from some of these markets and embracing your inner shopaholic.