What once started as a small fishing village, has now turned into the vast emirate of Dubai, famous for its luxury and opulence. When Dubai first started to experience prosperity, one of the first major projects for transforming Dubai into a modern trading centre, was Port Rashid, which now houses both the cruise terminals in Dubai. Dubai is one of the most popular cruise departure ports, with more than a hundred cruises from Dubai offered each year, in a variety of routes and budgets.

1. Royal Caribbean Cruises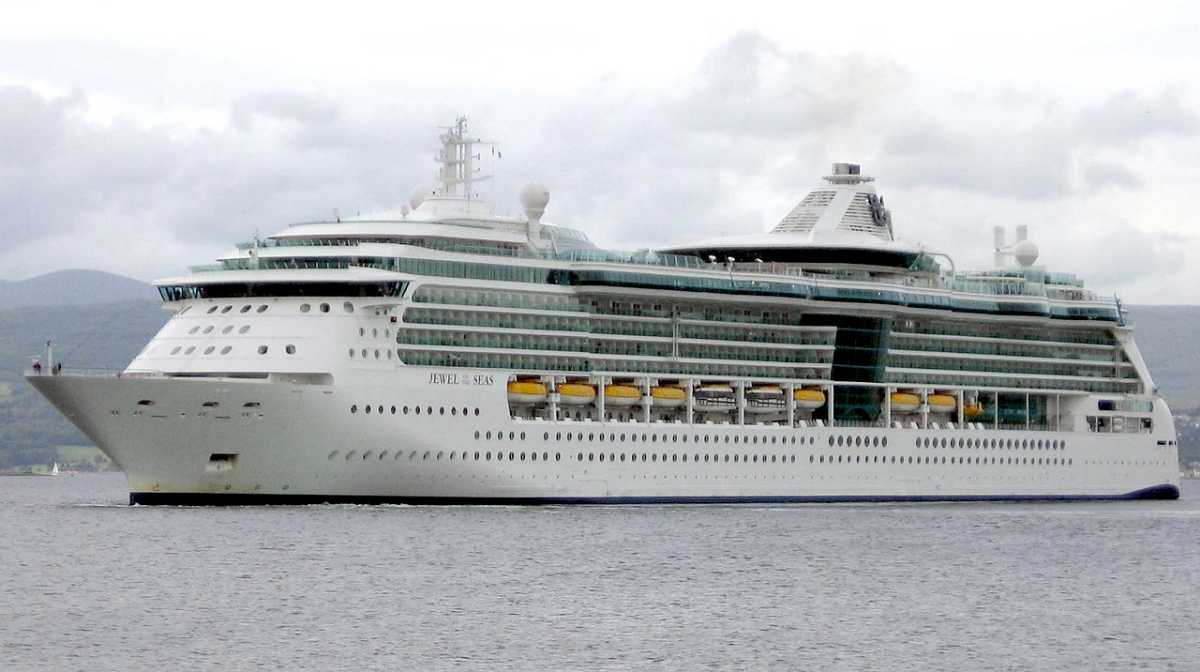 The Royal Caribbean offers four different cruises onboard its Radiance class cruise ship, known as the Jewel of the Seas. This ship underwent a massive renovation in 2016 and is now one of the most luxurious ships to take a cruise from Dubai in. Starting from fine dining restaurants and luxury spas, to open pool bars, to live orchestras and Broadway performances, this ship offers an exciting cruise experience for everyone. The destinations on all the cruises from Dubai are beautiful centres of history and culture, with avenues for exploring, sightseeing, shopping, or just unwinding. Be it the stunning blue waters of the Arabian Fjord in Khasab, the Portuguese architecture in Muscat, The Naval Museum in Athens, The Catacombs of San Gennaro in Naples, or the Porta Portese flea market in Rome- there is not going to be one moment in these cruises that disappoints! 
Cruise Duration: 7 nights and 16 nights
Price: USD 494 and USD 520 for the 7-night cruises, and USD 1199 for the 16-night cruise. 
Cruise Dates:  February and March 2020.
Website: www.royalcaribbean.com 
2. MSC Cruises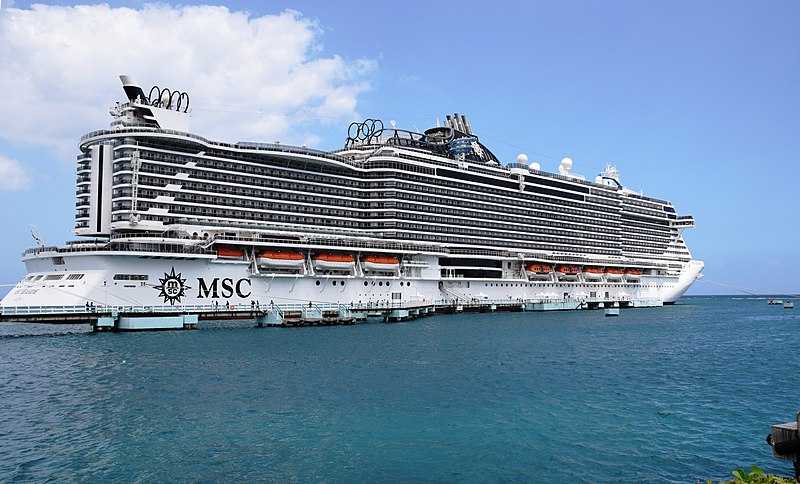 MSC Cruises offers frequent cruises from Dubai to different locations, between December and April. The shortest and most affordable one starts at USD 309. It is a 3-day cruise from Dubai to Abu Dhabi, onboard the Bellissima. One of the longer cruises on the affordable side is a 7-night cruise on the Lirica which goes from Dubai to Abu Dhabi, Sir Bani Yas Island, Muscat, and Khasab. At each shore, the cruise offers various excursions, which are listed on the website. These include, but are not limited to, a city tour of Abu Dhabi, a safari adventure in Sir Bani Yas Is, and a fishing and snorkelling trip in Khasab. In most cruises at MSC, children under 11 years of age can travel for free, and some have a Kids and Teens club with an outstanding program of activities which runs all day. Other features included in the cruise fare are a casino, a fitness centre, a nightclub and discos, and fantastic evening shows which include dance recitals and theatre performances.
Cruise Duration: 3 days and 7 nights
Price: USD 309 for the 3 day cruise, USD 419 for 7 night cruise
Cruise Dates:  February and March, 2020.
Website: https://www.msccruisesusa.com/
3. Norwegian Cruise Line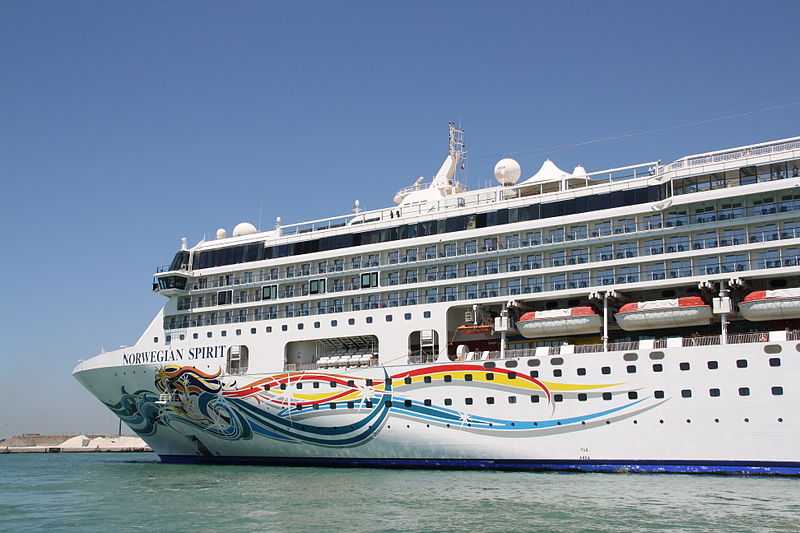 Upgraded in 2017, the newly refurbished Norwegian Spirit is a beautiful ship onboard which NCL offers long, exotic cruises. The 20-day exotic expedition is one of the few cruises from Dubai which takes you to the ports this one does. Aside from the usual Abu Dhabi and Muscat, it takes you to the Seychelles, Madagascar, Mauritius, and finally, South Africa. The price for this cruise starts from USD 1539 and includes multiple fine dining restaurants, bars, spas, and incredible Broadway performances. This cruise also includes an overnight stay at Seychelles. NCL offers other long-term cruises as well, including a 22-day cruise through Greece, Israel, and Egypt, starting from USD 1182, a 21 day African Safari cruise through Seychelles, starting from USD 3520, and a 22 day Wonders of the Mediterranean and Arabia cruise starting from USD 2295.
Cruise Duration: 20 days

Price: USD 1539

Cruise Dates:  March, 2020.

Website: https://www.ncl.com
4. Seabourn Cruises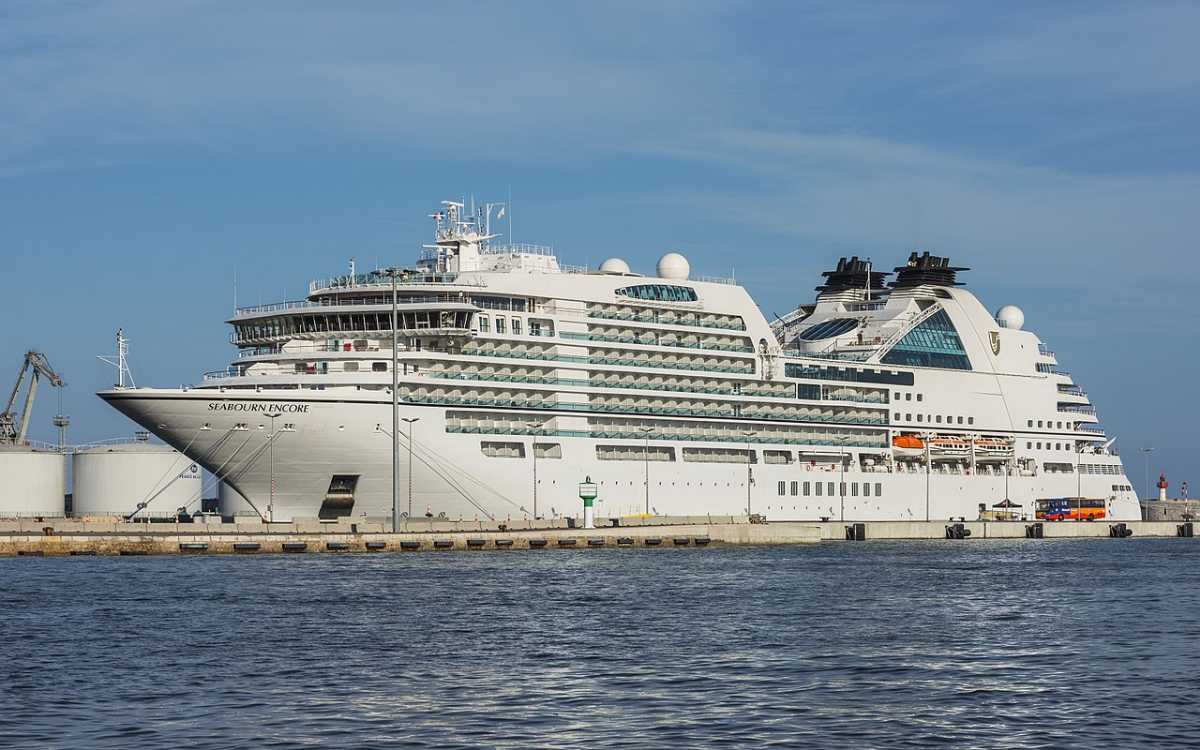 Seabourn offers eleven cruises from Dubai with various routes and prices in the months of April, May, and November. They have cruises of 16 to 30 days, with prices starting from USD 6699 to USD 13499. The crowning ship of their ultra-luxury is the Seabourn Encore, with 300 lavish suites with breathtaking views, which offers an 18-day cruise in November 2020. Among the on-board activities are around-the-clock in-suite dining option, an observation bar which serves teas, coffees, and drinks next to a panoramic view of the ocean, and restaurants such as the Colonnade, The Grill by Thomas Keller, The Patio, The Restaurant, and Sushi. Besides that, they have a fitness centre, as well as a Spa and Wellness centre. After various stops in the UAE, this cruise goes to Mumbai and Cochin in India, Sabang in Indonesia, Phuket in Thailand, and Porto Malai in Malaysian, before finally reaching Singapore.
Cruise Duration: 18 days

Price: USD 6999

Cruise Dates:  November, 2020.

Website: https://www.seabourn.com
5. Cunard Cruises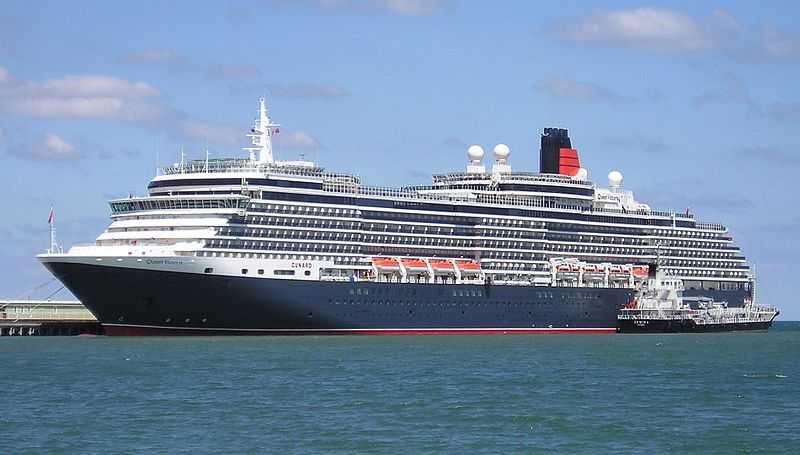 Cunard offers five cruises from Dubai in January and March, with prices ranging from USD 2859 to USD 7819. Their shortest cruise is 17 days long, and they offer some of the longest cruises on this list, which includes a 44-day-long cruise. This is the Dubai to Fremantle cruise, onboard the Queen Mary 2, which traces the entire shore of Asia, and a near-complete circuit of Australia, including an overnight stay in Sydney. The Queen Mary 2 is a massive ship which can house up to 2,691 guests and 1,292 crew members. Cunard is famous for its spectacular Gala balls which are included in the fare, along with a library which is known to be the largest book collection at sea. Another feature that sets this ship apart is the planetarium, which all guests have access to, along with living music, evening performances, and a marvellous fine dining restaurant. This ship is also great for family trips, as it has different children's facilities for children under 17 and teenagers over 17, along with a youth staff that supervises children, organises events, activities and competitions, and excursions to the theatre or cinema on board. Sir Samuels is an excellent place for tea, coffee, and chocolate lovers with an exquisite collection from the Belgian chocolatier, Godiva.
Cruise Duration: 44 days

Price: USD 7819

Cruise Dates:  January, 2020.

Website: https://www.cunard.com
6. Azamara Cruises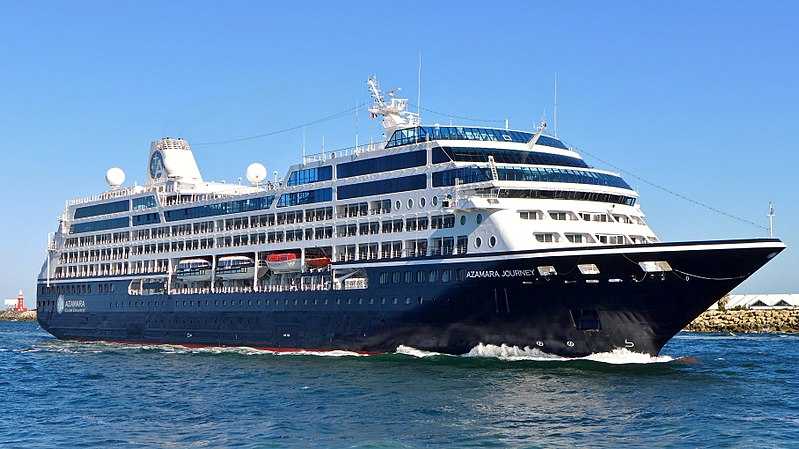 Azamara offers small-ship cruises from Dubai which are unique because of their stress on cultural immersion, through longer stays, more overnights, land programs, authentic shore excursions, and its private destination immersion event program known as Azamazing Evenings. Further, Azamara offers accessible cruising for guests with special needs and disabilities. Azamara offers an 11 night Arabia and India Holiday Voyage in December, with prices starting from USD 999. The cruise starts with an overnight stay in Dubai, moving on to Doha, Sir Bani Yas Island, Abu Dhabi, Muscat, finally ending at Mumbai. The shore excursions for this cruise include an AzAmazing Evening at the Oman Convention and Exhibition Centre, a shopping trip at the Mall of Qatar, and a Dhow cruise. Another unique feature of the Azamara cruises are the enrichment programs and classes hosted by various kinds of professionals- such as culinary demonstrations, wine tastings, port-of-call lectures, and so on. Finally, Azamara offers pre and post voyage stays in their partner hotels with airport and cruise port transfers, as well as access to a local guide.
Cruise Duration: 11 nights

Price: USD 999

Cruise Dates:  December, 2020.

Website: https://www.azamara.com
7. Crystal Cruises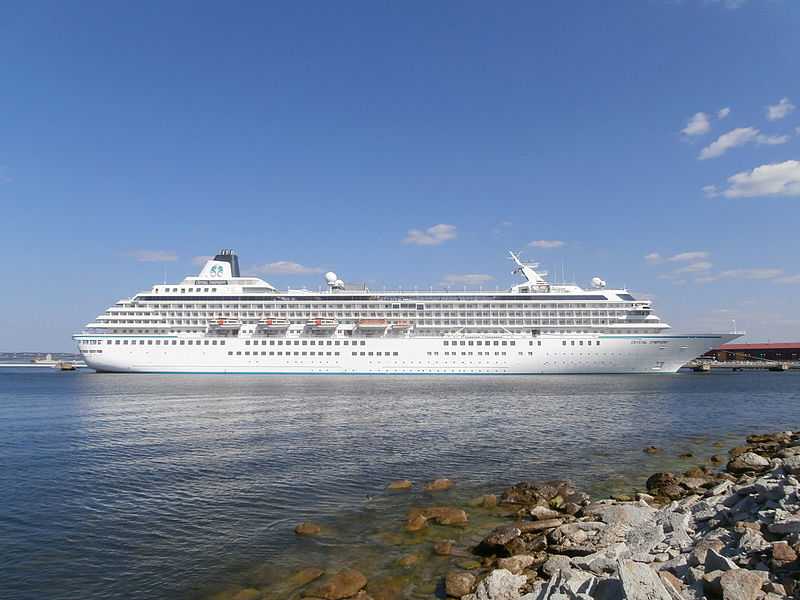 Crystal offers, among others, a 42 night Dubai to London cruise on board the Crystal Symphony, which is the standard bearer of the title of the World's Most Awarded Cruise Line. This is one of the most luxurious cruises on this list with fares starting from USD 17,574. Crystal is known for its amazing six-star service, with a staff to guest ratio of 1 to 1.7, which is lower than any other cruise. Almost all the suits, penthouses, and staterooms have private verandahs and are butler-services to provide the ultimate comfort. This particular cruise, next offered in May, has an itinerary which hits all the loveliest spots in Europe, including but not limited to, Marseilles, Barcelona, and Bordeaux, before disembarking in Dover. The Crystal Symphony also offers unique offshore excursion options, including complimentary voluntourism options in Barcelona.
Cruise Duration: 42 nights
Price: USD 17,574
Cruise Dates:  May and June 2020.
Website: https://www.crystalcruises.com
8. Oceania Cruises
Oceania offers nine different cruises from Dubai to various locations, with prices starting from USD 1,799. At this price, one can get onboard the Sirena for a 10-day cruise across the Middle East, which comes back to Dubai at the end of the voyage. The fare includes free internet, 6 shore excursions, a house beverage package, and USD 600 of shipboard credit. Another interesting cruise is the 30-day cruise from Dubai to Cape Town, on board the Nautica. Fares for this cruise start at USD 8,399, and the ship goes to places like Goa and Cochin in India, Male in the Maldives, and Kenya, Tanzania, Mozambique, and finally, Cape Town. The Nautica offers a vast menu with amazing fine dining options at no extra fee.
Cruise Duration: 10 days and 30 days

Price: USD 1,799 and USD 8,399

Cruise Dates:  December, 2020.

Website: https://www.oceaniacruises.com
9. Princess Cruises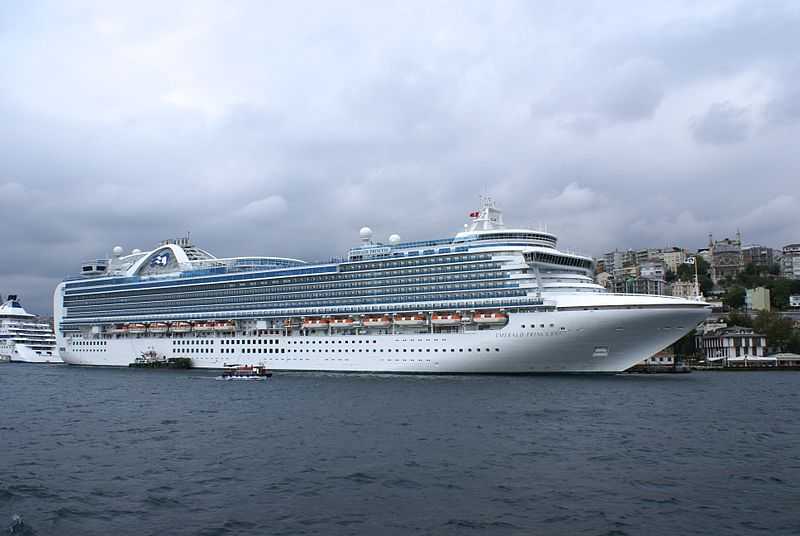 Princess Cruises offers seven different voyages from Dubai to Asia, Europe, America, and Africa. The longest and most extensive one is the 55-day cruise from Dubai to Los Angeles. This cruise goes through 26 ports, including ones in Oman, Jordan, Egypt, Greece, Italy, Slovenia, Montenegro, Malta, Italy, Monaco, Spain, Morocco, Florida, Columbia, Costa Rica, Nicaragua, Mexico, and finally, California. The sheer variety of ports in this cruise shows how this voyage will take you almost across the world, and the cruise offers fantastic shore excursions at each port. This cruise takes place onboard the Island Princess, which is one of the most luxurious ships on their fleet. Besides the fine dining and wellness options, this ship takes its youth entertainment seriously, with three different centres- a treehouse, a beach house, and a lodge, for children depending on their age.
Cruise Duration: 55 days

Price: USD 9,599

Cruise Dates:  March, 2021.

Website: https://www.princess.com
10. Celebrity Cruises

Celebrity Cruises offers a 15-day cruise across Asia in February, onboard the Celebrity Constellation. This cruise starts with an overnight at Dubai, where you can choose from a fascinating selection of shore excursions. These include but are not limited to a 2 day premium ticket to a Dubai tour on hop-on hop-off bus with a complimentary Museum pass, Creek Dhow cruise, Sharjah Panoramic tour, and a Marina cruise; an overnight desert camping experience, and a tour of Dubai's bustling markets with a Celebrity chef. The other ports include Muscat, Mumbai, Goa, Cochin, Colombo, Phuket, and Singapore, and the fare starts from USD 1,769.
Cruise Duration: 15 days

Price: USD 1,769

Cruise Dates:  February, 2020

Website: https://www.celebritycruises.com
These are just a few of the many options available for a relaxing, exciting, and adventurous cruises from Dubai. Pick your choice of destination, from South-East Asia, India, South America, Europe, USA, and Africa, and take anywhere between a week and two months off, to indulge yourself with the best of food, history, and culture across the world!