Bungee Jumping is one of the most action-packed activities that get your adrenaline pumping. The freedom of leaping into thin air gets the heart racing of the adventure junkies. In
Nepal
, a country renowned for its mountaineering culture, you'll find some great spots for the best bungee jump of your life. 
Best Season to Try Bungee Jumping in Nepal
Bungee jumping is an all-round the year activity but only halts during rains. The best time to go for bungee jumping in Nepal is March-May and September-November as the weather is dry and cool. Avoid the monsoon season no matter if the tour company is offering bungee jumping as the weather changes abruptly. 
Bungee Jumping Sites in Nepal
1. Bhote Kosi River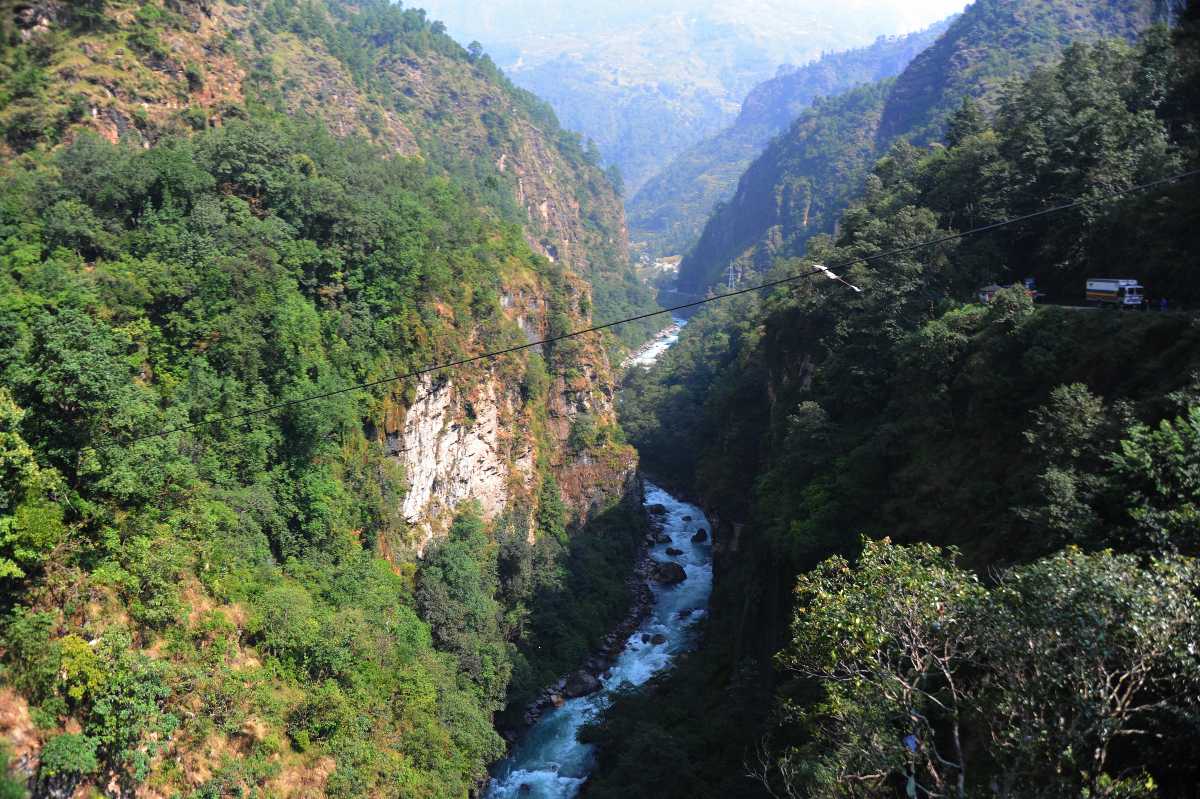 Nepal's first bungee jumping site is here above Bhote Kosi River, the third-highest natural bungee jump in the world! A three-hour drive from
Kathmandu
, you take the plunge of about 160m into the river and get pulled up just when you're ready for the river's kiss. This thrilling adventure is one of the most loved tourist and adventure enthusiasts' activities. The jump is from a suspension bridge of Swiss design built especially for this purpose with 4x safety factor. 
Location: Arniko Highway, Listikot, Nepal
Type of Bungee Jump: Suspension Bridge
Price Details:
For Nepalese citizens: NPR 6,000
For SAARC Countries and Chinese: NPR 9,000
For Foreigners: NPR 12,000
Photography and Videography Charges: NPR 1,500- NPR 2,500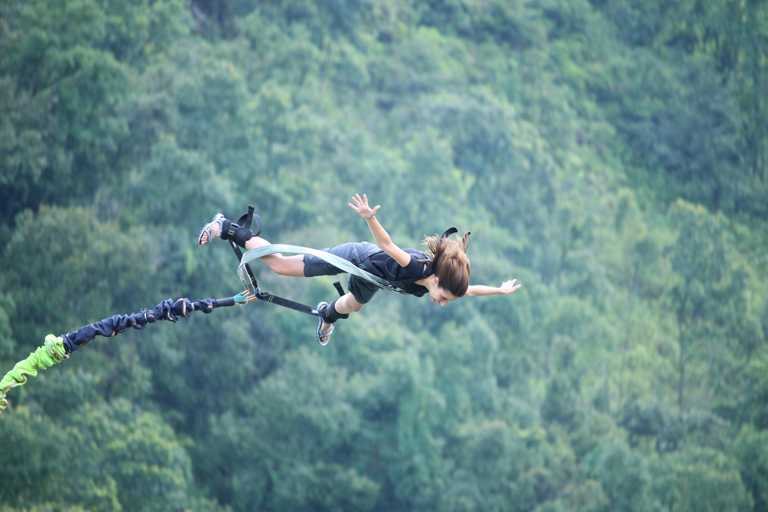 Another adrenaline-pumping experience is at Pokhara, which has Nepal's only tower bungee that gives you various options for jumping like swing bungee, high-ground bungee, etc. The jump has a spectacular view of the majestic Himalayas. Pokhara is the adventure hub of Nepal with other famous activities like trekking, paragliding, Zip-flyer and much more. 
Location: Highground Bungee, Hemja, Pokhara, Kaski district, Nepal
Type of Bungee Jump: Tower 
Price Details:
For Nepalese citizens: NPR 4,000
For SAARC countries: NPR 6,500
For Foreigners: NPR 7,500
Photography and Videography Charges: NPR 1,500- NPR 2,500
Major Operators Offering Bungee Jumping Tour 
1. Bungy Nepal Adventure
Address: Pardi Bazaar, Pokhara 33700, Nepal
Timings: 9:00 AM – 5:00 PM
Website: bungynepaladventure.com
2. Highground Bungee Station
Address: Baglung Rajmarg, Pokhara 33700, Nepal
Timings: 9:00 AM – 5:00 PM
Contact Info:  +977 61-466350
3. Bhotekosi Bungee Jump
Address: Araniko Highway, Listikot 45301, Nepal
Timings: Open 24 hours
4. The Last Resort 
Address: Mandala Street, Kathmandu 44600, Nepal
Timings: 10:00 AM – 7:00 PM
Website: thelastresort.com.np
5. The Eco-Trek
Address: Tri-Devi Marg, Thamel, Kathmandu, Nepal
Timings: 8:00 AM – 7:00 PM
Website: ecotrek.com.np
6. Nepal Eco Adventure
Address:  Satghumti, Thamel, kathmandu, Nepal
Timings: 8:00 AM – 7:00 PM
Website: nepalecoadventure.com
Bungee Jumping Equipment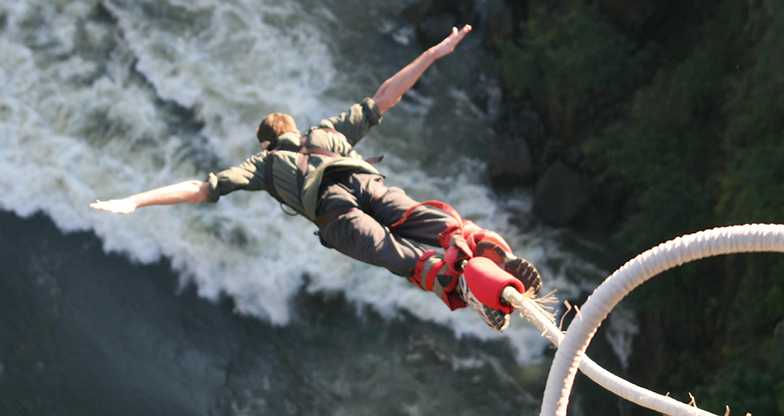 Bungee Cords:
Bungee cords are made from strands of rubber and come in different shapes and sizes. The number of cables used depends upon the tour operator and the weight of the participant going for the leap. According to military safety standards, there should be one cord for every 50 lbs. (22.67 kg)
Harness:
There are two types of harness- the full body and the ankle one. The entire-body harness has two parts, one that you wear on your chest like a vest and the other that you wear on your waist like a pair of shorts. The ankle harness is strapped around your ankles. 
Beginners Tricks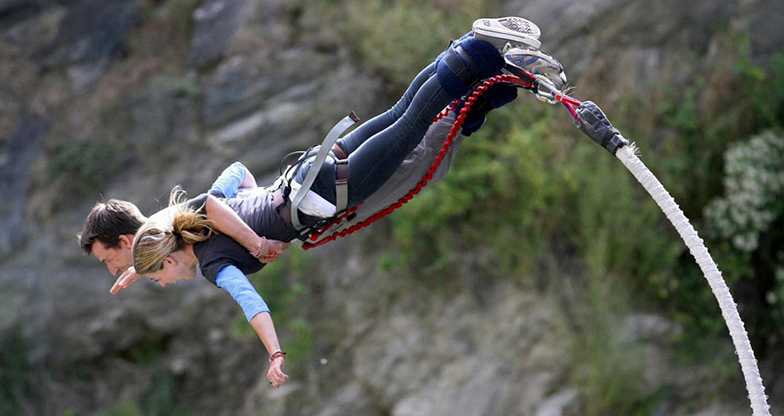 Follow the Instructor: Listen to your instructor and ask anything that pops in your mind. They are trained individuals and know how to handle situations in case of an emergency. If you're too scared for your first jump but don't want to miss out on the fun, then ask the instructor to go along with you. Usually, there is a double jump possible with two people strapped together. 
Avoid Water Dunk Bungee: Many tour companies offer a water dunk where your head goes into the water for a few seconds just before you'll be pulled up. As exciting as it sounds, if you're a beginner, do not try it. A water dunk can be dangerous, and it needs a lot of calculations to pull your body up just after a few seconds of the dunk. 
Wear Comfortable Clothes: It's an extreme sport, and all extreme sports go by comfort rule. Do not wear anything too tight or too loose. A t-shirt and shorts/pants are the best options. For ladies, avoid wearing dresses or skirts as that can land you in an awkward situation. Don't forget to tie your shoelaces tightly!
Health: Bungee Jumping is not for the weak-hearted. People suffering from health conditions like pregnancy, neck or spinal injury, heart problems. If you have asthma, any leg injury in the past or high blood pressure, then consult your doctor before trying this sport. Mostly the tour companies require a medical certificate declaring you're medically for the jump. 
Eat Right Before you Jump: As your body plays with gravity, you must feel alright before taking the plunge. Don't overeat or eat something substantial right before the jump and don't go empty stomach either, which can make your stomach sick and you might throw up in the middle. 
Scream: Yes, you read it right. Scream! Scream as loud as you can and let the winds carry your fear away. This will make you feel free and double the fun of your experience. 
It takes a lot of courage to go for that first jump, but once you do it, there's no looking back. Nepal is a great destination to have your first bungee jump ever, and you'll come back as a better and stronger person. So pack your bags and tie your shoes, as it's time for the leap into the void!