While visiting Felicite one of the main activities that most people look forward to is diving and snorkelling. The reef around Felicite and the neighbouring islands is said to be one of the best dive sites in Seychelles. This assures individuals wishing to indulge in these activities that they will surely have a great time swimming amongst and witnessing an array of colourful reef fish and some rare, as well as bigger fish.
The island of Felicite is covered with trees, plants, and shrubs that are of unique quality and thrive in the tropical climates that the island provides. Some of the trees that you are sure to spot when visiting Felicite are Coconut Palms, Vanilla, Mango, and Banana Trees.
Nature walks
with professional guides are also organised by the resort and give more in-depth detail about the natural surroundings along with ensuring that you have witnessed the whole beauty of Felicite.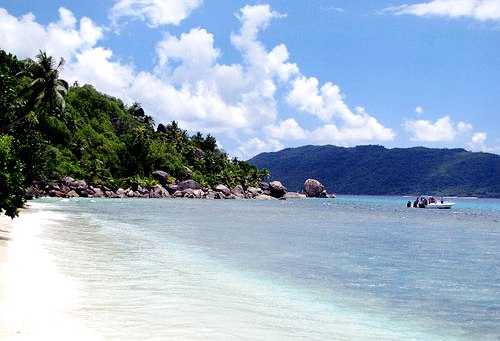 Amongst the several beautiful coastlines and beaches that inhabit Felicite, La Penice is the most famous, as well as the best. With shimmering turquoise blue waters and white sands under your feet, the beach is bound to leave you awestruck. La Penice has the additional benefit of providing the best view of the nearby islands of Praslin, La Digue and Coco Island. This view is the reason so many individuals prefer this beach on Felicite.
Aside from strolling around with sand under your toes or participating in the guided walks or the water activities, Felicite Island has much more to offer to its visitors. Spending a day amongst the natural habitat and trekking, hiking or biking through the island is probably the next best option.
Highest Peak
The island's highest peak is named after the island itself and reaches a height of 213 metres. Visiting the beach to take magical pictures with the sea and the black granite boulders Felicite is sometimes known for, as a background, is also a perfect way to capture memories and spend the day on this island.