Travelling with family can be an enjoyable experience in exploring a new country together, but it can admittedly get tiresome to keep the children entertained. Thankfully, there's something for everyone at
Koh Samui
. From water parks to a unique island game called football golf, this beautiful Thai island promises a great time for every member of the family.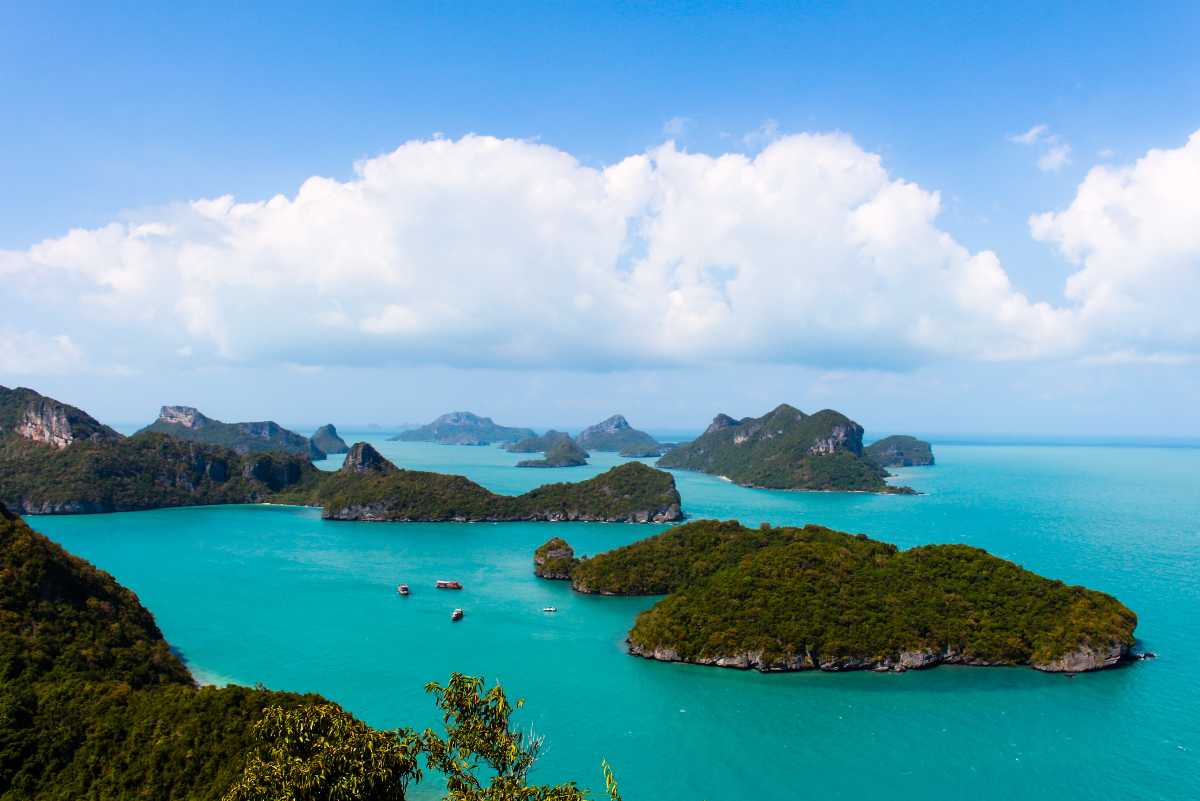 This is a protected area of 42 islands in the Central Gulf Coast. Except for two islands, the rest are uninhabited to encourage conservation of Thai wildlife. In this beautiful marine park, you can spot otters and dolphins, turtles and even langurs in their natural habitat. There are plenty of options for snorkelling, kayaking, swimming and cave exploration here. On Ko Mae Ko, the 'Mother Island', there's a gorgeous inland seawater lake that can be reached through a 40-minute hike. It's strenuous, but you're rewarded by a spectacular panorama of the marine park. You can reach Ang Thong Marine Park by speedboat from Koh Samui or avail a cheaper but slower alternative of a local ferry. For those families keen on camping, you can even stay the night in a tent on Koh Wua Ta Lap Island. The best time to visit this park is between March and October when the waters are calm.
Cost: THB 1700-2600 for a day tour, THB 200 entry fee for adults, THB 100 entry fee for children
Timings: Open all day
2. Pink Elephant Samui Water Park
This water park can be found near Maenam Beach in northern Koh Samui. It is 1,500m off the main road in a palm grove, creating an exciting water world of its own. Pink Elephant is geared towards a younger audience (age 12 and below) and their families, but older children will still enjoy their few high-speed slides. It features many water slides from the Lighthouse Tower including a 12 m (39 feet) tall speed slide, a bowl slide, a wave pool, and a lazy river. There's also a Jacuzzi for those who want to lay back and relax. There are family passes available for THB 3,500 for two adults and two children. After a tiring day of splashing in the water, you can unwind at the park's bars and restaurants.
Cost: THB 1200 for people above 130 cm, THB 700 for people below 130 cm
Timings: 10:00 AM to 6:00 PM
3. Canopy Adventures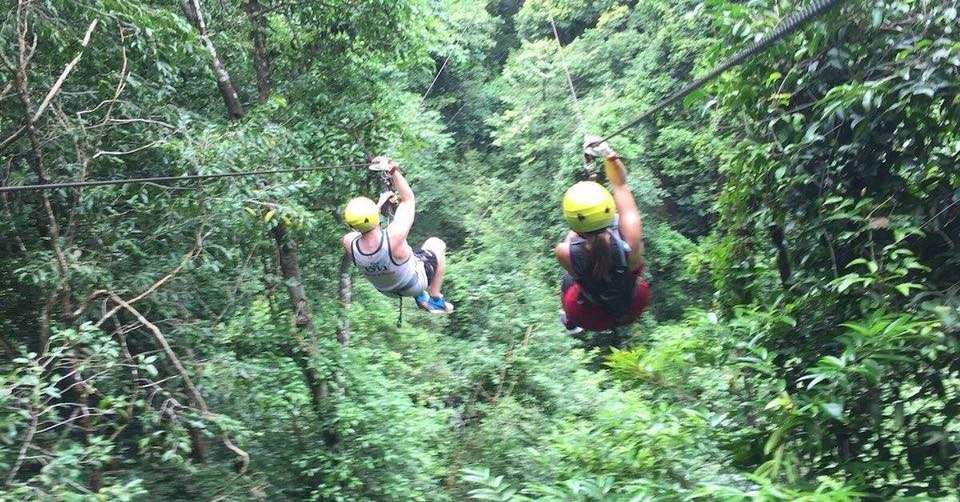 At Canopy Adventures, you'll have a chance to appreciate the beauty of Koh Samui from up in the trees! Their zip-lining course speeds at almost 80 kilometres per hour, suspended nearly 6,000 feet off the ground as you glide through the island's lush rainforests. There are over 20 platforms hidden in the trees to begin your adventures. To even reach them near Maenam Beach, there is a fun jungle safari on a 4x4 provided by them before a quick training workshop to ensure your safety. Open to children above the age of eight, older children are bound to have a great time here.
Cost: THB 2600 (online booking), THB 3100 (office booking)
Timings: 9:00 AM to 6:00 PM
4. Samui Football Golf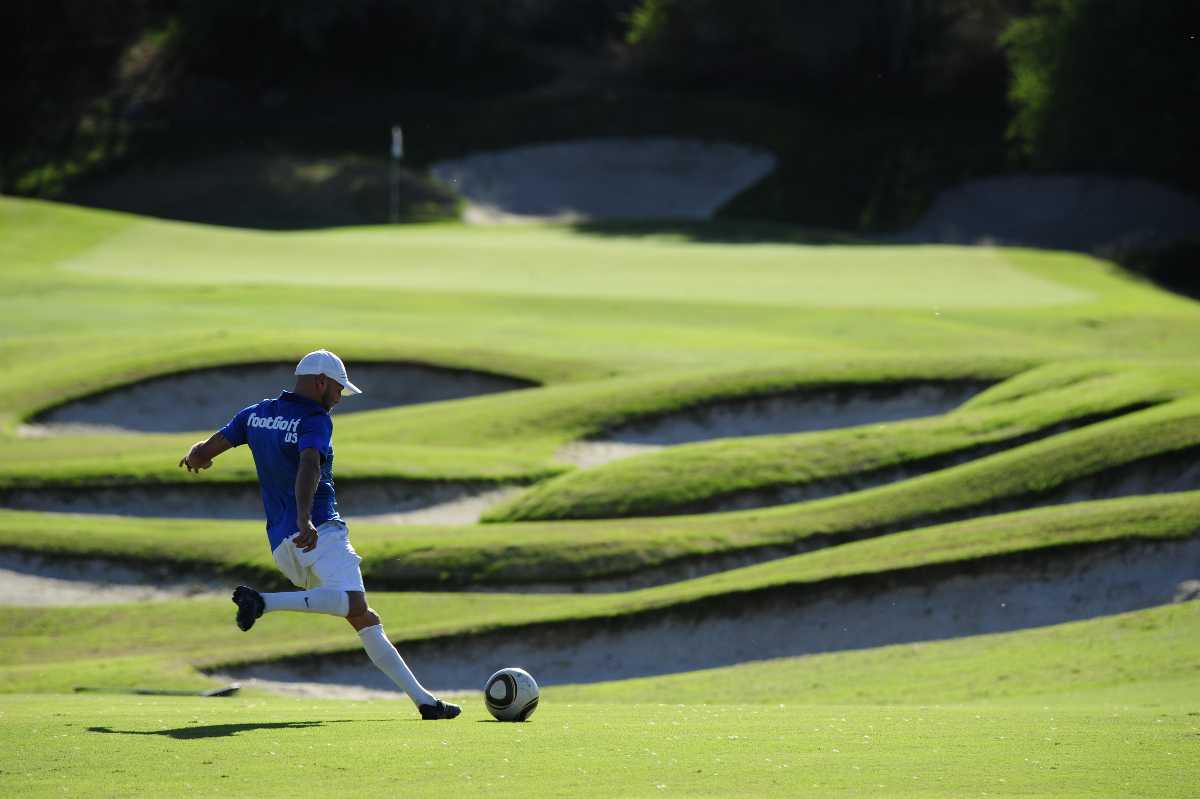 As the name suggests, this is a unique sport that combines football and golf. The aim of the game is to steer a football into 18 holes as quickly as possible using only your feet. Not only is this incredible enjoyable, but Samui Football Golf is located on a beautiful coconut plantation that makes for an incredible view. It can be played one-on-one or in teams which would be quite fun for the whole family to take part. It takes an hour to complete the entire Football Golf course that includes trees and ditches, U-turns and logs in both easy and challenging routes. At the end of the game, you can grab some snacks and drinks and relax at their reception area. Football Golf is located north of Chaweng on Beach Road.
Cost: THB 750 for adults and THB 350 for children
Timings: 10:00 AM to 6:00 PM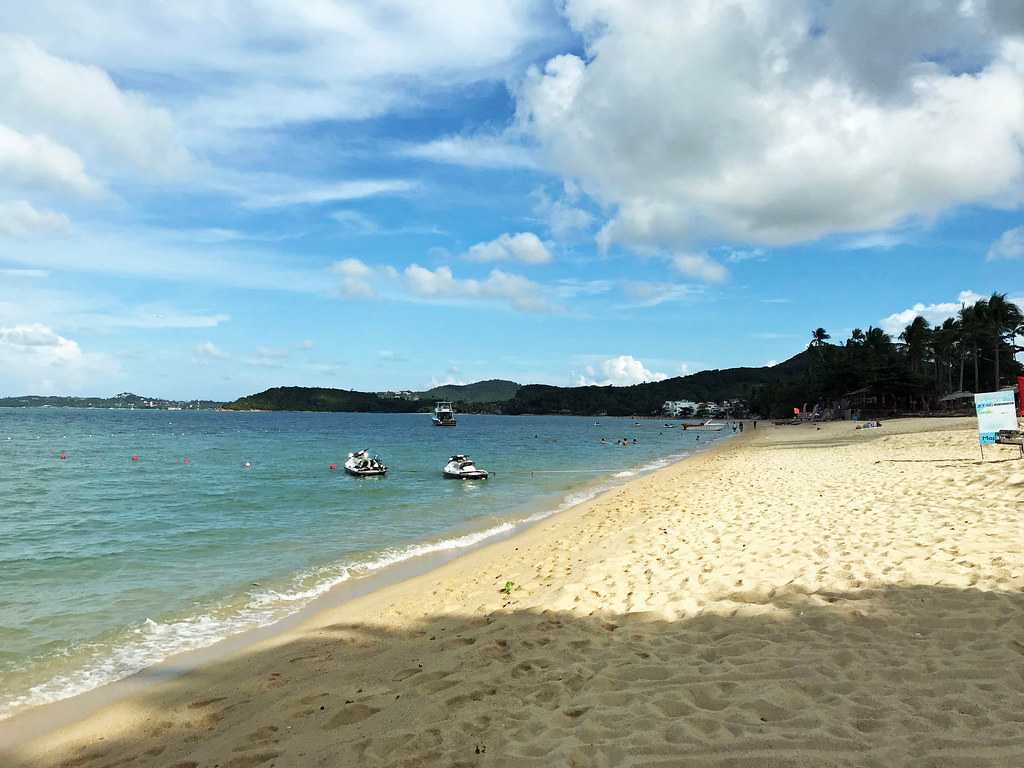 Bophut is a beach village in northern Koh Samui. It is one of the few places on the island that retains its original Thai-Chinese atmosphere and traditions. At the core of Bophut is the Fisherman's Village that includes Walking Street, a road crammed with stalls and shoppers selling fabrics, jewellery, shoes, herbs, musical instruments and even handicrafts. On Fridays, this street comes alive with live music too. Adjacent to Fisherman's Village in Bophut Beach where you can try your hand at jet-skiing, enjoy a day at their go-karting track or even get a relaxing pedicure on the beach. This white sand beach is perfect for a beach day with the family.
Cost: THB 700 for go-karting, THB 800 for jet-skis
Timings: Open all day, 5:00 PM to 11:00 PM for the Friday market on Walking Street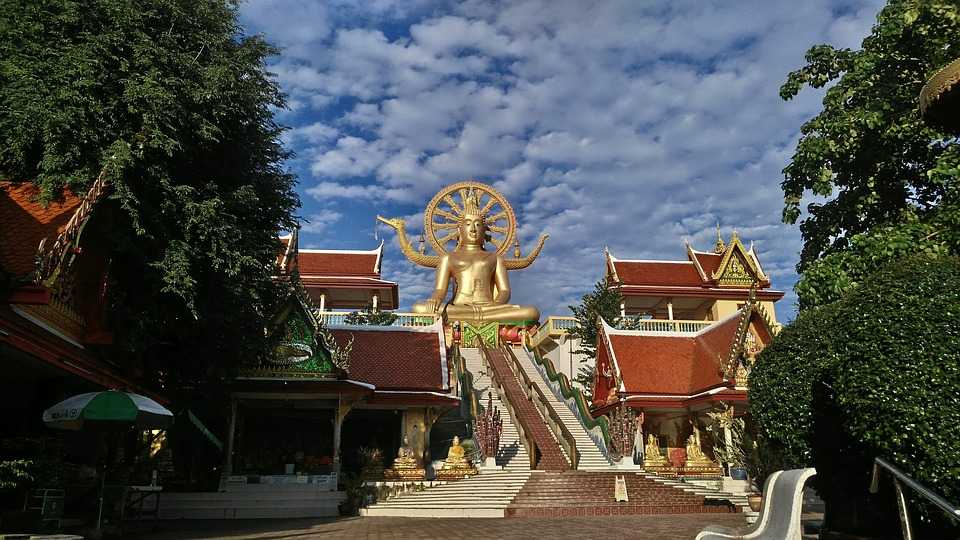 This Buddha temple is located on a small island just off north-eastern Koh Samui. Its main attraction is the 12 metre (40 feet) tall Buddha statue built in 1972. Big Buddha is one among the first landmarks that can be seen from the airplane when people are about to land in Koh Samui. The statue depicts Buddha's journey to enlightenment and his pose (called Mara posture) is meant to symbolise purity and steadfastness against all temptations. At the base of the statue is a courtyard of shops and food stalls and a striking dragon-design staircase leading up to the monument. Down the road is a strikingly beautiful beach that has now become known as Big Buddha Beach. Once the sun sets, Big Buddha lights up with spotlights. During major Thai festivals like Songkran, this temple becomes incredibly crowded. As this is a religious place, it's recommended to dress modestly here.
Cost: Free entry
Timings: Open all day
7. Paradise Farm Park
This animal park is located on top of Khao Pom, Koh Samui's highest mountain. At Paradise Farm Park, you can enjoy the comfort of interacting with animals along with the tranquillity of a forest retreat. It features 20 acres of lush greenery and kid-friendly animals such as goats, deer, emus and ponies that children can feed and play with. The farm is home to Molly and Marcha, bilingual parrots who will talk to you in Thai and English. There are plenty of photo opportunities as well as iguanas, monkeys and cockatoos. This animal park has a swimming pool, plenty of beautiful gardens, a playground, restaurants and waterfalls that make it a beautiful location for the entire family to spend the day.
Cost: THB 700
Timings: 9:00 AM to 5:00 PM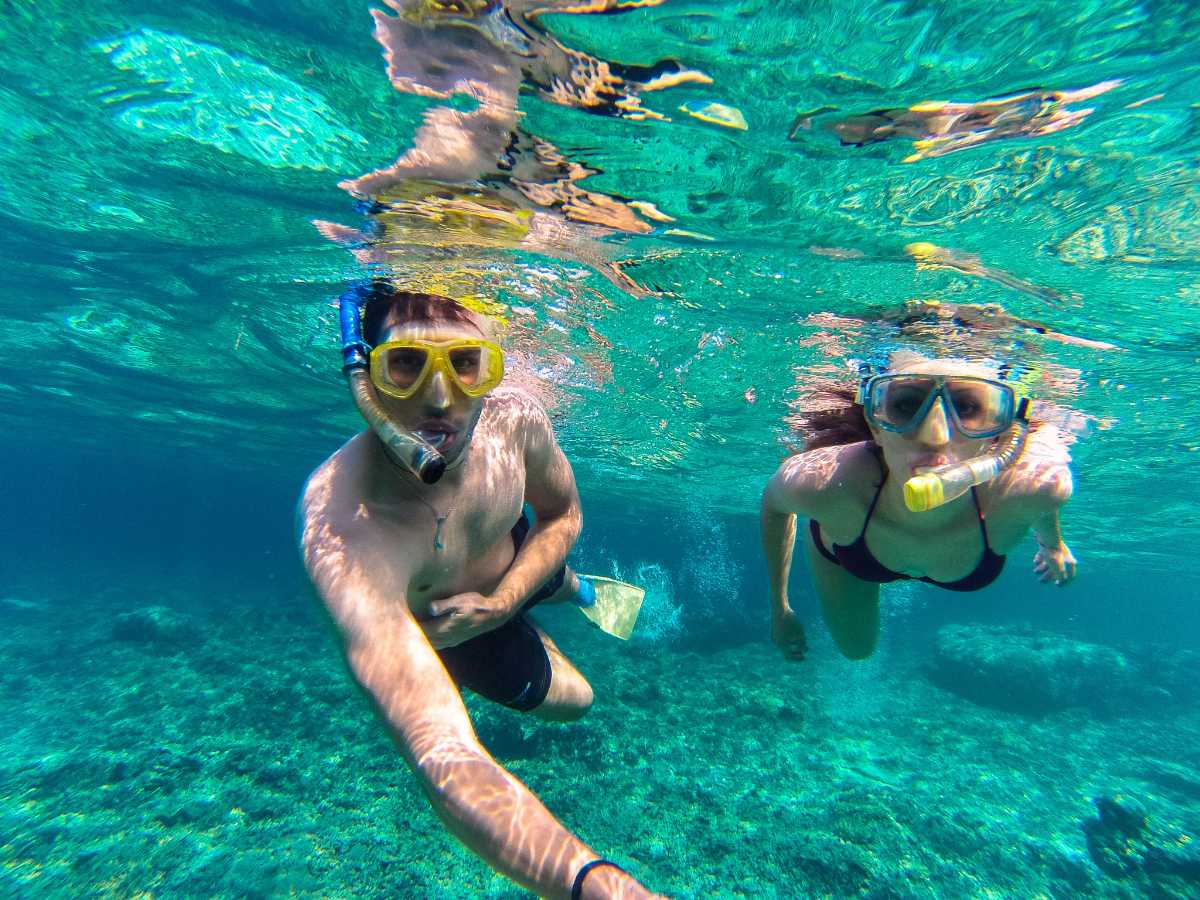 Also known as Coral Island in southern Koh Samui, this is a great place for thrill-seeking families. It is a 7.5 square kilometre island with beautiful coral reefs and clear waters that make it ideal for snorkelling. Coral Island is reachable only by a half-hour boat trip from Koh Samui. The guided snorkelling tours here are around 5-7 hours long. Not only do you get to see marine life, but the tours often include a short hike to the picturesque Leam Sor Pagoda, Grand Mother and Grand Father Rocks, and an elephant trekking experience that ends at a beautiful waterfall. Close to Koh Tan Island is the smaller Koh Matsum which is known for its beautiful white sand beach.
Cost: THB 1700 for adults, THB 820 for children
Timings: Typically 10:00 AM to 5:00 PM (depending on bookings)
9. Samui Aquarium and Tiger Zoo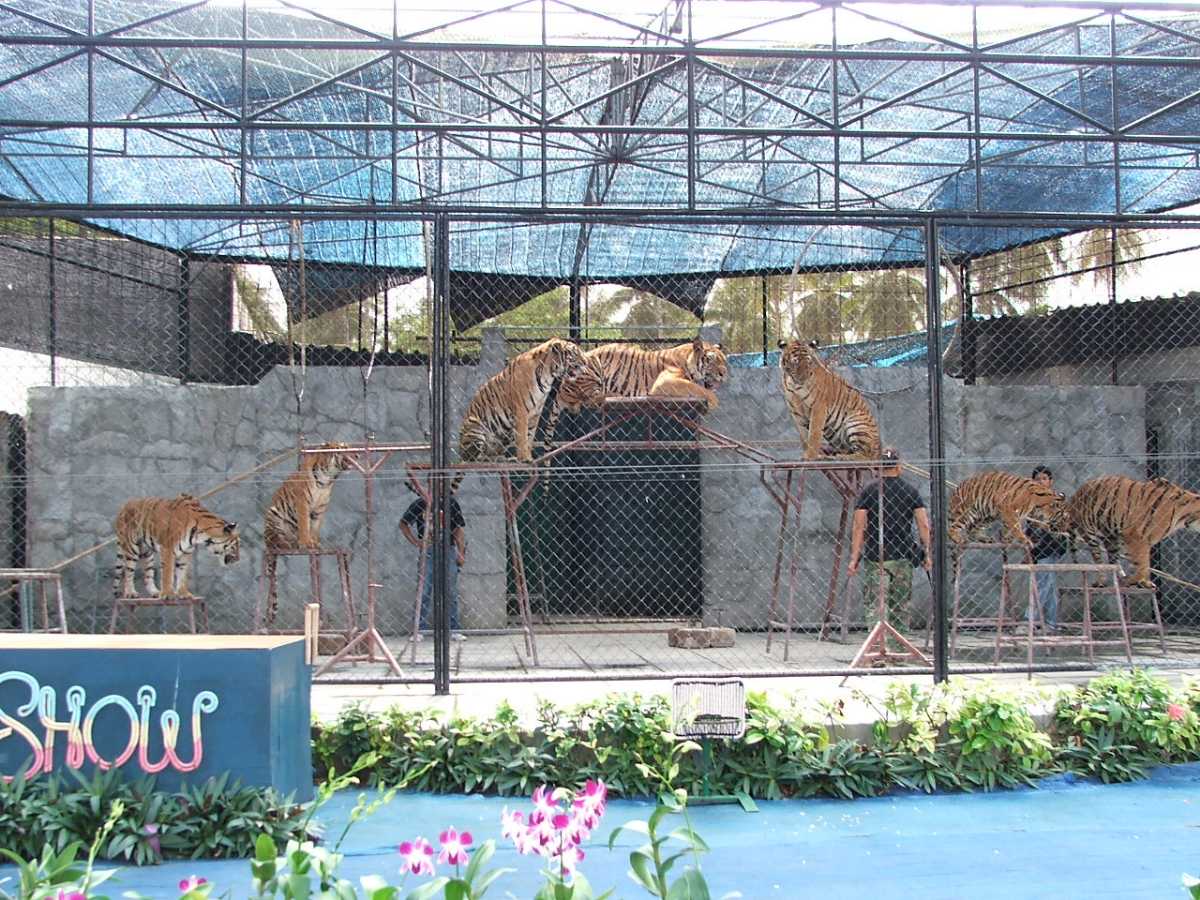 Located on Ban Harn Beach, this aquarium is a great alternative for families with young children who cannot explore the marine life of Koh Samui through snorkelling or tourists with limited time on the island. It is designed like a fisherman's village to give visitors a history of Koh Samui wildlife while getting to see an array of marine life up close. Samui Aquarium hosts leopard sharks, catfish, puffer fish, manta rays and other marine life that are native to the Gulf of Thailand. You even the opportunity to swim with Sasha, their friendly sea lion. The main attractions at the zoo are the Bengal tigers and sea lions that are part of daily live shows.
Cost: THB 750- 2,400 for adults and THB 450 - 1,600 depending on packages
Timings: 9:00 AM to 6:00 PMÂ 
Even if your children aren't particularly interested in elephants, ancient architecture or snorkelling, Koh Samui's many fun activities assure a great time for everyone. At the end of the trip, you'll all walk away with wide smiles and memories to last a lifetime.