A golfers paradise hidden in plain sight,
Koh Samui
is an ideal destination for a golfer looking forward to a vacation. After all, spending your vacation while enjoying yourself to the maximum is what helps one unwind and gain some peace of mind. With luxurious golf courses in Koh Samui, rapidly changing terrain, pleasant weather and an ardent fan following of golf, this beautiful place stands no further behind its western counterparts.
Now, let's put those swings to test with these beautiful golf courses in Koh Samui!!
1. Santiburi Golf & Country Club

Established in 2003, this club is the pride of Koh Samui. Sprawling over 6,930 yards this golf course is a par-72, 19 holes which offer a host of services. Built to seamlessly integrate the natural terrain of the island with this beautiful golf course in Koh Samui, this one excels at it. With the lush greenery and palm trees adorning the course, this is a visually appealing experience which you are bound to love. Internationally recognized as a golf course of a very high standard, it has often hosted the Asian tour events. Overlooking the Gulf of
Thailand
, it offers a stunning view of the ocean.
Club facilities: Dining area, golf carts and practice sessions are the facilities offered. No night golfing facility and accommodation is available. 
Timings: 8:30 AM to 4:30 PM
Location: Santiburi Koh Samui, MaeNam
Pricing: THB 5300 per person. Inclusive of a golf cart and a caddie
2. Ratchaprapha Golf & Country Club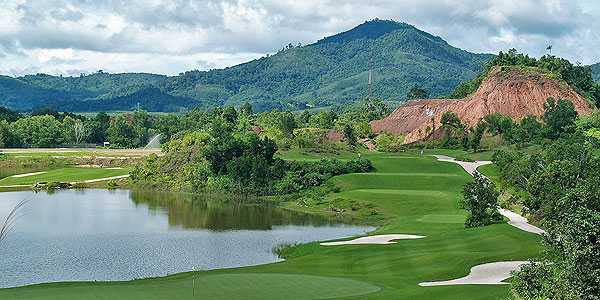 Whenever in need of improving your golf strokes when you are in Thailand, feel free to drop by this breathtaking golf course in Koh Samui. Apart from having a fun day of playing golf, it also offers a host of lessons ranging from beginner to intermediate to advanced. Coached by professionals, they zero in on and correct one's inaccuracy alongside tutoring you. Packages can also be customized to suit one's needs. 
Known for holding championships and pro events, this course is a par-72, 18 holes and 6350 yards long. It's situated in a natural park with lakes and jungles.
Club facilities: No accomodation on premises but with prior intimation it can be arranged for. Lunch is also served. No night golfing facilities are available.
Timings: 06:30 AM to 06:00 PM
Location: Near Ratchaprapha dam, Khao Sok
Pricing: THB 12,000 per head. Inclusive of a golf cart.
3. Royal Samui Golf & Country Club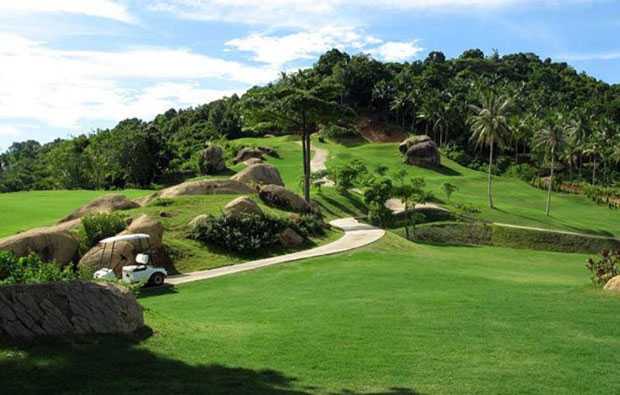 A par-36, 9 holes course; this golf course in Koh Samui was created by a group of golf enthusiasts in 2006. With its length spanning over 3407 yards, this course throws a challenge at every pro golfer who wishes to ace it. With rapid changes in terrain, there are sudden elevations where holes are on higher or lower elevations of the hill, or rough patches turn up where the wind plays a role. Apart from testing your golf strokes to their limits and beyond, the course offers a stupendous view of the island. Located on the mountainside and occupying a major chunk of it, one can see mountains covered with greenery on one side and a seemingly endless view of the sea (Gulf of Thailand). The golf course is made in the midst of the jungle has several pathways leading off the course back to the resort. Usually played as 18 holes, several boulders present on the course adorn the field and add on to the breathtaking panoramic view.
Club facilities: Golf carts are available. However, no caddie facilites are provided. Lunch is offered in a clubhouse where one can avail a room for a couple of hours.
Timings: 07:00 AM to 05:00 PM
Location: Surat Thani
Pricing: THB 1150 per head for 18 holes. Exclusive of golf cart fees.
4. Bophut Hills Golf & Country Club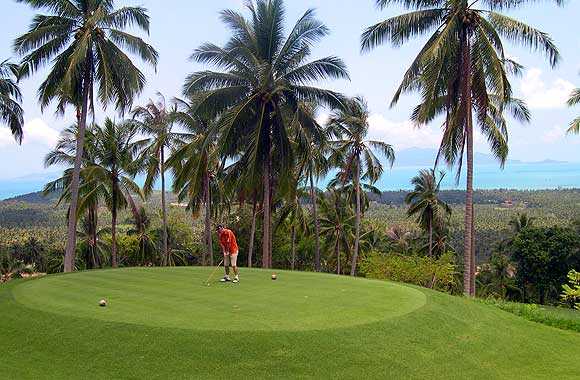 Tucked away in the lush green hills of Bophut, this is a par-27, 9-hole course which was built in late 2006. Primarily meant for beginners, it might be a let down for pros as it is quite small and has been strategically designed to favour the former. Level playing ground easily scored holes and not so other challenging aspects of a course makes this undesirable for pros. Surrounded by trees on either side, this course is definitely a hard take for the average golfer too. 
Club facilities: Refreshments are served midway, along with lunch. There are no golf carts available. However, a caddy can be availed. Hotel, massage and spa services can also be availed.
Timings: 07:00 AM to 06:00 PM
Location: Bophut hills, Koh Samui, Thailand
Pricing: THB 1200 per head for 18 holes and THB 750 for 9 holes. Exclusive of caddy fees.
As it's said - 'To find a person's true character, play golf with them'. The golf courses in Koh Samui dominate various parts of the island and alongside a good game, also offer views which will leave you believing that this indeed is paradise on Earth.